Heat Tapes on Oil Tank Fuel Lines
Use of heating cables & insulation to avoid jelling or waxing can avoid loss of heat
HEAT TAPES on OIL TANK PIPING - CONTENTS: fire hazards from using heat tapes on home home heating oil piping to avoid jelling and loss of heat. Wrapping heating oil piping in insulation and installing a heating cable or heat tape might reduce the chances of freezing water or waxing heating oil leading to loss of heat in cold weather. But there are fire hazards to consider as well.
POST a QUESTION or READ FAQs about leaks or installation problems in heating oil piping for oil-fired heating equipment & water heaters
InspectAPedia tolerates no conflicts of interest. We have no relationship with advertisers, products, or services discussed at this website.
Heat tapes used on heating oil piping lines:
How to avoid loss of heat due to heating oil waxing or jelling in cold weather: are heat tapes OK to use on an oil line? Warning about fire hazards traced to some types of heat tapes used on oil lines. Problems with outdoor heating oil storage tanks & loss of building heat.
Beyond the costly problem of leaky oil piping, this document lists other important safety or oil-fired equipment operational defects in home and light commercial heating oil storage and piping systems. Shown at page top: a Maine home with an outdoor oil storage tank in winter. I like that the oil tank is located at the house gable end, not under dripping roof eaves, but the tank has fallen against the house, and if you click to enlarge the image you'll see some chimney worries too.
Green links show where you are. © Copyright 2017 InspectApedia.com, All Rights Reserved.
Heat Tape Fire Hazards on Heating Oil Storage Tanks or Piping May Be a Fire Hazard
As we cited at OIL TANK INSPECTION & TROUBLESHOOTING, outside above ground heating oil storage tanks in cold climates are exposed to jelling (waxing) of the heating fuel. On these systems the oil piping is sometimes fitted with a heating tape in an attempt to avoid freeze-up in the oil line itself. This is a potential fire hazard. Heat tapes should not be used on heating oil lines.
[Click to enlarge any image]

See FREEZE-PROOF A BUILDING where we describe GFCI protection on heat tape circuits powering heat tapes for manufactured and mobile homes. Similar issues regarding building water entry control are discussed
at Sump Pump Inspection.
Above we see the same Hyde Park New York oil storage tank photographed in winter. You'll see the insulation and heat tapes installed in an effort to avoid loss of heat due to waxing of the heating oil. This tank is also discussed
at HOW TO MAXIMIZE OIL TANK LIFE.
Readers should also
see HEAT TAPES & CABLES for ROOF ICE DAMS where we describe outdoor use of heating tapes and de-icing cables to prevent ice dam leaks into buildings.
Safety Recommendation: unless the heating tape is specifically designed for the purpose and is protected against short circuits, do not use electric heat tapes to keep fuel oil lines from plugging during cold weather. Such measures are an obvious fire hazard.
Watch out: as we explain at Heat Tape Guide, some models of heat tapes used for freeze protection can cause a building fire if the tapes are not installed according to the manufacturer's recommendations, particularly if the tape crosses over itself.

As Ryan Duffy points out, connecting the heat tape to a GFCI-protected circuit can substantially reduce the risk of heat tape fires. However if the GFCI-protected heat tape circuit trips-off during typical current leakage conditions and without drawing attention of the building occupants, the risk of freeze damaged piping, leaks, water damage, and mold damage will be increased.

The US CPSC recommended in 1994 that HUD consider dropping its no-GFCI-on-Heat-Tape-Circuit provision, and that heat tape powering electrical circuits be be protected with a GFCI device in the electrical panel rather than at the electrical receptacle or "outlet".
Ground fault protection was first required in the 1987 NEC for heat tapes that did not have a metal covering. In 1996/1999 the NEC expanded the requirements for GFCI protection and specified that mobile homes would have at least one heat tape receptacle.
[A significant number of heat tape-related fires occurred in mobile and manufactured homes.]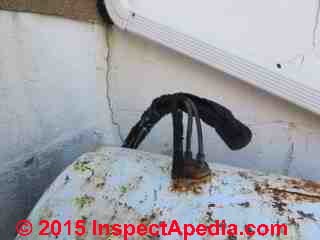 See FREEZE-PROOF A BUILDING where we describe GFCI protection on heat tape circuits powering heat tapes for manufactured and mobile homes. Similar issues regarding building water entry control are discussed at Sump Pump Inspection.

Question: how to get the heating oil line flowing after hurricane & flood damage
I am having problems restarting the water heater ever since hurricane irene slammed into New Jersey and my basement flooded. We changed the motor and oil filter, but are having problems getting oil to feed through the lines I was wondering if there were suggestions. - Antoinette
Reply: Guide to How to clear or un-block a clogged heating oil line by CO2 blasting, filter changeout, or oil line replacement
Antionette,

When an oil fired water heater has been flooded, such as by hurricane Irene, there are a number of concerns that need to be addressed. You have taken two obvious steps by changing parts (motor and oil filter) but I can add a few suggestions that might help:

Oil lines can become blocked with sludge, silt, mud, even water if the lines are open to the flooding environment. Normally an oil line between the oil tank and oil burner, say at a water heater, is always full of fuel oil, and sealed against oil leaks out and air leaks in to the piping system. So dirt or water from outside the system would not easily enter the piping system.

But if the oil tank itself were flooded you might have water and mud or silt and dirt on the tank bottom - if your oil line feeds from the tank bottom all of that crud would enter the oil line. So a further check of the condition of the oil tank is in order.

A buried oil tank should, like the oil piping, be sealed against outside water entry (though in times of area flooding a partially empty oil tank might float-up and break lines or cause leaks).

An above ground oil tank should be ok IF flood waters never rose high enough to enter the oil tank vent or fill piping.

If your oil tank itself checks out as not contaminated with water and dirt, and provided we are sure that the oil burner assembly was itself entirely replaced and that the oil pump (fuel unit) is working properly, and if you are unable to draw oil from the tank, the usual step employed by the service tech is to use a CO2 gas cartridge and special "gun" assembly that connects to the oil line and attempts to "blow out" an obstruction.
If you are unable to make the line usable following that procedure, and provided we remain convinced that the line is the culprit, I'd have the service company run a new fuel line between the oil tank and the burner.

I'd also be sure the service tech was following proper procedure for bleeding air out of the oil piping during service restoration.
Also see OIL LINE CLOGGING FIX.
...
Continue reading at HEATING OIL CLOUD WAX GEL POINT or select a topic from closely-related articles below, or see our complete INDEX to RELATED ARTICLES below.
Also see Testing Receptacles GFCIs AFCIs
AFCI's are discussed at AFCIs ARC FAULT CIRCUIT INTERRUPTERS.
Suggested citation for this web page
HEAT TAPES on OIL TANK PIPING at InspectApedia.com - online encyclopedia of building & environmental inspection, testing, diagnosis, repair, & problem prevention advice.
Or use the SEARCH BOX found below to Ask a Question or Search InspectApedia
...
Frequently Asked Questions (FAQs)
Try the search box below or CONTACT US by email if you cannot find the answer you need at InspectApedia.
Question: How frequently do the copper oil lines leak from corrosion or other factors?
Contractor renovating my basement enclosed the fuel oil line (tank to burner) in the walls. Just after having carpet laid, I was reinstalling baseboards and my nail gun made a perfect nail hole in the hidden piping. About 2 qts. oil all sprayed out. I shut off tank valve and ran furnace to use up oil in lines. It will be a massive clean-up and I don't want to have this happen again.
How frequently do the copper lines leak from corrosion or other factors? What are the options to prevent a future leak? - Judy 4/23/12
Reply: Frequency of Heating Oil Piping Leaks by Leak Location, Type, Source, Cause
Judy, statistics on oil tank leaks are discussed at OIL TANK LEAKS & SMELLS. While those data focus on and report leaks as oil tank leaks, actually some of the leaks reported under the aegis of "oil tanks" may actually occur in the oil supply and return piping (on a two pipe system for buried tanks) or on the oil supply line from an above-ground oil tank.
But I have not found studies, reports, nor statistics on the leak occurrence rate in just heating oil piping itself. In my experience, small leaks in the oil piping system are not uncommon. But as leaks in the supply line lead to faulty oil burner operation, ultimately they lead to a diagnosis and repair. (See the previous Q&A about vacuum tests and pressure tests on oil heat piping and on fuel units respectively.)
Oil Piping Leak Report of 0.005 in New England
At OIL TANK FAILURE RATES we include a section on reports of frequency of heating oil piping leaks. You will see that studies found the leakage rate in New England in the U.S. at about five leaks per thousand customers or less, depending on the sub-area in the study.
Oil Tank Leak Report of 40% with 82% due to Oil Piping in Maryland
In a 1986 study Diane H. Heck found leaks in 40% of petroleum fuel tanks (diesel fuel or kerosene K-1, heating oil, waste oil, and gasoline tanks), (n=240). More accurately she reported a 40% leak occurrence rate in oil storage tank installations, because 82% of those leaks were traced to leaks in oil piping![3]
Because gasoline tanks were included in this study, several factors may lead readers to think that a higher proportion of leaks occurred in gasoline storage tanks than in heating oil or kerosene storage tanks. But as we report at OIL TANK FAILURE CAUSES that was not the case. Gasoline tanks were responsible for only 26% of all of the leaks found.
Opinion about Probable Percentage of Types of Oil Piping Leaks
My opinion based on field experience repairing heating systems and on field experience as a building inspector of several thousand buildings is that among the leaks that do occur in oil piping systems, they occur in roughly this frequency by type:
Leaks in oil piping due to a loose, or a poorly-made connection or joint - 80% OR MORE
Leaks in oil piping due to mechanical damage such as being stepped-on or bent repeatedly or due to a combination of vibration & contact with an abrasive surface - 15 %
Leaks in oil piping due to abrasion or corrosion leading to a thinning of and ultimately perforation of the piping wall - 5%
Leaks due to perforation by a nail or screw during construction - less than 1%.
This is because most often the heating oil piping is exposed along a garage or utility area floor or ceiling and is not buried in walls. Certainly if an oil line were to be installed running hidden inside a wall or floor I'd be nervous about including any fittings whatsoever, as it is at the fittings that the leak risk is greater.
At OIL TANK PIPING & PIPING DEFECTS, we catalog the types of leaks that occur in oil piping and where they are found. We also describe steps that can be taken to protect oil piping lines from future damage, including a nail puncture such as your oil piping line suffered.
In the Technical Reviewers & References section below we include additional citations on oil piping leak detection & frequency.
Question: can't get oil to our Beckett oil burner
(Mar 9, 2014) Ingo said:
Cannot get a Becket Burner to run NO Fuel. Replaced fuel Pump, checked Oil Line, checked Tank and Filter for blockage, replaced oil pump from running Becket burner, still no oil? any Ideas anybody thanks
Reply:
Ingo:
Check that the fuel unit, piping, filter, were properly bled of air.
Check that the fuel pump is receiving oil; then
check that the fuel unit is sending oil out through the nozzle feed line - if not it's a clogged oil line, oil filter, or bad fuel unit;
Check for air leaks in the fuel piping or at the fuel unit.
Check for a clogged oil filter or a dirty clogged screen in the fuel unit.
Check for a blocked nozzle in the oil burner. A blocked nozzle can cause backpressure into the fuel unit that causes the internal check valve to fail.
Install a vacuum gauge on the oil line to confirm that the fuel unit is in fact pumping.
Question: We need to move our oil tank
(Apr 13, 2014) Heidi said:
We need to move our oil tank from one side of our basement to another. Is it okay for the oil feed pipes to be located near our cable and phone lines on the outside of the house? Thanks

Reply:
Heidi I don't see any clearance restriction; but I suggest using the newer oil piping that is protected by an external vinyl covering.
...
Ask a Question or Search InspectApedia
Use the "Click to Show or Hide FAQs" link just above to see recently-posted questions, comments, replies, try the search box just below, or if you prefer, post a question or comment in the Comments box below and we will respond promptly.
Search the InspectApedia website
Technical Reviewers & References
Click to Show or Hide Citations & References
[1] "Fuel Oil Piping and Storage", 2006 Mechanical Code, Chapter 13, International Code Council, 500 New Jersey Avenue, NW, 6th Floor, Washington, DC 20001, Tel: 888-ICC-SAFE (422-7233); Website: iccsafe.org/, Email: webmaster@iccsafe.org, Customer Store (buy publications) 800-786-4452. Also see 2009 International Codes and 2012 International Codes.
[2] "The application of a continuous leak detection system to pipelines and associated equipment", Sandberg, C. Raychem Corp., Menlo Park, CA, Holmes, J. ; McCoy, K. ; Koppitsch, H, Industry Applications, IEEE Transactions on, Sep/Oct 1989, Vol. 25 No. 5, pp. 906-909, ISSN : 0093-9994 INSPEC Accession Number: 3582593 Digital Object Identifier : 10.1109/28.41257, Abstract:
An overview of classical leak detection systems is given and the engineering basis of a novel type of detector is examined. This system is a flexible hydrocarbon-sensing cable that can be installed along pipelines, in double-containment tanks and piping, or in trenches to detect and locate leaks of common industrial hydrocarbon solvents or fuels while ignoring the presence of water. The simple electrical circuit that locates and detects a leak anywhere along the length of the sensor is also described
[3] "A Case Study of a Large Scale Precision [oil or fuel] Tank Testing Program", Diane H. Heck, Tetra Tech Richardson, Newark, Delaware, web search 4/27/12, original source: http://info.ngwa.org/GWOL/pdf/870143411.PDF, copy on file as /heating/OIl Tanks UST/Tank_Test_Heck_870143411.pdf Abstract:
In September 1986, a precision tank testing program was started to bring a major Maryland utility into compliance with the State of Maryland Oil Spill Control Regulations regarding underground storage tanks. This program involved the testing of over 240 tanks ranging in size from 300 gallons to 1,500 gallons located throughout the entire state of Maryland.
Analyses of the testing results revealed that 40% of the systems tested leaked. Piping leaks caused 82% of the testing failures and tank leaks caused the remaining 18%. Tank systems located in urban areas experienced a 50% testing failure rate, while tank systems located in rural areas experienced only a 25% failure rate. Leaks in tank systems in urban areas appear to be the result of structural loading and corrosion, affects [effects] absent in rural areas. The age, capacity, and usage of the tanks did not have a role in causing leaks either in the piping or the tank.

Audels Oil Burner Guide, Installation, Servicing, Repairing, Frank D. Graham, 1940's edition (obsolete). Updated versions of this guide are available in various editions, 1947, 1950, 1955, 1958, 1959, 1962, 1965, 1967, and at prices from around $3.00 to nearly $70.00 - useful for simple, clear, but not current, explanation of how heating equipment works. The original retail price was $1.00.
Bottini Fuel service, 4/26/2011. Bottini Fuel is a residential and commercial heating oil distributor and oil heat service company in Wappingers Falls, NY and with offices in other New York locations. Bottini Fuel, 2785 W Main St, Wappingers Falls NY, 12590-1576 (845) 297-5580 more contact information for Bottini Fuel
Dave Ferris - M&S Environmental Systems, Dutchess County, New York. Mr. Ferris was an HVAC expert. Personal communication to DJF 1987. Remove the firematic or fusible oil supply line valve on return oil-line side - in case of fire if this one closes first the pump continues to run, blows its seal, and sprays oil all over the fire. Proper installation is to have a fusible link valve only on the supply side, and to install a check valve on the return line to prevent back-siphonage from the tank.
Books & Articles on Building & Environmental Inspection, Testing, Diagnosis, & Repair
Our recommended books about building & mechanical systems design, inspection, problem diagnosis, and repair, and about indoor environment and IAQ testing, diagnosis, and cleanup are at the InspectAPedia Bookstore. Also see our Book Reviews - InspectAPedia.
...