Building Odor Cure FAQs
FAQs on how to Remove Odors Gases & Smells in or around Buildings
InspectAPedia tolerates no conflicts of interest. We have no relationship with advertisers, products, or services discussed at this website.
Building odor cure or remedy FAQs:
Frequently asked questions (& answers) on how to cure odor & smell complaints at buildings. Odor cure starts with odor diagnosis. When we know where an odor is originating we can quickly understand if the situation is dangerous as well as what to do about it.
These articles explain how to diagnose, test, identify, and cure or remove a wide range of obnoxious or even toxic odors in buildings, in building air, in building materials, or in the building water supply.
Green links show where you are. © Copyright 2017 InspectApedia.com, All Rights Reserved.
Building Odor Cure FAQs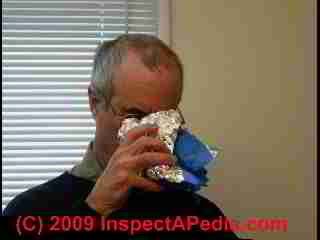 At left the author demonstrates a smell-patch test that can be used to track down odors to their source in buildings. That procedure is described in detail at SMELL PATCH TEST to FIND ODOR SOURCE.
Question: Sweet / Fume type smell in a two story house
For the past three weeks my father has had a sweet/fume type smell in his two story house. The odor is concentrated in his bedroom. Professionals have come out to clean the air vent/ducts, the carpet cleaned, home inspector etc. and have not been able to determine the source of the odor.
He has open all the windows, run the heat any and everything suggested nothing has worked. He has had to throw furniture, bedding etc. away because of the odor. The odor has gotten so bad he is unable to live in the house.
The service people who have been to the house have no clue and also aren't able to direct us how to determine what the problem is and how to fix it. Environmental companies said they need to know specifically what they are testing for such as mold etc. There is no construction going on in the area. He is at his wits end. He lives in Houston, TX. Any assistance anyone can provide would be greatly appreciated. - T. Wilson 8/7/11
Reply: distinguish between sweet fumes and mold odors
T.W.

I agree that it would be a poor use of money to order specific tests to try to identify a vague odor - there are just too many possible things to test for, and too much expense, and too little diagnosis.

When an odor seems pervasive and its source is hard to pinpoint, I suggest a variety of methods - in the article bullets above, see the article links titled:

# Odor Diagnosis Log Sheet: Use this Odor Log Spreadsheet or this Odor Log printer-friendly file to record your observations for further analysis. Also see ODOR DIAGNOSIS CHECKLIST

A combination of noting time of day, weather, temperature, wind, equipment operating or off, direction of sunlight, along with help from folks with a sensitive sense of smell, and perhaps the smell patch test procedure I describe above can help track down the odor by

- time of day
- weather
- house conditions: equipment on/off
- areas of the building where odor is strongest

Finally, regarding mold as a common odor source: mold usually smells "moldy" or "musty" but there might be some fungi that produce a sweet smell, a dirty socks smell, and other distinctive odors. A competent inspection for hidden mold (since you don't already see it in the home) requires a thorough visual inspection of the building for leaks and leak history, moisture traps, prior flood or leak events, and from that process, a list of most-suspect areas where further invasive inspecting and testing are justified.

Keep us posted.
Please seeODOR DIAGNOSIS SIX STEPS for more help.
Question: musty odor through interior partition wall, worse in damp or rainy weather; high VOCs at kitchen drain; possible sewer gas odors
I have a musty odour coming from the wall that separates my kitchen and living room which worsens when it is damp, rainy, there is no heat on or the AC unit is running. An environmental inspector did an AQ test for mold from the electrical outlet on the living room side, where the odour was quite strong but the results showed very low concentrations of mold spores compared to outside. T
he inspector also used a PPB Rae to measure volatile organic compounds at the kitchen drain which showed extremely elevated levels of VOC's between 35000 to 83000 ppb when initially operating the water. The numbers dropped significantly after the water had been running. The conclusion of the inspector was that plumbing is likely to need repair in the wall cavity and potentially the main trap at the entrance to the building.
Would a camera inspection be able to show if there is a problem in the wall cavity or should the wall be opened up? I have concerns about the latter because of the possibility of contamination from whatever is causing the musty odour. I have smelled sewer gas on at least two occasions, first under the kitchen sink and the second time in the electrical outlet on the living room side. Thanks! - Denise 1/13/12
Recently my neighbor has done some extreme excavating, removing two home and making a parking lot. I have at times noticed an extremely awful smell in my basement(rotten sauerkraut), I think it is sewer gases, but how do i check. City sewer line I am the next to last home on the line. I have had severs head aces nausea, not all the time,I don't have much money for a lot of testing, who do I call? - Beth bannehix@yahoo.com 4/10/12
Reply:
Watch out: Beth, since you are describing possible damage to and potentially dangerous (explosive) leaks from a public sewer, you should call your city building department promptly to describe the odor, and construction, and worry about what might be a dangerous sewer gas leak.
Denise, running HVAC equipment, fans, or even changes in how windows or doors are open or shut, or changes in indoor or outdoor temperature and similar conditions or changes all affect how air moves in buildings. In cases of enough negative pressure indoors (rising air currents, running exhaust or whole house fans, for example), these can cause backdrafting out of building drains - a condition that is made worse if drains are not properly vented or if the vents are blocked.
I'm not sure what sense it makes to measure VOCs at a building sink drain. I have never measured a sink or tub drain in a building that had seen use that did not cause the instrument to respond - the contents of traps are often a bit smelly on close inspection. On the other hand, dry traps, or traps that are siphoned dry during plumbing system use, or defective or blocked building vent piping can be a serious, even dangerous source of sewer gases. Some odors traced to building walls were in fact traced to openings in a vent piping system in the wall.
Question: dirt floor smells over possible outhouse location
We live on a farm it has a double garage open front dirt floor. on the back is a small area which i think was a old drop hole toilet witch is filled in and open to shed . when you walk past or go in shed there is a very strong smell of sewage . what can be put on the dirt to get rid of smell thanks - Bernie 2/25/12
Reply: use an impermeable membrane below the soil to reduce odors in a shed over an old outhouse pit
Bernie, indeed the soil where an outhouse previously stood can continue to hold concentrations of waste for years because of the concentration of sewage with comparatively low water content, deep in the soil where there is a lack of aerobic bacteria, and probably because often lime was added to control odors, also preserving the waste from bacterial action. Usually, where the soil is open to the air outdoors it's not a source of complaints if it was buried with several feet or more of clean fill.
But in a shed or enclosure odors from gases passing out of the soil may indeed be a problem. I would not try treating the dirt itself with any chemical or deodorant - not only will it probably not work, it may simply be a new contaminant. You might find success by removing a top layer of soil, installing an impermeable membrane (rubber EPDM roofing would work, or a plastic intended for soil burial such as sold by geotextile and foundation waterproofing manufacturers), and burying that layer again with soil.
Question: oil fume odor complaints
(Mar 13, 2014) nameless said:
we have been breathing in furnace oil fumes for over a month . found out there was a leak. there is oil laying in a drip pan as well as in the ground and on the tank. worried about health issues for myself n son. as i am renting i have no control over the situation except to keep complaining or move which im not in the financial position to do.
Reply:
Nameless,
Please search InspectApedia for the article titled
Crude Oil & Heating Oil Exposure Effects, Exposure Limits, Health Hazards
and you can read information that answers your concern and includes authoritative citations.
About financial constraints, that's a concern too, but one you may best want to bring to your local aid associations in your home town, county, state or province.
Question: Multiple chemical sensitivity from mold, VOC sensitivity
(Mar 17, 2014) joseph williams said:
my35 year old daughter and husband bought a modular home 2 years ago. she has now gone from slight case of multiple chemical sensitivity from mold in their first house. and moved into a modular home, now 12 years old has caused her sensitivity to any voc producing products that she is not able to spend more than a few minutes in the house before starts reacting with nausea and headaches. for the past year, she and her husband (he is not affected) live in an outdoor shed. a series of air quality tests last year showed very high levels of multiple chemicals including very high amounts of formaldehyde. they got rid of all furniture, had all carpet and padding removed, only furniture left in house is their bed they can't use.
They have no heating system in place because the propane made her sick. she wears a triple filtered face mask over her nose and down to her chin when entering the house. selling the house is not an option. plus she can not get near husband coming home from work until he showers and bags all his clothes and changes. there seems to be no solution on the horizon. Is there any way they could legally get out of the mortgage from her severe health concerns?
Reply:
Joseph, I'm sorry to read of the health concerns you describe, but this is a legal question not one for a building diagnostician. Your daughter and husband will want to discuss their concerns with their bank and if necessary with their attorney.
I caution that for someone suffering from MCS bailing out of a home, ruining one's credit, undergoing legal and financial stress around that topic, may be only jumping from the frying pan into the fire so to speak: that is, how do we know in advance that the new home will be less problematic than the current one?
Question: propane odor under the kitchen sink
(Apr 10, 2014) Bill said:
There is a propane odor beneath our kitchen sink, but we are not hooked up to natural gas and don't use propane in the house for anything. Can it be caused by a mouse nest?
Reply:
Bill,
Sometimes a dead animal can make a gassy smell, as can a drain line or sewer gas backup - which can be more dangerous if there's enough sewer gas to explode.
Question: odor problems at work, winter weather
(May 29, 2014) Sarah Edwards said:
We have recently started having a odor problem at work. It started a few months ago roughly January February time frame. It happens almost daily and just once a day. It is random as to when in the day it will occur. Sometimes we come in to open up and it smells and then other days it will just pop up at different times of the day. We have one bathroom with a toilet and sink, there are no apparent leaks.
The smell is throughout the entire building (not a big building) but is most pungent in the office that shares a wall with the bathroom. The smell is most like rotten eggs and poop. When it starts it is very strong and burns your nose but after a little while you get used to it until you walk outside and come back in. We have had plumbers check and they said everything is fine, we had the a/c drains flushed out to no avail. What could it be and what should we do to identify and remedy this odor, we are having many complaints from customers about it.
Reply:
I'm not sure but suspect a plumbing vent leak or a sewer line leak somewhere. Those can be hard to track down if there is no actual water or sewage leak to leave a stain - for example a leak in a dry vent stack pipe. Flushing drains won't fix such a problem if it's coming from sewer gases leaking back up into the building.
As the odor started recently, ask what changed in the building, occupancy, use, weather, etc.
Keeping an odor log might help track down the source too.
Ultimately people track to odor to strongest location and if a drain is suspected, start by inspecting the actual drain, then the vent piping. We've found hidden sewer gas leaks in vent pipes in walls, for example.
Also search InspectApedia for "rotten egg smell sources" for diagnostic help
Question: work place odors in shopping mall - traced to plumbing vent?
(May 31, 2014) HAPPY FEET said:
We have this smell problem in my workplace building, a shopping mall. This happened after the reconfiguration of a few retail units at Level 3. There is an additional floor trap created for the Tenant. The Techician checked their floor traps and vent pipes. No smell from the floor traps. The vent pipes were already capped. All seem well. The smell is discribed as foul smell and its in the air.
The techician went to inspec the common area riser and found the vent pipe stack to be in order. Not sure where coud be the possible source of foul smell. Please help! Thanks alot
Reply:
Happy,
at this article are links to procedures that may help you, articles titled
I'm not sure what inspection was made of the vent piping (there can be a leak in a hidden building cavity or space), nor what the heck is meant by "the vent pipes were already capped" - capping off vent pipes where venting is in fact required could cause drainage problems as well as loss of water in plumbing traps, leading to sewer gas odors.
Question:
(June 11, 2014) Angela said:
We have totally refinished a room with serious cat pee odor in one room of our new house...new walls, carpets removed, refinished hardwood floors and the odor is still horrible, especially on humid days...ugh...please help!
(June 20, 2014) Sandra said:
I have an intermittent earthy smell in my bathroom, all drains smell clean.
7/31/14 Lenda said:
Toxic odor definitely traced to fiberglass panels installed in my basement 4 months ago, very strong, 5minutes of exposure
gives one a headache. Is this dangerous? What to do ?
Reply:
Lenda, if you indeed confirmed that a gas that's the source of an odor in your basement is "toxic" then you've answered your own question.
Generally one would identify and remove the odor source.
Question: urine odors in laundry, washing machine, other confusion
8/3/14 Lori said:
We had the roof replaced july. In november our newly washed clothes smelled like urine. By december we had rotated most clothes and our walk in closet smelled like urine. One morning inturned on the wash machine while husband was in the shower. He said heavy sewage smell rose from drain. I cleaned and scrubbed wash machine 3-4 times with all products suggested online. Washer repairman said machine was not the problem. He thought it was the water that was stinky. He replace hoses. Our plumber was no help at all. We did not have the urine smell anywhere else in the house except where washed clothing, towels, etc. were placed. We thought a plugged vent on the roof but our plumber won't look.
Reply:
Lori
If the ONLY place the water supply smells is at the washing machine then the odor source would be there - e.g. perhaps from a cross connection, sewage backup, bacterial contamination, or dead animal in or under the washer or cat peeing therein, etc.
When sewage smells emanate from a drain I suspect improper, missing, or clogged plumbing vents, possibly combined with a partial drain blockage.
See Urine odors & smells from animals, humans, other sources at ANIMAL or URINE ODOR SOURCE DETECTION
Question: strong glue odor problem
(Aug 12, 2014) Céline said:
Hi,I have a very strong glue problem in the cabinet under the sink. I know it is from the old floor tiles that were installed there as others tiles from the floor smell the same.
I removed the tiles from the cabinet and washed, soaked in vinegar and baking soda, then other strong cleaning products, scraped the paint off (it is plywood), redid much soaking...then painted. I've aired, put onion in a bowl of water,then paper to absorb the emanations...What to do?
Reply:
Céline
Usually the volatiles in adhesives and glues outgas and so dissipate. You can speed the process with modest warmth and fans. But if the product continues to smell I suspect it's more than just volatiles in an adhesive. Your remaining choices are to remove the material or to try to seal it using the same sorts of paints or sealants used in building fire restoration.
Question: smell from shower drain
(Sept 5, 2014) Lilia said:
Hi, I have a terrible smell seems to come from the shower drain (new bathroom, new construction). Contractor returned and added an additional vent, odor still there. Contractor sealed shower cast iron shower drain with abs pipe glue, the smell was reduced but returned. Contractor did a 2nd application of abs glue down the cast iron drain and the smell went away but it is back but not as strong. Very strange and nauseating but doesn't really smell like sewage? Any opinions on how to diagnose this? Also, even though this was installed in the past couple of months, the shower drain is crusty rusty and the screws were rusted on the drain plate. Do new parts usually rust that quickly? Appreciate your input.
Reply:
Pouring glue down the drain - a question we saw posted elsewhere - sounds awfully strange as an approach to odors.
Surface rust on cast iron is not significant.
Question: smells only in bathrooms
(Sept 8, 2014) Anonymous said:
smells in bathrooms only

Reply:
Anon
Look for a leaky toilet wax ring seal or for inadequate or blocked bath drain vent piping
Question: mice, mothballs, maggots, nests, terrible smells in the house
(Sept 12, 2014) Anonymous said:
My roof was infested with mice nests. Maggots were in there. Terrible smell in the house. Flat iron roof with fibreglass insulation . Places where nests were found and replaced with new fibreglass. Mothball and rat poison also put in roof. Roof leaks and wets wooden ceiling. Cannot get rid of putrid stench in open plan kitchen dining room and lounge.
Reply:
Sounds as if you need help from a professional exterminator first, then a contractor to remove contaminated insulation, clean the areas, and re-insulate. Obviously you are describing some serious health concerns. So I'd pay attention to the safety of the work and cleanup plan too.
Question: mud and smells in basement - is it sewage?
(Oct 10, 2014) Anonymous said:
I have a 200 year old basement that has been added onto and part of it is open to craw space. Recently there is much mud seeping in some black and some places brown. There is a smell. Is there somewhere I can have the mud tested to make sure its not sewage?
(Oct 10, 2014) grammal20x@yahoo.com said:
Is there somewhere I can have basement mud tested to see if it is sewage?
Reply:
Certainly; there are labs who can perform a sewage contamination test on a sample from the most-suspect area. CHeck with your local health department if you're having trouble finding a nearby test lab.
Question: chemical smells after glass changed in patio doors
(Oct 20, 2014) Carol Long said:
Hello - hope yo can help me. We have recently had some new glass put in our patio doors and this is the only thing hat has changed recently. The frame work is exactly the same - just new toughened glass. Since then I have noticed a mild annoying type of chemical/smoke smell - that is only noticeable to me apparently - it is deep in the top of my nostrils all the time - as if I have been in a smoky room or something that has made my nostrils irritate. Could this be anything to do with glass?
Reply:
Check to see if the odor isn't the sealants used in the work. IF so it should dissipate with time. Meanwhile ventilate with fresh air.
Question: musty odor complaint - does this mean mold?
(Oct 21, 2014) Terrance said:
Can anyone help me with solving this problem? I have a musty odor that only occurs in my master bedroom / bathroom when the temperature starts to cool off below 60 degrees Fahrenheit. Would this be an indication of mold?
Reply:
Terrance
Typically if you smell a "moldy" odor there is mold nearby - most people are fairly accurate in this particular smell sense. Look for leaks or moisture traps to figure the areas bearing further investigation.
(Oct 21, 2014) Anonymous said:
Dan, thanks for your input i will look for leaks. Do you know if the smell is connected to temperature change normally the smell is noticeable in fall/winter?
REply:
It's possible that air movement changes with temperature changes;
Question: odors from the apartment downstairs
(Oct 24, 2014) Rob said:
Hi, I wonder if you can advice me about how to stop the very strong smell of cigarette smoke and other domestic (cooking etc.) odors coming up to my apartment from the floor below. I have a converted apartment on the second floor with suspended timber flooring. I'm going to take off the carpet and lift up the floor boards to see what sort of insulation there might be between their ceiling and our floor. But could you please tell me what sort of specific insulation I'd need to help stop any odors coming up, as well as anything else if necessary, such as vapour barriers or DPMs etc. ?
Would you please also advice on the order of any materials that you may suggest should be put down, all the way to the top layer of carpeting.
Thanks.
Reply:
Look for and seal the air leaks from below, such as around pipes and electrical wires.
Question: basement odors when heat turned on
(Oct 27, 2014) Anonymous said:
if I can get basement odor when I turn on my heat is my unit connected to the basement ?
Reply:
sorry I don't understand the query
Question: rain and critters and odors?
(Nov 7, 2014) Paul said:
We have an odor problem that I hope you can help with, no one has been successful.
About 6 years ago we had an "attached" garage added. The garage sets on it's own foundation and the entrance door to the house was framed out to make it look like part of the original construction. So the house sits on a crawl space and that crawl space is accessed through a small room in the rear of the garage addition. Within a few months after completion, my wife started to complain of an odor as she entered the house form the garage. Over the ensuing years we have had a mold inspection, the duct work cleaned, the leaks in the HVAC ductwork sealed, put a DIY crawlspace encapsulation in place and installed an easy breath system. None of this has solved the problem as the odor seems to go away (read months) for a while and then comes back. I cannot say it is related to moisture, as we had no rain for approximately 8 weeks at the end of summer and she started to complain of the smell again.
Recently, while during some work outside, I noticed there is a gap between the two foundations of roughly 3/4". I expect there would be a gap, but I now wonder if runoff rain water and perhaps critters getting in the space could be the source of the problem. However, I am at a loss as to how to go about proving or disproving this. I hope you might be able to make some suggestions.

Question: metallic smell from the basement
(Nov 26, 2014) Jean said:
There is a metallic smell in my house that seems to be coming up from the basement. I am at a loss as to what it could be. Is there anybody out there that can give me some direction as to what it is
Reply:
Jean from just your e-text, I'm not able to guess. You'll want to follow some of the odor track-down suggestions in this article series. Start by a basic visual inspection for leaks or spills.
Question: how to avoid smoke from my neighbors
(Dec 3, 2014) Tori said:
I live on the 2nd floor of a 2-story apartment building. The neighbors below me are heavy smokers and smoke outside, but with their door wide open, so consequently, their apartment smells smoky. Both of my bathrooms (located in the middle of my apartment away from any exterior windows and doors) always smell very heavily of smoke. What would explain this? I wonder if somehow the outdoor air is coming in through our bathroom ventilation. I would like to resolve this problem seeing as I have a baby and don't want her inhaling their 2nd hand smoke.

Reply:
Tori
I think to avoid incoming smoke from windows or doors of a neighoring apartment you'd need to close your own windows and doors or open them just strategically, possibly combined with blowing fresh air into the apartment from a window away from the smoke source - the latter suggestion puts your apartment under positive pressure and will resist smoke coming in from other sources.
Question: homes on stilts [pilings] over a mine area, creosote odors
(Dec 30, 2014) Stephen Dunne Garcia said:
Hi, I have recently purchased a home on the river. The homes in this area are on stilts and mine has been closed in. The stilts now make a bottom floor. There is a strange tar like smell in the bottom floor of the house where the beams have been incase, or shall I say wrapped by a metal siding cover, slightly exposed. I am worried this is the smell of the treated beams used to keep the house up. What can I do to make the smell go away or to make the lower level livable? How do I know that the scent is creosote?
Reply:
Stephen,
There is more to this situation than just odor. I'm unsure about structural durability, water or moisture issues, and building without a permit.
To test the piling coating you can send a sliver of surface material to an environmental teat lab.
To seal such odors you'd need to enclose the coated items in an airtight wrap - which might give further moisture or rot issues later.
Question: aeroplane toilet surface coatings
(Jan 24, 2015) sidharthbatchu said:
what is the substance which is coated on the surroundings of a toilet in aeroplane
Reply:
Teflon or a similar non-stick coating. See these patents and research citations for examples of aircraft or similar toilet designs and coatings
Anderson, William Bruce, Mark A. Pondelick, Jay D. Stradinger, Douglas M. Wallace, Arthur J. McGowan Jr, Michael B. Hancock, and Ian Tinkler. "Vacuum toilet bowl assembly having a removable bowl." U.S. Patent 6,347,416, issued February 19, 2002.
Erdmann, Wolfgang, Torsten Gienke, and Hans-Juergen Heinrich. "Toilet system with reduced or eliminated flushing requirement, especially for transportation vehicles."
Karsa, David Robert, and David Ashworth, eds. Industrial biocides: selection and application. Vol. 270. Royal Society of Chemistry, 2002.
St, Old Winter. "TOILET BOWL." U.S. Patent 3,504,381, issued April 7, 1970.
Erdmann, Wolfgang, Torsten Gienke, and Hans-Juergen Heinrich. "Waterless vacuum toilet system for aircraft."
Question:
(Feb 11, 2015) Anonymous said:
There's an unusual sweet smell emanating in the staircase between the 1st and 2nd levels of my home. What could it be?
Reply:
I can't hazard a guess.
Question:
21 Feb 2015 Tavis said:
Amazing site you have here Dan. Are you the sole author of these articles ? This site is a living artifact of the early internet age !
Reply:
Thanks for the nice note, Tavis. This is a project extending over many years and me that has had help from on tributes as well as many readers. More frequent contributors are identified on our About us. Page. Working together makes us smarter.
Question: looking for a company to inspect for intermittent sewer tas odors
Debbie McKay said:
I am trying to find a company to inspect the reason for intermittent sewer gas odor in my home. I have been having the problem for years but since November became severe and have spoken to CWS with the times this happens and they respond "it isn't coming from CWS". I need to find out the cause of this as it is making me very ill everytime it happens. I have had the outside line taped and no problems. P Traps are not dry and really at a loss. I have started contacting residents and have came across 2 others having the same issue. Can you tell me who I can call to have the smoke test referenced here, where I can find the odor catchers and how I can find someone to test to find out what these chemical odors are and where they are coming from.Since they are every few weeks, many on Sunday Morning at 3AM when it wakes me up, gagging, I can't find someone who can leave equipment to tell me if this is toxic.
Reply:
Try the environmental experts at our page top link to EXPERTS DIRECTORY at
https://InspectAPedia.com/Expert-Consultants-Directory.php
Odor Diagnosis Strategies:
You can start tracking down the cause or source of an odor in one or more of several ways:
...
Continue reading at ODOR DIAGNOSIS SIX STEPS or select a topic from closely-related articles below, or see our complete INDEX to RELATED ARTICLES below.
Or see ODOR DIAGNOSIS FAQs
Or see ODORS GASES SMELLS, DIAGNOSIS & CURE - home
Suggested citation for this web page
ODOR CURE FAQs at InspectApedia.com - online encyclopedia of building & environmental inspection, testing, diagnosis, repair, & problem prevention advice.
Or use the SEARCH BOX found below to Ask a Question or Search InspectApedia
...
Frequently Asked Questions (FAQs)
Ask a Question or Search InspectApedia
Use the "Click to Show or Hide FAQs" link just above to see recently-posted questions, comments, replies, try the search box just below, or if you prefer, post a question or comment in the Comments box below and we will respond promptly.
Search the InspectApedia website
Technical Reviewers & References
Click to Show or Hide Citations & References
[1] ASTM E2600 - 08 Standard Practice for Assessment of Vapor Intrusion into Structures on Property Involved in Real Estate Transactions is available from the ASTM at astm.org/Standards/E2600.htm .

"This practice is intended for use on a voluntary basis by parties who wish to conduct a

VIA

on a parcel of

real estate

, or more specifically conduct a screening evaluation to determine whether or not there is potential for a

VIC

, and if so, identify alternatives for further investigation."

The standard goes on to emphasize the uncertainty in testing any site for gases and vapor intrusion.
[2] EMS Testing Laboratories (a nationwide chain in the U.S.) - see http://www.emsl.com
[3] Chinese Drywall information hosted by the US Consumer Product Safety Commission, and supported by the US CDC (Centers for Disease Control), the U.S. EPA (Environmental Protection Agency), and HUD, the U.S. Department of Housing and Urban Development - http://www.cpsc.gov/info/drywall/index.html
[4] Chinese Drywall information from the Florida state department of Environmental Protection -
http://www.doh.state.fl.us/environment/community/indoor-air/casedefinition.html#presence
[5] Executive Summary, Chinese Drywall Hazards, published by the US Consumer Product Safety Commission, and supported by the US CDC (Centers for Disease Control), the U.S. EPA (Environmental Protection Agency), and HUD, the U.S. Department of Housing and Urban Development - original source: http://www.cpsc.gov/info/drywall/execsum0410.pdf
[6] Brett C. Singer, Beverly K. Coleman, Hugo Destaillats, Alfred T. Hodgson, Melissa M. Lunden, Charles J. Weschler, William W Nazaroff, "Indoor secondary pollutants from cleaning product and air freshener use in the presence of ozone", Atmospheric Environment, Volume 40, Issue 35, November 2006, Pages 6696–6710
Abstract This study investigated the formation of secondary pollutants resulting from household product use in the presence of ozone. Experiments were conducted in a 50-m3 chamber simulating a residential room. The chamber was operated at conditions relevant to US residences in polluted areas during warm-weather seasons: an air exchange rate of 1.0 h−1 and an inlet ozone concentration of approximately 120 ppb, when included. Three products were used in separate experiments. An orange oil-based degreaser and a pine oil-based general-purpose cleaner were used for surface cleaning applications. A plug-in scented-oil airfreshener (AFR) was operated for several days. Cleaning products were applied realistically with quantities scaled to simulate residential use rates. Concentrations of organic gases and secondary organic aerosol from the terpene-containing consumer products were measured with and without ozone introduction. In the absence of reactive chemicals, the chamber ozone level was approximately 60 ppb. Ozone was substantially consumed following cleaning product use, mainly by homogeneous reaction. For the AFR, ozone consumption was weaker and heterogeneous reaction with sorbed AFR-constituent VOCs was of similar magnitude to homogeneous reaction with continuously emitted constituents. Formaldehyde generation resulted from product use with ozone present, increasing indoor levels by the order of 10 ppb. Cleaning product use in the presence of ozone generated substantial fine particle concentrations (more than 100 μg m−3) in some experiments. Ozone consumption and elevated hydroxyl radical concentrations persisted for 10–12 h following brief cleaning events, indicating that secondary pollutant production can persist for extended periods.
Keywords Air quality; Formaldehyde; Indoor air chemistry; Secondary organic aerosol; Terpenes
[7] Xiaoyu Liu,*† Mark Mason, Kenneth Krebs, and Leslie Sparks, "Full-Scale Chamber Investigation and Simulation of Air Freshener Emissions in the Presence of Ozone:, Environ. Sci. Technol., 2004, 38 (10), pp 2802–2812 DOI: 10.1021/es030544b Publication Date (Web): April 9, 2004,
Abstract: Volatile organic compound (VOC) emissions from one electrical plug-in type of pine-scented air freshener and their reactions with O3 were investigated in the U.S. Environmental Protection Agency indoor air research large chamber facility. Ozone was generated from a device marketed as an ozone generator air cleaner. Ozone and oxides of nitrogen concentrations and chamber conditions such as temperature, relative humidity, pressure, and air exchange rate were controlled and/or monitored. VOC emissions and some of the reaction products were identified and quantified. Source emission models were developed to predict the time/concentration profiles of the major VOCs (limonene, α-pinene, β-pinene, 3-carene, camphene, benzyl propionate, benzyl alcohol, bornyl acetate, isobornyl acetate, and benzaldehyde) emitted by the air freshener. Gas-phase reactions of VOCs from the air freshener with O3 were simulated by a photochemical kinetics simulation system using VOC reaction mechanisms and rate constants adopted from the literature. The concentration−time predictions were in good agreement with the data for O3 and VOCs emitted from the air freshener and with some of the primary reaction products. Systematic differences between the predictions and the experimental results were found for some species. Poor understanding of secondary reactions and heterogeneous chemistry in the chamber is the likely cause of these differences. The method has the potential to provide data to predict the impact of O3/VOC interactions on indoor air quality.
[8] RI Vanhegan, R.G. Mitchell, "Pseudomonas Infection Associated with Contamination of Wick-Type Air Freshener", British Medical Journal, 20 Sept. 1975, pp. 685 [copy on file as Air_Fresh_Study_BMJ75.pdf]
Though unproved, the bottles may have been directly implicated in cross-infection and they should not be used in intensive care units and similar places. The practice of topping-up existing bottles from a stock solution should be discouraged since the resulting weakened mixture may eventually support the growth of organisms. Since an increase in the formaldehyde concentration proved irritant we recommend the use of safe non-volatile disinfectants. The possibility that organisms may develop resistance to formaldehyde solutions was not further investigated.
[9] Salthammer, T. (ed) (2007) Subject Index, in Organic Indoor Air Pollutants: Occurrence - Measurement - Evaluation, Wiley-VCH Verlag GmbH, Weinheim, Germany. doi: 10.1002/9783527613663.indsub
[10] Mihalis Lazaridis (Editor), Ian Colbeck (Editor), Human Exposure to Pollutants via Dermal Absorption and Inhalation (Environmental Pollution), Springer; 1st Edition. edition (April 1, 2010), ISBN-10: 9048186625 ISBN-13: 978-9048186624
Quoting: The human body is exposed to pollution on a daily basis via dermal exposure and inhalation. This book reviews the information necessary to address the steps in exposure assessment relevant to air pollution. The aim is to identify available information including data sources and models, and show that an integrated multi-route exposure model can be built, validated and used as part of an air quality management process. Many epidemiological studies have focused on inhalation exposure. Whilst this is appropriate for many substances, failure to consider the importance of exposure and uptake of material deposited on the skin may lead to an over/underestimation of the risk. Hence dermal exposure is also considered. Drinking water contamination by disinfection by-products is also discussed. Written by leading experts in the field, this book provides a comprehensive review of ambient particulate matter and will be of interest to graduate students, researchers and policymakers involved in air quality management, environmental health and related disciplines, as well as environmental consultants and ventilation engineers.
[11] Fifth Kingdom, Bryce Kendrick, ISBN13: 9781585100224, is available from the InspectAPedia online bookstore - we recommend the CD-ROM version of this book. This 3rd/edition is a compact but comprehensive encyclopedia of all things mycological. Every aspect of the fungi, from aflatoxin to zppspores, with an accessible blend of verve and wit. The 24 chapters are filled with up-to-date information of classification, yeast, lichens, spore dispersal, allergies, ecology, genetics, plant pathology, predatory fungi, biological control, mutualistic symbioses with animals and plants, fungi as food, food spoilage and mycotoxins.
[12] Fungi, Identifying Filamentous, A Clinical Laboratory Handbook, Guy St-Germain, Richard Summerbell, Star Publishing, 1996, ISBN 0-89863-177-7 (English) (buy at Amazon)
[13] Troubleshooting Split System A/C or Heat Pump Noises, Fujitsu General America, Inc., 353 Route 46 West, Fairfield, NJ 07004, Tel: (888) 888-3424, Tel-Service hotline: (866) 952-8324, Email: hvac@fujitsugeneral.com, Email service: servicehvac@fujitsugeneral.com , retrieved 8/30/12, original source: http://www.fujitsugeneral.com/troubleshooting.htm [copy on file as Troubleshooting Fujitsu Ductless Mini-Splits.pdf]
[14] Thomas M. Riddick, "Controlling Taste, Odor and Color With Free Residual Chlorination", Journal (American Water Works Association) Vol. 43, No. 7 (JULY 1951), pp. 545-552, American Water Works Association, Article Stable URL: http://www.jstor.org/stable/41236445
[15] Douglas M. Baker, M.D., "Holiday Hazards", Pediatric Emergency Care, Vol. 1 No. 4, December 1985 Lippincott-Raven, retrieved 9/22/12
Abstract: Presented is a selective review of the toxicities of various plants, decorations, and miscellaneous items popularly used during the holiday season. Particularly hazardous agents include mistletoe, holly, bubble lights, fireplace flame colors, alkaline batteries, and mothballs. Specific questions regarding management of exposure to these items should be referred to regional poison control centers. Avoidance is the most effective treatment. ... [regarding mothballs, ... decontamination is advised for ingestions of greater than one half of a naphthalene mothball and more than two to three paradichlorobenzene mothballs ...]
[16] Charles M. McGinley, P.E., Michael A. McGinley, MHS, Donna L. McGinley, " "Odor Basics", Understanding and Using Odor Testing", paper presentation, The 22nd Annual Hawaii Water Environment Association Conference.,
Honolulu, Hawaii: 6-7 June 2000, St. Croix Sensory Inc. / McGinley Associates, P.A. 13701 - 30th Street Circle North Stillwater, MN 55082 U.S.A. 800-879-9231 stcroix@fivesenses.com, retrieved 9/22/12, original source http://www.fivesenses.com/Documents/Library/33%20 %20Odor%20Basics.pdf, [copy on file as Odor_Basics.pdf]
[17] Jon H. Ruth, "Odor Thresholds and Irritation Levels of Several Chemical Substances: A Review", American Industrial Hygiene Association Journal Volume 47, Issue 3, 1986, retrievedf 9/22/12, Abstract: A collation of odor threshold data for approximately 450 chemical substances is presented. The range of odor thresholds reported in the literature is shown along with any reported threshold of irritation to humans. These data can assist the industrial hygienist in determining when an "odor" may be in excess of the Threshold Limit Value®, when an organic vapor respirator is not acceptable due to the lack of an odor warning at the end of a cartridge life, and where odors may not indicate a hazard due to extremely low odor thresholds which may be well below the respective TLVs.
[18] Edward Avila DO, Paul Schraeder MD, Ajit Belliappa MD, Scott Faro MD, "Pica With Paradichlorobenzene Mothball Ingestion Associated With Toxic Leukoencephalopathy", Journal of Neuroimaging Volume 16, Issue 1, pages 78–81, January 2006, retrieved 9/22/12,
Abstract: This is a case report of central nervous system toxicity associated with paradichlorobenzene (PDCB) ingestion. The patient had ingested mothballs composed of 99.99% PDCB for a period of 7 months. She was admitted for depression and had no neurologic symptoms. Later she developed an acute cerebellar syndrome followed by stupor and coma. An extensive workup was negative except for decreasing levels of PDCB in her serum. Imaging revealed a diffuse leukoencephalopathy. Her clinical picture was attributed to PDCB toxicity.
[19] Stone, David L. (David Louis), Stock, T. (Tim), "Mothballs: proper use and alternative controls for clothes moths", PNW 606-E, May 2008, Oregon State University. Extension Service Washington State University. Extension University of Idaho. Extension, May, 2008, retrieved 9/22/12, original source: http://scholarsarchive.library.oregonstate.edu/ xmlui/bitstream/handle/1957/20800/pnw606-e.pdf?sequence=1, citation: http://hdl.handle.net/1957/20800, Abstract: In some homes, clothes moths can damage garments and other belongings. There are two common species of clothes moths in the Pacific Northwest: the webbing clothes moth (Tineola bisselliella) and the casemaking clothes moth (Tinea pellionella). The larvae, or immature form, of the moths are responsible for the damage done to personal belongings. [copy on file as Mothballs_Guide_PNW.pdf]
Citing the following 2 sources on mothball chemistry, use, hazards:
[20] Black, Judy. Fabric and Museum Pests. In Mallis Handbook of Pest Control, 9th edition, S.A. Hedges and D. Moreland, eds. GIE Media, Cleveland, OH, 2004, pp. 581 –623.
[21 U.S. Department of Health and Human Services. Illness Associated with Exposure to Naphthalene in Mothballs—Indiana. Morbidity and Mortality Weekly Report, 1983, Vol. 32: 34–5.
...
Books & Articles on Building & Environmental Inspection, Testing, Diagnosis, & Repair
Our recommended books about building & mechanical systems design, inspection, problem diagnosis, and repair, and about indoor environment and IAQ testing, diagnosis, and cleanup are at the InspectAPedia Bookstore. Also see our Book Reviews - InspectAPedia.
Kansas State University, department of plant pathology, extension plant pathology web page on wheat rust fungus: see http://www.oznet.ksu.edu/path-ext/factSheets/Wheat/Wheat%20Leaf%20Rust.asp
"A Brief Guide to Mold, Moisture, and Your Home", U.S. Environmental Protection Agency US EPA - includes basic advice for building owners, occupants, and mold cleanup operations. See http://www.epa.gov/mold/moldguide.htm
US EPA - Mold Remediation in Schools and Commercial Building [ copy on file as /sickhouse/EPA_Mold_Remediation_in_Schools.pdf ] - US EPA
"A Brief Guide to Mold, Moisture, and Your Home", U.S. Environmental Protection Agency US EPA - includes basic advice for building owners, occupants, and mold cleanup operations. See http://www.epa.gov/mold/moldguide.htm
"Disease Prevention in Home Vegetable Gardens," Patricia Donald, Department of Plant Microbiology and Pathology, Lewis Jett
Department of Horticulture, University of Missouri Extension - extension.missouri.edu/publications/DisplayPub.aspx?P=G6202
US EPA: Mold Remediation in Schools and Commercial Building [ copy on file as /sickhouse/EPA_Mold_Remediation_in_Schools.pdf ] - US EPA
...