Mold Contamination in New Modular Homes
Case report: finding hidden mold in modular construction
MODULAR HOME MOLD CONTAMINATION - CONTENTS: how to suspect and then find hidden mold in building walls, ceilings, floors, under carpets; special hidden mold risks in improperly-transported modular home sections. Mold related illness traced to hidden mold that contaminated clothing.
POST a QUESTION or READ FAQs about hidden mold contamination in modular-constructed buildings
InspectAPedia tolerates no conflicts of interest. We have no relationship with advertisers, products, or services discussed at this website.
Mold contamination in modular constructed homes:
This article describes instances of problematic or harmful mold contamination found hidden in walls, flooring, and even cabinets of a modular home that traveled in rain without adequate seal-protection against water entry. Other cases of mold concerns or mold contamination in modular homes are included.
A look at why we suspected that there was hidden mold contamination in the home and how the extent of mold contamination was determined can assist in investigating any building for hidden mold problems.
Green links show where you are. © Copyright 2017 InspectApedia.com, All Rights Reserved.
Mold in Modular Homes
Mold may be found in surprising locations in modular homes depending on the home's delivery conditions and construction history.
Residential modular home structures include cavities between floors and some walls that an inexperienced inspector may fail to consider. Knowing that water had entered this modular structure we obtained permission for some destructive inspecting that helped track how water had moved through the building.
Field Report of Extensive Hidden Mold in a Modular Home: Mrs . X (Sick of mold)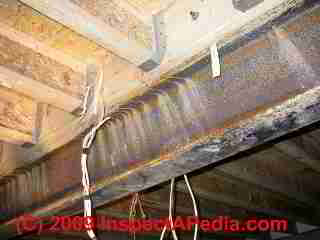 Mrs. X (Sick of mold) , living for a year in a modular home constructed new for herself and her husband in Newburgh, New York, developed severe mold-related illness. Ultimately she had to travel in her pajamas and by ambulance to a local hospital where she was admitted and treated for more than a month.
Feeling better and about to be discharged, Mrs. X (Sick of mold) asked Mr. X (Worried) to bring her a clean outfit from home so that she could return home in something nicer than her pajamas X (Worried) stopped by their home that to him looked and smelled clean, if a bit lonely. He selected a full outfit from a closet used by Mrs. X (Sick of mold) .
When in the hospital Mrs. X (Sick of mold) opened the suitcase of clean clothes she went immediately into anaphylactic shock, scaring everyone, especially Mr. X (Worried) and extending her hospital stay by another week.
A suspicion reared its moldy head: maybe there was something moldy about the clothing that mold-sensitive Mrs. X (Sick of mold) had taken out of the suitcase. The owners asked me [DF] to investigate.
I [DF] was engaged to inspect the home and was given permission to perform invasive inspection as needed to find possible mold contamination in the building.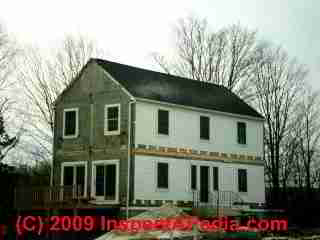 The house looked new and clean. But in the basement it was curious to see mud splashed up against the under-side of the home. Curious but not unusual. But then I saw what looked like water marks on the mating beams and at the sill plates.
Notice that there is no housewrap and no siding on the gable ends of the four sections making up this modular home.
[Click to enlarge any image]
Moving back upstairs I lifted back the wall to wall carpets at their corners. Water stains and a bit of mold were plain to see.
Based on what I saw there, made some test cuts along the bottom of walls around all sides of the main floor of the home.
In wall cavities at all of the exterior walls near floor level and even in the marriage wall cavities I found very extensive mold contamination.
Also see MOLD APPEARANCE on VARIOUS SURFACES
I also found extensive mold contamination in the building's fiberglass insulation in all of its exterior walls. Attic insulation was mold-free and did not appear to have ever been wet.
See details at FIBERGLASS INSULATION MOLD
On reviewing the construction history I learned that the home had been delivered and set in rainy weather. The owners also told me that they had observed wet carpets and water in kitchen cabinets at the time the home was delivered and set but as no one saw any mold no one thought further about that wetting event.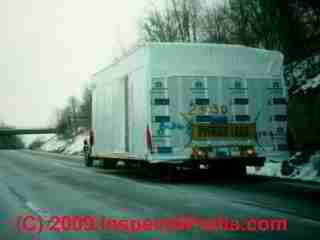 The modular home section shown at left was being transported with adequate weather protection.
But a review of the owner's photographs of the modular home sections arriving at the site we could see that the front ends of the modular home segments had been shipped from the factory without the usual careful plastic wrap to protect the un-finished side of the home from the weather.
Driving a modular home up New York's I84 in rain at 65 mph or more forced water into the building's wall and floor cavities and into portions of the interior, as well as forcing water into the party or marry walls of the structure from whence it had entered kitchen cabinets.
The home would have required a gut-renovation to remove all of the moldy drywall and insulation. The manufacturer elected to replace the unit with a clean, dry one.
Reader Question: mold in 2005 modular home
(Sept 12, 2014) Dan said:
We bought a used 1995 modular home in 2005 that consists of one middle pod (10 ft ceilings) and two side pods (8 foot ceilings). The roof line is 4/12 pitch. When you enter the attic space up to the middle pod (which is overlaid with metal sheeting) you can see all the way to the other end.
However, in order to get from the middle pod to the side pods, you have to crawl through a small opening that was cut out by one of the workers. Everywhere else there is a wall of plywood that separates the lower section (side pods) from the upper (middle pod). I did not think much of it until we found out that the lower sections now have mold growing on the underside of the plywood for the roof.
A mold inspector told us that this plywood was preventing air from circulating. In short, he said that the eave vents have no way of circulating air with the middle pod's roof vents. My question: What is the purpose of the plywood? Should it have been removed?
During this discovery, we found out that a sewer vent, and two other air vents were never vented out through the roof. In other words, the vents were exhausting warm air into the attic. The mold inspector commented that the combination of these two failures brought on the mold which is now making my family sick. 2nd question: What can I do about this huge problem we now face?
This question appeared originally at MODULAR HOME CONSTRUCTION
Reply:
Dan
What a mess. Under a 4/12 roof the accessible area under the lower slopes is very limited - too limited to think about adequate cleaning & insulation replacement from inside the attic space.
That leaves two approaches: tear off all of the roof, remove all insulation, clean and seal all surfaces, re-insulate, re-roof,
or
Tear down ceilings indoors and do the same job from inside.
The second approach is more disruptive to the occupied interior and increases the risk of cross contamination and thus the need for still more indoor HEPA vacuum cleaning and wiping.
Normally I oppose heroic, expensive roof tear offs to address attic mold as not being justified. But I would not want to leave a large problematic mold reservoir in a building: indeed air movement can move "backwards" down into a structure in some conditions.
I would first do some careful sampling of the molds present: on plywood, in insulation (by vacuum testing) and on the attic side of ceiling drywall. If none of the molds found are highly mobile - highly harmful (e.g. if it's just some simple Cladosporium) I might do nothing except fix the venting. Otherwise, I'd consider the remediation I outlined above.
The plywood was doubtless in place to enclose and protect the structure during transport.
Leaving it in place indeed blocks the proper roof ventilation.
Failure to vent plumbing vents to outdoors is a site set-crew SNAFU which is another example of why modular companies often want their own crews to set the house. Modulars encourage construction by builders who don't know enough about building.
Tell me the state where you are located and the brand and model of your home and I can research this further.
Kudos to your home inspector.
Also see MOLD GROWTH on SURFACES, TABLE OF our table of mold growth locations in buildings where we include other comments on MOBILE & MODULAR HOME MOLD
...
Continue reading at HIDDEN MOLD, HOW TO FIND or select a topic from closely-related articles below, or see our complete INDEX to RELATED ARTICLES below.
Or see MOLD ACTION GUIDE - WHAT TO DO ABOUT MOLD
Or see MODULAR HOME CONSTRUCTION
Or see MOBILE HOME MOLD CONTAMINATION
Suggested citation for this web page
MODULAR HOME MOLD CONTAMINATION at InspectApedia.com - online encyclopedia of building & environmental inspection, testing, diagnosis, repair, & problem prevention advice.
Or use the SEARCH BOX found below to Ask a Question or Search InspectApedia
...
Frequently Asked Questions (FAQs)
Try the search box below or CONTACT US by email if you cannot find the answer you need at InspectApedia.
...
Ask a Question or Search InspectApedia
Use the "Click to Show or Hide FAQs" link just above to see recently-posted questions, comments, replies, try the search box just below, or if you prefer, post a question or comment in the Comments box below and we will respond promptly.
Search the InspectApedia website
Technical Reviewers & References
Click to Show or Hide Citations & References
[1] Mark Cramer Inspection Services Mark Cramer, Tampa Florida, Mr. Cramer is a past president of ASHI, the American Society of Home Inspectors and is a Florida home inspector and home inspection educator. Contact Mark Cramer at: 727-595-4211 mark@BestTampaInspector.com
[2] Dictionary of the Fungi, 9th Ed., PM Kirk, PF Cannon, JC David, && JA Stalpers Ed., CABI Publishing 2001 ISBN 0 85199 377 X www.cabi.org UK
[3] Fifth Kingdom, The, 2nd ed., Bryce Kendrick, Mycologue Publications 1992, ISBN 0-941051-28-5
[4] Fungi From Utility Poles in the Eastern United States, Identification Manual for, CJK Wang & RA Zabel Ed., Allen Press, 1990, ISBN 0-93-0009-31-2
[5] Fungi, Identifying Filamentous, A Clinical Laboratory Handbook, Guy St-Germain, Richard Summerbell, Star Publishing, 1996, ISBN 0-89863-177-7 (English)
[6] Pictorial Atlas of Soil and Seed Fungi, , 2nd Ed., Tsuneo Watanabe, 2002 CRC Press, ISBN 0-8493-1118-7
[7] Fungus, The Whole, Vol. 1, Bryce Kendrick, Ed., National Museum of Natural Sciences (et als), 1979, ISBN 0-660-00146-2 (available from B. Kendrick, Waterloo, Canada)
Fungus, The Whole, Vol. 2, Bryce Kendrick,Ed., National Museum of Natural Sciences (et als), 1979, ISBN 0-660-00146-2 (available from B. Kendrick, Waterloo, Canada)
[8] Fusarium , Paul E. Nelson Memorial Symposium, Summerall et als. Ed., APS Press 2001, ISBN 0-89054-268-6
[9] Hyphomycetes their perfect and imperfect connexions, K. Tubaki, J Cramer 1981, ISBN 3-7682-1267-X
[10] Dematiaceous Hyphomycetes, , M.B. Ellis, CAB International 1971, ISBN 0-85198-027-8, Commonwealth Mycological Institute, Kew, Surrey, England, ABE-Print.com
[11] More Dematiaceous Hyphomycetes, M.B. Ellis, CAB International 1976, ISBN 0-85198-3650-, Commonwealth Mycological Institute, Kew, w:st="on">Surrey, England
[12] Illustrated Genera of Imperfect Fungi, 4th Ed., HL Barnett & Barry B. Hunter, American Phytopathological Society Press, St. Paul, 1998, ISBN 0-89054-192-2
[13] Microfungi on Miscellaneous Substrates, Martin B. Ellis & J.Pamela Ellis, Crook Helm, London & Sydney 1988, ISBN 0-88192-115-7
[14] Runeberg, Ulrik, "Staining and Microbiological Infestation of Acrylic Paintings on Hardboard", Ulrik Runeberg, Conservator (Dipl. Rest./M.A.), Museo de Arte Contemporáneo de Puerto Rico, San Juan Presented,April 2007 conference in Richmond Virginia, sponsored by the AIC (American Institute for Conservation), this paper discussed the staining and microbial infestation of acrylic paintings on hardboard. - private correspondence, ER <->DF 12 September 2006. The following quotation is from t
paper's abstract:
"Hardboard served as a common and popular support for many modern paintings that were carried out from the mid - 1920's, and still is used occasionally in contemporary art. Many artists rejected hardboard as an inferior industrial construction material of low aesthetical value, whereas others considered the processed and compressed wood fiber boards to be a stable, light and economic alternative to solid wood panels and other rigid supports.
"From the conservator's critical point of view, the many disadvantages of this type of support include:  high acidity, hygroscope characteristics, tendency of 'off-gassing', (>tendency of) warping, occasional flaking of painting material in the case of tempered hardboard. The deterioration of paintings on hardboard depends on a number of factors including:  the quality of the hardboard, prevailing storage conditions, and the preparation of the support by the artist. While there are many paintings on hardboard that are in very good condition, this paper will focus on those paintings that are heavily deteriorated and damaged.
"A very characteristic damage found on porous painting layers such as acrylic colour on hardboard, is the formation of stains. Generally, those stains are described without any differentiation as 'fox-spots'. The examination of various paintings concerned led to the conclusion, that there exist different kinds of stains that need to be discriminated against each other, to ensure an appropriate conservation and restoration treatment.
"This paper aims to characterize and differentiate the stains, and will provide preventive and practical treatment proposals for the conservation and restoration of affected paintings.  Questions such  as 'What are the stains composed of?' and 'Which may be the causes?' will be addressed.  Stains may consist of a variety of contents, such as: Ligneous residues, fungal infestation, bacterial activity, a combination of microbial and support induced discolouration [SID], a 'symbiotic relation' of 'SID' and fungal infestation, or the blooming of ingredients from the original painting materials. A range of microscopic analysis of the actual microbiological infestation of selected samples will be provided.  The paintings that were examined, sampled and treated, are part of the Puerto Rican heritage, and were all kept in excessive humid tropical conditions, before they entered the Conservation Department of the Museum of Contemporary Art in Puerto Rico.
"Conservation treatment options of stained paintings on hardboard will be discussed.  A high level of acidity (caused from SID and/or micro-organisms) may require measures of reduction, disinfection and neutralization. Treatment methods that reduce the ligneous stains and residues of micro-organisms, and neutralize affected areas in painting layers include stain removal through the application of soaking compresses (poultices), and de-acidification through alkaline material.
"Other aspects of deterioration, that do not have to do directly with the formation of stains, but also are typical for hardboard as painting support, will be mentioned briefly." - U.R
[15] Kuritsyna,D. S., Army Foreign Science & Technology Center, Charlottesville VA (Corporate Author), "Effect of Relative Humidity on Damage to Paintings from Mold Fungi (Vliyanie Otnositelnoi Vlazhnosti Vozdukha na Povrezhdayemost Zhivopisi Plesnevymi Gribami)," 04 Sept 1970, Accession Number : AD0719484, web search 6/2/12 original source: http://oai.dtic.mil/oai/oai?verb=getRecord&metadataPrefix=html&identifier=AD0719484 - Quoting:
Abstract : Data concerning the temperature and humidity conditions under which paintings will not be damaged by mold fungi are very limited. For this reason an investigation was made of the effect of relative humidity on the growth of fungi which damage paintings and murals. It was found that for the safeguarding of ancient Russian easel distemper paintings against damage by mold fungi they must be stored at a relative humidity of 60-70% with an admissible daily humidity fluctuation of 5%, since the level of critical relative humidity at which the growth of fungi on icons begins is above 75%. In painting galleries, where easel oil paintings constitute the majority of exhibits, the relative humidity should be kept in the range 60-65%, but not higher, since with an increase in relative humidity to 75% there is a real possibility of damage to the paintings by mold fungi. However, the storage of easel oil paintings at a relative humidity in the range 60-65% guarantees them against damage by mold fungi. In cathedrals with wall Paintingss an effort must be made to prevent relative humidity from rising above 60-65%, since even beginning with 66% there is some slight development of mold fungi. (Author)
Books & Articles on Building & Environmental Inspection, Testing, Diagnosis, & Repair
Our recommended books about building & mechanical systems design, inspection, problem diagnosis, and repair, and about indoor environment and IAQ testing, diagnosis, and cleanup are at the InspectAPedia Bookstore. Also see our Book Reviews - InspectAPedia.
The Home Reference Book - the Encyclopedia of Homes, Carson Dunlop & Associates, Toronto, Ontario, 25th Ed., 2012, is a bound volume of more than 450 illustrated pages that assist home inspectors and home owners in the inspection and detection of problems on buildings. The text is intended as a reference guide to help building owners operate and maintain their home effectively. Field inspection worksheets are included at the back of the volume. Special Offer: For a 10% discount on any number of copies of the Home Reference Book purchased as a single order. Enter INSPECTAHRB in the order payment page "Promo/Redemption" space. InspectAPedia.com editor Daniel Friedman is a contributing author.

Or choose the The Home Reference eBook for PCs, Macs, Kindle, iPad, iPhone, or Android Smart Phones. Special Offer: For a 5% discount on any number of copies of the Home Reference eBook purchased as a single order. Enter INSPECTAEHRB in the order payment page "Promo/Redemption" space.
Environmental Health & Investigation Bibliography - our technical library on indoor air quality inspection, testing, laboratory procedures, forensic microscopy, etc.
Adkins and Adkins Dictionary of Roman Religion discusses Robigus, the Roman god of crop protection and the legendary progenitor of wheat rust fungus.
Kansas State University, department of plant pathology, extension plant pathology web page on wheat rust fungus: see http://www.oznet.ksu.edu/path-ext/factSheets/Wheat/Wheat%20Leaf%20Rust.asp
"A Brief Guide to Mold, Moisture, and Your Home", U.S. Environmental Protection Agency US EPA - includes basic advice for building owners, occupants, and mold cleanup operations. See http://www.epa.gov/mold/moldguide.htm
US EPA - Mold Remediation in Schools and Commercial Building [Copy on file at /sickhouse/EPA_Mold_Remediation_in_Schools.pdf ] - US EPA
US EPA - Una Breva Guia a Moho - Hongo [Copy on file as /sickhouse/EPA_Moho_Guia_sp.pdf - en Espanol
[5] "Modular Home Construction, special defects and inspection methods" Dan Friedman, NY Metro ASHI Seminar, Holiday Inn, Crowne Plaza, White Plains NY, October 4, 1996
[7] Trailer vs Mobile Home vs Modular vs Panelized Construction an explanation of terms and how to identify these structures.
[8] "Modular Home Construction, special defects and inspection methods" Dan Friedman, NY Metro ASHI Seminar, Holiday Inn, Crowne Plaza, White Plains NY, October 4, 1996
[9] New York State: "Manufactured Homes: an installation guide for the code enforcement official," undated. [Div. of Code Enforcement & Admin. - 518-474-4073, George E. Clark, Jr., Director] - this is a guide tool, not an enforcement code or standard.
[10] HUD State Administrative Agency (for 36 states) (NY: 518-474-4073) - for complaints
[11] manufactured Housing Institute, 2101 Wilson Blvd. Ste. 610, Arlington VA 22201 703-558-0400 www.mfghome.org
[12] NYMHA, 35 Commerce Ave., Albany NY 12206-2015 518-435-9859 800-721-HOME (they want the Star Program to provide for separate assessment of manufactured homes)
[13] Consumer Reports: www.consumerreports.org - special report 2/98
[14] Mobile Home Inspection Checklist, Florida, Town of Lady Lake Building Department
Books & Articles on Building & Environmental Inspection, Testing, Diagnosis, & Repair
Our recommended books about building & mechanical systems design, inspection, problem diagnosis, and repair, and about indoor environment and IAQ testing, diagnosis, and cleanup are at the InspectAPedia Bookstore. Also see our Book Reviews - InspectAPedia.
...