Q&A on How to Find the Air Filter

Where is the furnace or air conditioner filter?
InspectAPedia tolerates no conflicts of interest. We have no relationship with advertisers, products, or services discussed at this website.
Questions & answers about the location of heating or air conditioning or heating system filters.
HVAC air filter location, placement, or similar problem questions & answers are discussed here.
This article series explains in detail how to find the air filters on an air conditioning or hot air heating system.
Green links show where you are. © Copyright 2017 InspectApedia.com, All Rights Reserved.
FAQs on Where & How to Find the Air Conditioner or Furnace Filter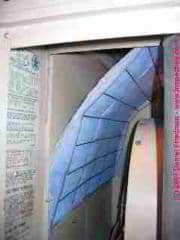 If you can't find your air conditioner system filters (there may be more than one air filter) some places to look are given at .
The questions & answers below about where to locate the air filter in air conditioning, heat pump, or forced-air heating systems were posted originally at AIR FILTER LOCATION
On 2017-07-08 by Mod - can a new Carrier condenser be located 1-inch from the wall?
(mod) said:
No, Sylvia, that distance violates just about every manufacturer's installation instructions and guildelines - unless perhaps you have a piece of equipment rated for "zero clearance" - not something that I've seen. But this isn't an air filter question.
Details about clearances around HVAC compressor/condenser units are at CLEARANCE DISTANCE, HVAC inspectapedia.com/aircond/HVAC_Clearance_Distances.php
Can a new Carrirer unit be located only 1 inch from the wall.? The other 3 sides have over 12 inches of space. Will the close location effect the efficiency of the new unit?
Just bought a home it has a sanuvox uv unit on the return duct but can't find a filter anywhere. I see an old filter that is very dirty on the floor in the basement but no where to install a new filter
M

When the door is open it blocks the return air - that is certainly going to increase the cost of operating the system and reduce its effectiveness too - the air flow will be restricted.

Can you put a door stop on the floor so as to keep the door a foot or more away from the return air opening? That'd help.
I have a a.c filter vent behind a door. Is this a good place or is it defeating the purpose? the room is an external room that leads outside and with the door open it covers the vent.
Sure.
Glad to assist. I'd like to see photos of the situation. You can use the page top or bottom CONTACT link to send me photos and I can comment further.
I have 3 filters on the ceiling but was not able to find any on the air handler at the attic? Is this okay
Some HVAC system use use a cascade of air filters. Typically in first filter is one that can be removed and washed.
Hi, I just purchased a new home and when changing the largest of the three return filters I noticed there was a secondary filter inside the largest return. It is not two stacked on one another, there is a second slot to hold a filter that is perpendicular to the primary filter inside the return.
The primary filter is a 20*25*1 and the secondary filter is a smaller 10*10*1. The other two returns in the house are 14*20*1 and do not have a secondary filter inside the return. Unfortunately, I am at the office and do not have any specs for the hvac system other than it's a Trane, so I know that doesn't help much. Just curious how this setup works and why it is there.

Thanks!
I have a trane heating and air conditioner and I want to change out the air filter because something is wrong - we are only receiving "fan temp. air" verses cool- our thermostat says 83 and it stays on 75- I do not know what is wrong but now I can not even find where the air filter is!!!! Any thoughts?
I think your technician is correct.
Hi..I live in central Florrda and I have 2 return vents.. One in the hallway 20x21x1 and another in the master bedroom 12x12x1... I also have a furnace with a slot that I could install a filter.. my question is, do I install a filter at the furnace or at the return vents? - The AC tech told me to not install a filter at the furnace if I have filters in the return vents because that will make the system work harder? - - is he right?... do you recommend a filter at the furnace versus the return vents?
I just in the last few months moved into a new mobile home. I have 3 filters inside my a/c return register, 2 of them are metal that resembles the filter in the hood of a stove & 1 regular type filter. The regular one I change everytime I pay my electric bill but the 2 metal ones I am not sure how to clean. What is the purpose of the metal ones. Have never lived in a place that has used these.
I'm worried about the air filter placement in a new system. My new AC/Furnace unit has worked great for the last year, but when I went to check the filter (located just before the blower), it's perfectly clean. I believe it isn't catching any dust because there is a 3-inch gap between the top of the filter and the side of the duct where it sits.
This allows dirty air to get sucked around the filter and into the blower. Is that correct? How tightly should the filter fit in its rack?
From just your one line e-query, Anon, nobody can say where your system's air filter is located. But the article above suggests where to look. follow the ductwork; check the air handler, check the return registers.
I can't locate the filter for our Payne central AC. I checked the intake vents, but no luck. Where is it?
Elaine you should be able to spot where cool air comes INTO your unit (supply registers) and where warm air is LEAVING your unit (the return register) - typically one or just a very few larger grilled openings. That latter is where to start looking for an air filter.
I have a 1st floor condo unit. The condenser is outside but there is no air handler in my unit. There is no access to a crawl or attic space. I only have a thermostat and have no idea where a filter would be located. I have ductwork for AC. Heat is from baseboard/boiler in basement of building.
Anonymous:

You can turn off the A/C fan at the thermostat or at the air handler unit until the A/C system has been repaired.

You should be sure that a clean air filter is in place - or at least whomever is maintaining the A/C system should do so.

You could block air flow or at least reduce it significantly by closing your supply register louvers.

Your landlord may be worried about indoor mold due to hot humid air, high indoor humidity, low air movement and may be running the fan as a stopgap measure. Discuss these concerns with your landlord.
The thermostat FAN ON switch may be in the ON position
or
The thermostat is calling for cooling and the air handler runs but your outside compressor/condenser won't.

See http://inspectapedia.com/aircond/Air_Conditioner_Diagnosis.php for some simple steps to follow.
What is causing the air to blow if the air conditioner or the heat pump isnt cooling
Im renting and this house has a bryant a/c unit model BB5600240000e00 regardless thelandlorf has it pushing air into my flat even though the air isnt working
Im getting all kinds of dust in the house and have asthma and copd. Somethong is putting air in here and its making me sick.
cant find the filter on a goodman package unit looked every where may not be one in how do I no where to put one in
My Lennox central ac is installed on the roof , but the air filter needs to be changed in the attic ; I can't find the air filter in the attic which supposed to be under the ac unit .
No, Hilda. And doing so may restrict air flow more than is acceptable.
I have a unit that is similar to that above in the first picture with the very dirty filter. Do I need to have filters on the return grilles as well?
Typically the filters are at the return air inlet. If you found them there there may be no other filters at the air handler itself.
I have two carrier air conditioner units, horizontally placed in my attic. I am not sure where the filter is located within in the unit. I could take a picture and send you a copy if that would make it easier to locate the filters. I have replaced the filters at the ceiling register units. One unit is a 4 tons and the other is 5 tons.
I have a central heat pump with air conditioning and heating assist. On my Bryent system, they placed the filter in a very odd place. It is on the return side, but during the summer months, the refrigerationg coils drip condesation water all over the filter because it is right below it.
Half of the filter also gets sucked up into the plenum chamber where the A-frame coils are located, too. Consequently the air flow gets restricked, and the coils start to ice up causing even more water to drop down to the lower part of the intake plenum chamber.
Plus, when I go to remove the filter to change it, it is all worped out of shap, and usually damp, and hard to remove out of that little opening after removing the little access door. Whatever particals were on the filter will now drop down to the lower chamber as I try to remove the filter.
It seems to me that the filter should have been installed away from those coils, and on the other side of the return plenumn where it is dry, and a larger area for the filter. Why did they put the filter there?
Very helpful and detaild
Question: Should I remove the air filter installed at the air handler and just filter at the return air inlets?
My house has a central air unit and 2 return supply grills in each hallway. I always had a big filter in the main unit (16x20x4) and then one in each of the return grills (16x25x1).
Last year my unit was not cooling very well and the tech said I should not have filters in all 3 spots, and suggested I not put one in the main unit, just the hallways.
Now the house cools great, but the dust is over whelming. Is there some adjustment I should make by adding a central filter again, or just buying super efficient hallway filters? BTW, we have lots of pets.
Rox5704
Reply: Suggestions for filtering HVAC air at the return air inlet grilles
Rox:

In my OPINION what your HVAC tech said was reasonable.

I would NOT want to operate an HVAC system with no air filters - doing so leads to debris collection in the duct system (expensive to clean or correct later on) and debris clogging at the cooling coil of an air conditioner and debris clogging on the blower fan - reducing airflow further and creating system operating problems.

The problem with filtering ONLY at the air handler is that debris collects in the ductwork, especially the return ducts - that can be costly or even impossible to clean, depending on duct routing and the materials used.

So it's best practice to filter return air right at the return air inlet grilles just as your tech suggested.

You can try using higher efficiency filters at the return inlets (the inlet mounting grille may need to be changed to accommodate a thicker air filter) but choose your filters carefully. A thicker filter that is deeply pleated, by providing greater total surface area than a more flat air filter, can improve air filtration significantly without reducing the air flow rate through the device.
...
Continue reading at AIR FILTER LOCATION or select a topic from closely-related articles below, or see our complete INDEX to RELATED ARTICLES below.
Or see AIR FILTER OPTIMUM INDOOR
Suggested citation for this web page
AIR FILTER LOCATION FAQs at InspectApedia.com - online encyclopedia of building & environmental inspection, testing, diagnosis, repair, & problem prevention advice.
Or use the SEARCH BOX found below to Ask a Question or Search InspectApedia
Or see
Or use the SEARCH BOX found below to Ask a Question or Search InspectApedia
...
Frequently Asked Questions (FAQs)
Try the search box below or CONTACT US by email if you cannot find the answer you need at InspectApedia.
...
Ask a Question or Search InspectApedia
Use the "Click to Show or Hide FAQs" link just above to see recently-posted questions, comments, replies, try the search box just below, or if you prefer, post a question or comment in the Comments box below and we will respond promptly.
Search the InspectApedia website
Technical Reviewers & References
Click to Show or Hide Citations & References
Modern Refrigeration and Air Conditioning, A. D. Althouse, C.H. Turnquist, A. Bracciano, Goodheart-Willcox Co., 1982
Principles of Refrigeration, R. Warren Marsh, C. Thomas Olivo, Delmar Publishers, 1979
"Air Conditioning & Refrigeration I & II", BOCES Education, Warren Hilliard (instructor), Poughkeepsie, New York, May - July 1982, [classroom notes from air conditioning and refrigeration maintenance and repair course attended by the website author]
Refrigeration and Air Conditioning Technology, 5th Ed., William C. Whitman, William M. Johnson, John Tomczyk, Cengage Learning, 2005, ISBN 1401837654, 9781401837655 1324 pages
Asbestos HVAC Ducts and Flues field identification photos and guide
Fiberglass: Indoor Air Quality Investigations: Fiberglass in Indoor Air, HVAC ducts, and Building Insulation
...
Books & Articles on Building & Environmental Inspection, Testing, Diagnosis, & Repair