Clothes Dryer Exhaust Vent Draft Booster Fans
Using draft booster fans on clothes dryer vents: specifications, sources, safety
InspectAPedia tolerates no conflicts of interest. We have no relationship with advertisers, products, or services discussed at this website.
Clothes dryer exhaust vent draft booster fan - Dryer Exhaust Duct Power Ventilator (DEDPVs):
Some respected manufacturers recommend adding a draft booster fan (Dryer Exhaust Duct Power Ventilator (DEDPV)) on long clothes dryer vent duct runs to reduce lint accumulation and to overcome duct length restrictions, overheating, and possible fire hazards.
Yet in some circumstances the draft inducing or boosting fans may be a fire hazard themselves, and they may be prohibited in some building code jurisdictions. Shown at page top, Fantech's DBF110 dryer booster exhaust fan model DBF110. Fantech contact information is provided below.
This article series describes good practices for clothes dryer vent installation, lint traps, wall vents, filters, and screens. We include a list of clothes dryer fire safety hazards and other clothes dryer installation or maintenance mistakes that are either unsafe or that interfere with effective, economical dryer operation. We discuss types of dryer vent ducting and dryer vent doors or opening protection devices.
We also provide a MASTER INDEX to this topic, or you can try the page top or bottom SEARCH BOX as a quick way to find information you need.
Booster Fans for Long Clothes Dryer Exhaust Vent Duct Runs?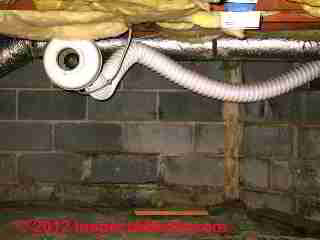 Dryer vent draft booster fans, permitted for sale in the U.S. & Canada, are sold to help vent dryer exhaust vent products, especially where the vent ducting has to make a long or circuitous run.
When we read that "dryer vent booster fans are illegal" or "are prohibited" I suspect some people are confusing dryer vent draft booster fans (legal, permitted), with add-on lint filters for dryers that raise safety worries (CLOTHES DRYER LINT FILTER HAZARDS). Fantech notes that
[Dryer booster fans, or Dryer Exhaust Duct Power Ventilators (DEDPV)] are [permitted for use] except in rare cases where local jurisdictions have specifically amended their own code to exclude them. The IRC has never prohibited the use of auxiliary fans to facilitate dryer exhaust, ...] - Fantech (2012)
Still, the dryer vent and draft booster fan needs to be inspected and will need periodic inspection and maintenance. The horrible dryer vent installation shown above illustrates several unsafe conditions including:
Sagging dryer vent ducting - inadequate support, collects lint and even water
Booster exhaust fan on dryer, may increase risk of fire spread in the building
Venting dryer into the crawl area, adding moisture where conditions are already too wet, risking mold contamination and even adding to the increase of insect damage or wood rot.
John Cranor, an ASHI home inspector, explained that booster fans are indeed permitted to help assure functional dryer vent ducts that have to extend over longer distances than the recommended 25 feet, but that the booster fan should be located at least 15 feet from the clothes dryer outlet to avoid risking drawing wet lint into and clogging the clothes dryer vent fan.[8]
According to Tjernlund, a manufacturer of several types of draft inducer fan systems, "The Dryer Duct Booster can also reduce the potential fire hazard associated with lint buildup." [9]. Excerpt
Clothes dryers are often installed in areas of homes where they cannot work effectively. This is because moist air cannot effectively exit the dryer and exhaust to the outside—bogging down the entire drying process. If a dryer's vent run is over 25 equivalent feet* or the dryer is experiencing long drying time, your dryer may need a dryer booster fan. The Dryer Duct Booster can also reduce the potential fire hazard associated with lint buildup.
* When using equivalent feet a 90° elbow equals 5 feet and a 45° elbow equals 2.5 feet. Some dryers can exhaust beyond 25 equivalent feet without a booster fan. - Tjernlund (2016)
And for commercial clothes dryer installations the company adds:
Individual vents can be expensive, if not impossible to install in multi-story buildings. Laundry room locations often force exhaust vent lengths to exceed the dryer manufacturers' recommendations. Tjernlund systems allow exhaust vents to run hundreds of feet in any direction and vent diameter can be reduced by up to 50%.- Tjernlund (2016)
And Fantech offers similar advice for using a Fantech inline dryer exhaust fan:
According to some dryer installation instructions and local building codes, booster fans should be added in the dryer duct run when the length of duct exceeds 25 feet with no bends, 20 feet with one bend or 15 feet with 2 bends.
With an existing system you may find that drying times are far longer than the dryer manufacturers instructions give, this may indicate that you have an duct run longer and more restrictive than your dryer can handle. Installing a Fantech dryer booster in the duct line will relieve the excess pressure in the duct allowing the dryer to operate as designed. ...
The DBF 4XL, DBF 4XLT and RVF 4XL (with DB10 pressure switch) are effective for up to 130 equivalent feet of 4" hard duct. The DBF110 is effective up to 108 equivalent feet of 4" hard duct. At these lengths the booster fans will maintain a velocity 1200 feet per minute which will keep lint particles airborne guarding against build up in the duct.
... Over time the fan impeller may accumulate lint. Periodic inspection, based upon dryer usage, should be performed to ensure the fan impeller is not obstructed or loaded with lint. Under normal conditions, the fan should be inspected every six (6) months. Note: Excessive booster fan noise or vibration may be an indication of lint buildup on the impeller. ...
With the dryer operating, open the dryer door. The fan on the dryer will stop but you should still hear air being pulled through the dryer from the booster fan. Fantech's DBF 4XLT features a wall-mount indicator panel that mounts in the wall near the dryer. An LED light on the indicator panel lets the user know that the fan is operating correctly. - Fantech (2016)

Watch out: while it may be true that a booster fan can reduce lint accumulation in a long dryer run, as the notes above, should a dryer fire occur, or for that matter should other building fires occur nearby, the booster fan may actually speed the spread of a fire in the building.
Beers (2003) suggests an alternative: purchasing a clothes dryer designed with a stronger internal blower fan to handle longer exhaust duct runs. We've read references to "ventless" clothes dryers too, though one would wonder where the moisture is being sent and if it's wanted there.
Watch out: if a clothes dryer system is relying on a draft boosting fan for safe operation (say for a long dryer vent duct run or a run with many bends), be sure that the fan is operational. Otherwise the system is unsafe. That's because without the draft boosting fan the dryer system is at risk of overheating or a possible dryer fire. FanTech's DBF4XLT includes a light-indicator panel that shows if the fan is operating normally. Other brands and models with similar features may be available.
Clothes Dryer Exhaust Vent Draft Booster Fan Research
Beers, Jonathan. "Dryer Venting." HOME ENERGY 20, no. 6 (2003): 14-16.
Brown, Kate, and Paul Knight. Walatowa Pueblo of Jemez Housing Department Trip Report: Assessment of Mold and Moisture Conditions. Building Research Council. School of Architecture. College of Fine and Applied Arts. University of Illinois at Urbana-Champaign, 2005.
Cheung, Kisuk. Engineering and Design: Clothes Dryer Exhaust Venting. No. ETL-1110-3-483. CORPS OF ENGINEERS WASHINGTON DC, 1998
Craynor, John, "The Facts About Clothes Dryer Exhaust Systems", The ASHI Reporter, (April 2005), available from ASHI online at http://www.ashireporter.org/HomeInspection/Articles/The-Facts-About-Clothes-Dryer-Exhaust-Systems/161
John Cranor, ASHI certified home inspector (house-whisperer.com) in Richmond, VA, can be reached by email to: johncranor@verizon.net or by telephone at

804-747-7747

. Technical review, email, 1/2012
Fantech, "Dryer Exhaust" [web article], Fantech, a systemair company, 10048 Industrial Blvd, Lenexa, KS 66215 USA, Email: USsupport@fantech.net, Tel: 800-487-9915, retrieved 2016/03/26, original source: http://fantech.net/enus/Support/FAQs/Dryer-Exhaust/
Fantech, "A New Name for Dryer Booster Fans", [PDF] [Dryer Exhaust Duct Power Ventilator (DEDPV)], op. cit., retrieved 2016/03/26, original source: http://www.fantech.net/Documents/Leaflets/DEDPV%20White%20paper%20Fantech.pdf
Excerpt:
UL has since developed a supplement to UL705 that does specifically address the safety of fans used to facilitate proper dryer exhaust and has given the product a new name, Dryer Exhaust Duct Power Ventilator (DEDPV). Consequently, when the IRC releases its 2015 building code, it will include provisions for the specific use of DEDPVs.

In the meantime, dryer booster fans that have yet to achieve DEDPV designation are still allowed in many if not most jurisdictions throughout the United States by virtue of Section 104.11 of the IRC, which states:

"The provisions of this code are not intended to prevent the installation of any material or to prohibit any design or method of construction not specifically prescribed by this code, provided that any such alternative has been approved. An alternative material, design or method of construction shall be approved where the building official finds that the proposed design is satisfactory and complies with the intent of the provisions of this code, and that the material, method or work offered is for the purpose intended, at least the equivalent of that prescribed in this code".

Distinguishing Features of DEDPVs

While fans of another name may be installed in dryer booster applications (at least for now) UL has announced that all "DEDPV" products manufactured after July 31, 2012 must comply with the new supplemented requirements of UL705 for sale in the US market
Niemeyer, Shirley, and Sharon Skipton. "EC02-458 Heating and Cooling Systems: Saving Energy and Keeping Safe (Home* A* Syst Fact Sheet 1)." (2002).
Tjernlund, " Tjernlund Residential Capacity Dryer Duct Booster® your clothes faster and prevent lint build up with the new Dryer Duct Booster®. ", [web article], Tjernlund, 1601 9th Street White Bear Lake, MN 55110-6794, Tel: (800) 255-4208, Website: www.tjernlund.com, retrieved 2016/03/26 (new retrieveal), original source: http://www.tjernlund.com/dryer_booster.htm
UL 507 Standard for Electric Fans, , Underwriters Laboratories, retrieved 2016/03/26, original source: http://ulstandards.ul.com/standard/?id=507_9
Excerpt:
1.1 These requirements cover: a) Fans and blowers that circulate air, such as desk, ceiling-suspended, and hassock fans; b) Fans and blowers that ventilate air, such as attic, whole-house window, through wall, and direct discharge fans; c) Ducted fans and blowers that exhaust air to the outside of a building structure, such as in-line, wall insert and ceiling insert fans; ... Component fans; k) Residential cooking area fans, such as rangehoods and downdrafts;
UL 705 Standard for Power Ventilators, Underwriters Laboratories, retrieved 2016/03/26, original source: http://ulstandards.ul.com/standard/?id=705
Excerpt:
These requirements cover power ventilators of the roof-and wall-mounted types and duct fans of the straight-through type intended for commercial or industrial use, residential fans intended for heated and conditioned air and for connection to permanently installed wiring systems in accordance with the National Electrical Code, NFPA 70.
...
Continue reading at CLOTHES DRYER VENT CLEARANCES, or select a topic from closely-related articles below, or see our complete INDEX to RELATED ARTICLES below.
Or see APPLIANCE DIAGNOSIS & REPAIR
Or see this
Article Series
Suggested citation for this web page
CLOTHES DRYER VENT BOOSTER FANS at InspectApedia.com - online encyclopedia of building & environmental inspection, testing, diagnosis, repair, & problem prevention advice.
Or use the SEARCH BOX found below to Ask a Question or Search InspectApedia
...
Ask a Question or Search InspectApedia
Questions & Answers on bathroom vent fan and fan ducting installation procedures, codes, standards.
Try the search box just below, or if you prefer, post a question or comment in the Comments box below and we will respond promptly.
Search the InspectApedia website
Technical Reviewers & References
Click to Show or Hide Citations & References
John Cranor, ASHI certified home inspector (house-whisperer.com) in Richmond, VA, can be reached by email to: johncranor@verizon.net or by telephone at 804-747-7747. Technical review, email, 1/2012
[1] Heartland 21000 Dryer Vent Enclosure
[1] Lambro Industries 289W Dryer Vent Enclosure
[8] "The Facts About Clothes Dryer Exhaust Systems", John Cranor, the ASHI Reporter, April 2005,American Society of Home Inspectors,® Inc., 932 Lee Street, Suite 101, Des Plaines, Illinois, 60016, Tel: 847-759-2820, website: ashi.org, original source: ashireporter.org/articles/articles.aspx?id=161
Books & Articles on Building & Environmental Inspection, Testing, Diagnosis, & Repair
Our recommended books about building & mechanical systems design, inspection, problem diagnosis, and repair, and about indoor environment and IAQ testing, diagnosis, and cleanup are at the InspectAPedia Bookstore. Also see our Book Reviews - InspectAPedia.
...