Structural Wood Damage Probing\
InspectAPedia tolerates no conflicts of interest. We have no relationship with advertisers, products, or services discussed at this website.
Wood damage assessment in buildings:
How to assess the extent of structural damage from wood destroying insects.
Wood structural member assessment for rot, insect or fire damageThis article describes methods for inspecting, probing, and otherwise assessing wood structures and wood components (floors, trim, sheathing) for damage by insects or rot.
We describe when, where, & how to inspect & probe wood components on buildings when damage (carpenter bees, carpenter ants, termites, powder post beetles, fungal damage, rot damage) is seen, known, or suspected.
We also provide a MASTER INDEX to this topic, or you can try the page top or bottom SEARCH BOX as a quick way to find information you need.
How to assess the extent of structural damage from wood destroying insects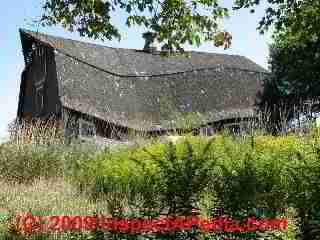 [Click to enlarge any image]
Article Contents
Assessing the extent of structural damage to wood framing members in a conventional building inspection involves the following phases and procedures: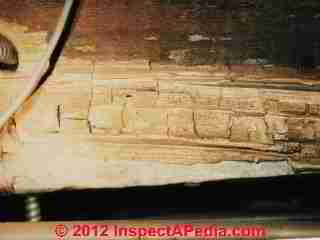 Visual inspection to locate evidence of insect damage or structural rot
Watch out: Don't assume only one kind of insect damage will be present as the same conditions that invite one insect into a wood structure may invite others. We have found termite damage, carpenter ant activity, and powder post beetle damage all in the same structure, on occasion even in the same wood beam or joist.
Our photo (above right) illustrates wood rot found in the same floor joist where there was extensive termite damage.
Selection & use of probing tools to test wood components for insect damage or rot
Using an appropriately-chosen instrument (see below) probe suspect or visibly damaged wood beams, joists, rim joists, sill plates, even flooring or subflooring; we start this step in basements and crawl spaces but may find evidence to justify probing finished materials such as interior trim or wood floors.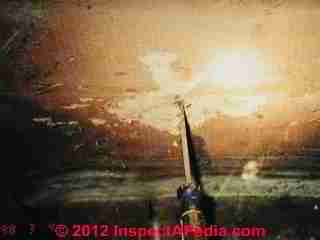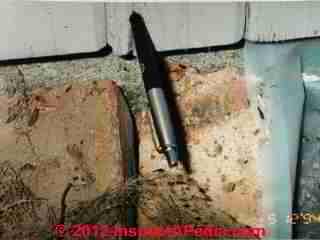 Professionals use a wide variety of wood probing instruments of different end-diameters, sharpness, and, importantly, length, as it can be difficult to reach some surfaces that really should be examined. Our photo (above left) illustrates using a simple screwdriver, (my dad's), to probe an area of visible termite damage. And at above right, our pen is probing suspected rot damage at wood siding.
An example of probing a finished hardwood floor is at TERMITE INSPECTION & DAMAGE.
Watch out: building inspectors and PCOs should never probe nor use destructive inspection methods without permission of the building owner. Make certain that you have explained the justification for any inspection techniques that involve risk of damage, even just cosmetic damage to the structure. However, in our OPINION, if your finger or pen easily penetrate insect or rot damaged trim, flooring, or other indoor finished surfaces, you have not caused actional damage to that component; rather, you have disclosed it.
We arbitrated an ugly case in which a novice home inspector left screwdriver blade jam marks throughout the finished area of a new home. Don't do that.
The depth to which a wood probing instrument will penetrate wood depends on these factors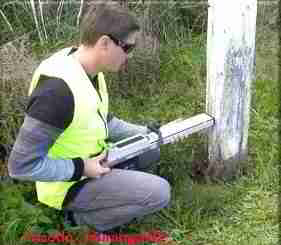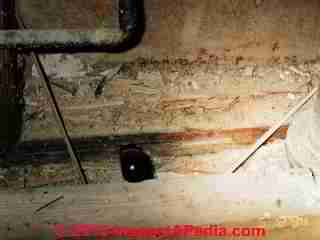 The hardness of the wood being tested. At above left our photo illustrates micro-drilling (explained at WOOD STRUCTURE ASSESSMENT), courtesy of Paul Probett, Incodo Forensic Building Specialists [1].

At above right you can see the butt end of our screwdriver, buried to the hilt in a termite-damaged sill plate located at the base of an interior partition in the basement of a New York home. The screwdriver penetrated this sill with virtually no effort. Probett calls this traditional wood inspection and probing method "Visual and Chisel" (WOOD BEAM VISUAL INSPECTION) - an approach that in our opinion is perfectly adequate in many circumstances.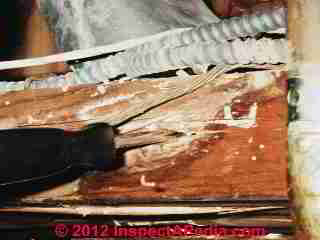 The condition of the wood: water content, and most significantly the extent and depth of insect damage (or rot) nto the wood. This step is key in assessing powder post beetle damage as it is difficult to know before probing whether the damage is superficial ("topical") or much more extensive.

Our screwdriver penetrating the floor joist (photo at left) confirmed extensive termite damage in this joist that formed the ceiling over a basement utility room whose partition wall sills were also termite infested (photo above right).

Finding damage in both floors and ceilings of this home continued the trail of disclosure of a very extensively damaged structure.

Many inspectors and some engineers use rules of thumb about probe entry depth to form an opinion about the remaining strength of the structural member and whether or not it needs replacement.

The cross section and area of the tip of the probe. Using a sharp pointed ice pick to probe wood is ridiculous as the pointed tip will penetrate just about any wood and will make unnecessary holes and damage.

Our fine wood probe (shown at below left) was made by grinding off the sharp point of the ice pick to a flat end. We use this probe delicately and in discrete locations such as at the bottom of wood trim in unobtrusive areas of suspected damage.
The force applied to the wood test probe. Except for the use of instrumented microdrillingv this step involves some subjectivity and is based on the experience and knowledge of the inspector.
See TIMBER ASSESSMENT for details about microdrilling, an engineering approach to assessing the strength of damage-suspect structural wood.
Examples of probing wood for structural damage
Clearly the ground-off ice pick wood probe (below right) is finding less-severe damage than the "to the hilt" stab of my dad's screwdriver demonstrated by our client (below left).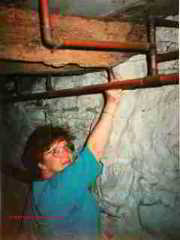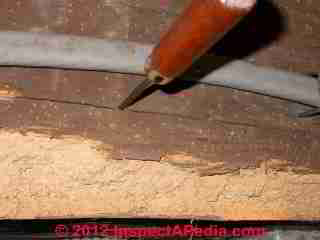 Watch out: while we advise against unwarranted cosmetic damage at a building interior, strategic probing of wood sills, rim joists, or floor structures (or other wood members) can disclose severe structural damage that was otherwise not evident. At below left, even our pen was able to easily puncture this termite-damaged joist that had been "cosmetically-repaired" using wood putty
At below left we illustrate an appropriate use of our fine wood damage probe in an area of suspected cover-up of a termite damaged oak floor framed at ground level with no other access below.
When observing the termite damage at below right, probing adjacent wood members as well as along the length of the visibly attacked members is completely appropriate. This termite damaged floor that was "repaired" with wood putty is described in detail at TERMITE DAMAGE PROBING.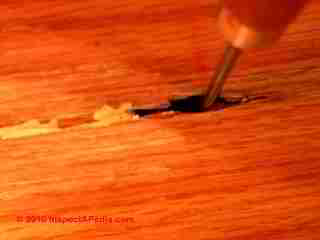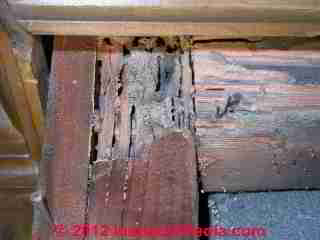 And at below left our termite damage photograph illustrates a serious risk: this floor joist looked "perfect" from its exterior, but probing disclosed that it was severely damaged - basically a "hollow skin" of wood. The light colored marks at the upper edge of the joist (and suspected termite activity from other site clues) led us to probe this joist bottom where it rested on the sill plate. Leverng the screwdriver disclosed the damage our photo illustrates.

At above right,my pen, with its cap on, easily penetrated this severly-rotted joist end.
Demolition or removal of materials for further inspection for WDI damage: when is it justified?
Demolition or removal of materials for further inspection for insect damage may be justified and necessary. Usually powder post beetles have attacked wood beams, typically rough cut lumber or round "trees" used as joists or beams or sills in older homes. We don't usually need to remove flooring or siding to access and assess such damage, but there are cases where it may be needed.
Inaccessible crawl areas: In some cases such as where there is an inaccessible crawl space we may need to make inspection or access openings to the crawl area, either from outside the building or even from indoors.
Buckled, crushed building siding: siding buckled at ground level over an inaccessible crawl space or slab on grade (photo, below left) is a likely indicator of severe hidden rot or insect damage to the building's sills and floor structure.

Further inspection from outside is usually justified. Even siding buckled atop a foundation wall above ground may indicate a risk of crushing sills that merits further investigation such as our cement asbestos siding photo (below right).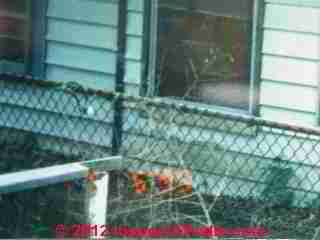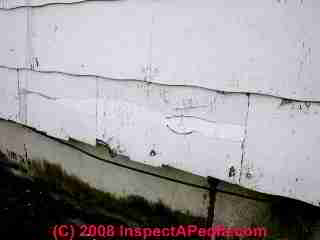 Additional materials removal during building repairs can also be expected to disclose damage from insects, rot, or mold. In general we remove damaged materials until there is a suitable safe margin of clean un-damaged materials, extending that distance of removal of wood framing where necessary for structural reasons (replacement of an entire member for practical or cost reasons) or in special cases such as MERULIPORIA FUNGUS DAMAGE (photos shown just below) we remove wood for a larger safety margin, as much as two meters beyond visible damage due to hidden fungal infections.
Also see the FEAR-O-METER a promotion theory to convert risk of hidden defects & hazards into action thresholds, for a discussion of how an accumulation of inspection evidence leads to a rational decision to perform invasive or desctructive inspection measures.
...
Continue reading at WOOD STRUCTURE ASSESSMENT or select a topic from closely-related articles below, or see our complete INDEX to RELATED ARTICLES below.
Suggested citation for this web page
STRUCTURAL DAMAGE PROBING at InspectApedia.com - online encyclopedia of building & environmental inspection, testing, diagnosis, repair, & problem prevention advice.
Or use the SEARCH BOX found below to Ask a Question or Search InspectApedia
Or see
Or use the SEARCH BOX found below to Ask a Question or Search InspectApedia
...
Frequently Asked Questions (FAQs)
Try the search box below or CONTACT US by email if you cannot find the answer you need at InspectApedia.
Question: can you tell from these photographs if this is mold or "dry rot"? Our surveyor says the beam needs to be replaced.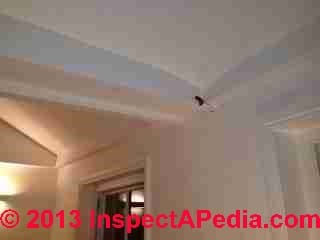 I have found your website most useful, and am emailing to ask your opinion (just from photos as am in the UK) with regards to suspect material on a timber beam. I appreciate you charge for consultations and I am happy to make a donation to your website if helpful.
I like in a top floor apartment in an 1850s terrace brick property in London. We had a leak in the Spring in the roof which damaged the front wall.
There are some exposed beams (although covered in plaster), part of the plaster was damaged exposing the beams and I partially painted the gap 3 months ago, a few days ago I noticed odd black stains with black looking hairs sticking out of it (see photos).
For photos on your website it looks like brown mold (but more black in colour), our surveyor is assuming it is dry rot and the beam needs to be replaced.
While it is hard for you to judge from photos, in your personal opinion what do think it is? Thanks so much for your help - J.G. 1/4/2014, London
Reply:
A competent onsite inspection by an expert usually finds additional clues that would permit a more accurate, complete, and authoritative answer than we can give by email alone.
For example, to assess the scope of damage in the building you are describing one would want to trace the location(s) and extent of leaks and to perform appropriate probing tests (STRUCTURAL DAMAGE PROBING) to assess the depth & extent of actual structural damage to the beams involved.  While manual probing is usually sufficient, there are also more sophisticated tools available (WOOD STRUCTURE ASSESSMENT).

That said I offer these comments:

From your photograph there is no doubt that there has been protracted leakage as the fungal growth that I see involve mycelia or "root-hair" -like structures characteristic of wood destroying fungi on wet wood. While mold growth can appear quite rapidly, when I see extended mycelial growth along with cracked wood characteristic of brown rot fungi it is reasonable to infer that the leakage in that area has been going on for some time.
At above left we see fungal mycelia on what looks like the back-side of a fragment of drywall.
At above right we see the same mycelia on the side of what is probably a wood beam - indicated in your first photo above. We also see "cracking" in the wood characteristic of wood rot, typically caused by a wood-rotting fungus in the Basidiomycete family but possibly involving other fungal genera/species such as Stemonitis sp. that I often find in buildings.
I'd need to see the fungus under the microscope to identify it - a step that is not necessary to decide on the need for structural repair except where MERULIPORIA FUNGUS DAMAGE is involved. As that fungus is a characteristic yellow-gold, I don't see evidence of it in your photographs.

"Dry rot" does not really mean that rot occurred with no moisture present, so use of the term can be misleading.

What we cannot assess from your photographs is the depth and extent of rot and thus the actual need for replacement of the structural members. Especially in older buildings where the depth of rot into large structural members is shallow, for example an inch or less in a 8x12 beam, generally experts will fix the leak and leave the beam in service.
Depending on the structure type, and with the caveat that I am not a structural engineer nor do I have the benefit of onsite view and exploration of your particular building, I caution that there can be special cases where structural repair could be more urgent. For example, if the ends of wood beams set into a masonry structural wall are deteriorated, and particularly where angular fire cuts were made in the wood beam ends, should the beam end become rot deteriorated there could be a risk of structural collapse.

In sum, from the very limited visual access seen just in your photos, but noting the apparent age of leakage and evidence of wood rot, a more thorough investigation is needed to determine if structural repair is needed at all (other than leak repairs), and attention needs to be given to the collapse risk points and structural connections in the building.

Beware of the "OPM" problem - a consultant who spends other people's money to reduce his or her own risk beyond that justified by the actual site conditions.

Beware of the opposite concern - a consultant whose work is superficial and inadequate and who fails to adequately identify and assess actual risk of serious structural damage or hazards.
Reader follow-up:
Many thanks for your detailed and quick reply, it is immensely helpful and really appreciated. We have our original structural surveyor (from when we bought the property) returning next week but I note your comments re OPM...as his instinctive reaction from just looking at the photo was that it needs replacing with a steel beam. We will get some more expert assessments on site so we can have a full view of what to do. I will keep you informed of our progress, - J.G. 1/4/2014
Reply:
The case you have described, of water intrusion detected at one end of a large wood timber in an older London home, is perhaps a perfect test case for Probett's approach to wood timber strength assessment described in the citation I include below. Before tearing out an existing structural wood beam for replacement with a steel I-beam as your surveyor (in my opinion a bit too glibly) recommended, it would make sense to explore further the condition of the beam and its connections.
As my earlier email explained, in a large wood timber, a modest depth of surface rot damage may not be at all enough to merit timber replacement. As Mr. Probett's equipment and a knowledgable user are probably not available in London, you may be reduced to a more traditional but still reasonable timber assessment approach that includes
- removal of enough finish materials to form a confident opinion of the location(s) and extent(s) of and history of leakage that affected the beam in question .
- a visual inspection to find water or rot damaged wood
- mechanical probing to explore the depth of that damage
- a thoughtful assessment of extent of timber damage and thus compromise of its strength compared with the design loads involved
- careful attention in particular to points of connection, as for example in the case you have provided, the detected leak is at one end of a large beam; even if the overall beam is un-damaged, a failure at the connection point could be catastrophic.
- an interior inspection of the building finished-surfaces for evidence of leakage or movement (stains, cracked, dislocated drywall or plaster, wall-floor separation, etc)
- an exterior inspection of the building to identify its leak points and leak history, with an eye to identifying other areas where there may be un-discovered leakage, rot, and structural damage that need to be investigated.
My concern in writing this follow-up note is to be sure to point out that on a building built in the 1850's there will certainly have been leaks through its lifetime; depending on leak location, duration, severity, building materials, inteiror finishing, building occupancy, building maintenance level and similar variables, such leaks can go un-recognized for a long time, possibly allowing damage to be significant. On the other hand, and where my comments began, superficial damage is likely not to justify costly repairs.
Because this case is a fit application for methods he is developing, I have referred Paul Probett to our public discussion at https://InspectAPedia.com/structure/Structural_Damage_Probing.php
If you agree I'd like to also send him a copy of our correspondence. See
Paul S. E. Probett, Clinton S. Craig, Blake J. Probett, "In Situ Structural Timber Strength Measurement Advances Using Qualitative Resistography and Quantitive Resisto-Fractometry" [USFPL paper, 730KB], Paul S. E. Probett MIFPI, AsocRICS, MBOINZ, MNZIBS, NZCB. Clinton S. Craig Blake J. Probett INCODO Ltd, Tauranga, New Zealand, mail2us@incodo.co.nz, 18th International Nondestructive Testing and Evaluation of Wood Symposium - Madison, WI Sept 2013, http://www.forestprod.org/symposium2013/

discussed in our article series WOOD STRUCTURE ASSESSMENT 
Reader follow-up:
Daniel this is incredibly helpful, it is really good to get an understanding of all the various things to consider and from an unbiased source, it seems clear that each situation is different to the last and there is no 'boiler plate' solution that should be instantly applied.
While I have no expert knowledge of any of this, my instinct was that every scenario should be considered before the most invasive option of a steel beam, particularly from the structural reason that we are in an old property which has a tendency to move or expand a bit (unfortunately a curse of Islington in London all being built on clay) and hence the sheer weight of a steel beam might present its own problems on a house designed for timber and bricks, however as you rightly mentioned - surveyors, in the uk at least, want to present the best option to cover their personal liability regardless of cost
I certainly come with the view that whatever is necessary should be done (as the consequences of not doing so could be fatal) but the right solution should be found Please feel free to pass on our correspondence to Mr Probett - J.G. 1/5/2014
...
Ask a Question or Search InspectApedia
Use the "Click to Show or Hide FAQs" link just above to see recently-posted questions, comments, replies, try the search box just below, or if you prefer, post a question or comment in the Comments box below and we will respond promptly.
Search the InspectApedia website
Technical Reviewers & References
Click to Show or Hide Citations & References
[4] Brick Development Association, The Building Centre, 26 Store Street, London, WC1E 7BT, England, U.K., Tel: 020 7323 7030, Email: brick@brick.org.uk
[5] Brick Industry Association, 1850 Centennial Park Drive, Suite 301, Reston, VA 20191 Phone: 703.620.0010 Fax: 703.620.3928.
[6] Canada Masonry Centre, 360 Superior Blvd., Mississauga ON Canada L5T 2N7. Tel: (905) 564-6622. Offers the CMCA Textbook of Canadian Masonry.
[7] "Concrete Slab Finishes and the Use of the F-number System", Matthew Stuart, P.E., S.E., F.ASCE, online course at www.pdhonline.org/courses/s130/s130.htm
[8] Sal Alfano - Editor, Journal of Light Construction*
[9] Thanks to Alan Carson, Carson Dunlop, Associates, Toronto, for technical critique and some of the foundation inspection photographs cited in these articles
[11] Terry Carson - ASHI
[12] Mark Cramer - ASHI
[12] JD Grewell, ASHI
[14] Duncan Hannay - ASHI, P.E. *
[15] Bob Klewitz, M.S.C.E., P.E. - ASHI
[16] Ken Kruger, P.E., AIA - ASHI
[17] Aaron Kuertz aaronk@appliedtechnologies.com, with Applied Technologies regarding polyurethane foam sealant as other foundation crack repair product - 05/30/2007
[18] Bob Peterson, Magnum Piering - 800-771-7437 - FL*
[19] Arlene Puentes, ASHI, October Home Inspections - (845) 216-7833 - Kingston NY
[20] Greg Robi, Magnum Piering - 800-822-7437 - National*
[21] Dave Rathbun, P.E. - Geotech Engineering - 904-622-2424 FL*
[22] Ed Seaquist, P.E., SIE Assoc. - 301-269-1450 - National
[23] Dave Wickersheimer, P.E. R.A. - IL, professor, school of structures division, UIUC - University of Illinois at Urbana-Champaign School of Architecture. Professor Wickersheimer specializes in structural failure investigation and repair for wood and masonry construction. * Mr. Wickersheimer's engineering consulting service can be contacted at HDC Wickersheimer Engineering Services. (3/2010)
[24] *These reviewers have not returned comment 6/95
[25] Superior Walls of America, Ltd, 937 East Earl Road, New Holland, PA 17557, Phone: 1-800-452-9255, Fax: 717-351-9263. Website: http://www.superiorwalls.com/ Technical support:
Ed Helderman our Codes and Standards Manager. Email: ehelderman@superiorwalls.com or 717-351-9744
Robert Hare, Director of Technical Operations, rhare@superiorwalls.com, Tel: 717.351.9735
Thanks to Robert Hare for technical critique & content suggestions for this article - August 2010
[26] Superior Walls of America Builder Guideline Booklet MAN 42-9000 booklet, [local copy] web-search 09/01/2010 original source (indirect link): http://www.superiorwalls.com/faq.php?&answers=1&details=53
...
Books & Articles on Building & Environmental Inspection, Testing, Diagnosis, & Repair
Our recommended books about building & mechanical systems design, inspection, problem diagnosis, and repair, and about indoor environment and IAQ testing, diagnosis, and cleanup are at the InspectAPedia Bookstore. Also see our Book Reviews - InspectAPedia.
...