Crawl Space Moisture Barriers
Where & how to put a water or moisture barrier in crawl spaces
InspectAPedia tolerates no conflicts of interest. We have no relationship with advertisers, products, or services discussed at this website.
Stop crawl space water entry & control crawl space moisture using moisture barriers:
Plastic or other materials placed on crawl space floor and sometimes foundation walls can make a big difference in crawl space moisture levels. But for a crawl area moisture barrier to work successfully, additional steps both inside and outside the building are also recommended.
This article series describes the steps needed to get into, inspect, clean, and then dry out a building crawl space.
We also provide a MASTER INDEX to this topic, or you can try the page top or bottom SEARCH BOX as a quick way to find information you need.
How to Keep Out Crawl Space Water & Moisture - Interior Measures for Crawl Space Moisture Control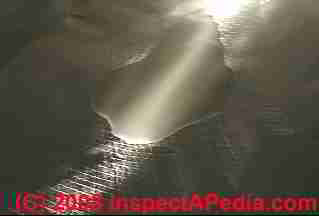 Here we focus on measures to take inside the crawl space to help keep that area dry.
Crawl Space Surface Slope & Drainage Specifications
Be sure that the dirt floor moisture barrier slopes to a drain.

Before putting down plastic to keep moisture down in a crawl space, be sure that the crawl space floor surface is smooth - we don't want puddles of water below nor above a poly vapor barrier that we may be planning to put down.
[Click to enlarge any image]
In addition it's important that the smooth crawl space floor surface also slope gently towards one or more drain points where, if necessary, you'll be able to install sump pumps to remove any water that might enter in the future. Slope on the crawl space floor can be as little as 1/8" per foot.
A great many installations we see, even in company product literature, show multiple low spots in a crawl space, each of which is subject to ponding and water retention from leaks or other unanticipated water entry into a crawl space or basement.
See CRAWL SPACE GROUND COVERS for details.
Crawl Space Floor & Wall Moisture Barriers: When, Where, How, & Why to Install Moisture Barriers, Heat & Dehumidification Equipment in the Crawl Space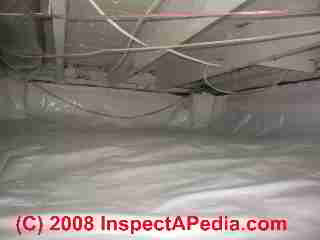 Provide a moisture barrier over any dirt or gravel crawl space floors and extending up foundation walls but not up to nor in contact with wood framing or sills.

Moisture barriers may be 6-mil poly or other special basement sealer products such as special moisture-sealing concrete coatings.

The crawl space moisture barrier system shown here uses mechanical fasteners and adhesive to secure the plastic barrier to the foundation walls near the tops (but short of wood framing to reduce insect attack risk).
We install moisture barriers to stop the "pumping action" that draws moisture into a building through the foundation walls or through the crawl space dirt or concrete floor.
Crawl space moisture pumping occurs as moisture evaporates off of the indoor surface into building air. This process invites movement of additional water molecules through the outside surfaces and into the building.
Should the crawl space plastic go under or on top of the gravel in a crawl space?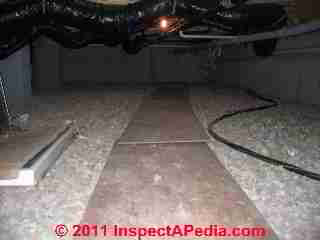 Some installers like to put down the plastic then cover it with gravel, arguing that the gravel will "protect" the plastic from damage. That approach is shown at left.
In our opinion, placing gravel on top of the crawl space plastic is a bad idea.
First, gravel on top of the plastic won't work well. The gravel, especially sharp gravel, is more likely to puncture the plastic ground cover.
Second, if gravel is on top of the plastic we can't see that the plastic was placed over an adequately smooth sloped crawl space floor - the risk is future puddles of water that collect on top of the plastic but hidden from view under the gravel - an ongoing crawl space water and moisture trap.
Third, we can't even see the plastic to know that it was properly placed and is continuous.
As you may have noticed in our first photo at the start of this section (Keep Out Crawl Space Water & Moisture), if you can see the plastic you will see any puddles that are forming on top of it.
Use heavy 6-mil poly or stronger plastic on top of whatever else is on the crawl space floor, and walk or crawl with care. Also see CRAWL SPACE GROUND COVER.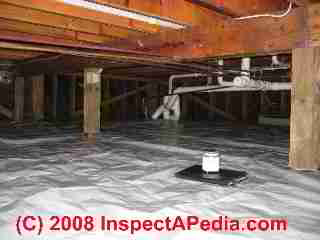 Choose your crawl space plastic vapor barrier material carefully. Some plastics can give off an obnoxious odor themselves - an effect which may become suddenly noticeable and more significant than you anticipated once you've spread a smelly plastic out over a large crawl space area below a building.
It may take some time for such odors to dissipate. (We don't have data on possible health effects of the volatiles and gases comprising the odor from smelly plastic vapor barriers. Contact us if you do.)
The white reinforced plastic material shown in the photos here was not producing any noticeable smells at the time of our inspection.
Our photo shows a successful cleanup of a very moldy crawl area that had a gravel and dirt floor. The framing was cleaned, dried, then sealed with a Fosters™ clear fungicidal encapsulant, and a heavy poly vapor barrier was placed on the crawl area floor and sealed neatly throughout.
Even high quality workmanship such as this job may not last however, if the building owners do not take the outside steps to keep water out of the crawl area.
See CRAWL SPACE GROUND COVERS for additional details about choosing ground cover material for a crawl space and about installing it effectively.
Advice About Pouring (Placing) Concrete on Crawl Space Floors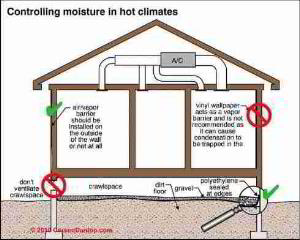 Moisture warning when installing concrete in a crawl space: Poured concrete or similar dense coating on crawl space floors and lower walls is a crawl space sealing and cleaning process offered by some mold and flood damage remediators as an alternative to the plastic vapor barrier.
Before pouring concrete or similar coatings into a confined space under a building you should determine if the surge of moisture that will be generated under the building is going to be a problem for other building areas.
If so, you'll need to take steps to direct that moisture outside rather than up through the building.
The sketch of the role of a dirt floor crawl space in building moisture and mold problems (above) is courtesy of Carson Dunlop Associates. In hot humid climates, venting a crawl space is actually asking for trouble: moisture-laden warm air entering a crawl space leads to accumulated condensation and water and to a building moisture and often building mold problem.
Watch out: It is almost always preferable to keep water from entering a building rather than allowing it to enter and then working to get rid of it. But if you are going to do something permanent like pour a crawl space slab, and if your building has had chronic crawlspace water entry, consider including the measures described at PERIMETER DRAIN SYSTEMS.
It is much less costly to install a perimeter drain system before a concrete slab has been poured than afterwards.
This article series describes the steps needed to get into, inspect, clean, and then dry out a building crawl space.
We give a step by step crawl space entry, inspection, cleanout, dryout and keep dry guide explains how to get into or inspect a crawl space even if there is no ready access, how to assess crawl space conditions, how to stop water that is entering the crawl area, how to dry out the space, how to clean up and if necessary disinfect or sanitize the crawl space, and how to keep out crawl space water and moisture in the future.
Reader Question: Building code & standard requirements for flame spread properties of polyethylene vapor barriers
Recently our town building inspector required a flame spread rating of 75 or better and smoke of 200 or less for crawl space moisture barrier. Do you know if this is really in the IBC and do you know of 6 mil or heavier moisture barriers that meet the requirement? - K.W. 30 October 2015
Reply: ASTM & NFPA Standards pertinent to flame spread of polyethylene vapor barriers
The building inspector on site is the final legal authority in requiring specific building features for compliance with local building codes, though one might mount a challenge and though some building code officials will happily accept alternative designs if they are specified by and signed-off on by a design professional such as a licensed engineer or architect.
A review of some polyethylene products that offer flame-resistant ratings includes a flame-resistant polyetylene product that is essentially a three-layer laminate: two layers of a high-strength polyester film that is fire-retardant/resistant laminated with a layer of polyethylene (or in some product descriptions a "molten polyethylene".
There are pertinent standards and some building codes that discuss flame spread in thin polyethylene sheeting such as the 6-mil poly that may be used in a crawl space: ASTM and NFPA. I include descriptions of these blow.
ASTM-E84 "Standard Test Method for Surface Burning Characteristics of Building Materials",
Excerpting:
4.1 This test method is intended to provide only comparative measurements of surface flame spread and smoke density measurements with that of select grade red oak and fiber-cement board surfaces under the specific fire exposure conditions described herein.
4.2 This test method exposes a nominal 24-ft (7.32-m) long by 20-in. (508-mm) wide specimen to a controlled air flow and flaming fire exposure adjusted to spread the flame along the entire length of the select grade red oak specimen in 51/2 min.
4.3 This test method does not provide for the following:
4.3.1 Measurement of heat transmission through the tested surface.
4.3.2 The effect of aggravated flame spread behavior of an assembly resulting from the proximity of combustible walls and ceilings.
4.3.3 Classifying or defining a material as noncombustible, by means of a flame spread index by itself.

Source: - http://www.astm.org/Standards/E84.htm - excerpting from ASTM:
(Here is some additional information on applying this standard: http://www.trend-group.com/uploads/sfTinyMceAssets/file/surface-burning-characteristics.pdf )
NFPA 285: Standard Fire Test Method For Evaluation Of Fire Propagation Characteristics Of Exterior Non-load-bearing Wall Assemblies Containing Combustible Components
Excerpting:
This standard provides a standardized fire test procedure for evaluating the suitability of exterior, non-load bearing wall assemblies and panels used as components of curtain wall assemblies that are constructed using combustible materials or that incorporate combustible components for installation on buildings where the exterior walls are required to be non-combustible.
Fire propagation characteristics are determined for post-flashover fires of interior origin. NFPA 285 requires both visual observations made by laboratory personnel conducting the test and temperature data recorded during the test. It is important to note that NFPA 285 is an assembly test.
Source: http://www.nfpa.org/codes-and-standards/document-information-pages?mode=code&code=285
NFPA 701: Standard Methods Of Fire Tests For Flame Propagation Of Textiles And Films
Excerpting:
This standard establishes test methods to assess the propagation of flame of various textiles and films under specified fire test conditions. Two distinct test methods differentiate fabrics of different densities. The test methods apply to textile materials used in interior furnishing for public occupancy buildings including curtains, window shades, draperies, table linens, textile wall hangings, as well as to fabrics used in the assembly of awnings, tents, tarps and other similar architectural fabric structures and banners.
Source: http://www.nfpa.org/codes-and-standards/document-information-pages?mode=code&code=701
Building Codes & Other Standards Citing Flame Spread & Combustible Materials Involving Vapor Barriers, Retarders, Water Barriers
Fairfax County VA Building Department, "Insulated crawl spaces are permitted only when they are unvented and there is a suitable vapor barrier over exposed earth." in "Problem Codes, Report No. BPR018, 2015, retrieved 2 Nov 2015, original source: http://www.fairfaxcounty.gov/dpwes/construction/rej_residential.pdf
Lakevill MN Building Department, "Fiberglass insulation left exposed in exterior walls must be covered on the interior by not less than a 4-mill thick flame retardant vapor barrier. " in "Basement Finish Permit and Building Code Requirements, rev. 3/20/2009, Lakevill MN building department, retrieved 2 Nov 2015 original source: http://www.ci.lakeville.mn.us/departments/departmentspdf/Basement.pdf
North Carolina Building Code, Section R409: Closed Crawl Spaces [describes vapor retarders but does not cite flamer spread retardance - Ed], (2012) Excerpting:


R 409 - Closed Crawl Spaces
R409.1 Air sealed walls. Closed crawl spaces shall be built to minimize the entry of outdoor air into the crawl space. Specifically prohibited are foundation wall vents and wall openings to ventilated porch foundations.

When outdoor packaged heating and cooling equipment is used, solid blocking and sealants shall be used to seal gaps between the exterior wall opening and the smaller supply and return ducts that pass through the opening.
R409.1.1 Caulking and sealants. Air sealing caulk, gaskets or sealants shall be applied to the foundation wall and floor assemblies that separate the crawl space from outside and other ventilated areas such as joints around access door and frame, between foundation and sill plate, at penetrations for plumbing, mechanical, electrical and gas lines and at duct penetrations.
R409.1.2 Access panel/door. A minimum access opening measuring 18 inches by 24 inches (457 mm by 610 mm) shall be provided to the crawl space. See the North Carolina Mechanical Code for access requirements where mechanical equipment is located under floors.

To minimize air entry, provide a tight fitting access panel/door with a latch mechanism. Access panels or doors shall be insulated to a minimum of R-2.
R409.2 Groundwater vapor retarder. Closed crawl spaces shall be protected from water entry by the evaporation of water from the ground surface.
R409.2.1 Ground vapor retarder. A minimum 6-mil (0.15 mm) polyethylene vapor retarder or equivalent shall be installed to nominally cover all exposed earth in the crawl space, with joints lapped not less than 12 inches.

Minor pockets or wrinkles that prevent total drainage across the surface of the vapor retarder are allowed. The floor of the crawl space shall be graded so that it drains to one or more low spots. Install a drain to daylight or sump pump at each low spot. Crawl space drains shall be kept separate from roof gutter drain systems and foundation perimeter drains.
R409.2.2 Liner. The ground vapor retarder may be installed as a full interior liner by sealing the edges to the walls and beam columns and sealing the seams. Single piece liner systems are approved.

The top edge of the wall liner shall terminate 3 inches below the top edge of the masonry foundation wall. The top edge of the liner shall be brought up the interior columns a minimum of 4 inches above the crawl space floor.

The floor of the crawl space shall be graded so that it drains to one or more low spots. Install a drain to daylight or sump pump at each low spot. Crawl space drains shall be separate from roof gutter drain systems and foundation perimeter drains.
R409.2.1.1 Wall liner termite inspection gap. Provide a clear and unobstructed 3" minimum inspection gap between the top of the wall liner and the bottom of the wood sill. This inspection gap may be ignored with regards to energy performance and is not intended to create an energy penalty.

- Retrieved: 11/2/2015, See http://www.ncdoi.com/OSFM/Engineering_and_Codes/Documents/2009_NCBuildingCode_amendments/approved/2009NCResidential.pdf



NAIMA, "Use only flame-resistant facings for exposed applications" and "If no stud wall is available, the insulation can be applied in blanket form with a perforated flame-resistant facing." [in discussing vapor retarder installation on or in building wall structures] in "Use of Vapor Retarders, Insulation Fact Sheets #71", NAIMA, North American Insulation Manufacturer's Association, retrieved 2 Nov 2015 original source: http://www.certainteed.com/resources/Use%20of%20Vapor%20Retarders.pdf
Carmody, John, Mosiman, Garrett, Harneen, Daniel, Huelman, Patrick, Jeffrey Christian, "3.1 Recommended Design and Construction Details, Vented versus Unvented Crawlspaces", Excerpt:
Interior crawl space wall insulation (Figure 3-6b) is more common than exterior, primarily because it is less expensive since no protective covering is required, and can present a reduced hazard of termite infestation.

On the other hand, interior wall insulation may be considered less desirable than exterior insulation because it

(1) increases the exposure of the wall to thermal stress and freezing,

(2) may increase the likelihood of condensation on sill plates, band joists, and joist ends,

(3) often results in some thermal bridges through framing members, and

(4) usually requires installation of a flame resistant cover. Interior insulation is not recommended on non-core filled masonry block walls, due to an increased risk of moisture accumulation within the assembly. In addition, interior insulation should not be used if a positive capillary break is not present between the top of the foundation wall and wood framing system due to the potential for moisture accumulation in wood framing materials. ",
Oak Ridge National Laboratory, Oak RIdge TN, USA, - retrieved 2 Nov 2015 original source: http://web.ornl.gov/sci/buildingsfoundations/handbook/section3-1.shtml also cited as "DOE Building Foundations Credits" U.S. Department of Energy.

IBC 2009, Chapter 14: Exterior Wall Coverings, Vapor Retarders and Water Resistive Barriers. This section in turn cites (for Type I and II construction):

ASTM D 226 (15 pound roofing felt)
AC-38 Building Warp or Self-Adhering Sheets
AC-212 Fluid-Applied Membranes

IBC 2009 Chapter26: Platic Foam Insulation, cites in turn

ASTM # 84, Smoke and flame spread properties
Some flame-spread resistant 6-mil plastic poly vapor barrier products including sold at Home Depot - listed later, below.
Product Sources: flame-retardant poly coverings:
HUSKY 20 ft. x 100 ft. 6 mil Flame Retardant Plastic Sheeting
and here is an MSDS for a flame-retardant sheeting
http://inlineco.com/msds/Poly_America/Flame_Retardant_Test_Results.pdf from Poly-America.
Global Plastics also lists a range of such products. http://www.globalplasticsheeting.com/nfpa-701-15
Thank you for asking - I'd welcome any further comment, questions, photos etc.
...
Continue reading at CRAWL SPACE VAPOR BARRIER LOCATION or select a topic from closely-related articles below, or see our complete INDEX to RELATED ARTICLES below.
Or see CRAWL SPACE DRYOUT - home
Or see CRAWL SPACE GROUND COVERS
Or see CRAWL SPACE VENTILATION CODES
Suggested citation for this web page
CRAWL SPACE MOISTURE BARRIERS at InspectApedia.com - online encyclopedia of building & environmental inspection, testing, diagnosis, repair, & problem prevention advice.
Or use the SEARCH BOX found below to Ask a Question or Search InspectApedia
...
Frequently Asked Questions (FAQs)
Try the search box below or CONTACT US by email if you cannot find the answer you need at InspectApedia.
Question: crawl space insulation and vapor barrier retrofit questions
I live in Syracuse, NY in a 1920 colonial with full basement. I recently put on an 18'x 20' addition for my mom. Bedroom and bath. The crawl space is open to the full cellar via the former cellar window opening. The crawl space has water lines and p-trap for shower as well as heat/cold air runs.
The contractor installed 1 small vent on each side of the addition. Should I permanently close off the vents and turn the crawl space into somewhat heated and conditioned space?
The contractor was going to install batt insulation on the underside of the floor- I told him to hold off.
Should I install 10mil vapor barrier on the dirt floor and use 2-part closed cell spray foam insulation on the interior of the block? Or is it a better method to pour a concrete slab and use the 2-part closed cell foam? I understand I may need to cut a small register in the heat run as well as run a dehumidifier in the warmer months.
I will also be installing a radon mitigation system soon. Thank-you very much for your response. - J.R. - Syracuse
Reply:
A competent onsite inspection by an expert usually finds additional clues that help accurately diagnose a problem with air and moisture control for a structure that combines crawl and basement areas. That said, here are some things to consider:

First, kudos for packing so many good questions into a small (crawl) space:
The crawl space has water lines and p-trap for shower as well as heat/cold air runs.
Leaving the crawl area open to the basement will make it easy to access, easy to inspect on occasion, and it'll share air (and thus anything else) with the basement. Your comment that there is plumbing and A/C ducting there means there are potential leaks and condensation sources - you don't want them hidden and you want to prevent condensation - at least by insulating the cold water lines.
The contractor installed 1 small vent on each side of the addition. Should I permanently close off the vents and turn the crawl space into somewhat heated and conditioned space?
Your suggestion is conventional wisdom. The problem is that at times blowing air into the crawl adds unwanted moisture, and 2 small vents isn't going to dry anything out anyway, even in the best of conditions. There is just not enough dry air movement into the space - during the part of the year that such an approach might work. So I agree with you.
The contractor was going to install batt insulation on the underside of the floor- I told him to hold off.
If you are certain that the crawl area is dry and you expect it to remain so, you can use fiberglass insulation under the floor, or you can insulate the perimeter - where I prefer solid closed cell foam that doesn't pick up moisture. Take a look at CRAWL SPACE INSULATION RETROFIT and at CRAWL SPACE VAPOR BARRIER
Should I install 10mil vapor barrier on the dirt floor and use 2-part closed cell spray foam insulation on the interior of the block? Or is it a better method to pour a concrete slab and use the 2-part closed cell foam?
You may find you're paying quite a bit to have the crawl area professionally foam insulated as it's a tight, hard to work-in area. If you go that route and get bids on the job you may find the bidders don't think it's economical unless you're doing other larger insulation work at the same time. But you could use solid foam as I mentioned above.
And similarly, while you could pour a slab (a "rat slab" they call it around here but don't tell your mother I said that) I prefer to avoid doing retrofits that are in tight (expensive) areas and that can pump a lot of moisture up through the building overhead as the concrete cures. If you go that route be sure to ventilate all that moisture outside during the cure period.
Frankly I think the poly vapor barrier would be easier, cheaper, and for a little-used area, effective.. If you can get 10 mil that's more resistant to holes and tears than the thinner stuff, and I never use less than 6 mil. I find that the material is not that precisely uniform and unrolling the thinner poly I sometimes see fragile thin spots.
Before putting down your poly be sure the crawl space floor is clean of debris, smooth, and pitched to a single drain point so that if necessary you can install a sump in the future. Then run the poly as you describe. Tape any joints or overlap them at least 24". Don't run poly all the way up walls to the sills if you're in a termite-risk area.
Also take a look at CRAWL SPACE GROUND COVERS.
Question: using a sealer and vapor barrier in a crawl space
I live in the Wyoming mountains (9000 Ft) in a very dry climate, 15" of rain a year which includes average 3-4 feet of snow in the winter. The house is 45 years old. There were only two small vents in the crawl space. When an addition was built on the south end of the house 6 years ago,one vent was blocked by the addition which had a separate crawl space and vapor barrier installed. Last year we had record snowfall & high ground water, within 6" of outside grade.
I had a floor joists sagging in a bedroom and then I found white furry mold on a baseboard on the north end of the house. I pulled up the carpet and pad and on then inspected the crawl space below the two bedrooms found mold on the joists and subfloor with three joists rotting out under one bedroom and much less mold under the other bedroom which is on the other side of the main support beam..and a very wet space.
The vertical two by fours in the walls and blow-in insulation inspected so far are dry and show no mold. I had a contractor look at it and have decided to seal off the two bed rooms and remove the floors and joists completely in both rooms, remove a couple inches of dirt, dry out the crawl space, clean all the other visible mold by the methods you describe throughout the entire space, and rebuild the joists with pressure treated wood and new sub floors. And install more piers for support of the floor.

I thought about spraying a sealer or oil based Kilz after the cleaning? I am also planning to put a vapor barrier in. Due to the dry climate (typically not over 30% RH unless it is snowing or raining and usually less than 20%), put in several vents as well rather then heat it due to the future possibility of high groundwater due to high snow level. I am also considering a fan to continuously move air, but the wind here blows almost every day due to the altitude in the mountains. Do you have any comments or other suggestions? - J.R. Jay
Reply:
JR even in a dry climate that has just periodic rainfall, leaks and water entry are asking for a mold or rot or insect problem. Your cleanup sounds thorough but I didn't see much about tracking down exactly where the water is leaking in. It's better to keep water out than to let it in and then get rid of it or to try to waterproof the interior against it.
Reader Followup:
I have now found that the water was migrating up from snowmelt to the sill plate on the top of the foundation. The contractor that did some repair of dry rot rim joist on the north end of the house before it was resided with stucco. The contractor put Ice and Water Shield on the foundation down about 10 inches into the soil, and then had the Stucco contractor extend the 1/2" styrofoam board 12 inches into the soil as well thinking that all this would seal and insulate the foundation.
When I pulled off the ice and water shield and the blue styrofoam the foundation was soaking wet underneath. I have now removed all that mess and the foundation is drying out. With the amount of snowmelt that we have in the spring I think that is the main source of problem coupled with the reduced ventilation of only one small vent to the crawl space.
...
Ask a Question or Search InspectApedia
Try the search box just below, or if you prefer, post a question or comment in the Comments box below and we will respond promptly.
Search the InspectApedia website
Technical Reviewers & References
Click to Show or Hide Citations & References
[1] Harriet Burge, Harvard School of Public Health, and EM Laboratory, a private mold and environmental testing lab - email to D.F. August, 2004. Dr. Burge is an educator, writer, and consultant in the field of indoor air quality and mold contamination.
[2] Product literature and MSDS sheets for the biocides and fungicidal sealants listed in this article.
[3] US Centers for Disease Control, CDC: www.cdc.gov/ncidod/diseases/hanta/hps/ describes the risks associated with hantavirus.
[4] International Residential Code, IRC Section R408, Under Floor Space, http://publicecodes.cyberregs.com/icod/irc/2012/icod_irc_2012_4_sec008.htm, retrieved 3/2/2013
See IRC Section M1305.1.4 [PDF] Section M1305.1.4 for access requirements where mechanical equipment is located under floors.
[5] International Residential Code, IRC Section R406, Foundation Waterproofing and Dampproofing, http://publicecodes.cyberregs.com/icod/irc/2012/icod_irc_2012_4_sec006.htm, retrieved 3/2/2013
Thanks to reader C. Brown for suggesting the need for detail about rapid dryout procedures for a wet crawl space
Fiberglass: Indoor Air Quality Investigations: Health Concerns About Airborne Fiberglass: Fiberglass in Indoor Air from HVAC ducts, and Building Insulation
Humidity: What indoor humidity should we maintain in order to avoid a mold problem?
How to Clean Moldy Wood Framing & Sheathing How to clean/seal mold from/on exposed lumber or plywood subfloor or roof sheathing indoors - some suggestions based on our field and laboratory research
How to Find and Test For Mold in buildings A "how to" photo and text primer on finding and choosing the right spots to test for mold in buildings
Stuff that is not mold but is often mistaken for it - things you may not want to test. Also, not all "black mold" is toxic - here are examples of harmless black mold.
Mold-Resistant Building Practices, advice from an expert on how to prevent mold after a building flood and how to prevent mold growth in buildings by selection of building materials and by anti-mold construction details.
"Weather-Resistive Barriers [copy on file as /interiors/Weather_Resistant_Barriers_DOE.pdf ] - ", how to select and install housewrap and other types of weather resistive barriers, U.S. DOE
Books & Articles on Building & Environmental Inspection, Testing, Diagnosis, & Repair
Our recommended books about building & mechanical systems design, inspection, problem diagnosis, and repair, and about indoor environment and IAQ testing, diagnosis, and cleanup are at the InspectAPedia Bookstore. Also see our Book Reviews - InspectAPedia.
The Home Reference Book - the Encyclopedia of Homes, Carson Dunlop & Associates, Toronto, Ontario, 25th Ed., 2012, is a bound volume of more than 450 illustrated pages that assist home inspectors and home owners in the inspection and detection of problems on buildings. The text is intended as a reference guide to help building owners operate and maintain their home effectively. Field inspection worksheets are included at the back of the volume. Special Offer: For a 10% discount on any number of copies of the Home Reference Book purchased as a single order. Enter INSPECTAHRB in the order payment page "Promo/Redemption" space. InspectAPedia.com editor Daniel Friedman is a contributing author.

Or choose the The Home Reference eBook for PCs, Macs, Kindle, iPad, iPhone, or Android Smart Phones. Special Offer: For a 5% discount on any number of copies of the Home Reference eBook purchased as a single order. Enter INSPECTAEHRB in the order payment page "Promo/Redemption" space.
Asbestos: How to find and recognize asbestos in buildings - visual inspection methods, list of common asbestos-containing materials
Asbestos products and their history and use in various building materials such as asphalt and vinyl flooring includes discussion which draws on ASBESTOS, ITS INDUSTRIAL APPLICATIONS, ROSATO 1959, D.V. Rosato, engineering consultant, Newton, MA, Reinhold Publishing, 1959 Library of Congress Catalog Card No.: 59-12535 (out of print).
Asbestos Identification and Testing References

Asbestos Identification, Walter C.McCrone, McCrone Research Institute, Chicago, IL.1987 ISBN 0-904962-11-3. Dr. McCrone literally "wrote the book" on asbestos identification procedures which formed the basis for current work by asbestos identification laboratories.
Stanton, .F., et al., National Bureau of Standards Special Publication 506: 143-151
Pott, F., Staub-Reinhalf Luft 38, 486-490 (1978) cited by McCrone

...