Perc Tests: Soil Percolation & Soil Depth Requirements for Septic Absorption Systems / Septic Drainfields
POST a QUESTION or READ FAQs about the procedures used for septic system test hole tests, deep hole tests, and percolation tests for drainfield qualification and soil testing
InspectAPedia tolerates no conflicts of interest. We have no relationship with advertisers, products, or services discussed at this website.
Septic soil percolation tests or soil absorption test procedures:
The ability of a drain field, also called leach field, or drain field, to absorb septic effluent determines the size, location, and type of effluent absorption system which can be installed at a property.
Septic drainfield percolation test procedures: this article describes the need for and process of "soil testing" or the preparation and use of soil test pits for septic system absorption system or drainfield design or repair.
Page top sketch of a sloped-side soil perc test pit is adapted from Oregon DEQ cited in this article series.
We also provide a MASTER INDEX to this topic, or you can try the page top or bottom SEARCH BOX as a quick way to find information you need.
What is a septic system soil percolation test? What is a "deep hole test"?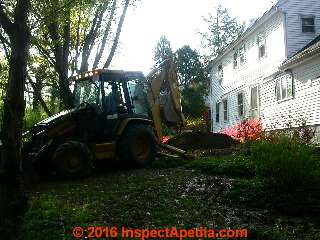 Perc tests may also be performed in order to evaluate soils when a septic system is believed to have failed, and when repair or septic field replacement are being considered. Readers should also see our example of state-regulated soil percolation tests at the New York State Septic System Design Regulations 75-A.4 - Soil and site evaluation for septic system design page.
[Click to enlarge any image]
How do we perform a soil perc test when designing or testing a septic system?
What is the difference between a soil percolation test or "perc test" and a "deep hole test" or test pit?
When is a soil perc test usually performed?
Why should soil perc tests be performed during wet weather?
How much does it cost to have a soil perc test performed?
In specifying the size and type of absorption field (leach field, seepage pits, galleys, other) a septic engineer or health department official will require that a soil percolation test or "soil perc test" be performed. You may hear it described as a "deep hole test."
In brief, one or more holes are dug in the soil of the property where (or near where) a septic leach field is to be installed. Water is placed in the hole, and the engineer observes the amount of time it takes for the soil to absorb the water, or for the water to "percolate" through the soil. The engineer will also examine the exposed soil layers to obtain additional site design information. (Details follow).
What is a Soil Test Pit or Perc Test Pit or Deep Hole Test Pit?
Steps in a Perc Test / Soil Percolation Test
A hole, 5-7 feet deep is dug in an area to be tested for future use as a drain field, or near the drain-field area in representative soils.

See PERC HOLE SPECIFICATIONS for specifications of perc test hole excavations.
Water is poured into the hole
The soils or septic engineer or contractor observes the rate at which soil absorbs the water by noting the time that it takes for the level of water in the hole to drop one inch (for example). This observation is simple.

To be reasonably accurate a board or stick is placed roughly-level on the ground, crossing over the top of the soil perc test hole
The engineer measures the height from the stick under-side (or top - it doesn't matter as long as she's consistent) to the top of the water when water is first poured into the perc test hole
The engineer measures the height from the stick to the bottom of the water in the hole at the same point in time - at the start of the test.
If the soil is extremely porous so that water begins to disappear almost immediately the engineer watches the water level drop and times that event.
If the water level drops more slowly, then the engineer waits a specified time, typically 30 minutes or an hour and at the end of that interval the engineer measures the distance from the stick to the top of the water again.

The soil percolation rate is the number of inches that the water level dropped in the soil perc test hole over the specified interval, typically 30 minutes, or 60 minutes for a slow-draining soil.
The septic engineer reports the number: EXAMPLE: the soil in test hole #1 showed a percolation rate of 3 inches in 30 minutes.

See PERC TEST STANDARDS for examples of how the soil percolation rate is calculated from the observed rate at which water passes into the ground.
More precise "perc tests" may involve using a specific quantity or volume of water or a perc test hole of specific dimensions to make these observations. Some perc tests may specify the inclusion of a couple of inches of gravel in the hole bottom - depending on the nature of the soil itself.
The first time I participated in a soil perc test procedure I found myself smiling with surprise at how low-tech the procedure actually was (in New York State.)
After identifying the most-likely location on the lot for placement of a septic drainfield, the excavator used a backhoe to dig a very rough hole about 5 ft. deep.
Happily no groundwater immediately filled in the hole (which would have been bad news). Perhaps this is why builders try to have this test done in July which is the period of most-dry weather and lowest groundwater table levels.
After digging this rough hole, the septic engineer poured a 5-gallon (joint compound) bucket of water into the hole. In some cases a few buckets might be dumped therein.
After that sophisticated move, the observers simply watched the rate at which the water disappeared. a one-inch drop in water level in this hole in three minutes was considered very good.
If the water was found still in the hole at no drop in level the next morning, this was considered seriously bad and probably requiring some soil exchange or other special design measures.
When is a Soil Perc Test Required vs Performed?
There are two different questions here:
A soil perc test or percolation test is going to be required in most jurisdictions when a builder or property owner is going to install a new or replacement septic system that requires local health or building department approval.

This might be a perc test for a new building site or a perc test to permit approval of a septic design for a replacement soakbed or drainfield at an existing property whose existing septic fields must be replaced.
A soil perc test is usually performed during wet weather or during the wet season - a time that varies depending on where you live.

In North America that's typically April-June

In Australia the wet season is during Worrwopmi, the humid time - a period that depends on where in Australia you're located. In the Australian tropical region the wet or monsoon season extends over six months between November and March.

In northern and central New Zealand the wet season extends through winter while on the South Island winter is the season of least rainfall.

In the U.K. in my view most of the year is "wet season", though in Scotland May is probably the wettest month of all.

In western Europe in the Alps region the wet season is principally between March and December.

In western Europe along the Mediterranean Sea the wet season extends from October through March.

Heaviest rain coming from the Atlantic occurs during the European Monsoon during the European winter and again in June.
Why Soil Perc Testing during Wet Weather is Important
Why not do our perc tests during the dry season when a site is most-likely to "pass" local soil perc test requirements? I've absolutely seen builders use this trick to pass a marginal site for locating a septic soakbed.
Unfortunately designing a septic effluent disposal system based on "dry season" perc testing results means that the septic system design is likely to be inadequate: that is, during the wet season when soil water tables are higher and perc rates are slower, the septic system is going to discharge un-treated effluent into the environment: basically your are peeing and pooping into the water supply.
Septic Soil Perc Test Costs (soil percolation rate test cost)
Question: what's the cost to get a perc test performed?
2016/08/29 Anonymous said:
what s the cost to get a perc test
Reply:
Perc test costs vary depending on where you live and also on just what local regulation require. For example, a deep hole perc test in some jurisdictions will require the use of a backhoe - you'll be paying the hourly rate for the backhoe operator that might be $100. or more, plus the cost for the consulting engineer or septic designer to introduce water and watch and measure the percolation rate.
The number of perc test holes, hole depth, and ease of site access all affect the total cost for a soil perc test for septic system design and approval.
Actual costs range from a low of about $100. (presuming you're in the U.S.) for a shallow hand-dug perc test hole to $1000. for several perc test holes dug deeper (typically using a backhoe) plus the septic designer's measurements and report of soil percolation rates on the proposed septic field site. In some municipalities, the backhoe rate alone can be higher: $300. to $500./hour.
In VERY general terms, I'd figure $500. for the backhoe for 2-3 deep hole excavations and another $500. to pay the septic engineer.
We discuss perc tests in detail at inspectapedia.com beginning at SEPTIC SOIL & PERC TESTS but you'll also want to see the next articles SOIL PERC TEST HOLE SPECIFICTAIONS and SOIL PERC TEST STANDARDS in this series given at Continue Reading below, as the specifics of exactly what sort of soil perc test your local health or building department will require for septic system design approval will determine the amount of trouble, work, time and cost of your particular soil perc test
Our sister site the Building Advisor (Steve Bliss) also discusses SOIL AND PERC TESTING at http://buildingadvisor.com/buying-land/septic-systems/soil-and-perc-testing/
...
Continue reading at PERC HOLE SPECIFICATIONS - how should the soil perc test hole be constructed, or select a topic from closely-related articles below, or see our complete INDEX to RELATED ARTICLES below.
Or see SEPTIC DRAINFIELD SIZE for wastewater application rate tables & septic trench design tables
Or see SEWAGE FLOW & DESIGN FLOW ESTIMATES
Or see these
Septic Soil Percolation Test or Wastewater Disposal Field Testing Articles
Suggested citation for this web page
SEPTIC SOIL & PERC TESTS at InspectApedia.com - online encyclopedia of building & environmental inspection, testing, diagnosis, repair, & problem prevention advice.
Or use the SEARCH BOX found below to Ask a Question or Search InspectApedia
...
Frequently Asked Questions (FAQs)
Try the search box below or CONTACT US by email if you cannot find the answer you need at InspectApedia.
Question: do you think our 20 year old septic and leachfield will pass inspection? I'm selling the property.
(Nov 30, 2015) Charlotte said:
We have s septic and leachfield. It is 20 years old. We are careful not to put any kitchen grease, and NO paper is flushed. This system has never given any problem, and has never been pumped. It is a concrete tank. Do you think it will pass inspection after being pumped? Am selling the property.
Thanks.
wlorosie70@gmail.com.
Reply:
Charlotte:
"Pass inspection" depends on where you live, what local laws require of your system, and who performs the inspection (and what she knows). The level of usage, daily wastewater flow, soil conditions and other factors also affect septic system life - search InspectApedia.com for "SEPTIC SYSTEM LIFE" to see what factors are involved and how one can maximize the life of the system.
In my OPINION, however, there is no conventional septic tank and drainfield that should go 20 years without being pumped; even if you have not observed a problem that does not tell us the remaining life of the system nor the condition of the drainfield. if I were inspecting the home for a buyer I would recommend a septic loading and dye test, then finding and pumping the septic tank to inspect the sludge and scum levels and the condition of the tank baffles. If the tank is un-damaged and sludge/scum levels are so low that we have not been pushing solids into the leach field, I'd improve my guesstimate of remaining drainfield life from poor to unknown. If I see that baffles have been lost then I know we've been sending solids into the fields and the remaining life is very poor.
Question: adding a studio apartment, can we increase the capacity of our existing septic syste
(May 22, 2016) Richard W said:
We are putting in a studio apt. over the garage. About 500 square feet, with a 3 piece bath ( toilet, sink, and shower) and a small kitchenette ( sink and dish washer). In addition a laundry room with a washing machine. There is a existing septic system, generally can you add to the current system to increase capacity or is it likely we would need to start from scratch? As it is currently, the system serves a small 1000 SF manufactured home with 1 bath, a kitchen and laundry. Thank you
Reply: both septic tank size and soakbed size may need to be increased
You may be able to extend the drain fields but tank size is also a concern
Watch out: while it's often possible to extend leach field size and to dig up and install a bigger septic tank, running heavy equipment over the existing drainfield could damage or destroy it.
Question:
2016/08/29 Anonymous said:
what s the cost to get a perc test
Reply:
We include soil percolation test cost estimates at SEPTIC SOIL & PERC TESTS
Comments:
(June 12, 2015) Delores Lyon said:
Thanks for sharing this advice on buying and maintaining a septic system. It's nice to know what to do when you are first starting to have septic tank issues-- it makes sense to first try DIY options. However, when it isn't being fixed, diagnosing the issue is also an important party to getting it fixed. With this guide, I don't think it would be too hard to maintain a septic system at all!
(Sept 11, 2015) Carter Michaelson said:
Our neighbors recently had to deal with some issues with their septic tank and had to have some repairs done. It got me thinking about our septic tank and when the last time we got it looked at was. Getting your septic tank pumped and checked on every few years, if not once a year, is a great idea. You never know when something might not be right and the next think you know, you are digging up your entire yard.
(Feb 19, 2016) Jackie Oliver said:
Wow, this was a huge help! My husband and I are building a cabin, and it has a septic tank. It's good to know that we will have to get on a schedule to have it pumped. I have never had a system like this before, so it's all totally new to me. I will be sure to monitor how much it's in use, and then get on a consistent schedule to have it pumped!
...
Ask a Question or Search InspectApedia
Questions & answers or comments about the procedures used for septic system test hole tests, deep hole tests, and percolation tests for drainfield qualification and soil testing.
Try the search box just below, or if you prefer, post a question or comment in the Comments box below and we will respond promptly.
Search the InspectApedia website
Technical Reviewers & References
Click to Show or Hide Citations & References
New York State Department of Health, "Appendix 75-A Wastewater Treatment Standards - Individual Household Systems", [PDF] New York State Department of Health, 3 February 2010, retrieved 3/1/2010, original source: https://www.health.ny.gov/regulations/nycrr/title_10/part_75/appendix_75-a.htm
SEPTIC SOIL & PERC TESTS soil perc testing guide and instructions
Soil Test Pit Preparation, fact sheet, Oregon DEQ Department of Environmental Quality, original source www.deq.state.or.us/wq/pubs/factsheets/onsite/testpitprep.pdf The Oregon DEQ onsite water quality program can be contacted at 811 South Ave, Portland OR 97204, 800-452-4011 or see http://www.oregon.gov/DEQ/
Percolation Testing Manual, CNMI Division of Environmental Quality, Gualo Rai, Saipan provides an excellent English Language manual guide for soil percolation testing. Original source: www.deq.gov.mp/artdoc/Sec6art108ID255.pdf CNMI Division of Environmental Quality, PO Box 501304, Saipan, MP 96950
Test Pit Preparation for Onsite Sewage Evaluations, State of Oregon Department of Environmental Quality, Portland OR, 800 452-4011. PDF document. We recommend this excellent document that offers detail about soil perc tests, deep hole tests, safety, and septic design. Readers should also see SEPTIC SOIL & PERC TESTS and for testing an existing septic system, also see Dye Tests
Septic Tank/Soil-Absorption Systems: How to Operate & Maintain [ copy on file as /septic/Septic_Operation_USDA.pdf ] - , Equipment Tips, U.S. Department of Agriculture, 8271 1302, 7100 Engineering, 2300 Recreation, September 1982, web search 08/28/2010, original source: http://www.fs.fed.us/t-d/pubs/pdfimage/82711302.pdf.
Pennsylvania State Fact Sheets relating to domestic wastewater treatment systems include

Pennsylvania State Wastewater Treatment Fact Sheet SW-161, Septic System Failure: Diagnosis and Treatment
Pennsylvania State Wastewater Treatment Fact Sheet SW-162, The Soil Media and the Percolation Test
Pennsylvania State Wastewater Treatment Fact Sheet SW-l64, Mound Systems for Wastewater Treatment
Pennsylvania State Wastewater Treatment Fact Sheet SW-165, Septic Tank-Soil Absorption Systems
Document Sources used for this web page include but are not limited to: Agricultural Fact Sheet #SW-161 "Septic Tank Pumping," by Paul D. Robillard and Kelli S. Martin. Penn State College of Agriculture - Cooperative Extension, edited and annotated by Dan Friedman (Thanks: to Bob Mackey for proofreading the original source material.)

...

Books & Articles on Building & Environmental Inspection, Testing, Diagnosis, & Repair

Design Manuals for Septic Systems

US EPA Onsite Wastewater Treatment Systems Manual [online copy, free] Top Reference: US EPA's Design Manual for Onsite Wastewater Treatment and Disposal, 1980, available from the US EPA, the US GPO Superintendent of Documents (Pueblo CO), and from the National Small Flows Clearinghouse. Original source http://www.epa.gov/ORD/NRMRL/Pubs/625R00008/625R00008.htm Onsite wastewater treatment and disposal systems, Richard J Otis, published by the US EPA. Although it's more than 20 years old, this book remains a useful reference for septic system designers. U.S. Environmental Protection Agency, Office of Water Program Operations; Office of Research and Development, Municipal Environmental Research Laboratory; (1980)
Eco John® Innovative Toilet Solutions, Global Inventive Industries, Fountain Valley CA, PDF, product brochure
"International Private Sewage Disposal Code," 1995, BOCA-708-799-2300, ICBO-310-699-0541, SBCCI 205-591-1853, available from those code associations.
"Manual of Policy, Procedures, and Guidelines for Onsite Sewage Systems," Ontario Reg. 374/81, Part VII of the Environmental Protection Act (Canada), ISBN 0-7743-7303-2, Ministry of the Environment,135 St. Clair Ave. West, Toronto Ontario M4V 1P5 Canada $24. CDN.
Manual of Septic Tank Practice, US Public Health Service's 1959.

Onsite Wastewater Disposal Books

Onsite Wastewater Disposal, R. J. Perkins; Quoting from Amazon: This practical book, co-published with the National Environmental Health Association, describes the step-by-step procedures needed to avoid common pitfalls in septic system technology. Valuable in matching the septic system to the site-specific conditions, this useful book will help you install a reliable system in both suitable and difficult environments. Septic tank installers, planners, state and local regulators, civil and sanitary engineers, consulting engineers, architects, homeowners, academics, and land developers will find this publication valuable.
Onsite Wastewater Treatment Systems, Bennette D. Burks, Mary Margaret Minnis, Hogarth House 1994 - one of the best septic system books around, suffering a bit from small fonts and a weak index. While it contains some material more technical than needed by homeowners, Burks/Minnis book on onsite wastewater treatment systems a very useful reference for both property owners and septic system designers.
Septic Tank/Soil-Absorption Systems: How to Operate & Maintain [ copy on file as /septic/Septic_Operation_USDA.pdf ] - , Equipment Tips, U.S. Department of Agriculture, 8271 1302, 7100 Engineering, 2300 Recreation, September 1982, web search 08/28/2010, original source: http://www.fs.fed.us/t-d/pubs/pdfimage/82711302.pdf
Septic System Owner's Manual, Lloyd Kahn, Blair Allen, Julie Jones, Shelter Publications, 2000 $14.95 U.S. - easy to understand, well illustrated, one of the best practical references around on septic design basics including some advanced systems; a little short on safety and maintenance. Both new and used (low priced copies are available, and we think the authors are working on an updated edition--DF. Quoting from one of several Amazon reviews: The basics of septic systems, from underground systems and failures to what the owner can do to promote and maintain a healthy system, is revealed in an excellent guide essential for any who reside on a septic system. Rural residents receive a primer on not only the basics; but how to conduct period inspections and what to do when things go wrong. History also figures into the fine coverage.
US EPA Onsite Wastewater Treatment Systems Manual Top Reference: US EPA's Design Manual for Onsite Wastewater Treatment and Disposal, 1980, available from the US EPA, the US GPO Superintendent of Documents (Pueblo CO), and from the National Small Flows Clearinghouse. Original source http://www.epa.gov/ORD/NRMRL/Pubs/625R00008/625R00008.htm
Water Wells and Septic Systems Handbook, R. Dodge Woodson. This book is in the upper price range, but is worth the cost for serious septic installers and designers. Quoting Amazon: Each year, thousands upon thousands of Americans install water wells and septic systems on their properties. But with a maze of codes governing their use along with a host of design requirements that ensure their functionality where can someone turn for comprehensive, one-stop guidance? Enter the Water Wells and Septic Systems Handbook from McGraw-Hill.
Written in language any property owner can understand yet detailed enough for professionals and technical students this easy-to-use volume delivers the latest techniques and code requirements for designing, building, rehabilitating, and maintaining private water wells and septic systems. Bolstered by a wealth of informative charts, tables, and illustrations, this book delivers:
* Current construction, maintenance, and repair methods
* New International Private Sewage Disposal Code
* Up-to-date standards from the American Water Works Association

Wells and Septic Systems, Alth, Max and Charlet, Rev. by S. Blackwell Duncan, $ 18.95; Tab Books 1992. We have found this text very useful for conventional well and septic systems design and maintenance --DF. Quoting an Amazon description:Here's all the information you need to build a well or septic system yourself - and save a lot of time, money, and frustration. S. Blackwell Duncan has thoroughly revised and updated this second edition of Wells and Septic Systems to conform to current codes and requirements. He also has expanded this national bestseller to include new material on well and septic installation, water storage and distribution, water treatment, ecological considerations, and septic systems for problem building sites.
The NSFC Products List has an excellent list of design manuals/modules available from their website or by telephone 800-624-8301

...