Septic System Maintenance - Why Does a Septic Tank Need Cleaning?
InspectAPedia tolerates no conflicts of interest. We have no relationship with advertisers, products, or services discussed at this website.
Why pump the septic tank?
Here we explain why a septic tank needs to be pumped regularly, how septic tanks are cleaned, how much it costs to pump a septic tank, how to inspect and clean septic tanks safely, what is septic tank effluent retention time, how to measure septic tank scum and sludge levels, and other septic tank maintenance advice for homeowners. How often should septic tanks be pumped? Then we discuss reasons to pump out or clean a septic tank "off schedule" such as before a big party or for diagnostic reasons.
We also provide a MASTER INDEX to this topic, or you can try the page top or bottom SEARCH BOX as a quick way to find information you need.
WHY DOES A TANK NEED PUMPING? A Basic Explanation of What Happens in a Septic Tank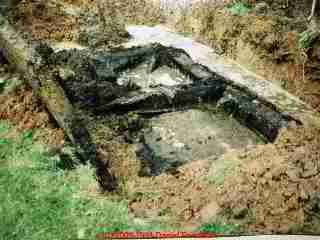 [Click to enlarge any image]
Why should septic tanks be pumped out? What causes septic field failures? Understanding the proper procedures for septic tank care, septic tank cleaning frequency, and other septic tank maintenance chores, will permit the owner of a home with an onsite septic system to maximize the life of the system and to assure that it is working properly.
The most common domestic wastewater treatment system used in rural areas is the septic tank-soil absorption system. The septic tank removes settleable and floatable solids from the waste water. The soil absorption field then filters and treats the clarified septic tank effluent and distributes it through the soil.
Removing the solids from the wastewater protects the soil absorption system from clogging and failure. In addition to removing solids, the septic tank also promotes biological digestion of a portion of the solids and stores the remaining undigested portion.
The first stage of the treatment system, the septic tank, removes solids by holding wastewater in the tank. This allows the heavier solids to settle as sludge and the lighter particles to form scum at the top.
To accomplish this, wastewater should be held in the tank for at least 24 hours. Up to 50 percent of the solids retained in the tank decompose; the remainder accumulate in the tank. Biological and chemical additives are not needed to aid or accelerate decomposition. The small, collapsing, and totally impacted septic tank shown here was ignored by the property owner for years, leading to total failure of the system.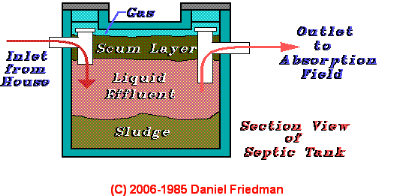 This figure shows a tank in cross-section. You will see that the liquid septic effluent volume has as available space the area between the underside of the floating scum layer at the top of the septic tank and the upper side of the settled sludge layer on the tank bottom.
As a septic system is used, sludge continues to accumulate in the bottom of the septic tank. Properly designed tanks have enough space for up to three years safe accumulation of sludge, but the actual time you can allow between septic tank pumpouts depends on tank size and level of usage.
See TANK PUMPING SCHEDULE for a table relating septic tank size and usage to pumping frequency.
When the sludge level increases beyond the maximum design point, sewage has less time to settle out as scum or sludge before leaving the tank (we explain this further at EFFLUENT RETENTION TIME) and more suspended sewage solids will flow out of the septic tank into the absorption area or drainfield.
If too much sludge accumulates in a septic tank, no settling occurs before the sewage flows to the soil absorption field. Infiltration of sludge into the soil absorption field will shorten the drainfield life and thus cause system failure by clogging the absorbing soils around the field. To prevent this, the septic tank must be pumped on the proper schedule. The material pumped out of the septic tank is known as septage, raw sewage, or blackwater.
Other reasons to pump out or clean septic tanks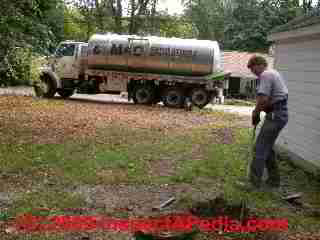 Unscheduled septic tank pumpout advice: this document explains additional reasons for pumping the septic tank at times other than those provided by septic tank pumping tables.
We describe a list of circumstances that recommend an "extra" or unscheduled cleanout and inspection of the septic tank such as a marginal septic system that is about to be subjected to high usage during a party, or in response to a sewage backup into the building, following area flooding, and as part of diagnosing a failure of the septic system or any of its components.
Readers should see Septic Tank Pumping Frequency Guide for a table explaining when to schedule a septic cleanout. Citation of this article by reference to this website and brief quotation for the sole purpose of review are permitted. Use of this information at other websites, in books or pamphlets for sale is reserved to the author. Technical reviewers are welcome and are listed at REFERENCES.
This article is a supplement to SEPTIC SYSTEM INSPECTION & MAINTENANCE COURSE an online book on septic systems.
At WHEN to CLEAN THE SEPTIC TANK and in the table shown at Septic Tank Pumping Frequency Guide we've discussed the basic guidelines and tables used to determine when a septic tank should be pumped. But There are other reasons besides time or sludge/scum layer thickness that lead people to pump septic tanks out. Here's a list of other reasons to pump the septic tank along with links to more details:
Before the party: you can reduce the chances of a septic system backup as well as avoiding overloading the drainfield if you have the septic tank pumped right before any anticipated heavy usage such as having many visitors or having a large party with many guests in your home. We discuss this suggestion in detail
at Septic Backup Prevention.


Septic Pumping in Response to Sewage backups: pumping a septic tank because drains are backing up in the building is a "band aid" that gives very short relief since the tank will fill again quickly, perhaps in just a day or so of use. The reason for the septic backup needs to be determined. If the septic system is backing up because the tank is totally blocked by solid waste the tank needs to be pumped but the owner needs to be warned that the drain field has been damaged and has less remaining life. If the septic system is backing up because the drain field itself is failing and refuses to accept effluent, the drain field needs to be replaced.
See Sewage Backup Diagnosis & Hazards in buildings


If the septic system drains are clogged the clog needs to be found and cleared.
See CLOGGED DRAIN DIAGNOSIS & REPAIR


Houses being sold: often an owner or realtor will arrange for a septic tank to be pumped just before a home inspection or before a septic system inspection or septic loading and dye test. Such a "favor" performed for the buyer is in fact preventing a valid septic inspection and test since an empty tank means the drain field can't be tested. This is a fraudulent act and should not be tolerated.
See When Not to Pump a Septic Tank


Septic tanks exposed to flood conditions need to be pumped and inspected as the tank may have been filled with backing up silt or mud.
See SEPTIC SYSTEM FLOOD DAMAGE REPAIR


Filled cesspools are often "repaired" by pumping and perhaps by other means such as agitating the cesspool bottom or sides. If a cesspool is found filled to within 6-12" of the top of the unit it is at end of life and needs replacement. Pumping some cesspools risks dangerous cave-ins or collapse. (See Cesspool Safety Warnings)


Evidence of Septic Failure such as effluent on the property surface in the drain field area or odors leads some people to pump the septic tank. As cited in our first example above, "Sewage backups", this is a futile effort and other diagnosis and repair are needed. See
Sewage odors sometimes lead people to pump septic tanks. Pumping is not likely to correct a sewer gas problem though tank inspection may provide some information about system condition.
See Diagnosing & Curing Sewer Gas Smells and Septic Tank Odors
Septic Tank Cleaning Articles
...
Continue reading at SEPTIC TANK PUMPING SCHEDULE or select a topic from closely-related articles below, or see our complete INDEX to RELATED ARTICLES below.
Or see SEPTIC TANK LEVELS of SEWAGE
Or see WHEN NOT TO PUMP A SEPTIC TANK
Suggested citation for this web page
SEPTIC TANK PUMPING REASONS at InspectApedia.com - online encyclopedia of building & environmental inspection, testing, diagnosis, repair, & problem prevention advice.
Or use the SEARCH BOX found below to Ask a Question or Search InspectApedia
...
Ask a Question or Search InspectApedia
Try the search box just below, or if you prefer, post a question or comment in the Comments box below and we will respond promptly.
Search the InspectApedia website
Try the search box below or CONTACT US by email if you cannot find the answer you need at InspectApedia.
Question: Will septic pumping remove dirt that fell into the septic tank? When?
(Aug 4, 2015) Dave said:
I opened lid to septic tank. I did not remove all the dirt around the lid. Some dirt fell into the water. Will this dirt sink to bottom and add to the sludge. I live alone and had septic pumped 7 years ago. I maintain it well. I have an effluent filter in the next tank. Does pumping remove mud and sludge from the bottom? When should I have it pumped?
Reply:
Dave: proper septic tank pumping includes removing the settled sludge (and any dirt that fell in) from the bottom of the septic tank. If your pumper leaves more than a trivial amount of sludge on the tank bottom he's not doing a great job.
See SEPTIC TANK PUMPING SCHEDULE or see SEPTIC TANK LEVELS of SEWAGE or if you prefer, MEASURE SCUM & SLUDGE, for the approaches to determining when to pump the septic tank.
...
Ask a Question or Search InspectApedia
Questions & answers or comments about the requirement to clean or pump out septic tanks & about pumping the septic tank "off schedule"
Try the search box just below, or if you prefer, post a question or comment in the Comments box below and we will respond promptly.
Search the InspectApedia website
Technical Reviewers & References
Click to Show or Hide Citations & References
New York State Department of Health, "Appendix 75-A Wastewater Treatment Standards - Individual Household Systems", [PDF] New York State Department of Health, 3 February 2010, retrieved 3/1/2010, original source: https://www.health.ny.gov/regulations/nycrr/title_10/part_75/appendix_75-a.htm
Mark Cramer Inspection Services Mark Cramer, Tampa Florida, Mr. Cramer is a past president of ASHI, the American Society of Home Inspectors and is a Florida home inspector and home inspection educator. (727) 595-4211 mark@BestTampaInspector.com 11/06
Arlene Puentes, a licensed home inspector, educator, and building failures researcher in Kingston, NY. 11/29/06
Books & Articles on Building & Environmental Inspection, Testing, Diagnosis, & Repair
Water Wells and Septic Systems Handbook, R. Dodge Woodson. This book is in the upper price range, but is worth the cost for serious septic installers and designers. Quoting Amazon: Each year, thousands upon thousands of Americans install water wells and septic systems on their properties. But with a maze of codes governing their use along with a host of design requirements that ensure their functionality where can someone turn for comprehensive, one-stop guidance? Enter the Water Wells and Septic Systems Handbook from McGraw-Hill.
Written in language any property owner can understand yet detailed enough for professionals and technical students this easy-to-use volume delivers the latest techniques and code requirements for designing, building, rehabilitating, and maintaining private water wells and septic systems. Bolstered by a wealth of informative charts, tables, and illustrations, this book delivers:
* Current construction, maintenance, and repair methods
* New International Private Sewage Disposal Code
* Up-to-date standards from the American Water Works Association

Wells and Septic Systems, Alth, Max and Charlet, Rev. by S. Blackwell Duncan, $ 18.95; Tab Books 1992. We have found this text very useful for conventional well and septic systems design and maintenance --DF. Quoting an Amazon description:Here's all the information you need to build a well or septic system yourself - and save a lot of time, money, and frustration. S. Blackwell Duncan has thoroughly revised and updated this second edition of Wells and Septic Systems to conform to current codes and requirements. He also has expanded this national bestseller to include new material on well and septic installation, water storage and distribution, water treatment, ecological considerations, and septic systems for problem building sites.
The NSFC Products List has an excellent list of design manuals/modules available from their website or by telephone 800-624-8301
...