The Causes of Septic System Drainfield or Soakaway Bed Failure

SEPTIC FIELD FAILURE CAUSES - CONTENTS: Causes of septic system drainfield or leachfield failures, how to recognize & diagnose failing conditions in a septic field. Definitions of septic failure for each component
POST a QUESTION or READ FAQs about the causes of septic drainfield or soakaway bed saturation, clogging, or failures
InspectAPedia tolerates no conflicts of interest. We have no relationship with advertisers, products, or services discussed at this website.
This septic system diagnosis article explains the causes of septic system failure in the drain field, leach field, seepage bed, or similar component. We list the causes of each type of septic component failure, and list the septic component failure criteria or in other words what conditions are defined as "failure"? We also discuss what can be planted over and near a septic drainfield and what should be avoided.
How can you distinguish between a blocked pipe, a septic tank that needs pumping, and a clogged drainfield that needs replacement? This is an important question as it distinguishes between relatively low cost maintenance or repair task and a costly septic leach field replacement.
Green links show where you are. © Copyright 2015 InspectApedia.com, All Rights Reserved.
SEPTIC FIELD FAILURE CAUSES - Septic Absorption Field Failure Causes of drainfields and leaching beds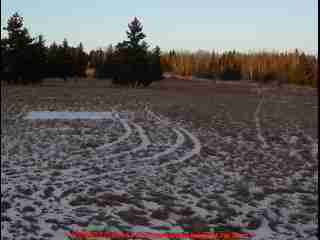 Here is a list of the causes of sewage wastewater disposal field failures. These factors explain why soakaway beds, seepage beds, leach fields, disposal fields, drainfields, or other synonymous effluent treatment & disposal systems fail early or at the end of a normal life.
Driving vehicles or any heavy equipment over the absorption system, leach field, drainfield. As with any septic absorption system, heavy traffic over the system can compress soil or break pipes, rendering the system inoperative and requiring costly repairs.

At a recent inspection I found that the septic mound had been placed over a roadway connecting two properties owned by the same family. Family members continued to drive back and forth between homes right over the septic mound. Its future life was rather doubtful.

Driving vehicles over the septic mound or other drainfield, even for a single project such as construction of a nearby structure or performing other site work, is likely to damage the system and lead to need for costly repairs.

Kahn et als. also advise keeping grazing animals, horses, cows, etc. off of mound systems.
In the photo shown here, light snow makes it quite apparent where someone has been driving through this field. Compacting the soil by driving over the drainfield will damage it and may lead to early failure.
Details are at DRIVING or PARKING OVER SEPTIC
Septic tank or field construction mistakes: Improper original construction by bad site selection , especially on rocky, poorly-drained sites (pipes settle, for example) including improper trench grading & routing or extending piping over variations in trench grading without proper bedding (causing pipe settlement).

Inspecting raised bed and mound systems in New York State I have often seen improperly constructed mounds including efforts by the builder to save on fill cost by using the "mound" as a place to first pile up all of the trees and tree stumps which needed to be cleared from the site, covering this mess with a too-thin layer of fill soil in which the septic absorption trenches are installed.

The result is a mound system with a short life. If you see trees poking out from the perimeter of your mound further investigation may be in order. Also watch for effluent breakout around the bottom edges of the mound.

Driving over the septic drainfield trenches during construction, omitting the required gravel under and around drainfield trench piping, and possibly backfilling with heavy wet clay-based soils during construction may also damage the field or reduce its performance.

See our warnings at (3) Construction of Shallow Septic System Absorption Trenches

Shortcuts by the drainfield constructing contractor or excavator such as

Failure to provide proper type & quantity of gravel in drainfield trenches - hasty backfill with available soil
Failure to install drainfield trenches of depth, length, width, slope specified by the septic system designer & planner
Houses clustered around a lake: often will have a marginal system as properties were crowded together, built as part-time summer-camps, were built without code supervision, and often were built using amateur, marginal home-made systems.

In our photograph (left), new construction placed the septic tank and septic drainfields in the wet area shown in the photo.

Everything looked questionable: the drainfield is placed near trees, risking root invasion of the piping; the drainfield is placed in wet soils, and the total elevation between the bottom of the drainfield piping and the top of the nearby lake is less than two feet. The drainfield is placed less than 20 ft. from the edge of the lake.

It is improbable that the septic system belonging to this property will do much more than contaminate the nearby lake.
Improper septic absorption field location: one way to have a quick failure of a drain field is to install it in an area of high seasonal water tables (flooding the system) without sufficient fill and elevation, and/or without providing extra site and intercept drainage around the field to keep surface and subsurface water away from the field.
Surface & subsurface runoff water control mistakes: Ignoring site runoff and groundwater levels: Improper absorption field siting is found at some properties where the builder fails to consider site runoff or natural groundwater paths. One mound system was constructed using too little fill and placed over what had been a stream bed.

My septic dye test very quickly produced red-dyed effluent at the low end of the mound where a seasonal stream continued to run under the mound in wet weather. Flooding the absorption system with surface or roof runoff, or rocky, poorly-drained or under-sized sites may simply lack capacity means a short absorption field life.
Steep slope septic systems: Placing a conventional septic system drainfield on a steep slope, over a stream bed, over a natural drainage swale (photo of this defect), specifying an under-sized mound or raised bed for the anticipated usage level, and poorly installed piping which does not slope properly or which becomes disconnected, and finally, use of improper fill soil which lacks the proper percolation rate all result in a costly installation with a too-short life.
Sloppy pipe layout and connections is a common cause of early failure in new drainfields. Pipes placed in trenches at uneven slope become disconnected; trenches with improper slope and omission of the specified amount and improper placement of gravel (for those systems) are also quite common where there is time or money pressure working against the builder.

Placing structures, patios, or paving over the absorption system: Covering an absorption bed, raised bed, or septic mound, such as by installation of paving, a patio, or weed-blocking solid plastic, will damage the mound and prevent proper operation by blocking both oxygen intake into the soil and also evaporation of effluent from the soil top. See "Blocking the ground" earlier in this list.
Placing improper substances into the building drains and septic system. Don't use the septic system to dispose of illegal oils, chemicals, fats, greases. One system in New York near the Taconic State Parkway was connected to house in which was operated an illegal drug manufacturing operation. So much contaminant was flushed down house drains that the workers contaminated their own well and poisoned themselves
Discharging excessive salts or other chemicals which destroy the the biomat formation, clogging the soil. This problem and measures to protect and extend the life of the biomat is discussed at "Biomat Formation".
Planting trees, deep rooting shrubs, and certain ground covers on the septic absorption field (roots enter pipes) and evaporation can be blocked.
See SEPTIC SYSTEMS, PLANTS OVER
Use of septic tank or drain field additives which claim to extend system life can generate so much activity in the tank that solids are held in suspension and forced into the soil absorption system! Do not add any treatments, chemicals, yeast, or other treats to a septic system. In general these treatments don't work, may ruin the system, and are illegal in many localities. There is no magic bullet to repair a bad SAS.
Wet weather installations of septic systems & fields: Installing a drainfield in wet weather (which compacts the soil) is likely to mean a shorter field life.
Also see SEPTIC DRAINFIELD LOCATION: how to find the septic drain field or leaching bed and what site features should be kept distant from the drainfield.
Continue reading at DRIVING or PARKING OVER SEPTIC or select a topic from the More Reading links shown below.
Suggested citation for this web page
SEPTIC DRAINFIELD FAILURE CAUSES at InspectApedia.com - online encyclopedia of building & environmental inspection, testing, diagnosis, repair, & problem prevention advice.
More Reading
Green link shows where you are in this article series.
...
Frequently Asked Questions (FAQs)
No FAQs have been posted for this page. Try the search box below or CONTACT US by email if you cannot find the answer you need at InspectApedia.
Ask a Question or Search InspectApedia
Use the "Click to Show or Hide FAQs" link just above to see recently-posted questions, comments, replies, try the search box just below, or if you prefer, post a question or comment in the Comments box below and we will respond promptly.
Search the InspectApedia website
Technical Reviewers & References
Publisher's Google+ Page by Daniel Friedman
Click to Show or Hide Citations & References
Percolation Testing Manual, CNMI Division of Environmental Quality, Gualo Rai, Saipan provides an excellent English Language manual guide for soil percolation testing. Original source: www.deq.gov.mp/artdoc/Sec6art108ID255.pdf
Soil Test Pit Preparation, fact sheet, Oregon DEQ Department of Environmental Quality, original source www.deq.state.or.us/wq/pubs/factsheets/onsite/testpitprep.pdf The Oregon DEQ onsite water quality program can be contacted at 811 South Ave, Portland OR 97204, 800-452-4011 or see http://www.oregon.gov/DEQ/
Thanks to reader Michael Roth for technical link editing 6/29/09.
Septic Tank/Soil-Absorption Systems: How to Operate & Maintain [ copy on file as /septic/Septic_Operation_USDA.pdf ] - , Equipment Tips, U.S. Department of Agriculture, 8271 1302, 7100 Engineering, 2300 Recreation, September 1982, web search 08/28/2010, original source: http://www.fs.fed.us/t-d/pubs/pdfimage/82711302.pdf.
Pennsylvania State Fact Sheets relating to domestic wastewater treatment systems include

Pennsylvania State Wastewater Treatment Fact Sheet SW-161, Septic System Failure: Diagnosis and Treatment
Pennsylvania State Wastewater Treatment Fact Sheet SW-162, The Soil Media and the Percolation Test
Pennsylvania State Wastewater Treatment Fact Sheet SW-l64, Mound Systems for Wastewater Treatment
Pennsylvania State Wastewater Treatment Fact Sheet SW-165, Septic Tank-Soil Absorption Systems
Document Sources used for this web page include but are not limited to: Agricultural Fact Sheet #SW-161 "Septic Tank Pumping," by Paul D. Robillard and Kelli S. Martin. Penn State College of Agriculture - Cooperative Extension, edited and annotated by Dan Friedman (Thanks: to Bob Mackey for proofreading the original source material.)

...
Books & Articles on Building & Environmental Inspection, Testing, Diagnosis, & Repair
The Home Reference Book - the Encyclopedia of Homes, Carson Dunlop & Associates, Toronto, Ontario, 25th Ed., 2012, is a bound volume of more than 450 illustrated pages that assist home inspectors and home owners in the inspection and detection of problems on buildings. The text is intended as a reference guide to help building owners operate and maintain their home effectively. Field inspection worksheets are included at the back of the volume. Special Offer: For a 10% discount on any number of copies of the Home Reference Book purchased as a single order. Enter INSPECTAHRB in the order payment page "Promo/Redemption" space. InspectAPedia.com editor Daniel Friedman is a contributing author.

Or choose the The Home Reference eBook for PCs, Macs, Kindle, iPad, iPhone, or Android Smart Phones. Special Offer: For a 5% discount on any number of copies of the Home Reference eBook purchased as a single order. Enter INSPECTAEHRB in the order payment page "Promo/Redemption" space.
Design Manuals for Septic Systems
US EPA Onsite Wastewater Treatment Systems Manual [online copy, free] Top Reference: US EPA's Design Manual for Onsite Wastewater Treatment and Disposal, 1980, available from the US EPA, the US GPO Superintendent of Documents (Pueblo CO), and from the National Small Flows Clearinghouse. Original source http://www.epa.gov/ORD/NRMRL/Pubs/625R00008/625R00008.htm Onsite wastewater treatment and disposal systems, Richard J Otis, published by the US EPA. Although it's more than 20 years old, this book remains a useful reference for septic system designers. U.S. Environmental Protection Agency, Office of Water Program Operations; Office of Research and Development, Municipal Environmental Research Laboratory; (1980)
Eco John® Innovative Toilet Solutions, Global Inventive Industries, Fountain Valley CA, PDF, product brochure
"International Private Sewage Disposal Code," 1995, BOCA-708-799-2300, ICBO-310-699-0541, SBCCI 205-591-1853, available from those code associations.
"Manual of Policy, Procedures, and Guidelines for Onsite Sewage Systems," Ontario Reg. 374/81, Part VII of the Environmental Protection Act (Canada), ISBN 0-7743-7303-2, Ministry of the Environment,135 St. Clair Ave. West, Toronto Ontario M4V 1P5 Canada $24. CDN.
Manual of Septic Tank Practice, US Public Health Service's 1959.

Onsite Wastewater Disposal Books
Onsite Wastewater Disposal, R. J. Perkins; Quoting from Amazon: This practical book, co-published with the National Environmental Health Association, describes the step-by-step procedures needed to avoid common pitfalls in septic system technology. Valuable in matching the septic system to the site-specific conditions, this useful book will help you install a reliable system in both suitable and difficult environments. Septic tank installers, planners, state and local regulators, civil and sanitary engineers, consulting engineers, architects, homeowners, academics, and land developers will find this publication valuable.
Onsite Wastewater Treatment Systems, Bennette D. Burks, Mary Margaret Minnis, Hogarth House 1994 - one of the best septic system books around, suffering a bit from small fonts and a weak index. While it contains some material more technical than needed by homeowners, Burks/Minnis book on onsite wastewater treatment systems a very useful reference for both property owners and septic system designers.
Septic Tank/Soil-Absorption Systems: How to Operate & Maintain [ copy on file as /septic/Septic_Operation_USDA.pdf ] - , Equipment Tips, U.S. Department of Agriculture, 8271 1302, 7100 Engineering, 2300 Recreation, September 1982, web search 08/28/2010, original source: http://www.fs.fed.us/t-d/pubs/pdfimage/82711302.pdf
Soil Percolation Tests soil perc testing guide and instructions
Percolation Testing Manual, CNMI Division of Environmental Quality, PO Box 501304, Saipan, MP 96950
Planting Over Septic System Component", Daniel Friedman (author/editor, InspectAPedia.com), The Innovator, Winter/Spring 2008, BCOSSA, British Columbia OnSite Sewage Association, 201-3542 Blansard St., Victoria BC V8X 1W3 Canada
Save the Septic System - Do Not Flush These Items Down the Toilet, Daniel Friedman, InspectAPedia.com - PDF document, printable
Septic System Owner's Manual, Lloyd Kahn, Blair Allen, Julie Jones, Shelter Publications, 2000 $14.95 U.S. - easy to understand, well illustrated, one of the best practical references around on septic design basics including some advanced systems; a little short on safety and maintenance. Both new and used (low priced copies are available, and we think the authors are working on an updated edition--DF. Quoting from one of several Amazon reviews: The basics of septic systems, from underground systems and failures to what the owner can do to promote and maintain a healthy system, is revealed in an excellent guide essential for any who reside on a septic system. Rural residents receive a primer on not only the basics; but how to conduct period inspections and what to do when things go wrong. History also figures into the fine coverage.
Test Pit Preparation for Onsite Sewage Evaluations, State of Oregon Department of Environmental Quality, Portland OR, 800 452-4011. PDF document. We recommend this excellent document that offers detail about soil perc tests, deep hole tests, safety, and septic design. Readers should also see Soil Percolation Tests and for testing an existing septic system, also see Dye Tests
Grass is Always Greener Over the Septic Tank, Bombeck, Erma: $ 5.99; FAWCETT; MM; This septic system classic whose title helps avoid intimidating readers new to septic systems, is available new or used at very low prices. It's more entertainment than a serious "how to" book on septic systems design, maintenance, or repair. Not recommended -- DF.

US EPA Onsite Wastewater Treatment Systems Manual Top Reference: US EPA's Design Manual for Onsite Wastewater Treatment and Disposal, 1980, available from the US EPA, the US GPO Superintendent of Documents (Pueblo CO), and from the National Small Flows Clearinghouse. Original source http://www.epa.gov/ORD/NRMRL/Pubs/625R00008/625R00008.htm
Water Wells and Septic Systems Handbook, R. Dodge Woodson. This book is in the upper price range, but is worth the cost for serious septic installers and designers. Quoting Amazon: Each year, thousands upon thousands of Americans install water wells and septic systems on their properties. But with a maze of codes governing their use along with a host of design requirements that ensure their functionality where can someone turn for comprehensive, one-stop guidance? Enter the Water Wells and Septic Systems Handbook from McGraw-Hill.
Written in language any property owner can understand yet detailed enough for professionals and technical students this easy-to-use volume delivers the latest techniques and code requirements for designing, building, rehabilitating, and maintaining private water wells and septic systems. Bolstered by a wealth of informative charts, tables, and illustrations, this book delivers:
* Current construction, maintenance, and repair methods
* New International Private Sewage Disposal Code
* Up-to-date standards from the American Water Works Association

Wells and Septic Systems, Alth, Max and Charlet, Rev. by S. Blackwell Duncan, $ 18.95; Tab Books 1992. We have found this text very useful for conventional well and septic systems design and maintenance --DF. Quoting an Amazon description:Here's all the information you need to build a well or septic system yourself - and save a lot of time, money, and frustration. S. Blackwell Duncan has thoroughly revised and updated this second edition of Wells and Septic Systems to conform to current codes and requirements. He also has expanded this national bestseller to include new material on well and septic installation, water storage and distribution, water treatment, ecological considerations, and septic systems for problem building sites.

The NSFC Products List has an excellent list of design manuals/modules available from their website or by telephone 800-624-8301
Submissions welcome. send us a suggested document link or request an exchange of website links
...