Photo-guide to Lichens Damage on Roofing Surfaces

InspectAPedia tolerates no conflicts of interest. We have no relationship with advertisers, products, or services discussed at this website.
This article describes and provide photographs of lichens growth that occurs on buildings and in nature and we provide advice about handling lichens growth on roofing surfaces. We include links to references useful in the identification of algae, moss, lichens, and mold. Our photo at page top shows moss on an asphalt shingle roof.
Green links show where you are. © Copyright 2013 InspectAPedia.com, All Rights Reserved. Author Daniel Friedman.
What does Lichens look like on buildings, in nature, and in the microscope?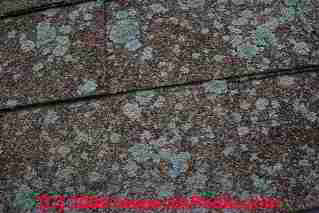 What does lichens growth look like on an asphalt shingle roof and how do we distinguish this material and its effects from algae, moss, or other roof problems? Lichens, one of the most hardy growth organisms found in nature, can grow in harsh conditions. Lichens is often found growing on roof shingles, especially asphalt and wood shingles as we show here.
Our photo (left) shows blue-green lichens covering a significant portion of the roof surface, and below we provide closeup photographs showing just what lichens does to the roof surface if you try to remove it.
Is lichens on a roof as much of a problem as moss? Yes and no, as we discuss below.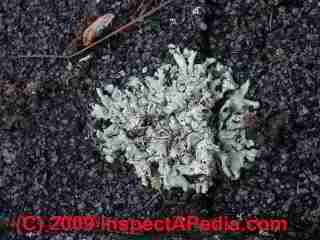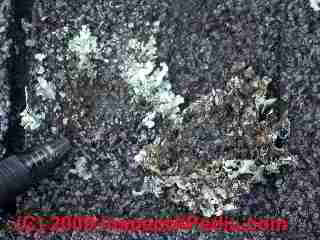 This website tells readers how to identify, evaluate, remove or prevent stains on building surfaces. Also see ALGAE, FUNGUS, LICHENS, MOSS on SHINGLES where we describe not only moss and lichens but black fungal stains on asphalt shingles and on other building surfaces. Also see Lichens on Stone Surfaces. For the diagnosis and cure of other building stains, see STAIN DIAGNOSIS on BUILDING EXTERIORS and STAIN DIAGNOSIS on BUILDING INTERIORS. Also see Red or Other Colors on Stone. See STAIN DIAGNOSIS on STONE for additional examples of diagnosing, cleaning, and preventing stains on building materials and artifacts.
Because lichens growing on a roof surface does not have as much thickness of body as moss, it will hold less water on the roof surface and is less of a wear factor than moss.
Our photographs (above) show lichens growing on an asphalt roof shingle in situ (above left). In the photo where our pen is inserted for scale (above right) we had "picked" the spot of lichens gently and flipped it over. Our pen points to the hole left in the asphalt shingle as the lichens had such a good grip on the mineral granules that when removing the lichens it brought some of the roof protective coating along with itself. If you click to enlarge the photo at above right you'll see the actual mineral granules from the shingle adhered in the "roots" of the lichens.
Moss Damage Compared with Lichens Damage to Roofs
Our photographs below show a Two Harbors Minnesota asphalt shingle roof with heavy moss and lichens growing on the same surface. You can see that comparing the loss of mineral granules where we have gently lifted off moss (below left) and where we used a knife blade to gently lift off lichens from the shingle surface (below right), both growths have loosened the mineral granule coating and exposed the organic shingle substrate in a similar fashion.
Notice that both roof photos show that both moss and lichens are happy to co-exist on the same shingle surface. Our photo at left shows testing where moss was lifted off of the shingle, and at right, cup lichens was pried off of the roof using the tip of a knife blade.
Because moss is a thicker growth on roof surfaces, we suspect that its ability to hold water and moisture on the roof surface is greater than that of lichens. So in some circumstances and climates, moss damage may be as severe or even more severe than lichens damage to a building roof, and we suspect that the degree of moss or lichens damage also varies by roofing material, with still more severe moss and water damage on wood shingle roofing.
If we have only lichens growing on a roof surface we would be less quick to try to clean it off since lichens not only has a tighter "grip" on the roof surface but the cleaning process for lichens risks doing more harm than good to the roof surface. Removing the protective granules from an asphalt shingle or mineral-granule coated roll roofing surface is going to reduce the future life of that roof covering.
Moss and lichens are more than a cosmetic issue on many kinds of roofing materials - asphalt shingles, roll roofing, wood shingle roofs, wood shake roofs. By holding moisture against the roof surface lichens but more so moss speed the wear of the asphalt shingle surface in freezing climates by increasing frost damage to the mineral granule coating on the shingles.
Frequently Asked Questions (FAQs) about lichens growth on roofs: damage, removal, prevention
...
Ask a Question or Search InspectApedia
Questions & answers or comments about lichens growth on roof surfaces: causes, damage, removal & prevention.
Ask a Question or Enter Search Terms in the InspectApedia search box just below.
Technical Reviewers & References
Related Topics, found near the top of this page suggest articles closely related to this one.
Guides to identifying mosses:
Graphic Guide Ontario Mosses (some of which appear widely dispersed by climate and geographic area, not just in Ontario) which offers a graphic guide to mosses. worldofmosses.com/ggom/index.html
Also see the sources listed at worldofmosses.com/ggom/ggomBibliography.html
Also see the Journal Folia Geobotanica, Springer, Netherlands ISSN1211-9520 (Print) 1874-9348 (Online) IssueVolume 11, Number 2 / June, 1976 DOI10.1007/BF02854759 Pages217-22
Books & Articles on Building & Environmental Inspection, Testing, Diagnosis, & Repair
The Home Reference Book - the Encyclopedia of Homes, Carson Dunlop & Associates, Toronto, Ontario, 25th Ed., 2012, is a bound volume of more than 450 illustrated pages that assist home inspectors and home owners in the inspection and detection of problems on buildings. The text is intended as a reference guide to help building owners operate and maintain their home effectively. Field inspection worksheets are included at the back of the volume. Special Offer: For a 10% discount on any number of copies of the Home Reference Book purchased as a single order. Enter INSPECTAHRB in the order payment page "Promo/Redemption" space. InspectAPedia.com editor Daniel Friedman is a contributing author.

Or choose the The Home Reference eBook for PCs, Macs, Kindle, iPad, iPhone, or Android Smart Phones. Special Offer: For a 5% discount on any number of copies of the Home Reference eBook purchased as a single order. Enter INSPECTAEHRB in the order payment page "Promo/Redemption" space.
Best Practices Guide to Residential Construction, by Steven Bliss. John Wiley & Sons, 2006. ISBN-10: 0471648361, ISBN-13: 978-0471648369, Hardcover: 320 pages, available from Amazon.com and also Wiley.com. See our book review of this publication.
Building Pathology, Deterioration, Diagnostics, and Intervention, Samuel Y. Harris, P.E., AIA, Esq., ISBN 0-471-33172-4, John Wiley & Sons, 2001 [General building science-DF] ISBN-10: 0471331724 ISBN-13: 978-0471331728
Building Pathology: Principles and Practice, David Watt, Wiley-Blackwell; 2 edition (March 7, 2008) ISBN-10: 1405161035 ISBN-13: 978-1405161039
Built-Up Roof Systems, Manual, C.W. Griffin, Mcgraw-Hill (Tx); 2nd edition (July 1982), ISBN-10: 0070247838, ISBN-13: 978-0070247833
Green Roof Plants: A Resource and Planting Guide, Edmund C. Snodgrass, Lucie L. Snodgrass, Timber Press, Incorporated, 2006, ISBN-10: 0881927872, ISBN-13: 978-0881927870. The text covers moisture needs, heat tolerance, hardiness, bloom color, foliage characteristics, and height of 350 species and cultivars.
Green Roof Construction and Maintenance, Kelley Luckett, McGraw-Hill Professional, 2009, ISBN-10: 007160880X, ISBN-13: 978-0071608800, quoting: Key questions to ask at each stage of the green building process Tested tips and techniques for successful structural design Construction methods for new and existing buildings Information on insulation, drainage, detailing, irrigation, and plant selection Details on optimal soil formulation Illustrations featuring various stages of construction Best practices for green roof maintenance A survey of environmental benefits, including evapo-transpiration, storm-water management, habitat restoration, and improvement of air quality Tips on the LEED design and certification process Considerations for assessing return on investment Color photographs of successfully installed green roofs Useful checklists, tables, and charts
...