Plumbing Vent Systems
Problem Detection & Repair - Drain Noises, Gas Smells & Septic Tank Odors

PLUMBING VENT PIPING - CONTENTS: How to inspect the plumbing vent system to find leaks and sewer gas or septic gas odor sources. How to prevent or cure sewer gas odors from septic systems, building plumbing, & other causes. Sewer gas smell Septic gas smell diagnosis - plumbing checklist
PLUMBING VENT REPAIR - separate article
PLUMBING SYSTEM NOISES - separate article
POST a QUESTION or READ FAQs about troubleshooting plumbing drain waste vent system noises & odors
InspectAPedia tolerates no conflicts of interest. We have no relationship with advertisers, products, or services discussed at this website.
Troubleshooting plumbing vents: this article describes how to examine the building's plumbing vent system piping and connections in order to diagnose, find, and cure odors in buildings including septic or sewage or sewer gas smells or plumbing drain and fixture noises that may appear indoors or outside. Here we list common causes of plumbing problems related to improper plumbing vents.
We describe how to track down and correct these "gas odors" in buildings with a focus on homes with a private onsite septic tank but including tips for owners whose home is connected to a sewer system as well. What makes the smell in sewer gas? Sewer gases are more than an obnoxious odor. What causes that gurgling noise in a sink, tub or shower drain, and why do some fixtures "gurgle" when a toilet is flushed nearby? Here are the answers.
Green links show where you are. © Copyright 2014 InspectApedia.com, All Rights Reserved.
Plumbing Vent Piping Defects May Cause Drain Noises or May Release Dangerous Sewer Gas Odors Indoors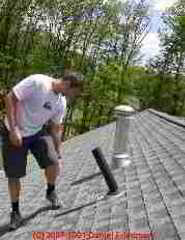 Our page top sketch of a plumbing stack vent and other sketches included below are provided courtesy of Carson Dunlop Associates. At left is a plumbing vent installed on an angle, making us question the workmanship of this job and raising an alert for other plumbing vent snafus.
[Click to enlarge any image]
Plumbing drain or sewer gas odors: If you smell sewer gases in your building conditions could be dangerous (risking a methane gas explosion) or unsanitary. Also see REMEDIES for SEWER ODORS, PLUMBING
Watch out: Because sewer gas contains methane gas (CH4) there is a risk of an explosion hazard or even fatal asphyxiation. Sewer gases also probably contain hydrogen sulfide gas (H2S) In addition some writers opine that there are possible health hazards from sewer gas exposure, such as a bacterial infection of the sinuses (which can occur due to any sinus irritation).
Depending on the sewer gas source and other factors such as humidity and building and weather conditions, mold spores may also be present in sewer gases.
Plumbing drain or fixture noises: Other advice about controlling plumbing noises in buildings is at DRAIN NOISES and at SOUND CONTROL for PLUMBING.
Missing, inadequate, or improperly installed drain-waste-vent (DWV) piping in the building: sometimes a building drain system has inadequate or missing plumbing vents. We list a variety of plumbing vent defects in this article. Our first photo (below left) below shows our client observing a very questionable plumbing vent on a new house. The vent is so far from vertical that we wondered if it had been connected to anything inside, and even if it was, we took this detail to suggest work by someone who lacked proper training - so we were alert for other plumbing defects in the building.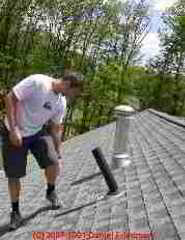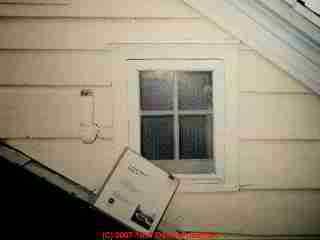 Plumbing vents outside but by a window or door: Just as is shown in the second photograph (above right), plumbing vents which terminate outside but right next to an upper story window permit sewer gas entered the room when the window is open.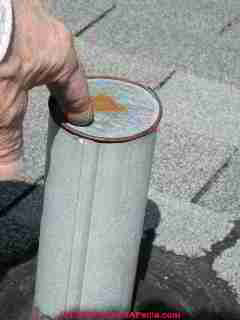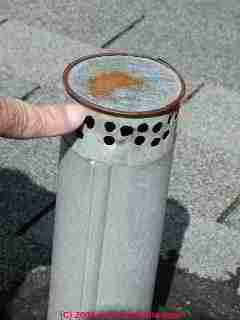 Plumbing vents which have been accidentally closed off or blocked: some plumbing vents include a screen which can slide down, closing off the vent and causing sewer gas backups in the building. We've also found plumbing bents blocked by wasps nests, birds, and once even a frog. Our photos above show how we simply raised the screen back up to open an old sheet-metal vent.
Leaking plumbing vent system piping: check that all of the pipe connections in the building's plumbing vent system have been properly made and sealed. Particularly with plastic piping it's possible for an installer to push vent pipe sections together while forgetting the glue.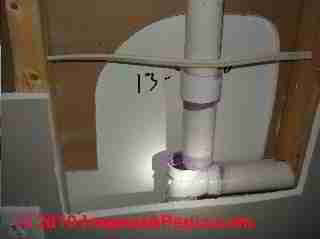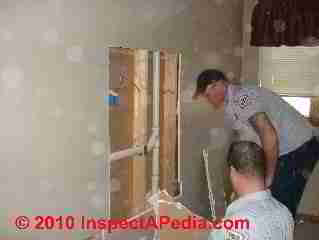 Our plumbing vent stack leak photographs above and just below show a hidden plumbing vent leak in a building wall cavity - exposed by drywall removal during an odor investigation, courtesy of reader Cheryl Lidawer, show what happens when plumbing vent pipe connections are not properly made. In this case the installer coated the pvc vent pipes with primer but not glue, then assembled them.

After lots of detective work and difficulties tracking down sewer gas odors in this home, the owners found multiple sewer gas leaks including the one shown in the two photos above, inside of the building wall cavity. The defective vent piping and sewer gas leaks were discovered by pressure-testing the plumbing drain-waste-vent system.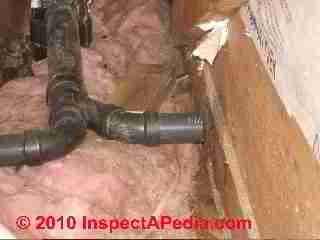 Troubles and mistaken sewer gas odor-sources along the way to finding this plumbing vent sewer gas leak problem included
a red-tagged gas-fired heating furnace (people thought the odor was due to the heating system - an apparent mistake since odors persisted when the heating system was not running
suspecting odors traveling through heating air ducts - was sewer gas or LP gas leaking into the duct work?
suspicions of a chimney problem - was there back-drafting into the gas fired heater?, and finally
visual discovery of open plumbing vents in the building attic (photo above left - that gray pipe stub at center of the photo ends with a saw cut and you can see staining on nearby wall surfaces), and more
confusion about odor and plumbing error responsibility among multiple contractors.

Clues surrounding this problem included visual evidence of inexperienced or untrained workers such as the extensive use of mixed PVC/ABS plastic vent and drain piping in an older home. While modern glues can secure PVC to ABS plastic, in older homes, before such adhesives were available, a mix of black ABS and white PVC drain waste vent piping often meant leaks due to incompatible glues. Don't assume mixed plastic piping is properly secured.

When you find evidence of un-trained workers having been part of the construction team, remember to be alert for other improper or even unsafe conditions such as this unsafe electrical wiring found in the same building attic as the chopped off plumbing vent pipe. .


Because a plumbing vent is passing only sewer gas, not liquid waste that causes a drain not to function, no one notices that it's leaking into the building until there is an odor complaint, the pipe falls apart (which may never happen), or there is a sewer gas explosion.

An experienced plumber may spot a loose vent piping correction quickly, especially in an attic or basement. It helps if you've already traced the sewer gas smell to its strongest location.


Pressure test the vent piping or drain piping systems: It is also possible to perform a pressure test of the vent piping system or the drain piping system - a procedure which will diagnose for sure whether or not the plumbing vent system is leaking sewer gas. A plumber installs seals at appropriate locations and pressurizes the piping to check for leaks. [Thanks to J.V. for this detail.]

In the Lidawer sewer gas odor diagnosis case described just above, pressure testing the plumbing system disclosed un-glued drain-waste-vent piping joints.
Missing plumbing vents: I've seen systems with no vents at all - which often leads to sewer gases reentering the building through sink and shower traps.

Plumbing vents which are too short in their above-roof projection can be blocked by snow and ice in freezing climates.
Plumbing vents which are blocked by ice freezing inside the vent line: in freezing weather if a lot of water vapor is passing up the vent line, for example from long steamy showers or perhaps from a hot water fixture left running or leaking into the drain system, frost can form in the vent piping where it passes through a cold attic and outside.

When the frost becomes heavy enough it can block the plumbing vent system completely.

In freezing climates, check that a plumbing vent is not being blocked by frost or by snow-cover. Waste line sounds heard in piping or at plumbing fixtures, such as "drain gurgling" or "glub glub" sounds, or similar noises may indicate defective or clogged plumbing.

We discuss how to diagnose and cure drain sounds at Plumbing Drain Noises, and we discuss diagnosing sewer gas odors in cold weather further at Diagnosing Sewer Odors.

Watch out: snow and ice can rip a plumbing vent right off the roof, risking both roof leaks and plumbing vent condensate leaks into the roof structure or other building areas. See an example at SNOW GUARD FAILURES .
Remedies for sewer gas odors are discussed at REMEDIES for SEWER ODORS, PLUMBING. Also see Wet Weather or Cold Weather Septic Odors or Sewage Odor Diagnosis & Repair Guide
Plumbing vents terminating indoors: We sometimes find plumbing vents which terminated in the house attic rather than being vented outside.

The plumber didn't want to cut the hole in the roof, perhaps because she didn't have the proper tools, ladder, or roof vent flashing at hand.

We've also found plumbing vent lines that had been cut indoors where a fixture was removed or moved, leaving an open vent line that should have been capped or sealed.




Check for blocked building plumbing vents such as a vent blocked by an insect nest, birds nest, or even a dead animal. Incidentally, a dead animal anywhere in a building might be mistaken for a sewer gas smell as the animal decays. Live animals can block a plumbing vent too.

We found a live frog in one building plumbing vent, right at the rooftop, as shown in this photo!

In freezing climates, check that a plumbing vent is not being blocked by frost or by snow-cover.
See Cold Weather Septic Odors or Sewage Odor Diagnosis


Noisy drain piping or plumbing fixtures: Drain-waste line piping sounds heard in piping or noises heard at plumbing fixtures, such as "drain gurgling" or "glub glub" sounds, or similar noises may indicate defective or clogged plumbing or even if the drains are not clogged, odors and noises are often caused by blocked or improperly installed plumbing vent piping.

At PLUMBING DRAIN NOISES we explain the basics of proper plumbing vent piping and how errors cause trap siphonage, odors, and noises. We discuss how to diagnose and cure drain sounds at Plumbing Drain Noises. Other advice about controlling plumbing noises in buildings is at SOUND CONTROL for PLUMBING.
Plumbing vent distances to fixtures: Plumbing codes require that plumbing vent lines be installed sufficiently close to plumbing fixtures to vent those drains (typically 5' or less) and that the vent system conducts any sewer gases outside and above the building (not in the attic). See PLUMBING DRAIN NOISES for details.
Plumbing trap arm too long or not properly sloped: can cause plumbing trap siphonage and lead to both poor drainage and sewer gas odors in buildings. See PLUMBING DRAIN NOISES for details.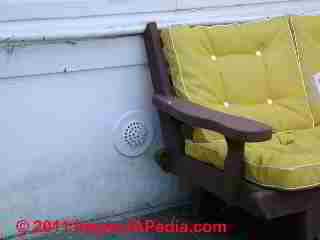 House Traps, Vents, and Sewer or Septic Gas Smells: Some residential plumbers like to install a trap in the main house sewer line at the point where the line exits the house wall to head for the septic tank.

Such traps may protect copper waste lines from corrosive sewer gases. They also may prevent gases from a septic tank from passing back up the waste line and up the house plumbing vent stack. See Diagnosing Sewer Odors.

Our photo (left) shows a sewer line vent through the building exterior wall. Sewer gases exiting this vent empty next to anyone seated on the chair that has been placed on the patio that was added long after the house was built - a condition that was not anticipated by the installing plumber.

Other examples of sewer line vents as a source of septic or sewer gases noticed outside are found at SEWER GAS ODORS in COLD WEATHER
Original installation of plumbing vent stack flashing on a metal roof
Below are details from the original plumbing vent installation of a 3-inch ABS plumbing vent through a standing seam metal roof.
We had installed a conventional plumbing vent stack and boot (below left) along with a roof membrane, while waiting for the metal roof to arrive at the jobsite. To properly seal the plumbing vent to the metal roof we replaced the shingle-roof type vent flashing with the white rubber flashing shown at below right. That flashing is sealed to the metal roof surface by both adhesive sealant and a ring of metal screws.
Photos courtesy of Eric Galow, Galow Homes in Poughkeepsie, NY.
At below left you'll see that even with the plumbing vent stack broken and bent over nearly touching the roof surface, the rubber boot installed in the photos above managed to avoid a flood of melting snow into the roof cavity. This broken plumbing vent was caused by the property-owner's reluctance to finish the job of installing snow guards on the roof.
Details about the snow guard system and its proper installation (done after this damage occurred) are at SNOW GUARDS on METAL ROOFS and step by step details of how we repaired this snapped-off plumbing vent without having to cut open the roof from above nor the cathedral ceiling from below are at PLUMBING VENT REPAIR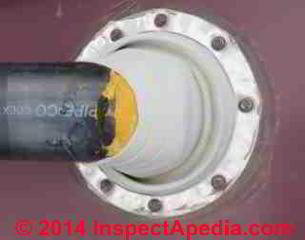 We discuss how to diagnose and cure drain sounds (gurgling, bubbling, smells, poor drainage) at PLUMBING DRAIN NOISE DIAGNOSIS (gurgling drains means bad vent piping or clogged drains) and at CLOGGED DRAIN DIAGNOSIS & REPAIR.
We discuss drainage for plumbing fixtures, such as loose toilets, as sources of sewer gas odors separately at PLUMBING FIXTURE TRAPS.
Continue reading at PLUMBING VENT DEFINITIONS & CODES, where we describe plumbing vent sizes, routing, clearances, and connections.
More Reading
Green link shows where you are in this article series.
...
Frequently Asked Questions (FAQs) about troubleshooting plumbing drain waste vent system noises & odors.
Question: what is "short stack" plumbing ventilation?
short stack ventilation? - John
Reply:
John if you are referring to plumbing vents that are too short, we discuss that in the article above. I'm unsure what else you're asking. If a plumbing vent stack is too short a risk is that in climates where there is snow cover, under heavy snow conditions the vent may become blocked.
Question: unused plumbing drain now seems to be clogged
after noticing a standing water in a newly installed vanity - the drain hasn't been used for long time - I tried to used water pressure to dislodge any obstacle there. Instead I got a leak around the vent in the ceiling of the adjacent closet. Any comments? Thanks. - Ad
Reply:
Reader comment: It sounds like your blockage is downstream and by using water pressure, you are pushing the water upstream toward the vent. There should not be any water in the vent pipe. - reader B
Question: faint sewer odors come and go in several areas of our house, worse towards septic tank
We notice faint odors that come and go in a couple of areas in our house. they happen to be closest to the end of the house where our septic tank is located. One distinct location is a bathroom where a toilet had previously been lifted by a plumber to remove a flushed toy and I am now suspicious that this wasn't sealed properly when replaced (how do I know if this is the case?). The other is an adjacent bathroom where a shower drain seems to smell despite regular addition of water - also notable is that this bathroom had a very pungent gas odor when the septic tank was pumped. Is it normal for odors to come back into the house during pumping? (or does this suggest a malfunction of the shower trap or possibly a ventilation leak?)
A plumber has suggested that the vent stack for this bathroom has been placed improperly on our flat roof, too close to a parapet (actually only 2 to 3 inches away)& that we are probably having downdrafts into the ventilation pipe (although I am not sure how this could explain the substantial flow of odor into that bathroom during pumping). The last area is in our garage where there is a utility sink & this also had a horrendous odor during the pump out. Oddly, these 3 problematic areas are in very close proximity to each other at one end of our ranch style house and I am not sure if there is a common problem between them or multiple separate problems. I have had it looked at by septic companies and plumbers and have not really gotten a solution. How do I find someone that can solve this mystery? - Arizona
Reply: use a smell patch test or a person with good sense of smell to track down strongest odor source, check toilet wax ring
Arizona

I'd try a simple sniff test to see if you can track down the strongest odor source. It's not a big job to pull a toilet and replace a doubtful wax ring if that seems to be the trouble area.

Sometimes drains smell even if not blocked, and even if the vent system is working - due to accumulation of hair, sludge, and bacteria in the drain trap. You might try cleaning that smelly shower drain.

It's worth considering with care your observation about the near-location of all of the smell-suspect fixtures. See if you can determine that all of them share the same drain or vent pipe.

Finally, your plumber's suspicion is worth considering, but you might be able to sort that theory out by taking note of the history of the smell problem. If the problems are long-standing and relate to weather/wind, a vent problem could be more suspect.
Question: long horizontal plumbing vent runs can leak into ceilings below
One potential issue that was not mentioned in the article:
I have a horizontal vent run of ABS in my attic, approximately 20 feet long. I'm assuming multiple vent stacks are being joined. I recently had a water leak from the horizontal pipe section onto the 2nd floor ceiling. Upon inspection I found that the horizontal run had a split along the side of the pipe. It appears that rain water had been collecting in the horizontal section and must have frozen, splitting the pipe.
I cut-out and replaced the split section, but it appears that I need to modify the horizontal run so it has some slope on it to allow the rain water to drain out. Just an FYI for folks out there. - Mike T
Reply:
Thanks Mike. - DF
Question: sulphur smell in closet adjacent to a toilet/bathroom
We have an issue with a sulfur smell in a closet on the second floor of our home. The closet shares a wall with the toilet in the bathroom. The bathroom and toilet do not smell, but there is a strong sulfur smell in the closet that comes and goes - it seems to be stronger on sunny days. There is also a window in the closet and a soffit vent right outside of the window. We had the plumber come out. He said he checked the vents in the attic and they were connected properly? Any ideas? Thanks!
Reply:
Sulfur smells that seem to relate to a septic system or plumbing drains are often traced to a loose toilet, missing or leaky toilet wax ring, dry plumbing traps at unused fixtures, inadequate plumbing vent piping by location or routing, or on occasion, a loose leaky connection in the plumbing vent piping as it runs concealed through building walls, floors, or ceilings. If checking the easy accessible problems like toilet wax rings and dry plumbing traps doesn't solve the problem, and if you believe the plumber's view that all of the drains have adequately located and sized plumbing vent piping, then next might be a pressure test of the vent system to see if you can prove that it is leaking.
Question: when toilets are flushed sewage comes up in the bath tub, and toilets over-fill
I have 2 toilets that when flushed drain into the bathtub. I have a septic tank that has been checked and is working ok, Per the repair guy. We have had 3 separate plumbers come out and no one has been able to fix the problem. Toilets overfill with water by themselves, and when running anything like a dishwasher or Washing Machine everything overflows into the tub.... any suggestions?? I'm dying here.. - Shaun
Reply:
Shaun I read more than one problem here:
1. your toilets over-fill: if you mean that the toilet tank becomes too full, that's not a drain waste vent problem, it is a toilet fill or flush valve control problem; if you mean that the volume of water in the toilet tank is normal (fills to the "fill line" marked in the tank) but the toilet bowl becomes too full when the toilet is flushed then
1.a. the toilet drain is clogged somewhere in its routing
1. b. the toilet drain is not properly vented and the result is slow draining
2. the toilet flush water volume and delivery rate is improper - check the flush valve
The observation that the toilets overfill and that "everything overflows (presumably backs up into) the bathtub when a dishwasher or clothes washer is running is a very strong indicator that you have a blocked or partially blocked drain. Sometimes the blockage can be pretty far downstream from the toilet(s) or even from the building itself. A clue that suggests that condition is that when no water has been run for 4 hours or more, you get a few good toilet flushes before things begin to back up (you're filling up the drain piping with wastewater).
If the toilets back up immediately, any time, regardless of how long since any water was run into the drain system, then the blockage is probably closer to the fixtures.
Question: toilet drains slowly - a 20 ft drain auger doesn't fix it, other toilets drain OK
I have one toilet that has been draining slowly, I have used a 20 ft plumbers auger and it is still draining slower than normal..the other toilet drains perfectly...? - Frank Mann 1/18/12
Reply:
Frank, your question suggests that either your snake passed right by a partial drain blockage, the toilet is not adequately vented, or the blockage is further downstream in the piping but ahead of other toilets that are draining OK.
Question: double sink drains slowly
I have a double sink that was installed as part a renovation. When water drains in one sink, you hear a glub, glub, ..... coming form the other drain. I suspect the new installation was not vented properly. How can a positively identify the source of this annoying problem - Scott 3/19/12
Reply:
Scott I would start by removing, cleaning, and inspecting the drain traps below the two sinks; also, if the sink is not properly vented, it would be common for the draining sink to draw air in to the drain pipe system through the adjoining sink drain opening and trap.
Question: black specs on bathroom sink keep returning
Two sinks in separate bathrooms have black specs around the sink bowl drain. If I clean them with bleach, or Comet within short order they come right back. I suspect it is coming out of the drains as the black gradates from darker around the drain to lighter a couple of inches out. The problem seems to increase in warmer weather. I am thinking mold, but the cause? I have tried dumping drain cleaner down the drain. I have also tried bleach at different times and it's a no go. Help me! - Tim 3/24/12
Reply:
Tim I am doubtful that black specs on a sink are being caused by gases coming out of the drain, more likely there is a stain source in the water supply or plumbing system.
Question: open 4-inch vent found in basement, sewage has come out into the house. Can I just cap the vent?
To my horror I discovered an open 4" vent in my basement today, where some waste had poured out. We have an 1885 house and a lot of plumbers here over the years, this may have been hooked up to a commode years ago, who knows? In any case, if I put a no-hub cap over the open vent should that be ok? - Open 4" vent in cellar 5/15/12
Reply:
Open, you can cap that unused vent line, but you also need to clean and sanitize the area where there was a sewage backup.
Question: Infiltrator brand septic system failure report 15 months after new
We've been in our house 5 years, it's got a septic system with those "Infiltrator" brand chambers in the leach field versus stone-and-gravel.
The leach field was brand new when we moved in; 15 mos. later, failed, and the original engineer came out and raked out the lines and installed an air vent in the lawn(he'd never put one in to begin with -who knows why!); and said we were good to go; he said it had not been aerobic from the get-go, hence a biomat buildup in the lines. We're super-careful of water, use Scot tissue brand, HE washing machine, all the right things.
Well lately, maybe past 6 mos., I've noticed in one place (happens to be front or side of house, in front of or to right of vent pipe on top of roof), slight septic smell when something's being used (dishwasher ...toilet got flushed ...shower running - - not just running water in a sink, but those bigger things). I have really really checked and it's not coming from anywhere inside our house, or near the septic cover in the grass, or in/on the lawn over the leach fields. It's just "in the air" right near the front/side and only when the water's going into the system. It dissipates within minutes after the flow of water into the system is over. Does it sound ominous or within the range of normal? - Margaret 5/9/12
Reply:
Margaret from your note I'm not sure the problem with the system has been correctly diagnosed and repaired. A lot depends not only on the choice of septic components but how correctly they are installed. But I agree that you should not be smelling sewage. Ask the designer/installer to come by and make a more careful diagnosis and let us know what you're told.
Question: sewer smell in bathroom, plumber warns about drain layout
I have a sewer gas smell in bathroom, coming from around toilet and sink. Plumber said both sink & toilet are sharing a drain pipe & vent pipe. Also the toilet was moved about 8' from vent pipe by previous owners. Does this sound reasonable to you? Had septic tank pumped and it was all good there. The smell is worse on very humid and/or rainy days. - Etha 6/24/12
Reply:
Etha, I think your plumber was warning you that the distance from plumbing fixtures to the vent may be a bit much and may result in inadequate venting.
Question: does it make sense to use a smoke test for plumbing vent leak detection?
We think we have a sewer gas problem in a one story house with one bath, a kitchen, a dishwasher, and a washer. The AC has been running for days due to extreme temperatures, so the house is basically sealed. The plumber is suggesting a "smoke" test, i.e., toss a couple smoke bombs into the stack and walk around the house to see where the smoke leaks through wall the most. Does this make sense to locate source of sewer gases? - Lillian 7/6/12
Reply: smoke alone may not be adequate to find plumbing vent leaks as there is no pressure;
Lillian, I agree with finding the sewer gas leak but the smoke approach is inadequate or incomplete - it won't find a leak inside a wall or ceiling, for example and it can leave debris that clocks a vent line. Don't count on smoke leaking through the wall. Or if you try this quick and dirty method be prepared to have to look more carefully. I'd spend some effort homing in on where smell is strongest. If necessary to confirm it's the vent system a pressure test could be helpful. Check for the obvious - a loose or leaky toilet seal, a blocked or slow drain, dry plumbing traps etc.
Question: loud vibration noise in plumbing vent piping when toilet flushes
After flushing basement toilet there is a loud vibration from the vent stack piping. This has been getting worse and at times sounds like a ship horn. The two other toilets upstairs do not have this problem. We have been in the house for ten years and the problem just started in last few months. Our home is on a septic system but ground gradually drops away ( walk out basement ) so a septic pump was not needed for the basement toilet. There is only one roof vent stack, could there be a partial blockage in the line leading up from the basement toilet? - Frank 7/18/12
Reply:
Frank I am not sure; I'd start by looking for loose plumbing vent piping.
Question: sewer odor seems to come from vents, not the drains
I have a strong sewer smell in my apartment. i cannot detect the smell when sniffing around the fixtures It is the same smell coming from the vents protruding from the apartment. If I leave the door open I can smell it I the hallway of the building. I have flooded water down drains for 10 days. - Jackie 8/20/12
Reply:
Jackie it sounds as if you need a plumber to check the plumbing vent system for leaks or improper installation
Question: smell from plumbing vent encountered when outdoors
The odur problem I am encountering is outdoors and is caused by the vent pipe. If I am outside, and my husband drains his bathwater, an instant odor comes from the pipe on the roof.
I am certain that the smell emitted indeed comes from roof vent. Awhile back I had roofing done, the roofers got blasted every time the toilet was flushed. I have smelt this odour upon bathtub draining for years...any further comment? - Gail 8/21/12
Reply:
Gail, depending on plumbing vent location above the roof and wind direction and site characteristics, a down draft can on occasion send plumbing vent stack odors down to a yard below. I'd try raising the height of the stack pipe above the roof, or perhaps installing a rotating wind-operated top cap on the vent that does not close the vent off but shelters it from the wind source.
Question: Sin, Tub, & Toilet Drains have terrible sewer smell - will pouring water into drains fix this?
We rent a home and it has the terrible sewer smell above the sink, bath tub and toilet in the main floor bathroom. There are no vents that we can find anywhere. What is there regulations , codes, or laws regarding this? We have told our landlord many times and they keep sending plumbers with our request but all of them but one would tell us to pour 5 gallons of water down the drains when we smell it. The last plumber said that it was not vented and they would have to vent it. That was 3 weeks ago. I have called the land lord and no word back. - Kathy Tucker 9/15/12
Reply:
Kathy:

pouring water down drains helps re-fill any dry plumbing traps and will reduce odors, but if there are NO plumbing vents in the system, flushing a toilet or emptying a sink or tub can easily siphon water back out of the drain traps and odors will ensue - and may be both unpleasant and UNSAFE. Plumbing vents are required in a proper and sanitary plumbing system both for function and for safety.

Search InspectAPedia for "Advice for Renters & Tenants" - it's a mold hazard discussion but you'll see our advice for putting health and safety issues in writing to the landlord as well as making immediate oral notification.
Question: strong gas odor comes from toilet when windows are open
We have a strong gas odor coming from our master bath toilet when windows are open in the master bath allowing a cross breeze. The vents are on top of the roof nowhere near windows. The gas is not present with the windows closed. We've replaced the toilet and had 3 different plumbers Reseal the toilet. We still get the gas when windows are open. Any ideas? - Jay 9/11/12
Reply:
Jay, depending on plumbing vent location above the roof, window location and distance below the roof, and wind direction, site characteristics may be giving you a down draft that sends plumbing vent stack odors down into a nearby window. I'd try raising the height of the stack pipe above the roof, or perhaps installing a rotating wind-operated top cap on the vent that does not close the vent off but shelters it from the wind source.
Question: shower drain gurgles and stinks after flushing the toilet - is this an expensive repair?
We purchased a home about 10 months ago. The master bath shower had a previous leak and we hadn't used it since moving in. A few weeks ago we noticed after flushing the toilet in that bathroom a gurgling sound in the shower along with a stink odor. What is probably the cause and is this a big cost to fix. We are in the process to start working to figure out the shower leak problem. - Zina 9/08/12
Reply:
Zina,

hearing gurgling in a nearby shower drain when flushing a toilet suggests either a partly blocked drain or a blocked or incomplete plumbing vent. The cost to cure ranges from trivial (unclog a drain using a plunger) to major (replaced a collapsed damaged sewer line or install venting where none was provided)
Question: is it ever ok for a plumbing vent to terminate in an attic?
I inspected a 4 year old home recently. I found what I think were ABS plumbing vents terminated in the attic. I thought they might be for air admittance but they had no valve on them. Is it appropriate to terminate a plumbing vent in the attic? My gut and head both tell me "NO".

Dennis Knudsen - 9/22/12
Reply:
Dennis, I agree completely with your gut and head, as do the model building codes. Plumbing vents need to be terminated outside the building, usually above the roof line, though there are a few other possibilities - all outdoors.

Terminating a plumbing vent indoors means risk of methane gas accumulation and even a building explosion, as well as less extreme hazards of odors and possible pathogens. Also, terminating the plumbing vents in the attic provides a source of moisture in an area where it may create mold or other troubles.

In sum, you are quite right. Plumbing vents need to terminate outdoors.
...
Ask a Question or Search InspectApedia
Questions & answers or comments about troubleshooting plumbing drain waste vent system noises & odors.
Use the "Click to Show or Hide FAQs" link just above to see recently-posted questions, comments, replies, try the search box just below, or if you prefer, post a question or comment in the Comments box below and we will respond promptly.
Search the InspectApedia website
Technical Reviewers & References
Click to Show or Hide Citations & References
Eric Galow, Galow Homes, Lagrangeville, NY. Mr. Galow can be reached by email: ericgalow@gmail.com or by telephone: 914-474-6613. Mr. Galow specializes in residential construction including both new homes and repairs, renovations, and additions.
International Code Council, 500 New Jersey Avenue, NW, 6th Floor, Washington, DC 20001 Tel: 1-888-ICC-SAFE (422-7233); Fax: (202) 783-2348 International: (202) 370-1800, Email: webmaster@iccsafe.org, Website: http://www.iccsafe.org
International Residential Code (IRC), for One and Two Family Dwellings, 2012 (First Printing)
Home Page: http://publicecodes.citation.com/icod/irc/index.htm
Citation Page:
http://publicecodes.citation.com/icod/irc/2012/icod_irc_2012_31_sec003.htm
International Mechanical Code (IMC), International Code Council [888] 422-7233, Op. Cit.
International Plumbing Code (IPC) (see NPC below), Op. Cit.
National Standard Plumbing Code, (NPC), 2009
obtained From: National Assoc. of Plumbing-Heating-Cooling Contractors in New Jersey at [800] 652-7422 or NAPHCC [800] 533-7694, [Cited by New Jersey State Department of Community Affairs]
http://www.state.nj.us/dca/divisions/codes/codreg/pdf_misc_codes/2006_nspc.pdf
New Jersey State Department of Community Affairs, Website: http://www.state.nj.us/dca/divisions/codes/codreg/
Carson, Dunlop & Associates Ltd., 120 Carlton Street Suite 407, Toronto ON M5A 4K2. (416) 964-9415 1-800-268-7070 info@carsondunlop.com. The firm provides professional home inspection services & home inspection education & publications. Alan Carson is a past president of ASHI, the American Society of Home Inspectors. Thanks to Alan Carson and Bob Dunlop, for permission for InspectAPedia to use text excerpts from The Home Reference Book & illustrations from The Illustrated Home. Carson Dunlop Associates' home inspection education products include
Cheryl Lidawer generously provided both case history and photographs of efforts to track down the source of sewer gas in a building. March 2010.
Books & Articles on Building & Environmental Inspection, Testing, Diagnosis, & Repair
The Home Reference Book - the Encyclopedia of Homes, Carson Dunlop & Associates, Toronto, Ontario, 25th Ed., 2012, is a bound volume of more than 450 illustrated pages that assist home inspectors and home owners in the inspection and detection of problems on buildings. The text is intended as a reference guide to help building owners operate and maintain their home effectively. Field inspection worksheets are included at the back of the volume. Special Offer: For a 10% discount on any number of copies of the Home Reference Book purchased as a single order. Enter INSPECTAHRB in the order payment page "Promo/Redemption" space. InspectAPedia.com editor Daniel Friedman is a contributing author.

Or choose the The Home Reference eBook for PCs, Macs, Kindle, iPad, iPhone, or Android Smart Phones. Special Offer: For a 5% discount on any number of copies of the Home Reference eBook purchased as a single order. Enter INSPECTAEHRB in the order payment page "Promo/Redemption" space.
Drain Noises: may indicate defective or clogged plumbing: how to diagnose and cure drain sounds
Sewage Odors in Wet or Cold Weather - Septic Odors or Sewage Odor Diagnosis & Repair Guide for diagnosing and eliminating cold weather sewer gas odors
Sewer Line Replacement diagnosing a clogged drain leads to drain line replacement - step by step photo-illustrated guide to drain replacement
...