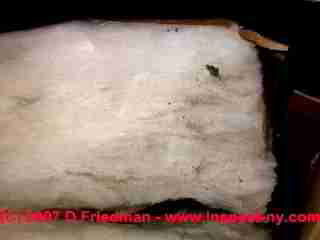 Black, brown or gray stains on building insulation
We have frequently observed evidence of air bypass leaks and thermal tracking as black or gray dust deposition on attic insulation, a condition some owners have mistaken for mold (and wasted money on mold testing and remediation).
In this photo (left) we've removed a "nearly new" insulation batt that was installed in a cantilevered floor which was leaking air up through the overhanging floor and into the building wall cavity. In just a month of exposure the insulation is already showing dust tracking at its lower right corner, marking the air leak path in this building.
Gray or black marks on or in building insulation, particularly fiberglass insulation, we see thermal tracking as grayish deposits (actually house dust) left where air is leaking from the conditioned space into the unconditioned space (say from a top floor bedroom into an attic floor and attic above).
The warm air passing by the insulation leaves house dust which sticks by moisture condensing out of the warm air and onto the fibers, or the debris may adhere simply by static to the insulation fibers.
On building insulation, debris stains left behind by thermal tracking will show us where we have air bypass leaks in a building, such as around ceiling light fixtures, electrical box openings, or where the insulation blanket was not uniformly and thoroughly installed.
When investigating a building for a mold problem, you can save mold test costs by learning how to recognize Stuff that is Not Mold or is only Harmless Mold (MOLD APPEARANCE - STUFF THAT IS NOT MOLD) but may be mistaken for more serious contamination - save your money. Moldy building insulation is discussed in detail beginning at INSULATION MOLD

Readers should see HEAT LOSS in BUILDINGS. Also see AIR SEALING STRATEGIES and AIR LEAK DETECTION TOOLS as well as AIR LEAK MINIMIZATION. For photos of snow melt on rooftops that also show points of building heat transfer and loss, see STAIN DIAGNOSIS on BUILDING EXTERIORS.
Look at the Insulation Stain Location and Patterns to Diagnose Insulation Marks or Stains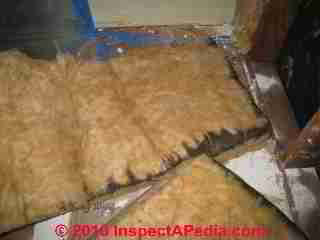 If the stains are usually around the edges of insulation batts in a wall or attic floor, they may be due to air bypass leaks around or close to building framing.
The insulation stain photograph at left was contributed by reader M.B. Notice that the black marks are only on the edges of the fiberglass batts. We suspect these marks are due to a combination of
Air and heat bypass leaks where the insulation batts abutted attic or wall framing
Perhaps in an older home or
Perhaps in a home subject to high levels of dust or even soot from a heating system malfunction
Perhaps in a home where other conditions (improper attic ventilation) caused abnormally high levels of warm air movement and heat loss upwards through the building
Look for Obvious or Subtle Insulation Voids - Even Small Ones
Small openings along building framing where insulation has not been uniformly installed often form thermal bypass points or leak points that move warm building air into the cooler space, depositing airborne housedust in the insulation as it passes by.
Look for water or leaks that may have wet building insulation to Diagnose Insulation Stains
If insulation has been wet it may indeed be moldy. But if the stain pattern on attic or wall fiberglass insulation does not track to building leaks, be sure to consider air bypass leakage instead.
On the other hand, if insulation is visibly water or leak stained, or is below or adjacent to an area that has been wet from roof leaks, plumbing leaks, or wall leaks, then it may indeed be moldy. The first place that we see mold on building insulation is often on its kraft facing, particularly if the facing is the non-foil type facing paper.
Insulation that is stained and perhaps moldy due to building leaks may show water marks, debris, even rot or insect debris from adjacent wet or damaged surfaces right in the area that has been wet, and not elsewhere. But mold contamination may be more extensive (if not visible) in previously wet insulation. See INSULATION MOLD.