HVAC Thermostat Setback Settings
How to set or adjust the heating or cooling thermostat setback in buildings & how much will we save on cooling or heating costs?
InspectAPedia tolerates no conflicts of interest. We have no relationship with advertisers, products, or services discussed at this website.
Heating or cooling room thermostat temperature set-back advice: how to choose the set-back temperature on a manual or programmable room thermostat used for heating or cooling; how much heating or cooling cost will you save per degree of thermostat setback, and how much set-back is too much?
We also provide a MASTER INDEX to this topic, or you can try the page top or bottom SEARCH BOX as a quick way to find information you need.
How to Save Heating Cost & Air Conditioning Costs by Thermostat Adjustments - Thermostat Setback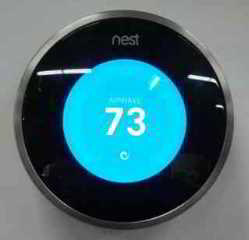 Separately at THERMOSTAT SET PROCEDURE we discuss how to set or adjust the room thermostat for heating or cooling. Here we discuss how to save on heating or coolign costs by choosing a proper set-back temperature for times when you are out of the building or are asleep.
Substantial heating or air conditioning cost savings can be achieved by manually setting back your thermostat when the building is unoccupied or when occupants are asleep. The thermostat is set several degrees (or more) cooler during heating season or warmer during cooling season.
How much will be saved on heating or cooling costs by setting back the thermostat?
How much can I save on heating costs by using a manual or programmable thermostat set-back?
According to the U.S. Department of Energy,
By turning your thermostat back 10° to 15° for 8 hours, you can save 5% to 15% a year on your heating bill -- a savings of as much as 1% for each degree if the setback period is eight hours long. - U.S. DOE (2014)
How much can I save on cooling costs by changing the air conditioning thermostat settings?
The U.S. DOE has similar advice about savings on cooling or air conditioning costs:
In the summer, you can follow the same strategy with central air conditioning by keeping your house warmer than normal when you are away, and lowering the thermostat setting to 78°F (26°C) only when you are at home and need cooling.
Although thermostats can be adjusted manually, programmable thermostats will avoid any discomfort by returning temperatures to normal before you wake or return home. - U.S. DOE (2012)
The settings of thermostat "mode" switches into "heating" or "cooling" and the use of other thermostat switches to control an air conditioning blower fan or heating system blower fan are discussed in detail
at Other Switches on a Room Thermostat.
You can use the special calculator at Warmair.Net ( http://www.warmair.net/html/Thermostats.htm ) to compute how much money you're likely to save by setting back your thermostat. For example, if your normal thermostat setting is 70 °F. and you set it back to 60 °F. and if during that time the outside temperature is hovering at 40 deg .F., you will use about 33% less energy during that period.
Best Thermostat setback advice for heat pump systems are different from other heating systems
Watch out: the U.S. DOE gives some important advice for heat pump thermostat settings to save money. The bottom line is that unless you are using a special programmable thermostat that is designed to work with heat pumps, the best thermostat setting to save heating cost is to keep a moderate temperature setting - say 65°F rather than dropping the heat pump thermostat back to a much lower setting during the setback period.
Best thermostat setting for heat pumps in cooling mode: Programmable thermostats are generally not recommended for heat pumps. In its cooling mode, a heat pump operates like an air conditioner, so turning up the thermostat (either manually or with a programmable thermostat) will save energy and money.
Best thermostat setting for heat pumps in heating mode: But when a heat pump is in its heating mode, setting back its thermostat can cause the unit to operate inefficiently, thereby canceling out any savings achieved by lowering the temperature setting.
Maintaining a moderate setting is the most cost-effective practice. Recently, however, some companies have begun selling specially designed programmable thermostats for heat pumps, which make setting back the thermostat cost-effective. These thermostats typically use special algorithms to minimize the use of backup electric resistance heat systems. - U.S. DOE (2012)
How many degrees should we set the thermostat back ?
Watch out: Lots of websites offer calculators that will tell you how much you'll probably save in energy costs for every degree you set back your heating or cooling thermostat. Just don't set the thermostat down so low that you suffer costly damage from freezing pipes in winter or mold from high humidity in summer. For details on how to avoid frozen pipes in buildings
see WINTERIZE A BUILDING.
Also see Heat Won't Turn Off - Stop Unwanted Heat explanation of why heat may continue to come out of radiators or baseboards even though you have turned down the thermostat. Stop wasted heat by making sure you are not delivering heat when it is not needed or not wanted.
If your setback temperatures are taken too low this advice may not provide the most comfortable approach in all cases, nor the smartest. For example, in using electric heaters to warm a slab on grade cabin in Northern Minnesota, the subject of our
article
RADIANT HEAT MISTAKES,when heat was left off completely in zero and sub-zero weather the concrete slab was so cold that even after air temperatures in the cabin reached 62°F, heat had to be kept at high levels for two to three days to warm the floor slab sufficiently for the building comfort to stabilize.
And even where freezing pipes and water damage are not a concern (the cabin above has no plumbing), allowing building temperatures to reach zero and sub-zero levels can invite cracks and damage to ceramic tile floors or drywall walls and ceilings.
More modest setback temperatures that keep the building at above-freezing levels are fine however.
To really save on heating costs see HOW TO REALLY CUT HOME HEATING COSTS
and see HEATING TUNEUP PRIORITIES
For example, at AQUASTAT HI LO DIFF SETTINGS we explain that in addition to improving boiler and heat transfer efficiency by using the optimum settings on a boiler aquastat control, you may want to completely disable the LO limit (AQUASTAT LO & DIFF DISABLED ) on combination aquastats that are installed on boilers that do not include a tankless coil for which that control is intded.
What is the Effect of Having to Overcome Thermal Mass Losses when Temperatures have Been Set Up or Down?
According to our own US DOE source,
A common misconception associated with thermostats is that a furnace works harder than normal to warm the space back to a comfortable temperature after the thermostat has been set back, resulting in little or no savings. In fact, as soon as your house drops below its normal temperature, it will lose energy to the surrounding environment more slowly. The lower the interior temperature, the slower the heat loss.
So the longer your house remains at the lower temperature, the more energy you save, because your house has lost less energy than it would have at the higher temperature. The same concept applies to raising your thermostat setting in the summer -- a higher interior temperature will slow the flow of heat into your house, saving energy on air conditioning. - U.S. DOE (2012)
...
Continue reading at THERMOSTAT SETTING INSTRUCTIONS or select a topic from closely-related articles below, or see our complete INDEX to RELATED ARTICLES below.
Or see THERMOSTAT SWITCHES, EXTERNAL
Suggested citation for this web page
THERMOSTAT SETBACK ADVICE at InspectApedia.com - online encyclopedia of building & environmental inspection, testing, diagnosis, repair, & problem prevention advice.
Or use the SEARCH BOX found below to Ask a Question or Search InspectApedia
...
Ask a Question or Search InspectApedia
Try the search box just below, or if you prefer, post a question or comment in the Comments box below and we will respond promptly.
Search the InspectApedia website
Technical Reviewers & References
Click to Show or Hide Citations & References
"Thermostats" U.S. Department of Energy, November 26, 2013, original source http://energy.gov/energysaver/articles/thermostats, retrieved 3/16/2014
[1] Proliphix Corporate Headquarters, 3 LAN Drive Suite #100, Westford, MA 01886 Phone: +1.978.692.3375 Toll Free (U.S.): 866-IP-LIVING (866.475.4846) Fax: +1.978.692.3378 - Sales: sales@proliphix.com Marketing: marketing@proliphix.com Customer support: support@proliphix.com http://www.proliphix.com/ - quoting from the company's website:
All Proliphix Network Thermostats come with our free Uniphy Remote Management Service. This unique offering lets you monitor and control your HVAC systems by simply pointing your Browser to our secure Proliphix Web Site. Enjoy the convenience of programming a thermostat from any location, using a simple graphical interface. No computer equipment or software is required. And since Proliphix takes care of the network configuration for you, you'll be up and running in no time. We'll even proactively monitor your thermostats and send you an immediate email or SMS message when an HVAC problem is detected.
[2] "The Nest Learning Thermostat", Nest Thermostat, 900 Hansen Way Palo Alto, CA 94304, Tel: 855-4MY-NEST, Email: info@nest.com, website http://www.nest.com/, retrieved 1/24/2013.
[3] Honeywell Controls, the company wants you to use their contact form at this web page: http://www51.honeywell.com/honeywell/contact-support/contact-us.html
Honeywell Consumer Products, 39 Old Ridgebury Road Danbury, CT 06810-5110 - (203) 830-7800
World Headquarters, Honeywell International Inc., 101 Columbia Road, Morristown, NJ 07962, Phone: (973) 455-2000, Fax: (973) 455-4807 1-800-328-5111
[4] Honeywell Corporation, Honeywell T451A, T651A, T694A,B,D,F Light Duty Line Voltage Thermostats, [installation, troubleshooting manual], 1992, Honeywell Consumer Products, 39 Old Ridgebury Road Danbury, CT 06810-5110 - (203) 830-7800 copy on file as Honeywell_Line_Voltage_T651A.pdf
World Headquarters, Honeywell International Inc., 101 Columbia Road, Morristown, NJ 07962, Phone: (973) 455-2000, Fax: (973) 455-4807 1-800-328-5111 copy on file as Honeywell_Line_Voltage_T651A.pdf
"T451, T651, T694 Thermostats provide on-off control of valves, fans, motors, contactors, electric heat elements, duct furnaces and fan coil units in heating/cooling systems. Switching sub-bases provide manual control of heating, cooling and fan."
[5] Honeywell Corporation, "Honeywell Thermostats", website http://www.honeywell-thermostat.com/line-voltage.html retrieved 3/16/13
[6] Honeywell EConnect™ Wireless Thermostat Kit TL9160AR System Installation Guide, retrieved 3/15/13, copy on file as Honeywell_EConnect69-2474EFS.pdf
[7] Trane, Ingersoll Rasnd Residential Solutions, Trane PO Box 9010, Tyler TX 75711, Website www.trane.com
[8-10 pending]
[11] White Rodgers Thermostats and HVAC controls,
Homeowner information: http://www.emersonclimate.com/en-US/brands/white_rodgers/Pages/wr-homeowner-info.aspx
Contractor information: http://www.emersonclimate.com/en-US/brands/white_rodgers/wr_contractor_info/Pages/white-rodgers-contractor-info.aspx
White Rodgers Product Catalog (don't misspell the company's name as White Rogers Thermostats) -
http://www.emersonclimate.com/Documents/thermostats.pdf - Thermostat Catalog
[12] Domestic Central Heating Wiring Systems and Controls, 2d Ed., Raymond Ward, Newnes, ISBN-10: 0750664363, ISBN-13: 978-0750664363, Quoting from Amazon.com:
This unique A-Z guide to central heating wiring systems provides a comprehensive reference manual for hundreds of items of heating and control equipment, making it an indispensable handbook for electricians and installers across the country. The book provides comprehensive coverage of wiring and technical specifications, and now includes increased coverage of combination boilers, recently developed control features and SEDBUK (Seasonal Efficiency of Domestic Boilers in the UK) boilers ratings, where known.
In addition to providing concise details of nearly 500 different boilers fuelled by electric, gas, oil and solid fuel, and over 400 programmers and time switches, this invaluable resource also features numerous easy-to-understand wiring diagrams with notes on all definitive systems. Brief component descriptions are provided, along with updated contact and website details for most major manufacturers.
[13] "Automatic Oil Burner Controls - Thermostats", Domestic and Commercial Oil Burners, 3rd Ed., Charles H. Burkhardt, McGraw Hill, 1969 (and later editions), ASIN B0000EG4Y8
[14] Hunter Fan 2500 Frisco Ave. Memphis, TN 38114 888-830-1326 www.hunterfan.com
[15] Trane TCONT800 Series Touch Screen Programmable Comfort Control Ownes Guide, American Standard, Inc., Troup Highway, Tyler TX 75711, January 2005, Telephone: Customer Service: 1-877-3381, website: www.trane.com
[16] Boilers, Boiler Conversions, James E. Brumbaugh, ISBN 0-672-23389-4 (v. 1) Volume II, Oil, Gas, and Coal Burners, Controls, Ducts, Piping, Valves, James E. Brumbaugh, ISBN 0-672-23390-7 (v. 2) Volume III, Radiant Heating, Water Heaters, Ventilation, Air Conditioning, Heat Pumps, Air Cleaners, James E. Brumbaugh, ISBN 0-672-23383-5 (v. 3) or ISBN 0-672-23380-0 (set) Special Sales Director, Macmillan Publishing Co., 866 Third Ave., New York, NY 10022. Macmillan Publishing Co., NY
Books & Articles on Building & Environmental Inspection, Testing, Diagnosis, & Repair
Our recommended books about building & mechanical systems design, inspection, problem diagnosis, and repair, and about indoor environment and IAQ testing, diagnosis, and cleanup are at the InspectAPedia Bookstore. Also see our Book Reviews - InspectAPedia.
...