Heat Anticipator Precise Adjustment Methods
How to use an ammeter to adjust or repair room thermostats by fine tuning the heat anticipator circuit

HEAT ANTICIPATOR Mini Ammeter to Check - Heat anticipator testing: how to Use a Mini Ammeter to Check Heat Anticipators and Thermostats for Proper Adjustment
Questions & Answers about how & why to test the heat anticipator on a room thermostat
To ask us a question try the search box at upper right
InspectAPedia tolerates no conflicts of interest. We have no relationship with advertisers, products, or services discussed at this website.
Thermostat heat anticipator testing & fine tuning procedure: this article explains how and why we fine-tune a room thermostat or wall thermostat by checking its heat anticipator using a mini ammeter. We describe the use of the T.D. Amps-Check mini ammeter specifically designed for thermostat heat anticipator adjustment. This mini ammeter gives precise amps readings in the 0 - 1.2A AC range. By measuring the current (amperes) flowing through the thermostat contacts on a call for heat we can adjust the heat anticipator precisely to its optimal setting.
We explain how heat anticipators work at HEAT ANTICIPATOR Operation and separately at HEAT ANTICIPATOR Adjustment. we explain how to adjust the heat anticipator on a room thermostat by moving its pointer arm.
Green links show where you are. © Copyright 2013 InspectAPedia.com, All Rights Reserved.
How to Use a Mini Ammeter to Check Heat Anticipators and Thermostats for Proper Adjustment
Why do some thermostats include a heat anticipator?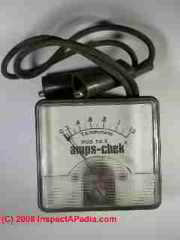 Since a room heating or cooling thermostat is really just a simple "on-off" switch, some fuzziness needs to be built into the thermostat's control of the air conditioner or heating system, lest it cycle on and off too frequently, oscillating very closely around the set temperature.
The job of the heat anticipator circuit in a wall thermostat is to prevent heating or cooling "overshoot" too far past the set temperature, but to permit some overshoot to prevent system on-off oscillation.
When we serviced heating systems and our clients sometimes complained that the thermostat did not seem to be responding as desired to room temperature.
The thermostat might permit the room to get much warmer, or much cooler than the temperature to which the thermostat was set.
This was a reason to whip out our little ammeter to see what was really going on with the thermostat circuit.
A second reason we'd use this ammeter to check the current draw of the thermostat circuit was to allow proper setting of a heating or air conditioning system control set which was made by a different manufacturer from the one who made the wall thermo sat.
For example, if the air conditioning or heating system control being switched on and off by the thermostat was not one of the ones in Honeywell's list, one of the checks we'd make is to actually measure the heating control circuit ampacity using a special mini ammeter sold just for that purpose, and shown in our photo at left.
Since we no longer service heating systems, we'll give our tool free to a trained heating service technician who'll pay the shipping postage.
Because some controls are used in common on hot water heat, hot air heat, and steam boilers, readers should see these other articles: see BOILER CONTROLS & SWITCHES, and also see BOILER COMPONENTS & PARTS for a detailed list of heating boiler controls, other heating system components, parts such as circulator pumps & draft regulators. If your building uses warm air heat, see FURNACE CONTROLS & SWITCHES. If your building uses steam heat see STEAM HEATING SYSTEMS. Also see Heat Won't Turn Off - Stop Unwanted Heat.
How to Connect the Ammeter to Check the Thermostat Circuit and the Heat Anticipator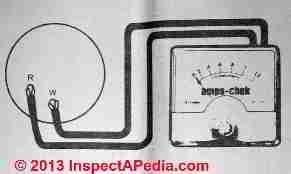 With the heat set "down", power to the equipment on, and the thermostat set to heating mode, the alligator clips are connected to the thermostat wire terminals in the thermostat.
Usually these are "R" (red) and "W" (white wire) or "R" and "Y" terminals on thermostats.
Just connect the ammeter's leads to the thermostat terminals where you see the red and white wires coming from the heating system are already wired. (You'll have to remove the thermostat cover to perform these steps.)
The current flow (Amps) is read on the meter, and the heat anticipator is set to match the actual current that was just read.
How to Make the Correct Current (Amps) measurement at the thermostat heat anticipator
Turn power on to the heating system.
Set the thermostat to call for heat
Adjust the set temperature on the thermostat to well above current room temperature so that the heating system will operate
Run the heat for at least five minutes to warm up the system to normal operating temperatures.
Remove the thermostat cover (if necessary) to expose the R and W terminals. Connect the T.D. Amps-Chek or equivalent ammeter test leads onto the two thermostat terminals that make (connect or close) on a call for heat. These are the R and W terminals on most thermostats.
Read the current flow indicated on the meter.
Remember to re-set the room thermostat to the desired room temperature
Watch out: T.D. points out that a few controls, such as motorized gas valves, draw more current while operating than when they are in the fully-open position. So if your ammeter shows an unusually high reading (say more than 1.2A) you should hold the ammeter leads on the terminals for an entire minute. By that time the motorized valve should be fully open and you should see a lower AMPS reading. Examples of equipment where you will face this problem include
motorized gas valves
motorized zone \valves
power vent dampers
heating equipment that uses electronic ignition
Watch out: the amps reading made at the room thermostat can also indicate a system or wiring problem: if the meter continues to read current over 1.2A there is probably a system problem, risking damage to the thermostat itself.
What is the Exactly Correct Heat Anticipator Setting when Using an Ammeter?


Set the heat anticipator pointer to the same AMPS reading on its heat anticipator scale as the actual AMPS or current read on the mini ammeter.
Example: thermostat 24VAC circuit reads 0.7A. Set the pointer to 0.7A on the scale as shown in our sketch at left.
What do we gain from fine-tuning the thermostat's heat anticipator adjustment?
This places the thermostat heat anticipator in exactly the right setting for the equipment to which it is attached. Then we simply removed our test leads and re-set the thermostat to the desired room temperature.
When the heat anticipator is working correctly, it prevents too much temperature "overshoot" when the thermostat is turning heating or air conditioning equipment on or off. Ultimately this means that the thermostat will maintain room temperature more accurately and more closely to the "SET" temperature set by the occupants.
Watch out for static cling that can foul up an ammeter reading when measuring a thermostat circuit
Precaution when using this equipment: if the meter is wrapped in plastic there may be a static charge when you unwrap it. Because it is very sensitive, any static charge on this meter (or many other ammeters or VOMs or multimeters) can cause the dial movement to show an erroneous reading. Just wait 5 minutes before using the meter, allowing the static charge to dissipate.
The mini ammeter for adjusting thermostats to work precisely (shown at the top of this page) was produced by and may still be available from T.D. Instruments Corporation, 180 Charlotte St., Rochester, NY 14067 - 716-232-4208. We used model T.D. 2, which operates between 0 and 1.2 Amps A.C.
More Reading
Green link shows where you are in this article series.
...
Frequently Asked Questions (FAQs)
No FAQs have been posted for this page. Try the search box below or CONTACT US by email if you cannot find the answer you need at InspectApedia.
...
Ask a Question or Search InspectApedia
Use the search box below to ask a question or to search the InspectApedia.com website.
Ask a Question or Enter Search Terms in the InspectApedia search box just below.
Technical Reviewers & References
Related Topics, found near the top of this page suggest articles closely related to this one.
Click to Show or Hide Citations & References
[1] Proliphix Corporate Headquarters, 3 LAN Drive Suite #100 Westford, MA 01886 Phone: +1.978.692.3375 Toll Free (U.S.): 866-IP-LIVING (866.475.4846) Fax: +1.978.692.3378 - Sales: sales@proliphix.com Marketing: marketing@proliphix.com Customer support: support@proliphix.com http://www.proliphix.com/ - quoting from the company's website:
All Proliphix Network Thermostats come with our free Uniphy Remote Management Service. This unique offering lets you monitor and control your HVAC systems by simply pointing your Browser to our secure Proliphix Web Site. Enjoy the convenience of programming a thermostat from any location, using a simple graphical interface. No computer equipment or software is required. And since Proliphix takes care of the network configuration for you, you'll be up and running in no time. We'll even proactively monitor your thermostats and send you an immediate email or SMS message when an HVAC problem is detected.

[2] "The Nest Learning Thermostat", Nest Thermostat, 900 Hansen Way Palo Alto, CA 94304, Tel: 855-4MY-NEST, Email: info@nest.com, website http://www.nest.com/, retrieved 1/24/2013.
[3] Honeywell Controls, the company wants you to use their contact form at this web page: http://www51.honeywell.com/honeywell/contact-support/contact-us.html
Honeywell Consumer Products, 39 Old Ridgebury Road Danbury, CT 06810-5110 - (203) 830-7800
World Headquarters, Honeywell International Inc., 101 Columbia Road, Morristown, NJ 07962, Phone: (973) 455-2000, Fax: (973) 455-4807 1-800-328-5111

[4] White Rodgers Thermostats and HVAC controls,
Homeowner information: http://www.emersonclimate.com/en-US/brands/white_rodgers/Pages/wr-homeowner-info.aspx
Contractor information: http://www.emersonclimate.com/en-US/brands/white_rodgers/wr_contractor_info/Pages/white-rodgers-contractor-info.aspx
White Rodgers Product Catalog (don't misspell the company's name as White Rogers Thermostats) -
http://www.emersonclimate.com/Documents/thermostats.pdf - Thermostat Catalog
[5] Domestic Central Heating Wiring Systems and Controls, 2d Ed., Raymond Ward, Newnes, ISBN-10: 0750664363, ISBN-13: 978-0750664363, Quoting from Amazon.com:
This unique A-Z guide to central heating wiring systems provides a comprehensive reference manual for hundreds of items of heating and control equipment, making it an indispensable handbook for electricians and installers across the country. The book provides comprehensive coverage of wiring and technical specifications, and now includes increased coverage of combination boilers, recently developed control features and SEDBUK (Seasonal Efficiency of Domestic Boilers in the UK) boilers ratings, where known.
In addition to providing concise details of nearly 500 different boilers fuelled by electric, gas, oil and solid fuel, and over 400 programmers and time switches, this invaluable resource also features numerous easy-to-understand wiring diagrams with notes on all definitive systems. Brief component descriptions are provided, along with updated contact and website details for most major manufacturers.
[6] "Automatic Oil Burner Controls - Thermostats", Domestic and Commercial Oil Burners, 3rd Ed., Charles H. Burkhardt, McGraw Hill, 1969 (and later editions), ASIN B0000EG4Y8
Hunter Fan 2500 Frisco Ave. Memphis, TN 38114 888-830-1326 www.hunterfan.com
[21] Trane TCONT800 Series Touch Screen Programmable Comfort Control Ownes Guide, American Standard, Inc., Troup Highway, Tyler TX 75711, January 2005, Telephone: Customer Service: 1-877-3381, website: www.trane.com
Books & Articles on Building & Environmental Inspection, Testing, Diagnosis, & Repair
The Home Reference Book - the Encyclopedia of Homes, Carson, Dunlop & Associates Ltd., Toronto, Ontario, 2010, $69.00 U.S., is a bound volume of more than 450 illustrated pages that assist home inspectors and home owners in the inspection and detection of problems on buildings. The text is intended as a reference guide to help building owners operate and maintain their home effectively. InspectAPedia.com ® author/editor Daniel Friedman is a contributing author. Field inspection worksheets are included at the back of the volume.
Links to our list of additional information on heating system inspection, repair, maintenance
...