InspectAPedia tolerates no conflicts of interest. We have no relationship with advertisers, products, or services discussed at this website.
Asbestos pipe insulation in buildings - how to recognize & handle: this article provides photographs of abandoned and partly-covered-up asbestos pipe insulation in buildings to assist in the recognition of that material. We include photos of pipe insulation that is not but might be mistaken for asbestos. We discuss the procedure and costs for removal of asbestos pipe insulation and comment on leaving the insulation in place.
Green links show where you are. © Copyright 2015 InspectApedia.com, All Rights Reserved.
Asbestos pipe insulation in buildings
Asbestos pipe insulation, still in use or abandoned on building pipes, compared with fiberglass pipe insulation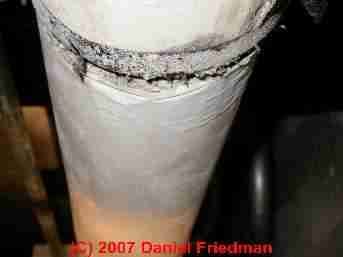 This document assists building buyers, owners or inspectors who need to identify asbestos materials (or probable-asbestos) in buildings by simple visual inspection.
We provide photographs and descriptive text of asbestos insulation and other asbestos-containing products to permit identification of definite, probable, or possible asbestos materials in buildings.
Also see ASBESTOS DUCTS, HVAC a field identification guide to visual detection of asbestos in and on heating and cooling system ducts and flue vents.
Asbestos pipe insulation materials like the insulation shown at page top should have been removed during asbestos abatement, and so form an indication of amateur workmanship, raising the question of asbestos particle contamination in other building areas.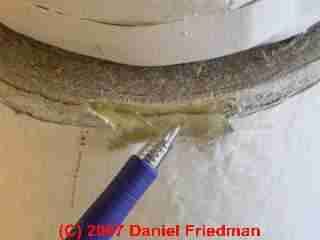 The pair of photographs shown here assist in distinguishing between corrugated asbestos paper pipe wrap (photo on the left) and fiberglass insulation pipe warp (photo at right).
Look carefully at the end of these wrapped insulation sections to see the difference. In the photo of fiberglass pipe insulation, I peeled back a little of the white-painted outer fabric to show the yellow fiberglass interior.
The photograph shown at the page top is some "new old stock" corrugated asbestos pipe insulation that was never used - just left in a basement ceiling.
Look closely at the photo as it is a clear example of the visual characteristics of the corrugated-paper-like asbestos wrap which was used along the lengths of heating and other plumbing pipes in buildings.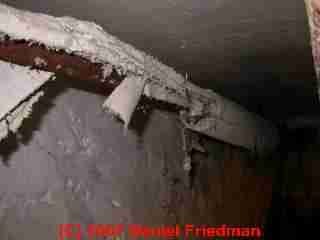 While an expert lab test using polarized light microscopy may be needed to identify the specific type of asbestos fiber, or to identify the presence of asbestos in air or dust samples,
many asbestos-containing building products not only are obvious and easy to recognize, but since there were not other look-alike products that were not asbestos, a visual identification of this material can be virtually a certainty in many cases.
A professional asbestos removal company would not have left these un-used asbestos pipe insulation sections "stored" here.
More photographs of asbestos heating pipe insulation can be seen at ASBESTOS in GOOD CONDITION and
at
ASBESTOS in POOR CONDITION
ASBESTOS Pipe Insulation FOAMED-OVER - Asbestos pipe insulation, insulated over with spray foam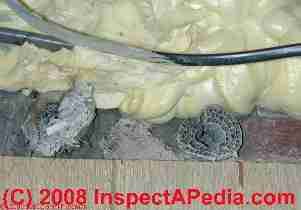 Here's an example of an insulation retro-fit using spray foam insulation.
A professional would not have left this asbestos pipe insulation in place.
Perhaps more of this material will be found elsewhere in the building.
If a section of asbestos insulation were found to have been totally encapsulated by the new spray foam insulation, such as in a wall cavity, most experts would be expected to recommend that it be simply left alone
Continue reading at ASBESTOS in POOR CONDITION or select a topic from the More Reading links shown below.
Or see ASBESTOS REMOVAL, Amateur
Suggested citation for this web page
ASBESTOS PIPE INSULATION at InspectApedia.com - online encyclopedia of building & environmental inspection, testing, diagnosis, repair, & problem prevention advice.
More Reading
Green link shows where you are in this article series.
...
Frequently Asked Questions (FAQs)
Questions & answers or comments about removal of asbestos-containing pipe insulation and asbestos pipe insulation removal and disposal procedures and costs
Question: I have about 30' of old hot water radiator heat piping with asbestos insulation ... what is the best method for removal ..
I have about 30' of old hot water radiator heat piping with asbestos insulation like that shown at the top of this page. Need to remove insulation and then piping. Insulation appears to be wrapped in a cloth wrapping (more asbestos?). Is the insulation very friable? Besides using all proper PPE, isolation and clean-up described in your other sections, what is best method for removal of this asbestos insulation? - Tom
Reply: Characteristics of a Professional Asbestos Removal Job vs an Amateur Asbestos Removal Project
Tom, the corrugated-paper like asbestos pipe insulation we show at page top is quite soft and friable; the cloth wrapping its exterior is usually cotton or linen that has been painted and is not itself an asbestos material. I'd call a licensed asbestos removal company for this project.
In many jurisdictions you may be legally permitted to remove asbestos but the disposal of the asbestos containing material (ACM) waste must comply with local or state hazardous waste disposal regulations. See our page left article link: ASBESTOS MATERIAL REGULATIONS

The difference between an amateur asbestos removal and a professional job is also that the pros can be expected to take the the steps we list below. You could follow these and the more detailed procedures for asbestos cleanup in the US EPA regulations and documents in our references, but the risks are: ASBESTOS REMOVAL, Amateur, Incomplete health hazards for the worker(s) and a risk of contaminating the building with asbestos, leading to a still more-costly cleanup. Here is a general description of a professional asbestos cleanup procedure:

comply with state or local asbestos abatement regulations
set up containment where necessary to assure no dust contamination into other building areas
probably wet the material to minimize dust spread (see ASBESTOS REMOVAL, Wetting Guidelines)
carefully cut the cloth wrapping and remove the pipe insulation sections intact to minimize debris production
remove asbestos paste/plaster that may have been used on pipe elbows
wash and clean off asbestos that otherwise remains stuck to the now-exposed pipe surfaces
possibly paint or seal all of the cleaned pipe with a paint sealant to assure no stray particles of asbestos remain available to become airborne
properly dispose of the material
give you documentation of a professional job (receipts by a licensed removal company) that avoid a possible real estate resale issue later on
for large asbestos abatement/cleanup/removal projects where it's required by regulation or cost-justified, an independent expert will conduct testing before, in some cases during, and after the asbestos cleanup to assure that the dust from the cleanup project has been properly controlled and to assure as well that the cleanup is complete.
What is the Typical Cost of Asbestos Pipe Insulation Removal - per linear foot
Because we are past the peak of consumer fear about asbestos contamination and because the procedures, regulations, licensing have become well known, removal prices for a job like the one you describe should be manageable.
Current (2011) costs per foot to remove asbestos pipe insulation range from around $12. to $25. per foot on larger jobs, and $40. to $65. per foot on a small job. Those per foot costs tend to be less on a larger asbestos abatement project than on a smaller one because of the overhead of coming to the job, setting up containment, etc.
Does the Asbestos Pipe Insulation Actually Have to Be Removed?
If the asbestos pipe insulation is in good condition (not falling off, damaged, making a mess) and especially if it's not in an area where it is likely to be disturbed, you have the option of leaving it in place, perhaps coating it with an encapsulant. The cost of this approach is less than asbestos pipe insulation removal, and the total release of asbestos particles in the building is also less.
Of course plumbing and heating repairs or changes may make it necessary to disturb asbestos-insulated piping, in which case the material needs to be removed and disposed-of.
Asbestos site inspection fees
Typically you'll get a quote based on the number of linear feet of asbestos-insulated pipe to be cleaned, possibly such a quote can be obtained just by telephone, with of course the proviso that on seeing the site and a need for other measures that quote is "subject to site inspection" . If an onsite survey is required to plan the asbestos cleanup, some contractors charge around $300. for that service, and may for give that fee if they are then hired to conduct the cleanup.
Asbestos Waste Disposal Fees
We find this cost varies widely from being included in the cleanup per foot cost, to low fees for in-ground burial where permitted, to a cost per bag or pound to have the asbestos containing waste material double bagged and hauled to an approved dumping site by a licensed hazmat waste hauler.
Other asbestos cleanup costs
Other costs on larger asbestos abatement jobs typically include fees to run an air scrubber - figure $100./day - and the fees paid to a qualified expert for asbestos tests performed at the site before, during, and after the cleanup. For small residential asbestos cleanup jobs such as yours, onsite airborne asbestos monitoring is not performed.
Keep in mind that an amateur asbestos removal that contaminates the building is likely to result in a far greater subsequent cost to inspect, test, and clean the building of scattered asbestos dust and debris. During the peak asbestos scare I inspected a home for a buyer and observed extensive asbestos-insulated heating piping in the basement.
The owner decided he'd do the abatement himself. His wife later told me that "... he had white powdery stuff tracked literally all through the first floor of our home and even upstairs at times ...". In short, he made a horrible mess. The real estate sale stopped dead while the owners had to hire experts to then come and clean the entire home by wiping and HEPA vacuuming everything. It would have been less costly to have done the cleanup right the first time.
...
Ask a Question or Search InspectApedia
Questions & answers or comments about what building materials may contain asbestos, visual identification of asbestos-containing materials in buildings, and possible asbestos material identification by testing, use, age, appearance.
Use the "Click to Show or Hide FAQs" link just above to see recently-posted questions, comments, replies, try the search box just below, or if you prefer, post a question or comment in the Comments box below and we will respond promptly.
Search the InspectApedia website
Technical Reviewers & References
Publisher's Google+ Page by Daniel Friedman
Click to Show or Hide Citations & References
3/07: thanks to Gary Randolph, Ounce of Prevention Home Inspection, LLC Buffalo, NY, for attentive reading and editing suggestions. Mr. Randolph can be reached in Buffalo, NY, at (716) 636-3865 or email: gary@ouncehome.com
06/07: thanks for photographs of transite asbestos heating ducts, courtesy of Thomas Hauswirth, Managing Member of Beacon Fine Home Inspections, LLC and (in 2007) Vice President, Connecticut Association of Home Inspectors Ph. 860-526-3355 Fax 860-526-2942 beaconinspections@sbcglobal.net
June 1997 - Window Putty - OSHA case cites contractor for asbestos exposure during removal of window putty http://www.osha.gov/pls/oshaweb/owadisp.show_document?p_table=NEWS_RELEASES&p_id=1091
Asbestos Identification and Testing References

Asbestos Identification, Walter C.McCrone, McCrone Research Institute, Chicago, IL.1987 ISBN 0-904962-11-3. Dr. McCrone literally "wrote the book" on asbestos identification procedures which formed the basis for current work by asbestos identification laboratories.
Stanton, .F., et al., National Bureau of Standards Special Publication 506: 143-151
Pott, F., Staub-Reinhalf Luft 38, 486-490 (1978) cited by McCrone

Asbestos in Your Home U.S. EPA, Exposure Evaluation Division, Office of Toxic Substances, Office of Pesticides and Toxic Substances, U.S. Environmental Protection Agency, Washington,D.C. 20460
Asbestos products and their history and use in various building materials such as asphalt and vinyl flooring includes discussion which draws on Asbestos, Its Industrial Applications, D.V. Rosato, engineering consultant, Newton, MA, Reinhold Publishing, 1959 Library of Congress Catalog Card No.: 59-12535 (out of print, text and images available at InspectAPedia.com).
"Handling Asbestos-Containing roofing material - an update", Carl Good, NRCA Associate Executive Director, Professional Roofing, February 1992, p. 38-43
EPA Guidance for Controlling Asbestos-Containing Materials in buildings, NIAST, National Institute on Abatement Sciences & Technology, [republishing EPA public documents] 1985 ed., Exposure Evaluation Division, Office of Toxic Substances, Office of Pesticides and Toxic Substances, U.S. Environmental Protection Agency, Washington,D.C. 20460
...
Books & Articles on Building & Environmental Inspection, Testing, Diagnosis, & Repair
The Home Reference Book - the Encyclopedia of Homes, Carson Dunlop & Associates, Toronto, Ontario, 25th Ed., 2012, is a bound volume of more than 450 illustrated pages that assist home inspectors and home owners in the inspection and detection of problems on buildings. The text is intended as a reference guide to help building owners operate and maintain their home effectively. Field inspection worksheets are included at the back of the volume. Special Offer: For a 10% discount on any number of copies of the Home Reference Book purchased as a single order. Enter INSPECTAHRB in the order payment page "Promo/Redemption" space. InspectAPedia.com editor Daniel Friedman is a contributing author.

Or choose the The Home Reference eBook for PCs, Macs, Kindle, iPad, iPhone, or Android Smart Phones. Special Offer: For a 5% discount on any number of copies of the Home Reference eBook purchased as a single order. Enter INSPECTAEHRB in the order payment page "Promo/Redemption" space.