InspectAPedia tolerates no conflicts of interest. We have no relationship with advertisers, products, or services discussed at this website.
Chimney fires: steps to prevent a chimney fire from a fireplace, woodstove, or woodstove or fireplace insert safety include making sure that your metal chimney or "flue" is safe. "Safe" means clean, properly constructed and installed, using proper materials and proper fire clearances. A separate article describes FIREPLACE INSPECTIONS indoors, listing a professional chimney sweep's fireplace and chimney hazard checklist for problems that can be found by visual inspection at the fireplace or chimney cleanout.
Green links show where you are. © Copyright 2013 InspectAPedia.com, All Rights Reserved.
Fireplace Safety Advice from the US Consumer Product Safety Commission - US CPSC Document 5047 - expanded
If You Have A Chimney Fire [or any other house fire] Here is What to Do
Know what to do in the event of a chimney fire:
Get everyone out of the building.
Call the fire department from a cellphone or neighbor's telephone.
If you can safely re-enter the building and access the fireplace or wood or coal stove without becoming trapped in the building:

Close down the air supply to the woodstove or coal stove. If you have a fireplace that has glass firedoors, close them.
If there is a manual flue damper in the wood stove or coal stove flue vent connector (the stackpipe between the stove and the chimney), close it.
If you have a chimney fire extinguisher device put it into the woodstove or fireplace or coalstove. Chimflex™ sells a chimney fire extinguisher "stick" that can be ignited and placed "alongside the fire" in a fireplace or woodstove to attempt to suppress a chimney fire.[5] However keep in mind that the fire is in the chimney, not the woodstove or fireplace.

Watch out: be sure to follow the chimney fire extinguisher device manufacturer's instructions or you may make matters worse.
If you have a dry chemical fire extinguisher (recommended for anyone using a woodstove, coalstove or fireplace, use it to extinguish the fire in the fireplace or woodstove.

While waiting for the fire department, if you have access to a garden hose, use it to wet down the roof surfaces to reduce fire spread.
The US CPSC offers some succinct advice to avoid having a costly and dangerous house fire or an unsafe gas leak hazard. Consumer Product Safety Commission Metal Chimneys: Safety Alert CPSC Document #5047 [7]. We have added to the original CPSC information. For a succinct pamphlet on chimney and woodstove safety see this Chimney and Woodstove Fire Safety Code Information Sheet from Vermont.
Key chimney fire safety articles besides this one: be sure to read CREOSOTE FIRE HAZARDS and review Fireplace Damage & Unsafe Hearths. Also see FIREPLACE INSPECTIONS for a professional chimney sweep's fireplace and chimney hazard checklist. At FIREPLACE INSERTS we discuss fireplace inserts and zero-clearance fireplaces, both antique and modern, and their hazards and inspection limitations. Readers should also see Inaccessible Connections Fireplace or Woodstove. The inspection of chimney interiors is discussed at Chimney Inspection: Flue Interiors.
Before Using a Wood Stove, Coal Stove, or Fireplace Insert: Safety Checks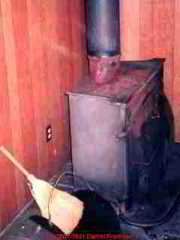 [Before using your wood stove, coal stove in the coming or current heating season] the US Consumer Product Safety Commission [since 1983 has] strongly urged you, if you have a [wood stove or coal stove] or fireplace connected to a metal chimney, to check for any damage that may have occurred in the past heating season.
Look for signs of structural failure, such as deformation, cracks, or holes. If it is difficult to examine the chimney, a local chimney repairman, chimney "sweep", or dealer can help. Have any damage repaired NOW.
Most fires in metal factory- built chimneys occur because of improper installation, use or maintenance. The Commission staff has identified the following common causes:
Improper chimney installation causing ignition of nearby wood framing.
Structural damage to the chimney caused by burning creosote (a black tar-like substance which builds up inside the
Chimney corrosion resulting in wood framing being exposed to excessive temperatures.
Buckling and collapsing of the inner liner of the chimney. (This can result from too hot a fire, especially in high-efficiency stoves and in fireplace inserts, or from a creosote fire.)
Many serious fires also occur in masonry chimneys, usually from improper installation or when the tile inner liner and the surrounding brick or block structure crack and separate. Such cracks may be caused by the ignition of creosote. Smoke and heat can then escape and ignite material near the chimney.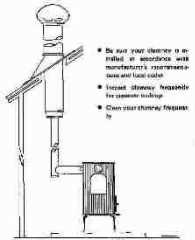 Sketch - US CPSC.
Even when the heating appliance is properly installed, people with both metal and masonry chimney systems should frequently check the chimney for creosote deposits, soot build-up or physical damage. This involves only a simple visual examination, but it should be done as often as twice a month during heavy use.
If you see heavy creosote build-up, suspect a problem, or have had a chimney fire, a qualified chimney repairman or chimney "sweep" should perform a complete safety inspection. They can arrange for any necessary repairs or creosote removal, which must be done before the heating appliance is used again. Details are at CREOSOTE FIRE HAZARDS.
The US Consumer Product Safety Commission advises owners of metal woodstove or fireplace insert chimneys to:
Be sure that the chimney and stove pipe were installed correctly in accordance with the manufacturers' recommendations and local building codes. If there is any doubt, a building inspector or fireman can determine whether the system is properly installed.
Have the chimney checked routinely by a chimney "sweep" at least once a year, and more frequently if a stove is heavily used (for example, if it's used as a primary heat source for the home).
Always operate your appliance within the manufacturers' recommended temperature limits. Too low a temperature increases creosote build-up and too high a temperature may lead to a fire. Chimney temperature monitors are available and should be used.
Make sure that your home has working smoke detectors properly installed and located
Make sure that your home has appropriate fire extinguishers, located by the home exit doors, and of an appropriate size and type if you use a fireplace or woodstove.
If you have had a fire or other safety problem with your chimney, please provide this information to the Commission by calling the Commission's toll-free Hotline 800-638-CPSC.
Frequently Asked Questions (FAQs) about wood stove or coal stove fire safety, hazards, clearances, & chimney fire prevention
...
Ask a Question or Search InspectApedia
Questions & answers or comments about chimney fires, causes, response, & prevention. .
Ask a Question or Enter Search Terms in the InspectApedia search box just below.
Technical Reviewers & References
Related Topics, found near the top of this page suggest articles closely related to this one.
Click to Show or Hide Citations & References
Books & Articles on Building & Environmental Inspection, Testing, Diagnosis, & Repair
The Home Reference Book - the Encyclopedia of Homes, Carson Dunlop & Associates, Toronto, Ontario, 25th Ed., 2012, is a bound volume of more than 450 illustrated pages that assist home inspectors and home owners in the inspection and detection of problems on buildings. The text is intended as a reference guide to help building owners operate and maintain their home effectively. Field inspection worksheets are included at the back of the volume. Special Offer: For a 10% discount on any number of copies of the Home Reference Book purchased as a single order. Enter INSPECTAHRB in the order payment page "Promo/Redemption" space. InspectAPedia.com editor Daniel Friedman is a contributing author.

Or choose the The Home Reference eBook for PCs, Macs, Kindle, iPad, iPhone, or Android Smart Phones. Special Offer: For a 5% discount on any number of copies of the Home Reference eBook purchased as a single order. Enter INSPECTAEHRB in the order payment page "Promo/Redemption" space.