Analysis of the Effectiveness of Air Filters on HVAC Systems
HEPA & MERV Ratings

AIR FILTER EFFICIENCY - CONTENTS: How to Assess the Effectiveness or Efficiency of Air Filters for Heating and Air Conditioning Systems
POST a QUESTION or READ FAQs about the effectiveness of air filters used on heating & cooling systems: how to assess air filter effectiveness.
InspectAPedia tolerates no conflicts of interest. We have no relationship with advertisers, products, or services discussed at this website.
Air filter efficiency or air filter effectiveness: definition of measurements of air filter effectiveness: this article explains and explain various measurements of the effectiveness of different types of air filters for HVAC systems. We explain how to use air filters on HVAC systems, how to reduce indoor airborne dust, debris, pollen, even mold spores or allergens.
We explain and define MERV, HEPA and how to use these air filter ratings when choosing and installing air filters in an air conditioning or heating system. We also discuss the problem of reduced air flow or strangled or air starved air duct systems from over-filtration and how to correct that problem.
Green links show where you are. © Copyright 2014 InspectApedia.com, All Rights Reserved.
Measuring air filtration effectiveness: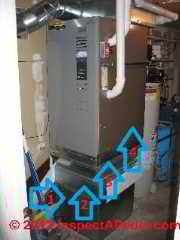 Effects of a Cascade Air Filter Approach on Indoor Airborne Dust Levels
The air filter cascade system installation in our lab (photo at left) provided an opportunity for careful testing of its effect on indoor air quality in the lab, since unlike most building owners, we have an extensive set of indoor air quality monitoring equipment at hand for our IAQ and environmental work.
Details are provided at OPTIMUM INDOOR AIR FILTERS.
This cascade air filter heating system uses four levels of air filtration or cleaning: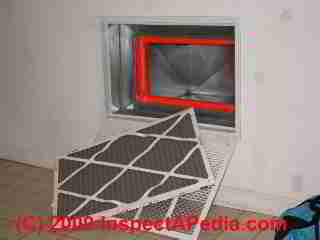 1. a low-cost 1-inch fiberglass or pleated paper air filter at the return air inlet grille (shown at left and represented by arrow #1 in the photo above) - this filter at the front end of the return air flow collects the most dust and debris and is replaced monthly during the heating season
2. A washable metallic air filter - extraneous but included with the system and retained as airflow was not a problem
3. An electrostatic air cleaner - a removable washable element is cleaned every year, more often if inspection shows that's needed.
4. A high efficiency HEPA-rated air filter - because this is the most costly air filter to replace, it was located after the washable electrostatic air cleaner - reducing the frequency with which this filter is replaced to about once a year
The airborne dust levels of all particle sizes dropped dramatically when the new system was installed (and the existing ducts cleaned as part of the project). Airborne particles in the 1-20 micron range were reduced by about 70%. Simple subjective visual inspection of lab surfaces showed that dust accumulated at a much slower rate. The system was so successful that we made use of the air handler blower assembly and filters to control indoor dust year round.
Other Steps to Reduce Indoor Airborne Dust & Debris
Fix the air quality problem at its source: Properly installed air filtration can definitely reduce the level of airborne dust in buildings, as we have tested and measured in our lab and in other buildings.
But air filtration should not be relied on as a "cure" for sick buildings or for mold contamination. Rather, it is more important to find and remove the problem source and to correct the conditions that caused the problem in the first place. For mold concerns, see ACTION GUIDE - WHAT TO DO ABOUT INDOOR MOLD.
The US EPA takes a similar view:
However, air cleaners may not reduce adverse health effects completely in sensitive population such as children, the elderly, and people with asthma and allergies. For example, the evidence is weak that air cleaning devices are effective in reducing asthma symptoms associated with small particles that remain in the air, such as those from some airborne cat dander and dust mite allergens.

Larger particles, which may contain allergens, settle rapidly before they can be removed by filtration, so effective allergen control measures require washing sheets weekly, frequent vacuuming of carpets and furniture, and dusting and cleaning of hard surfaces.

There are no studies to date linking gas-phase filtration, UVGI, and PCO systems in homes to reduced health symptoms in sensitive populations.
That said, good air filtration on central air handling systems combined with our "fix the problem" advice above, can improve indoor air quality significantly.
Air Filter Design Basics: MERV, HEPA, How Air Filters Work
The Definition of Air Filter MERV and what MERV means when buying an air filter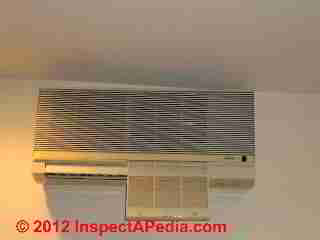 MERV is an acronym for "Minimum Efficiency Reporting Value".
The MERV rating on an air filter describes its efficiency as a means of reducing the level of 0.3 to 10 micron-sized particles in air which passes through the filter. Higher "MERV" means higher filter efficiency. The purpose of the MERV standard is to permit an "apples to apples" comparison of the filtering efficiency of various air filters.
Don't expect the thin washable plastic air filters used on window or split system or portable air conditioners (shown at left) to operate with the same efficiency as more sophisticated filters.
Al Veeck, executive director of the National Air Filter Association has pointed out that MERV includes a broad range of small airborne particles described in 3 ranges:
E1 - 0.3 to 1.0 micrometers
E2 - 1.0 to 3.0 micrometers
E3 - 3.0 to 10 micrometers
An air filter that is effective within the range of 0.3u to 10u will collect even the smallest mold spores (such as Aspergillus sp. & Penicillium sp. and larger particles such as pollen, and upwards to fiberglass insulation fragments.
Air filter efficiency refers to the relative ability of a filter to remove particles of a given size or size range from air passing through the filter. If a filter were 100% efficient, none of the particles in a given size range would escape the filter and air which has passed through such a filter would contain zero particles.
MERV "Ratings": Mr. Veeck also points out that MERV is a reporting value, not a filter rating value, although we find frequent referrals to "MERV Ratings" in various publications, including a Wikipedia entry on this topic.
The MERV Efficiency Rating [reporting] Scale ranges from 1 to 16, with 1 being the lowest efficiency and 16 describing the highest efficiency. The particle size range addressed by the MERV scale is 3 to 10 microns. A logical inference is that if an air filter is removing particles down to 0.3 - 10 microns, it is certainly also at least that efficient at removing larger sized particles.
What are typical air filter MERV Rating Values?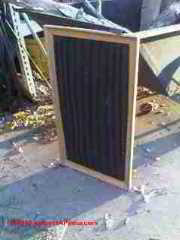 A very low-cost disposable fiberglass furnace filter may have a MERV rating of 1 to 4 - pretty low.
We provide examples of specific air filters and their efficiency at Air Filter Efficiency, a section of our discussion of AIR FILTERS, OPTIMUM INDOOR and Cascaded Air Filters
A medium efficiency MERV pleated air filter in the range of MERV 5-13 is, according to the US EPA, reasonably efficient at removing small to large airborne particles.
EPA also opines that: "Filters with a MERV 7-13 are likely to be nearly as effective as true HEPA filters at controlling most airborne indoor particles." We can't explain the overlap of these two statements except to speculate that the EPA writer was thinking that the MERV of an air filter is not constant - particle filtration improves as the filter gets dirtier.
EPA adds that medium efficiency air filters are generally less expensive than HEPA filters, and allow quieter HVAC fan operation and higher airflow rates than HEPA filters since they have less airflow resistance.
A high efficiency high MERV pleated air filter in the MERV 13-16 range would be expected to remove smaller particles between 0.3u and 1.0u in size at about a 75% efficiency.
But before getting too excited about 75% looking not as good at 99.97% (see HEPA filtration discussed below) remember that in a heating or air conditioning system air is being recirculated through the filter system. So if each pass is removing 75% of the particles we want to capture, over time the heating or air conditioning filter system will do a good job of removing a very large amount of airborne dust.
This is exactly what we saw when we tested some filtering approaches in our forensic laboratory. The longer we ran the air handler fan the more dramatically we saw the airborne dust level drop in the test area.
The US EPA points out that higher efficiency filters with a MERV of 14 to 16, sometimes misidentified as HEPA filters, are similar in appearance to true HEPA filters, which have MERV values of 17 to 20. As you'll read below, you may not want to rush to install a HEPA filter on your central air conditioner or heating system.
What is a HEPA Filter?
The Definition of A "HEPA" rated air filter: a HEPA filter (High Efficiency Particulate Air [Filter] or better put, High Efficiency Particulate Arresting [Filter]) has to meet more demanding US DOE standards than a high MERV air filter.
True HEPA rated air filters have a MERV of 17-20.
A HEPA filter is required to remove at least 99.97% of airborne particles down to 0.3u in size (in diameter or in their longest dimension). Any filter, high MERV or HEPA, can be expected to filter out larger particles with an efficiency above its rating.
Should You Install a HEPA or High MERV Filter on my Air Conditioner or Furnace?
So do we want to use a high MERV air filter or do we need to install a HEPA filter on our air conditioner or heating system air handler?
A high MERV air filter is much less costly than a HEPA filter and can be more effective over time in a residential or office air conditioning or heating system, but there are two warnings that have to be considered:
Air filter bypass leakage if the air filter does not fit properly and tightly, no matter how efficient it is, it may be leaking a significant of air around itself at the mounting, reducing the overall efficiency of the air filtration system. You can see this effect by noticing how much debris collects in the return air plenum behind the filter.

If at each filter change you see that the ductwork or return plenum is pretty clean, the filter is not bypassing much air. Some air filter manufacturers specialize in providing air filters that include a gasket to seal against air bypass leaks.


Air filter density and reduction in airflow: some air filters may be so dense that the cubic feet per minute of air that can pass through them is reduced drastically.

EPA and also some HVAC designers point out that you won't usually find a true HEPA filter installed in residential HVAC ductwork or air handlers. That's because of both the size of true HEPA filters (they won't fit in the air handler) and the air flow restriction (a true HEPA may reduce airflow too drastically in a non-commercial HVAC system).

Before installing a very high MERV or a HEPA filter in your HVAC system, check with your air conditioner or heating system installer or service technician to review the intended air flow rate (in cubic feet per minute) of your system and on the effects of installing a better, more efficient but slower-air-passing filter.

An HVAC technician and some home inspectors have equipment that can easily measure the air flow rate at a given point in the system. In our lab experiments we made certain that the new air blower assembly we were installing and testing was able to move enough cfm of building air with the improved cascaded filter scheme we were testing.
Smaller airborne particles than those covered by the HEPA or MERV rating might be filtered out with still higher efficiency. Their smaller mass means they may "stick" to the filter surface well but some filters, such as the budget lowest-cost fiberglass furnace filters, will pass these small filters right through when they are new, but filter out more of them as the filter surface becomes clogged and dirty with debris (leaving smaller and smaller openings through which air must pass.
Is There Such a Thing as Too-Much Air Filtration?
Will Return Air Vent Filters Suffocate Our Furnace or Air Conditioner?
We have a HEPA filter on both our downstairs and upstairs units. When we had a high efficiency Rheem furnace put in this summer, the technician told me that since I have HEPA filters, I don't needs filters on the return air vents. That it suffocates the system. Can you confirm this? - L.F.
Reply: Maybe
A competent onsite inspection by an expert usually finds additional clues that help accurately diagnose a problem. That said, here are some things to consider:
Adding too many layers of filters can, as your HVAC tech suggests, interfere with airflow, making the system have to run longer to satisfy the thermostat and thus increase heating and cooling costs.
You can determine if your HVAC system is "air starved" or "suffocated" with a given filter by having an HVAC technician make appropriate pressure measurements on either side of the air filter or at strategic locations in the duct system. There are some useful "amateur" ways to guess at this problem too. See RETURN AIR REGISTERS & DUCTS, and if you want to increase air filtration it may be possible to do so by also INCREASING RETURN AIR in the HVAC system.
Of course by not filtering at the air returns over time the system air ducts collect dust and dirt and on occasion you will need to pay for a duct cleanout operation (provided the ducts are metal and can in fact be cleaned).
Not all air filters even with the same particle rating have the same air-flow ability. For example a deep pleated air filter may be able to pass a greater air flow (measured in cubic feet per minute at a given pressure) than a less-deep filter that actually provides less total filtering surface area. That might be worth researching to see what will fit on your system.
We prefer to filter at centralized return air inlets to keep the duct system clean, but if the duct system uses individual room return air inlets that can be just too much airflow obstruction.
Also see AIR FILTERS, OPTIMUM INDOOR.
So in sum what you were told is reasonable, but it was not the whole story.
This article series answers almost any question you might ask about air filters for heating or air conditioning systems. We explain how an air conditioning service technician will diagnose certain common air conditioning system failures or defects. In these articles we are referring to filters installed on central air conditioning or central heating systems that move air through air handlers and duct systems. Standalone "air cleaners" are generally ineffective in buildings.
We include photographs to assist readers in recognizing cooling system defects. Contact us to suggest text changes and additions and, if you wish, to receive online listing and credit for that contribution. [The page top photograph is of a low-MERV HVAC filter in an air handler.]
Readers should also see Air Filter Effectiveness in our INDOOR AIR QUALITY IMPROVEMENT GUIDE article series.
More Reading
Green link shows where you are in this article series.
...
Frequently Asked Questions (FAQs)
No FAQs have been posted for this page. Try the search box below or CONTACT US by email if you cannot find the answer you need at InspectApedia.
Ask a Question or Search InspectApedia
Questions & answers or comments about the effectiveness of air filters used on heating & cooling systems: how to assess air filter effectiveness. .
Use the "Click to Show or Hide FAQs" link just above to see recently-posted questions, comments, replies, try the search box just below, or if you prefer, post a question or comment in the Comments box below and we will respond promptly.
Search the InspectApedia website
Technical Reviewers & References
Click to Show or Hide Citations & References
Thanks to Mark Cramer, Tampa Florida, for assistance in technical review of the "Critical Defects" section and for the photograph of the deteriorating gray Owens Corning flex duct in a hot attic. Mr. Cramer is a Florida home inspector and home inspection educator.
Thanks to Jon Bolton, an ASHI, FABI, and otherwise certified Florida home inspector who provided photos of failing Goodman gray flex duct in a hot attic.
National Air Filter Association, Al Veeck, Executive Director, PO Box 68639, Virginia Beach, VA 23471 Tel: 757.313.7400 Fax: 757.497.1895; Email: nafa@nafahq.org - comments by email December 2010. Quoting from the association's website:
The National Air Filtration Association (NAFA) is the trade association for the air filter industry and is comprised of individuals and companies engaged in the sale, service and manufacture of air filtration products, worldwide. The Mission Statement of NAFA is "To conduct education and certification programs for members and end-user personnel; to provide forums for the exchange of information about technical standards, government regulations and product information; to educate end-users about the importance of air filtration and NAFA's certifications; to certify air filtration products; to set field performance standards for products; and to explore ways to increase business for NAFA members.
US EPA article on air filter efficiency: epa.gov/iaq/pubs/airclean.html 08/03/2010
Wikipedia provided background information about the definition of HEPA and airborne particle interception, retrieved up to 01/08/2011. NOTE: because Wikipedia entries are fluid and can be amended in real time, we cite the retrieval date of Wikipedia citations and we do not assert that the information found there is necessarily authoritative.
Books, Complete List of Air Conditioning & Heat Pump Design, Inspection, Repair Books at the InspectAPedia Bookstore.
Modern Refrigeration and Air Conditioning, A. D. Althouse, C.H. Turnquist, A. Bracciano, Goodheart-Willcox Co., 1982
Principles of Refrigeration, R. Warren Marsh, C. Thomas Olivo, Delmar Publishers, 1979
"Air Conditioning & Refrigeration I & II", BOCES Education, Warren Hilliard (instructor), Poughkeepsie, New York, May - July 1982, [classroom notes from air conditioning and refrigeration maintenance and repair course attended by the website author]
Refrigeration and Air Conditioning Technology, 5th Ed., William C. Whitman, William M. Johnson, John Tomczyk, Cengage Learning, 2005, ISBN 1401837654, 9781401837655 1324 pages
Ratib Bakera is member of Refrigeration Service Engineers Society (RSES), an International training organization for the HVACR industry provides educational and certification programs to HVACR professionals of all experience levels. www.rses.org provides information on the organization and its training materials. Independent testing and certification of HVAC technicians is provided by North American Technician Excellence - NATE - see www.natex.org. NATE is supported by ASHRAE, the US EPA, and a host of other trade and professional associations.
Singer brand HVAC equipment brand history:

Singer was bought by & became the climate control unit of Dallas-based Snyder General Corp. (founded by a former Singer HVAC manager) in 1982.

The name Singer was dropped in 1984. In 1984 Snyder General operations included Arcoaire, Comfortmaker,

and

McQuay. In 1991 Snyder General sold Arcoaire & Comfortmaker to Inter-City Products. In 1994 Snyder General was acquired by Hong Leong Group Malaysia. Snyder General is at 2001 Ross Avenue Dallas, TX 75201

.
Lennox air conditioning and heat pump owners manuals for air conditioners, air handlers, furnaces, heat pumps, indoor air quality systems, packaged units, water heaters, zone controls and other controls such as thermostats, are provided by Lennox at http://www.lennox.com/support/manuals.asp
Books & Articles on Building & Environmental Inspection, Testing, Diagnosis, & Repair
The Home Reference Book - the Encyclopedia of Homes, Carson Dunlop & Associates, Toronto, Ontario, 25th Ed., 2012, is a bound volume of more than 450 illustrated pages that assist home inspectors and home owners in the inspection and detection of problems on buildings. The text is intended as a reference guide to help building owners operate and maintain their home effectively. Field inspection worksheets are included at the back of the volume. Special Offer: For a 10% discount on any number of copies of the Home Reference Book purchased as a single order. Enter INSPECTAHRB in the order payment page "Promo/Redemption" space. InspectAPedia.com editor Daniel Friedman is a contributing author.

Or choose the The Home Reference eBook for PCs, Macs, Kindle, iPad, iPhone, or Android Smart Phones. Special Offer: For a 5% discount on any number of copies of the Home Reference eBook purchased as a single order. Enter INSPECTAEHRB in the order payment page "Promo/Redemption" space.
Carson Dunlop, Associates, Toronto, have provided us with (and we recommend) Carson Dunlop Weldon & Associates' Technical Reference Guide to manufacturer's model and serial number information for heating and cooling equipment
Special Offer: Carson Dunlop Associates offers InspectAPedia readers in the U.S.A. a 5% discount on any number of copies of the Technical Reference Guide purchased as a single order. Just enter INSPECTATRG in the order payment page "Promo/Redemption" space.

Complete List of Air Conditioning & Heat Pump Design, Inspection, Repair Books at the InspectAPedia Bookstore.
Modern Refrigeration and Air Conditioning, A. D. Althouse, C.H. Turnquist, A. Bracciano, Goodheart-Willcox Co., 1982
Principles of Refrigeration, R. Warren Marsh, C. Thomas Olivo, Delmar Publishers, 1979
"Air Conditioning & Refrigeration I & II", BOCES Education, Warren Hilliard (instructor), Poughkeepsie, New York, May - July 1982, [classroom notes from air conditioning and refrigeration maintenance and repair course attended by the website author]
Refrigeration and Air Conditioning Technology, 5th Ed., William C. Whitman, William M. Johnson, John Tomczyk, Cengage Learning, 2005, ISBN 1401837654, 9781401837655 1324 pages
...