Septic System FAQs
InspectAPedia tolerates no conflicts of interest. We have no relationship with advertisers, products, or services discussed at this website.
Septic system design, installation, maintenance & repair guide questions & answerss:
Frequently-asked questions about installing, diagnosing, or repairing septic tanks & drainfields.
These septic system articles explain how to buy, inspect, install, test, diagnose maintain and repair septic tanks, drainfields, and all other components of all types of septic systems. Page top: a peat mound septic system in Two Harbors, MN.
Green links show where you are. © Copyright 2017 InspectApedia.com, All Rights Reserved.
Septic System Buy, Install, Test, Repair FAQs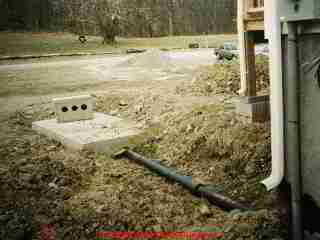 These questions & answers were posted originally at SEPTIC SYSTEM INSPECT DIAGNOSE REPAIR - the home page for an extensive library of onsite wastewater treatment and disposal systems.
Robert,

I'm now sure why we're discussing mold contamination questions on a septic systems page? I am guessing it's because the mold question has followed the wetting of a building interior due to a septic or sewage backup.

Mold contamination in or on buildings and their surfaces can be of virtually any color.

The first concern with a sewage backup is stopping the backup - by stopping inflow into the system
The second is to clean up the sewage
The third is to remove wet materials like drywall, trim, insullation. One needs to address every surface that was contacted by sewage
The fourth step is to disinfect all of the exposed surfaces.
Fifth, It may be justified to have follow-up swab tests of a few representative surfaces to be sure disinfection was effective.
Sixth: the cause of the backup must be corrected before the waste system is returned to operation

About your question

What are the possibilities septic tank backups one toilet is the source of a rotten floor

A floor would not rot within days or even weeks of a single-event that wet the building interior, but if there has been a history of sewage leaks or other water entry, that would certainly be likely to rot wood flooring or other materials.

From a pest control source,
Timbor is an insecticide, fungicide and wood preservative for the protection and treatment of lumber against fungal decay and wood destroying insects (including termites, beetles, and carpenter ants). Timbor gets its preservative power from the active ingredient DOT (disodium octaborate tetrahydrate).

I'm not sure why you're asking about Timbor. It is absolutely NOT a remedy for mold contamination, nor sewage backup, nor for rot.

Likely mold Pine siding interior ceiling subfloor basement plus attic white and black. I never knew about white it looks to me like overspray. Long term slow leaks humidity levels Southern California as high as 70%. Black specks appear to be insects also light-colored?
Mold spores? Seem to sting one person and a dog. Timbor? For floors and walls ceiling? Copper? Psychiatrist? The annoyance seems to cycle 10 days on three days off more or less not exact. What are the possibilities septic tank backups one toilet is the source of a rotten floor which was disguised linoleum

Paul

I don't know where Henderson Co is located - country nor state, but in general, the property owner always pays for test pits - that's part of the cost of designing and installing and qualifying a septic system.

does henderson co require home owner to pay for test pits to be dug

My septic tank is making a rushing water sound/pumping water sound ? Noticed it over an hour ago, if its the pump should it still be running?

Mike,

The septic tank needs either 80 or a baffle at both Inlet and Outlet ends. Otherwise, just as you suspect, you're going to see a blockage and failure.

We do not have an inlet tee installed in our septic tank. Is this normal? The county environmental guy said it was but every picture I see of a tank has an inlet tee. The scum layer is now starting to block the inlet.

the drop from toilet and other household drains to the septic tank isn't very much. I was wondering if there is an inline pump to help push water and waste to the septic tank

Hello. We have a BIO wastewater aerobic system (3 tanks) with above ground sprinklers. The control panel is an Aquaklear AK500S96. Affluent pump is Franklin Electric E Series 20FE05p4-2w115. Today my dad went out to put in chlorine tablets and discovered that the water in the last tank was over the chlorine basket and almost up to the lid. No alarms or lights warning us of this.

I rented a pump and pumped out the last tank. There are two floats, one connected to the pump and one farther up on a longer cable (overflow float?). I disconnected and pulled the pump out. How can i diagnose if the pump is bad, or something in the control panel or floats that are bad?

One note-a couple weeks ago I was curious about the "Run/Mute/Test" switch and put it in every position. It didn't do anything. Now after reading about septic systems, I think it is an alarm switch. So apparently the alarm hasn't worked for a several weeks. But we know the sprinklers were working a few days ago.

Any help would be great. I love to dig into projects. I'm a DYI person.
Thanks
I have slow draining if toilets . I've had companies come out to inspect and repair but they clearly misdiagnosed my problem. I own a mobile home and rent my lot. We've had issues with clogs and slow moving draining since we moved in. I am on a fixed income and don't think landowner will fix issues. I
don't want to create conflict they are also my neighbor. I have always heard gurgling noises in drains. I am pretty sure that tank needs pumped.
How can you find someone who will handle issue with in my budget. I have had a plumber tell me it needs to pumped but can't get a trustworthy co to fix. Not sure if all systems at work properly. Don't know who to call

I thought the company was in Canada ? I think after reading more your located in the U.S. ? thank-You

Would like to have an out house pumped out has a metal pan and all around the walls is metal.. It's off hyway 10 on Robson road at 620352... It really needs pumped out.. and how much will it cost to do ? We'll be there Monday..

San,

Please take a look at SEPTIC TREATMENTS & CHEMICALS
where you'll see that such treatments are
- not nececessary - there is plenty of the right type of bacteria in any septic tank the first time you flush a toilet
- sometimes can cause serious damage (such as bubbling and sending solids into the drainfield, reducing its life)
- depending on their constituents may be an environmental contaminant
- are illegal in some jurisdictions

We use the Septic Fizzytab once a month in our system for 15 years now and have had no problems between pumpings. Google it to find the web store and their website has a lot of good information too, about septic systems. The tablets add bacteria that helps digest the waste.

I would
- have the septic tank and D_box checked for signs of backup
and if those look good
- send an inspection camera through the main system

We just bought a house and drained well until we started using the basement bathroom. We stopped and I capped the basement until I could replace the check valve. It started draining normal again. Replaced the check valve and it is again backing up. Why and what needs done. Thanks

Jenn

I would want an accurate diagnosis of the cause of the flooding of the drainfield. There's quite a range of situations such as the drain field being constructed to close to the seasonal high water table, or not protected from surface runoff, or the drainfield could be in partial failure from a blocked pipe, or could be in total failure due to soil clogging.

An on-site expert will probably make a few test excavations, inspect the septic tank condition, and the distribution box, to come up with an opinion about what's going on. I would not do something expensive before having that diagnosis.

If you did need to convert to a mound system or raised septic bed, adding 10 inches of soil will not be enough, since that would not be enough clearance between the bottom of the drain field and the high water level.

To be clear you don't have the option of Simply putting more dirt into a wet area. Even if that made the apparent water problem go away would be interfering with the proper functioning of the septic system by burying it deeper than its design with alow.

If your replacing a septic bed and dig old pipe up and bed is full of water what should do
Raise bed heigt with 10" clean fill?

Kal,
InspectAPedia is an independent publisher of building, environmental, and forensic inspection, diagnosis, and repair information provided free to the public - we have no business nor financial connection with any manufacturer or service provider discussed at our website. We do not sell products nor services.
Dear Sir;
You are kindly requested to send us more information about your product shown on your website regarding (Electronic Monitors for Septic Tank Scum & Sludge Levels) and how we can buy it;
Thanks;

Anon

Typical septic system costs are in this PDF file you can see online or print at no cost.
SEPTIC SYSTEM WASTEWATER TREATMENT OPERATING COSTS [PDF] based on studies in the U.S. in Montana.

The actual cost for your specific home would vary widely depending on
- where you live
- local site conditions such as soil percolation rate, area size avaliable, distance from wells, lakes streams, and
- local regulations
- number of occupants or bedrooms

I need information regarding How much does it cost Residential Tank to Trailer-Home? Send to me by Email to joserigoberi4343@yahoo.com

I need information regarding How much does it cost?

James

Also use the search box just above to search InspectApedia for PLANTS & TREES OVER SEPTIC SYSTEMS to read details of the concern not for health of the trees but their possible root damage to septic components and fields.

Generally coconut palm roots, except for a few deep radii, stay high in the soil - presenting less risk to damage to the field components. But of course driving over septic fields to harvest or collect would be a concern.

OPINION as a general answer: the sewage effluent hazard for tree crops is typically not pathogens passing up inside the tree via its root system, rather it's sewage effluent from an aerobic spray, or sewage contaminated soil splashing up on to the edible fruits.
As a fruit bearing palm tree is typically between 32ft. and 50ft. in height, on the tree the fruits are pretty safe. A fruit (coconut? ) falling onto the ground - maybe ought to be washed before it's chopped open.
That's because a machete cutting through a dirty exterior from a coconut that fell onto wet sewage effluent (a failing drainfield) or onto contamianted soil *might* carry soil into the edible fruit.

Research:

Timothy K. Broschat and Jonathan H. Crane, "The Coconut Palm in Florida" , U. Florida at http://edis.ifas.ufl.edu/mg043 discusses impact of sewage effluent on the health of palms

Chary, N. Sridhara, C. T. Kamala, and D. Samuel Suman Raj. "Assessing risk of heavy metals from consuming food grown on sewage irrigated soils and food chain transfer." Ecotoxicology and environmental safety 69, no. 3 (2008): 513-524. discusses risks of heavy metal contaminants (that appear in some sewage waste)

Iveson, J. B., N. Kovacs, and Wm Laurie. "An improved method of isolating salmonellae from contaminated desiccated coconut." Journal of clinical pathology 17, no. 1 (1964): 75-78. discusses detection of salmonella in contaminated coconut

Broschat, Timothy K. "Palm nutrition and fertilization." HortTechnology 19, no. 4 (2009): 690-694. - using sewage causes Mn deficiencies in coconut trees

Are fruit bearing palm trees good or dangerous around septic systems?

Alan,

If there is no septic backup and no effluent breakout in the yard them we need a more clear explanation from your septic contractor

I have a septic tank 1000 gal with about 80' leach line. Tank is working good in good condition. Pumper co inspected and said leach field not working 100%. Outflow line had water in the bottom. He ran a water hose in septic for 30 minutes.
The out flow of water seemed fine. The level only went up about 1/2 inch with water flowing in and out. When hose turned off level went back to were started. No back flowing. Said I need a new leach field. About $4000. Does that sound right. I never had any problems with draining. Can you help? Thank you

This sound like a blocked outlet or aeration effluent distribution pipe

My aerator is not draining and water is gushing up from the outlet inspection pipe

My septic tank was emptied about 1 month ago. However, the water is coming up and over flowing. What could be the cause of this?

Hello, We bought a home where an above ground $30k!!!!! septic system was installed
now 7 years later city sewer just came by our house and we connected. What is involved in removing the 7 years old above system?? Can we just have someone with a bulldozer dismantle? Thanks!

Anon:

No. Grease traps are usually required for commercial installations like kitchens and restaurants, and the grease trap is installed in the building drain system well ahead of the septic tank.
See GREASE INTERCEPTORS TRAPS for details.

Do all septic tanks have a grease trap
David:

Using a UCANR.EDU guide to aerobic drip systems I found that the pump is normally running ahead of the spin filter runs at 30-35 psi and - important - a pressure reducer/regulator downstream from those components regulates the drip distribution piping pressure to a standard 15-20 psi in the drip lines themselves.

You'll want to have a complete operating manual for your specific aerobic drip system as its specifications could be different.

Source:
"Design, Installation and Operation Manual For Subsurface Drip Irrigation Systems Utilizing Aerobically Treated Wastewater", University of California Cooperative Extension, Division of Agriculture and Natural Resources, Research and Extension Center Administration Office, 2801 Second St., Davis, CA 95918 Tel: (530) 750-1200 http://ucanr.edu/sites/adi/files/204434.pdf
Great question, I don't know and will do some research. I suspect the number ultimately is not a constant but rather depends on the specific aerobic system design and the soil properties - its absorption rate + the evaporation rate.

How much pressure is required or how far back do you close the return valve on an aerobic drip septic system?

You need an onsite expert inspector who inspects house plumbing, site for signs of trouble, and then, IF you have a contractor open the septic tank you can find more about its condition and can determine if it's even worth trying to do a septic loading test.

Search InspectApedia.com for HOME BUYERS GUIDE to SEPTIC SYSTEMS to read what you need to do and in what order.

Question we are looking at a house to buy the house has been empty for at least 6 months and I have heard there are issues with the septic system. Really do not know how long the system has been in place but guessing over 10 years.
We noticed in the yard a low spot where the system is at and water standing there.
What would be your first step in trying to figure out what to do? There is currently no water at the place so I think I'm limited on what I can do evaluate the situation.
Thanks Matt. Can you give a typical survey cost?

Ground Penetrating Radar (GPR) can be used to map septic systems underground. An underground map can be made of the system.
General reader comments about this septic system install, inspect, troubleshoot, repair article series
(Jan 22, 2014) Paul G said: Hey this is a great resource. Thanks.
Question: septic tanksize determination
(Feb 24, 2014) cyvrn8822@yahoo.com said: what size of septic system would be needed for a 5000 sure ft home?
Reply:
Hi CYVRN
If you take a look in the ARTICLE INDEX given at the end of any of our septic system pages you'll find this article live link
SEPTIC TANK SIZE: septic tank size and capacity vs. usage determine the required septic tank size, calculate size of an existing septic tank
that will answer you - there is a bit more that needs to be said than just the size of a home - after all we might have a big house with a single occupant.
Question: septic tank fails when it rains
(Mar 16, 2014) debbie said:
We have a septic tank that is fairly new but every time it rains, no matter how lightly, our toilet won't flush correctly and when it rains all day we have the septic odor in our house but not outside and the toilet fills to the rim when you try to flush it.
Reply:
Debbie it's a troubling question - it sounds as if rain runoff, perhaps from groundwater, surface runoff, or roof runoff is entering and flooding the septic tank, or worse, the drainfield. Even if the tank is new a failed older drainfield couild be at fault;
I'd ask your septic contractor to excavate and open the septic tank access ports to see if the tank level is flooding from surface runoff; And if you pump the tank and water runs back into the tank from the drainfield that'd diagnose a flooded drainfield. Either can back up into the house.
If the problem is really controlling surface runoff then you'll fix it by directing water away from the tank and drainfield.
See SEPTIC TANK BACK FLOODING or for drainfield flooding to read details.
Question: sewage storage tank distance from well
(Mar 18, 2014) Kim Hall said:
What is the distance a storage tank for sewage be from a well. We have a cabin and space is limited.

Reply:
Kim please see CLEARANCE DISTANCES, SEPTIC SYSTEM
Question:
(May 16, 2014) Fran said:
We own a lake home with a holding tank. We thought it was a septic when we purchased the home but our septic man told us it was a holding tank when he came to pump it out.. We have it pumped regularly but we only see one tank. Is there a second tank? How would we find it, if so? We see no holes, pipes, nothing going into this tank when it's open for cleaning.
Also, our home was built in 1962. Is there any way to get the sewer & drain plots for this house? And, are holding tanks legal for a permanent residence?

Reply:
Fran, your local building department might have plans on file, but often those agencies don't. Even if there was a filed plan, we can't know if the plan shows what was approved or instead, what was actually built. Nor do we know what repairs or changes may have rearranged things in the intervening decades.
This article shows how to find buried septic tanks and piping
Question: filter bed septic tank leaks
(June 11, 2014) wanda said:
I have a filter bed septic tank, water was coming on the top of the ground for about a month. Then it stopped, and my toilet stop flushing, and I couldn't wash clothes. We took the lid off the sewer and it was filled up with alot of water(it's only 5 years old and it's a 500gal.
Reply:
Sounds as if the outlet is blocked or the field is blocked. It's time to investigate the effluent absorption system or drainfield. Meanwhile stop using water as much as you can and pump the septic tank - that will give a few days of relief during which the problem can be diagnosed by your septic contractor or septic engineer.
Question: leaks at septic system D box
(July 12, 2014) matt with the d box leak! said:
New septic put in 6 years ago. I have a pump chamber after my septic tanks (twin 750 gals), the chamber pump (100 or 150 gal ) kicks on when the level gets high enough. The grey water is pumped to my d- box about 25 feet. The d box has 2 outflow pipes leading to a leach field with baffles etc.
The d box seems level and the problem is no matter what we have used to keep the cover on the box ( a piece of blue stone 1 " thick as it sits in the middle of a brick patio ) the d box leaks. Again on the 4th of July with 12 -15 folks over ( part of my problem???) , I heard the pump chamber kick on, 15 seconds later could smell it and then about 3 to 5 ounces of water came out. The leaks came from the corners opposite the inflow.
I can't get it to stop leaking, every time the pump chamber kicks on. This is the 3 time in 6 years that I am faced with a dbox with a cover ( modified cover since its blue stone ) that leaks. If we cement the blue stone onto the d box how can this keep happening? Can the water just "eat" the condrete seal over a year? pls let me know by email when there is a response to my question - - many THANKS! matttheskier@gmail.com

Reply:
Matt,
You could convert to a more-easily sealed D-box but I don't think that's the problem. I suspect that the D-box is too small AND that with the small size, the effluent (it's not graywater) is not being accepted into the drainfield rapidly-enough. The result is the pump is filling the D-box faster than its outflow rate, causing backup and odor complaints.
A much larger D-box, sufficient to receive and then drain by gravity into the drainfields the whole pump cycle volume would be one approach that may tempt you but I don't recommend it.
Rather, you need to look at the inflow capacity of the drainfield - it may be that the drainfield is under-sized, or worse, that it is poorly designed / installed and is flooding, or possibly the line balancing openings in the D-box that balance flow into different drainfield lines are too small.
In sum, if you watch the D-box when the effluent pump cycles you'll probably see that aroudn 125 gallons of effluent are surging into the D-box and overflowing it because the in-flow rate is faster than the outflow rate.\
If the D-box overflows only at the very end of the pump cycle you could see if your pumping system rate can be adjusted to send effluent to the D-box more slowly.
Matt
Please see our article on Distribution box (drop box) install, inspect, troubleshoot & repair advice at D-BOX INSTALL REPAIR where I will include your question and our comments
Question: outlet end of septic tank smaller than inlet end
(July 26, 2014) Steve said:
I have a two compartment septic tank. The outlet end tank is smaller then the inlet tank . my inlet tee is 16 inches long down the tank . The outlet drain pipe is in the centre of the bottom of the tank . How far or how long should my drain pipe be up in the tank ?
Reply:
Maybe if you send me a sketch I can try to find an answer; from just the e-text I'm a bit confused about what's installed. Generally however the septic tank drain outlet is lower than the bottom of the inlet pipe's bottom surface.
Question: septic alarm going off
(Aug 11, 2014) WALTER TOWNSEND said:
After moving into New Built House in 2005,I have a Second Leak Running to the Leachfield.This leak has caused the Pump Tank to field up with water.Over the years, I have call the installer about the High Water Alarm contancely going off, having to become and plumber etc.
After calling the Installation Company again in June,July about the high water,they claim that the Pump has feld. After speaking with the county inspection department workers away from the office,they stated that 'to them' That the land didn't "PERK' correctly causing these problems.I never received from the Installer or County that any test was done prior to us purchasing this property. Please HELP .

Reply:
Walter I'd like to assist but I'm not clear what help we could provide via e-text for an unkown site and system requirements, but it does sound as if there was a design problem. You need a local, on-site septic engineer.
Question: number of discharge lines out of d-box
(Sept 5, 2014) jerry said:
the plumber used one discharge line out of d-box to feed three rows of infiltrator leach lines. he said he drilled 4.5 inch holes in the supply line to feed each leach line. how would waste water get past the first trench to the remaining two trenches?

Reply:
It may not.
Question: Will septic tank and its absorption field damage my stone wall?
(Sept 9, 2014) Dana said:
The house behind mine is 20 feet above my ground and I have a stone retaining wall.
The buyer of this house is installing a septic tank in back of the house and the backyard is only 35 feet behind the house.
Will this septic tank and its absorption field damage my stone wall?
Your knowledge and opinion are greatly appreciated.
Reply:
Dana
What might damage your stone wall would be driving excavaction equipment into it or excavating so close to it as to undermine the wall. Check with your building department about the required property setbacks for your neighbor's septic tank and fields - that ought to protect you.
let us know what you're told.
Question:
(Sept 25, 2014) Debbie said:
We did not have a septic alarm on our system. After shoppping around (quite expensive) we found one called sump alarm. It gives us a red light and horn if the level gets too high. At least that lets us put the brakes on some of the water consumption. Deborah_diamond@hotmail.com
(Oct 14, 2014) Anonymous said:
can a septic system allow brown sludge and brown bugs to build in your tank of your toliet and keep causing back flow?
(25 Dec 2014) Dave said:
We live in Thunder Bay. We had our septic tank pumped early fall. It is December and I see where the tank top is the grass is exposed there is only about 3 inches of snow. Is there something I should be worried about.
I'm afraid of the tank freezing. I know when tank works properly there is heat but to expose the grass was not sure.
Reply:
Dave it's normal for the septic tank to be a bit warm, both from receiving warm household water and from bacterial action. As long as there are no signs of backups nor sewage effluent leaking out to the surface your system is probably fine. But tell me if this snow-melt over septic is a new thing or if it has occurred in prior winters as well.
Also see our article about melting snow over septic system components found at
Reader follow-up:
12/26/2014 Hello thanks for responding. Unfortunately this is the first winter for us. We bought the house in June. When we got it pumped the next door neighbour helped me and said that the owner never had a problem.
I did cover the tank covers with a shallow wood box to prevent hitting the cement cover with shovel in the next time that I get it pumped. I will keep a close watch the next little bit. I will check out the site of which you sent. Thank you Merry Xmas
Reply:
Thanks for the follow-up, Dave, keep us posted.
Question: install a Tee into the main septic line for an additional bathroom
(Jan 21, 2015) aubrey said:
can I possible install a saddle- t into the main septic line for an additional bath room connection
Reply:
Yes Aubrey provided the elevations allow the drain to work properly.
Question: how to confirm that the septic tank is leaking
1 FEB 2015 Phil Scott said:
The 1,000 gallon fiberglass tank was installed in 1977. It serves an A-frame cottage that, prior to 2008, was virtually unoccupied as it was being remodeled. Since 2008, it has been occupied on average no more than 2-3 days, no more than 10 times/years. The last use was around 6 months ago.
We're told that since a recent pumping produced nothing, the tank leaks. My questions are:
1. Is it reasonable to think that, due to extremely low usage and very cold temps, the material in the tank could be solidified or frozen and thereby unable to be pumped?
2. Is there a practical way to inspect the system to know if the tank is, in fact, leaking, or if there are other causes?
Reply:
Phil
Start by opening the tank inspection or service port and looking inside. If a septic tank is in use and is not filled to normal (near the top) levels then it's probably damaged or leaking - unless it was just pumped.
If the septic tank were frozen after long dis-use in very cold weather (unusual by not completely impossible) the pumper would have been able to tell you that by visual inspection.
...
Continue reading at SEPTIC SYSTEM INSPECT DIAGNOSE REPAIR - home, or select a topic from closely-related articles below, or see our complete INDEX to RELATED ARTICLES below.
Or see SEPTIC MAINTENANCE INSTRUCTIONS
Suggested citation for this web page
SEPTIC SYSTEM INSPECT DIAGNOSE REPAIR FAQs at InspectApedia.com - online encyclopedia of building & environmental inspection, testing, diagnosis, repair, & problem prevention advice.
Or use the SEARCH BOX found below to Ask a Question or Search InspectApedia
...
Frequently Asked Questions (FAQs)
Try the search box below or CONTACT US by email if you cannot find the answer you need at InspectApedia.
...
Ask a Question or Search InspectApedia
Use the "Click to Show or Hide FAQs" link just above to see recently-posted questions, comments, replies, try the search box just below, or if you prefer, post a question or comment in the Comments box below and we will respond promptly.
Search the InspectApedia website
Technical Reviewers & References
Click to Show or Hide Citations & References
...
Wikipedia provided background information about some topics discussed at this website provided this citation is also found in the same article along with a " retrieved on" date. Because Wikipedia and other website entries can be amended in real time, we cite the retrieval date of such citations and we do not assert that the information found there is always authoritative.
<
Books & Articles on Building & Environmental Inspection, Testing, Diagnosis, & Repair
Our recommended books about building & mechanical systems design, inspection, problem diagnosis, and repair, and about indoor environment and IAQ testing, diagnosis, and cleanup are at the InspectAPedia Bookstore. Also see our Book Reviews - InspectAPedia.
New York State Department of Health, "Appendix 75-A Wastewater Treatment Standards - Individual Household Systems", [PDF] New York State Department of Health, 3 February 2010, retrieved 3/1/2010, original source: https://www.health.ny.gov/regulations/nycrr/title_10/part_75/appendix_75-a.htm
"International Private Sewage Disposal Code," 1995, BOCA-708-799-2300, ICBO-310-699-0541, SBCCI 205-591-1853, available from those code associations.
"Manual of Policy, Procedures, and Guidelines for Onsite Sewage Systems," Ontario Reg. 374/81, Part VII of the Environmental Protection Act (Canada), ISBN 0-7743-7303-2, Ministry of the Environment,135 St. Clair Ave. West, Toronto Ontario M4V 1P5 Canada $24. CDN.
Manual of Septic Tank Practice, US Public Health Service's 1959
Septic Tank/Soil-Absorption Systems: How to Operate & Maintain [ copy on file as /septic/Septic_Operation_USDA.pdf ] - , Equipment Tips, U.S. Department of Agriculture, 8271 1302, 7100 Engineering, 2300 Recreation, September 1982, web search 08/28/2010, original source: http://www.fs.fed.us/t-d/pubs/pdfimage/82711302.pdf.
Pennsylvania State Fact Sheets relating to domestic wastewater treatment systems include:

Pennsylvania State Wastewater Treatment Fact Sheet SW-161, Septic System Failure: Diagnosis and Treatment
Pennsylvania State Wastewater Treatment Fact Sheet SW-162, The Soil Media and the Percolation Test
Pennsylvania State Wastewater Treatment Fact Sheet SW-l64, Mound Systems for Wastewater Treatment
Pennsylvania State Wastewater Treatment Fact Sheet SW-165, Septic Tank-Soil Absorption Systems
Document Sources used for this web page include but are not limited to: Agricultural Fact Sheet #SW-161 "Septic Tank Pumping," by Paul D. Robillard and Kelli S. Martin. Penn State College of Agriculture - Cooperative Extension, edited and annotated by Dan Friedman (Thanks: to Bob Mackey for proofreading the original source material.)
The The National Small Flows Clearinghouse (NSFC), West Virginia University, PO Box 6064, Morgantown, WV 26506, website: www.nsfc.wvu.edu provides a Products List of design manuals/modules available from their NSFC website. Engineers & scientists provide answers to wastewater handling, treatment & disposal questions over NSFC's assistance hotlines, (304) 293-4191 or (800) 624-8301. NSFC also maintains five wastewater system design & maintenance databases:

Regulations Database of regulations for onsite wastewater treatment systems in the 48 contiguous U.S. states
Bibliographic Databaseof articles dealing with onsite and small community wastewater issues
Manufacturers and Consultants Database of industry contacts for wastewater products & consulting services.
Facilities Database (not online) 1,000 facilities using conventional, innovative, and alternative wastewater treatment technologies
Contacts and Referrals Database (not online) lists organizations involved in onsite and small community wastewater infrastructure at the national, state, and local levels.

...