CESSPOOLS for onsite wastewater disposal - How do Cesspools Fail?
CESSPOOL FAILURE CRITERIA - CONTENTS: Criteria that define cesspool failure, How to determine that a septic cesspool is at or past its end of useful life, Soakpits & reed beds: life & failures, Comparing cesspools, seepage pits, drywells, soakpits
POST a QUESTION or READ FAQs about the definition of state of "failure" of a cesspool or soakpit
InspectAPedia tolerates no conflicts of interest. We have no relationship with advertisers, products, or services discussed at this website.
This cesspool maintenance & repair article describes the criteria used to show that a cesspool has failed, or that a cesspool is at the end of its life and needs to be replaced. If a cesspool shows the conditions described below, pumping it out, aerating it (dangerous) or other cesspool service or cesspool maintenance procedures may be simply a waste of money and in some cases can be dangerous too.
Green links show where you are. © Copyright 2017 InspectApedia.com, All Rights Reserved.
Cesspool Failure Criteria (MA)
When inspecting a cesspool or soakpit, how do we know how much capacity it has to handle sewage at a property, and how do we know when it is at or near the end of its useful life? The cesspool failure indicators listed below can prevent a property owner from wasting money pumping or otherwise "servicing" a system that really needs to be replaced.
If you insist on pumping out a septic system that is at the end of its life, the remaining period of use is likely to be quite short - the pumping cost might have been better spent towards replacing the system since an end-of-life cesspool is going to fill up again in just a few days of usage.
Failure Criteria for Cesspools [generally also applies as well to soakpits, drywells, and seepage pits]: If the waste level is within 12" of the inlet pipe near the top of a cesspool the system is at end of life and needs to be replaced. Some municipalities and experts will state other distances. In Massachusetts according to the Massachusetts Title 5 Septic Law the following are considered a failed or unacceptable cesspool installation:
a cesspool with less than 6 inches of freeboard - air space between the top of sewage in the cesspool and the bottom of the inlet pipe
a cesspool with less less than 1/2 day's storage of waste and wastewater
a cesspool with less within 100 ft. of a pond or dug well (surface water supply)
a cesspool with less within 50 ft. of a private well (modern sanitary well, presumably with a drilled, sealed casing)
a cesspool with less between 50 and 100 ft from a private well if well fails bacteria test
in Massachusetts, U.S., a cesspool with less within Zone 1 of a public well
Board of Health BOH evaluation is required if a cesspool is with less within 50ft of any surface water
A cesspool or soakpit needs replacement if it meets any of these failure criteria. While a septic company may offer to pump, partially pump out, or agitate or aerate the bottom sludge in the cesspool in an effort to extend its life, these procedures are potentially very dangerous (see Cesspool safety Warnings and at best will give only temporary relief.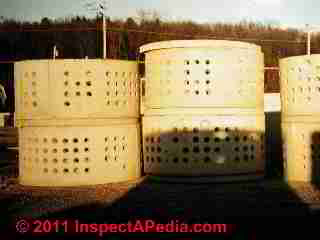 Where a new cesspool or soakpit of traditional sort is going to be installed you should at least use a concrete pre-cast model with a safe cover (see photos at left and above).
Pre-cast concrete soakpits or cesspools are a safer construction than a site-built stone or concrete block soakpit or cesspit, but
Watch out: even a pre-cast concrete soakpit or cesspool is very unsafe if it does not have a sound and secure cover that protects from someone falling into the system. Details are at CESSPOOL SAFETY WARNINGS.
Fortunately there are alternative onsite wastewater disposal alternative designs which can handle limited or even zero-space sites, so a simple cesspool as a destination for blackwater is no longer the only choice for limited-space sites.
Reader Question: is this a cesspool? Has it failed? What are my repair options?
I came across your site while doing septic research. I recently had my septic tank pumped a few days ago. I noticed odors outside my home plus I heard gurgling when I flushed the toilet, as well. Last year, I had the tank pumped in October. I usually have it pumped every other year not every year.
I had a riser installed in 2003 to have easier access to the tank lid. This year, as well as last year, the water level was up into the riser and almost to the lid. My septic service said my leach bed quit working like it is suppose to and offered to have it repaired for around $6,000. Also, this person did not hose down the tank as it was being cleaned out. Is that something that should have been done?
With my best guess due to property size and location of everything, I would say I have a cesspool-type tank (my pipe comes out of the house and straight into the tank). I do not have room for a leach bed with pipelines that stretch out, plus, when I built my garage when I moved here, I would have came across pipes in the ground being that I had to dig 15 down into the ground about 30 feet away from the tank. I have lived in this house for 16 years. It was built in 1950. It looks like my tank is either 500 or 1000 gallons.
So, what are my options? Is it necessary for me to " shock" the septic system, being that I think I have a failed system? Should I add anything to the tank to aid in its effectiveness? - S.M., Pennsylvania, 10/12/2013
Reply: first figure out what is installed: differences between a cesspool & a septic system
A competent onsite inspection by an expert usually finds additional clues that would permit a more accurate, complete, and authoritative answer than we can give by email alone. That said:
First we need to get clear on what type of wastewater treatment is installed, as you are mixing terms;
A cesspool is a perforated site built or precast hole in the ground that disposes of effluent through the cesspool bottom (which quickly clogs so is not counted in the effluent dispersal area) and cesspool sides into the soil. Solids along with sewage effluent remain mixed together in the cesspool (unlike a septic tank and drainfield system).
A cesspool does not and cannot ever adequately treat the wastewater since at cesspool depths below the ground surface there is not enough oxygen for aerobic bacteria to live. (BIOMAT FORMATION & SEPTIC LIFE) But it can "dispose" of effluent into the soil. (The risk of discharging inadequately-treated wastewater effluent is contamination of nearby waterways or local aquifers by chemicals, salts, pathogens). For this reason, in some jurisdictions new cesspool installations are not permitted.
As you understand, a septic tank - a water tight container - is quite different from a cesspool. The septic tank accumulates solid waste while sending effluent out into a network of (hopefullly) more shallowly buried pipes that distribute effluent into the soil for final treatment and disposal. About 40% of treatment occurs in the tank, the rest in the soil.
Cesspool Cleanout & Rejuvenation
Hosing down the sides of a cesspool after pumping would be pointless; in fact pumping the cesspool is close to pointless too. Small solids leaving the cesspool mixed with wastewater clog soils around the system, first at the system bottom, then lower sides, then over time clogging progresses up the sides until the cesspool no longer leaches into the soil. Then the system is in failure and needs replacement.
Watch out: Cesspool rejuvenators try aerating the cesspool bottom and sides - using hydrojetting, not chemicals (chemicals also contaminate the soils and are illegal in most jurisdictions SEPTIC TREATMENTS & CHEMICALS).
This dangerous step can cause a site built cesspool to collapse - even causing fatalities, as my articles on this topic have documented at SEPTIC TANK ACCIDENT REPORTS.
For this reason most cesspool pumpers won't fully pump out an old site built system.
At best, cesspool pumping is a temporary band-aid giving a bit longer use of what is basically a failed system. Cesspool failures are defined in the article above. By your description it sounds as if your cesspool is in failure mode - you are just limping along with a failed cesspool.
What Can I Do When the Cesspool has Failed?
When a cesspool has failed, if there is room the property owner usually adds another cesspool daisy-chained downstream from the first one; If there is not even room for a second cesspool then the first unit may be excavated, soil removed as needed, and a new system constructed; but I suspect that on a very small site an owner may run into legal issues with the local building or health department as the site may not comply with local building and health codes.
(CLEARANCE DISTANCES, SEPTIC SYSTEM)
There are alternative small-footprint wastewater treatment system designs such as those specified by Dr. Jantrania (Advanced Onsite Wastewater Systems Technologies, Anish R. Jantrania, Mark A. Gross.). But before considering an alternative septic design one would need to employ a local septic design engineer who knows local soils, local laws, and who knows what local officials will accept.
Extending the Cesspool Life
If you install a new cesspool, and particularly if your household does a lot of lint-producing laundry, it may be worthwhile to install a filter at the laundry graywater discharge to keep that material out of the cesspool; minimizing flushing unnecessary grease down drains also helps.
and FILTERS SEPTIC & GREYWATER
This material is a chapter of our Septic Systems Online Book: That document explains septic system inspection procedures,defects in onsite waste disposal systems, septic tank problems, septic drainfield problems, checklists of system components and things to ask. Septic system maintenance and pumping schedules.
Citation of this article by reference to this website and brief quotation for the sole purpose of review are permitted. Use of this information in books or pamphlets for sale is reserved to the author. Technical review by industry experts has been completed; reviewers are listed below. Further review comments and content suggestions are welcome. Home buyers who want less technical advice should see the Home Buyer's Guide to Septic Systems.
Also see The Septic Systems Home Page.
This article is part of our series: CESSPOOLS which explains what a cesspool (or in the U.K. and in Australia & New Zealand, a soakpit) is, gives important safety and maintenance advice for cesspool systems, and defines the criteria for cesspool failure. We also provide critical safety warnings concerning cesspool systems as with some older and especially site-built cesspools there is a risk of dangerous collapse or cave-ins.
...
Continue reading at CESSPOOL AGE ESTIMATES or select a topic from closely-related articles below, or see our complete INDEX to RELATED ARTICLES below.
Or see SEPTIC TANK ABANDONMENT GUIDE
Or see these
Key Drywell & Cesspool Articles
Suggested citation for this web page
CESSPOOL FAILURE CRITERIA at InspectApedia.com - online encyclopedia of building & environmental inspection, testing, diagnosis, repair, & problem prevention advice.
Or use the SEARCH BOX found below to Ask a Question or Search InspectApedia
...
Frequently Asked Questions (FAQs)
Try the search box below or CONTACT US by email if you cannot find the answer you need at InspectApedia.
...
Ask a Question or Search InspectApedia
Use the "Click to Show or Hide FAQs" link just above to see recently-posted questions, comments, replies, try the search box just below, or if you prefer, post a question or comment in the Comments box below and we will respond promptly.
Search the InspectApedia website
Technical Reviewers & References
Click to Show or Hide Citations & References
TOILETS, DON'T FLUSH LIST these things into a septic system: a list of what's ok and what's not ok to put into septic tanks and building drains
Septic Safety: Septic System, Septic Tank, & Cesspool Safety Warnings for Septic Inspectors, Septic Pumpers, and Homeowners
Tank Location - How to Find the Septic Tank, how deep will the cover be, how to document its location - these methods also apply to locating a cesspool or drywell at a property.
Inspecting & Testing Septic Systems: Online Book, Inspection, Test, Diagnosis, Repair, & Maintenance: Our Online Septic Book: Septic Testing, Loading & Dye Tests, Septic Tank Pumping, Clearances, details of onsite waste disposal system inspection, testing, repair procedures.
Dye Tests: how to perform a Septic Loading and Dye Test - septic dye testing procedures in complete detail, a septic function test - a chapter in the above book.
When Not to Pump a Septic Tank to avoid damage, unsafe conditions, or wasting money


Mark Cramer Inspection Services Mark Cramer, Tampa Florida, Mr. Cramer is a past president of ASHI, the American Society of Home Inspectors and is a Florida home inspector and home inspection educator. Mr. Cramer serves on the ASHI Home Inspection Standards. Contact Mark Cramer at: 727-595-4211 mark@BestTampaInspector.com
John Cranor is an ASHI member and a home inspector (The House Whisperer) is located in Glen Allen, VA 23060. He is also a contributor to InspectApedia.com in several technical areas such as plumbing and appliances (dryer vents). Contact Mr. Cranor at 804-747-7747 or by Email: johncranor@verizon.net
Mark Cramer Inspection Services Mark Cramer, Tampa Florida, Mr. Cramer is a past president of ASHI, the American Society of Home Inspectors and is a Florida home inspector and home inspection educator. (727) 595-4211 mark@BestTampaInspector.com 11/06
Hankey and Brown home inspectors, Eden Prairie, MN, technical review by Roger Hankey, prior chairman, Standards Committee, American Society of Home Inspectors - ASHI. 952 829-0044 - hankeyandbrown.com 11/06
Arlene Puentes, a licensed home inspector, educator, and building failures researcher in Kingston, NY. 11/29/06
Books & Articles on Building & Environmental Inspection, Testing, Diagnosis, & Repair
Onsite Wastewater Disposal Books
Onsite Wastewater Disposal, R. J. Perkins; Quoting from Amazon: This practical book, co-published with the National Environmental Health Association, describes the step-by-step procedures needed to avoid common pitfalls in septic system technology. Valuable in matching the septic system to the site-specific conditions, this useful book will help you install a reliable system in both suitable and difficult environments. Septic tank installers, planners, state and local regulators, civil and sanitary engineers, consulting engineers, architects, homeowners, academics, and land developers will find this publication valuable.
Onsite Wastewater Treatment Systems, Bennette D. Burks, Mary Margaret Minnis, Hogarth House 1994 - one of the best septic system books around, suffering a bit from small fonts and a weak index. (DF volunteers to serve as indexer if Burks/Minnis re-publish this very useful volume.)While it contains some material more technical than needed by homeowners, Burks/Minnis book on onsite wastewater treatment systems a very useful reference for both property owners and septic system designers. We refer to it often. While Minnis says the best place to buy this book is at Amazon (our link at left), you can also see this book at Minnis' website at http://web page .pace.edu/MMinnisbook
Septic Tank/Soil-Absorption Systems: How to Operate & Maintain [ copy on file as /septic/Septic_Operation_USDA.pdf ] - , Equipment Tips, U.S. Department of Agriculture, 8271 1302, 7100 Engineering, 2300 Recreation, September 1982, web search 08/28/2010, original source: http://www.fs.fed.us/t-d/pubs/pdfimage/82711302.pdf
SEPTIC SOIL & PERC TESTS soil perc testing guide and instructions
Percolation Testing Manual, CNMI Division of Environmental Quality, PO Box 501304, Saipan, MP 96950
Planting Over Septic System Component", Daniel Friedman (author/editor, InspectAPedia.com), The Innovator, Winter/Spring 2008, BCOSSA, British Columbia OnSite Sewage Association, 201-3542 Blansard St., Victoria BC V8X 1W3 Canada
Save the Septic System - Do Not Flush These Items Down the Toilet, Daniel Friedman, InspectAPedia.com - PDF document, printable
Septic System Owner's Manual, Lloyd Kahn, Blair Allen, Julie Jones, Shelter Publications, 2000 $14.95 U.S. - easy to understand, well illustrated, one of the best practical references around on septic design basics including some advanced systems; a little short on safety and maintenance. Both new and used (low priced copies are available, and we think the authors are working on an updated edition--DF. Quoting from one of several Amazon reviews: The basics of septic systems, from underground systems and failures to what the owner can do to promote and maintain a healthy system, is revealed in an excellent guide essential for any who reside on a septic system. Rural residents receive a primer on not only the basics; but how to conduct period inspections and what to do when things go wrong. History also figures into the fine coverage.
Test Pit Preparation for Onsite Sewage Evaluations, State of Oregon Department of Environmental Quality, Portland OR, 800 452-4011. PDF document. We recommend this excellent document that offers detail about soil perc tests, deep hole tests, safety, and septic design. Readers should also see SEPTIC SOIL & PERC TESTS and for testing an existing septic system, also see Dye Tests
Grass is Always Greener Over the Septic Tank, Bombeck, Erma: $ 5.99; FAWCETT; MM; This septic system classic whose title helps avoid intimidating readers new to septic systems, is available new or used at very low prices. It's more entertainment than a serious "how to" book on septic systems design, maintenance, or repair. Not recommended -- DF.

US EPA Onsite Wastewater Treatment Systems Manual Top Reference: US EPA's Design Manual for Onsite Wastewater Treatment and Disposal, 1980, available from the US EPA, the US GPO Superintendent of Documents (Pueblo CO), and from the National Small Flows Clearinghouse. Original source http://www.epa.gov/ORD/NRMRL/Pubs/625R00008/625R00008.htm
Water Wells and Septic Systems Handbook, R. Dodge Woodson. This book is in the upper price range, but is worth the cost for serious septic installers and designers. Quoting Amazon: Each year, thousands upon thousands of Americans install water wells and septic systems on their properties. But with a maze of codes governing their use along with a host of design requirements that ensure their functionality where can someone turn for comprehensive, one-stop guidance? Enter the Water Wells and Septic Systems Handbook from McGraw-Hill.
Written in language any property owner can understand yet detailed enough for professionals and technical students this easy-to-use volume delivers the latest techniques and code requirements for designing, building, rehabilitating, and maintaining private water wells and septic systems. Bolstered by a wealth of informative charts, tables, and illustrations, this book delivers:
* Current construction, maintenance, and repair methods
* New International Private Sewage Disposal Code
* Up-to-date standards from the American Water Works Association

Wells and Septic Systems, Alth, Max and Charlet, Rev. by S. Blackwell Duncan, $ 18.95; Tab Books 1992. We have found this text very useful for conventional well and septic systems design and maintenance --DF. Quoting an Amazon description:Here's all the information you need to build a well or septic system yourself - and save a lot of time, money, and frustration. S. Blackwell Duncan has thoroughly revised and updated this second edition of Wells and Septic Systems to conform to current codes and requirements. He also has expanded this national bestseller to include new material on well and septic installation, water storage and distribution, water treatment, ecological considerations, and septic systems for problem building sites.

The NSFC Products List has an excellent list of design manuals/modules available from their website or by telephone 800-624-8301
Submissions welcome. send us a suggested document link or request an exchange of website links
...