Life Expectancy of Water Heaters
Average water cylinder life, factors that affect water heater life
WATER HEATER LIFE - CONTENTS: what is the life expectancy of a residential hot water heater & what factors increase or decrease water heater life
POST a QUESTION or READ FAQs about how long a water heater can be expected to last
InspectAPedia tolerates no conflicts of interest. We have no relationship with advertisers, products, or services discussed at this website.
Life expectancy of a water heater or cylinder:
This article describes the typical service life of a residential water heater - answering the question: how long will my water heater last?
We give typical water heater life expectancies, we list some of the factors that affect water heater life, we recommend maintenance steps to get the longest useful life of your water heater, and we discuss the relationship between water heater warranties and the actual life expectancy of the heater.
Green links show where you are. © Copyright 2017 InspectApedia.com, All Rights Reserved.
How Long will My Water Heater Last? What Determines Water Heater Life?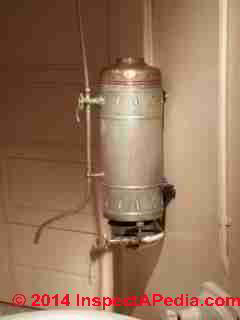 A typical gas or oil fired water heater life expectancy is from 8-12 years according to sources we've researched (and report here), and for tankless water heaters, 18-20 years.
Home inspectors typically expect a generic water heater to last about ten years. However inspectors, plumbers, and homeowners have found 20 year old water heater or geyser models still going strong, while on occasion a newer model water heater (synonyms calorifier, cylinder) fails early.
The chronological age of a water heater (how long ago was it made) is hardly the only factor that determines how long the water heater will last. Our photo at left illustrates an antique gas-fired water heater installed in the Gaudi apartments in Barcelona, Spain. [Click to enlarge any image.]
Factors Affecting the Life of a Water Heater or Geyser
Here are some other factors that affect the life of a water heater:
Corrosivity of the water supply - more corrosive water may shorten the water heater life or the life of its anode.

We discuss various tests of drinking water, including water corrosivity,
at WATER TESTS for CONTAMINANTS. In short, the chemistry of the water being heated affects the water heater life, and aggressive or corrosive water means shorter life for the water heater.
Mineral content in the water supply - if your water supply is high in minerals you may need a water softener

See WATER SOFTENERS & CONDITIONERS for details.
Water heater location - if the water heater is located where it is subject to flooding (as in our photo at above-left) the system is going to be damaged, short-lived, and possibly unsafe as well. Notice the multiple flood-lines on the water tank next to our client? Check out the shoes too. Don't wear white sneakers to inspect a crawl space.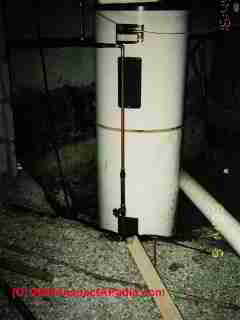 Our next photo (left) shows how a tall water heater was shoe-horned into a low crawl space by digging out a pit to allow the tank to stand upright. This heater is also likely to be exposed to flooding.
We have also seen water heaters placed horizontally to fit into a tight crawl space - a possibly dangerous installation. Unless the manufacturer has specifically designed a water heater to mount horizontally there is risk that the tank or other components will not be properly supported and the system will be damaged and unsafe.
In sum, improper location or improper position of a water heater, such as mounting some water heaters horizontally or locating a water heater in a flood prone location or where it can't be properly serviced or vented can lead to early failure of the heater as well as voiding the manufacturer's warranty.
Water heater installation - improper installation of the water heater, or improper fuel or water piping connections or inadequate chimney venting on fossil-fuel fired water heaters can lead to safety problems or leaks and early heater failure.
Water heater maintenance - flushing mineral debris and dirt from a water heater can significantly extend its life as well as increase the quantity and temperature of domestic hot water the heater provides. If your water heater is making noises

See WATER HEATER NOISE DIAGNOSIS, CURE since you probably need to de-scale the heater bottom.
and
See WATER HEATER SCALE - De-Liming Procedure which are discussed at WATER HEATER NOISES.
Water heater anode replacement - the sacrificial anode protects a water heater tank from corrosion. Depending on the chemistry of your water supply, the anode may need to be replaced every few years or even more frequently. If suddenly your hot water (but not your cold water) smells like rotten eggs, the problem may be with a corroded sacrificial anode.
See SEWER GAS ODORS
and
see Check the Sacrificial Anode & Dip Tube of Your Water Heater Tank
Water heater tank type - most water heaters use a glass or porcelain liner which, along with the WATER HEATER SACRIFICIAL ANODE, help protect the tank from corrosion. The construction of the water tank, methods and materials used affect the life of the tank, burner, and controls. Look at the water heater warranty period; a longer warranty probably means a more durable water heater tank.
Quantity of hot water used - using more hot water increases the duty cycle of the water heater and exposes the tank to extra risk of corrosion. The temperature to which the water heater is required to heat the hot water may also be a factor in tank or burner or other water heater part life. The quantity of hot water used, which determines how hard it works, is called the duty cycle or level of usage of the water heater (more use = shorter life).
Not enough hot water? If your water heater seems to be working ok but you just never have enough hot water,

see HOT WATER IMPROVEMENTS

and HOT WATER QUANTITY IMPROVEMENT.
Water heater warranty periods - the warranty for a given model water heater is also a predictor of how long the manufacturer expects the tank to last. (A grouchy friend opined to the author that all of the tanks are the same, but the water heater price is higher on a water tank with a longer warranty period. We have not found data to support this view.) We discuss water heater warranties in more detail just below.
Also see WATER HEATER LIFE EXPECTANCY COMPARISONS for a short list of other factors that determine the life expectancy of a water heater.
What are the Typical Terms of Water Heater Warranties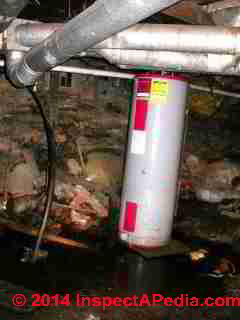 Types of water heater tank and water heater warranty - modern "glass lined" water tanks are coated to resist corrosion. The manufacturer's warranty period as well as a description of what is covered under the warranty are clues both to the importance of water heater maintenance and hints about how long the company expects their water heater tank to last.

Typical water heater warranty periods for a water heater installed for use by a single family are 6-years, 9-years, or 12-years.
Tankless water heaters have a typical life expectancy of more than 20 years.
The warranty period of a water heater may be encoded in its model or serial number.
For example Lochnivar water heaters include a model number prefix that determines whether the heater is warranted for six years or for ten years. If the water heater is in any other use than one-family residential, the heater is warranted for one-year on parts and three years on the tank itself.
Watch out: if the water heater tank leaks and fails before the end of the warranty period, if the system has not been properly installed or maintained the warranty may be void. Water heater warranties typically indicate that the tank is warranted against leaks due to rust, corrosion, or chemical action of the water but the warranty will exclude a tank failure due to scale.
Our photograph above shows a water heater installed in an area subject to recurrent flooding.
This heater will have a short life, may be dangerous (risk of explosion from a combination of pressure, rust, and flooding), and is almost certainly not going to be warranted by the maufacturer if they see how it was installed.

Watch out: as well to perform the manufacturer's recommended water heater maintenance chores. Flushing a water heater on schedule, checking and replacing the water heater anode when required, and attention to the water quality in the home - corrosivity and mineral level for example, can make a significant difference in the water heater's life.
Also see WATER HEATER LIFE EXPECTANCY COMPARISONS for a comparison of the typical life expectancy of different types of water heaters or methods of producing domestic hot water.
Just below at "Continue reading" are key water heater maintenance articles that can significantly extend water heater life.
Research on Water Heater Life Expectancy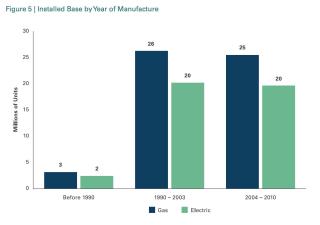 Indirectly we can infer some interesting information about actual water heater life for the United States from the U.S. DOE Energy star report cited below.
[Click to enlarge any image]
This graph, excerpted from that document shows us that in 2010,
26 million gas-fired water heaters in the U.S. were manufactured between 1990 and 2003, making them 7 to 20 years old
25 million gas fired water heaters in the U.S. were manufactured between 2004 and 2010, making them 6 years old or newer
20 million electric water heaters in the U.S. were manufactured between 1990 and 2003, making them 7 to 20 years old
20 million electric water heaters in the U.S. were manufactured between 2004 and 2010, making them 6 years old or newer
2-3 million of water heaters (electric or gas respectively) in the U.S. were manufactured before 1990, making them more than 20 years old.
Interpreting this data to make a statement about water heater life, we have made up the table below:
Table of U.S. Water Heater Actual Life by Fuel Type in 2010

Water Heater
Energy Source
Age of
Water
Heaters
Million
Water
Heaters
Installed

Percent
of Total
by Energy
Source

Gas-Fired
>20 years
3
6 %
Gas-Fired
7-20 years
26
48 %
Gas-Fired

0-6 years

25
46 %
Electric
>20 years
2
5 %
Electric
7-20 years
20
47.5 %
Electric

0-6 years

20
47.5 %
Oil-Fired (no data in the DOE report)

Notes:
Source: 2010 WATER HEATER MARKET PROFILE [PDF] (2010) U.S. Department of Energy, includes only gas and electric water heaters

Other water heating energy sources such as wood and solar water heating are not included in this data.

Oil fired water heaters are used in the U.S. primarily in the northeast. Still 42% of water heaters are gas in New England and 58% of water heaters are gas-fired in the Middle Atlantic states. Much lower percentages of water heaters are gas-fired in the East-South-Central and South Atlantic US.

This table assumes that water heaters are principally installed because a prior heater has reached the end of its life. This assumption is inaccurate insofar as it does not reflect the installation of water heaters as the first heater installed, such as in a newly-constructed home.

For example, in December 2017 there were 1192thousand housing starts compared with 41,820 thousand housing starts in the UK and 217 thousand housing starts in Canada. - source: Trading Economics, retrieved 2018/02/05, original source https://tradingeconomics.com/united-states/housing-starts
...
Aguilar, C., D. J. White, and David L. Ryan. "Domestic water heating and water heater energy consumption in Canada." Canadian Building Energy End-Use Data and Analysis Centre (2005).
Dubey, Swapnil, and G. N. Tiwari. "Thermal modeling of a combined system of photovoltaic thermal (PV/T) solar water heater." Solar energy 82, no. 7 (2008): 602-612.
2009 WATER HEATER MARKET PROFILE [PDF] (2009) U.S. Department of Energy, retrieved 2018/02/05, original source: https://www.energystar.gov/ia/partners/prod_development/new_specs/downloads/water_heaters/Water_Heater_Market_Profile_Sept2009.pdf
2010 WATER HEATER MARKET PROFILE [PDF] (2010) U.S. Department of Energy, retrieved 2018/02/05, original source: https://www.energystar.gov/ia/partners/prod_development/new_specs/downloads/water_heaters/Water_Heater_Market_Profile_2010.pdf
Hoeschele, M., D.Springer, A German, J. Staller, Y. Zhang, Strategy Guideline: Proper Water Heater Selection, [PDF] (2015) U.S. Department of Energy & Alliance for Residential Building Innovation ARBI
Kalogirou, Soteris. "Thermal performance, economic and environmental life cycle analysis of thermosiphon solar water heaters." Solar energy 83, no. 1 (2009): 39-48.
Koroneos, Christopher J., and Evanthia A. Nanaki. "Life cycle environmental impact assessment of a solar water heater." Journal of Cleaner Production 37 (2012): 154-161.
Abstract

The technical and environmental performance of a solar water heater (SWH) is examined using the method of life cycle assessment (LCA). The present LCA study quantifies the environmental benefits of the installation of a SWH with electricity as auxiliary for domestic use in the city of Thessaloniki. Solar thermal heating produces no emissions during operation but some small levels of emissions are produced during the manufacture and installation of components and systems.

This work examines the manufacturing stages of the SWH and records resource consumption and waste streams to the environment.

The system boundary includes the production of raw materials such as steel, glass, copper, aluminium, glass fibber and polyurethane insulators, the manufacturing of the various parts of the SWH such as the solar collector and the heat storage tank, and finally the assembly process. The functional unit chosen is 1 MW of produced hot water.

The environmental impacts taken into consideration in the study, are the greenhouse effect, ozone depletion, acidification, eutrophication, heavy metals, carcinogens, winter smog and summer smog. The system can provide 1702 kWh year−1 and the solar contribution is 58.5%. The financial characteristics of the system investigated give life cycle savings equal to 4280.0 € and pay-back time equal to 5 years.
...
Continue reading at WATER HEATER FLUSH PROCEDURE or select a topic from closely-related articles below, or see our complete INDEX to RELATED ARTICLES below.
Or see ANODES & DIP TUBES on WATER HEATERS
Or see WATER HEATER AGE & MANUALS
Suggested citation for this web page
WATER HEATER LIFE at InspectApedia.com - online encyclopedia of building & environmental inspection, testing, diagnosis, repair, & problem prevention advice.
Or use the SEARCH BOX found below to Ask a Question or Search InspectApedia
...
Frequently Asked Questions (FAQs)
Try the search box below or CONTACT US by email if you cannot find the answer you need at InspectApedia.
...
Ask a Question or Search InspectApedia
Use the "Click to Show or Hide FAQs" link just above to see recently-posted questions, comments, replies, try the search box just below, or if you prefer, post a question or comment in the Comments box below and we will respond promptly.
Search the InspectApedia website
Technical Reviewers & References
Click to Show or Hide Citations & References
Scott C. LeMarr has provided his file of keys to decode Water Heater Age from the data provided on the manufacturer's equipment labels. Mr. LeMarr is a professional home inspector, Certified Professional Inspector/President, MASTER Indoor Environmental Specialist (MIES). Vice President of Wisconsin NACHI. He and his company, Honest Home Inspections, LLC. can be reached at 262-424-5587 or by email to scott@honesthomeinspections.com
Carson Dunlop, Associates, Toronto, have provided us with (and we recommend) Carson Dunlop Weldon & Associates' Technical Reference Guide to manufacturer's model and serial number information for heating and cooling equipment ($69.00 U.S.). Technical Reference Guide, Carson Dunlop Weldon & Associates, Ltd., 120 Carlton St. Suite 407, Toronto, Ontario, M5A 4K2 Canada, ISBN 1-895585-90-2 165pp.
G.E. Water Heater warranties and other water heater information can be found online at geappliances.com
Lochnivar or some vendors of Lochnivar water heaters provide an online copy of its water heater warranty (01/26/2009)
Books & Articles on Building & Environmental Inspection, Testing, Diagnosis, & Repair
Our recommended books about building & mechanical systems design, inspection, problem diagnosis, and repair, and about indoor environment and IAQ testing, diagnosis, and cleanup are at the InspectAPedia Bookstore. Also see our Book Reviews - InspectAPedia.
...