Window Odors & Offgassing

Fiberglass, plastic or vinyl window / window component smells
InspectAPedia tolerates no conflicts of interest. We have no relationship with advertisers, products, or services discussed at this website.
Diagnose & cure odors offgassing from fiberglass, plastic, or vinyl window parts:
Field reports discussing odor complaints reportd from fiberglass, vinyl and plastic windows & window parts including Marvin Integrity window sash frames.
This article series discusses common odor sources, including indoor plastic odors or chemical smells observed at some installations of vinyl exterior building siding or in other plastic or vinyl building products such as windows and trim. We describe common sources of plastic or vinyl type indoor odors and we provide a checklist that can help pinpoint the source of such odors by noting information about the building construction, building materials, HVAC systems, weather, sunlight, temperature, time of day, wind direction, and other clues. We provide links to articles detailing possible health effects of exposure to indoor VOCs and plastic odors and smells.
Green links show where you are. © Copyright 2017 InspectApedia.com, All Rights Reserved.
Chemical or Plastic Odors Attributed to Fiberglass or Vinyl Windows & Window Parts
Reader Question: Odor complaint and offgassing at Marvin Integrity Windows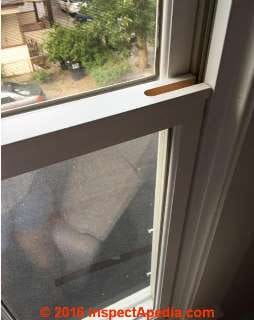 Here are some photos of the area mentioned [in prior web page comments or email - Ed.]. The smell from inside the carve out area gets stronger when the sun comes out. Room stinks up when windows closed. I was thinking of painting that area with the drill holes.
Reply:
[Click to enlarge any image]
Windows combine fiberglass with an additional top coating described by the manufacturer, Marvin Windows. But perhaps the surrounding window frame is of different composition, even entirely vinyl. That's a question to ask Marvin Windows.
Your observations suggest an odor coming from the window frame, whose constituents we don't know. Also, suggested by your observation that the offgassing odor from these Marving Integrity windows is strongest at drilled screw openings, I speculate that offgassing from exposed plastic, PVC, fiberglass or any material that is on the interior of a closed frame is likely to be extremely slow.
Other window odor complaints are sometimes traced to the sealants used to install the windows. If you can find out what sealants were used on your windows and can obtain some of that product and give it a cautious sniff that might also be diagnostic.
Marvin's Ultrex™ is thermoset, vinyl (thermoplastic) that may off-gas VOC's (see below). Perhaps the frame construction uses more of this material. A Marvin page http://www.marvin.com/integrity?brandsetting=integrity describing Marvin's Ultrex fiberglass product features.
Also see http://www.marvin.com/integrity/features/ultrex-fiberglass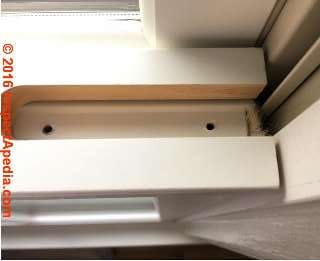 Informal (not scholarly) Research on Discussions of Offgassing from Marvin Integrity Windows
Researching Marvin "Fiberglass Window" Odors, using this phrase "odors from marvin integrity windows", finds other odor complaints and references to use of a protective coating referred to as an acrylic capstock that some consumers opine was the source of "acrylic" odor complaints. The fact that odor complaints appear on several web pages (though of course none may be technically authoritative), is both disappointing and is suggestive that there probably are real complaints about odors and offgassing from these prodcuts
Https://www.reddit.com/r/HomeImprovement/comments/28h2vm/odor_from_replacement_windows_any_danger/
http://www.replacement-windows.com/windowbb/viewtopic.php?f=1&t=2190
http://www.debralynndadd.com/q-a/marvin-fiberglass-windows/
Excerpt: Acrylic is made from acrylonitrile, a special group of vinyl compounds. In my book Home Safe Home I noted that acrylonitrile is included on the Environmental Protection Agency's list of sixty-five "priority pollutants" recognized as being hazardous to human health. Scorecard: Chemical Profiles: Acrylonitrile notes that it is a carcinogen. Acrylic is also known to cause breathing difficulties, vomiting, diarrhea, nausea, weakness, headache and fatigue."
http://www.greenbuildingadvisor.com/community/forum/gba-pro-help/31342/window-installation-sealant-offgas-issues - window sealant offgassing

Note that this scary paragraph does not let us assess the actual hazard in a home as we've no idea of the actual concentration levels even if acrylonitrile is in an offgassing component of the windows, nor do we know the composition of the odor that you're observing. - Ed.
Ironically, researching this question I found this page
http://www.debralynndadd.com/q-a/vinyl-window-offgassing/ that in fact cites our own InspectApedia.com article on the topic.
https://InspectAPedia.com/odor_diagnosis/Chemical_Plastic_Odors.php - at InspectApedia.com
Contact Information for Marvin Windows & Marvin Window Warranty Information
Have you contacted Marvin to ask their advice about this odor and to ask for pertinent window component or coating MSDS documents. If not I'd do so.
Marvin Windows: Telephone numberrs
1-888-537-7828 (Sales and Service - USA)
1-800-263-6161 (Sales and Service - Canada)
1-218-386-1430 (Sales and Service - International)
1-800-346-3363 (Technical product support for Architects and Design Professionals)
1-800-472-8895 (Technical support for 2D/3D Libraries, BIM Models, and Marvin Design System – MDS)
Marvin Windows & Doors Warranty information: http://www.marvin.com/support/warranty?menu=integrity [The word "odor" does not appear in the warranty document]
Marvin Windows & Doors Website: www.marvin.com
Reader follow-up: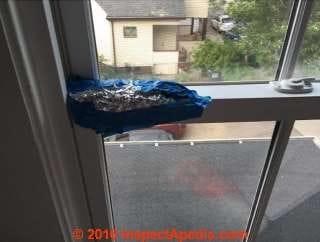 Thanks for sending those links. I found those too during the frustrating months of trying to learn about the window smell I was experiencing. I wish I had known before before purchasing. I reached out to the "some_guy" reddit post, as you saw he had same concern with the pregnant wife/baby.
He said it took a couple of months for his windows to dissipate. I am hoping that's the case here as well but mine have been going on 2 1/2 months.
I did reach out to the window installer who connected to me to the local Marvin representative. He came out a couple of weeks ago and also noticed the smell. He had never experienced the issue but did not disagree about the smell or where it was coming from.
Following that visit, I got a lame letter from Marvin. It's attached. In response, I wrote a strong letter back to the Marvin reps and the window installer earlier this week. No response yet.
I did not ask for documentation on the window component or coating MSDS. Perhaps I will if don't hear back from them.
I am thinking these drill holes in the fiberglass in the carved-out latch area are the problem. Was thinking of sealing the holes up with super glue or something, putting some aluminum foil down, and then putting the latch back without the screws (they really are not necessary). ... Anon by private email 2016 08 19
Moderator reply:
OPINION: If closing off those drilled openings seems to stop the odor problem (I gave a theory on this earlier) then your plan sounds reasonable. An alternative that works for some cases is to use a combination of ventilation and heat to try to speed the offgassing. And sealing off-gassing materials will most-likely slow down the off-gassing process and thus extend it over a longer period.
Quotes below are from a letter provided by this reader:
Thank you for your questions on your new Integrity by Marvin product.
Integrity products, like all other new products, do have a "new" smell associated with the product. Windows are not generally considered a threat to indoor air quality. The fiberglass material used to produce Integrity product has no volatile organic compounds (VOC) or vapor/fumes being off-gassed that would be considered dangerous or hazardous.
Everything new has a new smell associated with the product. The size of a home, or room, size or number of windows/doors, home ventilation, and room environment tend to influence the detections of building material odors such as expanding foam insulation, sealants and caulking. Over time, as with all new products associated with inherent smells dissipate. [sic]
Please be assured that your new windows will not harm your family. Please contact me if you have additional questions or concerns.
Sincerely,
[Signature]
Mary E. Lofstedt
Customer Car Agent
[email deleted]
800-491-8691 - Source: Private letter, Marvin Windows & Doors to [Anonymouos], August 2016
Research on Chemical & Plastic Odor Hazards in Buildings
Baldwin, Carol M., Iris R. Bell, and Mary Kay O'Rourke. "Odor sensitivity and respiratory complaint profiles in a community-based sample with asthma, hay fever, and chemical odor intolerance." Toxicology and industrial health 15, no. 3-4 (1999): 403-409.
Boettner, Edward A., Gwendolyn Ball, and Benjamin Weiss. "Analysis of the volatile combustion products of vinyl plastics." Journal of Applied Polymer Science 13, no. 2 (1969): 377-391.
Caccappolo, Elise, Howard Kipen, Kathie Kelly-McNeil, Susan Knasko, Robert M. Hamer, Benjamin Natelson, and Nancy Fiedler. "Odor Perception:: Multiple Chemical Sensitivities, Chronic Fatigue, and Asthma." Journal of occupational and environmental medicine 42, no. 6 (2000): 629-638.
Fromme, H., A. Mattulat, T. Lahrz, and H. Rüden. "Occurrence of organotin compounds in house dust in Berlin (Germany)." Chemosphere 58, no. 10 (2005): 1377-1383.
Peng, Chiung-Yu, Cheng-Hang Lan, and Tzong-Jer Wu. "Investigation of indoor chemical pollutants and perceived odor in an area with complaints of unpleasant odors." Building and Environment 44, no. 10 (2009): 2106-2113.
Jaakkola, J. J., Pia K. Verkasalo, and Niina Jaakkola. "Plastic wall materials in the home and respiratory health in young children." American Journal of Public Health 90, no. 5 (2000): 797.
Shusterman, Dennis. "Critical review: the health significance of environmental odor pollution." Archives of Environmental Health: An International Journal 47, no. 1 (1992): 76-87.
Readers needing to isolate the source of an odor believed to come from windows or screens or storm window parts might want to try the odor source track-down procedures at ODOR DIAGNOSIS CHECKLIST, PROCEDURE
Reader Question: vinyl replacement windows smell musty at their seams, especially in sunlight
Last October (2010) we had replacement windows put in. They are stained inside and vinyl outside. If you put your nose to the the seam of the molding on the sides of the windows you can smell a musty/moldy(?) smell. We had no problem prior to this.
The odd thing is that when the sun is hitting the two affected windows (South side of the house) you can sometimes smell it as soon as you walk into the room. When the sun is not as strong (winter/cloudy, etc.) you have to put your nose to the seam to smell it. I have taken off the outlet covers and smelled there figuring if there were mold in the wall I would smell it - just dusty smell like all other house outlets (house built in 62). There are no other signs of mold.
Since the smell strengthens and alleviates (I don't think mold would do that?), It is the south side of the house, and that it started right after the new windows were put in I thought it was associated with that. Have you heard of this with windows. I also suspected the caulk? We removed the molding on one window, caulked, and replaced it and that did cut down on some of the smell.
The other weird thing is that in the summer our room smells worse than my child's and in the winter his smell worse than ours (different ways the sun is shining?). I appreciate any help you can give me. I am wondering if my scenario seems correct and how long until you think the smell will go away. I don't like my son breathing this. - Mel 12/30/12
Reply:
Mel,
Indeed there is ample empirical evidence (field reports) that some formulations of vinyl building products emit a plastic odor (possibly vinyl chloride) especially when heated, for example by sunlight.
In our experience the odors usually diminish over time but to those who are sensitive to plastic smells, the odors may not completely disappear.
Watch out: We don't know the chemical composition of the odors you describe, but to be on the safe side, I would NOT have a child sleeping in a room with noticeable plastic odors - wait for them to dissipate. Take a look at the health and exposure information described in the articles beginning at VINYL CHLORIDE HEALTH INFO (article links listed at the "More Reading" links at the bottom of this article )
.For details see PLASTIC or VINYL ODOR EXPOSURE - we have moved the plastic odor or burned plastic exposure discussion there.
That article discusses PVC exposure and also more general
PLASTIC, BURNED ODOR EXPOSURE HAZARDS
Watch out: Vinyl chloride might be present in gas form as a colorless, flammable gas with a faintly sweet odor at levels of about 3000 ppm (the odor detection threshold). We provide the US EPA health report on vinyl chloride
at VINYL CHLORIDE HEALTH INFO.
Article Series Contents
...
Continue reading at VINYL SIDING or WINDOW PLASTIC ODORS or select a topic from closely-related articles below, or see our complete INDEX to RELATED ARTICLES below.
Or see CHEMICAL or PLASTIC ODOR FAQs
Or see ODORS GASES SMELLS, DIAGNOSIS & CURE
Or see PLASTIC or VINYL ODOR EXPOSURE
Or see VINYL SIDING INSPECTION & REPAIR
Or see VOCs VOLATILE ORGANIC COMPOUNDS
Or see SMELL PATCH TEST to FIND ODOR SOURCE
Suggested citation for this web page
WINDOW OFFGASSING ODOR COMPLAINTS, FIBERGLASS & VINYL at InspectApedia.com - online encyclopedia of building & environmental inspection, testing, diagnosis, repair, & problem prevention advice.
Or use the SEARCH BOX found below to Ask a Question or Search InspectApedia
...
Frequently Asked Questions (FAQs)
Ask a Question or Search InspectApedia
Questions & answers on how to find and cure sources of plastic odors at building exteriors or interiors.
Use the "Click to Show or Hide FAQs" link just above to see recently-posted questions, comments, replies, try the search box just below, or if you prefer, post a question or comment in the Comments box below and we will respond promptly.
Search the InspectApedia website
Technical Reviewers & References
Click to Show or Hide Citations & References
[1] "Vinyl Chloride, Hazard Summary-Created in April 1992; Revised in January 2000," US EPA, available at epa.gov/ttn/uatw/hlthef/vinylchl.html
[2] Asthma Citation: Bornehag, CG, et al. "Allergic symptoms and asthma among children are associated with phthalates in dust from their homes: a nested casecontrol study," Environmental Health Perspectives. 15 July 2004
[3] HCL (hydrochloric acid) Toxicity Citation: OEHHA(CA Office of Environmental Health Assessment) Acute Toxicity Summary: Hydrogen Chloride March 1999
[4] American Conference of Governmental Industrial Hygienists (ACGIH).  1999 TLVs and BEIs.  Threshold Limit Values for Chemical Substances and Physical Agents, Biological Exposure Indices.  Cincinnati, OH.  1999.
[5] "Blue Vinyl", (movie), BLUE VINYL TOXIC COMEDY PICTURES, 77 Bleecker St #C218, New York, NY 10012 Phone: 212.875.0456 Fax: 646.290.9274 Screening information: email: screenings@bluevinyl.org, Co-Director/Co-Producer Judith Helfand Judith@bluevinyl.org, Co-Dir/Co-Producer/D.P. Dan Gold, Dan@bluevinyl.org, Co-Producer Julie Parker, Julie@bluevinyl.org - from the film's website:
A Toxic Comedy Look at Vinyl, The World's Second Largest Selling Plastic. With humor, hope and a piece of vinyl siding firmly in hand, Peabody Award-winning filmmaker Judith Helfand and co-director Daniel B. Gold travel from Helfand's hometown to America's vinyl manufacturing capital and beyond in search of answers about the nature of polyvinyl chloride (PVC). Her parents' decision to "re-side" their house with this seemingly benign cure-all for many suburban homes turns into a toxic odyssey with twists and turns that most ordinary homeowners would never dare to take. The result is a humorous but sobering and uniquely personal exploration of the relationship between consumers and industry in the feature-length documentary BLUE VINYL, which won the cinematography award in the documentary competition at the 2002 Sundance Film Festival
BLUE VINYL also poses a refreshingly simple question: "Is it possible to make products that never hurt anyone at any point of their life cycle—when manufactured, when used, or when disposed of?"

[6] Carcinogenicity of Vinyl Bromide Exposure, NIH, ntp.niehs.nih.gov/ntp/roc/eleventh/profiles/s185viny.pdf
[7] Vinyl acetate information: not to be confused with vinyl chloride

information from OSHA: see osha.gov/SLTC/healthguidelines/vinylacetate/recognition.html includes exposure limits and hazard description.
data sheet from DOW chemical: see dow.com/productsafety/finder/vinyl.htm

[8] Medical Management Guidelines for Vinyl Chloride(C2H3Cl) - PDF from the US ATSDR, Department of health and Human Services, Agency for Toxic substances and Disease Registry, atsdr.cdc.gov/MHMI/mmg20.html. ATSDR can tell you where to find occupational and environmental health clinics. Agency for Toxic Substances and Disease Registry, Division of Toxicology and Environmental Medicine, 1600 Clifton Road NE, Mailstop F-32, Atlanta, GA 30333, 800-CDC-INFO • 888-232-6348 (TTY), Email: cdcinfo@cdc.gov
[9] "Standard Support and Environmental Impact Statement: Emission Standard for Vinyl Chloride" - original source U.S. Environmental Protection Agency US EPA, National Center for Environmental Publications (NSCEP) at http://www.epa.gov/nscep/ordering.html
"Siding With Vinyl", Vinyl Siding Institute, a vinyl building products industry association, National Housing Center, 120115th Street NW, Suite 220, Washington, DC 20005 - www.vinylsiding.org
[11] Thanks to reader Uri Dekel, Ph.D. for discussing PVC hazards and building odors 4/12/2010
Books & Articles on Building & Environmental Inspection, Testing, Diagnosis, & Repair
Our recommended books about building & mechanical systems design, inspection, problem diagnosis, and repair, and about indoor environment and IAQ testing, diagnosis, and cleanup are at the InspectAPedia Bookstore. Also see our Book Reviews - InspectAPedia.
...