Guide to Keeping Raccoons out of your Building
A true story of raccoons (Procyon lotor) invading an attic at Christmas
RACCOONS in the ATTIC - CONTENTS: How do raccoons get into a building, where do they go and how do you get rid of raccoons. How to keep raccoons out of your buildings. How to Find & Close the Source of Animal Entry Points in buildings. How to Keep Mice and Rats and Squirrels and Raccoons out of Your Home
POST a QUESTION or READ FAQs about how to keep animal pests out of buildings
InspectAPedia tolerates no conflicts of interest. We have no relationship with advertisers, products, or services discussed at this website.
Raccoons indoors: entry points, behavioir, repellants in buildings:
This article combines a true story with advice about dealing with raccoon invasions of buildings. We describe the raccoon's noisy appearance in a home's attic during the Christmas holidays and how the occupants responded.
This article series discusses how to find where animals are getting into your building and how to keep them out, including bats, birds, rats, mice, and squirrels and even raccoons. This article series focuses on removing pet or other animal odors from buildings due to pet urine, pet feces, wild animal urine, or even human urine on and around buildings or on clothing and other soft materials.
The little stuffed animals in this photo include a skunk - both were innocent of any pet-crimes, but they had been placed at either side of a basement door jamb to cover stains from basement water entry.
Green links show where you are. © Copyright 2017 InspectApedia.com, All Rights Reserved.
Raccoons in the Attic: A Christmas Story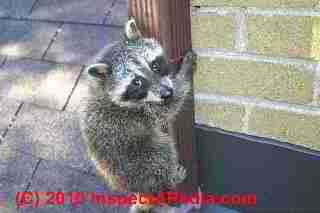 The history of carnivores and humans in North America has not been one of amicability or tolerance. ... To some extent this continues today within mnay urban landscapes ... I will characterize the relationships between people and medium-sized carnivores that seem to be highly successful in urban systems: raccons (procyon lotor), striped skunks (Mephitis mephitis, and coyotes (Canis latrans). - Gehrt, in People and Predators: From Conflict to Coexistence (2004).
In fact Tibbs (2007) and Ridenour (2011) both point out that raccoons actually prefer the indoors of buildings when selecting a winter den, while Bozek (2007) added that racoons are not above finding habitat in sewers and storm drains. The following raccoon story illustrating Gehrt's point that racoons are not a bit afraid of us is true, only Laura Waterman's name has not been mentioned.
[Click to enlarge any image]
Dan and Laura were snuggled up reading in bed on a cold Poughkeepsie January night. Suddenly overhead they heard
SMACK! rattle, rattle, rattle, rattle, rattle, rattle, roll. Something or someone was in the attic! Now they heard the sound of little clawed feet scampering across the attic floor just over their heads. The home, built in 1900, was a neo-Victorian with a large walk-up attic wherein were stored the usual detritus, old rugs, suitcases, trunks, broken lamps, bicycle parts, and other who-knows-what. Some animal, maybe more than one of them, was smashing something around in the attic. What the hey?
Dan tiptoes over to the door at the bottom of the attic stairs in his pajamas. He leans an ear against the cold red-varnished wood. Cold air leaks out of the attic and rolls across his bare toes adding to the chill of the sounds of intruders above.
SMACK! rattle, rattle, rattle, rattle, rattle, rattle, roll. More scurrying about, excitedly running to and fro across the wooden attic floor.
Trained in several forms of combat and three martial arts, Laura nevertheless cowers in their bedroom doorway.
"Don't open that door!" she advises in a voice quavering with emotion. "I'm telling you, for god's sake, don't open that door!"
Dan remembers having recently freed a real estate agent who'd been shut tight into the attic of another New York home by Dennis the Menace, the first and last child of her clients. Dennis slammed the attic door shut and ran downstairs, hopped into the family car, and Dad drove them away. The agent was later heard shouting out of a third floor window. "Soooomebody, Get me outa here!" It took some hammering, prying, and some gouging scarring of the door to get her out.
Dan grimaces in thought. He is glad that their attic door too can be difficult to open.
SMACK! rattle, rattle, rattle, rattle, rattle, rattle, roll. More scurrying. SMACK! rattle, rattle, rattle, rattle, rattle, roll. SMACK! rattle roll, roll, roll, smack rattle, roll.
Dan leans harder on the door to be sure it is latched tightly and inspects the lock.
"We'll check up there tomorrow when whatever it is has gone out for water" he concludes.
SMACK! rattle, rattle, roll, rattle, SMACK! rattle, rattle, rattle, roll, roll, roll. More scurrying, this time they hear nasty little feet scampering about, maliciously tearing paper, and gleefully rolling things about on the floor. Only the sounds of human giggling and laughter were missing.
By dawn the smacking, rattling, rolling and scampering had subsided. The intruders were asleep. Or they had gone out for breakfast at the convenient and always-open Poughkeepsie Diner dumpster. Dan knows about the dumpster because his dog Katie made a beeline for it whenever she ran away.
Laura waited. Dan waited. Mara was still sleeping in her own bedroom - they'd shut her door too.
After the humans had eaten their own breakfast (from the refrigerator not the dumpster) they took a walk around the house outside. Close inspection showed an open board on the under-side of the left rear roof soffit, lots of soot smudges, and a short leap-distance away, the huge old oak tree near the corner of the house.
They waited some more. Listening against the attic door: silence. Nobody really wanted to open the door but finally, carefully Dan and Laura ease open the door. Then, thinking some more, they close and go back to the kitchen where they gather their biggest pots and pans.
Throwing open the attic door and shouting "BEAT IT YOU BUMS" they bang the pots and pans together. BANG! CLANK!
The pans become lopsided, the pan handles bend and two pots are ruined. So is their hearing. Some neighbours are on the verge of calling the sheriff but they don't. But the attic is empty of intruders. Most likely the attic was already empty before Laura and Dan even started all that bang-clank foolishness.
Next they tiptoe up the attic stairs to see an amazing sight: there are sooty racoon footprints everywhere. Everywhere! The attic has been ransacked.
Scattered about the floor are two dozen bright, shiny green, red and gold Christmas ornaments that the raccoons have found irresistible. Ornaments are everywhere. A Christmas miracle, not one ornament has been broken broken. They're dirty, though. How could this be? The Christmas ornaments had been stored in a cardboard box that was itself at the bottom of a pile of other stored items. The raccoons had found the box, opened it, taken out the ornaments, and initiated a smack, rattle and rolling ornament festival on the attic floor.
Laura begins picking up the fragile blown glass bulbs, pyramids, Santa-Houses, stars, and whatnots. Together they replace the ornaments back into the compartmented box.
Thinking about the raccoons and that the soffit is still open to intruders, Dan opens a large chest, lifts out its contents (old wedding dress, towels with frayed edges and holes, bathing suits worn by his parents in 1939, shoes and a faded Confederate flag from Richmond). He places these aside. The box of ornaments is placed in the bottom of the chest and the chest is then re-filled with the rest of its contents. The heavy cover is closed. There's no lock.
After some sweeping-up they close the attic door and put a couple of bricks against it from outside.
"Tomorrow we'll borrow Art's 40-foot ladder and nail up that soffit", Dan offers. Laura smiles and looks doubtful. It's still cold outside. Mara, home from school passes the attic door and asks "Hey Dad, why are all those bricks leaning against the door"?
After a quiet dinner they read, then retire to read some more. (Any other possible activities that they might have pursued will not be discussed in this raccoon field report). Reading. Reading. There is no TV. They don't have a TV, but Mara's teachers don't believe that and accuse her of being sassy.
SMACK! rattle, rattle,rattle, rattle, rattle, roll !! Scurry, scurry, scurrying feet. SMACK! rattle, rattle, roll. SMACK! SMACK! SMACK! rattle, rattle, rattle, rattle, rattle, roll. More scurrying.
"You have to be kidding me!" Dan exclaims. He and Laura run barefoot out the back door to the barn. From there they carry all of the spare bricks from the barn back upstairs and pile them against the attic door. It takes four trips. Then they wait for morning.
The second morning they again enter the attic. More sooty footprints. The raccoons had not a moment's trouble sniffing out the box of ornaments where it had been hidden. They must have teamed up - surely it would have have taken at least two of them, maybe four, to open that old storage chest. Once opened by PROST, the Poughkeepsie raccoon ornament smacking team, the chest quickly yielded up its old wedding dress, towels with frayed edges and holes, bathing suits worn by his parents in 1939, shoes and the Confederate flag from Richmond - these have been tossed aside and the box of ornaments has again been taken out, opened, and its contents served-up to all four corners of the attic.
Again not one ornament has been broken. But this time one of the raccoons from Poughkeepsie has peed on the Confederate flag from Richmond.
The humans now understand. This event is going to continue until the raccoons get tired of it or until Dan nails new plywood onto the soffit.
Jewish people ought not to store Christmas decorations. What are they doing with them anyway?
Also see POETRY & SHORT FICTION, Daniel Friedman
Health Warnings When Handling Dead Raccoons or Cleaning Up Raccoon Mess
Avoid trapping a raccoon indoors where people are also present and don't try to handle or catch one unless you're a trained, equipped professional. Avoid raccoons that you see stumbling about in the day time.
Raccoons that were found during the day or that exhibited abnormal behavior and those that had interacted with a domestic animal were more likely to be rabid. - Jenkins (1988)
Watch out: when cleaning up raccoon poop you should use only HEPA-rated vacuum equipment, and protective gear may be in order. Besides the popularly-discussed rabies hazard (Jenkins 1988), Kazacos (1985) and others we cite just below point out that there are some rare but serious human illnesses that may be spread by raccoons.
Raccoon Behavior, Disease Hazards & Raccoon Control Research
Bozek, Clare K., Suzanne Prange, and Stanley D. Gehrt. "The influence of anthropogenic resources on multi-scale habitat selection by raccoons." Urban Ecosystems 10, no. 4 (2007): 413-425.
Abstract:

With the continuing spread of urban areas, gaining a greater understanding of the effect of human presence on wildlife species is essential for wildlife managers. We determined the influence of anthropogenic resources on home range size and habitat selection of raccoons (Procyon lotor) during summer (June–August) 1996–2000 for 120 raccoons at three sites exposed to varying levels of urbanization and anthropogenic resources, specifically food. Home range estimates were larger at the rural site than the suburban and urban sites for both genders. We used compositional analysis to examine raccoon habitat selection at the second-order home range, second-order core area, and third-order home range scales.

Woodland was consistently a highly-selected habitat type for both sexes at every spatial scale. Relative to other habitat types, habitat associated with human-related food (human use areas) was selected most often at the urban site, intermediately at the suburban site, and not selected at the rural site. Spatial scale also affected habitat selection. Human use areas were preferentially selected at the second- and third-order level at the urban site, third-order level only at the suburban site, and at neither level at the rural site.

Additionally, intersexual differences in habitat selection were reduced at the urban site, with both sexes preferentially selecting for human use areas as well as woodland habitat. Smaller home ranges in urbanized environments are often attributed to the abundant and concentrated anthropogenic resources associated with human activity, but with little empirical support. Our habitat selection analyses followed our predictions that raccoon foraging is strongly influenced by the artificial distribution and abundance of human-related food. Male and female raccoons in urban areas reduce their foraging patterns and focus their foraging activity on anthropogenic foods.
Childs, James E., Aaron T. Curns, Meghan E. Dey, Les A. Real, Charles E. Rupprecht, and John W. Krebs. "Rabies epizootics [Outbreaks - Ed] among raccoons vary along a North-South gradient in the Eastern United States." Vector Borne and Zoonotic Diseases 1, no. 4 (2001): 253-267.
Abstract:

The characteristics of rabies epizootics among raccoons were investigated in 11 eastern states along a North–South gradient from New York to North Carolina. Epizootics were defined as discrete intervals of time of at least 5 months in duration, when reported cases of raccoon rabies from an individual county exceeded the median value of raccoon rabies cases reported by that county over the entire period rabies was present among raccoons in the county. Over the ˜20-year study period, 35,000 cases of raccoon rabies were reported, and epizootics were detected from 251 (64.4%) of 390 counties.

The median annual incidence was 0.14 epizootics per year. During the first defined epizootic in a county, the median total number of raccoons reported rabid was 47, with a median monthly incidence of rabies in raccoons of 3.1. The median lag time from the first report of a rabid raccoon in a county to the beginning of the first epizootic was 4 months. Significant differences in the annual incidence of epizootics and monthly incidence of rabid raccoons during epizootics were observed among different states. Although human population density and per capita health spending within counties were positively associated with increasing magnitude of epizootics, a significant difference in the characteristics of rabies epizootics in northern and southern states was apparent.

We hypothesize that environmental conditions and perhaps human influence resulted in rabies epizootics in southern states that were smaller, less-frequent, and lacking in well-defined temporal structure compared with those in northern states.
Daszak, Peter, Andrew A. Cunningham, and Alex D. Hyatt. "Emerging infectious diseases of wildlife--threats to biodiversity and human health." science 287, no. 5452 (2000): 443-449.
Gehrt, Stanley D., " Ecology and management of striped skunks, raccoons, and coyotes in urban landscapes." People and predators: From conflict to coexistence (2004): Chapter 4, p. 81.
Guan, Y., B. J. Zheng, Y. Q. He, X. L. Liu, Z. X. Zhuang, C. L. Cheung, S. W. Luo et al. "Isolation and characterization of viruses related to the SARS coronavirus from animals in southern China." Science 302, no. 5643 (2003): 276-278.
Guerra, Marta A., Aaron T. Curns, Charles E. Rupprecht, Cathleen A. Hanlon, John W. Krebs, and James E. Childs. "Skunk and raccoon rabies in the eastern United States: temporal and spatial analysis." Emerging Infectious Diseases 9, no. 9 (2003): 1143.
Jenkins, Suzanne R., Brian D. Perry, and William G. Winkler. "Ecology and epidemiology of raccoon rabies." Review of Infectious Diseases 10, no. Supplement 4 (1988): S620-S625.
Abstract:

During 1982 and 1983, the Centers for Disease Control and cooperating Middle Atlantic States and local health departments collected data on 1,610 raccoons that were submitted for rabies testing and on 133 persons who received rabies postexposure prophylaxis as a result of exposure to wild animats. Raccoons were found most commonly in yards and residential areas. Raccoons that were killed by private citizens, animal-control personnel, or dogs had the highest positivity rate (70%), and those that were trapped had the lowest (9%).

Raccoons that were found during the day or that exhibited abnormal behavior and those that had interacted with a domestic animal were more likely to be rabid. Exami nation of the data on human exposure disclosed that many exposures could have been avoided or prevented. Almost 50% of postexposure treatments were ad ministered to persons whose actual risk of exposure was low or nonexistent.
Kazacos, Kevin R., Lawrence A. Raymond, Evelyn A. Kazacos, and William A. Vestre. "The raccoon ascarid: a probable cause of human ocular larva migrans." Ophthalmology 92, no. 12 (1985): 1735-1744.
Abstract:

The ability of raccoon roundworm larvae, Baylisascaris procyonis, to produce ocular larva migrans (OLM) was studied in various experimental animals. In addition, the clinical and pathologic lesions were compared to those in suspected cases of human ocular baylisascariasis, in patients with diffuse unilateral subacute neuroretinitis (DUSK). Ocular larva migrans was produced in squirrel monkeys, cynomolgus monkeys, mice, hamsters, grey squirrels, and woodchucks orally infected with B. procyonis eggs.

The clinical and histologic lesions were primarily those of retinitis, retinal hemorrhages, retinal tracks, disruption, and vasculitis; pigment migration; choroiditis; vitritis; and free or encysted larvae in ocular and extraocular tissues. The lesions of experimental OLM correlated well with those of suspected cases of human ocular baylisascariasis and DUSN. Based on these studies, B. procyonis of raccoons should be considered as a probable cause of OLM and DUSN in humans.
Mech, L. David, and Frank J. Turkowski. "Twenty-three raccoons in one winter den." Journal of Mammalogy 47, no. 3 (1966): 529-530.
Mikaelian, Igol, Robert Higgins, Magali Lequient, Michel Major, Francis Lefebvre, and Daniel Martineau. "Leptospirosis in raccoons in Quebec: 2 case reports and seroprevalence in a recreational area." The Canadian Veterinary Journal 38, no. 7 (1997): 440.
Abstract: Raccoons may represent a source of leptospires for humans and domestic animals. We describe a case of severe interstitial nephritis associated with the serovar bratislava of Leptospira interrogans (1st report in wildlife), and the seroprevalence to 4 leptospire serovars in a recreational area in Quebec.
Nettles, VICTOR F., JOHN H. Shaddock, R. KEITH Sikes, and Carlos R. Reyes. "Rabies in translocated raccoons." American Journal of Public Health 69, no. 6 (1979): 601-602.
Page, L. Kristen, Chris Anchor, Ellen Luy, Sarah Kron, Grace Larson, Lauren Madsen, Kenneth Kellner, and Timothy J. Smyser. "Backyard raccoon latrines and risk for Baylisascaris procyonis transmission to humans." Emerging infectious diseases 15, no. 9 (2009): 1530.
Ridenour, Jonathan. "Characteristics Of Rest Sites Used By Raccoons (procyon Lotor) In Richmond, Kentucky." (2011).
Abstract:

The raccoon (Procyon lotor) is one of many species that have adapted to living in urban/suburban environments. In this study, radio-tagged raccoons within the city limits of Richmond, KY, were monitored to locate rest sites. A rest site is defined as any site occupied by a raccoon during the non-motile periods of its daily activity cycle. Thirty-three different rest sites were located throughout the spring and summer seasons of 2009-10. With some rest sites being used multiple times for a total of 50. Of the individual rest sites located, 9, 16, and 8 were located in trees, in shrubs or in the ground, and in buildings, respectively, with no use of tree cavities. The most commonly used tree was black cherry (Prunus serotina).

Raccoons significantly chose the largest trees available (mean DBH 44.1 cm, t = 3.44, P < 0.05). Most ground rest sites were associated with abandoned groundhog (Marmota monax) burrows and located in vegetated edges and nearby fields. The demands of maintaining a proper thermal neutral zone during the heat of the summer probably accounts for the frequent use of abandoned groundhog burrows as rest sites in this study. Anthropogenic sources were capitalized on by raccoons for use as rest sites in this study, e.g., chimneys, rafters of a warehouse, under a house and in a makeshift tent. Although specific features characterizing the attractiveness of these structures as rest sites were not evident, but it was theorized that predator avoidance and cover played a significant role.

As a non-consumptive approach to raccoon population control in an urban area, I recommend a raccoon management plan implementing one or more of the following: removal of large DBH trees, trapping of groundhogs to eliminate ground rest site options, eliminating points of access into buildings, and increased maintenance (mowing) of overgrown areas.
Rupprecht, C. E., and J. S. Smith. "Raccoon rabies: the re-emergence of an epizootic in a densely populated area." In Seminars in virology, vol. 5, no. 2, pp. 155-164. Academic Press, 1994.
Abstract:

Investigation of sporadic or isolated cases of rabies was encouraged in the 1950s by the implementation of a national surveillance system for reporting of rabies cases. Low level enzootic disease was recognized in several wild species during this period, including a small focus of rabies in raccoons in Florida. Phylogenetic analysis of the virus transmitted by rabid raccoons and reconstruction of the early history of raccoon rabies in the United States suggests that rabies was present in these animals long before its recognition by the public health community and that the emergence of raccoon rabies as a major threat to public health was the result of several natural and human-mediated events.

In recent years, reports of raccoon-human contact and rabies in raccoons have increased as changes in human demographics and land development have concentrated raccoon populations in urban and suburban settings. In addition to the natural spread of rabies from Florida to raccoon populations in Georgia, Alabama, South Carolina and North Carolina, a separate focus in the northeastern states is believed to have been caused by the translocation of raccoons from the southeast to Virginia and West Virginia. Oral vaccination of wild species may be an important adjunct to traditional rabies control measures in the management of this disease in the future.
Strausbaugh, Larry J., William J. Murray, and Kevin R. Kazacos. "Raccoon roundworm encephalitis." Clinical Infectious Diseases 39, no. 10 (2004): 1484-1492.
Tibbs, Meghan L., Roberta K. Newbury, and Thomas A. Nelson. "Den Site Selection by Raccoons in an Agricultural Landscape."
Abstract:

Raccoon (Procyon lotor) populations have increased dramatically throughout Illinois during the past 25 years causing concerns because they can be important nest predators and reservoirs for zoonotic diseases. We studied seasonal use of den sites by raccoons at Prairie Ridge State Natural Area in Jasper Co. IL. Our goals were to characterize den types and whether den use differed between sexes or age-classes, assess seasonal patterns of den use, and investigate whether raccoons shift dens to be near seasonal food patches. Twenty-four raccoons were radiocollared and tracked to 245 individual dens during January 2004-August 2005. Of these dens, 50% were in buildings, 27% in burrows, and 17% in tree cavities.

Adults and juvenile females preferred buildings, particularly in winter; whereas, juvenile males preferred burrows and brush piles, particularly in summer. We found no evidence that raccoons shifted den sites in fall or winter to be near cornfields. However, dens were closer to wetlands in summer than in winter. Raccoons of both sexes used barns and sheds frequently in winter. Trapping at buildings could be an efficient method of controlling raccoon populations.
If the raccoons peed and pooped in your home you should also see ANIMAL or URINE ODOR SOURCE DETECTION followed by ANIMAL or URINE ODOR REMOVAL.
If your building odor complaint source is found to be outdoors, it's probably not the raccoons' fault, but more likely dogs, occasionally cats and sometimes people. See URINE ODOR REMOVAL at BUILDING EXTERIOR.

Watch out: in addition to their common role as allergens, animal feces, urine, even hair can offer serious health hazards including from various pathogens: bacteria, viruses, even possibly rabies.
Watch out: also for wild animal bites, bacterial and viral hazards when entering confined spaces where invaders are or have been present. The author (DF) became temporarily ill after (foolishly) working in a "clean looking" crawl space that later he realized had a heavy contamination of fecal and urine contaminated mouse dust. Bat and rodent droppings as well as bird droppings can be a source of a pathogen potentially dangerous to humans, the fungus Histoplasma capsulatum.
Watch out: before sealing up a hole in a soffit or wall where squirrels or bats are entering your building, make sure the animals are not going to be trapped inside where they will be mad, frightened, hostile, even dangerous (like a rabid raccoon), or ultimately dead and another source of stink.
...
Continue reading at ANIMAL ENTRY POINTS in BUILDINGS or select a topic from closely-related articles below, or see our complete INDEX to RELATED ARTICLES below.
Or see ANIMAL NOISES in BUILDINGS
Or see ANIMAL or URINE ODOR SOURCE DETECTION
Or see BLACK STAINS from ANIMALS for a description of the cause and cure of various types of stains caused by pets or other animals in buildings.
Or see this
Article Series Contents
Suggested citation for this web page
RACCOONS in the ATTIC at InspectApedia.com - online encyclopedia of building & environmental inspection, testing, diagnosis, repair, & problem prevention advice.
Or use the SEARCH BOX found below to Ask a Question or Search InspectApedia
...
Frequently Asked Questions (FAQs)
Try the search box below or CONTACT US by email if you cannot find the answer you need at InspectApedia.
Question: use of peppermint oil and ammonia to repel animal poopers and pests
(Sept 23, 2012) Anonymous said:
I have heard that peppermint smell repels mice and squirrels. Is that so?
Reply:
Good idea Anonymous. Peppermint is better than trying to scatter mothballs apart as using mothballs for animal repellant is an illegal application and can cause other building odor or health problems.
A number of animal repellant products do indeed contain peppermint oil, such as some deer and cat repellants. ther mixtures for similar applications mix oils of peppermint, geranium, sage, lavender, eucalyptus, lemongrass etc.
There are other specific animal repellent sprays and products sold at home and garden suppliers, often targeted to specific animals: coyote urine, for example. I've also tried pouring a bit of ammonia (or bleach but never BOTH at once) onto an area on a walkway or stair where a cat kept urinating.
Outdoors where our neighbour's cat had decided that our stone walkway was a nicer toilet than its own yard we had such an accumulation of cat poop that besides cleaning up that mess we needed to encourage Cheeto to find a different relief site. After cleaning up the mess we poured household ammonia around the poop area. That worked.
...
Ask a Question or Search InspectApedia
Use the "Click to Show or Hide FAQs" link just above to see recently-posted questions, comments, replies, try the search box just below, or if you prefer, post a question or comment in the Comments box below and we will respond promptly.
Search the InspectApedia website
Technical Reviewers & References
Click to Show or Hide Citations & References
Eric Galow, Galow Homes, Lagrangeville, NY. Mr. Galow can be reached by email: ericgalow@gmail.com or by telephone: 914-474-6613. Mr. Galow specializes in residential construction including both new homes and repairs, renovations, and additions.
Mark Cramer Inspection Services Mark Cramer, Tampa Florida, Mr. Cramer is a past president of ASHI, the American Society of Home Inspectors and is a Florida home inspector and home inspection educator. Contact Mark Cramer at: 727-595-4211 mark@BestTampaInspector.com 11/06
Roger Hankey is principal of Hankey and Brown home inspectors, Eden Prairie, MN. Mr. Hankey is a past chairman of the ASHI Standards Committee. Mr. Hankey has served in other ASHI professional and leadership roles. Contact Roger Hankey at: 952 829-0044 - rhankey@hankeyandbrown.com. Mr. Hankey is a frequent contributor to InspectAPedia.com.
Arlene Puentes, an ASHI member and a licensed home inspector in Kingston, NY, and has served on ASHI national committees as well as HVASHI Chapter President. Ms. Puentes can be contacted at ap@octoberhome.com
Wikipedia provided background information about some topics discussed at this website provided this citation is also found in the same article along with a " retrieved on" date. NOTE: because Wikipedia entries are fluid and can be amended in real time, we cite the retrieval date of Wikipedia citations and we do not assert that the information found there is necessarily authoritative.
...
Books & Articles on Building & Environmental Inspection, Testing, Diagnosis, & Repair
Our recommended books about building & mechanical systems design, inspection, problem diagnosis, and repair, and about indoor environment and IAQ testing, diagnosis, and cleanup are at the InspectAPedia Bookstore. Also see our Book Reviews - InspectAPedia.
...