Indoor Humidity Standards / Settings
HUMIDIFIERS & HUMIDITY TARGET - CONTENTS: how & why to set & control indoor relative humidity levels. Variations in indoor humidity in the same space depending on exactly where and how humidity is measure
POST a QUESTION or READ FAQs about the proper indoor humidity level & how to get there - dehumidifiers & moisture source control
InspectAPedia tolerates no conflicts of interest. We have no relationship with advertisers, products, or services discussed at this website.
How to control indoor humidity to avoid indoor air quality complaints, mold and dust mites.
This article answers the question "What indoor humidity level should I maintain to avoid mold and indoor air quality issues?" We explain the need for maintaining an anti-mold low humidity level indoors to avoid mold and other indoor pathogen growth in buildings.
We also discuss where and how to measure indoor humidity, what indoor humidity targets to set, and we explain relative humidity, dew point, and moisture condensation in and on building materials.
We also provide a MASTER INDEX to this topic, or you can try the page top or bottom SEARCH BOX as a quick way to find information you need.
Problems Caused by Excessive Indoor Humidity include Mold Growth & Dust Mites
Article Series Contents
Target Indoor Humidity Level - Relative Indoor Humidity to avoid Mold & Dust Mite Problems
The recommended indoor relative humidity level for human comfort is in the 45% to 55% range.
Both lower and higher indoor relative humidity (RH) are uncomfortable, and as we will explain below higher indoor relative humidity levels are not just uncomfortable, they contribute to health risks and indoor air quality problems. Indoor RH also affects the level of other indoor air contaminants such as Formaldehyde & Nitrogen Dioxide (Gilbert 2006), and VOCs (Won 2001).
At the same time, too-low indoor RH also is uncomfortable.
There are also ideal indoor RH levels for the preservation of building materials and their contents (Bratasz 2007).
Humidity, Condensation, and the Dew Point
To avoid moisture condensation on cool basement or other building surfaces, we need to keep the RH down below the dew point at those surfaces. The "dew point" is the temperature at which moisture will condense out of the air.
The dew point is determined by the combination of the current temperature of the surface, the air temperature, and the humidity level.
If we were being scientifically precise we'd monitor all of the pertinent data - surface temperature, air temperature, relative humidity, and indoor air movement across surfaces. For our purposes, setting a reasonably low room-center target RH will usually be enough.
But remember, even if you don't see water condensing on and running down your basement walls, it doesn't mean that the walls won't be at a notably higher moisture level than the air in the center of the room.
See DEW POINT TABLE - CONDENSATION POINT GUIDE for details about the dew point and how to measure or calculate it for a building area or surface.
How low should we keep the interior moisture level to avoid a mold problem?
Suppose a building does not currently have a mold problem, or a mold cleanup project has been completed. How can we avoid a future mold problem in the building?
1. Be sure there are no ongoing building leaks, water entry, or venting problems.
2. Keep the indoor humidity level in the mid-comfort range.
A maximum indoor relative humidity of 55% RH may be acceptable,
50% RH better,
45% RH is a good target for an attic knee wall provided there are no ongoing leaks and the attic space is not one which is being vented to outside (in that case you're not in control of the humidity.
Indoor Relative Humidity Safety Margin
A client told us that he could keep the basement at 55% Relative Humidity (RH) but he didn't want to push it below that. Is this enough safety margin?
At 60% indoor RH we're entering the indoor problem mold-formation risk zone of high interior moisture in building wall or ceiling cavities or on wall and floor surfaces, possibly conducive to mold growth.
If you set the RH target at 55%, you're operating with not much safety margin of dryness. A small change in outdoor conditions (spilling water by the foundation) or indoor conditions (a nearby roof, wall, window, plumbing leak) can increase the moisture and RH into the problem zone.
If for reasons of dehumidification cost you have to operate close to the edge, extra attention to leaks, moisture proofing, roof and surface drainage are even more important.
The text below offers more technical background on indoor relative humidity (RH) control. This is getting slightly more technical about measuring the relative humidity - knowing a little more about how indoor air moves, how moisture levels vary in air and in building materials, and how to set the best humidity targets will improve the management of indoor moisture levels.
How To Measure Indoor Humidity
Relative Humidity vs. Absolute Humidity in buildings
A variety of instruments can measure the amount of moisture in air, which we call "humidity." For example an inexpensive indoor "weather station" often includes a "humidity" gauge along with a barometer and thermometer.
But just knowing the level of moisture in air (absolute humidity) is not enough. Usually, the humidity targets we use in these articles, and in academic or scientific texts are numbers expressed as relative humidity which takes into account not only the absolute water level in the air, but also the air temperature.
Relative humidity, by taking into account both the absolute humidity in the air and the temperature of the air, is telling you the humidity level as a function of the maximum amount of water that the air is capable of containing at a given temperature.
If we're trying to control mold and other indoor pathogens for which water is a gating factor, it's relative humidity that is important.
Why? Because water condenses out of air onto a building surface (and thus supports mold or other indoor pathogens) only when the air at that surface contains more water than it can hold at that temperature.
When warm, moist air contacts a cool surface, your basement drywall near the floor, for example, the air touching that surface may cool and give up some of its moisture to condense on the surface.
See TOOLS for MEASURING HUMIDITY for accuracy and options for indoor humidity measurement equipment.
Variations in Indoor Relative Humidity by Building Area and Surface Type
The relative humidity, or "RH" will vary significantly in a building at a given moment, depending on where you make your observations.
Here are some example RH measurements from a recent investigation at a 1970's wood frame two story home in generally good condition, after an extensive mold remediation and dryout project, where the owner had been running two dehumidifiers in the basement, and where there were no building leaks:
RH 48% - Outdoors
RH 45% - Indoors, main floor kitchen, center of room, 5 ft. from floor
RH 49% - Indoors, basement, center of single large area, 5 ft. from floor
RH 57% - Indoors, basement, 1" from rear wall, 3/4" from floor
RH 49% - Indoors, basement, at intake side of the dehumidifier, with the machine operating
RH 35% - Indoors, basement, at the outlet side of the dehumidifier, with the machine operating
Notice, with no surprise, that the RH is higher close to the (cool) masonry surface? This explains our reasoning in suggesting a fairly low basement RH target for buildings if we're going to measure the RH in the center of the room.
Some dehumidifiers have an RH meter built right into the machine, so it will tell you what RH level it's seeing in its incoming air. But for operating efficiency you'll often run the machine in the center of the room.
The target humidity for a building, if measured at room center, needs to be low enough to avoid condensation out on cool surfaces at the room perimeter or floor.

How Long to Reach the Indoor Humidity Target?
How long should it take to reach your indoor relative humidity RH target?
Using central air conditioning or even portable indoor dehumidifiers in a building that has not been flooded or wet by leaks, even in humid weather conditions we ought to be able to bring indoor relative humidity (RH) down to the target 50% range in twenty-four hours.
But that will not be the case if the building has been flooded, wet or unusually damp.
When a building has been damp for some time, moisture has been absorbed into various materials such as wood framing and masonry surfaces.
It may take weeks or even longer to drop the humidity in such an area, as the moist materials also have to dry out, not just the air. Using a fan to increase air movement in the area being dehumidified can speed this process.
Watch out: if you cannot get the indoor RH down to a low level in a below-grade area such as a basement or crawl space, I'd suspect that too much moisture is continuing to enter through the slab or masonry walls. Attention to outside drainage may not be enough. In such cases, coating the walls with a masonry sealer (Thoro-Seal™ or Dry-Lok™ are example products) might help.
If you want to get past this practical discussion of indoor humidity and mold, check out "Understanding Ventilation," by John Bower. The Healthy House Institute, 1995.
More than a normal person can stand to read about what to do about mold in buildings is at this website. You might start at MOLD CONTAMINATION IN BUILDINGS - home
Moisture Movement in Building Materials
Water molecules are very smart. They will naturally move from a moist area or surface to a more dry one, tending to seek equilibrium moisture across all surfaces and materials in a building, always considering the factors We have discussed above: temperature, relative humidity, and dew point.
So if humidity increases in a basement from warm moist air entering that space, moisture will begin to enter the more dry drywall and insulation materials.
Conversely, as you run a dehumidifier in the basement, moisture will be removed first from the basement air, and then as that dry air contacts more-moist basement surfaces (drywall and insulation, for example), moisture will move from those materials back into the air.
Moisture moves in either direction, into the air from materials, or into materials from air, always moving from the more-moist to the less moist substance, seeking equilibrium. This is why there will be a lot of water output from a basement dehumidifier when it is first run in an area, and then later water output will slow.
Using a Central Humidifier Attached to a Heating Furnace
Question: how to connect hot water to a central humidifier
2018/01/11 Eric said:
I've added a humidifier to my furnace and would like to use hot water (recommended by manufacturer) from my hot water heater to supply water to the humidifier.
Can I screw a T-Valve into my water shutoff valve, add a new shutoff on the other end of the T-Vavle, and use this to supply my humidifier without violating codes?
Correction: I meant to ask if I can screw a T-Valve onto my water heater drain valve on the bottom, not onto the water shutoff valve.
This question and answer were posted originally at HEATING SYSTEMS
Reply: OPINION: this connection is not-recommended
Eric,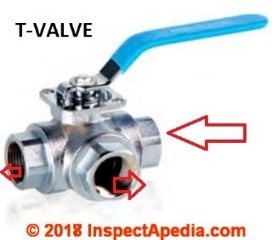 I do not think a T-valve would be the proper application for providing hot water to your system humidifier.
Typical T-valves such as the Mondeo T-valve I illustrate below, are ball-valves used to divert flow from a primary input source to one of two different destinations. The ball of the valve is drilled straight through and then an intersecting drill opening is made at a 90 degree angle to the first passage.
Ball valves are intended to be used in the fully-open or fully closed position, though some suppliers describe using a T-valve to permit sending output to two destinations simultaneously - you'd see reduced flow rate to both of them compared with a straight ball valve or an L-valve.
Also there could be a risk of pressure-loss and backflow of unsanitary water from the humidifier to the building water heater or plumbing system (though double check valves could mitigate that risk).
The simplest installation uses a saddle valve that punctures a hot water line (or in my OPINION better, a cold water line) and uses a small diameter flexible copper tube to conduct water to the humidifier. However many plumbing codes no longer permit these valves.
Instead, in my OPINON, it would make more sense to simply install a tee in the hot water supply piping (or in my OPINION better to cold water piping) and then connect a simple ball-valve or gate valve (to permit flow adjustment) in line with the outlet of the tee that will feed the humidifier.
Unless you are going to keep filling your humidifier manually, and unless your humidifier includes a water feed control in its design, you'd want a sanitary float control valve to admit water into the humidifier.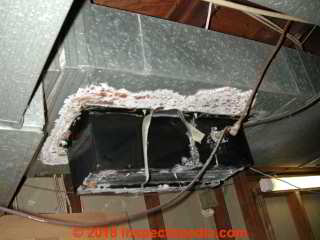 BOTTOM LINE: drop the whole idea of connecting hot water to the humidifier and I would reconsider using a central humidifier at all
Why do we express this opinion?
There might be a small improvement in the production of moisture being sent into your furnace supply plenum or supply air duct by using hot water, but that benefit is likely to be offset by the formation of mineral scale and crud that HVAC technicians find troublesome as scale fouls controls and moving parts and increases service cost.
OPINION: frankly I am not a fan of central humidifiers that feed water into a supply plenum over a furnace heat exchanger. In over 40 years of building inspections I have seen that most of the central humidifiers I've seen installed were not maintained, were not working, and many of them had leaked into and caused costly, even dangerous damage to the furnace heat exchanger.
Central humidifers also can serve as mold amplifiers and mold distributors in buildings. (Solomon 1976).
For those reasons I prefer point-of-use portable humidifiers such as in sleeping areas.
See also CENTRAL HUMIDIFIER LEAKS into DUCTWORK
Watch out: do not yry feeding hot water from your water heater's drain valve. You will have chosen the worst place to feed hot water into a humidifier as you'll be draining sludge and scale from the bottom of the water heater.
Research on Using a Central Humidifier in Homes
Mohan, Aparna K., Charles E. Feigley, and Caroline A. Macera. "Humidifier use in the home environment and its effects on respiratory health." Applied occupational and environmental hygiene 13, no. 11 (1998): 782-787.
Abstract:

This study sought to examine the association between household humidifier use and subsequent experiencing of adverse health symptoms. The analyses were based on a cross-sectional survey of 101 people residing in Chester County, South Carolina. Evaluation of the effect of exposure to different humidifier factors on the respiratory and general health of residents using humidifiers was achieved by univariate and multiple logistic regression analysis.

People who cleaned their humidifiers less frequently were more likely to report untoward health symptoms than people who cleaned their humidifiers frequently. This relationship persisted even after controlling for the effects of potential confounding factors: age, gender, race, smoking, and educational status.

Infrequent humidifier cleaners had significantly higher odds of reporting adverse health symptoms like headache (adjusted odds ratio = 17.1), eye irritation (adjusted odds ratio = 9.9), sore throat (adjusted odds ratio = 11.1), nose irritation (adjusted odds ratio = 10.9), and cough (adjusted odds ratio = 14.3) than frequent cleaners.

Currently physicians and researchers have divided opinions about the benefits of humidifiers and vaporizers. While increased humidity during winter months may reduce the number of respiratory infections and problems an individual experiences, results of this study indicate that proper maintenance of the equipment is equally important for preventing health problems.
Patterson, Roy, Jordan N. Fink, Wayne B. Miles, John E. Basich, Donald B. Schleuter, David G. Tinkelman, and Mary Roberts. "Hypersensitivity lung disease presumptively due to Cephalosporium in homes contaminated by sewage flooding or by himidifier water." Journal of Allergy and Clinical Immunology 68, no. 2 (1981): 128-132.
Solomon, William R. "A volumetric study of winter fungus prevalence in the air of midwestern homes." Journal of Allergy and Clinical Immunology 57, no. 1 (1976): 46-55.
Abstract:

Volumetric recoveries of airborne, mesophilic microfungi were made during winter months at three specific points in 150 single-family dwellings in southeastern Michigan. Mean levels of total isolates/m3 comprised a range of from less than 10 to over 20,000, although concurrent outdoor levels never exceeded 230/m3. Form species of Penicillium, Aspergillus, Cladosporium, and Rhodotorula as well as non-pigmented yeasts were the types encountered most widely indoors.

Certain homes showed high recoveries of other types, including Cephalosporium, Sporobolomyces, Verticillium, and Sporothrix form species. A positive association between indoor fungus prevalence and bedroom relative humidity was strongly suggested, and high levels were observed in well-humidified homes despite the presence of electrostatic air cleaners.

The data indicate characteristic patterns of (winter) air spora in specific homes and suggest that humidifying devices may serve as dispersion sources in addition to their permissive role in facilitating fungus growth.
Excessive Humidity Encourages Indoor Air Quality & Health Hazards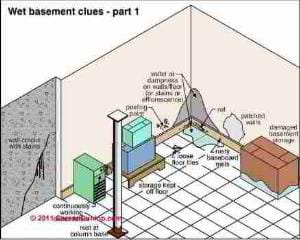 Discussion moved - see HUMIDITY CONTROL INDOORS
Common problematic indoor molds
Discussion moved - see COMMON INDOOR MOLDS
Control Attic Humidity to Reduce Mold Risk
Discussion moved - see ATTIC HUMIDITY CONTROL
Upper Floor Humidity Control
Discussion moved - see UPPER BUILDING FLOOR HUMIDITY CONTROL
Control Basement Humidity to Reduce Mold and Dust Mite Allergen Risk
Discussion moved - see BASEMENT HUMIDITY CONTROL
Do Water Pipes or Stone or Brick Surfaces "Sweat" in buildings?
See SWEATING PIPES & WALLS INDOORS
Supply-only Vent System Operation: PIV System Humidity Level Variations
This discussion has moved to HUMIDITY CONTROL with SUPPLY-ONLY or PIV VENTILATION SYSTEMS - separate article
Bottom Line on Excessive Indoor Condensation: What to Do About It
Identify and correct sources of un-wanted indoor moisture
If necessary use a dehumidifier in damp areas like crawl spaces or basements
Review building ventilation details in general, such as attic venting (avoiding attic condensation)
Investigate the details of construction of building exterior walls and top floor ceilings to see what vapor barrier is present or absent.
Review indoor temperatures, relative humidity, and air movement.
InspectAPedia is an independent publisher of building, environmental, and forensic inspection, diagnosis, and repair information provided free to the public - we have no business nor financial connection with any manufacturer or service provider discussed at our website.
Research on Indoor Relative Humidity Level Targets
Ahmed, Khandaker Shabbir. "Comfort in urban spaces: defining the boundaries of outdoor thermal comfort for the tropical urban environments." Energy and Buildings 35, no. 1 (2003): 103-110.
Bratasz, Lukasz, Dario Camuffo, and Roman Kozłowski. "Target microclimate for preservation derived from past indoor conditions." (2007).
Abstract:

A novel approach is proposed to establishing target indoor microclimates suitable for the preservation of organic materials susceptible to fracture and deformation, such as wood and paints. It assumes that it is impossible to establish a priori the best RH level for the conservation of mixed collections containing organic materials as over many decades they have adapted to a particular indoor environment within which they have been preserved.

Therefore, the proposed strategy focuses on replicating the past average levels of RH and specifies bands of tolerable short-term fluctuations superimposed on these average levels. It is proposed to cut off 16 % of the largest, most risky fluctuations, which corresponds to one standard deviation in the distribution of the fluctuation amplitudes.

Further, it is proposed to reduce the width of the target band of tolerable fluctuations by taking into account how much the fluctuations depart from the average seasonal RH level. The procedure is illustrated by three case studies of historic churches representative of different geographical locations, construction materials and patterns of use.
Frankel, Mika, Gabriel Bekö, Michael Timm, Sine Gustavsen, Erik Wind Hansen, and Anne Mette Madsen. "Seasonal variation of indoor microbial exposures and their relations to temperature, relative humidity and air exchange rates." Applied and environmental microbiology (2012): AEM-02069.
Gilbert, Nicolas L., Denis Gauvin, Mireille Guay, Marie-Ève Héroux, Geneviève Dupuis, Michel Legris, Cecilia C. Chan, Russell N. Dietz, and Benoît Lévesque. "Housing characteristics and indoor concentrations of nitrogen dioxide and formaldehyde in Quebec City, Canada." Environmental Research 102, no. 1 (2006): 1-8.
Jawad, A., J. Heritage, A. M. Snelling, D. M. Gascoyne-Binzi, and P. M. Hawkey. "Influence of relative humidity and suspending menstrua on survival of Acinetobacter spp. on dry surfaces." Journal of clinical microbiology 34, no. 12 (1996): 2881-2887.
Lowen, Anice C., Samira Mubareka, John Steel, and Peter Palese. "Influenza virus transmission is dependent on relative humidity and temperature." PLoS pathogens 3, no. 10 (2007): e151.
Peat, Jennifer K., J. Dickerson, and J. Li. "Effects of damp and mould in the home on respiratory health: a review of the literature." Allergy 53, no. 2 (1998): 120-128.
Abstract:

This review examines whether there is a direct or indirect relation between damp or mould in the home and respiratory health. Home dampness is thought to have health consequences because it has the potential to increase the proliferation of house-dust mites and moulds, both of which are allergenic.

The results from the many studies conducted to investigate whether damp and mould are associated with health outcomes are diffecult to compare because the methods of measuring exposures and helth outcomes have not been standardized.

However, the studies that have been conducted in children are probably the most reliable because the confounding effects of active smoking or occupational exposures are absent, and because the presence of symptoms of cough and wheeze have been consistently investigated in many studies.

The increased risk of children having these symptoms if the home has damp or mould is fairly small with an odds ratio that is generally in the range 1.5–3.5, these estimates being statistically significant when the sample size has been large enough.

This range is consistent with the measured effects of other environmental exposures which are considered important to helth, such as environmental tobacco smoke or outdoor air pollutants.

The potential benefits or reducing mould in the home have not been investigated, and the few studies that have investigated health improvement as a result of increasing ventilation or reducing damp in order to reduce house-dust mite levels suggest that this intervention is expensive, requires a large commitment, and is unlikely to be successful in the long term.

This implies that houses need to be specifically designed for primary prevention of respiratory problems associated with indoor allergen proliferation rather than using post hoc procedures to improve indoor climate and reduce allergen load as a secondary or tertiary preventive strategy.
Ren, P., T. M. Jankun, K. Belanger, M. B. Bracken, and B. P. Leaderer. "The relation between fungal propagules in indoor air and home characteristics." Allergy 56, no. 5 (2001): 419-424.
Abstract Excerpts:

Background: Questionnaires are commonly used in epidemiologic studies to obtain information about house characteristics in order to predict the household aeroallergen exposure levels.

However, the reliability of the predictions made with the questionnaires has not been evaluated. To address this issue, we compared objectively measured fungal propagules including the most frequently isolated mold genera (i.e., Alternaria, Aspergillus, Cladosporium, Penicillium, etc.) in a large sample of homes and compared these measured values to the questionnaire-determined household characteristics.

Results: The number of CFU/m3 air collected on MEA was significantly higher than on DG-18 (means, respectively, 1033.5 and 846.0 CFU/m3) (P < 0.0005). However, there was no significant difference between the numbers of CFU/m3 air collected from the main living area and from the infant bedroom.

There was only a very weak relationship between the house characteristics, as described by questionnaire, and the presence of fungal propagules in indoor air. Only the temperature, relative humidity, season, and cats inside homes had a statistically significant impact on the presence of fungal propagules in indoor air.

Conclusions: The presence of fungal propagules in indoor air cannot be reliably predicted by home characteristics. Actual measurements are required for fungal exposure assessment, and the use of only one medium to collect samples in one location in a home might be adequate to represent residential levels of fungi in indoor air.
Solé, Dirceu, Gustavo F. Wandalsen, Inês Cristina Camelo-Nunes, and Charles K. Naspitz. "Prevalence of symptoms of asthma, rhinitis, and atopic eczema among Brazilian children and adolescents identified by the International Study of Asthma and Allergies in Childhood (ISAAC): phase 3." Jornal de pediatria 82, no. 5 (2006): 341-346.
Strachan, D. P., and C. H. Sanders. "Damp housing and childhood asthma; respiratory effects of indoor air temperature and relative humidity." Journal of Epidemiology & Community Health 43, no. 1 (1989): 7-14.
Wolkoff, Peder, and Søren K. Kjærgaard. "The dichotomy of relative humidity on indoor air quality." Environment International 33, no. 6 (2007): 850-857.
Abstract:

Dry and irritated mucous membranes of the eyes and airways are common symptoms reported in office-like environments. Earlier studies suggested that indoor pollutants were responsible. We have re-evaluated, by review of the literature, how low relative humidity (RH) may influence the immediately perceived indoor air quality (IAQ), including odour, and cause irritation symptoms (i.e. longer-term perceived IAQ).

"Relative humidity" were searched in major databases, and combined with: air quality, cabin air, dry eyes, formaldehyde, inflammation, mucous membranes, offices, ozone, pungency, sensory irritation, particles, precorneal tear film, sick building syndrome, stuffy air, and VOCs.

The impact of RH on the immediately and longer-term perceived IAQ by VOCs, ozone, and particles is complex, because both the thermodynamic condition and the emission characteristics of building materials are influenced.

Epidemiological, clinical, and human exposure studies indicate that low RH plays a role in the increase of reporting eye irritation symptoms and alteration of the precorneal tear film. These effects may be exacerbated during visual display unit work.

The recommendation that IAQ should be "dry and cool" may be useful for evaluation of the immediately perceived IAQ in material emission testing, but should be considered cautiously about the development of irritation symptoms in eyes and upper airways during a workday.

Studies indicate that RH about 40% is better for the eyes and upper airways than levels below 30%. The optimal RH may differ for the eyes and the airways regarding desiccation of the mucous membranes.
Won, Doyun, and Mike Rynes. "Sorptive interactions between VOCs and indoor materials." Indoor Air 11, no. 4 (2001): 246-256.

Abstract Excerpt:

Carpet was identified as the most significant sorptive sink for non-polar VOCs. Virgin gypsum board was observed to be a significxant sink for highly polar VOCs. Sorptive interactions between non-polar VOCs and indoor materials were not affected by variations in relative indoor humidity.

However, increases in relative humidity were observed to increase the degree of sorptioni of isopropanol to carpet.
...
Continue reading at DEHUMIDIFICATION PROBLEMS or select a topic from closely-related articles below, or see our complete INDEX to RELATED ARTICLES below.
Or see DEHUMIDIFICATION BASICS
Or see DEHUMIDIFICATION PROBLEMS
Or see HUMIDITY MEASUREMENT INSTRUMENTS
Or see MOISTURE CONTROL in BUILDINGS - home
Or see these
Humidity & Moisture Articles
Suggested citation for this web page
HUMIDITY CONTROL & TARGETS INDOORS at InspectApedia.com - online encyclopedia of building & environmental inspection, testing, diagnosis, repair, & problem prevention advice.
Or use the SEARCH BOX found below to Ask a Question or Search InspectApedia
Or see
Or use the SEARCH BOX found below to Ask a Question or Search InspectApedia
Or see
Or use the SEARCH BOX found below to Ask a Question or Search InspectApedia
...
Frequently Asked Questions (FAQs)
Try the search box below or CONTACT US by email if you cannot find the answer you need at InspectApedia.
Question/Comment: excessive indoor humidity traced to high velocity air conditioning system coil condensation blow-off
For years I've been trying to figure out the excessive humidity problem in my home too. I finally found it after working with foundation people, plumbers, a/c techs -- nobody could figure it out, but I finally did. When the cooling kicks on, the moisture level skyrockets. It has affected the inside of my home tremendously. We thought it was the a/c drain. They re-routed it, made sure it was draining well and clear. It is. Leak near or under the foundation. We checked everything-that wasn't it.
What's happening is the fan is actually sucking the moisture out of the evaporator coils before the condensation off the coils can drain away. The design of this Lennox horizontal system in the attic is such that the small space right above and right below the squirrel type fan, creates a venturi effect, increasing the velocity of the air being sucked into the fan.
The velocity of the air is so strong that the coils (about 12 in. away) have the moisture sucked right off of them and into the fan, which, of course is then blown into the ducting. I'm not sure if this is an engineering design problem, if the a/c co. wired the fan to a speed that's too high, or if perhaps a part is missing that is supposed to prevent this.
Regardless, the inside of the unit is now so covered with mildew and mold and the electrical connections on the heating elements as well as all the electrical connections on the inside of the unit, are so corroded and rusted, it's a wonder that love thing works at all. (This also probably explains why sometimes the heat works and sometimes it doesn't. The a/c repair guys have never been able to figure out why. They always seem to think it's the t'stat. It's not. It's new and has recently been completely re-wired when I moved it from an outside wall to an inside wall.)
Anyway, that's where MY moisture problem is coming from. Good luck! - Mike / DFW 12/13/2012
Reply:
Mike, gold star to you for good detective work. We will keep your note in this article, as it will surely help other readers.
More about dehumidifcation problems traced to central air conditioning systems can be read at DEHUMIDIFICATION PROBLEMS.

Do you think that the root problem, then, is an improper duct or plenum size or design?
Question: effect of spray foam insulation on relative humidity with different vent systems
(Apr 21, 2014) if you have sprayed foam insulation in an attic in louisiana and fiberglass insulation in rafters at correct r factor will the relative humidity be better with no ridge vents or whirlybirds.i think the attic is air tight with foam sprayed on the underside of the roof.the attic does stay cooler but i was just wondering about air flow or ventilation .
said:
If a home in Louisiana with 100 degree summers has the attic sprayed with foam insulation on underside of roof,and fiberglass insulation in rafters at correct r factor with no ridge vents or whirlybirds for air flow will the relative humidity be better in the rooms below.the home has central air with unit in the attic.
Reply:
Adding insulation and cutting ventilation do not themselves reduce indoor humidity in a warm humid climate, but operating air conditioning, provided it is not over-sized, will reduce the indoor humidity level. The contribution of the insulation in this case is the reduction of heat gain by the building, reducing the cooling costs.
Beware that if the building design drives moisture into any building cavities (roof, walls for example) trapped moisture there invites mold, rot, and insect trouble. So the building design needs to include attention to ceiling and wall vapor barriers (in LA typically on the warm outside) and penetrations or air leaks.
Question: will adequate roof venting reduce indoor relative humidityu
(May 22, 2014) Chi said:
It's 68 degree outside and humidity at 60%…my inside RH is 52% at 66 degree without AC…is that normal during Spring/Summer?
Should a sufficient roof/attic ventilation reduce the RH??
During Winter, my indoor RH was 35% at 68 degree while outside was below 20 degree with humidity at 100% due to snow
Reply:
Chi
Without trying to re-calculate your numbers against a standard, I'd say of course in humid weather your indoor RH won't be down at 35%, but probably more useful is this comment:
IF you run your A/C and the interior cools off enough to satisfy the thermostat but the humidity is still uncomfortably high then your A/C system may be oversized - and so not dehumidifying.
Roof ventilation, or attic ventilation, properly balanced between intake and exhaust may cool an attic but it would not directly affect the humidity of the occupied spaces below - with an exception that in circumstances of excessive condensation or even frost formation in an attic, that space can become a moisture source against the ceiling or occupied spaces below.
Question: where to start with excessive condensation on windows
(Oct 6, 2014) TonyC said:
Living in CT, experiencing condensation on the inside glass of my windows on the main living area, and second floor, none in the basement. The indoor temperature read 66 degrees and humidity indicated at 46%, not sure if this is RH or absolute. The outside temperature was 39 degrees with the weather station indicating 94% humidity.
We seem to experience these problems during the Fall seasons as temperatures gradually change to Winter where we require the heat to be on. We can find no visible drivers for excessive moisture in the home. We use bathroom fans that ventilate to the outside when showering and for 20 minutes afterward.
We have an exhaust fan that ducts to the outside over our cooktop and that is on when we cook. Some windows are worse than others particularly those that face the north and east and this is always noticeable in the morning. Is it possible all my windows are failing. They are 10 years old, but we have had this problem for several years, I am only just finding this site to ask a question. We are lost as to where to begin to try to solve this. Any ideas would be appreciated
Reply:
Tony
IF windows are "failing" and we are referring to insulated glass, you'd more likely see moisture collecting between the panes.
If windows are failing by becoming leaky or drafty you can detect that using a smoke test or perhaps thermography.
I'd start by asking why moisture might be higher in the problem room than in others.
Ask a Question or Search InspectApedia
Use the "Click to Show or Hide FAQs" link just above to see recently-posted questions, comments, replies, try the search box just below, or if you prefer, post a question or comment in the Comments box below and we will respond promptly.
Search the InspectApedia website
Technical Reviewers & References
Click to Show or Hide Citations & References
Nuiaire Best Practicve Installation Guide [for] Mechanical Heat Recovery Ventilation (MVHR), Nuaire Group Western Industrial Estate Caerphilly CF83 1NA, U.K., Tel: 029-2088-5911 in the U.K., email: info@nuaire.co.uk, International Tel: +44 29 2085 8497, International Email: international@nuaire.co.uk retrieved 1/1/2015, original source: http://www.nuaire.info/bpguides/BestPracticeInstallationGuide-MVHR.pdf
"Damp Indoor Spaces and Health", Institute of Medicine, National Academy of Sciences, 24 May 2004. - Web Search 6/23/2010 - original source: http://www.iom.edu/Reports/2004/Damp-Indoor-Spaces-and-Health.aspx
Damp Indoor Spaces and Health - executive summary - Quoting:
Almost all homes, apartments, and commercial buildings will experience leaks, flooding, or other forms of excessive indoor dampness at some point. Not only is excessive dampness a health problem by itself, it also contributes to several other potentially problematic types of situations. Molds and other microbial agents favor damp indoor environments, and excess moisture may initiate the release of chemical emissions from damaged building materials and furnishings. This new book from the Institute of Medicine examines the health impact of exposures resulting from damp indoor environments and offers recommendations for public health interventions. "Damp Indoor Spaces and Health" covers a broad range of topics. The book not only examines the relationship between damp or moldy indoor environments and adverse health outcomes but also discusses how and where buildings get wet, how dampness influences microbial growth and chemical emissions, ways to prevent and remediate dampness, and elements of a public health response to the issues. A comprehensive literature review finds sufficient evidence of an association between damp indoor environments and some upper respiratory tract symptoms, coughing, wheezing, and asthma symptoms in sensitized persons. This important book will be of interest to a wide-ranging audience of science, health, engineering, and building professionals, government officials, and members of the public.
Copies of Damp Indoor Spaces and Health [buy at Amazon] are also available from the National Academies Press,
500 Fifth Street, N.W., Lockbox 285, Washington, DC 20055; (800) 624-6242 or (202) 334-3313
(in the Washington metropolitan area); Internet, http://www.nap.edu. The full text of this
report is available at http://www.nap.edu.
Professional Equipment is a retailer of inspection tools and test equipment - selling temperature, humidity, and RH measurement tools from under $20. to over $1,300. U.S.
Tecpel Co., Ltd., 4F-1, No 225, HePing East Road, Sec 3, Taipei 11056 Taiwan ROC 888-2-2737-5866
WHO Guidelines for Indoor Air Quality: Dampness and Mould (World Health Organization Europe), WHO Regional Office for Europe, ISBN-10: 9289041684, ISBN-13: 978-9289041683
When sufficient moisture is available, hundreds of species of bacteria and fungi -- particularly mold -- pollute indoor air. The most important effects of exposure to these pollutants are the increased prevalence of respiratory symptoms, allergies and asthma as well as disturbance of the immune system. Preventing (or minimizing) persistent dampness and microbial growth on interior surfaces and building structures is the most important means of avoiding harmful effects on health.
This book provides a comprehensive overview of the scientific evidence on the health problems associated with this ubiquitous pollution and provides WHO guidelines to protect public health. It also describes the conditions that determine the presence of mould and provides measures to control its growth indoors.
Olalekan F. Osanyintola, Carey J. Simonson, Moisture buffering capacity of hygroscopic building materials: Experimental facilities and energy impact, article within Energy and Buildings,
Abstract Research into dynamic moisture storage in hygroscopic building materials has renewed interest in the moisture buffering capacity of building materials and shown the potential for these materials to improve indoor humidity, thermal comfort and indoor air quality in buildings. This paper complements previous research by estimating the effect of hygroscopic materials on energy consumptions in buildings. The results show that it may be possible to reduce heating and cooling energy consumption by up to 5% and 30%, respectively, when applying hygroscopic materials with well-controlled HVAC systems. The paper also describes two different experimental facilities that can be used to measure accurately the moisture buffering capacity of hygroscopic building materials. These facilities provide different convective transfer coefficients between the hygroscopic material and ambient air, ranging from natural convection in small, sealed jars to fully developed laminar and turbulent forced convection. The paper presents a numerical model and property data for spruce plywood which will be used in a companion paper [O.F. Osanyintola, P. Talukdar, C.J. Simonson, Effect of initial conditions, boundary conditions and thickness on the moisture buffering capacity of spruce plywood, Energy and Buildings (2006), doi:10.1016/j.enbuild.2006.03.024.] to provide additional insight into the design of an experiment to measure the moisture buffering capacity of hygroscopic materials. Keywords Moisture buffering capacity; Energy savings; Experimental facility; Uncertainty; Indoor air quality; Convective transfer coefficients; Spruce plywood
Olalekan F. Osanyintola, Prabal Talukdar, Carey J. Simonson Effect of initial conditions, boundary conditions and thickness on the moisture buffering capacity of spruce plywood Energy and Buildings, Volume 38, Issue 10, October 2006, Pages 1283-1292
Books & Articles on Building & Environmental Inspection, Testing, Diagnosis, & Repair
Our recommended books about building & mechanical systems design, inspection, problem diagnosis, and repair, and about indoor environment and IAQ testing, diagnosis, and cleanup are at the InspectAPedia Bookstore. Also see our Book Reviews - InspectAPedia.
Environmental Health & Investigation Bibliography - our technical library on indoor air quality inspection, testing, laboratory procedures, forensic microscopy, etc.
Adkins and Adkins Dictionary of Roman Religion discusses Robigus, the Roman god of crop protection and the legendary progenitor of wheat rust fungus.
Kansas State University, department of plant pathology, extension plant pathology web page on wheat rust fungus: see http://www.oznet.ksu.edu/path-ext/factSheets/Wheat/Wheat%20Leaf%20Rust.asp
"A Brief Guide to Mold, Moisture, and Your Home", U.S. Environmental Protection Agency US EPA - includes basic advice for building owners, occupants, and mold cleanup operations. See http://www.epa.gov/mold/moldguide.htm
US EPA - Mold Remediation in Schools and Commercial Building [Copy on file at /sickhouse/EPA_Mold_Remediation_in_Schools.pdf ] - US EPA
US EPA - Una Breva Guia a Moho - Hongo [Copy on file as /sickhouse/EPA_Moho_Guia_sp.pdf - en Espanol
...