InspectAPedia tolerates no conflicts of interest. We have no relationship with advertisers, products, or services discussed at this website.
Clothes washing machines vs. the septic system: can we use a clothes washer or "washing machine" when a home is connected to a private septic system? What steps should be taken to protect the septic system from excessive water use or clothes lint or detergents? How to extend the life of a septic system.
Green links show where you are. © Copyright 2015 InspectApedia.com, All Rights Reserved.
Homeowner's Guide to WASHING MACHINES Draining into Septic Systems
Does a washing machine overload and harm the septic system?
The volume of water from home washing machine use should not be a problem with a normal septic system in good working order.
As we discussed at Dishwashers, in some conditions you should avoid emptying washing machine discharge into the septic system:
Drainfield capacity limits: If the absorption system (leach field, drainfield) has limited capacity to absorb effluent
Drainfields near failure: If the absorption system is showing evidence of failure, such as effluent coming to the surface of the property or backing up into the building (nonetheless you need septic field investigation and repair)
Below we discuss steps you can take to minimize the possible effects of extra wastewater loads caused by washing machines, and then we discuss the effects of detergents and soaps when operating a clothes washer connected to a septic system or drywell.
Does Washing Machine Detergent Harm the Septic Tank or Septic System Drainfield?
The volume of detergent from a residential clothes washer entering the septic system is so low as to be very dilute when it enters the septic tank, dilute enough that it is not going to harm the septic tank bacteria at normal levels of residential dishwasher use.
Clothes washing machine detergents do not make a high level of suds inside the machine.They rely on surfactants, high water temperature, and time spent agitating the contents of the clothes washing machine to clean them.
However many if not most washing machine (and dishwasher) detergents contain phosphates or nonylphenol ethoxylate surfactants. Surfactants are what make detergents effective in lifting soil particles off of a surface (a dish in the dishwasher or a shirt in the washing machine). These chemicals may be serious contaminants of ground water and surface water in the environment.
What laundry detergents or soaps should we use in a Clothes Washing Machine connected to a septic tank or to a Graywater System?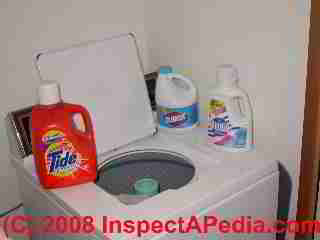 Sometimes we find that dry powder clothes washer soap appears as clots and clogs in the system - usually because the homeowner is pouring in too much detergent and is not following the manufacturer's instructions.
Passing solid clumps of detergent into the septic tank speed clogging of the system and in severe cases can even block a building drain.

Dishwasher & laundry detergents: are discussed in detail separately at DETERGENTS in our article at DISHWASHERS vs SEPTICS where we discuss recommended detergents and also the effects of phosphates & detergents on the environment.
How to minimize the possible clogging or other effects of laundry soaps on the septic system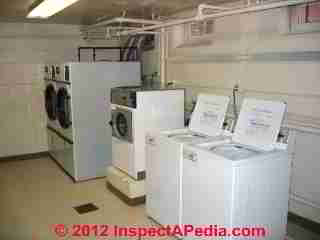 A private septic system tank and drainfield can be protected from clogging due to excessive use of detergents.
And even if a building's wastewater is carried to a public sewer there may be concerns with detergent clogging in the drain system. In the laundry room serving a residential apartment building such as shown in our photo (left, Bronx, NY), asking residents to follow these suggestions can help prevent sewer drain clogging.
Avoid using more than the necessary amount of powdered laundry or dishwasher detergent. Excessive amounts of powdered laundry detergent often fail to dissolve in the washing machine.
Liquid laundry detergent: Safer if you are not the one operating the clothes washing machine, use liquid laundry detergent.
"Budget" powdered laundry detergents contain extra amounts of fillers (in some cases montmorillonite clay) which increase the risk of system drainage or drainfield clogging.
High phosphate laundry detergents may be a factor in reducing drainfield life [more data is needed on this point.]
Liquid detergents recommended: We prefer to use liquid detergents in the recommended amounts or less in clothes washers connected to or draining into any onsite disposal system, septic tank, cesspool, or drywell.
The following measures may relieve the water volume load on septic fields from the washing machine: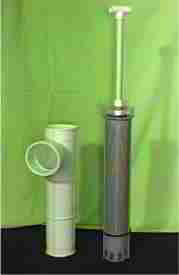 Use liquid laundry detergent rather than a dry soap powder laundry detergent to reduce septic system clogging. Some experts report septic system clogging in pipes, septic tank, and drain field when large amounts of dry laundry soap powders are used.
Install a lint filter on the washing machine water drain line to avoid sending lint into the septic tank and fields or install a graywater filter ahead of your drywell if you are using one to receive washing machine discharge waters. Details are at FILTERS SEPTIC & GREYWATER
Install a separate drywell to receive water from the washing machine drain, and perhaps dishwasher and other graywater.
Spread out use of the washing machine over longer intervals - perhaps washing loads in morning and at night rather than running one laundry load right after another. This "dosing" of the septic system or drywell gives the absorption system time to recover between washes.
Cleaning out the septic tank more often than the minimum schedule will extend the life of your drainfield. In turn, this will permit the drainfield to better absorb the extra volume of wastewater generated by clothes washing.

Similarly, any other measures that protect the drainfield's ability to absorb water, such as avoiding flooding the fields with surface runoff, become more important if a family is using their washing machine alot.
Also see CHEMICALS & CLEANERS into the SEPTIC TANK? & CHEMICALS, KEEP OUT OF SEPTICS-2 - separate articles
More Reading
Green link shows where you are in this article series.
...
Frequently Asked Questions (FAQs)
No FAQs have been posted for this page. Try the search box below or CONTACT US by email if you cannot find the answer you need at InspectApedia.
Ask a Question or Search InspectApedia
Use the "Click to Show or Hide FAQs" link just above to see recently-posted questions, comments, replies, try the search box just below, or if you prefer, post a question or comment in the Comments box below and we will respond promptly.
Search the InspectApedia website
Technical Reviewers & References
Publisher's Google+ Page by Daniel Friedman
Click to Show or Hide Citations & References
New York State Department of Health, "Appendix 75-A Wastewater Treatment Standards - Individual Household Systems", [PDF] New York State Department of Health, 3 February 2010, retrieved 3/1/2010, original source: https://www.health.ny.gov/regulations/nycrr/title_10/part_75/appendix_75-a.htm
Septic Tank Pumping Guide: When, Why, How to pump the septic tank
Septic Tank/Soil-Absorption Systems: How to Operate & Maintain [ copy on file as /septic/Septic_Operation_USDA.pdf ] - , Equipment Tips, U.S. Department of Agriculture, 8271 1302, 7100 Engineering, 2300 Recreation, September 1982, web search 08/28/2010, original source: http://www.fs.fed.us/t-d/pubs/pdfimage/82711302.pdf.
Ten Steps to Keeping a Septic System Working, suggestions from the U.S. EPA, edits and additions by DJF
Septic Tank/Soil-Absorption Systems: How to Operate & Maintain [ copy on file as /septic/Septic_Operation_USDA.pdf ] - , Equipment Tips, U.S. Department of Agriculture, 8271 1302, 7100 Engineering, 2300 Recreation, September 1982, web search 08/28/2010, original source: http://www.fs.fed.us/t-d/pubs/pdfimage/82711302.pdf
Pennsylvania State Fact Sheets relating to domestic wastewater treatment systems include

Pennsylvania State Wastewater Treatment Fact Sheet SW-161, Septic System Failure: Diagnosis and Treatment
Pennsylvania State Wastewater Treatment Fact Sheet SW-162, The Soil Media and the Percolation Test
Pennsylvania State Wastewater Treatment Fact Sheet SW-l64, Mound Systems for Wastewater Treatment
Pennsylvania State Wastewater Treatment Fact Sheet SW-165, Septic Tank-Soil Absorption Systems
Document Sources used for this web page include but are not limited to: Agricultural Fact Sheet #SW-161 "Septic Tank Pumping," by Paul D. Robillard and Kelli S. Martin. Penn State College of Agriculture - Cooperative Extension, edited and annotated by Dan Friedman (Thanks: to Bob Mackey for proofreading the original source material.)

US EPA Onsite Wastewater Treatment Systems Manual [online copy, free] Top Reference: US EPA's Design Manual for Onsite Wastewater Treatment and Disposal, 1980, available from the US EPA, the US GPO Superintendent of Documents (Pueblo CO), and from the National Small Flows Clearinghouse. Original source http://www.epa.gov/ORD/NRMRL/Pubs/625R00008/625R00008.htm Onsite wastewater treatment and disposal systems, Richard J Otis, published by the US EPA. Although it's more than 20 years old, this book remains a useful reference for septic system designers. U.S. Environmental Protection Agency, Office of Water Program Operations; Office of Research and Development, Municipal Environmental Research Laboratory; (1980)
Eco John® Innovative Toilet Solutions, Global Inventive Industries, Fountain Valley CA, PDF, product brochure
"International Private Sewage Disposal Code," 1995, BOCA-708-799-2300, ICBO-310-699-0541, SBCCI 205-591-1853, available from those code associations.
"Manual of Policy, Procedures, and Guidelines for Onsite Sewage Systems," Ontario Reg. 374/81, Part VII of the Environmental Protection Act (Canada), ISBN 0-7743-7303-2, Ministry of the Environment,135 St. Clair Ave. West, Toronto Ontario M4V 1P5 Canada $24. CDN.
Manual of Septic Tank Practice, US Public Health Service's 1959.
Planting Over Septic System Component", Daniel Friedman (author/editor, InspectAPedia.com), The Innovator, Winter/Spring 2008, BCOSSA, British Columbia OnSite Sewage Association, 201-3542 Blansard St., Victoria BC V8X 1W3 Canada
Save the Septic System - Do Not Flush These Items Down the Toilet, Daniel Friedman, InspectAPedia.com - PDF document, printable

Septic System Owner's Manual, Lloyd Kahn, Blair Allen, Julie Jones, Shelter Publications, 2000 $14.95 U.S. - easy to understand, well illustrated, one of the best practical references around on septic design basics including some advanced systems; a little short on safety and maintenance. Both new and used (low priced copies are available, and we think the authors are working on an updated edition--DF. Quoting from one of several Amazon reviews: The basics of septic systems, from underground systems and failures to what the owner can do to promote and maintain a healthy system, is revealed in an excellent guide essential for any who reside on a septic system. Rural residents receive a primer on not only the basics; but how to conduct period inspections and what to do when things go wrong. History also figures into the fine coverage.
US EPA Onsite Wastewater Treatment Systems Manual Top Reference: US EPA's Design Manual for Onsite Wastewater Treatment and Disposal, 1980, available from the US EPA, the US GPO Superintendent of Documents (Pueblo CO), and from the National Small Flows Clearinghouse. Original source http://www.epa.gov/ORD/NRMRL/Pubs/625R00008/625R00008.htm
Water Wells and Septic Systems Handbook, R. Dodge Woodson. This book is in the upper price range, but is worth the cost for serious septic installers and designers.

Wells and Septic Systems, Alth, Max and Charlet, Rev. by S. Blackwell Duncan, $ 18.95; Tab Books 1992. We have found this text very useful for conventional well and septic systems design and maintenance --DF.
Advanced Onsite Wastewater Systems Technologies, Anish R. Jantrania, Mark A. Gross. Anish Jantrania, Ph.D., P.E., M.B.A., is a Consulting Engineer, in Mechanicsville VA, 804-550-0389 (2006). Outstanding technical reference especially on alternative septic system design alternatives. Written for designers and engineers, this book is not at all easy going for homeowners but is a text I recommend for professionals--DF.
Builder's Guide to Wells and Septic Systems, Woodson, R. Dodge: $ 24.95; MCGRAW HILL B; TP; Quoting from Amazon's description: For the homebuilder, one mistake in estimating or installing wells and septic systems can cost thousands of dollars. This comprehensive guide filled with case studies can prevent that. Master plumber R. Dodge Woodson packs this reader-friendly guide with guidance and information, including details on new techniques and materials that can economize and expedite jobs and advice on how to avoid mistakes in both estimating and construction. Chapters cover virtually every aspect of wells and septic systems, including on-site evaluations; site limitations; bidding; soil studies, septic designs, and code-related issues; drilled and dug wells, gravel and pipe, chamber-type, and gravity septic systems; pump stations; common problems with well installation; and remedies for poor septic situations. Woodson also discusses ways to increase profits by avoiding cost overruns.
Country Plumbing: Living with a Septic System, Hartigan, Gerry: $ 9.95; ALAN C HOOD & TP; Quoting an Amazon reviewer's comment, with which we agree--DF:This book is informative as far as it goes and might be most useful for someone with an older system. But it was written in the early 1980s. A lot has changed since then. In particular, the book doesn't cover any of the newer systems that are used more and more nowadays in some parts of the country -- sand mounds, aeration systems, lagoons, etc.
Onsite Wastewater Disposal, R. J. Perkins; Quoting from Amazon: This practical book, co-published with the National Environmental Health Association, describes the step-by-step procedures needed to avoid common pitfalls in septic system technology. Valuable in matching the septic system to the site-specific conditions, this useful book will help you install a reliable system in both suitable and difficult environments. Septic tank installers, planners, state and local regulators, civil and sanitary engineers, consulting engineers, architects, homeowners, academics, and land developers will find this publication valuable.
Onsite Wastewater Treatment Systems, Bennette D. Burks, Mary Margaret Minnis, Hogarth House 1994 - one of the best septic system books around, suffering a bit from small fonts and a weak index. While it contains some material more technical than needed by homeowners, Burks/Minnis book on onsite wastewater treatment systems a very useful reference for both property owners and septic system designers.
Books & Articles on Building & Environmental Inspection, Testing, Diagnosis, & Repair
The Home Reference Book - the Encyclopedia of Homes, Carson Dunlop & Associates, Toronto, Ontario, 25th Ed., 2012, is a bound volume of more than 450 illustrated pages that assist home inspectors and home owners in the inspection and detection of problems on buildings. The text is intended as a reference guide to help building owners operate and maintain their home effectively. Field inspection worksheets are included at the back of the volume. Special Offer: For a 10% discount on any number of copies of the Home Reference Book purchased as a single order. Enter INSPECTAHRB in the order payment page "Promo/Redemption" space. InspectAPedia.com editor Daniel Friedman is a contributing author.

Or choose the The Home Reference eBook for PCs, Macs, Kindle, iPad, iPhone, or Android Smart Phones. Special Offer: For a 5% discount on any number of copies of the Home Reference eBook purchased as a single order. Enter INSPECTAEHRB in the order payment page "Promo/Redemption" space.