Thermal Imaging for Mold Detection
Warnings about severe errors when relying on thermal scans for building mold detection

THERMAL IMAGING MOLD SCANS - CONTENTS: Thermal imaging equipment, procedures, advice & warnings: Advice on Using IR Infrared Scanning Equipment for Mold Contamination Surveys. Are Thermal Images Useful in Spotting Areas of Extra Risk of Structural Rot Damage or Hidden Mold in Buildings? New Zealander's Photographs Demonstrate How IR Thermal Imaging Miss Hidden Mold. Consumer Tips For Hiring a Building Surveyor or Mold Inspector
THERMAL IMAGING, THERMOGRAPHY - separate article
POST a QUESTION or READ FAQs about the use of Thermography & Thermal Imaging for Hidden Mold Contamination Surveys
InspectAPedia tolerates no conflicts of interest. We have no relationship with advertisers, products, or services discussed at this website.
IR or Thermal Scanning for Hidden Mold: case study evaluates the ability of thermal imaging to find hidden mold contamination in a New York Home.
As we discuss in detail at THERMAL IMAGING, THERMOGRAPHY, thermal images and IR have been widely used with some success at spotting areas of heat loss in buildings and these tools have a longer history of use in examining overheated electrical connections, motors, etc. But thermography for finding hidden mold reservoirs is a hit-or-miss proposition, as this article illustrates. Page top image of thermal scan results provided courtesy of Paul Probett, Incodo Ltd., a New Zealand Forensic Building Specialist.[1]
Green links show where you are. © Copyright 2014 InspectApedia.com, All Rights Reserved.
Does Thermal Imaging Find Mold Contamination in Buildings? Case Study Report
Toxic Black Mold IR Scanner - like the light meter replacement window scam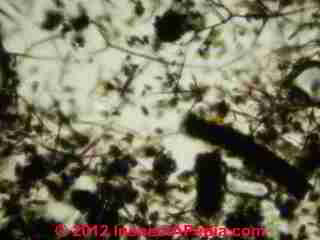 The most egregious instrument snafu I've come across [DF] recently was a Hudson Valley New York "mold remediator" uses an IR camera to tell himself and his clients where hidden mold is located in their home.
The homeowner complained of high sensitivity and allergies to mold and told me that her bedroom was the place where she was most irritated - she suspected a mold problem nearby, had hired the thermographic camera-equipped mold contractor, had him treat her home, but felt no reduction in her indoor air quality mold-suspect complaints.
After this high tech pay and spray "mold remediation job" produced no relief, I was asked to examine the building further. I cut test openings into walls where he'd been spraying his sanitizer - there was no mold in those cavities to start with. By inspecting the building outdoors and inside, and by listening to the client, and perhaps by luck too, I was able to find a mold problem whose removal also abated the occupant complaints in the home.
We Checked the Area of Prior Mold Spray Treatment
At below left our photo shows one of the plugged openings where the contractor had sprayed his sanitizer - along a dining-room window where (no surprise on a 1960's ranch house) his thermal camera had shown temperatures a bit lower than other wall sections. The treatment areas was a bit far from the problem bedroom. With owner permission we decided to take a look into the treated wall cavity. At below right you can see the wall cavity side of our test plug cut - indeed we found a stain explained below, but no mold whatsoever on either side of the drywall surfaces - not by eye and not by lab test.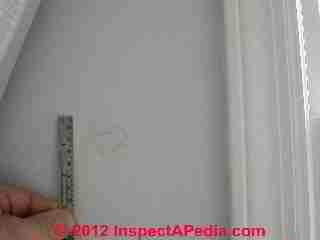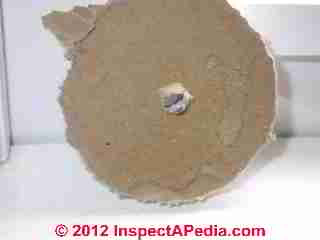 At below left you can see the building wall cavity insulation vapor barrier (black kraft paper) and insulation (green fiberglass) where we removed a new test plug to make an exploratory wall cut in the area the contractor had asserted was heavy mold growth. At below right you can see the wall sheathing, framing, and cavity details. By visual inspection, surface test samples, and vacuum samples we found no evidence that there had ever been mold contamination in this cavity. We also saw by liquid marks that what we thought may have been water marks from leaks were traced to the application of sanitizer. .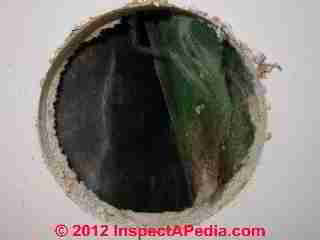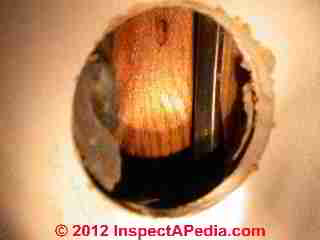 This approach to finding hidden building mold was as unreliable and nonsensical as the window replacement company salesmen who used to use a camera light meter (which pegged its needle whenever exposed to brighter light at any building window) to identify "leaky windows".
So If There Was a Mold Problem, Where Was It? Start at the Building Exterior
I did find areas of basement water entry and moldy insulation. (FIBERGLASS INSULATION MOLD - in an area never examined by the thermograph er. Starting outdoors we identified all of the likely leak points on the home, roof to basement, with special attention to the exterior walls and attic surrounding the problem bedroom. Our photos below illustrate our discovery of a long history of leaks into a cantilevered floor cavity that was under the plaintiff's bed. Notice that deep drip line in the soil? That led us to lie down, squirm under the floor overhang and look up. At below right you can see what we found. Leak stains.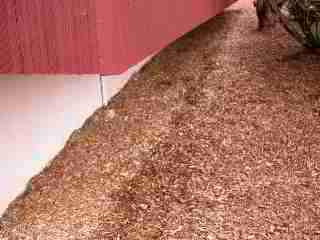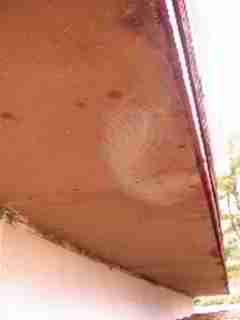 Continue By Inspecting the Building Interior
Below are photographs from the home's basement, looking at and then into the cantilevered floor section. We found leak stains and some visible mold on wood surfaces as well as on some of the insulation in that area.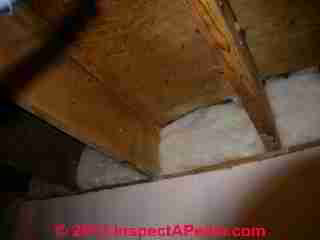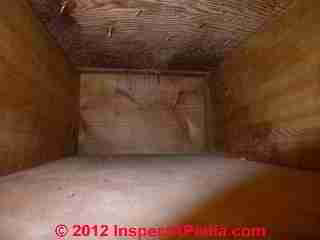 Confirmation of the Mold Reservoir Theory by Lab Tests & Photographs
In our forensic lab we confirmed the presence of Pen/Asp spore chains in air and dust in the bedroom, and long Pen/Asp spore chains and mold growth actually inside the fiberglass insulation that had been below the bedroom floor. Why would mold "grow" in relatively clean fiberglass insulation?
Certainly if the building insulation has remained clean and dry the mold risk is very low. But where the material has been wet, occupied by insects or rodents or other sources of organic debris, and possibly where the resin binder is mold-friendly, we sometimes find rather high Aspergillus sp. and on occasion Penicillium sp. therein (photo below left).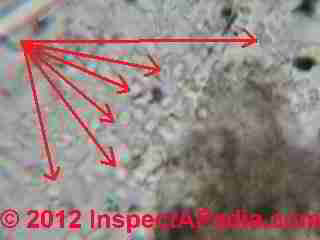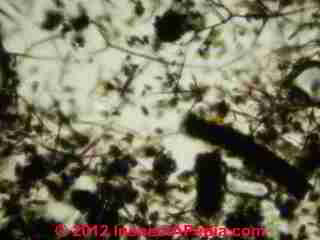 Pen/Asp spores in spore chains (red arrows in photo above) confirmed active or recent nearby fungal growth, not just a volunteer spore or two that came in to the insulating material from the air. At below right our photo illustrates other fungal growth and mite fecals collected from the wood surfaces in the same building floor cavity. More detail about the occurrence of mold in fiberglass insulation is at INSULATION MOLD.
New Zealander's Photographs Demonstrate How IR Thermal Imaging Miss Hidden Mold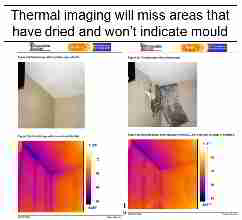 Mr. Probett's slide shown at left illustrates a point that we also emphasize: neither a moisture meter nor an infra red / thermal scanning device will report an area of prior water leakage or hidden mold if that area has dried at the time of the building survey.
And simply pointing to temperature differences in a building does not assure that we are pointing out moisture leaks and certainly not mold.
The upper photos show what looks like a clean building interior (far left) that actually harbored a significant level of mold on the wall surface behind wallpaper.
The lower photos illustrate that the thermal image reports no significant temperature inconsistency that would have pointed to this mold contamination.
Paul Probett adds: We had major problems with people buying thermal imagers, using ex military units and making ridiculous claims. In 2008 I gave a power-point presentation [25] [adapted in this article] to a conference explaining how IR results can be fudged and I described the limitations of thermal imagers.  (Our staff had been through the Infraspection Institute USA on-line course to level 2 the year before).
An adaptation & expanded version of Mr. Probett's 2008 thermography presentation are included in the text and illustrations at THERMAL IMAGING, THERMOGRAPHY.
Many Effective Untruths Contain an Element of Truth
Like practices of questionable honesty, there was an element of truth to the mold remediator's IR pitch: if indeed there had been a recent water leak into a building cavity, the IR scanner might be expected to pick up a temperature difference at that location. And since a water leak into a wall can cause mold, there might be a mold risk. But
In fact there was a problem mold reservoir in the building discussed above, but it was nowhere near any of the locations treated by the contractor - it was not even on the same building floor level..
The Contractor Treated the "Not Mold" Areas and Completely Missed the Actual Mold Reservoir
In fact, the "remediation" procedure sold by the contractor was improper as well as ineffective. His use of thermal imaging, included "free" in his building survey for hidden mold, led to a dual error:
The contractor sprayed for hidden toxic black mold where mold was not actually present in the building - also see MOLD SPRAYS, SEALANTS, PAINTS
The contractor failed to find mold and remove it where problematic mold was in fact present in the building
Consumer Tips For Hiring a Building Surveyor or Mold Inspector
The person who screens your building for mold contamination or other possibly costly repairs and who defines the initial scope of work to be performed should have no business nor any other relationship with the contractor who will ultimately perform the work.

Reliance on "tests" for hidden mold without an expert visual inspection will not give the most reliable results and some building mold screening test methods are simply invalid.
Watch out: in the hands of the inadequately-trained or unscrupulous operators, many inspection & testing tools or equipment can wreak havoc or harm to consumers. At THERMAL IMAGING, THERMOGRAPHY Paul Probett discusses the ingredients necessary for successful use of thermographic or IR temperature scanning cameras & equipment and he also identifies sources of thermography errors.
More Reading
Green link shows where you are in this article series.
...
Frequently Asked Questions (FAQs) about Thermography & Thermal Imaging for Building Heat Loss, Leaks, Mold, Hidden Damage Surveys
...
Ask a Question or Search InspectApedia
Questions & answers or comments about the use of Thermography & Thermal Imaging for Hidden Mold Contamination Surveys.
Try the search box just below or if you prefer, post a question or a comment in the Comments box below and we will respond promptly.
Search the InspectApedia website
Technical Reviewers & References
Related Topics, found near the top of this page suggest articles closely related to this one.
Click to Show or Hide Citations & References
Books & Articles on Building & Environmental Inspection, Testing, Diagnosis, & Repair
The Home Reference Book - the Encyclopedia of Homes, Carson Dunlop & Associates, Toronto, Ontario, 25th Ed., 2012, is a bound volume of more than 450 illustrated pages that assist home inspectors and home owners in the inspection and detection of problems on buildings. The text is intended as a reference guide to help building owners operate and maintain their home effectively. Field inspection worksheets are included at the back of the volume. Special Offer: For a 10% discount on any number of copies of the Home Reference Book purchased as a single order. Enter INSPECTAHRB in the order payment page "Promo/Redemption" space. InspectAPedia.com editor Daniel Friedman is a contributing author.

Or choose the The Home Reference eBook for PCs, Macs, Kindle, iPad, iPhone, or Android Smart Phones. Special Offer: For a 5% discount on any number of copies of the Home Reference eBook purchased as a single order. Enter INSPECTAEHRB in the order payment page "Promo/Redemption" space.