Heating System Diagnostic FAQs-5

Recent heating system repair Q&A
InspectAPedia tolerates no conflicts of interest. We have no relationship with advertisers, products, or services discussed at this website.
Heating system installation, repair, maintenance questions & answers set #2:
More frequently-asked questions & replies on how to troubleshoot & repair heating systems in buildings.
These heating system articles answer questions about all types of building heating systems and describe how to inspect, diagnose, and repair heating system problems, how to cut heating bills, and heating system safety, heating system efficiency and heating trouble-shooting advice.
We also provide a MASTER INDEX to this topic, or you can try the page top or bottom SEARCH BOX as a quick way to find information you need.
Heating System Q&A Set #4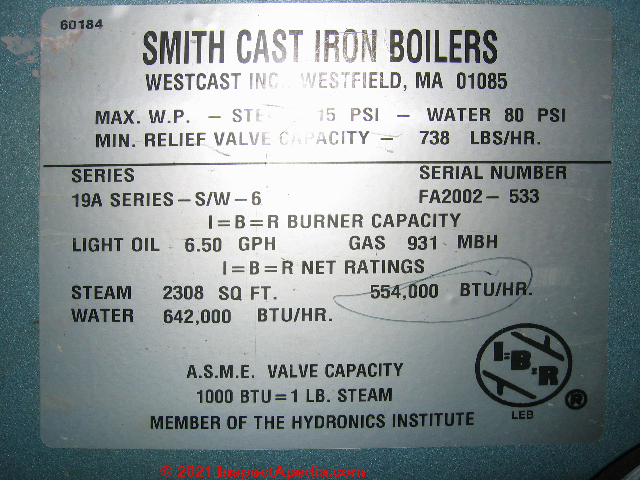 In these heating system articles we explain how to inspect and detect all defects and hazards on heating systems, boilers, furnaces, and other equipment.
[Click to enlarge any image]
Photo: example data tag for a boiler. More examples of data tags and notes on finding them are at DATA TAG IDENTIFICATION & LOCATION
What kind of heat have I got? If you don't know whether your heat is provided by a furnace (hot air) or boiler (hot water), or whether your fuel is oil, gas, or electric, and whether your heat is hot water, steam, or warm air, see HEATING SYSTEM TYPES.
How to fix the heating system: If your heating system is not working properly choose one of the following diagnostic procedures:
These Q&As were posted originally at HEATING SYSTEMS- home.
Thank you for posting the additional information.

Your added information will definitely be helpful to other readers facing the same problems.

Stay safe and stay warm.

Thanks for taking the time to help figure this out. But I have gotten it up and running by jumping across terminal four and five on the VS3000.
That is the two wires that goes to the fluid temperature sensor (like an aquatsat probe but straps to the hotwater outlet pipe - for those amateurs like me).
The troubleshooting section says to replace the VS3000 and the sensor. I didn't know what the sensor was. I figured it would come with the Circulation controller but that is not the case.
The sensor part number is 80160218. I kept wondering what they meant by sensor so I went to the diagram and found it, it is buried behind the cabinet around the boiler sections.
I know some expert is going to chastise me for doing that but when it will take 2 weeks to get a part in I gotta have heat. I am assuming the aquastat will shut everything down when it gets to 180-200 degrees anyway.
The VS3000 board sell for $325 to $600 depending where you can find it.
The temperature sensor only cost $40 to $50.00.
Thank you very much for your time, it was a very long reply that was helpful.

By the way for anyone reading this my Burnham RV6 would start fine and cycle on normally, but the flame would go out in 3-5 seconds and start up all over again.

The flame rollout sensor was also bad but that was easy to find that part. Of course, if the rollout sensor is bad, it won't cycle at all.
But is also very easy to just connect the two wires to troubleshoot the flame rollout switch. If you wire them together and it work s, just replace the roll out switch, about $20.00.

Marshall

I had not had my coffee before my earlier remark and apologize - I didn't have clear that we're talking about a gas fired boiler and a hydronic heating system.

I'm NOT an expert on this boiler control but from what I understand on the Burnham RV6 gas boiler the circulator is switched on and off by the VS3000 circulator controller that in turn monitors water temperature - and can fail.

Have you checked the HI and DIFF settings; typical are HI-210F and DIFF 30F.

Burnham advises that for the Burnham RV6 boiler to work properly the HI should not be set below 210F. Because the boiler mixes the cold return in with outgoing hot, it's not going to actually deliver 210F water to the baseboards.

About reading abnormal voltage at the VS3000 controller, If you have to replace the control, given the stunning prices (around $400. for replacements for the VS3000 from various suppliers, I'd consider the Tekmar 260 control that I've read can work with your boiler.

But first I'd confirm that the problem is on the board of the controller and not improper system voltage.

About adding draft at the firebox by keeping covers off (not recommended, as you know, possibly unsafe), I suspect you're simply subverting the system design and fooling the control.

For other readers, here is what Burnham's RV6 Gas Boiler Manual says about the VS3000 sensor on the boiler:
VS3000 / VS3001 Water Temperature Sensor Testing Instructions
A good quality test meter capable of measuring up to 50k ohms (1k ohm = 1000 ohms) is required to measure the sensor resistance. In addition to this, the actual temperature must be measured with either a good quality digital thermometer, or if a thermometer is not available, a second sensor can be placed alongside the one to be tested and the readings compared.
First measure the temperature using the thermometer and then measure the resistance of the sensor at the control.
The wires from the sensor must not be connected to the control while the test is performed.
Using Table 13, estimate the temperature measured by the sensor. The sensor and thermometer readings should be close.
If the test meter reads a very high resistance, there may be a broken wire, a poor wiring connection or a defective sensor. If the resistance is very low, the wiring may be shorted, there may be moisture in the sensor or the sensor may be defective.
To test for a defective sensor, measure the resistance directly at the sensor location.
Do not apply voltage to a sensor at any time as damage to the sensor may result.

Thanks for the reply. The circulator control reads low voltage when it should be 120 volts. I wired the circulator to run manually but that doesn't help keep the burner fired up. I have cleaned the boiler sections and the flu connections near the boiler. I didn't want to pull the flu pipe sections apart unless I have to, but it seems to have good flow out the side of the house.
The flu pipe does run 20' parallel to get to the outside wall.
Even though the circulator control has low voltage and needs replaced I feel there is a problem with venting, since it works fine with firebox access panel removed. There doesn't seem to be any backdraft and there is no smell or fumes in basement.

I have a Burnham RV6 Boiler 20 years old, power vent, four zones, natural gas, cycles on okay but shuts off in 3 seconds and starts all over.
If I take the firebox access cover off, every thing works fine but it puts too much heat off. I am afraid it will burn all of the wires off boiler. if left open. Following the manual trouble shooting section it indicates the mixing switch is bad. (I think it is a honeywell switch all the other controls are Honeywell.
It is a VS3000 switch.. I have ordered one, I have checked locally and on line and all are on back ordered. So I may have to want 2-3 weeks. I find it peculiar that every thing works fine just by providing more draft by removing the firebox access panel. This boiler has expensive controls that need replaced every couple of years.
Very dissatisfied with Burnham and Honeywell , they should be more reliable than that. Any suggestion how to get it up and running even if only temporary.

Peghie

I agree that the amount of information online can be overwhelming, and worse, by some writers even incorrect or dangerous.

Luckily you don't need to become a heating expert nor in this case do I think you should you try.

If your heating system is blowing cold air rather than warm, some service or repair is needed.

I can't diagnose what's wrong from just a brief e-text about a building and system that I know nothing about - not even what kind of heat (gas, oil, heat pump). Sorry.

Thanks for asking, though.

So much info online it's very overwhelming.
Should I tell the landlord this issue?

I know heat pumps blow out cooll air,them warms up.
But. Still chilly in house. Everything is winterized myself.So, who can give me an idea whats happening?
Thanks

Mu hvac unit hissing loud after it shuts off.
Keeping temp in house ok, but blows more cold
air thsn warm.

Amy

There are life-safety questions here that I can't even guess-at from your note.

- what is the condition of the flue and how is it constructed?

- is the flue fire-safe

- does the flue meet current fire safety codes for thickness

- where are the two oil furnaces that want to share the flue ? They'd have to be on the same floor level.

- what is the flue size and height vs. the venting requirements of the two furnaces? Is the venting adequate?

- has the flue interior been inspected and cleaned? After 40 years that would be appropriate.

Is it ok to keep one large flue for 2 oil furnaces ? Need to replace bricks and was recommended that 2 be added. It's been one for 40 plus years and need info. Thanks!!

Thanks I will see what I can find. Have a great night!

Mike, The best Installation and Operation manual including wiring diagrams that I have at hand for the Lennox G-12 SERIES FURNACE IO MANUAL


Or see LENNOX Air Conditioners, Furnaces, Heat Pumps, Manuals https://inspectapedia.com/heat/HVAC-Manuals-Air-Conditioners-Boiler-Furnaces-J-O.php#Lennox

I am replacing a Lennox Model G12D2-82-3 ,fan and limit control part # 38619. All the replacement ones do not have wire connection prongs on the bottom.
these wires hook to the gas control box. I have been trying to find a diagram for this fan and limit control to see what the wires do, but unsuccessful so far. Will this be okay or is there something else I should do? Or am I just out of luck? Any info is appreciated.

Dave

Watch out: DO NOT keep pressing the re-set button. IF the unit won't start and keep running for 10-15 minutes or longer, you are risking a dangerous puffback explosion as un-burned oil in the combustion chamber ultimately gets ignited all at once.

The problem could be a dirty nozzle, dirty filter, ignition trouble, combustion air or vent.chimney trouble - you need a service call from a trained heating service tech.

A good place to start reading yourself is at

NO HEAT - https://inspectapedia.com/heat/Heating-Boiler-Diagnosis.php - Boiler & Furnace Diagnosis Guide - where to start in figuring out why the heating system is not working. How to diagnose loss of heat, when the oil burner, boiler, or furnace won't run, or when the system runs but heat is not delivered to the living area

oil furnance wont fire unless you press the reset button, but then it stops a few seconds later and then if you tap the top of the reset box it will restart and then shut off again a few seconds later
this continues for three or four taps and fires for about a half hour coming up to temperature and delivering heat and hot water.
Once the boiler shuts down,you have to start this process all over again.
What is the problem,how to fix and is this process ultimately but inderecly reseting and dumping unspent fuel in the chamber

Cindy

Because there are fire and life safety questions involved, if I were buying a new home that had gas-fired heat that wasn't working normally, I don't think I would feel with it myself I would call a trained service technician to be sure that the heating equipment and the chimney were working properly. The risks of a fire or fatal carbon monoxide accident are just too serious to be casual about this.

Your service tech will check that there is a fuel supply and then check the ignition system and safety controls. When the burner ignites she will check to see that the combustion is proper and that the combustion air is proper in order to be sure that you're not facing a carbon monoxide Hazard.

Also be sure that you have working smoke and carbon monoxide detectors in your home.

Coleman 7900 series mobile home furnace ....just bought this place as is condition....furnace won't start ..gas furnace...

Furnace - Model: G8T08012UHA11A - Red Light Blinks 11 times - Blower runs continuously - Even with Thermostat disconnected

There are also steam boiler heating systems that also provide hydronic heat to a liwer floor by adding a circulator pump and separately piped hot water zone loop. You'll also need tne necessary controls.

Why not ask your heating company to make an estimate of both methods?

I have a one pipe steam system. I would like to know if I can hookup a radiator to a return line. It's in the laundry room. The main steam line runs just below the ceiling of the laundry room and runs to another room one level higher than the laundry room. The laundry room is next to the garage.
Located in the wall between the laundry room and garage is a pipe which connects the ceiling steam line with the return line that runs in the floor of the laundry room which then heads to the basement. I had the floor of the laundry room open so I replaced the return line in the floor put in a tee so I could put in a short piece of black pipe and a valve which would connect to a radiator
. The return would continue on under the laundry room floor and reach the basement. when the return reaches the basement there is a ninety degree elbow and a drop of about two feet and then the return line runs along the perimeter of the basement dropping about another two feet until it enters the boiler.
I placed a varivent on the side opposite the valve, about midlevel. The radiator is sloped back to the valve. When I ran the heat after a few minutes, water started pouring out of the varivent air valve. I thought that steam also runs in the returns in addition to condensate and I would be able to get some steam out of the return line into the radiator.
Is the problem that the radiator is filling up with condensate water from the return. Or is there a problem with the varivent air vent.
Could i just put a 1/8 plug instead of the varivent and get some heat out of the radiator from the hot condensate or would the air in the radiator prevent this as the air would have no place to go. Is there a work around to this so I could get some heat in the laundry room from the return line in the floor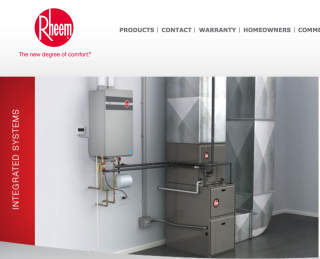 Rheem and some other companies make heaters specifically designed to work with integrated heating and water heater systems, including a Rheem tankless water heater (that's more efficient than the tank type that you have). https://www.rheem.com/products/integrated_systems/

The advantage of Rheem's approach is that during a call for heat in cold weather you'll also still be sure to have hot water for washing and bathing. A clip from the company's catalog (again this is NOT your system though it might be a replacement for it when your water heaters die).


Sure, Tim.

A water heater is sometimes hooked directly to heating baseboards or radiators, usually for a small heating load application.

Your system is a hydro-coil or hot-water-to-air heating system. The water heater(s) pipe hot water through a heat exchanging coil (finned copper tubing) that is inside of the air handler (s). House air blows across the coil to absorb heat to deliver warm air to the occupied space.

The presence of two 50 g. water heaters, assuming they're both dedicated to this purpose, could mean there are two separate air handlers, or two hydro coils in the duct system, OR if there's just one, then the installer figured that one water heater wouldn't have enough capacity.

The advantage of a 2-heater system of this type, IF the controls are set up to do this, is that you can run it as a "cascaded" boiler system. When the demand for heat is modest, just one of those water heaters runs. In very cold weather they both run to provide more heat. I'm just speculating since I have no details about your system.

You're adding complexity (two heaters instead of one), buying a heater that probably costs less than a conventional heating boiler, and maybe gaining some efficiency, and maybe paying in shorter life of the heaters than would be the life of a hydronic (hot water) heating boiler designed for that purpose.

I would want to know the brand and model of the water heaters, and I'd then check the manufacturer's specifications for those heaters to be sure that using them for a hydro coil or fan coil heating application is approved and that such use won't void the warranty on the water heaters.

I'd also like to see photos of the system and its controls, and of the water heaters and their data tags.

Watch out: if the condo is well-insulated and not to large the heating system may be just fine. For a larger building in a very cold climate I'd be cautious in what I assume about the system you describe. Electric water heaters are the least expensive to buy and install, but are the slowest in water re-heating capacity.

I'd also like ot know the age of the condo. In Colorado, for example, in 2001 the state enjoyed particularly low electric rates, making an electric water heater attractive. Since that time, electricity rates have increased over 60%.

See WATER HEATERS for HOME HEATING USE? inspectapedia.com/plumbing/Electric_Hot_Water_Home_Heating.php

You'll see that we issue some warnings about the duty cycle and life of the water heater when used for home heating purposes. But a number of water heater manufacturers have water heater models that they describe as usable in that way.

Hydro-coils or Hydro-Air or water-to-air heating systems are described at FAN CONVECTOR HEATERS - HYDRONIC COILS https://inspectapedia.com/heat/Fan_Convector_Heaters.php

I am interested in purchasing a townhouse condominium in the Sierras and it currently has two 50 gallon electric hot water heaters linked to a forced central air system with the hot water could providing the only heat to the system and simultaneosly providing hot water to the home. Could you please point me to some articles that cover this type of system?
Thanks

I'd be surprised that the thermostat would not act "fast enough" it the thermostat is actually working at all and assuming it's properly located.

I'd also check that you're not circulating boiler water through the heat exchanger involuntarily, such as can happen if there is a defective zone valve or check valve that doesn't close when it should.

The thermostat is the first thing I checked. It is working properly. The stat pulls a relay which turns on the fractional hp pump and opens the zone valve at the boiler. Zone valve end switch makes and pulls another relay which turns on whole house circulating pump and fires the boiler. The water from the boiler is less than 200 since that is what the limit is set to.
The 1" pex supply line to the heat exchanger is about 50' away from the zone valve, however the valve is on the return side and I would think there would not be any hot water to the heat exchanger if not calling for heat, however, the supply side at the heat exchanger is usually very hot.
Could it be the water temp is so hot and the rate of rise, temp, is faster acting than the thermostat? You said not the right model. I bought it thru a pool/jacuzzi supply house. I have tried two models to no avail.

My gravity feed hot water boiler with a republic gas conversion unit works great...but recently it developed a weird problem! It woos he's quite loudly when it shuts off!like a huge back pressure or something!I need help!

Are transite flue boxes OK to use?

I need to move my oil tanks. In doing so, the fuel line will be close to the electric dryer vent. Is this a problem?

As the heading says I bought a used Goodman GMP 100-4 and the red light on the board blinks 4 times. As soon as power is turned on tho the Furnace I hear a click and a few seconds later the blower motor and inducer run even with the thermostat disconnected. I have checked the inductor switch and have continuity, and also tried jumping it.
I checked the nipple on the inductor and it is clear, the hose is not kinked. The vacuum pot does open and close when vacuum is applied. the fuse on the board is good.
I did not see a reset button any where. Also there is a multi connection plug laying in the bottom of the Furnace and I have no idea what it is for. See photo I just happen to think I have not checked the igniter. It will do the same with the thermostat connect or out of circuit. Am I missing something, is the board the problem.

I currently have a single zone monoflow Tee system in my home. I would like to make this into 4 zones (1 zone per level of home) what would be the easiest way to achieve? I was thinking of installing as follows:

Running pex tubing and crimping onto the 1/2" lines that go to each convector (where possible, mostly the basement allows for performing this for the MBR kitchen and living room) in series with 1 return, however I have been reading a great deal about series loop systems and what I have been seeing is they are antiquated? your thoughts on this (currently have convectors in all levels of home)
Joey

It's encoded in serial number. Search InspectAPedia for HEATING SYSTEM AGE to read details

How does one determine the age of a Mini Gas boiler from the data plate information ?, Thank you, Noel

...
Continue reading at HEATING SYSTEMS - home, or select a topic from closely-related articles below, or see our complete INDEX to RELATED ARTICLES below.
Or see HVAC SYSTEM TYPES for a more complete list of types of heating and cooling systems & equipment & diagnostic procedures
Or see these basic
Heating System Diagnosis & Repair Articles
Suggested citation for this web page
HEATING SYSTEM FAQs-5 at InspectApedia.com - online encyclopedia of building & environmental inspection, testing, diagnosis, repair, & problem prevention advice.
Or use the SEARCH BOX found below to Ask a Question or Search InspectApedia
...
Ask a Question or Search InspectApedia
Try the search box just below, or if you prefer, post a question or comment in the Comments box below and we will respond promptly.
Search the InspectApedia website
Technical Reviewers & References
Click to Show or Hide Citations & References
Books & Articles on Building & Environmental Inspection, Testing, Diagnosis, & Repair
Our recommended books about building & mechanical systems design, inspection, problem diagnosis, and repair, and about indoor environment and IAQ testing, diagnosis, and cleanup are at the InspectAPedia Bookstore. Also see our Book Reviews - InspectAPedia.
...