Mothball Odor Hazards

Health risks of Mothballs: naphthalene; removal of naphthalene odors
InspectAPedia tolerates no conflicts of interest. We have no relationship with advertisers, products, or services discussed at this website.
Mothball or naphthalene odor removal & mothball chemical & gas hazards:

The US EPA estimates that about 7.5 million pounds of naphthalene are marketed in the U.S. each year as a pesticide, of which the major use is in moth repellant products. (US EPA 2008).
Here we describe the detection of and risks of exposure to mothball chemicals & odors when moth repellent products are applied indoors in buildings.
We describe how to get rid of mothball odors in buildings, building furnishings, clothing, or vehicles.
We note the possible health hazards from exposure to mothball odors (and gases) as well as the child hazard of eating mothballs or moth repellent products. We discuss methods to reduce mothball chemical & gas exposure.
We cite authoritative sources of information about safe and proper use of moth repellents and about mothball and moth repellent chemistry, child hazards, indoor air quality and health concerns, and proper application and use of these products.
We also provide a MASTER INDEX to this topic, or you can try the page top or bottom SEARCH BOX as a quick way to find information you need.
Mothball Odors & Chemicals, Hazards, Exposure, Health Effects, Odor Removal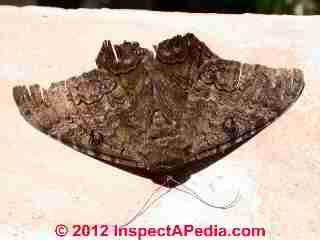 Mothballs are fumigants containing naphthalene or paradichlorobenzene and act a pest repellent and possibly act also as a pesticide used to protect clothing and other soft goods from attack by moths.
Naphthalene has been used as insecticide world wide since about 1880 (Pyenson 1936), but its health effects, also discussed here, were studied a bit later, beginning around 1900 (Nash 1903).
The moth at left and all other moths shown in this article except the one at the top of this page are not clothes-attacking insects.
[Click to enlarge any image]
But the naptha fumes from mothballs can both penetrate and be very persistent in carpets, fabrics, even wood and drywall as well as other materials.
Such mothball smells or fumes may pose a respiratory hazard to some people, can be difficult to remove, and can even interfere in the sale of a mothball-smelling property. (New York Times 2017/11/08)
Article Series Contents
Some people have also tried using moth repellent products like mothballs to keep rodents and other pests out of certain building areas or out of stored vehicles.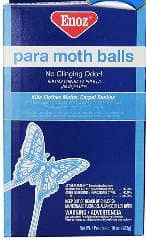 Placing an open box of mothballs under the hood of my MG midget while it was stored kept squirrels and mice from nesting in the engine compartment, and leaving a box of mothballs inside the car was an attempt to keep the same pests out of the vehicle interior too.
Watch out: we do not recommend placing mothballs, moth cakes, or moth repellent flakes inside building rooms, crawl spaces, attics, wall or ceiling cavities, trash cans, nor inside vehicles, both because the fumes and chemicals can be hazardous to humans and because the odor can later be difficult to get rid-of. We explain this problem in detail below.
Watch out: because mothballs are a registered pesticide and because of the toxicity of their chemicals, it is illegal to use mothballs or moth crystals, cakes, etc. as a repellent for animal pests (birds, cats, deer, dogs, moles, pigeons, mice, skunks, raccoons,snakes, squirrels, etc.) [19]

Some sources such as the U.S. California state department of Pesticide Regulation says that mothballs in fact do not repel rats, mice, nor moles.

However the use of naphthalene as an animal pest repellant was included in the US EPA's description of that material in its 2008 Registration Eligibility document cited below. (US EPA 2008)

In the U.S. the EPA permits use of moth balls to repel moths and caterpillars only. Because moth balls are toxic to humans and pets mothballs are not permitted for use in buildings to repel animal pests like squirrels or bats.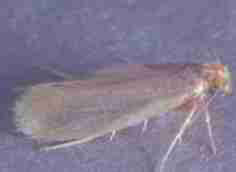 As stated in Best Practices Guide to Residential Construction and detailed

at PESTICIDE EXPOSURE HAZARDS
Pesticides are a special class of organic chemicals designed to kill living organisms.
In addition to the compounds used in the home and garden, the class of chemicals regulated as pesticides also include kitchen and bath disinfectants, flea and tick products, and swimming pool chemicals.
In most cases, both the active ingredient targeted to one or more pests and the "inert" carriers are organic chemicals that are toxic to humans.
Every registered pesticide has a "signal" word on the label, ranking the level of toxicity to humans, as follows:
Danger—Poison: highly poisonous
Danger: poisonous or corrosive
Warning: moderately hazardous
Caution: least hazardous
Page top image of mothballs courtesy of Wikipedia creative commons. Clothes moth image shown at above left is from Stone & Stock, PNW who provide an excellent guide to moth control. [19]
Health Effects of Exposure to (or ingestion of) Mothballs, Moth cakes, Moth Repellent Crystals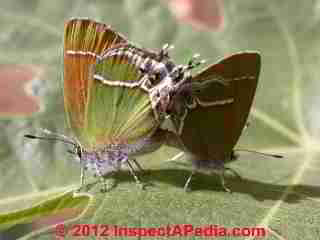 Mothballs contain either of the chemicals paradichlorobenzene or naphthalene. Paradichlorobenzene is classified as a possible human carcinogen by the EPA, and its vapors can irritate skin, eyes, and the respiratory tract.
Large doses can damage the liver. Mothballs are not intended to be placed in open spaces such as rooms, closets, or vehicles. Rather they should be used in an airtight space such as a clothes storage bag. [7]

Mothballs are fumigants that will dissolve or sublime at lower temperatures; mothballs thus work by a process of sublimation - the solid ball of chemicals converts directly to a gas that enters the air nearby. [2][7]
But believe it or not mothballs or moth crystals may also be a child hazard if eaten - as has happened. [3][6][7]

Symptoms of exposure to naphthalene include headache, nausea, dizziness, and difficulty breathing. Paradichlorobenzene is also a potential hazard, although typically less so compared to naphthalene. .

Eating just one mothball containing naphthalene can damage a young child's red blood cells.... [7]

Exposure to naphthalene promotes hemolytic anemia, associated with fatigue in mild cases and acute kidney failure in severe cases. Poisonings of infants have been reported after dressing the children in clothing stored in naphthalene mothballs.
Below: an edited (excerpted) page from a 1963 Boys Life magazine describing a do-it-yourself home science project using moth balls, water, baking soda, and vinegar.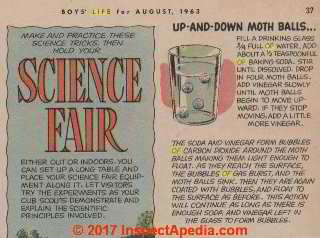 Watch out: we do not recommend repeating this experiment unless under supervision of your science teacher or another suitable expert.
Mothballs are a particular hazard to children, especially small children who may mistake a mothball for something edible.
FYI for our Australian readers, there have been recent news reports inquiring if mothballs are harmful to babies - we're researching that question.

Certainly eating sucking on mothballs, and probably exposure to high levels of mothball offgassing can be harmful to babies and mothball odors can trigger problems for people with allergies and asthma (including this site editor). (Sudakin 2011).

Dawson back in 1958 documented this concern: it's certainly not "new" news.
Watch out: at TERMITES & NAPTHALENE HAZARDS we point out that there can also be naturally occurring sources of naphthalene in buildings. These too might be at a sufficient concentration to pose a health hazard.
How to Reduce Indoor Exposure to Mothball Odors, Chemicals, Gases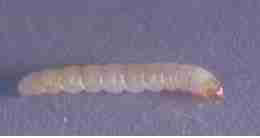 Avoid unnecessary use of mothballs & moth repellents: When possible, the best approach is to find non chemical approaches to pests, including moths. That includes

Don't use moth repellents if you don't have a moth problem in the first place. Moth larvae are shiny light colored wormlike organisms about 1/2-inch in length. Adult clothing-eating moths are white

(Image at left, PNW) [19]

Don't blame the innocent. None of the other moth or insect pictures shown in this article are clothing-eating insects.

To check for a moth infestation in your home, and keeping in mind that most moths are not the species that attack fabrics, you can try a pheromone trap to monitor for moth activity.[2] The insects shown in our photo (left) attack our fig plant but not our clothing.
Avoid importing moths, moth pupae or moth larvae (it's the larvae that eat animal fibers and fabrics) by cleaning used or old clothing that is "new" to your home before storing those materials away
When storing clothing or other soft goods, especially woolens or other animal fiber materials, use clothing storage containers that are dry and airtight, first to keep moths out, and second, especially if moth repellent products are to be placed therein, to prevent mothball odors from invading other building areas or materials.
Do not simply place moth repellent products in open boxes in areas such as rooms, closets, garages, or vehicles in an attempt to keep them moth (or mouse, or squirrel) free.
Cedar closets? cedar fumes are toxic to moths only at high concentrations. Don't trust a cedar closet alone to prevent moth damage, although indeed cedar wood and cedar oils do avoid the mothball hazard and odor issue.[2]
Dried lavender and cedar fiber balls as moth repellents are not supported by good evidence. [2-Farr]

Wash or dry clean clothing before putting it into storage; clean clothes are less attractive to moths according to some experts. Moth eggs, moth larvae as well as adult moths can all be killed by a hot water wash cycle.

Moth eggs, pupae, or even adults may already be present in clothing, including cotton even though which moths are not directly attracted to that material. Dry-clean wool or other animal fiber materials (to which moths are attracted) for the same reason. [2]
Shown here: older "moth-proofing", moth blocking, and moth repellent products from Fuller Products and Avon Products.
Read the mothball package label and closely follow instructions. If you are going to use a moth repellent product like mothballs, read and follow the directions on the product label.



Watch out

: Keep these products away from children who may be especially vulnerable not only to vapors from mothballs but as something sometimes eaten.



Watch out

: also, some of the moth proofing products shown here are self-describd as flammable and must be used only as directed.
Dispose of unwanted mothballs safely. Most of these chemicals contain VOCs that will vaporize and get into the household air. If you cannot dispose of partially used containers, store outside the living space.
Minimize exposure to moth repellant products. When used,place mothballs, moth repellent cakes or moth crystals in a well-sealed trunk or other container that can be stored in ventilated areas outside of the main living space, such as attics or attached garages.
Minimize exposure to some air fresheners: Paradichlorobenzene is also the active ingredient in many air fresheners and should be avoided.
Reader Question: How can we get rid of an annoying mothball odor in our Condo?
We moved into a condo, which is a concrete block structure 3 months ago. Shortly after the move we began to smell moth balls.
After following the smell we were able to find out that the unit above us displaced several moth balls throughout there unit, tightly sealed the unit up without air conditioning on(we live in Florida) and left for the summer.
As the smell increased in our unit we begged parties involved to rid the unit of the moth balls and air it out.
Finally this was done, however even though the smell appears to be gone sometimes, other times we can still smell a bad odor, sometimes now the odor is less mothball smell and just simply a bad odor.
We have tried everything and are desperate to solve the problem. Is it possible to get rid of this toxic odor?
Any help would be greatly appreciated. - B.P. 9/22/2012
Reply: How to get rid of mothball odors in buildings, contents, clothing, furnishings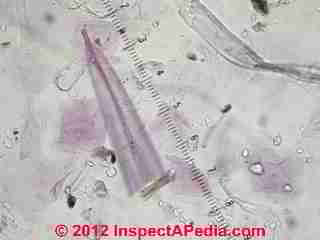 Indeed the odor from mothballs is a VOC-like substance (paradichlorobenzene or naphthalene) that quite penetrates many materials including even drywall, furnishings, carpeting, and it can take quite a while for it to diminish.
And most people can smell mothballs - the characteristic odor of those chemicals can generally be detected in air at a concentration of just a few parts per billion, so getting rid of mothball odors is going to take some thorough airing out and cleaning.
Airing out the original building area helps, this means opening windows and perhaps even using fans to move a good volume of fresh air through the building area - weather permitting.

This is the best and principal means of reducing indoor mothball odors in building spaces themselves, and it will help reduce odors from furnishings and carpets and draperies too.
Find & address the principal odor source: in general, odor removal of any sort in buildings is most effective if we can identify the exact odor source and remove or clean or seal that source. - what materials absorbed the gases, airborne compounds or VOCs from the mothballs - perhaps using

our SMELL PATCH TEST to FIND ODOR SOURCE - and then try sealing those surfaces if the smelly materials are not something that can be disposed-of.
Turning up the heat in the space where mothball odors persist can help drive volatiles back into building air where in combination with fresh air venting you will reduce mothball odors.

For soft goods such as upholstered couches you may speed up the mothball odor removal by using a hair dryer (on low or medium temperature) to heat the upholstered surfaces.
For soft goods such as clothing that has absorbed mothball odors, having the clothes dry-cleaned or laundered, or sometimes simply running washable clothing through the clothes dryer on medium heat will suffice to get rid of the mothball odors.

If that doesn't solve the problem and you need to go further you'd need to track down the principal sources of the odor
Watch out: for mothball odor solutions that are ineffective, are products sold by someone with a conflict of interest, or may in fact make matters worse as we note in the following items in this list.
Ozone generators for mothball odors? Do not try using ozone or an indoor ozone generator to get rid of mothball odors. Improperly used you will find you've made a worse problem than before.

See OZONE MOLD / ODOR TREATMENT WARNINGS for details and for links to articles that describe how over-treatment by ozone can generate new horrible, costly-to-remove odors in buildings.
Activated charcoal to "remove" mothball odors ???

In our OPINION the recommendation by some sources to place activated charcoal in the space where the mothball odors are strong is not likely to be useful; air circulation and fresh air are more effective than relying on a passive absorption system that never addresses the source of odors.
Air purifiers to remove mothball smells?

In our OPINION, a portable indoor "air purifier" is unlikely to move enough air through a charcoal filter to be effective except in the case perhaps of a very small enclosed space.

Unfortunately some key studies we have reviewed tested a portable air "purifier" by placing it into an enclosed chamber with a limited amount of a specific pollutant - not a realistic nor real-world situation.

See AIR CLEANER PURIFIER TYPES.
Life Expectancy of Mothballs Used in Buildings, Mothball Sublimation Rate, Mothball Odor Persistence
What is the life expectancy of a moth ball in a hot area? How long does it continue to release the harmful fumes?
Laurie,
If you will permit me to wave my arms about mothball sublimation rates as a preface to giving an opinion about how long a mothball will "last" in use then my estimates of mothball life will, perhaps, make more sense.
Tennakone (1978) looked at the sublimation rate for mothballs - but I've not yet gotten a copy of the full article to support the following opinion with science.
Mothballs exposed to the open air will be seen to shrink in size, eventually disappearing, following a process called sublimation: the solid (mothball) converts to a gas without ever entering an intermediate liquid state.
The rate of sublimation of mothballs is determined principally by the amount of air available to or circulating around the mothball.
That's because the sublimation rate of mothballs depends on the relative naphthalene gas or para-dichlorobenzene vapor pressure difference between the thin layer of air at the surface of the mothball and the surrounding air.
When mothballs are kept in a small sealed container or relatively-airtight bag (as they are in a sealed box of mothballs in the store), the gas vapors are trapped around the mothballs, slowing their rate of sublimation to almost nothing.
But when the same mothballs are spread about in more-open air the vapor pressure differences of the mothball gases permit them to continue to off-gas into the surrounding area.

Mothballs that are actually in the spherical form, about 1/2" in diameter when new, will last from a month to several years or longer depending the type of mothball and on how they are placed.
Furthermore the life of mothballs depends on the product chemistry: naphthalene mothballs take much longer to dissipate than mothballs comprised of para-dichlorobenzene.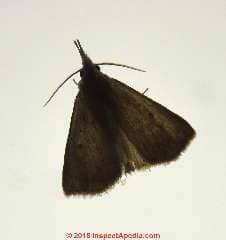 Photo: A moth photographed by the author on the Osa Peninsula, Costa Rica, in 2018.
For example based on simple experiments and observations of mothballs I've placed in buildings, closets, bureaus, or kept in closed packages, I estimate that:
a single para-dichlorobenzene mothball in open air may dissipate in a month or two
a single para-dichlorobenzene mothball placed under clothing and not in open air may dissipate in 3-6 months
a box of para-dichlorobenzene mothballs left together in the box with the lid cut open and placed in a closet or under clothing may last for more than a year.
a single naphthalene mothball in open air may dissipate in a 3-6 months
a single naphthalene mothball placed under clothing and not in open air may dissipate in 12 months
a box of naphthalene mothballs left together in the box with the lid cut open and placed in a closet or under clothing may last for several years or longer.
sealed packages of mothballs of either type probably have a shelf life of several years
In a hot area like an attic where convection currents may be moving more air about, those mothball life expectancies will be less due to the effects of both temperature and air movement or air velocity on the sublimation rate of the mothballs of either formula. Moisture might also be a factor in the the rate of mothball sublimation.

"In air, the half-life of naphthalene and paradichlorobenzene is less than one day and about 31 days, respectively." (Fishel 2014) [1] at REFERENCES.

But that half-life expression is misleading. It would only be accurate if we could obtain a measured volume of these two gases ALONE, that is, without a source that continues to emit them, and if we could then obtain more specific information about the concentration of those gases in the space and the rate of fresh air ventilation of the space as well as quite a few other factors.

Watch out: however the fumes from these gases may permeate and remain in clothing or building materials after the actual mothballs or moth crystals have dissipated.

Differences Between Paradichlorobenzene Mothballs & Naphthalene Mothballs
Above are two different moth ball products sold by Enoz®. Enoz® Paradichlorobenzene moth balls and Enoz® "old fashioned" or naphthalene mothballs.
These two mothball substances are chemically different, have different properties.
Naphthalene mothballs produce an off-gassing (through sublimation) that creates and environment that repels moths as well as some other creatures. Naphthalene mothballs, and the odor they produce, remains in the environment of use longer than Paradichlorobenzene mothballs.
That is, it will take longer for the Naphthalene odor to dissipate even when the mothball source has been consumed or removed.
Paradichlorobenzene mothballs produce less noticeable odor (to humans) and its gas will dissipate in free air more quickly than the offgassing product of Naphthalene mothballs.
According to Enoz®, "Para" mothballs for clothing are approved by the Environmental Protection Agency and sport EPA registration number: 1475-39
If all other parameters are the same (air movement, temperature, etc), Paradichlorobenzene mothballs produce a higher-concentration of gas in the treatment area than Naphthalene mothballs, possibly increasing the effectiveness of Paradichlorobenzene for the murder or at least the discouragement of moths. [10] at REFERENCES
Mothball & Other Odors' Impact on Real Estate Sales
[Click to enlarge any image]
Anstine, Jeff. "Property values in a low populated area when dual noxious facilities are present." Growth and Change 34, no. 3 (2003): 345-358.
Ayoko, Godwin A., and Erik Uhde. Organic compounds adsorbed on particles and settled house dust. Wiley-VCH: Weinheim, 2003.
Boyle, M., & Kiel, K. (2001). A survey of house price hedonic studies of the impact of environmental externalities. Journal of real estate literature, 9(2), 117-144.
California Department of Pesticide Regulation, "FREQUENTLY ASKED QUESTIONS about rodents and rodenticides", Department of Pesticide Regulation, Pest Management & Licensing Branch, retrieved 2017/11/08,original source: http://www.cdpr.ca.gov/docs/dept/factshts/faq_rodents_rodenticides.pdf
Chin, J‐Y., Christopher Godwin, Chunrong Jia, Thomas Robins, Toby Lewis, Edith Parker, Paul Max, and Stuart Batterman. "Concentrations and risks of p‐dichlorobenzene in indoor and outdoor air." Indoor air 23, no. 1 (2013): 40-49.

Contact: S. Batterman University of Michigan 1420 Washington Heights Room 6507 SPH2 Ann Arbor MI 48109-2029 USA Tel.: +1-734-763-2417 Fax: +1-734-936-7283 e-mail: stuartb@umich.edu

Abstract

p-dichlorobenzene (PDCB) is a chlorinated volatile organic compound that can be encountered at high concentrations in buildings owing to its use as pest repellent and deodorant. This study characterizes PDCB concentrations in four communities in southeast Michigan. The median concentration outside 145 homes was 0.04 μg/m3, and the median concentration inside 287 homes was 0.36 μg/m3.

The distribution of indoor concentrations was extremely skewed. For example, 30% of the homes exceeded 0.91 μg/m3, which corresponds to a cancer risk level of 10−5 based on the California unit risk estimate, and 4% of homes exceeded 91 μg/m3, equivalent to a 10−3 risk level.

The single highest measurement was 4100 μg/m3. Estimates of whole-house emission rates were largely consistent with chamber test results in the literature.

Indoor concentrations that exceed a few μg/m3 indicate the use of PDCB products. PDCB concentrations differed among households and the four cities, suggesting the importance of locational, cultural, and behavioral factors in the use patterns of this chemical.

The high PDCB levels found suggest the need for policies and actions to lower exposures, for example, sales or use restrictions, improved labeling, and consumer education.

Practical Implications

Distributions of p-dichlorobenzene concentrations in residences are highly right-skewed, and a subset of houses has very elevated concentrations that are equivalent to an excess cancer risk of 10−3 or higher based on the California unit risk effect estimate.

House-to-house variation is large, reflecting differences in use practices. Stronger policies and educational efforts are needed to eliminate or modify indoor usage practices of this chemical.
Kaysen, Ronda, "Failing the Sniff Test: The Apartment Looks Fantastic, but What Is That Smell in the Hall?", The New York Times, Ask Real Estate, 2017/10/29 p. 14

Paraphrasing: prospective buyers of a New York City apartment on the Upper West Side notice a strong camphor smell flooding the hallway ... a [resident] uses mothballs [apparently to excess].

The real estate advisor quoted Daniela Sassoun, an associate broker at Douglas Ellman, citing possible health and mothball odor complaints, advised the buyer to look elsewhere, stating "Walk away, ... Even if it's a great apartment, it's just not worth it.".
Kiel, Katherine A. "Measuring the impact of the discovery and cleaning of identified hazardous waste sites on house values." Land Economics (1995): 428-435.
McClelland, Gary H., William D. Schulze, and Brian Hurd. "The effect of risk beliefs on property values: A case study of a hazardous waste site." Risk analysis 10, no. 4 (1990): 485-497.
Abstract:

Health risk beliefs of homeowners near a landfill site were assessed in a survey and compared to expert judgments of the health risks of living near the site. A bimodal distribution of health risk beliefs suggested sharp disagreement between the experts and at least some of the residents.

Correlates of high risk beliefs included perception of odor from the site, exposure to media coverage of the problem, having children living at home, age (younger respondents more concerned), and gender (females more concerned).

An aggregated neighborhood health risk belief predicted reductions in home prices even after controlling for home physical characteristics, such as size and other disamenities such as proximity to a freeway.

In the 4100 homes near the site, the estimated depression in property values was estimated to total about $40.2 million before the site was closed and to be about $19.7 million after closure. Implications of these results for community conflict and for benefit-cost analysis of hazard site remediation are discussed.
Palmquist, Raymond B., Fritz M. Roka, and Tomislav Vukina. "Hog operations, environmental effects, and residential property values." Land Economics (1997): 114-124.
Reichert, Alan, Michael Small, and Sunil Mohanty. "The impact of landfills on residential property values." Journal of Real Estate Research 7, no. 3 (1992): 297-314.
Sims, Sally, Peter Dent, and G. Reza Oskrochi. "Modelling the impact of wind farms on house prices in the UK." International Journal of Strategic Property Management 12, no. 4 (2008): 251-269.
Timm, Robert M. "House mice." (1994).
Van Winkle MR, Scheff PA. Volatile organic compounds, polycyclic aromatic hydrocarbons and elements in the air of ten urban homes. Indoor Air. 2001;11:49–64.
Termites & Other Natural Sources of Naphthalene: Possible Hazards to Humans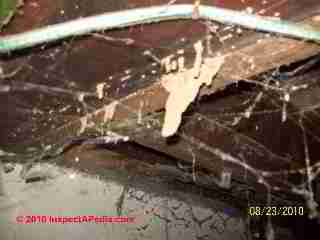 First reported by Chen in 1998, termites produce naphthalene (NPH) or possibly other volatile chemicals (fenchone) or polycyclic aromatic hydrocarbons (PAHs) , as an insect repellent, in the course of building mud tubes and termite nests, including termite infestations in the wood components of some buildings. (Chen 1998, Bandowe 2009, Wilcke 2000).
Etymologists pose that a "natural" production of naphthalene by termites has the function of protecting the termite colony from their predators including some species of ants, bacteria, soil fungi, and microscopic nematode worms.
When a building has suffered significant termite infestation and damage, is it possible that the human (or other animal) occupants of the building will be exposed to significant naphthalene gases in building air without ever realizing that such exposure is taking place?
Possibly. (Though in our opinion and based on research to date, probably not).
Really? Termite-produced naphthalene off-gassing in buildings has been posed, somewhat speculatively in our opinion, as a health risk for people.
Researching termite and other natural sources of naphthalene in buildings, we found research confirming that naturally-generated naphthalene in termite nests, particularly formosan termite nests, occurs.
Naphthalene in termite tests probably serves to benefit the termites by discouraging the growth of some fungi and possibly by discouraging nematodes or other worms.
However we have not found scholarly nor other authoritative research documenting that the (probably trace-) levels of naphthalene that might be produced by termites infesting as building have actually been found to cause human illness.
Watch out: other human illnesses that might correlate with termite or other wood destroying insect infestation in buildings could include irritating airborne particles causing or contributing to asthma attacks, and pesticide poisoning from amateur or improperly-applied chemicals or pesticides in or around the building.
See PESTICIDE EXPOSURE HAZARDS.
Other natural sources of naphthalene can include Muscodor vitigenus, an endophytic fungus (Daisy 2002).
Also see TERMITE IDENTIFICATION & CONTROL
Termite & Other Natural Sources of Naphthalene in Buildings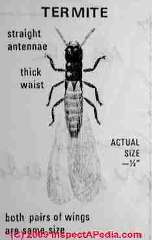 At RESEARCH on NAPTHALENE HEALTH HAZARDS we include research on the health effects of naphthalene poisoning.
Bandowe, Benjamin A. Musa, Daniel Rückamp, Marcos AL Bragança, Volker Laabs, Wulf Amelung, Christopher Martius, and Wolfgang Wilcke. "Naphthalene production by microorganisms associated with termites: evidence from a microcosm experiment." Soil Biology and Biochemistry 41, no. 3 (2009): 630-639.
Abstract:

Abstract
There have been several reports published which suggest that it is possible that the polycyclic aromatic hydrocarbons (PAHs) naphthalene (NAPH), phenanthrene (PHEN) and perylene (PERY) in tropical environments have a biological source.

This source might be related to the activity of termites or their associated microorganisms.

We aimed to provide direct evidence for the biological production of NAPH, PHEN and PERY by conducting microcosm experiments in the State of Tocantins, Brazil, in which termite nests (with or without termites) were placed in an enclosed environment in which we controlled all PAH fluxes and monitored changes of PAH stocks.

The experiments were carried out with termites from a tropical floodplain forest environment at the Estação Canguçu (Ilha do Bananal) in the State of Tocantins, Brazil.

We set up the following treatments: live nest of Nasutitermes cf. minor using PAH-poor wood as food (LNW), live nest of Nasutitermes cf. minor using PAH-poor corn as food (LNC), termite nest without live termites called dead nest (DNC) and dead nest with additional treatment by a combined fungicide/bactericide (FDN) in several replicates.
...
Our microcosm experiments suggest that NAPH can be produced by fungi and bacteria in termite mounds while all other low-molecular weight PAHs are degraded in microcosms with live termite nests. PAH degradation seems to be enhanced by the combined activity of termites and microorganisms.
Chen, J., G. Henderson, C. C. Grimm, S. W. Lloyd, and R. A. Laine. "Termites fumigate their nests with naphthalene." Nature 392, no. 6676 (1998): 558.
Chen, Jian, Gregg Henderson, Casey C. Grimm, Steven W. Lloyd, and Roger A. Laine. "Naphthalene in Formosan subterranean termite carton nests." Journal of agricultural and food chemistry 46, no. 6 (1998): 2337-2339.
Abstract:

Termite nests provide a controlled environment and physical defence for the colonies of insects they house1.

Another important factor involved in colony defence may be volatile chemicals present in the nest: we have found the hydrocarbon naphthalene in extracts of the nest material produced by Formosan subterranean termites.

This is the first time naphthalene has been found naturally associated with any insect species.
Daly, Gillian L., Ying D. Lei, Luisa E. Castillo, Derek CG Muir, and Frank Wania. "Polycyclic aromatic hydrocarbons in Costa Rican air and soil: A tropical/temperate comparison." Atmospheric Environment 41, no. 34 (2007): 7339-7350.
Daisy, Bryn H., Gary A. Strobel, Uvidelio Castillo, David Ezra, Joe Sears, David K. Weaver, and Justin B. Runyon. "Naphthalene, an insect repellent, is produced by Muscodor vitigenus, a novel endophytic fungus." Microbiology 148, no. 11 (2002): 3737-3741.
Abstract:

Muscodor vitigenus is a recently described endophytic fungus of Paullinia paullinioides, a liana growing in the understorey of the rainforests of the Peruvian Amazon. This fungus produces naphthalene under certain cultural conditions.

Naphthalene produced by M. vitigenus was identified by gas chromatography/mass spectrometry. Its chromatographic and mass spectral properties were identical to authentic naphthalene.

Agar plugs supporting growth of the fungus and producing known amounts of naphthalene effectively repelled the adult stage of the wheat stem sawfly, Cephus cinctus, in Y-tube bioassay tests. Authentic naphthalene, at comparable concentrations to those in tests involving the fungus itself, mimicked the insect repellency of the fungus.

Although other Muscodor spp. produce volatile antimicrobials, M. vitigenus is unique in its ability to produce naphthalene almost exclusively. This report also describes the potential practical implications of M. vitigenus.
Grace, J. Kenneth. "Approaches to biological control of termites." [PDF] Sociobiology 41, no. 1 (2003): 115-122. Retrieved 2018/04/10, original source: https://www.researchgate.net/profile/Benjamin_Bandowe/publication/268212198_Persistent_organic_pollutants_in_soil_sources_concentrations_and_fate/links/5467268b0cf20dedafcdab75.pdfhttps://www.ctahr.hawaii.edu/gracek/pdfs/190.pdf
Musat, Florin, Alexander Galushko, Jacob Jacob, Friedrich Widdel, Michael Kube, Richard Reinhardt, Heinz Wilkes, Bernhard Schink, and Ralf Rabus. "Anaerobic degradation of naphthalene and 2‐methylnaphthalene by strains of marine sulfate‐reducing bacteria." Environmental Microbiology 11, no. 1 (2009): 209-219.
Nash, L. Frazer. "Naphthalene poisoning." The British Medical Journal (1903): 251-251.
Pyenson, Louis, and G. F. MacLeod. "The Toxic Effects of Naphthalene on Bruchus obtectus and Tenebrio molitor in Various Stages of Development." [PDF] Journal of Agricultural Research 52, no. 9 (1936). Retrieved 2018/04/10 original source: https://naldc.nal.usda.gov/download/IND43968869/PDF
Introduction Excerpt:

Although naphthalene has been in use as an insecticide for about 50 years, knowledge of its toxic effects is based mainly on investigations conducted under uncontrolled conditions.

Very little is known of the physiological effects of naphthalene on insects. In late years naphthalene has been found useful against an increasing variety of insect pests, but it is probably most effective in killing or repelling insects found in houses, greenhouses, stored products, and in the soil.
TERMITE IDENTIFICATION & CONTROL information at InspectApedia.com
U.S. CDC "Chapter 4: DISEASE VECTORS & PESTS, [PDF] U.S. Centers for Disease Control and Prevention, retrieved 2018/04/14, original source: https://www.cdc.gov/nceh/publications/books/housing/cha04.htm -|

Note: Termites get notice in this article but napthalene generated by termites or from other sources is not mentioned.

Wilcke, Wolfgang, and Benjamin Bandowe. "Persistent organic pollutants in soil: sources, concen-tration, and fate." [PDF] Bull. BGS 32 (2011): 33-38.
Abstract excerpt:

Persistent organic pollutants (POPs) are a legacy of industrialization resulting in long-term contamination of the environment. The purpose of our paper is mainly to describe open questions in the understanding of the fate of POPs in the soil environment and the resulting future research directions.
Wilcke, Wolfgang. "Global patterns of polycyclic aromatic hydrocarbons (PAHs) in soil." Geoderma 141, no. 3-4 (2007): 157-166.
Abstract excerpts:

Recent findings suggest a higher natural contribution to PAH concentrations in soil than previously thought. I hypothesized that the PAH pattern in soil is dominated by two main types, which are indicative of background conditions on the one side (i.e., by biological and diffuse PAHs) and a strong impact by atmospheric deposition of anthropogenic emissions on the other side. ... These results support the hypothesis that PAH mixtures in soils are dominated by two major source patterns, a background and a human-made one.
Wilcke, Wolfgang, Martin Krauss, and Wulf Amelung. "Carbon isotope signature of polycyclic aromatic hydrocarbons (PAHs): evidence for different sources in tropical and temperate environments?." Environmental science & technology 36, no. 16 (2002): 3530-3535.
Wilcke, Wolfgang, Wulf Amelung, Christopher Martius, Marcos VB Garcia, and Wolfgang Zech. "Biological sources of polycyclic aromatic hydrocarbons (PAHs) in the Amazonian rain forest." Journal of Plant Nutrition and Soil Science 163, no. 1 (2000): 27-30.
Abstract:

Hazardous polycyclic aromatic hydrocarbons (PAHs) widely occur in the environment and are believed to be mainly anthropogenic. Here we present strong indications for large biological sources of the PAHs naphthalene, perylene, and possibly also phenanthrene in the Amazonian basin.

Termite nests, plant wood, and soils were sampled. Naphthalene is detected in plant wood and is accumulated in the nests of termites from the genus Nasutitermes. Perylene is found in all studied termite nests including six different genera. Phenanthrene occurs at substantial concentrations in wood, soil, and termite nests.
Wright, Maureen S., Alan R. Lax, Gregg Henderson, and Jian Chen. "Growth response of Metarhizium anisopliae to two Formosan subterranean termite nest volatiles, naphthalene and fenchone." Mycologia (2000): 42-45.
Abstract Excerpts:

The entomopathogenic fungus Metahizium anisopliae (Metschnikoff) Sorokin was inveestigated as a control agent against the Formosan subterranean termite, Copotermes formosanus Shiraki. Metahizium anisopliae is a known insect pathogen and its effectiveness against termite species has been demonstrated.

Use of this fungus in an integrated pest management scheme may be effective. In order to function i nthis manner, M. anisopliae must withstand the environment of a Formosan Subterranean termite nest, including the presence of the volatile chemicals naphthalene and fenchone.

These chemicals have been identified from Formosan termite nests, but their significance, if any, in a termite society is unknown. ...
Symptoms of Napthalene Poisoning
When naphtalene is inhaled the chemical is stored in the human (or animal) body fat cells. In this phase of exposure the building occupants may not show symptoms of naphthalene poisoning. However should the building occcupants later lose weight for any reason, the body's shift to burning fat cells can release napthalene into the circulatory system, causing napthalene poisoning.
That humans can suffer serious illness in response to napthalene exposure has been known since at least 1903, and in 1949 Zuelzer cited acute heolytic anemia due to napthalene poisoning. (Nash 1903, Konar 1939, Zuelzer 1949).
Abdominal Pain or upset stomach
Diarrhea
Drowsiness
Elevated heart rate
Fever
Headaches
Jaundice
Low blood pressure
Mental confusion
Vomiting
More extreme napthalene poisoning can produce these symptoms:
Blood in urine, dark urine
Convulsions
Loss of consciousness
Red blood cell count reduction and Anemia
Health Hazards of Breathing Mothball Offgassing or of Eating Mothballs: Naphthalene Poisoning
Buckpitt A, Boland B, Isbell M, Morin D, Shultz M, Baldwin R, Chan K, Karlsson A, Lin C, Taff A, West J, Fanucchi M, Van Winkle L, Plopper C. Naphthalene-induced respiratory tract toxicity: metabolic mechanisms of toxicity. Drug Metab Rev. 2002;34:791–820.
Dawson, Jean P., William W. Thayer, and Jane F. Desforges, "Acute Hemolytic Anemia in the Newborn Infant due to Naphthalene Poisoning: Report of Two Cases with Investigations into the Mechanism of the Disease." Blood, J. Hematol. 13, no. 12 (1958): 1113-25.

Abstract :
At least 18 cases of acute haemolytic anaemia after exposure to naphthalene have been reported since 1949. In this paper there is a description of 2 cases of this condition in new-born children with a report on the investigations of erythrocyte metabolism in these infants and their families.

The cases occurred in Negro infants, , a 14-day-old female and a 9-day-old male who were admitted to the Boston City Hospital because of icterus and pallor.

Both infants were normal at their birth in hospital and only became ill after returning home, where the girl was dressed in " clothing heavily impregnated with naphthol " and the boy in " clothing impregnated with naphthalene mothballs". Both children recovered. Their states on admission are described with details of the results of blood examinations.

The biochemical investigations of the peripheral blood of the 2 patients and some of the members of their families which were carried out are described in detail. These studies included examination of Heinz bodies, glutathione determination, glutathione stability, methaemoglobin reduction, glucose-6-phosphate de-hydrogenase activity and glutathione reductase.

The findings of these studies are described with tables and figures and there is a long discussion and many references.

In both infants there was " glutathione instability upon incubation with acetyl phenyl-hydrazine and naphthol months to years later. Several members of their families exhibited a similar defect with evidence that it is inherited as a simple dominant".

In those individuals with glutathione instability there were indications of deficiency in glucose-6-dehydrogenase activity.

M. E. Delafield.
Fukami T, Katoh M, Yamazaki H, Yokoi T, Nakajima M. Human cytochrome P450 2A13 efficiently metabolizes chemicals in air pollutants: naphthalene, styrene, and toluene. Chem Res Toxicol. 2008;21:720–725.
Griego FY, Bogen KT, Price PS, Weed DL. Exposure, epidemiology and human cancer incidence of naphthalene. Regul Toxicol Pharmacol. 2008;51:S22–26.
Gupta R, Singhal PC, Muthusethupathy MA, Malik AK, Chugh KS. Cerebral oedema and renal failure following naphthalene poisoning. The Journal of the Association of Physicians of India. 1979;27:347–348.
Huang, Lihui, Jinhan Mo, Jan Sundell, Zhihua Fan, and Yinping Zhang. "Health risk assessment of inhalation exposure to formaldehyde and benzene in newly remodeled buildings, Beijing." PloS one 8, no. 11 (2013): e79553.

Excerpt: Prior to the tests, the occupants were asked to stop smoking, remove consumer products that could release VOCs (e.g. mothballs, cleaning products and air fresher).
International Agency for Research on Cancer (IARC) IARC Monographs on the Evaluation of Carcinogenic Risks to Humans. Vol. 82. IARC; Lyon, France: 2002. Traditional herbal medicines, some mycotoxins, naphthalene, and styrene.
Konar, N. R., H. K. Roy, and M. N. De. "Naphthalene poisoning." [PDF] The Indian Medical Gazette 74, no. 12 (1939): 723. Retrieved 2018/04/10, original source: https://www.ncbi.nlm.nih.gov/pmc/articles/PMC5151638/pdf/indmedgaz72465-0005.pdf
Kurz JM. Naphthalene poisoning: critical care nursing techniques. Dimens Crit Care Nurs. 1987;6:264–270.
Lim, H. C., V. Poulose, and H. H. Tan. "Acute naphthalene poisoning following the non-accidental ingestion of mothballs." [PDF] Singapore Med J 50, no. 8 (2009): e298-e301. Retrieved 2018/04/10, original source: https://pdfs.semanticscholar.org/053c/349bdaea3c12793c987690edcc1ea73d03c4.pdf
Abstract:

Ingestional naphthalene mothball poisoning leading to prolonged haemolysis and methaemoglobinaemia can present with diagnostic and therapeutic challenges. A 19- year-old woman ingested 12 mothballs, and presented two days later with haemolysis and methaemoglobinaemia.

She was treated with red blood cell transfusions, intravenous methylene blue, N-acetylcysteine and ascorbic acid. Continuous venovenous haemofiltration was conducted for 45 hours. Haemolysis with anaemia and methaemoglobinaemia persisted even after five days post-ingestion.

Clinical and biochemical parameters improved. We describe a case of ingestional naphthalene poisoning with a good outcome after treatment.
Linick M. Illness Associated with Exposure to Naphthalene in Mothballs – Indiana. MMWR. 1983;32:34–35.
Preuss R, Koch HM, Wilhelm M, Pischetsrieder M, Angerer J. Pilot study on the naphthalene exposure of German adults and children by means of urinary 1- and 2-naphthol levels. International journal of hygiene and environmental health. 2004;207:441–445.
Price PS, Jayjock MA. Available data on naphthalene exposures: strengths and limitations. Regul Toxicol Pharmacol. 2008;51:S15–21.
Schafer WB. Acute hemolytic anemia related to naphthalene; report of a case in a newborn infant. Pediatrics. 1951;7:172–4.
Siegel, Earl, and Suman Wason. "Mothball toxicity." Pediatric Clinics of North America 33, no. 2 (1986): 369-374.

Abstract: Accidental mothball ingestion is very common in children. Mothballs consist either of naphthalene or paradichlorobenzene, the toxicities of which are very diferent. This article focuses on the management of mothball ingestion with reference to these major ingredients.
Stone D, Stock T. Mothballs: Proper Use and Alternative Controls for Clothes Moths. 2008 PNW 606-E.
Sudakin, Daniel L., David L. Stone, and Laura Power. "NAPHTHALENE MOTHBALLS: EMERGING AND RECURRING ISSUES AND THEIR RELEVANCE TO ENVIRONMENTAL HEALTH." [PDF] Current topics in toxicology 7 (2011): 13. Retrieved 2017/11/08, original source: https://www.ncbi.nlm.nih.gov/pmc/articles/PMC3850774/
Abstract:

Naphthalene is a polycyclic aromatic hydrocarbon that is commonly encountered in indoor and outdoor environments.

There is growing awareness of the environmental health risks associated with inhalation exposure to naphthalene in the indoor environment. While there are numerous potential sources of naphthalene indoors, the use of mothballs can be a significant contributor to ambient concentrations.

This review article describes recurring and emerging environmental health issues relating to mothballs containing naphthalene. The toxicology and health effects of naphthalene exposure are reviewed, with discussion of high-risk populations and risk mitigation strategies.

Environmental health professionals should be aware of mothball use in the home, and recognize risks associated with accidental exposure and misuse.
US Environmental Protection Agency (US EPA) Integrated Risk Information System: Naphthalene (CASRN 91-20-3) [March 11, 2010];1998


Watch out

: We were unable to locate this document at the US EPA site on 2017/11/08 - Ed.
US Environmental Protection Agency (US EPA) Washington, DC: US Environmental Protection Agency; 2008. [February 19, 2010]. REREGISTRATION ELIGIBILITY DECISION FOR NAPHTHALENE [PDF] retrieved 2017/11/08, original source: https://archive.epa.gov/pesticides/reregistration/web/pdf/naphthalene-red.pdf

Excerpt:
Use Sites: Naphthalene is registered for use on indoor and outdoor residential use sites. It is used indoors as a moth repellant, and placed in closed drawers, closets, and other storage areas. It is also used in attics as a squirrel and bat repellant. Outdoors, it is used around garden and building peripheries to repel animals such as snakes and rabbits.
...
When used indoors as an animal repellant, it is formulated as a flake and applied at a rate of 1 lb ai/400 ft3 (or 1 oz/3 ft3 for smaller spaces). When used outdoors and formulated as granules or flakes, it is applied at rates ranging from 0.56 lb ai/treated area to 10.8 lb ai/treated area.
Valaes, Timos, Spyros A. Doxiadis, and Phaedon Fessas. "Acute hemolysis due to naphthalene inhalation." The Journal of pediatrics 63, no. 5 (1963): 904-915.
ZUELZER, WOLF W., and LEONARD APT. "Acute hemolytic anemia due to naphthalene poisoning: a clinical and experimental study." Journal of the American Medical Association 141, no. 3 (1949): 185-190.
Abstract:

In 4 cases of fulminating hemolytic anemia in young children observed during a period of two years the ingestion of moth balls consisting of pure naphthalene (C10H8) was the sole apparent etiologic factor. Experimental studies in dogs confirmed the hemolytic action of naphthalene. Since moth balls are a common and easily accessible household article, generally believed to be harmless, and since the American literature seems to contain no previous reports of this kind, the cases are reported in detail.
Zhu, Lizhong, Hao Lu, Shuguang Chen, and Takashi Amagai. "Pollution level, phase distribution and source analysis of polycyclic aromatic hydrocarbons in residential air in Hangzhou, China." Journal of Hazardous Materials 162, no. 2 (2009): 1165-1170.

Excerpt: Use of mothballs ... common sources of indoor air pollution
...
Continue reading at ODORS GASES SMELLS, DIAGNOSIS & CURE or select a topic from closely-related articles below, or see our complete INDEX to RELATED ARTICLES below.
Or see MOTHBALL ODOR HAZARD FAQs questions & answers about mothballs posted originally at this article.
Or see this
Article Series Contents
Suggested citation for this web page
MOTHS, MOTHBALL ODORS at InspectApedia.com - online encyclopedia of building & environmental inspection, testing, diagnosis, repair, & problem prevention advice.
Or use the SEARCH BOX found below to Ask a Question or Search InspectApedia
Or see
Or use the SEARCH BOX found below to Ask a Question or Search InspectApedia
...
Ask a Question or Search InspectApedia
Try the search box just below, or if you prefer, post a question or comment in the Comments box below and we will respond promptly.
Search the InspectApedia website
Technical Reviewers & References
Click to Show or Hide Citations & References
[1] Fishel, Fred, "The FACTS ABOUT MOTHBALLS", [PDF], PI254, Agronomy Department, UF/IFAS Extension, (2014), Fred Fishel, professor, Agronomy Department, and director, UF/IFAS Pesticide Information Office; UF/IFAS Extension, Gainesville, FL 32611, Website: http://edis.ifas.ufl.edu retrieved 2017/07/17, original source: http://edis.ifas.ufl.edu/pi254
Fishel, F. M. 2005. Evaluation of Pesticides for Carcinogenic Potential. Gainesville: University of Florida Institute of Food and Agricultural Sciences. https://edis.ifas.ufl.edu/pi074
Fishel, F. M. 2006. Homeowner's Guide to Pesticide Safety. Gainesville: University of Florida Institute of Food and Agricultural Sciences. https://edis.ifas.ufl.edu/pi051
World Health Organization, The WHO RECOMMENDED CLASSIFICATION of PESTICIDES by Hazard and Guidelines to Classification 2009 [PDF], retrieved 2017/07/.27, original source: http://www.who.int/ipcs/publications/pesticides_hazard_2009.pdf?ua=1
Tennakone, K., and M. G. C. Peiris. "Sublimation of moth balls." American Journal of Physics 46, no. 4 (1978): 418-419.

Abstract: The study of the decay of a moth ball due to sublimation is an instructive exercise in physics which demonstrates diffusion phenomena. The rate at which a moth ball exposed to the atmosphere wears away due to sublimation is calculated. Experiments are given to demonstrate the validity of the calculation.
[2] Thomas M. Riddick, "Controlling Taste, Odor and Color With Free Residual Chlorination", Journal (American Water Works Association) Vol. 43, No. 7 (JULY 1951), pp. 545-552, American Water Works Association, Article Stable URL: http://www.jstor.org/stable/41236445
[3] Douglas M. Baker, M.D., "Holiday Hazards", Pediatric Emergency Care, Vol. 1 No. 4, December 1985 Lippincott-Raven, retrieved 9/22/12

Abstract: Presented is a selective review of the toxicities of various plants, decorations, and miscellaneous items popularly used during the holiday season. Particularly hazardous agents include mistletoe, holly, bubble lights, fireplace flame colors, alkaline batteries, and mothballs.

Specific questions regarding management of exposure to these items should be referred to regional poison control centers. Avoidance is the most effective treatment. ... [regarding mothballs, ... decontamination is advised for ingestions of greater than one half of a naphthalene mothball and more than two to three paradichlorobenzene mothballs ...]
[4] Charles M. McGinley, P.E., Michael A. McGinley, MHS, Donna L. McGinley, " "Odor Basics", Understanding and Using Odor Testing", paper presentation, The 22nd Annual Hawaii Water Environment Association Conference.,
Honolulu, Hawaii: 6-7 June 2000, St. Croix Sensory Inc. / McGinley Associates, P.A. 13701 - 30th Street Circle North Stillwater, MN 55082 U.S.A. 800-879-9231 stcroix@fivesenses.com, retrieved 9/22/12, original source http://www.fivesenses.com/Documents/Library/33%20 %20Odor%20Basics.pdf, [copy on file as Odor_Basics.pdf]
[5] Jon H. Ruth, "Odor Thresholds and Irritation Levels of Several Chemical Substances: A Review", American Industrial Hygiene Association Journal Volume 47, Issue 3, 1986, retrievedf 9/22/12,

Abstract: A collation of odor threshold data for approximately 450 chemical substances is presented. The range of odor thresholds reported in the literature is shown along with any reported threshold of irritation to humans.

These data can assist the industrial hygienist in determining when an "odor" may be in excess of the Threshold Limit Value®, when an organic vapor respirator is not acceptable due to the lack of an odor warning at the end of a cartridge life, and where odors may not indicate a hazard due to extremely low odor thresholds which may be well below the respective TLVs.
[6] Edward Avila DO, Paul Schraeder MD, Ajit Belliappa MD, Scott Faro MD, "Pica With Paradichlorobenzene Mothball Ingestion Associated With Toxic Leukoencephalopathy", Journal of Neuroimaging Volume 16, Issue 1, pages 78–81, January 2006, retrieved 9/22/12,

Abstract: This is a case report of central nervous system toxicity associated with paradichlorobenzene (PDCB) ingestion. The patient had ingested mothballs composed of 99.99% PDCB for a period of 7 months.

She was admitted for depression and had no neurologic symptoms. Later she developed an acute cerebellar syndrome followed by stupor and coma. An extensive workup was negative except for decreasing levels of PDCB in her serum. Imaging revealed a diffuse leukoencephalopathy. Her clinical picture was attributed to PDCB toxicity.
[7] Stone, David L. (David Louis), Stock, T. (Tim), "MOTHBALLS: proper use and alternative controls for clothes moths", [PDF] PNW 606-E, May 2008, Oregon State University. Extension Service Washington State University. Extension University of Idaho. Extension, May, 2008, retrieved 9/22/12, original source: http://scholarsarchive.library.oregonstate.edu/ xmlui/bitstream/handle/1957/20800/pnw606-e.pdf?sequence=1, citation: http://hdl.handle.net/1957/20800,

Abstract: In some homes, clothes moths can damage garments and other belongings. There are two common species of clothes moths in the Pacific Northwest: the webbing clothes moth (Tineola bisselliella) and the casemaking clothes moth (Tinea pellionella). The larvae, or immature form, of the moths are responsible for the damage done to personal belongings.
Citing the following 2 sources on mothball chemistry, use, hazards:
[8] Black, Judy. Fabric and Museum Pests. In Mallis Handbook of Pest Control, 9th edition, S.A. Hedges and D. Moreland, eds. GIE Media, Cleveland, OH, 2004, pp. 581 –623.
[9] U.S. Department of Health and Human Services. Illness Associated with Exposure to Naphthalene in Mothballs—Indiana. Morbidity and Mortality Weekly Report, 1983, Vol. 32: 34–5.
[10] Willert Home Products, Mold Preventative FAQs, [PDF], Willert, USA, 4044 Park Avenue St. Louis, Missouri 63110 USA Tel: (001) 314 772 2822 Email: whp@willert.comretrieved 2017/07/27, original source: http://www.willert.clients.danskadesigns.com/files/Moth-Preventive-FAQs.pdf
...
Books & Articles on Building & Environmental Inspection, Testing, Diagnosis, & Repair
Our recommended books about building & mechanical systems design, inspection, problem diagnosis, and repair, and about indoor environment and IAQ testing, diagnosis, and cleanup are at the InspectAPedia Bookstore. Also see our Book Reviews - InspectAPedia.
...
Publisher InspectApedia.com - Daniel Friedman