How to Choose a Room Air Conditioner - BTU Chart

BTU CHART for AIR CONDITIONERS / HEAT PUMPS - CONTENTS: How to choose an air conditioner that fits the building and your cooling needs?

Typical BTU Cooling Capacity Range for Types of Room Air Conditioners
Room Air Conditioner or Window Air Conditioner Sizing and Choosing Chart
How Much Cooling Capacity do we need Per Square Foot of Building Area? How Much Space can a Ton of Cooling Capacity Serve?
How To Calculate the BTUs needed to cool a given space: follow this procedure:
How big an air conditioner do I need? How much air conditioning do I need? How many BTUs or Tons of Air conditioning?
Can an air conditioner be too powerful for the building? Watch out: Don't Buy an Oversized or "Too Big" Air Conditioner

APPLIANCE DIAGNOSIS & REPAIR - separate article
POST a QUESTION or READ FAQs about how to determine the necessary cooling capacity in BTUs for a room or building area cooled by a window air conditioner or a portable air conditioning unit
InspectAPedia tolerates no conflicts of interest. We have no relationship with advertisers, products, or services discussed at this website.
Air conditioner BTU requirements: this article provides an air conditioner BTU chart shows how to choose a room air conditioner for window or through-wall mounting. We also show how to calculate how much BTU capacity you need based on building area or square feet, and we warn about dehumidification problems if you buy an air conditioner that is too big for the space you are cooling. Also see WINDOW / WALL AIR CONDITIONERS.
Green links show where you are. © Copyright 2014 InspectApedia.com, All Rights Reserved.
Typical BTU Cooling Capacity Range for Types of Room Air Conditioners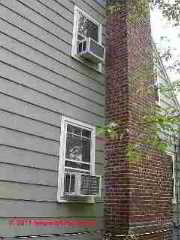 Portable, window, or through-wall air conditioners are typically described by their manufacturer as suited for:
Single Room Air Conditioner Capacity - typically for rooms up to 20' x 20' or 400 sq.ft. in area. BTUs in this product range are typically from 6,000 BTUh to 10,000 BTUh.
Portable room air conditioners - 7,500 to 14,000 BTUH, portable, using one or in some cases two flexible ducts to move heat from the room, through cooling coil and the compressor, to outdoors
Multiple Room Air Conditioner Capacity - typically for a total area of up to 800 sq.ft. BTUs in this product range are typically from 10,000 BTUh to 16,000 BTUh.
Large Capacity Air Conditioner Capacity - typically for multiple rooms or very large rooms up to a total area from 900 sq. ft. to 2,000 sq.ft. BTUs in this product range are typically from 16,000 to 28,000 BTUh.
Central Air Conditioning - typically to cool an entire floor or multiple floors in a home. Also see A/C TYPES, ENERGY SOURCES
Room Air Conditioner Sizing and Choosing Chart
The table below gives recommended air conditioning BTU's necessary to cool a single room. The data in the table assumes that the ceiling over the room is insulated and that the room is not over or is not itself a special heat-producing area such as a kitchen or boiler room.
Table 1: Base BTUs - Recommended Air Conditioner BTUs
Number of
Rooms
Cooled
Room Area
MINimum
sq.ft.
Room Area
MAXimum
sq.ft.
BTUs
Needed
One
.
100
4,000 - 6,000
One
100
180
6,000 - 7,500
One
180
270
7,500 - 9,000
One
270
400
9,000 - 10,500
Several
.
400
10,500 - 12,000
Several
400
500
12,000 - 13,500
Several
500
700
13,500 - 15,000
Several
700
800
15,000 - 16,500
Large Areas
.
900
16,500 - 18,000
Large Areas
900
1000
18,000 - 19,500
Large Areas
1,000
1,100
19,500 - 21,000
Large Areas
1,000
1,100
19,500 - 21,000
Large Areas
1,100
1,200
12,000 - 22,500
Large Areas
1,200
1,500
22,500 - 24,000
Large Areas
1,500
1,700
24,000 - 25,500
Large Areas
1,700
1,900
25,500 - 27,000
Large Areas
1,900
2,200
27,000 - 28,500
How To Calculate the BTUs needed to cool a given space: follow this procedure: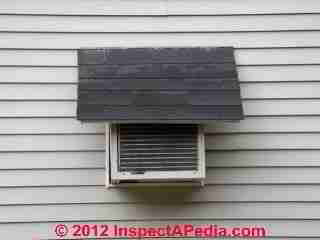 Calculate the total square feet to be cooled: Measure the size of the room (or rooms) to be cooled, to obtain total square feet. Multiply room length by width for each room and if there are multiple rooms, add the room areas together to get a single number.
Read the Base BTUs needed from Table 1 below
Add additional BTUs for these factors:
+ 4,000 BTUs for each room below a ceiling or roof which is not insulated
+ 4,000 BTUs for a home or residential kitchen included in the cooled area
+ 1,500 BTUs for each window which receives significant daily sunshine
+ 1,500 BTUs for a room over a kitchen or boiler room IF the kitchen or boiler room is actively producing heat during the cooling period
+ 600 BTUs per person over two, if more than two occupants will be occupying the room during the cooling period
Subtract BTUs from the total required if these factors are present:
- 1,000 BTUs if the room is on the shaded side of the building
Calculate the final total BTUh needed from the above steps. This should place you in the right range of cooling capacity needed. Review the warning below about buying an oversized air conditioner.
How Much Cooling Capacity do we need Per Square Foot of Building Area? How Much Space can a Ton of Cooling Capacity Serve?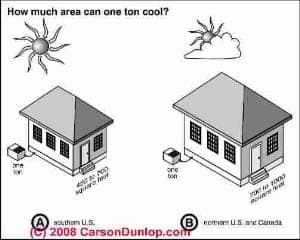 Maybe 450 sq.ft. to 1000 sq.ft. of a typical home can be cooled per ton of cooling capacity: that is, one ton (or 12,000 btuh) of air conditioning can cool about 500 sq.ft. of space. Sketch courtesy of Carson Dunlop Associates.
But the real answer is, it depends. Some of the factors that affect the ability of an air conditioner to cool a space need to be considered besides just the number of square feet. These include at least the following questions about air conditioning load and cooling requirements:
What are the sun and heat characteristics of the geographic area where the building is located (southern U.S. vs. northern U.S. or Canada, for example)?
How much direct sunlight is falling on the building?
Is it bright hot sun or only partly sunny?
What are the exterior colors of surfaces on which sunlight is falling?
How well the building is insulated?
How drafty is the building?
How many occupants are in the building?
What other heat sources (or cooling sources) are in the building?
How high are the interior ceilings?
How does air circulate within the occupied spaces?
What defects in the air conditioning system need to be overcome, such as duct system errors or damage, dirty filters, blocked cooling coils, etc. ?
Watch out: Don't Buy an Oversized or "Too Big" Air Conditioner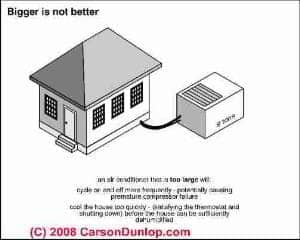 Watch out: Do not buy an air conditioner which is oversized (too many BTUh) for the area you need to cool. You may think that bigger is better, but not in the case of air conditioning.
To make a room comfortable the air conditioner needs to both cool the room air AND dehumidify the room air.
If the air conditioner is too large for the space to be cooled, the temperature will drop quickly and the A/C unit will shut off before the air has become adequately dry.
The room will be either too cold or too humid for comfort. Sketch courtesy of Carson Dunlop Associates.
More detail about how to diagnose and cure an air conditioner that is not dehumidifying can be found at DEHUMIDIFICATION PROBLEMS

Other types of portable or individual-area air conditioners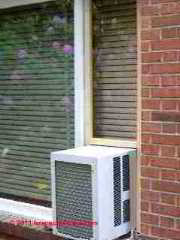 Heating & Cooling units - capable of both cooling or heating a room using electricity. Basically these units are small heat pumps that are mounted in a building window or wall. Heating/Cooling units will give two different BTUh figures, one for cooling and one for heating.

These figures will differ, for example, producing 18,000 BTUh in cooling mode but only 12,000 BTUh in heating mode. The difference between heating and cooling, and the amount of heat actually available will depend also on the outdoor temperatures when in heating mode (as with any heat pump system, the unit cannot provide heat below certain temperatures.)"


Slider or Casement Window units - narrow tall cooling systems which are designed to fit into the narrow space provided by casement or slider windows.


Through-wall air conditioners - air conditioning units which are designed to be installed into a metal sleeve which is then itself installed in an opening cut into the building wall, leaving windows unobstructed, or perhaps for use in a room without a suitable window in which an air conditioner could be placed. BTU output is typically a bit more than the smallest window air conditioners but otherwise is similar in range.


Portable air conditioners - units on wheels which are plugged into an outlet but can be moved room-to-room and do not require a window for their exhaust. These cooling units are of modest cooling ability, typically around 10,000 BTUh though some producers such as Sunpentown offer units up to 14,000 BTUh. See PORTABLE ROOM AIR CONDITIONERS for details about portable room air conditioners.
How to Determine BTUs or Tons of Cooling Capacity of an Air Conditioner from its Data Tags
See RATED COOLING CAPACITY for an explanation of how to determine the cooling capacity of an air conditioner that is already installed at a building or go directly to these links within that article:

FROM MODEL # - how to determine the BTU capacity or Tons of cooling capacity of an air conditioner from model number
FROM EQUIPMENT RLA # - how to determine the BTU capacity or Tons of cooling capacity of an air conditioner from the RLA number
COOLING RULES OF THUMB - how to guesstimate how many tons or BTUs of cooling a building needs
We discuss the air conditioning system sizing problem at AIR CONDITIONER BTU CHART and while details are found at DEHUMIDIFICATION PROBLEMS, we also introduce the oversized air conditioner problem at LOST COOLING CAPACITY. At ADDING A/C: RETROFIT SIZING we discuss home cooling system sizing mis-match on retrofit jobs.
More Reading
Green link shows where you are in this article series.
...
Frequently Asked Questions (FAQs)
No FAQs have been posted for this page. Try the search box below or CONTACT US by email if you cannot find the answer you need at InspectApedia.
Ask a Question or Search InspectApedia
Questions & answers or comments about how to determine the necessary cooling capacity in BTUs for a room or building area cooled by a window air conditioner or a portable air conditioning unit.
Try the search box just below or if you prefer, post a question or a comment in the Comments box below and we will respond promptly.
Search the InspectApedia website
Technical Reviewers & References
Related Topics, found near the top of this page suggest articles closely related to this one.
Click to Show or Hide Citations & References
Carson, Dunlop & Associates Ltd., 120 Carlton Street Suite 407, Toronto ON M5A 4K2. (416) 964-9415 1-800-268-7070 info@carsondunlop.com. The firm provides professional home inspection services & home inspection education & publications. Alan Carson is a past president of ASHI, the American Society of Home Inspectors. Thanks to Alan Carson and Bob Dunlop, for permission for InspectAPedia to use text excerpts from The Home Reference Book & illustrations from The Illustrated Home. Carson Dunlop Associates' home inspection education products include
Thanks to various industry and air conditioner sales publications and consumer pamphlets including Sears Kenmore(R) air conditioning sales
Sunpentown International (SPT), 21415 Baker Parkway, City of Industry, CA 91789, 800-330-0388 / 909-468-5288, produces portable room air conditioners. Web search 12/31/2010. FAQ for portable room air conditioners: http://www.sunpentown.com/learnmore.html
Books & Articles on Building & Environmental Inspection, Testing, Diagnosis, & Repair
The Home Reference Book - the Encyclopedia of Homes, Carson Dunlop & Associates, Toronto, Ontario, 25th Ed., 2012, is a bound volume of more than 450 illustrated pages that assist home inspectors and home owners in the inspection and detection of problems on buildings. The text is intended as a reference guide to help building owners operate and maintain their home effectively. Field inspection worksheets are included at the back of the volume. Special Offer: For a 10% discount on any number of copies of the Home Reference Book purchased as a single order. Enter INSPECTAHRB in the order payment page "Promo/Redemption" space. InspectAPedia.com editor Daniel Friedman is a contributing author.

Or choose the The Home Reference eBook for PCs, Macs, Kindle, iPad, iPhone, or Android Smart Phones. Special Offer: For a 5% discount on any number of copies of the Home Reference eBook purchased as a single order. Enter INSPECTAEHRB in the order payment page "Promo/Redemption" space.
Carson Dunlop, Associates, Toronto, have provided us with (and we recommend) Carson Dunlop Weldon & Associates' Technical Reference Guide to manufacturer's model and serial number information for heating and cooling equipment
Special Offer: Carson Dunlop Associates offers InspectAPedia readers in the U.S.A. a 5% discount on any number of copies of the Technical Reference Guide purchased as a single order. Just enter INSPECTATRG in the order payment page "Promo/Redemption" space.

Complete List of Air Conditioning & Heat Pump Design, Inspection, Repair Books at the InspectAPedia Bookstore.
Modern Refrigeration and Air Conditioning, A. D. Althouse, C.H. Turnquist, A. Bracciano, Goodheart-Willcox Co., 1982
Principles of Refrigeration, R. Warren Marsh, C. Thomas Olivo, Delmar Publishers, 1979
"Air Conditioning & Refrigeration I & II", BOCES Education, Warren Hilliard (instructor), Poughkeepsie, New York, May - July 1982, [classroom notes from air conditioning and refrigeration maintenance and repair course attended by the website author]
Refrigeration and Air Conditioning Technology, 5th Ed., William C. Whitman, William M. Johnson, John Tomczyk, Cengage Learning, 2005, ISBN 1401837654, 9781401837655 1324 pages
Air Conditioning SEER - New DOE Air Conditioner and Heat Pump Efficiency Standard
Asbestos HVAC Ducts and Flues field identification photos and guide
Fiberglass: Indoor Air Quality Investigations: Fiberglass in Indoor Air, HVAC ducts, and Building Insulation
...