Indoor Air Quality Improvements

Home Page
InspectAPedia tolerates no conflicts of interest. We have no relationship with advertisers, products, or services discussed at this website.
Best practices guide to indoor air quality:
Indoor Air Quality Testing, Diagnosis, and Remedies. Test & remove indoor air contaminants: gases, particles, odors, others.. These indoor air quality and health articles discuss in detail the steps needed to test, diagnose and improve indoor air quality in homes and commercial buildings.
Examples of topics we cover include air filters, allergens indoors, carpeting, Chinese drywall, house dust, unsafe gases found indoors, mold in buildings, odors, and building ventilation.
We also provide a MASTER INDEX to this topic, or you can try the page top or bottom SEARCH BOX as a quick way to find information you need.
Indoor Air Quality - Best Practices for Improving Indoor Air in Homes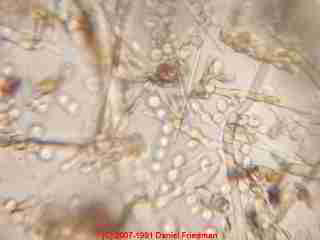 Here we provide detailed, un-biased advice on finding and correcting indoor air quality problems as well as advice on new construction details for a combination of low building energy cost and high indoor air quality.
This article series includes excerpts or adaptations from Best Practices Guide to Residential Construction, by Steven Bliss, courtesy of Wiley & Sons.
Our page top photo shows that even the naked eye can see comparatively large airborne particles indoors. And our photo at left illustrates an indoor air particle sample dense with fiberglass, fungal hyphae, and Penicillium/Aspergillus spore chains - indicating a nearby mold contamination source.
But many indoor contaminants are simply too small to see, or are not particles at all but rather gases or chemicals.
See ENVIRONMENTAL HAZARDS - INSPECT, TEST, REMEDY for our full list of environmental hazard identification and remedy related to buildings
To find what you need quickly, if you don't want to scroll through this index you are welcome to use the page top or bottom SEARCH BOX to search InspectApedia for specific articles and information.
Overview of Indoor Air Quality Issues & Solutions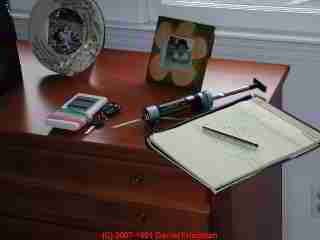 As noted in Best Practices Guide to Residential Construction [link is to book information]:
Two trends have conspired to place significant stresses on the indoor environment over the past two decades.
First, houses are being built much tighter today than they were a generation ago, either deliberately by energy-minded builders or simply as a by-product of using modern building materials, such as plywood, DRYWALL, or INSULATION, and tight- fitting doors and windows.
Second, the number of synthetic building materials has rapidly expanded to include synthetic CARPETING, a wide variety of plastics, wood composites, adhesives, sealants, and finishes.
These, along with the wide variety of cleaning, personal care, and hobby products stored and used indoors provide most homes with an ample source of airborne chemicals, many of which have not been well studied, either alone or in combination with others.
Some leading indoor-air-quality advocates have referred to this unknown mix of airborne compounds as "chemical soup."
Individuals with allergies, asthma, or strong chemical sensitivities were, like the proverbial canary in the coal mine, the first to call attention to the higher concentrations of chemicals that were building up in our new, tighter homes. While scientists had thoroughly studied the outdoor air in cities and indoor air in occupational settings, little was known about air quality in homes.
Indoor Air is Typically More Contaminated than Outdoor Air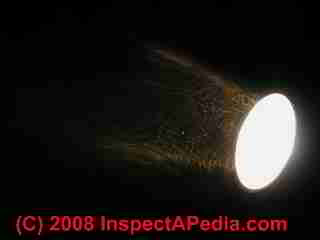 A growing body of scientific evidence has demonstrated that the air inside homes is typically more polluted than outdoor air, even in polluted urban areas. For example, the U.S. EPA team tudy of over 600 residents in seven cities in the 1980s found that exposure to toxic chemicals was much greater at home or at work than outdoors.
Compare our airborne dust photograph at left with the similar image at page top for two examples of the extreme range of airborne particle contaminants that may be present in a building.
Levels of about a dozen common organic pollutants were found to be two to five times higher inside homes than outside, regardless of whether homes were in rural or industrial areas.
And since the average person spends far more time indoors than outside, the study concluded that health risks from the indoor environment pose a greater risk to most people than outdoor air pollution.
Fortunately, as builders, designers, and homeowners, we potentially have much greater control over our indoor environment than out of doors.
Public health professionals and researchers both in the private sector and in state and federal agencies have identified the most significant threats posed by indoor air pollution, as well as a number of straightforward strategies that enable us to minimize or eliminate the health risks.
See INDOOR AIR QUALITY & HOUSE TIGHTNESS for a discussion of the relationship between air-tightness of a home and indoor air quality and for a description of the causes of variation in indoor air quality among similarly-constructed homes.
Acceptable Risk: Just How Clean Does Indoor Air Need to Be?
Remember, there is no environment— indoor or outdoor—that is 100% free of hazardous materials, many of which (like radon, asbestos, and airborne particulates) occur naturally in the environment. And while many of these substances have been studied extensively in the workplace, the effects of long-term exposure to the lower levels found in most homes are not well understood.
For some indoor air pollutants, like radon, scientists have a fairly precise understanding of the health effects and recognize that that no exposure level is safe. However, the cost of reducing the indoor radon level to zero (below outdoor levels) would be prohibitive for most people, so homeowners, health professionals, and regulatory agencies do their best to find a "cost-effective" goal that balances costs against perceived health risks.
In the absence of clear indoor air guidelines, and taking into account that all building projects have budget limitations, the goal of this chapter is to identify reasonable steps that builders and designers, and, in some cases, homeowners can take to produce a healthy indoor environment by eliminating or substantially reducing known hazards.
The emphasis will be on getting the greatest benefit for the least cost, starting with the most significant hazards.
How much an individual invests in clean indoor air is a matter of personal choice. Fortunately, with good planning, a great deal can be accomplished for a modest investment.
For individuals with special sensitivities to chemicals, dust, or biological materials such as INDOOR MOLD CONTAMINATION, the measures described here may not be adequate. A more comprehensive approach under the guidance of environmental health specialists is advisable.
Note: For a helpful discussion of just what constitutes "adequate venitlation", see Offermann, Francis (Bud) J., P.E., C.I.H., ASHRAE & Mark Nicas, Ph.D., MPH, C.I.H., USE WITH ADEQUATE VENTILATION ? [PDF], ASHRAE Journal, May 2018.
Health Effects of Indoor Air Pollutants
Indoor air pollutants at high levels can cause acute illness, while lower levels may lead to health problems only after years of exposure. In the case of certain carcinogens, such as radon, health professionals believe that a single exposure could lead to health problems many years later (although the greater the total exposure over time, the greater the risk).
While the effects of some pollutants are well understood, for others further research is needed to determine what concentrations and types of exposure will impair health. Also, it is important to bear in mind that different people react very differently to indoor pollutants.
Even in the absence of definitive studies on every pollutant, there is little disagreement that reducing exposure to volatile organic compounds, combustion gases, radon, common allergens, and other indoor pollutants is a worthwhile goal for all homeowners and particularly vital for the very young or for those with allergies or respiratory problems.
[See MOLD RELATED ILLNESS for an extensive list of occupant-reported illnesses related to mold and other indoor contaminants.]
Short-Term Health Effects of Exposure to Indoor Pollutants
High levels of indoor pollutants can cause immediate symptoms after one or more exposures. The symptoms may look like those of a cold or virus, including irritation of the eyes, nose, and throat, headaches, dizziness, and fatigue.
These effects are usually short-term and reverse quickly once the person leaves the building or the pollutant is identified and eliminated. Short-term exposures can also trigger asthma episodes and lead to other serious allergic responses, including hypersensitivity pneumonitis and humidifier fever, both of which may first appear as flu-like symptoms.
For many pollutants, the exposure level at which symptoms first appear is highly variable. Key factors include a person's age, preexisting medical conditions, and his or her individual sensitivity to the chemical or biological compound in question.
For example, MOLD, or POLLEN, or INSECT FRAGMENTS, or INSECT FECALS=, and ANIMAL DANDER or PROTEINS (dander, etc.), elicit a range of allergic reactions in some, while others are unaffected.
[See ANIMAL ALLERGENS / PET DANDER]
Also, the level at which formaldehyde elicits symptoms ranges from as little as .04 ppm to as much as 5.0 ppm (parts per million), depending on an individual's sensitivity.
To complicate matters, people can develop sensitivities to both biological and chemical pollutants at any point in their lives, possibly from repeated exposures to low levels of the substance.
See COMBUSTION AIR REQUIREMENTS for additional details about the requirement for combustion air.
COMBUSTION AIR for TIGHT BUILDINGS explains how to provide outside combustion air for tight buildings.
See COMBUSTION GASES & PARTICLE HAZARDS for an explanation of the dangers of inadequate combustion air.
See COMBUSTION PRODUCTS & IAQ for the relationship between fuel burning appliances and building indoor air quality. More about carbon monoxide - CO - is
and at CARBON MONOXIDE WARNING.

Long-Term Health Effects of Exposure to Indoor Pollutants
Some of the most toxic substances in our homes, such as LEAD, or ASBESTOS, and RADON, can under some circumstances cause long-term irreversible damage to health. Many types of air pollutants increase the frequency and severity of asthma attacks.
COMBUSTION BYPRODUCTShave been linked to reduced lung function in developing children. Some health problems, including certain cancers, have long latency periods and may show up years after exposure to a pollutant such as tobacco smoke or radon.
There is also ample evidence that some materials, such as FORMALDEHYDE GAS, are "sensitizers," which can cause a person to become hypersensitive after years of low-level exposure.
Whether indoor air quality contributes to other chronic health problems, such as heart disease, respiratory diseases, and cancers (other than lung cancer from radon and secondhand smoke), is unclear; but there is evidence that all major internal systems can be strained and become symptomatic as a result of poor indoor air quality.
-- Adapted with permission from Best Practices Guide to Residential Construction.
Collecting & Testing Building Dust Samples for Indoor AIr Quality Assessment
Reader Question: how can I collect a dust sample for lab analysis to screen for problem particles?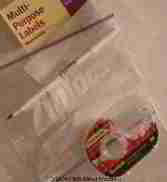 Can you tell me the best procedure for getting a dust sample analyzed to see if there are indications of mold, insects, pollen, small fiberglass particles, or other indoor irritant particles? - Maurice 2/5/2010
I am looking through the site so that I can follow the suggested steps to test a dust sample from my apartment. Can you recommend a lab to send it to? Thank you. - Peggy Sissleman 6/15/2011
Reply:
Please see DUST SAMPLING PROCEDURE where we describe when, where, & how best to collect a sample of settled dust from a representative building surface.
Just about any forensic microscopy lab, including many of the labs who accept mold test samples, should be able to examine your dust to let you know what particles are dominant and whether or not the dust contains clues suggesting that further building investigation is needed.
Dust samples are also useful to track down annoying or apparently unusual quantities of indoor dust to its probable source. For example we may examine a settled dust sample as well as a snip of carpeting fiber or a sample of building insulation to determine if that carpet or insulation is the source.
Watch out: keep in mind that while airborne particles are a key component in IAQ investigations, particle analysis will not detect irritating or hazardous gases, VOCs, odors, etc.
Reader Question: where can I mail building dust samples for analysis?
30 Oct 2014 Maria said
Where can I mail dust samples to see what they contain - Maria
Reply:
Maria
You can use any environmental test lab - to avoid any possible conflict of interest, please do not send dust samples to our own forensic lab.
For environmental or forensic investigative support and lab work, you can use any forensic lab provided you first check that their area of expertise matches your needs.
For strange particle analysis, building dust analysis, fiberglass particle screening, mold contaminant screening contact these expert forensic microscopists
For mold or general environmental dust samples also contact our backup
Susan Flappan, 11020 W. 122nd St. Overland Park KS 66213 USA, Tel: 913 322 2237. toll free number of 866 225 MOLD Website: http://moldetect.com/ Email: sflappan@moldetect.com
EMS lab is a very large and competent network of labs offering a wide range of services Website: www.emlab.com
InspectAPedia.com is an independent publisher of building, environmental, and forensic inspection, diagnosis, and repair information for the public - we have no business nor financial connection with any manufacturer or service provider discussed at our website.
...
Continue reading at INDOOR AIR QUALITY IMPROVEMENT, KEY STEPS or select a topic from closely-related articles below, or see our complete INDEX to RELATED ARTICLES below.
Or see AIR POLLUTANTS, COMMON INDOOR
Suggested citation for this web page
INDOOR AIR QUALITY IMPROVEMENT GUIDE at InspectApedia.com - online encyclopedia of building & environmental inspection, testing, diagnosis, repair, & problem prevention advice.
Or use the SEARCH BOX found below to Ask a Question or Search InspectApedia
...
Frequently Asked Questions (FAQs)
Try the search box below or CONTACT US by email if you cannot find the answer you need at InspectApedia.
Question: is an indoor mold spore count of 29,100 and 689 Aspergillus harmful?
Is an indoor spore count of 29,100 and a raw count of 689 of Aspergillus a harmful level? My daughter has moved into an apartment we feel has a heavy musty odor of mold and we are concerned. We had testing done and we are having trouble understanding the test results. Thanks! - Willie 8/13/2011
Reply: maybe
Willie the interpretation of a spore count, given the huge variability from moment to moment of indoor particle levels, has meaning mostly if interpreted by an expert who also has actually inspected the building. I have no trust in "raw" indoor airborne particle counts - I'm not even sure what your report means by that number, but in any event, we need to know not just how many of particle x there are in a building but how big a percentage of all particles they form.
700 spores out of a total particle level in the millions per cubic meter is nothing.
But 700 spores as the dominant particle in a dust sample would be suggestive of a problem even if the absolute count is low.
When you have some idea what your "mold tester" was up to, then the article titled MOLD CONTAMINATION LEVELS
may help put it into perspective. There you will see that while building air quality experts have reasonably consistent opinions about indoor mold levels that suggest a water-contaminated building (and possibly hidden a mold reservoir to be found and removed) that would agree that 30,000 mold spores/M3 of air could indicate a problem, a more accurate answer is ... it depends. For example, collecting an indoor air particle sample while indoor air is being stirred by fans or an HVAC system will give airborne counts that are one to two orders of magnitude (10x to 100x) the count you'd get in quiet still indoor air conditions.
In my OPINION whomever you paid should not just have thrown a lab report over the wall to you - they owe you something for their fee, no?
at MOLD / ENVIRONMENTAL EXPERT, HIRE ? we include some criteria for helping decide when further investigation for a hidden mold contamination problem is in order.
Question: the air quality in our house is causing breathing issues with everyone - the mold inspector didn't see a problem and recommended an air exchange unit
The air quality in our house is causing breathing issues with everyone in the house. A certified mold inspector just looked at our house and saw no water issues nor mold issues. Our dehumidifier in the basement needs to be emptied 3x a day. She suggested replacing the humidifier with an air exchange system like Humidex. Is that a reasonable step to take or should we get some other inspector in? - Barbara 8/16/11
Reply: dilution of contaminated air versus finding and removing the contaminant is the question?
Barbara, the swap out of a portable dehumidifier to an air to air exchange unit would be expected to add outdoor fresh air into the home, perhaps diluting an indoor contaminant, irritant, or pollutant. It's not an unreasonable suggestion ("how-to" advice is at VENTILATION, BALANCED), but it begs the question.
If no one has diagnosed a problem in the home no one knows what's wrong or what needs to be fixed, so we don't know if there is not something more harmful, or urgent, that should be corrected. You could wear a HEPA filter respirator while indoors too, and might feel better if the problem in indeed due to indoor air particles, but still no one would know what problem to address in the home.

Lots of "certified" inspectors have taken a class and obtained a certification; we document here that some mail-order certifications are very easy to obtain. In my experience and opinion, many mold experts are neither expert in mold, knowing little about mycology, for example, nor experts in indoor air quality and building science. Too many are accepting a fee for collecting some samples that are sent to a lab, and perhaps a too-superficial inspection.

I would take a look at the article titled MOLD / ENVIRONMENTAL EXPERT, HIRE ? and perhaps find someone in whose experience and depth and care you have confidence.
Reader follow-up:
The issue seems to be dampness (not to the touch) from the concrete. When I am away from the home and no one is tending to the dehumidifier constantly the surface mold develops on items conducive to mold growth--certain wood items, baseboards behind bookshelves, cardboard boxes or clothes directly on the concrete floor and the like. My house is on a wooded lot, which is nice and cool in the summer, but may contribute to the general dampness in the basement. Is this still sounding like an air to air exchange unit would be helpful? We are also considering cutting down a tree or two overshadowing our house. Members of the home are seriously affected by the air quality. Would you recommend hiring an expert inspector like Greg Brown or try the air to air exchange unit? (Thank you for your assistance!) - Barbara 8/17/11
Reply:
If you are seeing indoor mold growth there is an indoor humidity problem. All mold is everywhere, all the time. So when indoor conditions are right, depending on the particular indoor surface - what it's made of - some mold spores find it a nice place to begin colonization.

In addition, if there is already an existing indoor problem mold reservoir, perhaps a hidden one, that added inoculation of mold spores (that varies by indoor conditions of light, humidity, temperature, and even season) can speed up the colonization of indoor surfaces.

You need to properly control the indoor humidity, not cutting down outdoor trees. And if there is already indoor mold visible, you need to know the extent of cleanup needed and to have that done effectively.
Question: My vinyl floor smells like B.O. and is making me sick
Hi, hopefully you can help,

My vinyl floor is outgassing. It smells like terrible body odor and is making me sick! Before I put in a claim, I want to educate myself as much as possible. What is it exactly in plastic that breaks down to smell like BO? What other information do you think I should know before I make contact with a claims department?
The [smelly vinyl] floor is Permastone by Tarkett and it was tested by the Resilient Floor Covering Institute and given a floor score as being environmentally sound and complies with California's volatile organic compound emissions criteria. Maybe that was after mine was manufactured.
Thanks,
Amanda 9/30/11
Reply:
Amanda, vinyl flooring outgassing of VOCs usually diminishes rapidly in the days right after installation; outgassing and odors may also be from the adhesive or mastic used to install the floor, not the flooring itself. But yours is the first report we've had of an odor associated with "BO" or body odor.

NAFCO describes five different adhesives that may be used with their flooring products, including one on "self-stick" flooring tiles. Acrylic adhesives are common.

You might want to give Tarkett a call (United States - Phone 800-367-8275 Canada - Phone 800-465-4030) to ask for a copy of the MSDS for both the Permastone product itself and for the adhesive used in its installation. Also download their installation .PDF and check those instructions against what was used by your installer. For example, if an installer did not follow the recommended installation guide - see nafco dot com . The installation manual also details NAFCO's principal concerns (moisture in the subfloor or slab over which flooring is to be installed) that affect their product's performance.
Also see these articles:
VINYL SIDING or WINDOW PLASTIC ODORS
VINYL CHLORIDE HEALTH INFO
VINYL SIDING or WINDOW PLASTIC ODORS
Question: are pressure treated materials toxic to breathe?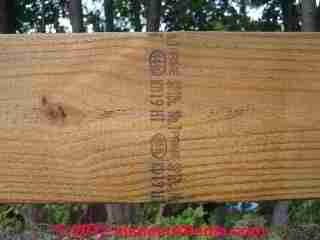 I need to know if pressure treated materials are toxic to breath , and how do you get rid of the smell on the pressure treated materials. I have tried sealers[Bin Shellac] and added ventilation under the home .I have 6 by 14 pressure treated beams under the house supporting the main floor. Please advise - Paul MacGregor 3/26/12
Reply:
What and where are your pressure treated materials. Odor complaints from treated lumber are not something we have heard reported before. How did you determine the odor source?
However Paul, if you are talking about sawdust from construction during building of a structure that uses pressure-treated lumber, modern pressure treated lumber typically uses borate salts rather than the more toxic CCA (that contained copper arsenate - an arsenic compound) in older lumber.
Nevertheless, sawdust in general is a respiratory irritant that should be avoided by wearing a proper respirator - we'd recommend a HEPA respirator worn while sawing or sanding treated or any other wood.
Details about the types of wood preservative treatment, health concerns, & working with treated lumber are
at PRESERVATIVE_TREATED FRAMING LUMBER
Question: indoor air contaminants include gases & microbes
(May 20, 2011) Manish K. Verma said:
Here the normal concentration of the contaminants like gases, microbes should be mentioned.
Reply:
Thank you for the suggestion Mannish, see the table just above.
Question: soft water in a dehumidifier
(Feb 6, 2014) Anonymous said:
I use water soften by auqa pur in my dehumidifier and it puts a salt dust in the air and covers my furniture, is this harmful?
Reply:
Really? a dehumidifier removes moisture from building air. More likely you are discussing a humidifier - a device to add humidity to building air.
Please see HUMIDITY CONTROL & TARGETS INDOORS
Question: office flooded, IAQ complaints
(July 24, 2014) Josie said:
Our office was recently flooded due to a plumbing mishap. Because of the water, the walls had to be torn apart, insulation removed & replaced, drywall & studs replaced. The repairs are still ongoing. Anytime I'm in the office now, after about an hour my throat gets itchy, my tongue tingles & itches, I develop a cough, nausea and headache. Could the repairs, open/disturbed insulation, etc be the cause of these new symptoms? thanks for your time.
Reply:
Josie it is possible that the extent of demolition and cleaning were inadequate. Some simple measurements of what is in the indoor dust may be helpful.
Also see FIBERGLASS HAZARDS
Question: office smells rotten
(Sept 11, 2014) Lee Bryant said:
Our office smells like there is something "rotten" and it is usually in the mornings. It seems to not be as bad as the day passes.
Reply:
Lee in the More Reading links above, beginning at
ODOR DIAGNOSIS CHECKLIST, PROCEDURE
we provide suggestions for tracking down odor sources.
Question:
11/30/2014 Glen de Valk said:
Last May we replaced our central air unit in our 2400 sq.ft. home in Sarasota, FL. It was replaced with the same size unit that had been in place for over 20 years (3.5 tons) and cooled and dehumidified very well. However, the new unit does not dehumidify the air regardless where temp. is set and keeps the humidity level no lower than 60% and as high as 72% when we raise the thermostat to our comfort level around 75 degrees. We had an independent inspection of the system done and detected that the air humidity at the registers was 83-85% when the unit was running; when the compressor shuts off and the fan runs for a pre-set 90 seconds more, the humidity level goes to 100%. The installer cancelled the 90 second period of running but the humidity level still stays at 82-85% coming out of the registers and around 60 to 65 % at the returns. The house was also thoroughly tested for plumbing leaks, etc. and there are none. The A/C contractor thought the 3.5 ton unit was too big and replaced it with a 3 ton unit so it would run longer cycles. That made absolutely no difference in dehumidification. The contractor seems to be at a loss to cure it. Please advise. Thanks.
Reply:
Glen, please see your question and our reply in the article at DEHUMIDIFICATION PROBLEMS
...
Ask a Question or Search InspectApedia
Use the "Click to Show or Hide FAQs" link just above to see recently-posted questions, comments, replies, try the search box just below, or if you prefer, post a question or comment in the Comments box below and we will respond promptly.
Search the InspectApedia website
Technical Reviewers & References
Click to Show or Hide Citations & References
Best Practices Guide to Residential Construction, by Steven Bliss. John Wiley & Sons, 2006. ISBN-10: 0471648361, ISBN-13: 978-0471648369, Hardcover: 320 pages, available from Amazon.com and also Wiley.com. See our book review of this publication
Steve Bliss's Building Advisor at buildingadvisor.com helps homeowners & contractors plan & complete successful building & remodeling projects: buying land, site work, building design, cost estimating, materials & components, & project management through complete construction. Email: info@buildingadvisor.com
Steven Bliss served as editorial director and co-publisher of The Journal of Light Construction for 16 years and previously as building technology editor for Progressive Builder and Solar Age magazines. He worked in the building trades as a carpenter and design/build contractor for more than ten years and holds a masters degree from the Harvard Graduate School of Education.

Excerpts from his recent book, Best Practices Guide to Residential Construction, Wiley (November 18, 2005) ISBN-10: 0471648361, ISBN-13: 978-0471648369, appear throughout this website, with permission and courtesy of Wiley & Sons. Best Practices Guide is available from the publisher, J. Wiley & Sons, and also at Amazon.com
[1] "Indoor Air Quality (IAQ) ASHRAE Standard", Ranish Joshi, Arctic India Sales, reviews the basics of IAQ, emphasizes the importance of both source control and removal of contaminants when improving indoor air quality, warns about bringing inside contaminants from outdoors, and reviews the pertinent ASHRAE IAQ standards for buildings.
[2] "ASHRAE Fresh Air Ventilation System", Jie Chen et als, describes a fresh air ventilation system designed to meet ASHRAE 62.2P Standard.
Updated ASHRAE 90.1 Energy Code May Help Maximize The Benefits Of Energy Efficient Technologies", Lindsay Audin, Building Operating Management, May 2005, discusses ASHRAE Standard ASHRAE 90.1-2004, the latest version of ASHRAE's energy code, encompassing updates to the ASHRAE 90.1-2001 standard.

"Written to allow easy incorporation into specifications for new buildings and renovations, 90.1-2004 lays out minimum requirements for a building's envelope, electrical power systems and equipment, lighting, heating, Ventilating and air conditioning, service, water heating, and energy management. Under the 1992 federal Energy Policy Act (EPAct), ASHRAE 90.1 was mandated as the basis for all state building codes as they affect energy use, starting with ASHRAE 90.1-1989. Under EPAct, the 1999 version became law in July 2004, but has yet to be adopted by all states.

Since the 1999 version was somewhat dated by the time it became a requirement, some states, especially those having high energy prices, have already updated their building codes to the 2001 version. Some states and cities, such as Phoenix, are now going further by leapfrogging the 2001 edition and enacting part or all of the 2004 edition instead."
[4] "Energy Efficient Lab Design", Nicolas Lemire, Eng., Member ASHRAE, and Roland Charneux, Eng., Fellow ASHRAE, American Society of Heating, Refrigerating and Air-Conditioning Engineers, Inc. (www.ashrae.org). Reprinted by permission
from ASHRAE Journal, (Vol. 47, No. 5, May 2005). ©ASHRAE
Offermann, Francis (Bud) J., P.E., C.I.H., ASHRAE & Mark Nicas, Ph.D., MPH, C.I.H., USE WITH ADEQUATE VENTILATION ? [PDF], ASHRAE Journal, May 2018, also available as a PDF here with permission of the authors.
Abstract:

Consumer products such as paints, cleaning chemicals, and adhesives often contain toxic volatile chemicals. When these products are used indoors, these chemicals are released into the air resulting in inhalation exposures to applicators and other occupants.

The resulting indoor concentrations can result in exposures that cause acute adverse health effects, including death, and/or explosion risks.

Warning labels on these products and information in "safety data sheets" often simply caution to "use with adequate ventilation."

Excerpt:
Providing consumers with the required ventilation rates and product quantity limitations for indoor applications of paints, cleaning chemicals, and adhesives should significantly reduce adverse health impacts associated with the use of these products.
[5] Moeckel, W.E.; Weston, K.C., "Composition and Thermodynamic Properties of Air in Chemical Equilibrium", Technical Report NACA-TN-4265, Lewis Flight Propulsion Lab., Cleveland, 1 April 1958, updated 25 February 2008, Website citation: www.osti.gov, U.S. DOE, Abstract:
Charts have been prepared relating the thermodynamic properties of air in chemical equilibrium for temperatures to 15,000 deg K and for pressures from 10/sup -5/ to 10/sup +4/ atmospheres. Also included are charts showing the composition of air, the isentropic exponent, and the speed of sound. These charts are based on thermodynamic data calculated by the National Bureau of Standards. (auth).
[6] Bender, M. L., T. Sowers, J.‐M. Barnola, and J. Chappellaz (1994), Changes in the O2/N2 ratio of the atmosphere during recent decades reflected in the composition of air in the firn at Vostok Station, Antarctica, Geophys. Res. Lett., 21(3), 189–192, doi:10.1029/93GL03548.
Abstract:
Samples of air at various depths in firn were collected at Vostok Station, Antarctica, and analyzed for δ15N of N2, O2/N2 ratio, and CO2. The ultimate objective of this work is to constrain the recent rate of the atmospheric [O2] decrease, thereby providing a direct experimental constraint on net CO2 fluxes into the ocean and the land biosphere. δ15N increases with depth, because of gravitational enrichment, at approximately the rate predicted by the barometric equation. Gravitationally corrected CO2 decreases with depth to 308 ppmV at 101.9 m depth, because deeper air is older and less contaminated with anthropogenic CO2.

The gravitationally corrected O2/N2 ratio increases with depth mainly because burning fossil fuel consumes O2. Samples in the top 20 m of the firn have anomalously high CO2 concentrations and anomalously low O2/N2 ratios. Samples below 96.2 m depth have anomalously high O2/N2 ratios. Between 30 and 96.2 m depth, the gravitationally corrected increase in the O2/N2 ratio is nearly equal to that computed from the rate of O2 consumption by combustion of fossil fuels. Our results indicate that the rate of anthropogenic O2 consumption can be accurately constrained by future firn air studies.
[7] A.P. Jones, "Indoor Air Quality and Health", School of Environmental Sciences, University of East Anglia, Norwich, Norfolk, NR4 7TJ, UK, Atmospheric Environment Volume 33, Issue 28, December 1999, Pages 4535–4564
Abstract
During the last two decades there has been increasing concern within the scientific community over the effects of indoorair quality on health. Changes in building design devised to improve energy efficiency have meant that modern homes and offices are frequently more airtight than older structures.

Furthermore, advances in construction technology have caused a much greater use of synthetic building materials. Whilst these improvements have led to more comfortable buildings with lower running costs, they also provide indoor environments in which contaminants are readily produced and may build up to much higher concentrations than are found outside. This article reviews our current understanding of the relationship between indoorair pollution and health. Indoor pollutants can emanate from a range of sources.

The health impacts from indoor exposure to combustion products from heating, cooking, and the smoking of tobacco are examined. Also discussed are the symptoms associated with pollutants emitted from building materials. Of particular importance might be substances known as volatile organic compounds (VOCs), which arise from sources including paints, varnishes, solvents, and preservatives. Furthermore, if the structure of a building begins to deteriorate, exposure to asbestos may be an important risk factor for the chronic respiratory disease mesothelioma.

The health effects of inhaled biological particles can be significant, as a large variety of biological materials are present in indoor environments. Their role in inducing illness through immune mechanisms, infectious processes, and direct toxicity is considered. Outdoor sources can be the main contributors to indoor concentrations of some contaminants.

Of particular significance is Radon, the radioactive gas that arises from outside, yet only presents a serious health risk when found inside buildings. Radon and its decay products are now recognised as important indoor pollutants, and their effects are explored. This review also considers the phenomenon that has become known as Sick Building Syndrome (SBS), where the occupants of certain affected buildings repeatedly describe a complex range of vague and often subjective health complaints.

These are often attributed to poor air quality. However, many cases of SBS provide a valuable insight into the problems faced by investigators attempting to establish causality. We know much less about the health risks from indoorair pollution than we do about those attributable to the contamination of outdoor air.

This imbalance must be redressed by the provision of adequate funding, and the development of a strong commitment to action within both the public and private sectors. It is clear that meeting the challenges and resolving the uncertainties associated with air quality problems in the indoor environment will be a considerable undertaking. Keywords Biological particles; Combustion pollution; Radon; Sick building syndrome; Volatile organic compounds
[8] H. Frommea, D. Twardellaa, S. Dietricha, D. Heitmannb, R. Schierlc, B. Liebld, H. Rüdene, "Particulate matter in the indoorair of classrooms—exploratory results from Munich and surrounding area", Atmospheric Environment, Volume 41, Issue 4, February 2007, Pages 854–866
Abstract
Numerous epidemiological studies have demonstrated the association between particle mass (PM) concentration in outside air and the occurrence of health related problems and/or diseases. However, much less is known about indoor PM concentrations and associated health risks. In particular, data are needed on air quality in schools, since children are assumed to be more vulnerable to health hazards and spend a large part of their time in classrooms.

On this background, we evaluated indoorair quality in 64 schools in the city of Munich and a neighbouring district outside the city boundary. In winter 2004–2005 in 92 classrooms, and in summer 2005 in 75 classrooms, data on indoorair climate parameters (temperature, relative humidity), carbon dioxide (CO2) and various dust particle fractions (PM10, PM2.5) were collected; for the latter both gravimetrical and continuous measurements by laser aerosol spectrometer (LAS) were implemented. In the summer period, the particle number concentration (PNC), was determined using a scanning mobility particle sizer (SMPS). Additionally, data on room and building characteristics were collected by use of a standardized form.

Only data collected during teaching hours were considered in analysis. For continuously measured parameters the daily median was used to describe the exposure level in a classroom.

The median indoor CO2 concentration in a classroom was 1603 ppm in winter and 405 ppm in summer. With LAS in winter, median PM concentrations of 19.8 μg m−3 (PM2.5) and 91.5 μg m−3 (PM10) were observed, in summer PM concentrations were significantly reduced (median PM2.5=12.7 μg m−3, median PM10=64.9 μg m−3).

PM2.5 concentrations determined by the gravimetric method were in general higher (median in winter: 36.7 μg m−3, median in summer: 20.2 μg m−3) but correlated strongly with the LAS-measured results. In explorative analysis, we identified a significant increase of LAS-measured PM2.5 by 1.7 μg m−3 per increase in humidity by 10%, by 0.5 μg m−3 per increase in CO2indoor concentration by 100 ppm, and a decrease by 2.8 μg m−3 in 5–7th grade classes and by 7.3 μg m−3 in class 8–11 compared to 1–4th class.

During the winter period, the associations were stronger regarding class level, reverse regarding humidity (a decrease by 6.4 μg m−3 per increase in 10% humidity) and absent regarding CO2indoor concentration. The median PNC measured in 36 classrooms ranged between 2622 and 12,145 particles cm−3 (median: 5660 particles cm−3).
The results clearly show that exposure to particulate matter in school is high.

The increased PM concentrations in winter and their correlation with high CO2 concentrations indicate that inadequate ventilation plays a major role in the establishment of poor indoorair quality. Additionally, the increased PM concentration in low level classes and in rooms with high number of pupils suggest that the physical activity of pupils, which is assumed to be more pronounced in younger children, contributes to a constant process of resuspension of sedimented particles. Further investigations are necessary to increase knowledge on predictors of PM concentration, to assess the toxic potential of indoor particles and to develop and test strategies how to ensure improved indoorair quality in schools.
Basement Moisture Control, U.S. Department of Energy
Building Pathology, Deterioration, Diagnostics, and Intervention, Samuel Y. Harris, P.E., AIA, Esq., ISBN 0-471-33172-4, John Wiley & Sons, 2001 [General building science-DF] ISBN-10: 0471331724 ISBN-13: 978-0471331728
Building Pathology: Principles and Practice, David Watt, Wiley-Blackwell; 2 edition (March 7, 2008) ISBN-10: 1405161035 ISBN-13: 978-1405161039
Crawl Space Moisture Control, U.S. Department of Energy
Energy Recover Ventilation Systems for buildings, U.S. Department of Energy
Energy Savings Methods: Whole House Systems Approach, U.S. Department of Energy
Historic Preservation Technology: A Primer, Robert A. Young, Wiley (March 21, 2008) ISBN-10: 0471788368 ISBN-13: 978-0471788362
Moisture Control in buildings, U.S. Department of Energy
Moisture Control in Walls, U.S. Department of Energy
Natural Ventilation for buildings, U.S. Department of Energy
R-Value of Wood, U.S. Department of Energy
Spot Ventilation for houses, U.S. Department of Energy
Slab on Grade Foundation Moisture and Air Leakage, U.S. Department of Energy
"Vapor Barriers or Vapor Diffusion Retarders", U.S. DOE: how vapor barriers work, types of vapor diffusion barriers, installing vapor barrier
Ventilation for energy efficient buildings, Purpose, Strategies, etc.,
Weather-Resistive Barriers, how to select and install housewrap and other types of weather resistive barriers, U.S. DOE
Whole House Ventilation Systems, U.S. Department of Energy
Whole-House Balanced Ventilation Systems, U.S. Department of Energy
Whole-House Exhaust Ventilation Systems, U.S. Department of Energy
Whole-House Supply Ventilation Systems, U.S. Department of Energy
...
Books & Articles on Building & Environmental Inspection, Testing, Diagnosis, & Repair
Our recommended books about building & mechanical systems design, inspection, problem diagnosis, and repair, and about indoor environment and IAQ testing, diagnosis, and cleanup are at the InspectAPedia Bookstore. Also see our Book Reviews - InspectAPedia.
...