Septic System Care: Septic Tank Pumping Procedure

Septic Pumper Truck Operation
InspectAPedia tolerates no conflicts of interest. We have no relationship with advertisers, products, or services discussed at this website.
Operation of the septic pumper truck:
This document describes the steps in septic pumper truck operation during septic tank cleaning and service.
We describe the septic pumper truck operator's steps in opening the septic tank, placing the vacuum lines, checking the septic truck vacuum pump for proper operation before beginning the pumpout, the normal vacuum levels in the system during septic tank pumping, listening for jamming of the septic vacuum pump during pumping, connecting the vacuum hoses to the pumper truck, and beginning the septic tank vacuuming procedure.
We also provide a MASTER INDEX to this topic, or you can try the page top or bottom SEARCH BOX as a quick way to find information you need.
Septic Tank Pumper Truck Operation Procedures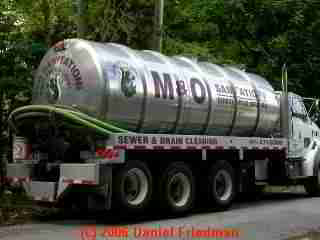 Septic pumping trucks are specialized vehicles which combine a powerful vacuum pump with a holding tank for sewage and wastewater.
The vacuum pump is activated, suction confirmed, the pumper is connected to a 4" or larger vacuum line, and the operator uses the line to empty the septic tank.
Common septic pumper truck vacuum pump brands include Battioni & Pagani vacuum pumps, Conde vacuum pumps, Hertell vacuum pumps, Masport vacuum pumps, Moro vacuum pumps, NVE (National Vacuum Equipment) pumps, PB vacuum pumps, Juro vacuum pumps.
Contact information for the manufacturers or distributors of all of these pumper truck vacuum pumps are at the end of this article. [3][4][5][6][7][8][9][10]
An example of the type of vacuum pump used on septic tank service vehicles is the Masport HXL400 System - Water cooled 400 CFM unit. Various pump sizes and pumping rates are available, all of them that work on septic pumper trucks will be similar in effect however.
This is a very powerful pump, typically weighing 470 pounds, using 6-vanes, water cooled, and pumping sewage at 400 cubic feet per minute. It should be readily apparent that septage moving through the unit and into the pumper truck will be highly agitated and mixed in the truck. This agitation effect will be true with any pump used for this application.
A Photographic Step by Step Guide to Pumping or Cleaning a Septic Tank
Before placing the septic tank pumping lines or performing any other steps with the septic pumping truck the operator locates the septic tank and removes its cover (discussed above.)
With the septic tank opened the operator performs an initial action to begin breaking up the septic tank floating scum layer and settled sludge layer as shown in the photo here.
The septic pumper operator lays out the pumping vacuum lines from the tank to the septic tank.
The vacuum lines are not yet connected to the pumper truck nor has the vacuum pump been turned on.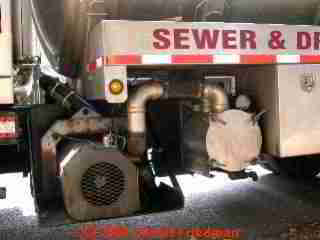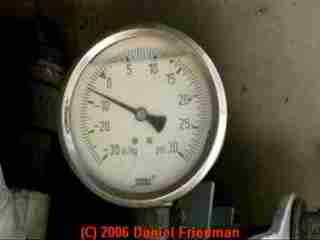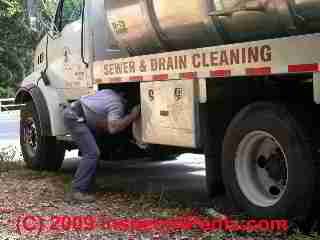 These photographs show the septic pumper truck's vacuum pump assembly.
The second photo of the vacuum pump gauge indicates that the pump is running at about -6" of mercury. In preparing to connect the pumper hose to the truck's transport tank, the operator must first turn on the vacuum pump.
You will only forget to do this once, as opening the valve at the bottom of the pumper tank without first turning on the vacuum pump can permit sewage to flow back out of the tank onto the operator!
The operator listens to the truck's vacuum pump motor to assure that the vacuum pump is operating correctly.
If the pump is blocked or jammed it will need to be cleared or repaired.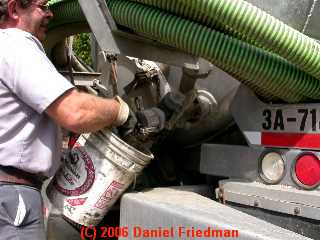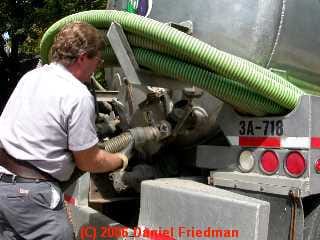 Once the vacuum pump is operating satisfactorily we're ready to remove the pumper truck tank valve cover and to attach the vacuum line to the pumper truck.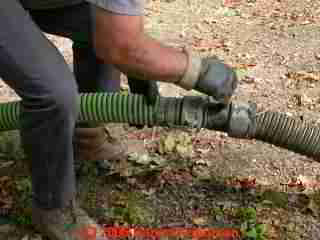 In the first photo at above left the operator is holding a bucket under the tank valve to catch the small amount of effluent that may fall out of the valve body when the valve cap is removed in order to attach the pumping hose.
The second photo at above right shows the operator attaching the first length of septic tank pumping hose to the tank truck.
With the pumper truck's vacuum pump operating properly and the septic pumping hoses laid in place, and with the first hose section already connected to the pumper truck, the operator connects the remaining sections of the vacuum line.
Watch out: the operator in these photos is not wearing personal eye protection equipment nor an apron. Those are recommended to protect from hazards of sewage contaminant splash-back.
Where to Buy Septic Pumper Trucks, Vacuum Pumping Trucks, other Septic System Service & Installation Equipment & Supplies
KeevAC, run by Kevin Keegan, 866-789-9440, is a producer of new vacuum service trucks for servicing septic systems or portable toilets. The company also provides vacuum pumps, hoses, and other sanitation accessories.
National Vacuum Equipment, 2707 Aero-Park Dr, Traverse City, MI 49686, USA, Tel: 800-253-5500, Website: http://natvac.com/ Email: info@natvac.com National Vacuum Equipment is a U.S. manufacturer of vacuum equipment.

The company distributes their own NVE Challenger pumps and Battioni Pagani rotary vane pumps, vacuum blowers, high capacity vacuum pumps, air assist vacuum pumping systems, vacuum system valves, and custom-fabricated vacuum products.

This company assisted with our article PUMPER TRUCK VACUUM PUMPS
Sanitation Journal is an industry publication that lists portable restroom and septic pumper trucks for sale. Vacuum trucks and portable toilet/restroom service trucks are listed and described.
SewerShopper.com website lists septic pumper trucks for sale under "Vacuum Equipment Septic" as well as vacuum excavators, jetters, and portable toilet service equipment.
Wastequip provides vacuum trucks and vacuum equipment as well as hydro trenchers and portable toilet trucks.
Check your local telephone listings of other septic service companies to see if they have equipment to sell.
Listing submissions are welcome
from websites whose content, services, or products are appropriate for our readers. To provide your link exchange information and our link exchange policy see
InspectAPedia.com - Directory Listing & Link Exchange Instructions
There are no listing fees & no conflicts of interest.
We reserve the right to list or not list individuals or companies and to provide notice of consumer compliments or complaints. The design and content found at
InspectAPedia.com®
are © Copyright protected, All Rights Reserved. Contents of this website may not be copied in any form. Our main website topics listed at page top or at the
MORE READING
links at the bottom of this article provide in-depth, un-biased, expert information on building defect inspection, diagnosis, & repair.
...
Continue reading at PUMPING the SEPTIC TANK or select a topic from closely-related articles below, or see our complete INDEX to RELATED ARTICLES below.
Or see PUMPER TRUCK VACUUM PUMPS - types, sources, lift height, vacuum specifications & sizing advice for vacuum and lift pumps used to clean septic tanks, grease traps, etc.
Or see SEPTIC TANK PUMPING PROCEDURE - home
Or see these
Septic Pumping Procedure & Pumper Truck Operation Articles
Suggested citation for this web page
PUMPER TRUCK OPERATION PROCEDURE at InspectApedia.com - online encyclopedia of building & environmental inspection, testing, diagnosis, repair, & problem prevention advice.
Or use the SEARCH BOX found below to Ask a Question or Search InspectApedia
...
Frequently Asked Questions (FAQs)
Try the search box below or CONTACT US by email if you cannot find the answer you need at InspectApedia.
Question:
(Feb 13, 2014) Anonymous said:
Dear sir we need to contact you we want to buy some of them here is our contact number ...
Reply:
Anon: to protect the trust of our readers, InspectApedia does not sell any product or service. However if you check the Citations & References at the end of any article, including this one, you will find referrals to companies and sources that can assist you. You'll need to click on the "Click to Show or Hide Citations & References" to see those details.
DO NOT send us email or contact us to attempt to purchase anything. We do not sell anything.
Question: costs involved in septic pumping or pumping equipment
(Apr 2, 2014) Anonymous said:
How much is the cost ?
Reply:
Anon I'm not sure what cost you are asking: $100 to $200 to pump a septic tank (varies more by location and local regulation on disposal of sewage) or the cost of a septic pumper truck ($50,000 & up, used)
Question: how far can the tank be from the pumper truck
(May 9, 2015) Michael said:
how long are the hoses used to pump out septic tanks? my tank is about two hundred feet from street.
Reply:
Michael:
Many septic pumper trucks carry a shorter length but certainly there are septic pumping companies offering pumping services advertising that they can reach up to 200 feet from the truck.
Keep in mind that the total pumper truck hose length needs to include not just the horizontal distance but also the vertical distances from ground level into the septic pumper truck tank and from ground surface to the bottom of the septic tank. On a dead flat site I'd add another 13 feet to the horizontal distance from pumper truck connection to septic tank cleanout lid.
See PUMPER TRUCK VACUUM PUMPS for additional limitations on lift height for septic tank pumpouts.
...
Ask a Question or Search InspectApedia
Try the search box just below, or if you prefer, post a question or comment in the Comments box below and we will respond promptly.
Search the InspectApedia website
Technical Reviewers & References
Click to Show or Hide Citations & References
New York State Department of Health, "Appendix 75-A Wastewater Treatment Standards - Individual Household Systems", [PDF] New York State Department of Health, 3 February 2010, retrieved 3/1/2010, original source: https://www.health.ny.gov/regulations/nycrr/title_10/part_75/appendix_75-a.htm
Special thanks to M & O Sanitation, Dutchess County NY (845) 471-0308 for permitting us to photograph steps during septic system service at our demonstration property.
[3] Battoni & Pagani vacuum pumps, Battioni Pagani Pompe S.p.A. - Via Cav. Enzo Ferrari n. 2 RAMOSCELLO di SORBOLO Parma (Italy), Email: info@battionipaganipompe.it, Website: http://www.battionipaganipompe.it/bp/default.asp?sLang=PT
U.S. distributor, NVE National Vacuum Equipment, Inc., PO Box 685 Traverse City, MI 49685 USA, Website: http://www.natvac.com/products/battioni.html
[4] Conde vacuum pumps, Westmoor Ltd. P.O. Box 99 906 West Hamilton Avenue Sherrill, New York 13461 (800) 367-0972 Pumps@WestmoorLtd.com, Website: http://www.westmoorltd.com/
[5] Hertell KD vacuum pumps, Industrialdea 2, 20267 Ikaztegieta, Spain (Espana) +34-943-643-240, Email: info@hertell.net Website: http://www.hertell.net/en/products/vacuum-pumps
/serie-KD/index.html
[6] Juro vacuum pumps,
[7] Masport Vacuum Pumps,Masport Inc., 6140 McCormick Dr. Lincoln, NE 68507 Website: http://www.morousa.com/, Tel: 800-228-4510
[8] Moro Vacuum Pumps, Moro USA, Inc., Pittsburgh, PA, Website: http://www.morousa.com/, Email: sales@morousa.com, Tel: 800-383-6304
[9] NVE Vacuum pumps, NVE National Vacuum Equipment, Inc., PO Box 685 Traverse City, MI 49685 USA
[10] PB Vacuum pumps, PB Pumps PO Box 142 - 1230 SE 2nd Street Galva, IL 61434 Phone: 309-932-3311 Fax: 309-932-3155 info@pbpumps.com, Website: http://pbpumps.com/
[11] "International Private Sewage Disposal Code," 1995, BOCA-708-799-2300, ICBO-310-699-0541, SBCCI 205-591-1853, available from those code associations.
[12] "Manual of Policy, Procedures, and Guidelines for Onsite Sewage Systems," Ontario Reg. 374/81, Part VII of the Environmental Protection Act (Canada), ISBN 0-7743-7303-2, Ministry of the Environment,135 St. Clair Ave. West, Toronto Ontario M4V 1P5 Canada $24. CDN.
[13] Manual of Septic Tank Practice, US Public Health Service's 1959.
The Septic System Information Website home page for this topic
Septic Systems Inspection, Testing, & Maintenance - online textbook. Detailed how to inspect, maintain, repair information
Septic Tank Pumping Guide: When, Why, How to pump the septic tank
Septic Tank Capacity vs Usage in Daily Gallons of Wastewater Flow, calculating required septic tank size, calculating septic tank volume from size measurements
Septic Tank/Soil-Absorption Systems: How to Operate & Maintain [ copy on file as /septic/Septic_Operation_USDA.pdf ] - , Equipment Tips, U.S. Department of Agriculture, 8271 1302, 7100 Engineering, 2300 Recreation, September 1982, web search 08/28/2010, original source: http://www.fs.fed.us/t-d/pubs/pdfimage/82711302.pdf.
How Big Should the Leach Field Be? - table of soil percolation rate vs. field size
Septic System Drainfield Absorption System Biomat Formation - what leads to drain field clogging and expensive drainfield repairs
Table of Required Septic & Well Clearances: Distances Between Septic System & Wells, Streams, Trees, etc.
Ten Steps to Keeping a Septic System Working, suggestions from the U.S. EPA, edits and additions by DJF
Pennsylvania State Fact Sheets relating to domestic wastewater treatment systems include

Pennsylvania State Wastewater Treatment Fact Sheet SW-161, Septic System Failure: Diagnosis and Treatment
Pennsylvania State Wastewater Treatment Fact Sheet SW-162, The Soil Media and the Percolation Test
Pennsylvania State Wastewater Treatment Fact Sheet SW-l64, Mound Systems for Wastewater Treatment
Pennsylvania State Wastewater Treatment Fact Sheet SW-165, Septic Tank-Soil Absorption Systems
Document Sources used for this web page include but are not limited to: Agricultural Fact Sheet #SW-161 "Septic Tank Pumping," by Paul D. Robillard and Kelli S. Martin. Penn State College of Agriculture - Cooperative Extension, edited and annotated by Dan Friedman (Thanks: to Bob Mackey for proofreading the original source material.)

...
Books & Articles on Building & Environmental Inspection, Testing, Diagnosis, & Repair
Our recommended books about building & mechanical systems design, inspection, problem diagnosis, and repair, and about indoor environment and IAQ testing, diagnosis, and cleanup are at the InspectAPedia Bookstore. Also see our Book Reviews - InspectAPedia.
Advanced Onsite Wastewater Systems Technologies, Anish R. Jantrania, Mark A. Gross. Anish Jantrania, Ph.D., P.E., M.B.A., is a Consulting Engineer, in Mechanicsville VA, 804-550-0389 (2006). Outstanding technical reference especially on alternative septic system design alternatives. Written for designers and engineers, this book is not at all easy going for homeowners but is a text I recommend for professionals--DF.
Builder's Guide to Wells and Septic Systems, Woodson, R. Dodge: $ 24.95; MCGRAW HILL B; TP; Quoting from Amazon's description: For the homebuilder, one mistake in estimating or installing wells and septic systems can cost thousands of dollars. This comprehensive guide filled with case studies can prevent that. Master plumber R. Dodge Woodson packs this reader-friendly guide with guidance and information, including details on new techniques and materials that can economize and expedite jobs and advice on how to avoid mistakes in both estimating and construction. Chapters cover virtually every aspect of wells and septic systems, including on-site evaluations; site limitations; bidding; soil studies, septic designs, and code-related issues; drilled and dug wells, gravel and pipe, chamber-type, and gravity septic systems; pump stations; common problems with well installation; and remedies for poor septic situations. Woodson also discusses ways to increase profits by avoiding cost overruns.
Country Plumbing: Living with a Septic System, Hartigan, Gerry: $ 9.95; ALAN C HOOD & TP; Quoting an Amazon reviewer's comment, with which we agree--DF:This book is informative as far as it goes and might be most useful for someone with an older system. But it was written in the early 1980s. A lot has changed since then. In particular, the book doesn't cover any of the newer systems that are used more and more nowadays in some parts of the country -- sand mounds, aeration systems, lagoons, etc.
...