Septic Tank Pumping Guide: When NOT to Pump Out A Septic Tank

InspectAPedia tolerates no conflicts of interest. We have no relationship with advertisers, products, or services discussed at this website.
When is it a bad idea to pump out the septic tank? Under some conditions pumping the tank may be unsafe, or it can lead to damage to the septic system.
Examples discussed here include pumping after a septic system has been flooded and pumping some systems which can lead to dangerous or even a fatal collapse. We also discuss the potential for a fraud lawsuit if a septic tank is pumped right before a septic system inspection & test has been scheduled.
We also provide a MASTER INDEX to this topic, or you can try the page top or bottom SEARCH BOX as a quick way to find information you need.
When is Pumping a Septic Tank Not Recommended
When the Septic System is Flooded by a Storm or Area Flooding, Don't Pump It Out
If you property has been flooded by rising water such as from a storm, hurricane, or a river overflow, pumping out a septic tank when ground waters are still flooding the area of the septic tank can lead to some unexpected problems:
If the septic tank is plastic or fiberglass, and if ground water is still high around the septic tank, the tank may actually float up out of the ground, leading to damaged septic piping and more costly repairs. Wait until floodwaters and ground waters have receded around the septic tank.
Even if the septic tank is concrete, if ground water is over the septic tank or even over its inlet piping or drainfield piping, if you pump out the flooded septic tank, floodwaters, including silt and mud may simply flow into the tank, filling it with silt and debris that will need to be removed. Wait until floodwaters have receded and ground water is low enough that mud and silt and floodwater won't simply run back into the tank.
More about how to inspect, pump, and repair your septic system after flooding is at SEPTIC FLOOD RESPONSE what to do after a septic system has been exposed to flooding.
If a Septic Tank or Cesspool is Old, of Unknown or Fragile Construction Don't Pump Without Inspecting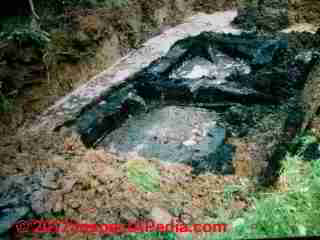 An old, site-built septic system built of dry-laid stone or concrete block, and in particular an old home-made cesspool is at high risk of collapsing when it is pumped, or collapsing shortly thereafter.
The septic "tank" at left was totally filled with solids, not functional, and the subject of a lawsuit for improper septic system inspection and testing. It was also home made of concrete block, and collapsing.
I assisted in a tragic case on Long Island, NY in which a cesspool was pumped leading to a collapse the next day when the owner walked over the cesspool and it caved in on him. If you don't know what the septic system is made of, be sure that the septic cleaning contractor proceeds with appropriate care.
In an "unknown construction" condition, you might not even know if what's installed is a conventional septic tank and drainfield or a simple cesspool. In such cases the septic contractor should be expected to proceed with caution, perhaps pumping from high in the "tank" only a portion of its contents, just sufficient to inspect (flashlight and mirror on a pole) the tank interior to see how it was constructed and what is its condition.
Before completing any septic pumpout or other septic repair work, be sure you have safe covers over the system(s) and any access openings. More about septic system hazards and safe procedures is at Septic System Safety: Septic System, Septic Tank, & Cesspool Safety Warnings for Septic Inspectors, Septic Pumpers, and Homeowners.
If the septic system sludge level is very low and the floating scum layer thickness is minimal
If the septic system sludge level is very low, perhaps just an inch or two in a 5 foot deep septic tank, and the floating scum layer thickness is also minimal, perhaps just an inch or two, the only reason I can think of that you'd pump the tank anyway would be a need to inspect or repair it. It's quite possible to estimate the thickness of the sludge layer and scum layer using probes especially constructed for that purpose.
Measuring the septic tank scum and sludge thickness is not a normal homeowner job, and it can be unsafe (falling into tank, methane exposure, etc.) You should leave this job to a professional. How to measure septic tank sludge thickness and floating scum layer thickness are explained and illustrated at MEASURE SCUM & SLUDGE - show this information to your septic contractor if s/he says "it can't be done".
For an explanation of the meaning of sewage levels in the septic tank and how that information informs septic tank pumping frequency, see SEPTIC TANK LEVELS of SEWAGE.
If you're stuck, the septic contractor has already come to and insists on pumping the septic tank, or is going to charge you the tank pumping fee just to do a "look-see" then go ahead and let the contractor pump out the tank and inspect it for damage.
But be certain to ask about and notice yourself just how much sludge there was on the tank bottom, and just how thick the floating scum layer was at the septic tank top. If these thicknesses were minimal, as I described above, then if the level of occupancy of the building is unchanged in the future, you can probably go a bit longer before the next septic tank pumpout is required.
See our table at Septic Tank Pumping and adjust that data to suit what you've just observed. In other words, if you had five building occupants and a 1000-gallon septic tank, the table told you to pump it after two years. If you did so but there was almost no sludge or scum, you can probably go out three years, and maybe longer depending on what you see after three years.
Do Not Pump the Septic Tank Right Before a Septic Inspection and Test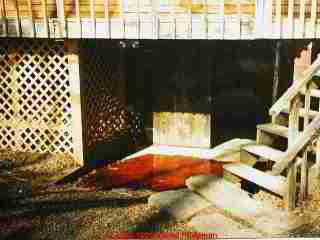 The photo at left shows red septic dye ponding at the entry to a basement at a home with a septic system in total failure.
The dye would never have appeared after our 150 gallon test if the septic tank had been pumped right before we got to the site. Rather the dye would simply have sat in the empty 1000 gallon septic tank, hiding a problem until after the septic tank was re-filled with wastewater. Here is a totally-failed septic system which was not discovered until the morning after the new owners moved into their "new" home.
When a house is being sold: often an owner or realtor will arrange for a septic tank to be pumped just before a home inspection or before a septic system inspection or septic loading and dye test. Such a "favor" performed for the buyer is in fact preventing a valid septic inspection and test since an empty tank means the drain field can't be tested. This is a fraudulent act and should not be tolerated.
If you are purchasing a home with a septic system it would be smart to inspect and test that system before completing the purchase. Knowing the age, location, type of equipment, and condition of the septic system can reduce (not eliminate) the chances of an expensive surprise (like a septic system that does not work), and it can reduce the chances of a dangerous site condition (like an old cesspool or tank about to collapse).
Often a building owner will, as a "favor" to the buyer, have the septic tank pumped. This is a generous and nice thing to do if the owner agrees to take this step after any onsite septic system testing and inspection have been completed. But otherwise it may be a dirty trick.
The step taken by a building seller of pumping a septic tank right before a septic system inspection and test to be performed before purchase of a home may sound like a nice favor but in fact there is a serious risk that the septic tank cleanout will hide a problem:
Pumping a septic tank shortly before testing prevents an actual effective test of the septic system since it produces an empty septic tank and thus subverts the system loading portion of a septic loading and dye test (water and dye are run into the septic system to look for evidence of a backup or breakout of effluent on the yard surface).
Therefore risks hiding an imminent or already existing septic system failure
Therefore risks presenting the new buyer with a costly surprise that could have been discovered before the purchase
If a building is not in active use, pumping the tank before a septic inspection and loading and dye test will prevent a valid test as the septic tank will remain empty. Pumping the septic tank at a building occupied by 3 or 4 people should not be done within two weeks of a septic inspection and test. This (conservative) advice helps assure that the septic tank is full before the loading and dye test are begun.
If there is a readily accessible and safe septic tank access port to permit a view of the septic tank interior (one that is not buried and not too heavy for the inspector to remove) then opening this cover can permit the inspector to confirm that the septic tank is at a normal level and thus that the test to be performed is reasonable.
For a septic tank pumping table and explanation of when septic tanks (onsite sewage disposal system holding tanks) should indeed be pumped and related information readers should see PUMPING FREQUENCY. Also see Diagnosing Clogged Drains Is it a blocked drain or the septic system?
...
Continue reading at SEPTIC TANK INSPECTION PROCEDURE or select a topic from closely-related articles below, or see our complete INDEX to RELATED ARTICLES below.
Or see SEPTIC TANK PUMPING MISTAKES
Or see SEPTIC TANK OBJECTIVE DATA - actual measurements can tell us if pumping or septic tank cleaning is due
Or see these
Septic Pumping Procedure & Pumper Truck Operation Articles
Suggested citation for this web page
WHEN NOT TO PUMP A SEPTIC TANK at InspectApedia.com - online encyclopedia of building & environmental inspection, testing, diagnosis, repair, & problem prevention advice.
Or use the SEARCH BOX found below to Ask a Question or Search InspectApedia
...
Frequently Asked Questions (FAQs)
Try the search box below or CONTACT US by email if you cannot find the answer you need at InspectApedia.
Question: blue chemical poured down toilet to fix my leachfield - was I scammed?
(May 24, 2014) dougieashe@gmail.com said:
2 gallons blue chemicals poured down toilet after pumping for leach field ?
Did I get scammed for $120 bucks for this stuff ?
Reply:
I'm reluctant to say scammed, Douglas, but it is certainly the case that such additives are not required, most are generally are ineffective in that they don't solve a drainfield problem nor improve its performance, many or even all are illegal in some jurisdictions.
Details are at SEPTIC TREATMENTS & CHEMICALS
Comment:
timely-service said:
This is such an extraordinary site!It is really nice and great blog. I am looking for this type of post and today i got it so i am feeling happy because it is very helpful for me. Thanks for posting this great information. Keep posting.
Reply:
thanks for the nice comment Timely;
Questions, critique, content suggestions are most welcome and we're happy to cite and credit such contributors.
Question: you should not clean out your tank in late fall?
(Oct 13, 2014) Tracey said:
I heard that you should not clean out your tank in late fall, it's mid October is that ok? We are a family of 4 by the way. House was built in 89, cleaned out in 1997, 2001, 2008 is it time now or hold wait till spring?

Reply:
Jackson Willis said:
I didn't know that there were actually weather situations in which you would want to avoid pumping the tank. It definitely is interesting to think about though. Like anything else there are times when even good actions shouldn't be done. This article does a good job of laying out this idea and explaining why it is that way.
Tracey:
There is no reason to avoid pumping out your septic tank in the fall.
In the depth of winter when the ground is frozen, if there is no septic tank riser to the ground surface then pumping may be more costly and thus we might prefer to schedule it when digging is easier, but in terms of effect on the septic tank, about the only thing that occurs to me is it may take longer for grass to re-grow if excavation was necessary.
On the other hand, IF pumping a septic tank is past-due, further delay means further risk of pushing solids into the soakaway bed and thus further risk of ruining the leachfields or beds.
At SEPTIC TANK OBJECTIVE DATA we explain how to determine, by actual measurement, whether or not the septic tank is in urgent need of a cleanout. - Editor.
...
Ask a Question or Search InspectApedia
Questions & answers or comments about when a septic tank should not be pumped
Try the search box just below, or if you prefer, post a question or comment in the Comments box below and we will respond promptly.
Search the InspectApedia website
Technical Reviewers & References
Click to Show or Hide Citations & References
Ten Steps to Keeping a Septic System Working, suggestions from the U.S. EPA, edits and additions by DJF
Pennsylvania State Fact Sheets relating to domestic wastewater treatment systems include

Pennsylvania State Wastewater Treatment Fact Sheet SW-161, Septic System Failure: Diagnosis and Treatment
Pennsylvania State Wastewater Treatment Fact Sheet SW-162, The Soil Media and the Percolation Test
Pennsylvania State Wastewater Treatment Fact Sheet SW-l64, Mound Systems for Wastewater Treatment
Pennsylvania State Wastewater Treatment Fact Sheet SW-165, Septic Tank-Soil Absorption Systems
Document Sources used for this web page include but are not limited to: Agricultural Fact Sheet #SW-161 "Septic Tank Pumping," by Paul D. Robillard and Kelli S. Martin. Penn State College of Agriculture - Cooperative Extension, edited and annotated by Dan Friedman (Thanks: to Bob Mackey for proofreading the original source material.)

Inspecting Septic Systems: Online Book, Inspection, Test, Diagnosis, Repair, & Maintenance: our Online Septic Book: Septic Testing, Loading & Dye Tests, Septic Tank Pumping, Clearances, details of onsite waste disposal system inspection, testing, repair procedures.


Advanced Onsite Wastewater Systems Technologies, Anish R. Jantrania, Mark A. Gross. Anish Jantrania, Ph.D., P.E., M.B.A., is a Consulting Engineer, in Mechanicsville VA, 804-550-0389 (2006). Outstanding technical reference especially on alternative septic system design alternatives. Written for designers and engineers, this book is not at all easy going for homeowners but is a text I recommend for professionals--DF.
Builder's Guide to Wells and Septic Systems, Woodson, R. Dodge: $ 24.95; MCGRAW HILL B; TP; Quoting from Amazon's description: For the homebuilder, one mistake in estimating or installing wells and septic systems can cost thousands of dollars. This comprehensive guide filled with case studies can prevent that. Master plumber R. Dodge Woodson packs this reader-friendly guide with guidance and information, including details on new techniques and materials that can economize and expedite jobs and advice on how to avoid mistakes in both estimating and construction. Chapters cover virtually every aspect of wells and septic systems, including on-site evaluations; site limitations; bidding; soil studies, septic designs, and code-related issues; drilled and dug wells, gravel and pipe, chamber-type, and gravity septic systems; pump stations; common problems with well installation; and remedies for poor septic situations. Woodson also discusses ways to increase profits by avoiding cost overruns.
Country Plumbing: Living with a Septic System, Hartigan, Gerry: $ 9.95; ALAN C HOOD & TP; Quoting an Amazon reviewer's comment, with which we agree--DF:This book is informative as far as it goes and might be most useful for someone with an older system. But it was written in the early 1980s. A lot has changed since then. In particular, the book doesn't cover any of the newer systems that are used more and more nowadays in some parts of the country -- sand mounds, aeration systems, lagoons, etc.
...
Books & Articles on Building & Environmental Inspection, Testing, Diagnosis, & Repair
Our recommended books about building & mechanical systems design, inspection, problem diagnosis, and repair, and about indoor environment and IAQ testing, diagnosis, and cleanup are at the InspectAPedia Bookstore. Also see our Book Reviews - InspectAPedia.
...
Publisher InspectApedia.com - Daniel Friedman