InspectAPedia tolerates no conflicts of interest. We have no relationship with advertisers, products, or services discussed at this website.
Window air conditioners: this article helps choose, install, maintain & troubleshoot window and through-wall air conditioners. We include s to additional details about window and through-wall cooling unit capacity, safety supports, filters, compressor/condenser troubleshooting, dirt and mold cleanup, and other issues.
We describe the simple process of installing or removing a window air conditioner, how the unit should be stored when not in use, and we explain what to do if the air conditioner condensate is not going where you want it to.
Green links show where you are. © Copyright 2014 InspectApedia.com, All Rights Reserved.
Window Air Conditioner Units: installation, maintenance, storage, troubleshooting
Window air conditioner size or capacity
For help choosing a window or through-wall air conditioner of the right size or capacity, see AIR CONDITIONER BTU CHART.
Typical Window Air Conditioner Installation
As we discuss also at WINDOW / WALL A/C SUPPORTS, at below left the accordion-type expanding window-mounted air conditioner opening bracket upper edge, braced against the lower edge of the window sash, is the principal connection that keeps this unit from falling out of the window opening.
Watch out: both during window air conditioner installation and more so when you are removing the unit at the end of the cooling season, simply raising the window sash can result in the whole assembly falling off of the building.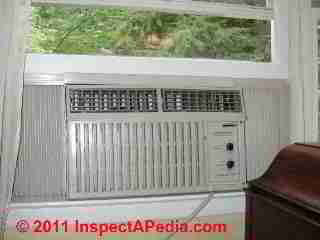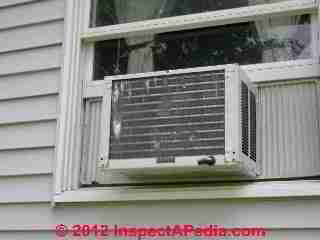 Short screws, often sheet metal screws secure the expanding bracket and window-filler on the sides of the air conditioner to the window sash bottom edge near the left and right ends of the upper sliding metal bracket. And two additional screws secure the accordion expanding fillers to the trim on either side of the window frame. These little screws are not structural and do not provide much additional security against losing the whole air conditioner out the window. The outside view of this type of window air conditioner makes clear that it has no other support.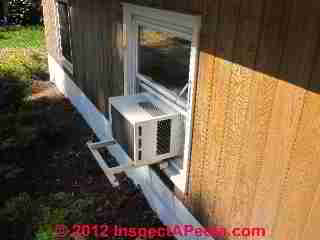 Watch out: inadequately-supported outdoor window air conditioners or inadequately-supported wall-mounted outdoor compressor/condenser units (referred to as the "inverter unit" in some literature) pose a potentially fatal hazard should one of these units fall from the building onto someone below.
In 2012 the New York Times reported that that city has increased enforcement of proper exterior supports for air conditioners at public housing after air conditioning units fell out of two windows in a housing project on the upper East Side of New York City. In 1988 a pedestrian was killed when an air conditioner fell from the seventh floor of a building in New York. [5]
While those air conditioner falls, one onto a playground near children, luckily didn't hurt anyone a falling A/C unit (window air conditioners) or compressor/condenser unit (split system air conditioners with an outside wall-mounted compressor unit) are very dangerous.
Details about the support requirements for window and through wall air conditioners are at WINDOW / WALL A/C SUPPORTS
Proper Methods for Removing & Storing a Window Air Conditioner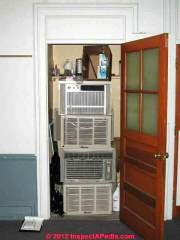 Heavy through-window air conditioners and most through-wall air conditioners are left in place year round. But because of possible air drafts and heat losses through the equipment during cold windy weather, many owners either cover those units or for smaller window air conditioners such as the unit shown just above, the unit is removed and stored.
When a window air conditioner unit is to be removed and stored at the end of the cooling season
Watch out for condensate spillage into the room when you are removing the unit. There may be dirty A/C condensate in the bottom of the unit. We place a towel on the floor under the window to avoid a mess while removing the unit.
With an assistant holding the window A/C unit so that you do not drop it out of the window during removal, just remove the screws that secure the expanding window unit surround to the window sash or side trim.
Next push the accordion sliding closures towards the air conditioner body - you'll now be able to see outside.
Because the according sliding closure assembly should itself have been screwed to the air conditioner body, you should be able to grasp the entire assembly, holding it securely while your assistant then lifts the window sash upwards to permit sliding the window unit into the room. If the unit is heavy it may take two people to lower it gently onto the towel you've placed on the floor.
Wipe off and clean the unit before storing it.
Store the air conditioner upright - that is in the same position as it will be when it is installed and working.
Watch out: if you store a window or through-wall air conditioner in any other position there is risk that refrigerant and oil will move into and clog the capillary tube that meters refrigerant. If you turn on an air conditioner where this mistake was made, on some window air conditioners the unit won't work - the motor may run but it won't produce cool air. Usually you can "fix" this mistake by simply leaving the unit in its proper position for 24 hours, giving oil time to flow back out of the refrigerant line and cap tube.
Window air conditioner condensate disposal
Thanks to reader Brian B for suggesting this material.

Question: how to route condensate from a window air conditioner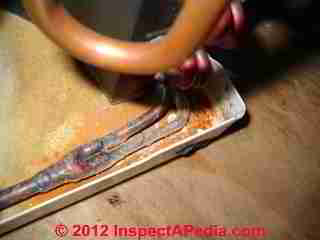 Does anyone have a good idea for a Window AC drip pan? The window its in is above a door. Maybe a good DYI website? - Brian B. 7/15/12
Reply:
Brian: about window A/C unit condensate drip pans and condensate disposal troubles:

A window or through-wall air conditioner already includes a condensate drip pan inside the unit. Our photo at left illustrates the drip tray in a window air conditioner.
The drip pan includes a condensate drain port that either drips directly out of the bottom back of the unit, usually at a corner, or the port, a small metal tube, can be connected to a drain hose to route condensate to an acceptable location so that it does not drip, for example, on the head of someone walking below.
That's a particular problem when the A/C unit is installed over a door as we often see at business entrances.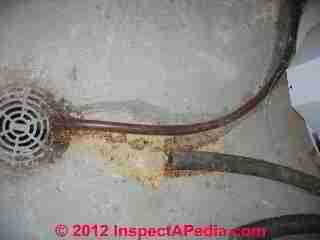 Best practices to control condensate dripping from a window or over-door air conditioner include:
make sure that the unit is properly leveled or slopes slightly towards the outdoors - else condensate can overflow the pan sides and leak into the building or into an uncontrolled location.
make sure that the drain port at the unit's condensate drip tray has not become clogged with dust and debris. Often a toothpick or soft small wire can clean out crud blocking that opening without having to disassemble anything. (Don't jam a wire way into the unit as you may cause damage)
connect a plastic condensate drain hose to the window A/C unit drip port or pan to collect and route condensate down the building wall or door frame to the ground so that it does not drip onto people.
Watch out: in some municipalities it is not permitted to drain A/C condensate across a sidewalk - in such cases the property owner has to route condensate to a floor drain or similar location. When there is no drain close by that can be reached by gravity, you can still solve this problem easily by having the A/C condensate routed to a small condensate pump that then pumps condensate to an acceptable drain location.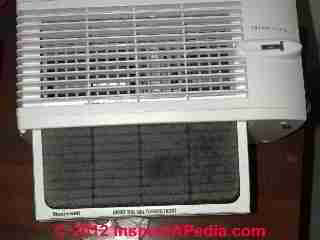 Clean the air conditioner filters monthly during the cooling season. This is the single most important step you can take to keep your unit working effectively.
On some units (left) the air conditioner filter slides up or down for removal and washing.
On other window or room air conditioners you have to un clip and remove the entire front cover to access, remove, and clean the air filter.
If the air filter is a sheet of foam that is torn or disintegrating, just replace it. You can usually find replacement window air conditioner filter materials at building supply stores.
The new filter may have to be trimmed to fit.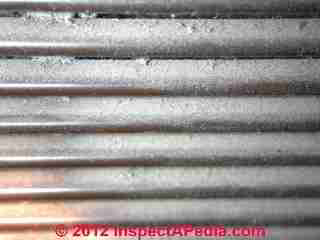 Also check the cleanliness of the the unit cover itself.
Both the air intake and air supply louvers can become thick with dust - blocking air flow as well as possibly adding to airborne dust and debris as well as speeding clogging of the unit's air filter.
When we see an air conditioner as dirty as this one (photo at left) we figure it has had little maintenance or attention and that it needs cleaning.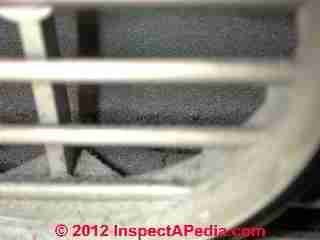 On some room or window air conditioners it's easy to know if the air filter needs washing or replacement.
Some units actually provide a signal: a light or a red indicator showing that the air filter is blocked, air flow is reduced, cooling capacity is reduced, and the unit needs cleaning.
On other units such as the photo at left, just peeking through the air inlet openings you can see if the filter surface has become thick and clogged with dust and debris.
The window unit air conditioner air filter in our photo needs to be cleaned or replaced.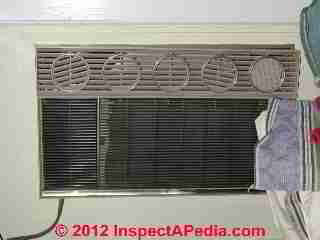 When you have completed your air conditioner and filter cleanup, make sure that the room or window air conditioner front cover is properly and squarely mounted and secured.
If the cover is loose you may be annoyed by rattles and noises coming from the unit.
The room air conditioner shown at left is an older unit whose controls are behind an openable panel at the left side of the unit.
You can see that the unit cover is askew (upper right corner) and is not properly secured.
On one of our older air conditioners the springs that held the cover in place were lost. An expedient that was ugly but worked fine was simply to use some duct tape to secure the plastic cover to the air conditioner frame. The tape has to be peeled away and replaced each time the cover is removed to access and clean the air filter.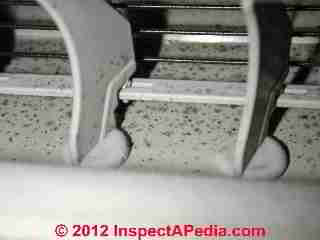 If you see mold growth on or inside the air conditioning unit you may want to turn it off, remove and wash the plastic cover fittings and parts, and working gently so as not to bend or break anything, manually clean the accessible portions of the blower fan and air passages.
Take care not to bend or damage the cooling coil fins.
Any household cleaner, spray diluted bleach, etc. can be used to clean these plastic surfaces.
Cleaning Procedures for Dirty window air conditioner or room air conditioner cooling coils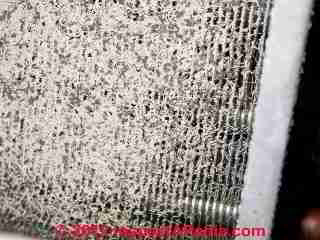 Our photo (left) shows what happens if you operate a window or room air conditioner with no air filter installed. The cooling coil fins become blocked and clogged with dust and crud.
This reduction in air flow cuts the cool air output of the air conditioner and can eventually lead to complete loss of function as the unit can also begin to ice-up.
There are several approaches to cleaning up a mess like this - all of them should be followed with care not to bend or damage the cooling coil fins as doing so reduces air flow through the air conditioner. Some options include:
Gently clean the coil fins with a vacuum cleaner and brush attachment, moving the brush ONLY parallel to the fin directions so that you don't bend anything
Gently brush the cooling coil fins clean with a hand-held bottle brush or similar soft bristle brush, taking care not to bend the fins.
Use a manufacturer recommended spray-on cooling coil cleaner, following the directions on that product. Typically a foam cleaner tries to wash lint and debris down the coil face where it may drain out the condensate pan and drain (risking clogging it with dirt) or it may drip onto newspaper spread below the unit.
Window or Through Wall Air Conditioner Operating Problems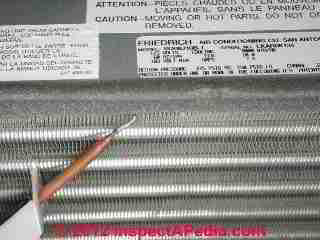 If the air conditioner won't start make sure that its controls are set for cooling and that the unit has power.
If the air conditioner will start and run, and air blows out of the supply register but it never cools, make sure that the thermostat is set all the way to the coldest position. If the unit still won't produce cool air it needs service or repair. The unit may have lost its refrigerant charge.
But before calling your service technician, if you have just installed the air conditioner, and if it is new, or if it was working when last removed, you may have stored it in an improper position, allowing refrigerant oil to block a refrigerant metering device or capillary tube. Try leaving the unit off but in proper operating position for 24 hours, then try turning it on again.
If you don't have the installation, operation, and maintenance guide for your window or room air conditioner, check the model and serial number (see our photo at above left) and then contact your unit's manufacturer.
More Reading
Green link shows where you are in this article series.
...
Frequently Asked Questions (FAQs)
No FAQs have been posted for this page. Try the search box below or CONTACT US by email if you cannot find the answer you need at InspectApedia.
Ask a Question or Search InspectApedia
Questions & answers or comments about window air conditioners & through-wall air conditioners
Use the "Click to Show or Hide FAQs" link just above to see recently-posted questions, comments, replies, try the search box just below, or if you prefer, post a question or comment in the Comments box below and we will respond promptly.
Search the InspectApedia website
Technical Reviewers & References
Publisher's Google+ Page by Daniel Friedman
Click to Show or Hide Citations & References
Carson, Dunlop & Associates Ltd., 120 Carlton Street Suite 407, Toronto ON M5A 4K2. (416) 964-9415 1-800-268-7070 info@carsondunlop.com. The firm provides professional home inspection services & home inspection education & publications. Alan Carson is a past president of ASHI, the American Society of Home Inspectors. Thanks to Alan Carson and Bob Dunlop, for permission for InspectAPedia to use text excerpts from The Home Reference Book & illustrations from The Illustrated Home. Carson Dunlop Associates' provides:

Commercial Building Inspection Courses - protocol ASTM Standard E 2018-08 for Property Condition Assessments
Home Inspection Education Courses including home study & live classes at eleven colleges & universities.
Home Inspection Education Home Study Courses - ASHI@Home Training 10-course program.
Special Offer: Carson Dunlop Associates offers InspectAPedia readers in the U.S.A. a 5% discount on these courses: Enter INSPECTAHITP in the order payment page "Promo/Redemption" space. InspectAPedia.com editor Daniel Friedman is a contributing author.
The Home Reference Book, a reference & inspection report product for building owners & inspectors.
Special Offer: For a 10% discount on any number of copies of the Home Reference Book purchased as a single order. Enter INSPECTAHRB in the order payment page "Promo/Redemption" space. InspectAPedia.com editor Daniel Friedman is a contributing author.
The Home Reference eBook, an electronic version for PCs, the iPad, iPhone, & Android smart phones.
Special Offer: For a 5% discount on any number of copies of the Home Reference eBook purchased as a single order. Enter inspectaehrb in the order payment page "Promo/Redemption" space.
The Illustrated Home illustrates construction details and building components, a reference for owners & inspectors.
Special Offer: For a 5% discount on any number of copies of the Illustrated Home purchased as a single order Enter INSPECTAILL in the order payment page "Promo/Redemption" space.
The Horizon Software System manages business operations,scheduling, & inspection report writing using Carson Dunlop's knowledge base & color images. The Horizon system runs on always-available cloud-based software for office computers, laptops, tablets, iPad, Android, & other smartphones.

Carson Dunlop, Associates, Toronto, have provided us with (and we recommend) Carson Dunlop Weldon & Associates' Technical Reference Guide to manufacturer's model and serial number information for heating and cooling equipment
Special Offer: Carson Dunlop Associates offers InspectAPedia readers in the U.S.A. a 5% discount on any number of copies of the Technical Reference Guide purchased as a single order. Just enter INSPECTATRG in the order payment page "Promo/Redemption" space.

Eric Galow, Galow Homes, Lagrangeville, NY. Mr. Galow can be reached by email: ericgalow@gmail.com or by telephone: 914-474-6613. Mr. Galow specializes in residential construction including both new homes and repairs, renovations, and additions.
HVAC brands discussed here include but are not limited to: Lennox, American Standard, Amana, Everrest, Goodman, Frigidaire, Coleman and Gibson. Brands of related air handling equipment include Honeywell, Aprilaire, White-Rogers, Broan. Nutone, Fantech, Venmar, Arzel, Hi-Velocity, Vanguard, Wirsbo, Weil McLain, Unico, Heat Link, A.O. Smith, Water Furnace, ClimateMaster, Geo-Excel, Command Aire, Friedrich, LG, Mitsubishi, Sanyo, Hart &
Cooley, Munchkin, Superstor Ultra, Lochinvar and Knight HVAC equipment.
HVAC Employment: U.S. Department of Labor website describes HVAC jobs and the employment outlook for HVAC technicians.
HVAC Education, Training Accreditation agencies: Quoting the U.S. DOL HVAC website above::
After completing the programs below, new technicians generally need between 6 months to 2 years of field experience before they are considered proficient. Three accrediting agencies have set academic standards for HVACR programs:

HVAC Excellence. 1701 Pennsylvania Ave NW, Washington, DC 20006 Tel: (800) 394-5268. Quoting:
HVAC Excellence is a not for profit organization that has been serving the HVACR industry since 1994. It is our goal to improve competency through validation of the technical education process. By setting standards and verifying that they have been met, we inspire the industry to excel. We know that all of the challenges that face our industry are achievable by continuous improvement in the way that we prepare technicians.
National Center for Construction Education and Research, 3600 NW 43rd Street, Bldg. G, Gainesville, FL 32606, Tel: 888.622.3720, Quoting:
NCCER is a not-for-profit education foundation created to develop industry-driven standardized craft training programs with portable credentials and help address the critical workforce shortage facing the construction industry.
The Partnership for Air-Conditioning, Heating, and Refrigeration Accreditation, (PAHRA) 2111 Wilson Blvd., Suite 500 Arlington, VA 22201-3001 (703) 524-8800, Quoting: The Partnership for Air-Conditioning, Heating, Refrigeration Accreditation (PAHRA) is an independent, third party organization that is a partnership between heating, ventilation, air-conditioning and refrigeration (HVACR) educators and the HVACR industry that will award accreditation to programs that have met and/or exceeded industry validated standards. This programmatic accreditation program is the only one that is supported by the major industry associations.

Licensure. Heating, air-conditioning, and refrigeration mechanics and installers are required to be licensed by some States and localities. Requirements for licensure vary greatly, but all States or localities that require a license have a test that must be passed. The contents of these tests vary by State or locality, with some requiring extensive knowledge of electrical codes and others focusing more on HVACR-specific knowledge. Completion of an apprenticeship program or 2 to 5 years of experience are also common requirements.

In addition, all technicians who purchase or work with refrigerants must be certified in their proper handling. To become certified to purchase and handle refrigerants, technicians must pass a written examination specific to the type of work in which they specialize. The three possible areas of certification are: Type I—servicing small appliances; Type II—high-pressure refrigerants; and Type III—low-pressure refrigerants. Exams are administered by organizations approved by the U.S. Environmental Protection Agency, such as trade schools, unions, contractor associations, or building groups.
HVAC Training Courses, Schools: HVAC Technician Training Schools [http://technicianschool.net/hvac-technician-training-schools/], lists the following schools offering technical courses may offer specific training programs for potential careers, including HVAC technicians. Among HVAC schools that website lists are

Everest Colleges [http://www.everest.edu],
Florida Career College 7891 Pines Blvd Hollywood, FL 33024 http:// www.careercollege.edu/,
Lincoln Institute 2299 Vauxhall Road Union, NJ 07083 http:// www.lincolnedu.com/
NOTE: when considering an HVAC training course or school, check the HVAC education accrediting associations listed above.



[1] "Air Conditioning & Refrigeration I & II", BOCES Education, Warren Hilliard (instructor), Poughkeepsie, New York, May - July 1982, [classroom notes from air conditioning and refrigeration maintenance and repair course attended by the website author]
[2] Modern Refrigeration and Air Conditioning, A. D. Althouse, C.H. Turnquist, A. Bracciano, Goodheart-Willcox Co., 1982
[3] Principles of Refrigeration, R. Warren Marsh, C. Thomas Olivo, Delmar Publishers, 1979
[4] "Air Conditioning & Refrigeration I & II", BOCES Education, Warren Hilliard (instructor), Poughkeepsie, New York, May - July 1982, [classroom notes from air conditioning and Refrigerationand Air Conditioning Technology, 5th Ed., William C. Whitman, William M. Johnson, John Tomczyk, Cengage Learning, 2005, ISBN 1401837654, 9781401837655 1324 pages
[5] "Falling Air-Conditioners Rattle Tenants", Chris Palmer, The New York Times, 2 July 2012, p. A12.
[6] Ratib Bakera is member of Refrigeration Service Engineers Society (RSES), an International training organization for the HVACR industry provides educational and certification programs to HVACR professionals of all experience levels. www.rses.org provides information on the organization and its training materials. Independent testing and certification of HVAC technicians is provided by North American Technician Excellence - NATE - see www.natex.org. NATE is supported by ASHRAE, the US EPA, and a host of other trade and professional associations.
[7] Singer brand HVAC equipment brand history:

Singer was bought by & became the climate control unit of Dallas-based Snyder General Corp. (founded by a former Singer HVAC manager) in 1982.

The name Singer was dropped in 1984. In 1984 Snyder General operations included Arcoaire, Comfortmaker,

and

McQuay. In 1991 Snyder General sold Arcoaire & Comfortmaker to Inter-City Products. In 1994 Snyder General was acquired by Hong Leong Group Malaysia. Snyder General is at 2001 Ross Avenue Dallas, TX 75201

.
[8] Lennox air conditioning and heat pump owners manuals for air conditioners, air handlers, furnaces, heat pumps, indoor air quality systems, packaged units, water heaters, zone controls and other controls such as thermostats, are provided by Lennox at http://www.lennox.com/support/manuals.asp
Books & Articles on Building & Environmental Inspection, Testing, Diagnosis, & Repair
The Home Reference Book - the Encyclopedia of Homes, Carson Dunlop & Associates, Toronto, Ontario, 25th Ed., 2012, is a bound volume of more than 450 illustrated pages that assist home inspectors and home owners in the inspection and detection of problems on buildings. The text is intended as a reference guide to help building owners operate and maintain their home effectively. Field inspection worksheets are included at the back of the volume. Special Offer: For a 10% discount on any number of copies of the Home Reference Book purchased as a single order. Enter INSPECTAHRB in the order payment page "Promo/Redemption" space. InspectAPedia.com editor Daniel Friedman is a contributing author.

Or choose the The Home Reference eBook for PCs, Macs, Kindle, iPad, iPhone, or Android Smart Phones. Special Offer: For a 5% discount on any number of copies of the Home Reference eBook purchased as a single order. Enter INSPECTAEHRB in the order payment page "Promo/Redemption" space.