Dehumidification of Indoor Air
Central A/C Not Dehumidifying - Diagnosis & Repair

DEHUMIDIFICATION PROBLEMS - Air Conditioning System Dehumidification Problem Diagnosis & Cures

Inadequate indoor air dehumidification with central air conditioning or heat pump systems: causes, diagnosis, repair
How to diagnose & repair an air conditioner that is not dehumidifying the air - Cures for inadequate dehumidification by an air conditioner
Over-sized central air conditioners may make the air cool without adequately removing moisture
Why can't our air conditioner reach our target indoor humidity level?

DEW POINT CALCULATION for WALLS - separate article
DEW POINT TABLE - CONDENSATION POINT GUIDE - separate article
Questions & Answers about how to diagnose and cure inadequate building dehumidification - excessive indoor humidity levels
Got a Question? Just ask us! - use the search box at upper right
InspectAPedia tolerates no conflicts of interest. We have no relationship with advertisers, products, or services discussed at this website.
Diagnosis of inadequate dehumidification in buildings: this article discusses the causes of inadequate indoor air dehumidification when you are running a central air conditioner or heat pump system. If your central air conditioning system cools the building air but the indoor humidity remains too high, the system may be over-sized, as we explain here. We also consider other sources of excessive water in central air systems, air handlers, and ductwork. Basic diagnostics for A/C dehumidification problems are also at DEHUMIDIFICATION BASICS.
See LOST COOLING CAPACITY if not enough cool air is provided by your air conditioner, or if the air temperature is not cool enough, or if you just can't get your A/C unit running, this article helps diagnose and correct the problem with step by step things to check and links to more detailed explanation when you need it. We provide links to other air conditioning system diagnostic articles too. Also see HUMIDITY LEVEL TARGET.
Green links show where you are. © Copyright 2013 InspectAPedia.com, All Rights Reserved.
Air Conditioning System Dehumidification Problem Diagnosis & Cures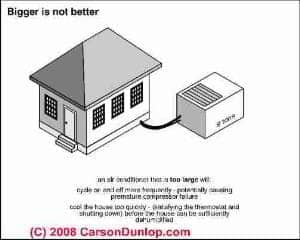 Readers should see DEHUMIDIFICATION PROBLEMS and MOISTURE PROBLEMS: CAUSE & CURE and also DEW POINT TABLE - CONDENSATION POINT GUIDE for an explanation of dew points and indoor humidity in buildings. HUMIDITY LEVEL TARGET explains the proper indoor humidity levels we should be trying to achieve. If you need to measure indoor humidity levels, see Tools for Measuring Humidity.
Also see WATER ENTRY in buildings where we describe the cause and prevention of water leakage into buildings. ROT, TIMBER FRAME describes severe damage due to indoor moisture, insulation, and vapor barrier defects. INDOOR AIR QUALITY IMPROVEMENT GUIDE includes details about whole house ventilation systems.
Air Conditioning Dehumidification Problems: air conditioning system cools but does not dehumidify the room. The most common cause of inadequate dehumidification by an air conditioning system is the installation of a cooling unit which has too much capacity, or is "over-sized" for the space it is being used to cool. What happens is simple:

If an air conditioning compressor unit is oversized (too many BTUH of cooling capacity) what happens is it cools the room so quickly that the system does not move enough total volume of air across the cooling coil to remove much moisture before the room temperature has dropped to the A/C cut-off point.

In other words, an air conditioner needs to run longer, and move more total volume of air through itself to drop room humidity than it does to just cool the air. So "bigger" cooling capacity or higher BTU capacity for an air conditioning system is not necessarily better, and it can actually be a problem.

Key Air Conditioning Inadequate Dehumidification Symptom: If your cooling system is otherwise working normally, and it cools the room temperature quickly but the room humidity stays high, an over-sized unit is likely to be the problem.
Cures for inadequate dehumidification by an air conditioner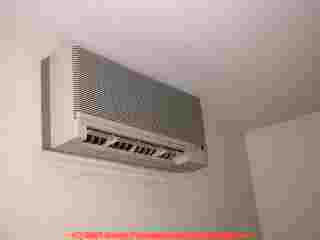 First make sure that the equipment is operating properly: is it cooling - check that temperatures are dropping normally when the system is running.
Check that there is not an abnormal moisture source such as leaks into the building or its wall or ceiling cavities from any other source. Check to see if the condensate drain from the air conditioner is producing water.

If you see lots of A/C condensate dripping out of the system condensate drain but room humidity is still high, we suspect that there may be an abnormal humidity source. At the end of this list we discuss adding additional dehumidification capacity.
Adjust the A/C unit controls to increase dehumidification: discuss with your HVAC service technician whether there are technical changes that might be made to fan speed or other controls that might improve A/C unit dehumidification. We're doubtful there is much mileage in this but it's worth asking.
Increase the cooling load on the installed air conditioner by making it cool a larger area - like maybe leaving the doors open to other rooms - which we doubt is suitable in most cases. Our photo (above left) shows a wall mounted air handler from a Sanyo™ split system air conditioner that was not adequately dehumidifying the bedroom where it was installed, even though the room was cold enough to hang meat.

The occupants experimented with leaving the bedroom door opened, as the rest of their home did not have air conditioning. That proved just enough to cause the system to dehumidify beautifully.
Adjust the building HVAC system ductwork: if a non-dehumidfying central air conditioning system (as opposed to a window unit or a wall-mounted split system unit) is otherwise working well, it may be possible to adjust its load and thus improve its dehumidification by making changes in the duct system, such as increasing the return air to the air handler from additional building areas.
Replace the oversized air conditioner: Unfortunately the most likely fix for an A/C system that is not dehumidifying may be an ugly one - either replace the unit with one that is properly matched to the size of the area to be cooled
Select an A/C unit of the proper size. See AIR CONDITIONER BTU CHART for the data useful to do this. Whoever selected and installed the air conditioning unit needed to relate the room size to the AC capacity. Also see COOLING RULES OF THUMB to guesstimate how many tons or BTUs of cooling a building needs and see RATED COOLING CAPACITY to determine the cooling capacity of existing air conditioning equipment.
Check that high indoor moisture levels are not due to a building water entry or leak problem. There could be a source of indoor moisture that just exceeds the ability of the air conditioning system to handle. See MOISTURE PROBLEMS: CAUSE & CURE
Check that the air conditioning system condensate capture and drainage systems are working properly. Condensate in the air handler that is not being adequately captured and drained out of the blower compartment can wet nearby ductwork causing rust and sometimes air conditioning system duct mold.
Add supplemental dehumidification. For wet conditions that exceed the capacity of the air conditioner itself, or when you require both unusually low temperatures and further dehumidification (such as a seed storage facility described by one of our readers), it may be necessary to add a separate free-standing or portable dehumidifier to the system to reach the temperature and humidity targets you need.



In an area of our forensic laboratory we use a Sears® dehumidifier, model 580.54501 - 50 pint (also available as 580.54701 - 70 Pint Low Temp) (cost about $200.). The Sears portable dehumidifier  instruction manual (Part# 3828A20803B) confirms on p.7 that the humidity control can be set anywhere between 35% and 70%.  You can also adjust the fan speed (low / high) and also set an on-off cycle period of 3 hrs or 6 hrs.



Operating a dehumidifier (which uses the same technology as an air conditioner) will have a side effect of pumping a little heat into the dehumidified area - the output side of the dehumidifier produces air that is warmer than its input side. Depending on the size of the area being conditioned, that added heat might help compensate for an air conditioner that was a little oversized for the space.

...
Frequently Asked Questions (FAQs) About Indoor Humidity, Condensation, & Air Conditioners
No FAQs have been posted for this page. Try the search box below or CONTACT US by email if you cannot find the answer you need at InspectApedia.
Question: Is there a Way to Scale Down Oversized Air Conditioner Units?
Some years ago now, I had 2 ACs installed in my home. It cost me about $10k and now I am told they "overinstalled" with 7 tons of cooling when I needed 4.5 tons. Problems keep coming, of course and the only fix I hear is to install new ones with less tonnage. Seems to me, there ought to be some way to scale down the ones I have to fit my home. Utility cost is out of sight, of course. I am told the savings to reduce the AC capacity would be significant. Is there some way I can scale down the volume of the units I have? Seems like a better fix for me. What say you? - W.S.
Reply: We are doubtful that you can squeeze down an oversized A/C system
A competent onsite inspection by an expert, especially if you employ an experienced HVAC designer or engineer usually finds additional clues that help accurately diagnose a problem. That said, here are some things to consider:
I am sorry to joint the naysayers, but the problem is this: if the cooling capacity is significantly oversized the system won't properly handle humidity and may have other operating problems. We discuss the air conditioning system sizing problem at AIR CONDITIONER BTU CHART and while details are found at DEHUMIDIFICATION PROBLEMS, we also introduce the oversized air conditioner problem at LOST COOLING CAPACITY. At ADDING A/C: RETROFIT SIZING we discuss home cooling system sizing mis-match on retrofit jobs.
The problem is with the run cycle of the too-powerful air conditioning system, both the air/handler cooling-coil evaporator unit and the compressor condenser unit that was sized to match it.
Just trying to slow down air flow creates other problems - like coil frost and blockage - so there is no easy magic solution that I know of. That's why selling oversized equipment is actually illegal in some jurisdictions.
Check with a very experienced HVAC tech or engineer for some suggestions - onsite inspection is needed; for example, I wonder if you can just not run one of the units and reroute duct work and improve fan capacity in the other, so you use one unit to cool the larger area?
You could ask the tech if there is any use in installing a multi-speed air handler blower fan that might run at a lower rather than the higher speed. But I'm afraid that if there is too much of an air conditioner size mis-match, the result might be evaporator coil icing.
I'd be reluctant to try modifying the cooling units themselves, as doing so voids warranty and probably would cost almost as much as buying a new unit.
Also see   COOLING RULES OF THUMB to guesstimate how many tons or BTUs of cooling a building needs and see RATED COOLING CAPACITY to determine the cooling capacity of existing air conditioning equipment.
Question: Why is our Air Conditioner Rusting on the Inside?
We have lived in our new home for 1 year and 7 months. Our air conditioner is rusting on the inside. The blower fan and all the internal areas are rusting. We have blown insulation in the attic and exterior walls. Living area is 2400 sq ft and we have a 2 speed, 3 ton Lennox AC unit.
The Lennox inspector looked at the whole set up and said it was a moisture problem. That's hard to believe that that is the problem. We had a manual J load done on our home to determine the size of the AC before it was installed. We have followed everything that we were told to do. 2 different electrical components have failed due to rust. The AC guys said they have 3 more units rusting the same exact way. 2 are in closets in the home and one is in an attic with regular fiberglass insulation. All 4 units are Lennox 2 speed units.
What could possibly be our problem? Does Lennox have a problem that their not sharing with us? Any help would be appreciated! We don't know what to do next. - R. & C. R. - South Louisiana
Reply: Check your A/C BTU Rating and Sizing Specs
A competent onsite inspection by an expert usually finds additional clues that help accurately diagnose a problem. That said, and we are just guessing, as we have so little information, but
Question: can water in the air conditioner/heat pump condensate drip pan or on the cooling coil cause high indoor humidity in the building?
The short answer is no. The cooling coil is removing humidity from air passing over it, not adding humidity to it. Edgardo, a reader, questioned whether or not running the blower fan in the air handler full time would increase building humidity by picking up residual moisture from an otherwise properly working cooling coil and condensate drip pan when the cooling system is off.
Our opinion is that the volume of water remaining on a wet cooling coil or condensate drip pan (one that is draining, not keeping a reservoir of water in the system) is negligible and very unlikely to explain high indoor humidity when the A/C is off. Details of this discussion are found at Questions & Answers about whether or not to run the heating or air conditioning blower fan continuously which is found within the article titled BLOWER FAN CONTINUOUS OPERATION

How to Diagnose an air conditioning system that is not working
If your air conditioning system won't work, follow our diagnostic guides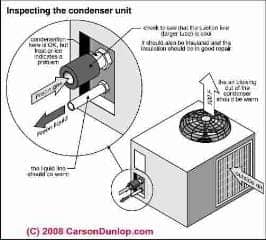 At LOST COOLING CAPACITY, our focus is on the case in which the air conditioning system seems to be "running" but not enough cool air, or no cool air at all is being delivered to the occupied space. Sketch from Carson Dunlop Associates.


At OPERATING DEFECTS we take you through the major air conditioning problem symptoms and how to get the air conditioning system working again.


At A/C - HEAT PUMP CONTROLS & SWITCHES we explain the many electrical switches and controls that control an air conditioner or heat pump system. You'll need to check these if your air conditioner won't start.
See our complete list of air conditioning system diagnostic and repair guide articles just below.
Sketch courtesy of Carson Dunlop Associates.
Since the failure of an air conditioner to turn on, loss of air conditioner cooling capacity, reduced air conditioning output temperatures, loss of cool air supply, or even loss of air flow entirely can be due to a variety of problems with one or more components of an air conditioner or air conditioning system, after reviewing the lost air conditioner cooling diagnosis procedures described in this article, be sure to also review the diagnostic procedures at each of the individual air conditioning diagnosis and repair major topics listed just below. To return to our air conditioning and refrigeration home page go to AIR CONDITIONING & HEAT PUMP SYSTEMS.
If your air conditioning or heat pump system has lost its cooling capacity or won't start select one or more of the diagnostic articles listed below.
...
Ask a Question or Search InspectApedia
Questions & answers or comments about how to diagnose and cure inadequate building dehumidification - excessive indoor humidity levels.
Ask a Question or Enter Search Terms in the InspectApedia search box just below.
Technical Reviewers & References
Related Topics, found near the top of this page suggest articles closely related to this one.
Click to Show or Hide Citations & References
Thanks to Areader and research scientist Cyril Roberts, Barbados, for technical discussion and investigation of air conditioning system dehumidification problems (April 2009).
Thanks to readers Beth & Dennis for asking about how to improve an inadequate air conditioning system supplying cool air through crawl space ducts and floor registers. (May 2010).
Thanks to reader William Smith for discussing cooling coil leaks and lost cooling capacity diagnosis - June 2010
Thanks to reader Jacob Behrends, FL for discussing how a clogged condensate drain line can overflow condensate into a condensate pan that in turn may contain a safety switch that shuts down the whole air conditioning system. August 2010.
Modern Refrigeration and Air Conditioning, A. D. Althouse, C.H. Turnquist, A. Bracciano, Goodheart-Willcox Co., 1982
Principles of Refrigeration, R. Warren Marsh, C. Thomas Olivo, Delmar Publishers, 1979
"Air Conditioning & Refrigeration I & II", BOCES Education, Warren Hilliard (instructor), Poughkeepsie, New York, May - July 1982, [classroom notes from air conditioning and refrigeration maintenance and repair course attended by the website author]
Refrigeration and Air Conditioning Technology, 5th Ed., William C. Whitman, William M. Johnson, John Tomczyk, Cengage Learning, 2005, ISBN 1401837654, 9781401837655 1324 pages
Carson Dunlop, Associates, Toronto, have provided us with (and we recommend) Carson Dunlop Weldon & Associates' Technical Reference Guide to manufacturer's model and serial number information for heating and cooling equipment
Special Offer: Carson Dunlop Associates offers InspectAPedia readers in the U.S.A. a 5% discount on any number of copies of the Technical Reference Guide purchased as a single order. Just enter INSPECTATRG in the order payment page "Promo/Redemption" space.

Air Conditioning SEER - New DOE Air Conditioner and Heat Pump Efficiency Standard
Asbestos HVAC Ducts and Flues field identification photos and guide
Fiberglass: Indoor Air Quality Investigations: Fiberglass in Indoor Air, HVAC ducts, and Building Insulation
Carson, Dunlop & Associates Ltd., 120 Carlton Street Suite 407, Toronto ON M5A 4K2. (416) 964-9415 1-800-268-7070 info@carsondunlop.com. The firm provides professional home inspection services & home inspection education & publications. Alan Carson is a past president of ASHI, the American Society of Home Inspectors. Thanks to Alan Carson and Bob Dunlop, for permission for InspectAPedia to use text excerpts from The Home Reference Book & illustrations from The Illustrated Home. Carson Dunlop Associates' provides:

Commercial Building Inspection Courses - protocol ASTM Standard E 2018-08 for Property Condition Assessments
Home Inspection Education Courses including home study & live classes at eleven colleges & universities.
Home Inspection Education Home Study Courses - ASHI@Home Training 10-course program.
Special Offer: Carson Dunlop Associates offers InspectAPedia readers in the U.S.A. a 5% discount on these courses: Enter INSPECTAHITP in the order payment page "Promo/Redemption" space. InspectAPedia.com editor Daniel Friedman is a contributing author.
The Home Reference Book, a reference & inspection report product for building owners & inspectors.
Special Offer: For a 10% discount on any number of copies of the Home Reference Book purchased as a single order. Enter INSPECTAHRB in the order payment page "Promo/Redemption" space. InspectAPedia.com editor Daniel Friedman is a contributing author.
The Home Reference eBook, an electronic version for PCs, the iPad, iPhone, & Android smart phones.
Special Offer: For a 5% discount on any number of copies of the Home Reference eBook purchased as a single order. Enter inspectaehrb in the order payment page "Promo/Redemption" space.
The Illustrated Home illustrates construction details and building components, a reference for owners & inspectors.
Special Offer: For a 5% discount on any number of copies of the Illustrated Home purchased as a single order Enter INSPECTAILL in the order payment page "Promo/Redemption" space.
The Horizon Software System manages business operations,scheduling, & inspection report writing using Carson Dunlop's knowledge base & color images. The Horizon system runs on always-available cloud-based software for office computers, laptops, tablets, iPad, Android, & other smartphones.

...
Books & Articles on Building & Environmental Inspection, Testing, Diagnosis, & Repair
The Home Reference Book - the Encyclopedia of Homes, Carson Dunlop & Associates, Toronto, Ontario, 25th Ed., 2012, is a bound volume of more than 450 illustrated pages that assist home inspectors and home owners in the inspection and detection of problems on buildings. The text is intended as a reference guide to help building owners operate and maintain their home effectively. Field inspection worksheets are included at the back of the volume. Special Offer: For a 10% discount on any number of copies of the Home Reference Book purchased as a single order. Enter INSPECTAHRB in the order payment page "Promo/Redemption" space. InspectAPedia.com editor Daniel Friedman is a contributing author.

Or choose the The Home Reference eBook for PCs, Macs, Kindle, iPad, iPhone, or Android Smart Phones. Special Offer: For a 5% discount on any number of copies of the Home Reference eBook purchased as a single order. Enter INSPECTAEHRB in the order payment page "Promo/Redemption" space.