How to determine the cooling capacity of air conditioning or heat pump equipment
POST a QUESTION or READ FAQs about how to find out the cooling capability of an air conditioner or heat pump from translating its data tag, label, or other information.
InspectAPedia tolerates no conflicts of interest. We have no relationship with advertisers, products, or services discussed at this website.
Rated cooling capacity of an air conditioner or heat pump:
Here we explain exactly how to estimate the rated cooling capacity of an air conditioning system by examining various data tags and components.
We also provide a MASTER INDEX to this topic, or you can try the page top or bottom SEARCH BOX as a quick way to find information you need.
RATED COOLING CAPACITY - How to Determine Air Conditioning or Heat Pump Equipment Rated Cooling Capacity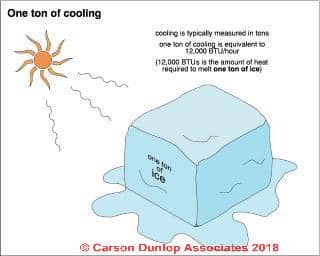 The cooling capacity of an air conditioning system is expressed in BTU's or tons. One ton of cooling capacity equals 12,000 BTU's/hour of cooling capacity.
[Click to enlarge any image]
"One ton" of cooling capacity, historically, referred to the cooling capacity of a ton of ice. Tons of ice does not explain a key ingredient in the comfort produced by air conditioning systems, dehumidification of indoor air - that is, taking water out of the air.
Cool air can hold less water (in the form of water molecules or gaseous form of H2O) than warm air. Think of the warmer air as having more space between the gas molecules for the water molecules to remain suspended.
When we cool the air, we in effect are squeezing the water molecules out of the air. When an air conditioner blows warm humid building air across an evaporator coil in the air handler unit, it is not only cooling the air, it's squeezing out some of the water in that air. Both of these effects, cooler air and drier air, increase the comfort for building occupants. Sketch courtesy of Carson Dunlop Associates.
There are several ways to determine the rated cooling capacity of an air conditioning system's equipment:
Air Conditioning Equipment Age and Capacity from Equipment Numbers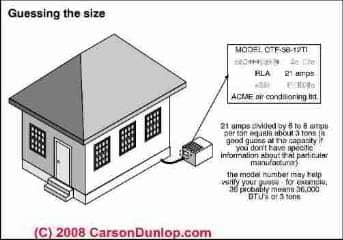 Serial number formats vary by range of years over which equipment was manufactured, and may vary among countries of manufacture for a given company's equipment, for example between the U.S. and Canada for Carrier air conditioning equipment.
Example: a Carrier Compressor/Condenser Serial# 1389E54894 on a compressor unit.
Air conditioning equipment age from serial number for the example above, the equipment was made after 1980. The first four digits of the serial number are week and year of manufacture, in this case, week 13 of 1989.
See AIR CONDITIONER BTU CHART for a guide to selecting an air conditioning system with the proper cooling capacity in tons or in BTUs.
Sketch courtesy of Carson Dunlop Associates.
FROM MODEL # - Air conditioning equipment capacity from model number
Example: Carrier A/C Compressor Condenser Model# 38XD12400 (same unit as used for the serial number example above), there is variation in how Carrier assigned these numbers but typically the numbers indicate either tonnage or MBTUH. This example has digits in the 4th and 5th positions (right hand 5 digits), so the rating is in MBTUH for this number and "24" signifies 24 MBTUH or 2 tons of capacity.
Be sure to review our article on how to read the data in
A/C DATA TAGS for a guide to reading the system cooling capacity either directly off of the sticker on the equipment, or for examples of how to find them model number which can be de-coded into cooling capacity and other features.
A Reference Guide to Heating and Air Conditioning Equipment model numbers, serial numbers, age, and capacity: at Carson Dunlop's - Technical Reference Guide, published by Carson Dunlop Weldon & Associates, Ltd., Toronto, 2006 for a $69.00 book which translates air conditioning equipment model numbers and serial numbers into date of equipment manufacture and rated BTUH capacity.
FROM EQUIPMENT RLA # - Air Conditioning Equipment Capacity from Equipment RLA Numbers
RLA Rule of Thumb: RLA, Rated Load Amps, or in some older texts, mis-named as "Running Load Amps" is the manufacturer's specified rated current draw when the equipment is operating, excluding the current draw during startup, but when the compressor is under load.
On a single-phase 240V circuit feeding an A/C compressor/condenser unit, the equipment will draw typically 5 to 6, (7 in some cases) RLA per ton of cooling capacity. So if the data tag on a compressor shows its RLA rating=21.2 I would rate the system as 21.2/7=3 Tons. Translating Tons into BTUH, 3tons x 12 MBTUH/ton = 36,000 BTUH estimated Cooling Capacity. Details of this and related calculations are in the "Guide" book cited above.
COOLING RULES OF THUMB - determining Cooling Capacity Requirements - Rules of Thumb
A home inspection does not involve the calculations of heat gain necessary to decide if the cooling capacity on a building is adequate, but the inspector is expected to examine and report on the rated system capacity (such as "36,000 BTUH") and on the presence or absence of cooling sources in the habitable rooms of the building.
Air conditioning capacity requirement: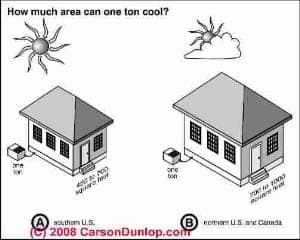 A simple rule of thumb for relatively cool climates such as the Northeastern United States: one ton per 400 sq .ft. (Commercial) or one ton per 500 to 1000 sq .ft. (Residential)
Or we estimate an air conditioning requirement of one ton per 400 to 800 sq .ft. for Space Pak Systems.
Or a 3000 sq .ft. house may require a 5-ton unit. Or count the supply outlets: 10 outlets @ 100 cfm (estimated) = 1,000 cfm = 2.5 tons needed.
Oversized Air Conditioning Systems: Can an air conditioning system have too much capacity?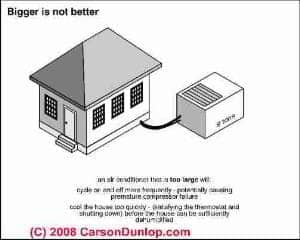 Yes. If a system is over sized for a building it may be able to drop the indoor temperature so rapidly that the cooling cycle is too short to permit adequate reduction in the humidity level. Remember that indoor comfort is a function of both temperature and relative humidity.
Also, since an oversized air conditioning system will be cycling on and off more frequently, not only is the building actually less comfortable (temperatures are swinging up and down unnecessarily quickly and frequently) but it may also be harder on the equipment, thus shortening its life.
Turning electric motors on and off is hard on them.
If the "on cycle" of the A/C system seems unusually brief, or if the indoor humidity is not dropping this question merits further investigation. Sketch courtesy of Carson Dunlop Associates.
Do not buy an air conditioner that has more tons or BTUs of capacity than you actually need.
How to Determine BTUs or Tons of Cooling Capacity of an Air Conditioner from its Data Tags
In addtion to reading the present article (here) see

COOLING COIL or EVAPORATOR COIL
or determine rated cooling capacity

FROM MODEL # - how to determine the BTU capacity or Tons of cooling capacity of an air conditioner from model number

FROM EQUIPMENT RLA # - how to determine the BTU capacity or Tons of cooling capacity of an air conditioner from the RLA number.
How Big Should My Air Conditioner Be in BTUs or Tons?
In addition to reviewing
our COOLING RULES OF THUMB shown above,
see AIR CONDITIONER BTU CHART for a guide to selecting an air conditioning system with the proper cooling capacity in tons or in BTUs.
What Temperature Should an Air Conditioner Be Able to Maintain
Reader Question: 8/27/2014 Anonymous said: hat temperature should my new central A/C be able to hold
Regardless of all the sizing, energy usage and environmental considerations, what temperature should my new central A/C be able to hold at the hottest time of day? It seems like this should by irrespective of any particular climate, just need more capacity the hotter it can become.
Reply:
I'm not sure I agree that the performance of air conditioning systems - the ability to hold a specific temperature at the hottest time of the day - is nor can be independent of the system design. For example, if we have a poorly insulated building, a building with high heat gains, a building where people regularly leave windows and doors open or come in and out constantly, it could be misleading and specious to only blame the air conditioning system for complaints that the building interior is too arm.
Wouldn't we first close open windows and doors, before installing a new, larger cooling system?
However you are quite right to ask how we should measure whether an AC system is performing as it should.
Some helpful references that answer that question are at
ANSI/AHRI Standard 210/240 with Addenda 1 and 2 (formerly ARI Standard 210/240) titled in more detail "2008 Standard for Performance Rating of Unitary Air - Conditioning & Air-Source Heat Pump Equipmet" (available online from AHRI and ANSI)
You might also want to refer to TSI's "Hvac Assessment Handbook A practical guide to performance Measurements in mechanical heating, Ventilating, and air conditioning systems" available from tsi [dot] com
In Australia and New Zealand or the South Pacific we refer readers to "Performance Standards Of Hvac Equipment (HVAC Equipment Performance Consultancy)" available from the Australian government abcb [dot] gov [dot] au
...
Continue reading at SEER RATINGS & OTHER DEFINITIONS or select a topic from closely-related articles below, or see our complete INDEX to RELATED ARTICLES below.
Or see AIR CONDITIONER TEMPERATURE MEASUREMENT for a discussion of what temperatures to expect at different points in the air conditioning system.
Or see AIR CONDITIONER BTU CHART - table of BTU requirements by cooling area size & other parameters
Also see LOST COOLING CAPACITY for diagnosis of poor air conditioner performance, and see This website answers all questions about air conditioning and heat pump systems.
Suggested citation for this web page
RATED COOLING CAPACITY at InspectApedia.com - online encyclopedia of building & environmental inspection, testing, diagnosis, repair, & problem prevention advice.
Or use the SEARCH BOX found below to Ask a Question or Search InspectApedia
...
Frequently Asked Questions (FAQs)
Try the search box below or CONTACT US by email if you cannot find the answer you need at InspectApedia.
Question: my air conditioner utility bills are too high
(June 16, 2014) Luthenia@gmail.com said:
My air conditioner is not cooling my apartment adequately. When I set the thermostat at 75 degrees the unit continously runs and the temp does not get below 80 degrees inside at the peak of the day. The maintenance team looked at the condenser (outside) and found no leaks and said the freon level is where it should be. Although they have not checked the lines from the condenser to the air handler (inside) for blockage or leaks. Please advise on how to proceed. Also my utility bill is too high.
Reply:
Luthenia,
I'm not sure how the refrigerant "level" was checked (by just looking I wouldn't know the answer to that supposition), but if the refrigerant charge is correct in the unit then most likely it is not leaking refrigerant.
Question: how often do you need to charge your A/C Unit?
(June 21, 2014) Anonymous said:
how do you know when you need to charge your a/c unit
Reply:
Recharging AC refrigerant is not a normal nor regular maintenance chore. Rather, refrigerant may be needed if there has been a leak - and of course it makes sense to find and fix the leak first. Charging is also needed as part of any system repair that nvolves opening the refrigerant oping system.
Question: an AC technician told me what sized system I needin BTUH
(July 16, 2014) LB said:
The central air unit for a 1950's built house in Tucson, AZ is rated at 36,000 btuh. The brick ranch-style house is 1260 sq. ft. with no shade from the E,S, or W. The original system was swamp cooler w/ductwork added on the roof to reach a later addition, the ground-based ac unit was retro fitted to this system to cool 2 bedrooms, 2 baths, large living room, large kitchen, dining area and den.
An AC tech told me the system should be 42,000 btuh to properly cool with out running constantly on peak days...which it does. Your thoughts?
Reply:
I can't second-guess your on-site AC technician who knows and sees more than we can from just the text of your question. But in general, we don't want to over-size an air conditioner or heat pump. Doing so risks that the system will cool the building so quickly that it will not adequately dehumidify the indoor air.
Question: can't find specifications on cooling area square feet that factor in building ceiling heighbt
(July 17, 2014) rick robinson said:
I am wanting to buy a portable A/C - heating unit, both at 14,000 b.t.u."s.
I want to put it in my garage. w.15'x 15'x 9' high. I don't find specs. on square feet with the height. Is that enough b.t.u.'s for that area ?
Reply:
LB,
While we give some general rules of thumb for determining AC capacity required for a home, Tucson is indeed an area of plenty of solar gain (and a dry climate which makes swamp coolers work pretty well). I figure we ought to take the advice of your service tech who has direct experience in your local area.
In humid climates, over-sizing an AC unit can in fact cause it to fail to dehumidify properly. But in Tucson where the air is dry to start with, that's less of a concern than having adequate cooling.
If you go with the smaller unit you'll find that on the hottest days of the year it may run constantly, possibly being on the margin of adequacy.
Finally, the high ceiling is only a foot higher than most rooms - I don't think that's a big factor.
Question: relationship of RLA and electrical motor horsepower
(Aug 2, 2014) Eng.M.Mossad2010@gmail.com said:
from the part of " FROM EQUIPMENT RLA # - Air Conditioning Equipment Capacity from Equipment RLA Numbers " in the article above can we find a relation between the equipment's RLA and the HP "horse power " for the Compressor motor?
Reply: relationship of RLA, LRA and FLA motor ratings & converting to horsepower
Mossad: for a specific air conditioner or heat pump motor I'd obtain the horsepower rating first by looking at the BTUh rating on the data tag or encoded in the model number. For example, 18,000 BTUh is equivalent to 2 HP (horsepower) or 24,000 = 2.5 HP.
Formula to Convert Electrical Amps to Horspower
1 HP (horsepower) = 745.7 Watts (round to 746 W)
How to Calculate Horsepower from Motor Amperage
We can easily express Amps in a formula to obtain horsepower as follows:
AMPS = ( Horsepower x 746 ) / Voltage
Example: For a 220V electric motor with a 40-Amp LRA or FLA rating
40A = (Horsepower x 746) / V
40 = (HP x 746) / 220 -
then using simple algebra we calculate that this is a 12 horsepower motor based on its LRA or FLA rating.
Complete details are at ELECTRIC MOTOR HORSEPOWER
Question: installed larger AC but now takes longer to cool the building
(Aug 6, 2014) cookie77037@gmail.com said:
I had a new AC system installed recently in a 900 SqFt home. They upped me from a 2.5 Ton to a high efficiency 3 ton. The also up sized the blower and now the fab suction has a high air and blower noise and the air coming out of the registers is really coming out at a pretty high velocity relative to the old system. The system seems to run a longer time now and I am wondering if the blower is over sized for the ducting and the air is retuning to the unit immediately instead of dispersing and cooling the rooms. Sort of short circuiting the process.
Reply:
Cookie

What sounds odd to me is to install a larger capacity AC system yet find that it runs longer to cool the building than previously. Something's probably wrong. Perhaps the air velocity is too great for the design of the cooling coil. I'd give the installing company a call, speak with the service manager, and ask for help by an experienced senior technician.
Question: encoding of cooling capacity on air conditioners & heat pumps
(Sept 6, 2014) jerry said:
I Cant Seem To Get It ,BTUs,Or Tons, Ser No,edcm168896 And Modle No, e1fb036s06a
(Oct 11, 2014) omar said:
Can I get the cooling capacity from serial number
Reply:
Not from the serial number but from the model number on the data tag.
See DATA TAGS on AIR CONDITIONERS
...
Ask a Question or Search InspectApedia
Try the search box just below, or if you prefer, post a question or comment in the Comments box below and we will respond promptly.
Search the InspectApedia website
Technical Reviewers & References
Click to Show or Hide Citations & References
...
Thanks to Scott at SJM Inspect for suggesting this EPA document and for technical editing remarks regarding our air conditioning website, SJM Inspection Service LLC, serves the entire state of CT, sjminspect.com 203-543-0447 or 203-877-4774 5/16/07
Modern Refrigeration and Air Conditioning, A. D. Althouse, C.H. Turnquist, A. Bracciano, Goodheart-Willcox Co., 1982
Principles of Refrigeration, R. Warren Marsh, C. Thomas Olivo, Delmar Publishers, 1979
"Air Conditioning & Refrigeration I & II", BOCES Education, Warren Hilliard (instructor), Poughkeepsie, New York, May - July 1982, [classroom notes from air conditioning and refrigeration maintenance and repair course attended by the website author]
Refrigeration and Air Conditioning Technology, 5th Ed., William C. Whitman, William M. Johnson, John Tomczyk, Cengage Learning, 2005, ISBN 1401837654, 9781401837655 1324 pages
Asbestos HVAC Ducts and Flues field identification photos and guide
Fiberglass: Indoor Air Quality Investigations: Fiberglass in Indoor Air, HVAC ducts, and Building Insulation
Books & Articles on Building & Environmental Inspection, Testing, Diagnosis, & Repair