Chemical Contaminants in Building or House Dust
Hazards, research, advice
InspectAPedia tolerates no conflicts of interest. We have no relationship with advertisers, products, or services discussed at this website.
Chemical contaminants & hazards in some house dust or building dust:
This article series describes the common as well as less-common constituents of house dust and typical office building dust. We also describe particles that may indicate indoor air quality concerns, hazardous conditions, or other building conditions that may be detected or perhaps simply suggested by the presence of certain particles in air, in settled building dust, or in vacuum-cleaner collected or clothes dryer-collected dust and lint.
Green links show where you are. © Copyright 2017 InspectApedia.com, All Rights Reserved.
Chemical Contaminants May be Carried by House Dust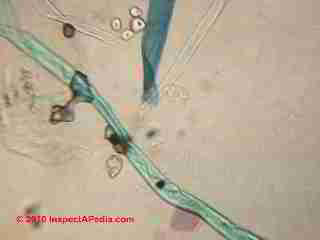 Typical components of house dust and typical office building dust are dominated by fabric fibers and skin cells. Common too are lower levels of dust mite fecals, insect fragments, and air-delivered pollen and mold, though the levels of these varies seasonally and by changes in the indoor environment such as in humidity.
Watch out: We do not recommend that every building be screened for mold nor other problem particles. But when conditions warrant, further investigation is appropriate.
Also see MOLD / ENVIRONMENTAL EXPERT, HIRE ? for help in deciding if it's appropriate to bring in a professional to assess indoor health risks.
Separately in some articles we cite below, indoor air quality may be affected by gases mixed into indoor air, such as formaldehyde, but less obvious are potentially harmful chemicals or particles borne in, on, or attached to particles of ordinary house dust. Fergusson et al (1986) point out that heavy metals may also be present in dust samples.

Many researchers have cited endocrine disruptors, arsenic, BPA, PBDEs, and other contaminants that may be present at harmful levels in the dust of some buildings. Recent news articles in the popular media such as the New York Times (2017) as well as scholarly-research articles (Stapleton 2005) describe a higher level of possible risk of chemical contaminants carried into house dust than many had previously understood.
Watch out: usually the dominant constituents of house dust (fabric fibers, skin cells) do not pose a health hazard to humans.
However some substances that can occur at high levels in the dust of some buildings such as lead can be dangerous, and it is possible that lower levels of some particles such as PBDEs may be unsafe, particularly for populations at extra risk, such as pregnant women, the elderly, children (Gevao 2006), people who are immune-impaired, asthmatics.
There may be other less-expected contaminants in building dust. For example, following a sewage flood or septic back-up in a building, both bacterial and viral hazards may be attached to common house dust particles. See SEWAGE CONTAMINANTS.
List of Harmful Chemicals, Metals or other Contaminants Present in Some Building Dust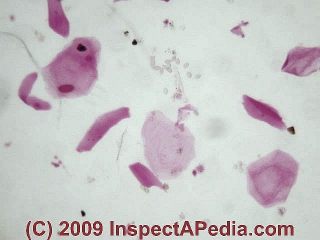 The photo of dark pink fragments shown here illustrates a mix of skin cells (larger fragments) and dog dander heavily stained with acid fuchsin and examined in our forensic laboratory. Normally these human skin and animal dander particles are hyaline (colorless). Skin cells and where pets are present, pet dander are entirely common in buildings. They are not harmful, though high levels of pet hair and pet dander can be a problem for asthmatics or for people with allergies.
Examples of more dangerous pathogens and chemicals that might contaminate or become attached to more-ordinary house dust particles (such as fabric fibers, soil particles, even skin cells in house dust) include the following:
Arsenic, e.g. from old wallpaper, wear & tear
Heavy metals, other contaminants found in sewage if a building has suffered a burst waste pipe or a sewage backup
Bisphenol-A BPA from plastics, particularly if burned e.g. in a fireplace
Cadmium
Carcinogenic or possibly-carcinogenic chemicals such as polybrominated diphenyl ethers (PBDEs) used in flame retardant chemicals that may in turn have been widely used in buildings between 1970 and about 2005 at least in North America and earlier in Europe and other countries.
Endocrine disruptive chemicals
Fiberglass [if fiberglass has been damaged to produce small particles]
Hyperthyroidism-causing chemicals (possibly)
Lead dust from renovations or from lead-painted window sashes or from peeling paint
Mercury in or attached to house dust
Mold spores, hyphal fragments (and as a gas in air MVOCs) that maybe allergenic, pathogenic, or even toxic depending on the genera/species and other factors
Pesticides, particularly if sprayed on indoor surfaces
Polycyclic aromatic hydrocarbons
What to Do about Indoor Dust Hazards
For normal households, ordinary damp wiping, mopping, and vacuuming can reduce the level of indoor dust. A better approach to reducing the level of indoor dust (in our OPIONION) is to permanently get rid of wall-to-wall carpets and to minimize the use of heavy-upholstered furnishings.
Where there is a specific problem particle, chemical, or contaminant in a building and that is showing up in building dust, the steps to correct the problem must start by identifying the problem source and then clean, cover, or remove it.
For example if there is a concern for high levels of polybrominated diphenyl ethers (PBDEs), then the fabrics, carpets, or other soft goods that were treated with fire retardant need to be identified and perhaps removed.
Quite different, a problem with lead dust will usually be traced to lead paint on window sashes, trim, or in older buildings, even on walls and ceilings. Lead abatement procedures typically require removal of old lead paint using safe procedures and re-coating of surfaces. Heavy metals from a sewage backup or from a home subjected to area flooding probably mean that the building was not properly cleaned after that unpleasant event.
Different still, a problem with dust mite may be related to the presence of pets or to indoor housekeeping, mouse dander to food storage, mold to building leaks.
Watch out: "magic bullet" treatments that claim to remove some types of indoor contaminants, such as use of an ozone generator can, especially if improperly applied, create new hazards. See OZONE MOLD / ODOR TREATMENT WARNINGS
Watch out: where high levels of very small particles in the few-microns range are present (such as the Aspergillus/Penicillium mold spores shown below), vacuuming with an ordinary household vacuum cleaner may actually increase the level of airborne dust. That's why we recommend use of a HEPA-rated vacuum cleaner.
Research on Chemical Contaminants in House Dust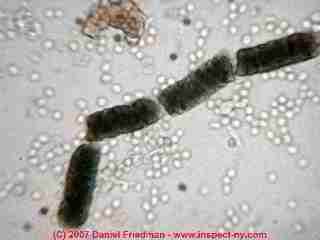 Photo: dark cylindrical dust mite fecals and Penicillium/Aspergillus mold spores in a tape sample of settled dust in a home where a mold contamination problem was found. The mite fecals themselves may be comprised principally of mold spores but the chains of spores indicate that there was nearby active fungal growth.
Alaee, Mehran, Pedro Arias, Andreas Sjödin, and Åke Bergman. "An overview of commercially used brominated flame retardants, their applications, their use patterns in different countries/regions and possible modes of release." Environment international 29, no. 6 (2003): 683-689. Abstract:

Brominated flame retardants (BFRs) are used in a variety of consumer products and several of those are produced in large quantities. These compounds have been detected in environmental samples, which can be attributed to the anthropogenic uses of these compounds.

Brominated flame retardants are produced via direct bromination of organic molecules or via addition of bromine to alkenes; hence, an overview of the production and usage of bromine over the past three decades is covered. Production, application, and environmental occurrence of high production brominated flame retardants including Tetrabromobisphenol A, polybrominated biphenyls, Penta-, Octa-, Deca-brominated diphenyl ether (oxide) formulation and hexabromocyclododecane are discussed.
Anthes, Emily, "The Mystery of the Wasting House-Cats", The New York Times Magazine, the Health Issue, 16 May 2017, retrieved 2017/05/22, original source: https://www.nytimes.com/2017/05/16/magazine/the-mystery-of-the-wasting-house-cats.html?_r=0

OPINION: this article discusses feline hyperthyroidism that appears to have been traced, at least in part, to the presence of polybrominated diphenyl ethers (PBDEs) that were used as an ingredient in fire retardant treatments used on fabrics found indoors in upholstery, possibly carpets, draperies, etc. The article points out that the etiology of the disease and the possible exposures are complex to study because in fact both humans and pets are exposed to a "soup" of chemicals and particles. The author points out that pets may be the proverbial "canary in the mine" as early indicators of environmental health risks that also face humans.
Bisphenol-A, BPA - BPA-containing plastics hazard summary
Bornehag, Carl-Gustaf, Jan Sundell, Charles J. Weschler, Torben Sigsgaard, Björn Lundgren, Mikael Hasselgren, and Linda Hägerhed-Engman. "The association between asthma and allergic symptoms in children and phthalates in house dust: a nested case-control study." Environmental health perspectives (2004): 1393-1397.
Butte, W., W. Hoffmann, O. Hostrup, A. Schmidt, and G. Walker. "Endocrine disrupting chemicals in house dust: results of a representative monitoring." Gefahrstoffe Reinhaltung Der Luft 61, no. 1-2 (2001): 19-23.
CARPETING & INDOOR AIR QUALITY - Carpeting and indoor air quality. Carpeting VOCs, styrene, 4-PC & Formaldehyde.
Chevrier, Jonathan, Kim G. Harley, Asa Bradman, Myriam Gharbi, Andreas Sjödin, and Brenda Eskenazi, "Polybrominated Diphenyl Ether (PBDE) Flame Retardants and Thyroid Hormone during Pregnancy", [PDF] "Research| Children's Health." Environmental health perspectives 118, no. 10 (2010): 1445. Excerpt:

Polybrominated diphenyl ethers (PBDEs) are synthetic chemicals used as flame retardants in a variety of consumer products such as electronics, furniture, textiles, and construction materials. The chemical structure and properties of PBDEs are similar to those of polychlorinated biphenyls (PCBs), which were banned in the United States in 1978 (Toxic Substances Control Act of 1976).

Theoretically, a total of 209 PBDE congeners may be produced depending on the number and position of bromine atoms on the diphenyl ether structure, although only congeners with more than four bromines are used commercially. PBDEs are lipophilic, bioaccumulate in wildlife and humans, and biomagnify up the food chain (Burreau et al. 1999).

Congeners with lower bromine contents are particularly persistent, with estimated half-lives ranging between 2 and 12 years in humans (Geyer et al. 2004). PBDEs are global contaminants that have been detected in human adipose tissue, serum, and/or breast milk samples collected in Asia, Europe, North America, Oceania, and the Arctic (Bi et al. 2006; Harrad and Porter 2007; Pereg et al. 2003; Sjodin et al. 1999, 2008).

The concentration of these chemicals in human serum and breast milk has exponentially increased in the last three decades (Noren and Meironyte 2000; Schecter et al. 2005; Sjodin et al. 2004a).

Conclusion:

We report an inverse association between TSH and ΣPBDEs and BDEs 28, 47, 99, 100, and 153 serum concentrations in pregnant women around the 27th week of gestation. Odds of subclinical hyperthyroidism were also elevated in association with increased exposure to some of these chemicals. We observed these findings in a population with median serum PBDE concentrations within the range of a nationally representative sample.

Although maternal clinical hyperthyroidism has been associated with adverse pregnancy outcomes such as preeclampsia, premature births, and low birth weight, few data are available on the direct effects of maternal subclinical hyperthyroidism on fetal and child development. In future analyses, we thus intend to examine whether subclinical hyperthyroidism and maternal exposure to PBDEs are associated with these outcomes.
ENDOCRINE DISRUPTERS at BUILDINGS - summary of the effects on humans of endocrine disrupters
FIBERGLASS HAZARDS - hazards in building dust may occur when damage or disturbance has produced a high level of ultra-small (abnormal) fiberglass fragments
FORMALDEHYDE HAZARDS - Sources of formaldehyde gas or odors in buildings.
Gevao, Bondi, Majed Al-Bahloul, Abdul Nabi Al-Ghadban, Ali Al-Omair, Lulwa Ali, Jamal Zafar, and Murad Helaleh. "House dust as a source of human exposure to polybrominated diphenyl ethers in Kuwait." Chemosphere 64, no. 4 (2006): 603-608.
Ikonomou, Michael G., Sierra Rayne, and Richard F. Addison. "Exponential increases of the brominated flame retardants, polybrominated diphenyl ethers, in the Canadian Arctic from 1981 to 2000." Environmental Science & Technology 36, no. 9 (2002): 1886-1892.
Kato, Kayoko, Antonia M. Calafat, and Larry L. Needham. "Polyfluoroalkyl chemicals in house dust." Environmental research 109, no. 5 (2009): 518-523.
MOLD RELATED ILLNESS SYMPTOMS - List of mold related illnesses, symptoms & complaints associated with exposure to mold in buildings. Also see AIRBORNE MOLD COUNT NUMBER GUIDE and because "air tests" for mold are fundamentally inaccurate except in very gross terms, also see AIRBORNE MOLD COUNT VALIDITY
PESTICIDE EXPOSURE HAZARDS - Health effects of exposure to pesticides in buildings.
La Guardia, Mark J., Robert C. Hale, and Ellen Harvey. "Detailed polybrominated diphenyl ether (PBDE) congener composition of the widely used penta-, octa-, and deca-PBDE technical flame-retardant mixtures." Environmental science & technology 40, no. 20 (2006): 6247-6254. Abstract excerpts:

Polybrominated diphenyl ethers (PBDEs) have been widely used to flame-retard products common in homes and the workplace, and subsequently, they have become widely dispersed in the environment. Detailed compositional knowledge of these complex PBDE mixtures is crucial to a fuller understanding of their toxicological potencies and environmental fate due to selective congener biomagnification, degradation, and transport.

Utilizing recent technical enhancements and newly available commercial standards, we developed a method capable of analyzing a larger suite of mono- through deca-BDEs. We then characterized the congener composition of six common technical flame-retardant mixtures:  two penta-BDE products (DE-71 and Bromkal 70-5DE) two octa-BDE products (DE-79 and Bromkal 79-8DE) and two deca-BDE products (Saytex 102E and Bromkal 82-0DE). PBDEs were analyzed by gas chromatography/mass spectrometry (GC/MS). Structural conformations based on fragmentation patterns and molecular ions were established by electron-capture negative ionization (ECNI) and electron ionization (EI).


Oomen, A. G., P. J. C. M. Janssen, A. Dusseldorp, and C. W. Noorlander. "Exposure to chemicals via house dust." [PDF] RIVM (National Institute for Public Health and the Environment) Report 609021064, no. 2008 (2008): 97. Retrieved 2017/05/22, original source: http://www.rivm.nl/bibliotheek/rapporten/609021064.pdf Abstract Excerpts:

Humans are exposed to substances present in house dust, but the majority of these substances do not pose a risk to human health. Those substances that do exceed a critical level, however, have the potential to be a health risk. The most common of these are lead and di(2-ethylhexyl)phthalate, followed by arsenic, cadmium, polycyclic aromatic hydrocarbons and PBDEs (flame retardants).

These substances come into house dust through the wear and tear of consumer products, the release of products when cooking and burning wood in the fireplace. In addition, some pollutants can fall off the soles of shoes that have come into contact with polluted soil.

... Based on calculation of the so-called Risk Index, which is the estimated exposure for any substance divided by its [tolerable daily intake] TDI, a list of substances is provided for which there may be a health risk.

...We found the majority of substances present in house dust to be without potential human health risk.

However, some substances in house dust exceed the TDI criterium, indicating that they may cause a potential risk. Substances which exceed this criterium most frequently are lead and di(2-ethylhexyl)phthalate, followed by arsenic, cadmium, sum PAHs, and BDE99.

The finding that several metals (lead, arsenic, cadmium) may cause a potential human health risk via house dust was expected, but for the other substances this is not generally known. We recommend including these substances in the measurements when projects on the indoor environment are designed. .
Santillo, David, Iryna Labunska, Helen Davidson, P. Johnston, M. Strutt, and O. Knowles. "Consuming chemicals: hazardous chemicals in house dust as an indicator of chemical exposure in the home." Greenpeace Research Laboratories, Department of Biological Sciences, University of Exeter: Exeter, UK (2003).
Stapleton, Heather M., Nathan G. Dodder, John H. Offenberg, Michele M. Schantz, and Stephen A. Wise. "Polybrominated diphenyl ethers in house dust and clothes dryer lint." Environmental science & technology 39, no. 4 (2005): 925-931. Abstract:

Few studies have measured the flame retardants polybrominated diphenyl ethers (PBDEs) in the indoor environment. Here, we report measurements of PBDEs in house dust samples collected from the Washington, D.C. metropolitan area in the United States. Dust samples were analyzed for 22 individual PBDE congeners and our results found PBDEs present in every sample. Concentrations of total PBDEs ranged from 780 ng/g dry mass to 30 100 ng/g dry mass.

The dominant congeners observed in the dust samples were congeners associated with the pentaBDE and decaBDE commercial mixtures. Ancillary data were collected on the homes and examined for any correlations with total PBDE concentrations. No correlations were observed with year of house construction, type of flooring (i.e., hardwood vs carpet) or the number of television sets or personal computers in the home. However, a significant inverse correlation (p < 0.05) was observed between the area of the home and the contribution of BDE 209 to the total PBDE concentration in dust.

Using estimates of inadvertent dust ingestion (0.02−0.2 g/day) by young children (ages 1−4), we estimate ingestion of total PBDEs to range from 120 to 6000 ng/day. Clothes dryer lint was also sampled and analyzed for PBDEs from five of the homes and were present in all five samples ranging from 480 to 3080 ng/g dry mass. This study demonstrates that PBDEs are prevalent at relatively high concentrations within homes where people, and particularly young children, may be susceptible to exposure.
Other useful citations on the ingredients of house dust are given at CONCRETE DUST & ODORS and at LEAD in AIR, EMISSIONS STANDARDS and LEAD POISONING HAZARDS GUIDE
...
Continue reading at HOUSE DUST COMPONENTS or select a topic from closely-related articles below, or see our complete INDEX to RELATED ARTICLES below.
Or see HOUSE DUST PARTICLE PHOTOS - a photo tour of what we found in dust from a London loft.
Or see DUST SAMPLING PROCEDURE where we also discuss finding mold in indoor dust samples
Or see these
Articles on building or house dust
Suggested citation for this web page
HOUSE DUST CHEMICAL CONTAMINANTS at InspectApedia.com - online encyclopedia of building & environmental inspection, testing, diagnosis, repair, & problem prevention advice.
Or use the SEARCH BOX found below to Ask a Question or Search InspectApedia
Or see
Or use the SEARCH BOX found below to Ask a Question or Search InspectApedia
Or see
Or use the SEARCH BOX found below to Ask a Question or Search InspectApedia
...
Frequently Asked Questions (FAQs)
Try the search box below or CONTACT US by email if you cannot find the answer you need at InspectApedia.
Question: how to proceed in solving a bothersome indoor air quality and dust problem
2/19/2014 Karen said:
I found all of your articles to be very professional, forthright, and informative. I have been experiencing some air quality problems in my home.
To the extent that I have developed a severe allergic reaction every time the heat or air condition is on. We had a mold inspection and testing done and the results were negative. Although this was good news the problem persists. I've also discovered black soot on the glass surfaces, an unusually extreme amount of black fiber like particles on surfaces, along with a cottony like dust on services as well.

In addition, the filters in the air condition/heating unit gets very dirty with a dark gray / black substance within a weeks time. Theses are the high grade expensive type filters that should last for a minimum of 90 days. I am at my wits end and don't know what to do next!
We also had the air ducts cleaned to try to rectify the problem but this also did not resolve the issues. I purchased an air purifier which collects the black particle and dust on a daily bases. The particles have also settled on our clothing in the closets.
Finally, there is black soot like substance on the carpet edges against the walls in the bedrooms. The rest of the house has hardwood floors. I'm suspecting that it could be fiberglass particles being released through the HVAC systems and/or the insulation has been infiltrated by mold. - K. 2/19/2014
Reply:
Karen, thanks for the nice comment about our website: we work hard to provide authoritative and unbiased information so I'm always thrilled when someone reports finding our work useful.
Now to the question: without more information about the building, its condition, history, occupant complaints, and absent a smoking gun observation of a significant mold contamination problem, and without an observation of mold odors, I would not start by assuming we are looking at a mold problem.
I would take a careful look at the building and its mechanical systems and at occupant complaints, focused on identifying the highest risk areas that may justify further testing or even invasive inspection if that's appropriate. MOLD / ENVIRONMENTAL EXPERT, HIRE ? has some advice about how we decide if hiring an expert is appropriate compared with a DIY approach or using building cleaning or maintenance contractors or a home inspector to take a look for you.
1. I would not assume that a mold "test" alone would be reliable - with all test methods there is a high risk of false negative results; if your "mold inspection" was by someone who understands buildings, where leaks and water go, where mold grows, etc. that would be most helpful.
2. The HVAC system could have a mold or other respiratory irritant reservoir in the air handler or duct system, but it can also simply be moving air from one building are to another, moving irritants in the process. Pay particular attention to where return air is being picked up.
3. Without more data I would not assume the issue is mold, though if you say the building history includes leak or moisture traps that'd be a reasonable concern.
4. The debris depositing you describe can be easily tested (see our DIY house dust test kit procedure using adhesive tape) and with a competent environmental lab should be inexpensive - sometimes the dust or debris contains something unusual that points to a problem source.
5. Black stains around carpet edges suggests air leakage to me - suggesting air moving up from the space below. If your hone includes a crawl space that's an area deserving careful inspection.
6. Air purifiers: regarding your lack of success trying to address these concerns with a portable air purifier, IMO there is no portable air purifier or more accurately air cleaning machine on the market, nor has there been, nor is there likely to be, that is capable of removing an IAQ problem source in a building any more than you could vacuum dust bunnies from under the living room couch by waving a vacuum cleaner wand in the air in the kitchen. Perhaps in a small, enclosed space that does not itself contain the problem reservoir a portable air filtration device or well-designed central air handling system filtration can reduce the airborne particle level but that's not going to correct the underlying problem.

...
Ask a Question or Search InspectApedia
Questions & answers or comments about fiberglass dust particle identification procedures & testing.
Use the "Click to Show or Hide FAQs" link just above to see recently-posted questions, comments, replies, try the search box just below, or if you prefer, post a question or comment in the Comments box below and we will respond promptly.
Search the InspectApedia website
Technical Reviewers & References
Click to Show or Hide Citations & References
Fiberglass insulation mold: occurrence of mold contamination in fiberglass insulation can be impossible to see with the naked eye, but can be significant
Horak, B. "Preliminary study on the concentration and species composition of bacteria, fungi and mites in samples of house dust from Silesia (Poland)." Allergologia et immunopathologia 15, no. 3 (1987): 161.
Fergusson, Jack E., Eric A. Forbes, Robyn J. Schroeder, and Douglas E. Ryan. "The elemental composition and sources of house dust and street dust." Science of the total environment 50 (1986): 217-221.
Abstract: The elemental compositions of house dust, street dust and soil have been determined for 26 elements on material collected in Christchurch, New Zealand. The elements Hf, Th, Sc, Sm, Ce, La, Mn, Na, K, V, Al and Fe may be considered to be soil-based and contribute about 45–50% to house dust and 87% to street dust. The elements which are enriched (>3 times) in the dusts relative to the levels found in local soils, are Br, Cu, Cl, Pb, Zn, Cr, Ca, Co, As and Sb in house dust, and Zn, Cr, Cu and Pb in street dust.
Mølhave, L., T. Schneider, S. K. Kjaergaard, L. Larsen, Svend Norn, and O. Jørgensen. "House dust in seven Danish offices." Atmospheric Environment 34, no. 28 (2000): 4767-4779.
Butte, Werner, and Birger Heinzow. "Pollutants in house dust as indicators of indoor contamination." Reviews of environmental contamination and toxicology 175 (2002): 1-46.
Post, S., M. C. Nawijn, T. L. Hackett, M. Baranowska, R. Gras, A. J. M. van Oosterhout, and I. H. Heijink. "The composition of house dust mite is critical for mucosal barrier dysfunction and allergic sensitisation." Thorax 67, no. 6 (2012): 488-495.
Stapleton, Heather M., Nathan G. Dodder, John H. Offenberg, Michele M. Schantz, and Stephen A. Wise. "Polybrominated diphenyl ethers in house dust and clothes dryer lint." Environmental science & technology 39, no. 4 (2005): 925-931.
Colt, Joanne S. "Comparison of pesticides and other compounds in carpet dust samples collected from used vacuum cleaner bags and from a high-volume surface sampler." Environmental health perspectives 106, no. 11 (1998): 721.
Dybendal, T., W. C. Wedberg, and S. Elsayed. "Dust from carpeted and smooth floors: IV. Solid material, proteins and allergens collected in the different filter stages of vacuum cleaners after ten days of use in schools." Allergy 46, no. 6 (1991): 427-435.
Korpi, A., A-L. Pasanen, P. Pasanen, and P. Kalliokoski. "Microbial growth and metabolism in house dust." International biodeterioration & biodegradation 40, no. 1 (1997): 19-27.
Lewis, Robert G., Christopher R. Fortune, Robert D. Willis, David E. Camann, and Jeffrey T. Antley. "Distribution of pesticides and polycyclic aromatic hydrocarbons in house dust as a function of particle size." Environmental health perspectives 107, no. 9 (1999): 721.
Lioy, Paul J., Thomas Wainman, Junfeng Zhang, and Susan Goldsmith. "Typical household vacuum cleaners: the collection efficiency and emissions characteristics for fine particles." Journal of the Air & Waste Management Association 49, no. 2 (1999): 200-206
Luczynska, Christina M., Yin Li, Martin D. Chapman, and Thomas AE Platts-Mills. "Airborne concentrations and particle size distribution of allergen derived from domestic cats (Felis domesticus)." Am Rev Respir Dis 141, no. 361 (1990): 7.
Maertens, Rebecca M., Jennifer Bailey, and Paul A. White. "The mutagenic hazards of settled house dust: a review." Mutation Research/Reviews in Mutation Research 567, no. 2 (2004): 401-425.
Marklund, Anneli, Barbro Andersson, and Peter Haglund. "Screening of organophosphorus compounds and their distribution in various indoor environments." Chemosphere 53, no. 9 (2003): 1137-1146.
Miller, J. D., A. M. Laflamme, Y. Sobol, P. Lafontaine, and R. Greenhalgh. "Fungi and fungal products in some Canadian houses." International Biodeterioration 24, no. 2 (1988): 103-120.
Moriwaki, Hiroshi, Yumiko Takata, and Ryuichi Arakawa. "Concentrations of perfluorooctane sulfonate (PFOS) and perfluorooctanoic acid (PFOA) in vacuum cleaner dust collected in Japanese homes." Journal of Environmental Monitoring 5, no. 5 (2003): 753-757.
Woodfolk, Judith A., Christina M. Luczynska, Frederic de Blay, Martin D. Chapman, and Thomas AE Platts-Mills. "The effect of vacuum cleaners on the concentration and particle size distribution of airborne cat allergen." Journal of allergy and clinical immunology 91, no. 4 (1993): 829-837.
Books & Articles on Building & Environmental Inspection, Testing, Diagnosis, & Repair
Our recommended books about building & mechanical systems design, inspection, problem diagnosis, and repair, and about indoor environment and IAQ testing, diagnosis, and cleanup are at the InspectAPedia Bookstore. Also see our Book Reviews - InspectAPedia.
...