Well Pump Types & Life Expectancy
Water Pump Types Defined & Life of Jet Pumps, Submersible Pumps, Hand Pumps, Solar Pumps, Wind Operated Pumps
InspectAPedia tolerates no conflicts of interest. We have no relationship with advertisers, products, or services discussed at this website.
Well pump definitions, types, & water pump life:
This article series describes the different types of water pumps or well pumps, and we list the factors affecting the life expectancy of water pumps and we include a list of steps to take to maximize the life of a well or water pump and its motor.
Green links show where you are. © Copyright 2017 InspectApedia.com, All Rights Reserved.
Life Expectancy of Water Pumps - varies by pump type, usage, and other factors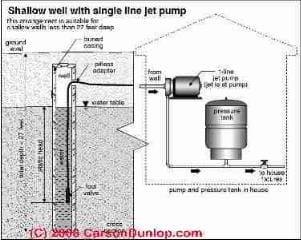 In this article we discuss how long you can expect a water pump to last and what factors affect its life.
Specifics of different types of water pumps can be read in detail at these articles:
Article Series Contents
How Long Does a Water Pump Last?
Well pump life depends - on pump type, duty cycle, usage, water chemistry, even voltage levels.
Jet Pump Life Expectancy: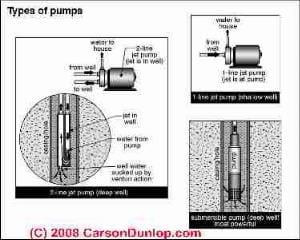 An above-ground one line (shallow well) or two line (deep well) jet pump often operates for a considerable range of years, as few as 4 years or as many as 15 or 20 years before needing replacement.
A typical well pump life expectancy (lumping both the electric pump motor and the pump assembly together) is about 10 years in the U.S. and Canada, and about 5 years in Mexico and Central America.
Sketch of a jet pump shown at above left is courtesy of Carson Dunlop Associates.
At below- left our sketch of a types of well water pumps is courtesy of Carson Dunlop Associates. The drawing shows the key differences between a one line jet pump, two line jet pump, and a submersible water pump.
Submersible Water Pump Life Expectancy:
A submersible well pump, perhaps because the motor is kept cool by being immersed in well water, can also have a considerable range of life expectancies depending on the variables which we list below.
A submersible pump operating in low-sediment water may have a 15 year life while the same pump in high sedimented water and without adequate sediment and check valve protection may fail in 5 or 6 years.
Factors Affecting the Expected Life of a Well Water Pump
Water Pump duty cycle: a water pump which is called-on to run just a few times a day will have a considerably longer life than the same pump under heavy or continuous use. One of the reasons that owners install a larger or captive-air bladder-type water pressure tank is to extend the water draw-down cycle and thus reduce the frequency of turning the water pump on and off. For details
see WATER PUMP DUTY CYCLE
Water Pump electric motor horsepower or motor size: for the same application and workload, a larger electrical motor, for example a 3/4 or 1 HP (horsepower, or CP, caballo podre in Latin America) motor will usually outlast a small fractional 1/8 or 1/4 hp electrical motor.
Water pump motor quality will affect how long the pump's electric motor (or any electric motor) will last. Variables include the type and quality of electric motor bearings and its lubrication requirements. Where an electric motor is manufactured, even when it claims to be the same brand, can make a significant difference. For example according to our Mexican consultants, electric pump motors made in Mexico sometimes perform less durably than a similar motor manufactured to U.S. standards.
Water sediment is a major wear factor on the pump assembly itself (as opposed to the electric motor that drives the pump). Sediment in water acts as an abrasive that wears pump bearings and other moving parts.
Quality of Water Equipment Installation: can make a big difference in the life of the water supply equipment. Installers who simply hook up a pump and wiring, with no understanding of the importance of proper location of check valves, filters, proper electrical wiring, etc. are likely to be providing a shorter-lived water supply system.
Proper match of the well pump capacity and its output rate to the well's safe yield.
See WELL YIELD DEFINITION where we define safe well yield.
Also
see AIR DISCHARGE at FAUCETS, FIXTURES.
Which Parts Wear Out on Water Pumps?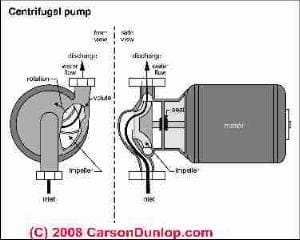 Water pumps operated by an electric motor
What looks like "a well pump or water pump" actually is a collection of major assemblies and more numerous minor parts.
The major assemblies on an above ground water pump (such as a one line or two line jet pump) include the electric motor that drives the pump and the actual pumping assembly that moves water from the well to the water pressure tank and on into the building.
You an see the pump impeller in the sketch at left. Hard water, dirt and sediment, little stones, or other debris can damage this component: the pump motor may run just fine but less water pressure or flow may be delivered by the pump.
A submersible pump includes these two major assemblies (electric pump motor and water pump assembly) and adds an internal check valve.
Sketch courtesy of Carson Dunlop Associates.
Pump bearings
Pump impeller or rotary vanes that move water - see sketch above
Pump motor bearings inside the electric motor that drives the water pump
Internal pump check valves
Pump control switches which are normally physically separate devices, also wear or fail, becoming clogged with sediment or suffering burned electrical contacts.
See WELL PUMP PRESSURE CONTROL ADJUSTMENT for details.
Other well piping components that are not part of the well pump itself, but that affect pump life, such
as WELL PIPING CHECK VALVES, WELL PIPING FOOT VALVES,
or
a WELL PIPING TAIL PIECE may also need to be installed, repaired, or replaced.
Also see WATER PUMP LIFE MAXIMIZATION for a list of steps to take to get the most life out of a well pump or water pump.
Other Types of Water Well Pumps
Kinetic water ram water pumps, or Ram Pumps for water delivery
A kinetic water ram pump or hydraulic ram pump uses the force of running water in a stream combined with the principles of hydraulics to lift water as much as 50 meters from the pump location. The water ram was invented in 1780 by Frenchman Joseph Michael Montgolfier. Cox's hydraulic ram type water pump (1990) is shown below.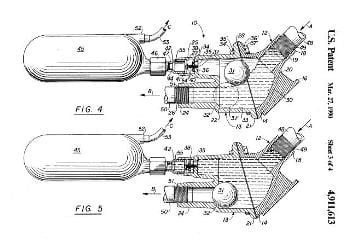 Since surface or stream water is unlikely to be sanitary in most locations, water ram pumps are used mostly in agriculture to move stream water to fields for irrigation.
Allison, Jesse H. "Pumping-engine." U.S. Patent 1,229,009, issued June 5, 1917.
Carlson, Edward P. "Hydraulic pump." U.S. Patent 1,353,216, issued September 21, 1920.
Cox, Larry A. "Hydraulic ram-type water pump." U.S. Patent 4,911,613, issued March 27, 1990.
Folk, James E. "Water powered ram pump." U.S. Patent D338,891, issued August 31, 1993.
Jeffery, T. D., T. H. Thomas, A. V. Smith, P. B. Glover, and P. D. Fountain. Hydraulic ram pumps: a guide to ram pump water supply systems. Intermediate Technology Publications, 1992.
Merten, Eugen. "Hydraulic ram system." U.S. Patent 2,424,108, issued July 15, 1947.
Mohammed, Shuaibu Ndache. "Design and construction of a hydraulic ram pump." Leonardo Electronic Journal of Practices and Technologies 6, no. 11 (2007): 59-70.
Young, B. W. "Design of hydraulic ram pump systems." Proceedings of the Institution of Mechanical Engineers, Part A: Journal of Power and Energy 209, no. 4 (1995): 313-322.
A very different water ram, a "kinetic water ram[for sale at Amazon store]" pump using compressed air to clear clogged building drains is available and is discussed
at CLOGGED DRAIN DIAGNOSIS & REPAIR. That kinetic water ram, discussed in detail at KINETIC WATER RAM, is a drain clearing tool not a water pump.
Photo & Description of Hand Pumps and Windmills or Mechanical Pumps for Pumping Water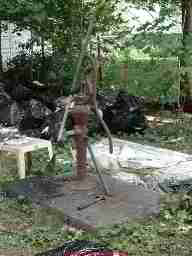 Photo above, a traditional hand-operated well pump installed on a cistern.
A variety of mechanical pumps has been in use for thousands of years, including human or animal-rotated water wheels to lift water from a river or stream and more recently piston-type pumps that combine a vertical rod and handle to lower and then lift a piston in a pipe or tube, "sucking" water from as deep as 20 feet to the surface for traditional hand pumps such as the one shown in our photo above, and drawing well water from as deep as 350 feet when using a more highly-engineered hand pump available from specialty sources.
Before the design of modern high-capacity hand pumps for lifting water, deeper wells were traditionally accessed by the simple bucket and rope method. Below, the rope and bucket and winch system of this 1700's dug well is still in operation at Las Trancas in Guanajuato, Mexico.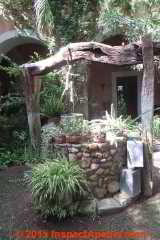 A traditional cast-iron hand pump on a well will have trouble lifting from depth greater than about 25 feet. Below we illustrate a traditional cast-iron hand pump on a drilled well in Two Harbors, Minnesota.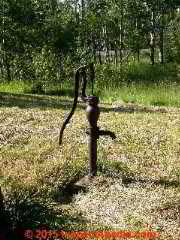 Photo above, courtesy Lon Church, Summerblue Arts Camp, Two Harbors, MN. Below, a similar antique hand pump drawing from a dug well in Poughkeepsie, New York.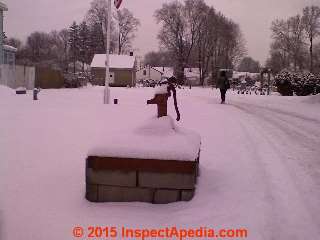 Modern engineered hand pumps for water wells
With a 24-inch handle a modern hand pump sold by Sunshine Works in the U.S. can provide water from a 125 foot deep well at 5 gpm at 60 pump handle strokes per minute. Increasing the pump level length to 36-inches and pumping at the same rate permits lifting water from 250 feet of depth. Other pump models from the same company, combined with a long lever arm and a strong individual who can keep up the pumping rate without having a heart attack can deliver water from a 350-foot head. (Castle 2016)
Watch out: pumping water from greater depth requires more force, and increasing the head or lift height of the water can also reduce the flow rate of gallons of water pe minute that you can achieve. Typically if your (modern, engineered) hand pump is lifting water from 150 to 350 feet of head depth and you use a 24" to 36" pump handle, and you can pump at 60 pump strokes per minute, you can obtain between 2.5 gpm and 5.0 gpm using about 18 pounds of down force on the pump handle. - Sunshine Works (2016)
Castle, Ron, Castle, Pam, "Hand Water Well Pump Stainless Steel Simple Pump Works with Shallow Wells, Deep Wells and Solar', [Web Article] Sunshine Works, Ron and Pam Castle, 401 Lynchburg Road Winchester, TN 37398-1621 USA sales[@]sunshineworks.com +1.931.962.8665 Phone +1.888.878.6014, retrieved 2016/04/13, original source: http://www.sunshineworks.com/stainless-steel-deep-well-hand-pump.htm
Solar powered water pumps
In addition to solar-powered jet pumps or submersible well pumps, the engineered deep well lift-pumps described above for hand pumping can also be adapted to use a solar-operated motor provided by the same company. The solar water pump uses a single 200W solar panel and can pump from depths to 350 ft. (Castle, op. cit.)
Das, Debashis, and M. Ram Gopal. "Studies on a metal hydride based solar water pump." International journal of hydrogen energy 29, no. 1 (2004): 103-112.
Wind-operated water pumps
Below: a wind-operated water pump, using a vertical axis barrel wind rotor but no longer in operation, in San Miguel de Allende, Guanajuato, Mexico.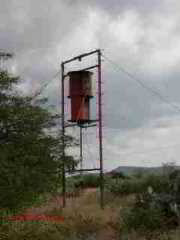 Below: an antique windmill in Holland. Both the wind operated water pump above and the windmill below are also discussed at WIND ENERGY SYSTEMS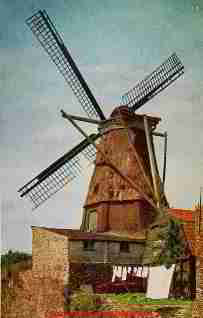 Photo & Description of Piston Type Well Pumps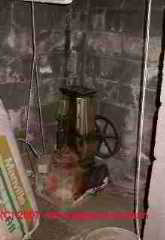 A mechanical version of the hand pump on wells (shown just above) was able to lift from somewhat greater depth, perhaps as much as 20 feet.
The well pump motor and its vertically-operated piston was set directly over the well casing as we show in the photo of an old, discontinued piston well pump.
In our photo at left you can see the large pulley wheel on the right side of the vertical piston pump, but the drive belt and motor that drove the pump have been removed.
What is Well Pump Cavitation?
Well pump cavitation describes the entry of air or gases into the mechanical parts that are trying to move water through a water pump.
The presence of air or other gases in the actual pump chambers or around the water pump impellers leads to overheating of these parts and mechanical damage to the pump moving parts. Cavitation can also cause the pump to have to work longer to satisfy the water demand and thus its electric motor to overheat, also reducing motor life.
Cavitation inside of a water pump can be caused by several problems including:
Inadequate well yield: if the yield of a well drops for any reason, trying to pump water beyond the safe yield of a well pump can introduce air into the well pump and water piping.
See WELL YIELD DEFINITION where we define safe well yield.

Also see AIR DISCHARGE at FAUCETS, FIXTURES.
Oversized pumps that mismatch the well flow rate to the pump's output rate can also cause the pump to form a strong vacuum inside the pumping chamber around the pump impeller. The vacuum, in turn, causes dissolved gases in the water itself to leave solution and return to bubble form.
Low Water Cutoff Devices and Well Tailpieces for Well Pump Protection on a Low-Flow-Rate Well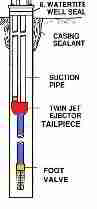 For details about well pipe tailpieces, tail pipes, or other low water cutoff devices that protect the well pump from damage when the well flow is too limited, please see our compete article at WELL PIPING TAIL PIECE. Excerpts are just below.
When the well pump's capacity is known to exceed the flow rate of the well, a tail pipe, tail piece, or low water cutoff control is installed to protect the pump from damage.
The well piping tailpiece (also shown in this sketch) permits the in-well water pump to continue to run by recirculating well water within the pump but by halting delivery of water or slowing delivery of water to the building.
Many sources, including the Penn State School of Forest Resources recommend installing a low water cutoff device to protect a well pump that has to operate in an inadequate or low-yield well.
A still different approach that may provide some water pump protection by reducing the well pump cycling rate is the installation of a Smart Tank that regulates water flow in the building.
Pressure Sensitive Water Pumps & Inline Control Water Pumps
Pressure sensitive pumps and inline pump controllers provide water pressure boosting, rainwater harvesting, or similar functions without requiring a water pressure tank.
See WATER PUMP PRESSURE SENSITIVE
What are Artesian Wells & How do They Work?
Water flows naturally to the ground surface of an artesian well, pushed there by higher pressure groundwater deeper in the earth. "Artesian" refers to Artois, the region in France that gave this type of water source its name. The Latin form of Artois is Artesia.
The level of groundwater is not "flat" under the surface of the earth. Rather underground water tends to follow the contours of the ground surface.
When the underground water reservoir is actually higher than the well that taps into it, water is forced from the higher level to the surface of the artesian well.
At Sinkholes in Estonia-The Witches' Well we describe a non-artesian well that also pushes groundwater to the surface when a nearby underground river floods.
...
Continue reading at WATER PUMP LIFE MAXIMIZATION or select a topic from closely-related articles below, or see our complete INDEX to RELATED ARTICLES below.
Or see WATER PUMP CAPACITIES TYPES RATES GPM
Suggested citation for this web page
WATER PUMP LIFE EXPECTANCY at InspectApedia.com - online encyclopedia of building & environmental inspection, testing, diagnosis, repair, & problem prevention advice.
Or use the SEARCH BOX found below to Ask a Question or Search InspectApedia
...
Frequently Asked Questions (FAQs)
Try the search box below or CONTACT US by email if you cannot find the answer you need at InspectApedia.
Question: well of unknown depth runs out of water
(Nov 18, 2012) Mike P. said:
We have a modern drilled well of unknown depth. Typical for this area is 100-250'. The well is very high in iron and sediment. We have appropriate above ground systems to remove the iron, both particulate and dissolved. The one treatment system uses a very high flow backflush once every two days. The well has a low pressure sensor in the pump relay, and lately we've been finding this tripped when we wake in the morning and the system has backflushed. Could this problem be as simple as a worn well pump head? Water delivery during normal use is acceptable. An accumulator tank is present so the pump does not run all the often. We'll try to find a local person who might be able help us too.
(Aug 31, 2011) Anonymous said:
water pump shallow type internal parts picture
(June 10, 2012) robert said:
i just bought a foreclosed home and the pump was disconnected i hooked the pump back up to the breaker but i still get nothing what am i doing wrong ?
Reply:
Mike, we need to know how much water is being used during backwash. If that far exceeds the normal daily usage by household occupants, I suspect the system is drawing water faster than the well recovery rate.
Check that before messing with the pump.
Question: how deep will a jet pump work?
(Aug 27, 2012) jim said:
how deep will a jet pump work
Reply: pumping depths & basic components of a 1-line vs 2-line jet pump water system
Jim
A 1 line jet pump can lift about 25 ft or less.
A 2-line jet pump can lift considerably higher. But the actual lift capacity will vary depending on the pump horsepower and other factors such as piping length, bends, diameter. Common lift height is about 30 to 80 feet but some deeper installations work.
For example, a twin pipe jet pump plumbing arrangement requires [typical specifications]
A well bore of 4" in diameter or larger
A 1 1/4" diameter suction line
A 1" diameter drive line (this is the line down which water is pumped to bring more water back up by sending the drive line water through a water pick-up venturi device in the well)
A 4" or 5" well jet - the venturi device that picks up water from the well bore in a 2-line jet pump system.
A foot valve on the bottom of the jet assembly or on the end of a 34" tailpiece to avoid loss of prime. The tailpiece avoids over-pumping if the well flow rate is less than the pumping rate.
Question:
(Dec 9, 2012) Ann M. said:
A professional plumber installed a new pressure tank and new water carrying pipe in my well (185 ft). A new 1/3 hp. submersible pump was installed one year ago. Everything works OK except the delivery pipe to the pressure tank knocks and visibly moves. Thinking it was trapped air somewhere in the pipes we decided to see if it would dissipate. After one week the pipe still knocks and moves horizontally about 1/2 - 1 inch. How can this problem be alleviated?
Reply:
x
Question:
(Jan 12, 2013) paul said:
i have a water well , im looking to instal a heating system, i need to all so instal a uv light system for drinking water, and have a good presaure water from the well presaure is 2.5 bar

Reply:
x
Question: Devon well water project
(Jan 12, 2013) paul said:
ive just started a renovation project in mid devon, the cottage is 150 years old, water is supplied from a well, im looking to install a heating system, can any one recomend the way forward, and type of system i need, water presaure from the well is 2.5 bar, at the moment their is a tank in the loft that feeds a hot water tap their is a uv light in the system but its all in the roof spase with no room to work on it or matain it, what kind of system can i go for
Reply:
Paul, before choosing well equipment such as pump type, piping, tank, controls, we need to start by learning more about the well itself:
Where is the well located,
How far from the building
Well type: dug, bored, artesian, ?
Well depth
Well diameter
Well flow rate

Then we need an estimate of the daily water requirements.
Knowing these data we can decide if the well flow rate is adequate and we can choose a pump type (1 line jet, 2 line jet, submersible) and water pressure tank size and location.
...
Ask a Question or Search InspectApedia
Questions & answers or comments about things that impact the life of a well pump or water pump.
Use the "Click to Show or Hide FAQs" link just above to see recently-posted questions, comments, replies, try the search box just below, or if you prefer, post a question or comment in the Comments box below and we will respond promptly.
Search the InspectApedia website
Technical Reviewers & References
Click to Show or Hide Citations & References
Air in Drinking Water, Environmental Fact Sheet, New Hampshire Department of Environmental Services, 29 Hazen Drive, Concord NH 03301 - web search 07/14/2010 original source: http://des.nh.gov/organization/commissioner/pip/factsheets
/dwgb/documents/dwgb-3-18.pdf
Mark Cramer Inspection Services Mark Cramer, Tampa Florida, Mr. Cramer is a past president of ASHI, the American Society of Home Inspectors and is a Florida home inspector and home inspection educator. Mr. Cramer serves on the ASHI Home Inspection Standards. Contact Mark Cramer at: 727-595-4211 mark@BestTampaInspector.com
John Cranor is an ASHI member and a home inspector (The House Whisperer) is located in Glen Allen, VA 23060. He is also a contributor to InspectApedia.com in several technical areas such as plumbing and appliances (dryer vents). Contact Mr. Cranor at 804-747-7747 or by Email: johncranor@verizon.net
Kinetic water rams are described and demonstrated at waterram.com/faq.php
Water Fact Sheet #3, Using Low-Yielding Wells [ copy on file as /water/Low_Yield_Wells_Penn_State.pdf ] - , Penn State College of Agricultural Sciences, Cooperative Extension, School of Forest Resources, web search 07/24/2010, original source: http://pubs.cas.psu.edu/FreePubs/pdfs/XH0002.pdf
Smart Tank, Installation Instructions [ copy on file as /water/Smart_Tank_Flexcon.pdf ] - , Flexcon Industries, 300 Pond St., Randolph MA 02368, www.flexconind.com, Tel: 800-527-0030 - web search 07/24/2010, original source: http://www.flexconind.com/pdf/st_install.pdf
Typical Shallow Well One Line Jet Pump Installation [ copy on file as /water/Jet_Pump_Grove_Elect_Jet_Pumps.pdf ] - , Grove Electric, G&G Electric & Plumbing, 1900 NE 78th St., Suite 101, Vancouver WA 98665 www.grovelectric.com - web search -7/15/2010 original source: http://www.groverelectric.com/howto/38_Typical%20Jet%20Pump%20Installation.pdf
Typical Deep Well Two Line Jet Pump Installation [ copy on file as /water/Jet_Pump_Grove_Elect.pdf ] - , Grove Electric, G&G Electric & Plumbing, 1900 NE 78th St., Suite 101, Vancouver WA 98665 www.grovelectric.com - web search -7/15/2010 original source: http://www.groverelectric.com/howto/38_Typical%20Jet%20Pump%20Installation.pdf
Water Ace Jet Pump Installation Manual, instructions from Water Ace Pump Co., web search 08/28/2010, original source: http://www.waterace.com/pdf/R510%20R520%20and%20R100%20Jet%20Pumps%20Manual.pdf
Consumer hotline: 800-942-3343 - instructions for the installation and maintenance of
Water Ace shallow well pump Model R510 1/2 HP
Water Ace deep well pump Model R100 convertible 1HP and
Water Ace deep well jet pump Model R250 convertible 1/2 hp.
Water Supply & Drain Piping, Wells, Pumps, Water Supply Equipment
Access Water Energy, PO Box 2061, Moorabbin, VIC 3189, Australia, Tel: 1300 797 758, email: sales@accesswater.com.au Moorabbin Office: Kingston Trade Centre, 100 Cochranes Rd, Moorabbin, VIC 3189
Australian supplier of: Greywater systems, Solar power to grid packages, Edwards solar systems, Vulcan compact solar systems, water & solar system pumps & controls, and a wide rage of above ground & under ground water storage tanks: concrete, steel, plastic, modular, and bladder storage tanks.
CHEATING ON WATER TESTS Testing Water for Real Estate Transactions - make sure your water test is valid
CLOGGED DRAIN DIAGNOSIS & REPAIR - Is it a blocked drain or the septic system? - A First Step for Homeowners
WATER CONTAMINANT LEVELS & LIMITS - maximum allowable contaminants in drinking water
WATER TESTS for CONTAMINANTS - Water supply contamination Levels, wter testing procedures
WATER TESTING ADVICE - Drinking Water Testing Advice for home buyers home owners home inspectors
WATER TEST INTERPRETATION - Interpreting Drinking Water Test Results and Correcting Unsatisfactory Water
LEAD IN DRINKING WATER, HOW to REDUCE - Lead Contamination in Drinking Water: Testing & Correction - Advice
LEAD in WATER, ACTION LEVELS - Lead Pipe Problems/Advice, Lead Testing & Correcting Contamination from Lead Water Supply Lines/Entry Mains
WATER PUMP LIFE EXPECTANCY - Well Pumps: Life Expectancy of Water Pumps, how long should a water pump last? What affects pump life?
WELL LIFE EXPECTANCY - Life Expectancy of Wells & Water Tanks, how long should a water well and its components last?
WELL CHLORINATION & SHOCKING - Procedure for Shocking a Well to (temporarily or maybe longer) "Correct" Bacterial Contamination
Smart Tank, Installation Instructions [ copy on file as /water/Smart_Tank_Flexcon.pdf ] - , Flexcon Industries, 300 Pond St., Randolph MA 02368, www.flexconind.com, Tel: 800-527-0030 - web search 07/24/2010, original source: http://www.flexconind.com/pdf/st_install.pdf
Typical Shallow Well One Line Jet Pump Installation [ copy on file as /water/Jet_Pump_Grove_Elect_Jet_Pumps.pdf ] - , Grove Electric, G&G Electric & Plumbing, 1900 NE 78th St., Suite 101, Vancouver WA 98665 www.grovelectric.com - web search -7/15/2010 original source: http://www.groverelectric.com/howto/38_Typical%20Jet%20Pump%20Installation.pdf
Typical Deep Well Two Line Jet Pump Installation [ copy on file as /water/Jet_Pump_Grove_Elect.pdf ] - , Grove Electric, G&G Electric & Plumbing, 1900 NE 78th St., Suite 101, Vancouver WA 98665 www.grovelectric.com - web search -7/15/2010 original source: http://www.groverelectric.com/howto/38_Typical%20Jet%20Pump%20Installation.pdf
Water Fact Sheet #3, Using Low-Yielding Wells [ copy on file as /water/Low_Yield_Wells_Penn_State.pdf ] - , Penn State College of Agricultural Sciences, Cooperative Extension, School of Forest Resources, web search 07/24/2010, original source: http://pubs.cas.psu.edu/FreePubs/pdfs/XH0002.pdf
Water pressure tanks - how to diagnose the need for air, how to add air, stop water pump short cycling to avoid damage - water storage water pressure tank safety.
WATER PUMP REPAIR GUIDE an specific case offers an example of diagnosis of loss of water pressure, loss of water, and analyzes the actual repair cost
Water pressure tank failures & water pump short cycling diagnosis and repair
Water Supply & Drain Piping, water and drain pipe types, inspection, diagnosis, repairs, problem materials, clogging, etc.
Water Tests & Fees this water test fee schedule applies when testing is combined with other onsite building inspection services
CONTAMINANT CLASSES, in WATER & links to home buyer advice about water testing, drinking water, water supply
Books & Articles on Building & Environmental Inspection, Testing, Diagnosis, & Repair