Use of Chlorinators or Reverse Osmosis Treatment Systems for Contaminated Drinking Water

CHLORINATORS & CHARCOAL FILTERS - CONTENTS: Water treatment by using a chlorinator or chlorine injection system to remove bacteria, sulphur, odors

Water treatment equipment choices, pros and cons of each water purification method
Water treatment methods for contamination, bacteria, lead, minerals, etc.
Water treatment choices for odors, smells, sediment, cloudiness
Water treatment methods for hardness & mineral content
Choices of types of water treatment equipment

DRINKING WATER - EMERGENCY PURIFICATION - separate article
POST a QUESTION or READ FAQs about choosing, installing, maintaining & repairing chlorinators or RO (reverse osmosis) water purifiers and water treatment systems
InspectAPedia tolerates no conflicts of interest. We have no relationship with advertisers, products, or services discussed at this website.
Here we explain how to install, use, & repair or maintain drinking water chlorinators or chlorine injection systems or alternatively, reverse osmosis systems or RO systems as two options for correcting unsanitary or unsatisfactory drinking water.
Green links show where you are. © Copyright 2014 InspectApedia.com, All Rights Reserved.
Chlorinators with Charcoal Filters for Water Purification
This series of articles explains many common water contamination tests for bacteria and other contaminants in water samples. We describe what to do about contaminated water, listing common corrective measures when water test results are unsatisfactory. We include water testing and water correction measures warnings for home owners and especially for home buyers when certain conditions are encountered, with advice about what to do when these circumstances are encountered.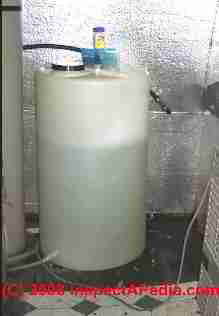 A typical very effective treatment system for water contaminated by a persistent source bacterial contamination involves the injection of chlorine into the water supply, a holding tank to permit sufficient exposure time and concentration for the chlorine to do its work, and a post-processing charcoal filter to remove the chlorine from the water as it leaves the system.
[Click to enlarge any image]
Besides bacteria what else will a chlorinator remove from drinking water?
Chlorine treatment water purification systems will also remove modest levels of sulphur, sulphur generating bacteria, and other odors.
If the water has a high level of sediment, pre-filtering may be necessary to avoid clogging the charcoal with debris. There is an operating cost as the charcoal filters need to be changed periodically.
Also see WATER TREATMENT EQUIPMENT DISINFECTION - separate article
OPINION: A water treatment specialist will often test your water at no charge in order to develop a profile of the contaminants or aesthetic contaminants in water and thus to recommend a specific water treatment system.
This "free water test" service is a great deal for building owners and buyers so long as they realize that the water treatment company wants to sell water treatment equipment.
Some of our readers indicate that they were mistrustful of calling a company that sells water treatment equipment to ask for advice. Although we have encountered a few aggressive sales people, we have never found a water treatment company professional who gave dishonest advice about what was found in drinking water and what water treatment options can be provided.
Only a very foolish water salesman would be dishonest about what's in the water, but some companies may be reluctant to outline all of the treatment alternatives. If you're in doubt have some independent water tests done before spending on a costly system. If we had to live with bacteria in our water supply, this would be our treatment system of choice.
More information on chlorine in water and in septic systems: see CHLORINE IN DRINKING WATER and also CHLORINE IN SEPTIC WASTEWATER.
Reverse Osmosis Systems for Water Purification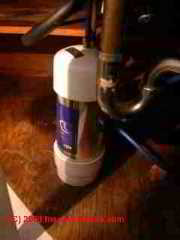 How does reverse osmosis water treatment work?
Reverse osmosis (RO) systems take advantage of the ability of water molecules to pass through a filter cellulose acetate semi-permeable membrane which at the same time keeps out many other (non-dissolved non-chemical) contaminants. "Semi permeable" means that the membrane is in effect an ultra fine filter whose openings pass water at a molecular level, leaving other larger molecules behind.
Water pressure (usually at 40 psi or more) forces water molecules through the membrane, leaving behind certain water contaminants including bacteria and sediment. Water on the output side of the filter has been treated or purified, depending on the capacity of the particular RO system.
Our photo ( left) shows a small point of use (POU) reverse osmosis water purifier installed below a kitchen sink. (Also notice that the corroded trap needs to be replaced.)
What contaminants do reverse osmosis water treatment systems remove?
RO filters themselves do not remove aesthetic contaminants such as dissolved chemicals, odors or bad tastes in the water supply. For this reason some reverse osmosis water treatment systems include additional stages of pre or post filtering to remove bacteria, chemicals, odors, tastes.
Reverse Osmosis Water Treatment System Clogging
Watch out for water high in bacterial contamination. Reverse osmosis systems are not usually recommended for water supplies that are high in bacterial contamination because bacteria build-up on the input side of the RO filter tend to block and clog the system.

Watch out: also for water supplies high in sediment, debris, chemicals, odors, or bad tastes. To avoid clogging the RO system a pre-filter to remove sediment may be needed, and to avoid chemical, taste, or odor complaints, a post-processing charcoal filter system may also be needed.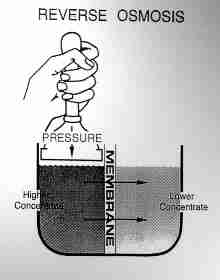 Reverse osmosis (RO) water purifiers (see sketch at below left) will remove nearly all water contaminants and also remove minerals from water leaving it soft. These systems do not discharge salt into the drain system, though they do discharge four gallons of waste water for every gallon of purified water produced. Because the design and capacity of various RO systems varies, only if a reverse osmosis system is registered and listed as a water purifier, can it be relied on to handle bacterial contamination in the water supply.
Disposal of Reverse Osmosis Water Purifier Concentrate
As it becomes high in contaminants, water on the input side of the RO filter is flushed to a disposal location.
See REVERSE OSMOSIS CONCENTRATE WASTE DISPOSAL for a discussion of the effects of disposing of reverse osmosis water treatment equipment wastewater - RO concentrate - into septic tanks and drainfields.
OPINION: this method works well for some contaminants, as a point-of-use system. RO wastes quite a bit of water and does not address some chemical contaminants.
We don't know (yet) which uses more discharge water - a water salt-based water softener or an RO system. That's because the quantity of water "wasted" by a reverse osmosis system depends on the quantity of water that is demanded from its output side.
Also see WATER SOFTENERS & CONDITIONERS for more details.
List of Principal Methods Used to Purify Contaminated Drinking Water when Camping or in an Emergency
Boil the water to make it suitable for drinking.
Bleach: Use chlorine (bleach, sodium hypochlorite) to purify the water. (see warnings just above). Permanent well water chlorination systems are discussed at CHLORINATORS & CHARCOAL FILTERS.
Chlorination: where electrical power and water pressure are present and the equipment is already installed, a chlorinator or water chlorine injection treatment system, usually combined with a charcoal filter for water treatment may be functional. See CHLORINATORS & CHARCOAL FILTERS for details.
Giardia in Drinking Water - a review of the health hazards & typical equipment costs for portable and whole house water treatment to remove Giardia cysts from drinking water
Iodine: Use Iodine tablets or a liquid tincture of iodine to purify the water for emergency use (see warnings just above)
Hydrogen peroxide may be used (maybe) to purify water for emergency drinking use. [The concentration and exposure time data are still needed for this application.]
Water purifying filters: Use a filter designed for water purification, particularly ceramic filters and silver-ceramic filters. See WATER FILTERS for a separate discussion of home water filters used for sediment, odors, etc.
Use a water purifying pump such as models sold by camping equipment suppliers to purify the water - typically these pumps use a ceramic or other filter
Use a water distiller such as a home or portable distillation unit (our photo just above/left shows a Sears® Kenmore home water distiller) (You'll need electrical power or a source of heat to distill water). This device processes about one gallon of water per cycle. We have been using this Sears Kenmore water distiller, model 5000 for more than fifteen years without a hitch. A disposable charcoal post-distillation filter is available for use in the drip spout of the unit - a potential source of contamination if it is not changed occasionally.
Reverse osmosis: use a Reverse osmosis water filtration system if water pressure is available or if a portable R.O. system is available. See REVERSE OSMOSIS WATER TREATMENT for details. RO treatment systems may work where there is no electrical power provided that you have water pressure, such as in some municipal water situations.
UV Lights - ultra violet light used for water sterilization - see UV -ULTRAVIOLET LIGHT TREATMENT
Vinegar is sometimes used as a vegetable wash and may be effective against some microorganisms in water - we have not yet found authoritative data on this application.
Mixed oxidants electrochemically generated from brine have been used for water disinfection
Halogenated resins have been used for water disinfection
Home Made & Expedient Water Sterilization Methods: Matthew Stein describes a variety of home-made, expedient, and partly effective water filters and water treatment methods in When Technology Fails. With plastic and a few sticks you can build a solar water sterilizer (solar water disinfection or SODIS systems).

Stein also explains that slow sand filters have been used for partially cleaning and treating water for a very long time. A crude home made charcoal filter will remove some odors, bad tastes, organic toxic chemicals, and radioactive fallout. Mr. Stein also describes sari water filters used in Bangladesh after flooding, but includes a critical warning that filtering water through cloth is by no means really safe.

Our favorite of his suggestions is using a plant to form a water collector and filter system, an idea which reminds us of native Americans who knew how to obtain water from desert barrel cactus. We enjoyed this book and provide this purchase link for it.
Basic water purification procedures that can be used in an emergency are described just below. If community or private wells are back in operating and providing water, do not assume that the water is sanitary and ok to drink until responsible authorities have said so. Even then, local water pipes in a building may be unsanitary and additional cleaning or disinfection may be needed.
More Reading
Green link shows where you are in this article series.
...
Frequently Asked Questions (FAQs)
No FAQs have been posted for this page. Try the search box below or CONTACT US by email if you cannot find the answer you need at InspectApedia.
Ask a Question or Search InspectApedia
Questions & answers or comments about choosing, installing, maintaining & repairing chlorinators or RO (reverse osmosis) water purifiers and water treatment systems
Try the search box just below or if you prefer, post a question or a comment in the Comments box below and we will respond promptly.
Search the InspectApedia website
Technical Reviewers & References
Related Topics, found near the top of this page suggest articles closely related to this one.
Click to Show or Hide Citations & References
Crystal Clear Supply provides portable ceramic water filter purifiers and portable reverse osmosis water treatment equipment - see http://www.crystalclearsupply.com/category_s/7.htm
Handbook of Disinfectants and Antiseptics, Joseph M. Ascenzi (Editor), CRC, 1995, ISBN-10: 0824795245 ISBN-13: 978-0824795245 "The evaluation of chemical germicides predates the golden age of microbiology..." -
This well-focused, up-to-date reference details the current medical uses of antiseptics and disinfectants -- particularly in the control of hospital-acquired infections -- presenting methods for evaluating products to obtain regulatory approval and examining chemical, physical, and microbiological properties as well as the toxicology of the most widely used commercial chemicals.
Potable Aqua® emergency drinking water germicidal tablets are produced by the Wisconsin Pharmacal Co., Jackson WI 53037. 800-558-6614 pharmacalway.com
Principles and Practice of Disinfection, Preservation and Sterilization (Hardcover)
by A. D. Russell (Editor), W. B. Hugo (Editor), G. A. J. Ayliffe (Editor), Blackwell Science, 2004. ISBN-10: 1405101997, ISBN-13: 978-1405101998.
"This superb book is the best of its kind available and one that will undoubtedly be useful, if not essential, to workers in a variety of industries. Thirty-one distinguished specialists deal comprehensively with the subject matter indicated by the title ... The book is produced with care, is very readable with useful selected references at the end of each chapter and an excellent index. It is an essential source book for everyone interested in this field. For pharmacy undergraduates, it will complement the excellent text on pharmaceutical microbiology by two of the present editors."
The Pharmaceutical Journal: "This is an excellent book. It deals comprehensively and authoritatively with its subject with contributions from 31 distinguished specialists. There is a great deal to interest all those involved in hospital infection ... This book is exceptionally well laid out. There are well chosen references for each chapter and an excellent index. It is highly recommended." The Journal of Hospital Infection.: "The editors and authors must be congratulated for this excellent treatise on nonantibiotic antimicrobial measures in hospitals and industry ... The publication is highly recommended to hospital and research personnel, especially to clinical microbiologists, infection-control and environmental-safety specialists, pharmacists, and dieticians."
New England Journal of Medicine: City Hospital, Birmingham, UK. Covers the many methods of the elimination or prevention of microbial growth. Provides an historical overview, descriptions of the types of antimicrobial agents, factors affecting efficacy, evaluation methods, and types of resistance. Features sterilization methods, and more. Previous edition: c1999. DNLM: Sterilization--methods.
When Technology Fails, Matthew Stein, Chelsea Green Publisher, 2008,493 pages. ISBN-10: 1933392452 ISBN-13: 978-1933392455, "... how to find and sterilize water in the face of utility failure, as well as practical information for dealing with water-quality issues even when the public tap water is still flowing". Mr. Stein's website is www.whentechfails.com/
Books & Articles on Building & Environmental Inspection, Testing, Diagnosis, & Repair
The Home Reference Book - the Encyclopedia of Homes, Carson Dunlop & Associates, Toronto, Ontario, 25th Ed., 2012, is a bound volume of more than 450 illustrated pages that assist home inspectors and home owners in the inspection and detection of problems on buildings. The text is intended as a reference guide to help building owners operate and maintain their home effectively. Field inspection worksheets are included at the back of the volume. Special Offer: For a 10% discount on any number of copies of the Home Reference Book purchased as a single order. Enter INSPECTAHRB in the order payment page "Promo/Redemption" space. InspectAPedia.com editor Daniel Friedman is a contributing author.

Or choose the The Home Reference eBook for PCs, Macs, Kindle, iPad, iPhone, or Android Smart Phones. Special Offer: For a 5% discount on any number of copies of the Home Reference eBook purchased as a single order. Enter INSPECTAEHRB in the order payment page "Promo/Redemption" space.