How to Find, Diagnose, Adjust or Repair the Water Pump Pressure Control Switch
POST a QUESTION or READ FAQs about well pump pressure control switch inspection, adjustment, installation, diagnosis, & repair or replacement
InspectAPedia tolerates no conflicts of interest. We have no relationship with advertisers, products, or services discussed at this website.
Well pump pressure control switch adjustment: This article describes How to Find & Adjust or Repair or Replace the Water Pump Pressure Control, what it looks like, where it is usually connected.
If you need to adjust water pressure at a building served by a private pump and well system, or if your well pump is acting badly, this pressure control switch may need adjustment or repair/replacement.
We also provide a MASTER INDEX to this topic, or you can try the page top or bottom SEARCH BOX as a quick way to find information you need.
WATER PUMP PRESSURE CONTROL SWITCH INSTRUCTIONS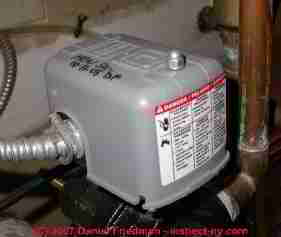 This is a typical Water Pump Pressure Control Switch, normally found mounted on piping at the water pressure tank such as in this Square D Pumptrol® Switch photo where you see a small gray-covered box with electrical wires coming in (power) and out (to pump) of it.
The pump pressure control switch, by being connected to the actual water piping in the building, senses the water pressure and when necessary, turns the water pump on.

The water pump pressure control switch either turns on the water pump directly, or (particularly when a submersible water pump is in use), this switch may operate a physically separate (usually wall-mounted) heavier-duty pump relay which turns on the water pump itself.
Well Pumps Controlled Directly by the Pressure Control Switch - when is a separate relay switch needed?
The well pump pressure control switch type shown here can be used to control well pumps wired either for 120V or 240V power supply, up to 15-amps. This switch serves both above ground jet pumps and smaller horsepower submersible well pumps.
For larger horsepower submersible well pumps that draw greater than 15A current, as we mentioned above, a separate heavy duty (higher ampacity capacity) pump relay switch is used to turn on and off the pump motor.
The pump pressure control switch senses changes in water pressure in the system and according to its cut-in/cut-out setting, that device in turn operates
the WATER PUMP RELAY SWITCH which in turn operates the well pump.
A Guide to Building Water Pressure by Adjusting or Repairing the Water Pump Pressure Control Switch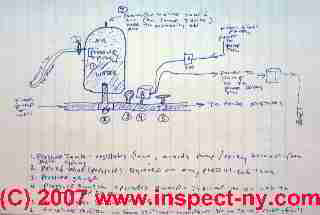 If the water pump "short cycle" is very short, clicking on and off, there could be a shortage of air in the water tank, or there could be a problem with the pump control pressure switch itself, or even a dirty and clogged water filter [photo] if one is installed on the system. Dirty water filters and other causes of rapid water pump on-off cycling are discussed

at CAUSES OF SHORT CYCLING.
These water pump short cycling problems happen with both in-building jet pumps and with in-well submersible pumps. It's trickier to notice a short cycling submersible pump since you won't hear the pump motor, but you will hear the pump relay clicking on and off, or you can see the water pressure gauge cycling up and down rapidly.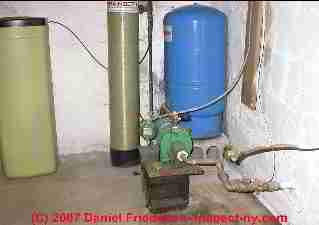 This photo shows a green-painted pressure control switch, mounted on the left side of the one line jet pump. You can see a copper tube that runs from the bottom of the pump pressure control switch bottom over to a fitting at the top center of the face of the jet pump.
[Click to enlarge this or any photo]
This tube is sensing system water pressure inside of the pump housing. The bottom of the pump (or water) pressure switch contains a rubber diaphragm that is pushed on by water pressure conducted to it through this tube. The diaphragm in turn operates the pump relay that turns the water pump on and off.
If the water supply is high in sediment often sediment will clog the pressure sensing opening at the bottom of the pressure control. We've tried cleaning out this orifice but it's never proven to be a lasting repair. If your pump pressure switch stops responding to changes in water pressure it probably needs to be replaced.
A defective water pressure control switch. Switch contacts can burn-up, or the opening into the switch which senses the water pressure in the system can become clogged with sediment or debris.

This usually shows up as failure of the pump switch to turn on or off at all, rather than short cycling. But the switch could be damaged or improperly adjusted, causing "short water pump cycling." Details about this switch are

at WATER PUMP PRESSURE CONTROL SWITCH

Water Pump Pressure Control Switch Tubing Problems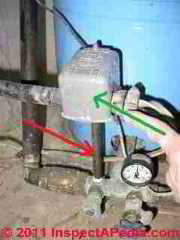 Technical note: Clogging of the Water Pump Pressure Control Switch if your water has a high level of silt, debris, or minerals, it's possible that the tubing or piping connecting the pump pressure switch to the pump or water piping (red arrow in photo at left), or the pump switch bottom orifice through which the pressure switch senses the water pressure in the system has become clogged.
The small diameter of this tubing and still smaller diameter of the pump switch orifice makes clogging easy if your well water is high in sediment or minerals.

A clogged water pump pressure control switch (green arrow in photo at left) will often fail to turn on the well pump at all, even though the pressure in the system has dropped below the water pump "cut in" pressure. Reader Jeff Crosby reported an example of this pressure switch clog problem:
[When our well pump kept short cycling and I was unable to get the well pump pressure control switch to work properly, ...] I ended up calling the pump service company to come over. There was an extreme amount of mineral buildup inside the pump where the copper tubing initially comes out to travel to the pressure switch.
I thought about checking that out but did not know how funny. There has always been an awl sitting on the pump base for the longest time.
One of their maintenance guys left it there long ago. Now I know why - ever since that date when they come do their yearly check up they knock out this sediment [using the awl to open the tubing so that the pressure switch can accurately sense the water pressure in the system]. -- Jeff Crosby
On rare occasions we can tap on the well pump control switch and it will begin working again, but not for long, and not reliably. Another water pressure control switch failure is the rupture of a rubber disk or "bladder" inside the switch itself. If you detect or suspect a defective pressure control switch, try replacing it with a new one.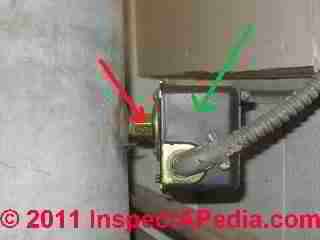 We see a similar problem affecting water pressure gauges on private water systems: debris or mineral deposits can clog the pressure sensing orifice on the water pressure gauge, causing it to fail to respond at all, or to respond inaccurately to changes in water pressure.
When we find a clogged water pump pressure switch or the tubing connected to it, or a clogged water pressure gauge, we replace those items. A well pump pressure gauge that does not respond to pressure changes is potentially unsafe as it could lead to excessive pressurization of the water tank and building piping.
Watch out: some pump pressure control switches may mount directly to a water pressure tank without an obvious 1/8" or 1/4" ID mounting tube. In our pressure switch photo at left the red arrow points to the mounting base for the pressure control switch and you'll see that this control was screwed right into the water tank at a threaded tapping.
But the pressure sensing membrane found on the bottom (or in this case on the left side in our photo) of the pressure control switch can still become damaged or the orifice that admits water (and pressure) is easily clogged. The effect of debris clogging at a water pump pressure control switch is the same regardless of whether or not a longer mounting tube is used to mount the switch to the water system.
Reader Question: we don't have the money to hire someone - how do we do pump switch adjustment ourselves
We dont have the money to hire some one to do this it is the well itself so how do i do it ourselves - Mike 7/29/12
Reply:
Mike:

Try reviewing the article above where the details of the water pump pressure control switch adjustment are described; if your switch does not match the one described then you just need to know the switch brand and model in order to go to the manufacturer to obtain the exact adjustment instructions.
Watch out: messing with a pump pressure control switch exposes live electrical connections - you can be killed if you touch live wires. Another catastrophe to avoid is setting the pressure too high, causing leaks or worse, a burst water tank that could injure anyone nearby.
How to increase both the water pump pressure control cut-in and cut-out pressure
Reader question:
I have a square d control. It cuts off at 40 psi and goes down to 20 psi before it comes back on which is to low when I am using one sprinkler. I want it to come on at 30 psi. I can't understand how to do that looking your directions. Pls help - John 5/19/11
Reply:
How to increase the water pump pressure control cut-in and cut-out pressure:

Take a look again at the instructions above that indicate which nut to turn in which direction to increase the well pump cut-in pressure (that's your 20 psi number) and cut-out pressure (that's your 40 psi number). You should be able to raise the cut-in pressure to 30 psi and you will probably want to raise the cut out pressure to 50 psi, provided that your pump can actually reach that number.
If the pump keeps running forever even AFTER you have turned off the water, then it is not capable of reaching 50 psi and you'll have to lower that setting to avoid burning up the water pump.

If the instructions are still too complicated to follow then you would be best off asking a plumber to change the settings for you. Just be sure the person you hire is familiar with well pump pressure control switches.
How to Identify the Brand or Model of Water Pressure Control Switch
Take a look at the embossed design (such as a Square-D) or look for label text as illustrated below.
Reader Question: Can you identify the manufacturer of this water pump pressure control switch on a mobile home?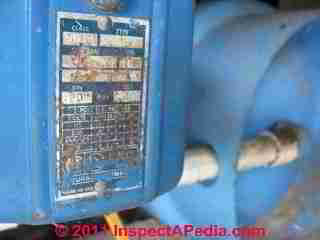 Your site has been so (extremely) helpful. Thank you for the information.
I am wondering if you, being familiar with water pump systems, know the manufacturer of this Pressure Control Switch? Only a few letters are readable (at the bottom), but I am hoping it is enough. - J.X.
Reply: Looks like a Square-D pressure control switch
Perhaps we can identify this pump pressure control switch from several things that are legible on the switch tag:
From the yellow wire in the photo bottom, most likely this is a 120V switch; so even though we know it's serving a mobile home it's not a 12V device. (Some mobile homes and motor homes use 12V pumps for managing their water supply.)
Second, the layout of the data tag and the remaining letters at the bottom of that tag look a lot like "SQUARE D COMPANY. You can just make out the letters ".... QUAR ..." that's a compelling argument for Square D.
[Click any of our images to see an enlarged, detailed version. ]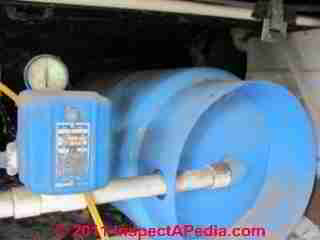 Finally, if you look at the switch cover you might see a "D" with a rectangle embossed around it, or best yet, you might see the company name and details on a label stuck to the interior of the switch cover.
In any event from the data tag on the switch, a standard 120V/240V pressure control switch made by Square D or similar manufacturers should be just fine if you need a replacement.
You might turn off electrical power, remove the control switch, and take it to your local plumbing supplier for a match. To remove the switch you may need to plug the piping where the switch senses water pressure or drain water pressure from the system.
In the sketch above the pump pressure control switch is item #4 - we show this switch in more details in photographs provided in this article series.
Pressure Control Switch Guides
...
Continue reading at WATER PUMP PRESSURE CONTROL ADJUSTMENT or select a topic from closely-related articles below, or see our complete INDEX to RELATED ARTICLES below.
Or see WATER PUMP PRESSURE CONTROL ADJUSTMENT FAQs
Suggested citation for this web page
WATER PUMP PRESSURE CONTROL at InspectApedia.com - online encyclopedia of building & environmental inspection, testing, diagnosis, repair, & problem prevention advice.
Or use the SEARCH BOX found below to Ask a Question or Search InspectApedia
...
Frequently Asked Questions (FAQs)
See WATER PUMP PRESSURE CONTROL ADJUSTMENT FAQs for additional diagnostic questions & replies.
Question: Why WON'T the pressure control switch CUT-ON at low pressure?
Water tank is set at 50/70 why wont it cut on at low pressure - it only clicks like missing its starting point .
We had points replaced last year but it still wont start (kick on) we had left home for a week and only cut water supply off to house and cut off hot water heater - now it wont work right - Barry.
Reply: Check for a clogged or blocked sensor on the pressure control switch - replace the switch assembly
Barry,
If your pressure switch is not turning the water pump on it could be a clog in the pressure sensor switch or its mount, or you need a new switch. Often debris in the water supply clogs the small orifice on the bottom of the pressure control switch. That orifice is intended to allow water (or air) pressure in the water piping to press against a diaphragm that operates the pressure control switch.
In sum, if your prior repair replaced just the internal points assembly in the pressure switch, the switch may be old enough that its sensor is clogged.
Question: why does our water tank sometimes not fill up properly?
May I ask a Well Question as my Water Well Repair man is stumped. Our Well is a gusher. No water level issues. The Well Pump is working inconsistently.
For example, our 5,000 gallon Storage Tank will be half full and the Well Pump will not fill the tank. I turn the Well Pump off then ON right away and it works again. As I use the water in the tank it will pump just fine for days then, days later, I will check the tank.it is half full. I turn the Well pump on and off and it starts up again.
My Well repair man replaced the PUMP SAVER in the electrical box. Still having this issue. It did not resolve it. Our Well Pump is only 4.5 years old. We replaced the Float Value about 4 years ago. The Booster Pump is 4 years old. So everything is fairly new. We live in California in a mild climate. No snow, no freezing. Any thoughts/suggestions would be gratefully appreciated Y.A. 11/14/2014
Reply: not sure, but check the pressure control switch first - but you may have a well flow problem
A competent onsite inspection by an expert usually finds additional clues that would permit a more accurate, complete, and authoritative answer than we can give by email alone. You will find additional depth and detail in articles at our website.

That said I offer these comments: I was  a bit baffled too, and I'm not sure what's going on. But I think an important key is your observation that switching the pump off and immediately back on seems to cure an intermittent problem.
From that I suspect a problem with the pressure control switch. The problem could be electrical, in the switch itself, or more likely in the pressure sensor component of the switch. If debris clogs the tiny opening that lets the switch sense water pressure the switch may not respond properly. Switching it on and off can be enough of a mechanical disturbance to get it running again.
Next time you see this problem, before turning power on and off, try just tapping on the pressure switch. Leave its cover on (shock hazards), just rap on the exterior of the box.

If the switch starts and runs normally for a while we may be on to the problem.
See WATER PUMP PRESSURE CONTROL REPAIR or WATER PUMP PRESSURE SWITCH INSTALL / REPLACE
Watch out: about your comment that you observe the pressure tank just half full. The water level in a pressure tank indeed will be below "full" if users stopped running water before pressure in the tank fell below the cut-in pressure. But if you keep running water and pressure falls to zero and the pump does not turn on, then indeed there is a control or switch problem
Also, to be clear, water pressure tanks are never completely full of water. That condition would lose the air charge, the tank would not work properly and the pump would short cycle - that's a waterlogged pressure tank.
Watch out: The real problem may be lack of water in the well. Something you wrote makes no sense to me. If your well is a "gusher" with no water quantity or flow problems, it would be, well frankly, bizarre to have installed a 5000 gallon water pressure tank. And on a "gusher" well you would probably not need a pump saver. Those components are things we associate with a water well with very low flow or recovery rates.
In such circumstances the installer installs a very large water storage tank and sets up the system to draw water from the well very slowly (or not at all depending on well condition) so the large water storage tank is what assures a ready water supply to the building, not the well itself.
In such circumstances, even a small change in the water table or aquifer supplying the well could mean loss of well water and loss of water in the system - seasonally or longer.
Reader follow-up:
When I mentioned TANK – I meant water Storage Tank, not pressurizer tank. We have A LOT of landscaping and pump water into a 5,000 gallon storage tank with a float value. Our pressurizer tank is the normal size. We only use our Well water for landscaping, not our house.
Reply: got it. Thanks for the clarification; let me know what happens when you mess with the switch. I forgot to mention that the two common clog places are at the base of the switch itself and in the small diameter tube or pipe that is used to carry water and pressure to the switch base. Typically we'd replace both of those parts if we thought that was the problem. The risk of debris clogging of the pressure switch is greater for wells that deliver water with sediment.
Question: Water Pump Won't Stop Running
(May 31, 2011) Rico Zambrano said:
my pump keeps running and wont shot off, I have good water pressure.
(Apr 25, 2012) Ernie Parsons said:
I live in the North (Nunavut) and our water is supplied by truck and held in a 700 gal. tank. Sometimes when it storms and the trucks fall behind schedule and we run out of water. The problem is when this happens the pump continues to run and if we don't catch it quickly it heats up and ruins the impeller centre or the bearing. My question: is there a shut off I can install on the pump or water line that will shut the pump off when the tank is empty.
Reply:
Rico:
If your water pump keeps on running and won't shut off,
1. TURN IT OFF manually so you don't burn up the pump motor.
2. Then diagnose the trouble, starting at
Ernie,
Yes there are more sophisticated water pump controls with sensors that can shut off the pump it it's pumping air. Typically these work by monitoring the current draw of the pump, the pump motor temperature, or actual water flow.
See WATER PUMP PROTECTION SWITCH for details.
Question: Water PRESSURE falls TOO LOW before Pump Cuts On
(Oct 26, 2011) Ginter said:
the pressure in the pressure tank is about 40 psi before any water is used then once water is used it will slowly drop all the way down to 5 psi before the pump kicks in. We were told it's supposed to kick in at 20 psi how do we adjust that the pump kicks in at 20 psi and does this indicate that the well is running dry? (we have a jet pump)
Reply:
Ginter,
Particularly if the pump used to kick in at 20 psi but no longer does, and if no one messed with the control, I don't think adjusting the pressure control switch is the right approach.
Before adjusting the control I'd check that the gauge is reading properly - tap gently on it or even replace it.
The drop to 5 psi water pressure before the pump kicks in sounds like a pressure control that is not turning on when it should, perhaps because its pressure sensing port is debris clogged. Try tapping the control when the water psi is below 20 to see if the switch clicks on. Or try replacing the switch and its mounting tube.
Details about how to diagnoe and fix or replace a pressure switch are at WATER PUMP PRESSURE CONTROL REPAIR
Question: NO Water & PUMP WON'T RUN
(Dec 26, 2011) ray said:
no pressure and pump will not run could it be the pressure switch
(Jan 10, 2012) Corey said:
I lost water when I run water in the bath tube,I just replaced me points and the check valve. What do u think the problem is know?
Reply:
Ray & Corey:
if your well pump is not turning on, check to be sure that there is voltage delivered to the switch and to the pump;
To see if the problem is that the pump switch wont' turn on, if the system pressure is below the cut-in pressure on your switch then the switch contacts should close and turn on the pump;\
you can briefly manually close the pump relay contacts in the pressure control switch IF you are able to avoid getting shocked or electrocuted (there are live contacts under that switch cover)
Before replacing the switch, you might want to check out the diagnostic procedures at
WATER PRESSURE LOSS DIAGNOSIS & REPAIR
Question: LEAK at pressure control switch for the water pump
(Feb 21, 2012) gary said:
have a well for the first time, yesterday saw a leak where a thin rubber hose (like a gas line on a mower) connects to the pressure switch. Cut a piece of the hose off and reattached thinking it was a split in the hose but it kept leaking. It has a nipple on the the bottom of the pressure switch that seems to be plastic ? Not knowledgable about these at all but work on my cars and mower all the time along with running electrical basics so I`m not scared to do it but do I need to replace the whole switch or is that part on the bottom the only thing ? Its a trailer cottage up north but water sure is handy to have ! Appreciate any help.
Reply:
Gary, the leak you describe is probably at a tube that allows the pressure switch to sense water pressure, thus controlling turning the water pump on and off. if the leak can be repaired by gently tightening the fittings at either end try that. If the leak is in the tube itself or its fittings won't stop leak then those parts need to be replaced.
In that case you'll need to turn off the pump, drain pressure from the system, remove the parts, stop by your local plumbing supply house and show them what you've got so that can obtain easily-installed repair parts.
Details are at
Question: water pressure seems to go away during a shower unless I run more water at another fixture
(Mar 6, 2014) Roy said:
At times when I am in the shower, I need to get out flush the toilet to get the water back to the shower, or stand there for 1 min and wait...any suggestions
Reply:
(Mar 6, 2014) (mod) said:
Roy, this situation sounds odd but I can guess at a possible explanation: if your water pump pressure control switch is sticking - not responding properly to pressure drop, the pressure may have to fall still further below the cut-in level before the pump switches "on".
This often happens if there is silt or debris in the water - conditions that can clog the small diameter pipe on which the pressure switch mounts, or the small orifice at the switch bottom through which water exerts its pressure.
Try replacing the pressure switch and its mounting tube.
Question: water coming out of the air volume control
(Mar 8, 2014) Jeremiah said:
Hello, The air volume control Type L on my water tank releses a steady stream of water out of a little hole on the bottom as soon as the pump cuts off. When the pump cuts back on the stream of water stops until it reaches the psi of your choice. It doesn't matter if it is 40-60 30-50 20-40 it still does the same thing. I just bought a new air volume control type l this morning and had the same results. I own a bladderless galvanized tank. I just bought a Myers HCM 150 a month ago because the old one stopped running. I haven't had running water ever sense I replaced it. The pump seems to work fine. I just can't figure out why that air volume control keeps releasing water out of the hole in the bottom. Thank you.
Reply:
You are describing an air volume control used on a bladderless water pressure tank. It sounds as if the internal valve assembly of the valve or the float assembly that projects into the water tank has failed. The repair is to replace the AVC control.
Also It's possible that you've installed the wrong control type; the models for deep wells vs. shallow wells are different.
See AIR VOLUME CONTROLS, WATER TANK for details.
...
Ask a Question or Search InspectApedia
Questions & answers or comments about well pump pressure control switch inspection, adjustment, installation, diagnosis, & repair or replacement.
Try the search box just below, or if you prefer, post a question or comment in the Comments box below and we will respond promptly.
Search the InspectApedia website
Technical Reviewers & References
Click to Show or Hide Citations & References
Pumptrol® Pressure Switch Adjustment, Square D, Schneider Electric Corporation, 8001 Knightdale Blvd., Knightdale< NC 27545 1-888-778-2733 - Square D Technical Library, web search 07/24/2010 original source: http://ecatalog.squared.com/techlib/docdetail.cfm?oid=09008926800a93be
9013 Pumptrol® Commercial Pressure Switches Type F and 9013 Commercial Pressure Switches Type G, Catalog, SquareD, Schneider Electric Industries SAS, Schneider Electric Industries SAS, web search 02/23/2011, original source: http://ecatalog.squared.com/pubs/Machine Control/
Pressure-Float-Vacuum Switches/Pressure Switches-Water and Air/9013CT9701.pdf
Square D is a brand of Schneider Electric.
Class 9013 Square D Commercial Pressure Switches: Water Pump Pressure Control Switch Class 9013, Type F, G, Manual, Square D Company, 8001 Highway 64 East, Knightdale, NC 27545-9023, USA, (919) 266-3671, www.squared.com, web search 02/24/2011, original source: stevenengineering.com/tech_support/PDFs/45COM.pdf. Quoting:

The Type FSG, FYG, FRG - PUMPTROL® Water Pump Pressure Switches are used to control Water Pump Pressure Switches are used to control
electrically driven water pumps and have the following features:

The Type FSG is the standard water pump switch, suitable for all types of pumps: jets, submersible,
reciprocating, etc.
The Type FYG is designed to meet higher horsepower and pressure requirements.
The Type FRG is reverse acting: the contacts open on falling pressure.
All are diaphragm actuated.


The Type G - PUMPTROL® Commercial/Light Industrial Pressure Switch is used to control electrically driven water pumps and air compressors. It has higher electrical ratings for direct control of motors in pump and compressor applications. The Type G switch is diaphragm actuated and has contacts that open on rising pressure.
Thanks to reader J.H. for describing his process of tracking down well pump short cycling to a well piping leak - February 2011.
Access Water Energy, PO Box 2061, Moorabbin, VIC 3189, Australia, Tel: 1300 797 758, email: sales@accesswater.com.au Moorabbin Office: Kingston Trade Centre, 100 Cochranes Rd, Moorabbin, VIC 3189
Australian supplier of: Greywater systems, Solar power to grid packages, Edwards solar systems, Vulcan compact solar systems, water & solar system pumps & controls, and a wide rage of above ground & under ground water storage tanks: concrete, steel, plastic, modular, and bladder storage tanks.
Smart Tank, Installation Instructions [ copy on file as /water/Smart_Tank_Flexcon.pdf ] - , Flexcon Industries, 300 Pond St., Randolph MA 02368, www.flexconind.com, Tel: 800-527-0030 - web search 07/24/2010, original source: http://www.flexconind.com/pdf/st_install.pdf
Typical Shallow Well One Line Jet Pump Installation [ copy on file as /water/Jet_Pump_Grove_Elect_Jet_Pumps.pdf ] - , Grove Electric, G&G Electric & Plumbing, 1900 NE 78th St., Suite 101, Vancouver WA 98665 www.grovelectric.com - web search -7/15/2010 original source: http://www.groverelectric.com/howto/38_Typical%20Jet%20Pump%20Installation.pdf
Typical Deep Well Two Line Jet Pump Installation [ copy on file as /water/Jet_Pump_Grove_Elect.pdf ] - , Grove Electric, G&G Electric & Plumbing, 1900 NE 78th St., Suite 101, Vancouver WA 98665 www.grovelectric.com - web search -7/15/2010 original source: http://www.groverelectric.com/howto/38_Typical%20Jet%20Pump%20Installation.pdf
Water Fact Sheet #3, Using Low-Yielding Wells [ copy on file as /water/Low_Yield_Wells_Penn_State.pdf ] - , Penn State College of Agricultural Sciences, Cooperative Extension, School of Forest Resources, web search 07/24/2010, original source: http://pubs.cas.psu.edu/FreePubs/pdfs/XH0002.pdf
Books & Articles on Building & Environmental Inspection, Testing, Diagnosis, & Repair
<
...