Water Pump Controls
A Photo-Guide & Dictionary of Water Pump & Well Controls & Switches

WATER PUMP CONTROLS & SWITCHES - home - CONTENTS: What are the controls, switches, valves found on well water tanks and well water pumps, what do they do, how are they repaired?What are the functions of the well water pump pressure control switch, water tank relief valve, water tank gauge, water pump relays, water tank valves. Well pump & water tank diagnosis & repair procedures
POST a QUESTION or READ FAQs about how to troubleshoot problems with water pump controls, how to repair or replace pump controls such as pressure control switches, check valves, foot valves, and air volume controls
InspectAPedia tolerates no conflicts of interest. We have no relationship with advertisers, products, or services discussed at this website.
Well Pump & Water Pump Controls:
This article describes and identifies the switches, controls, and safety devices used on water tanks and water pumps such as the pump pressure control switch, pump motor relays, water tank relief valve, water tank pressure gauge, water tank air volume control, and water tank air valve.
Green links show where you are. © Copyright 2015 InspectApedia.com, All Rights Reserved.
A Dictionary of Water Pump & Water Tank Controls, Switches, & Attachments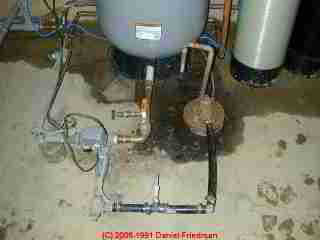 This article uses sketches and photographs to assist in locating and identifying all of the controls and switches found on residential water supply systems including the well, water pressure tank, water pump, and their associated valves and devices.
We also provide maintenance and repair and emergency water shutoff tips throughout these descriptions.
How to Identify Water Well, Pump, & Tank Components & Switches
In addition to the individual well, pump, and tank component photographs provided in the article below, our photograph at left has a number easy-to-identify water system components that happen to all be in one place:
The Well Casing itself is visible at the right of the photo, in the floor, to the right of the yellow shutoff valve
The black plastic well piping leading from the well casing top to a connection to galvanized piping which then passes by the pressure control switch to a "tee" where water can flow both into the pressure tank bottom (to the right at the tee) and into the building water supply piping (to the left of the tee)
A well casing vent can be seen as the vertical copper pipe which forms an upside down "U" shape and is connected to a fitting on the cover of the well casing. This well vent permits air into the well during water draw-down during pump operation.
A water treatment chemical connection, probably from a chlorine injection system (this well water is probably contaminated with bacteria) can be seen as a clear plastic small diameter tube which is fed through a gray plastic tee in the black plastic well piping that connects the well itself to the galvanized pipe leading to the water tank and house supply piping. At the upper right in the photo se see two treatment tank bottoms (black and white smaller diameter tank-like objects partly shown).
Well pump wiring is also visible: twisted wires can be seen entering the well casing cap at the 1-o'clock position on the cap - so we know that this water system uses a submersible (in the well) water pump.
A water softener or other water treatment system is probably installed besides a chlorine injection system, since we see in the photo's upper right the bottom of two treatment tanks, and because in the upper left of the photo we see a somewhat larger diameter clear plastic tube running right to left and probably serving as a backwash drain tube for a water softener or other water treatment device
Water on the floor around the water tank and equipment looks like more than we'd find from simple condensation drips - we suspect there's a leak somewhere or a basement water entry problem that needs to be corrected.
NO RELIEF VALVE is visible in this photo - one should have been installed and may be missing. This is a safety defect and in some jurisdictions a plumbing code violation.
Guide to Identification of the Water System Components Shown in the Page Top Sketch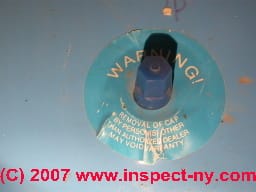 The page top sketch is expanded by detailed photographs as we explain each of the components and controls of wells, pumps, and water tanks. In our sketch (sorry the author is a technician but not an artist), you can identify the basic components of a private well system (listed next) but as you'll see in our detailed articles and photos which follow, these components are not always located where they're as easy to spot and name as in our drawing.
Air valve (Label #7 in the page top sketch and shown in the photo at left) or "Schrader valve" (looks like a tire valve). The water tank air valve shown in this photo is one that you should not normally have to use as it's installed on a captive air or bladder type water tank.

On water tanks that do not use an internal bladder, the air valve, or Schrader valve, used to add air to the water tank can be seen in this photo. Details are at TANK AIR INLET VALVE.
At WATER TANK AIR, HOW TO ADD we discuss adding the right amount of air to a non-bladder steel or glass-lined well tank.

And at WATER TANK BLADDER PRESSURE ADJUSTMENT we discuss fine tuning the pump pressure control switch to work perfectly with the exact air pressure pre-charge in a bladder type well tank.


Air volume control (Label #6) and copper or plastic tube connecting the AVC to the water pump or a fitting nearby.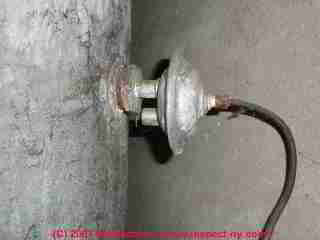 An air volume control valve or device is not present on "captive air" bladder type water tanks - this control can take several appearances. Here is a photo of a different type of water tank air volume control.
Details on using and repairing water tank air volume controls are at WATER TANK AIR VOLUME CONTROLS
Check Valves on water piping, well pumps, wells. Shown below.

Check valves prevent back-flow of water through piping for any of several reasons such as preventing loss of well pump prime by a check valve located at an above-ground water pump or at the water pressure tank - see CHECK VALVES, WATER SUPPLY

Electrical Power (Labeled SW in the sketch at page top) - Electrical switch at the water pump. See WATER PUMP ELECTRICAL SWITCHES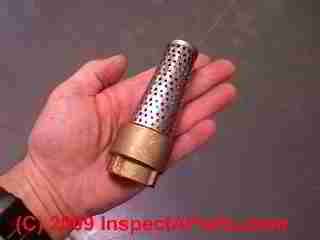 Foot Valves on well piping are located on the bottom of the well piping, inside the water well. The foot valve helps prevent loss of prime in the well pump and piping system when the pump stops running - see FOOT VALVES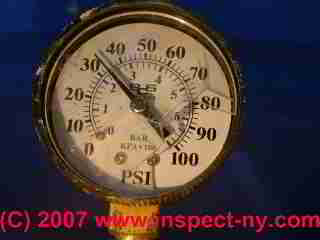 Gauge (Label #3) - Water tank pressure gauge. The water pressure gauge on home water systems is one of the most helpful and simple devices used in diagnosing poor water pressure and pump, well, or pump control problems.

This gauge has broken cover and needs replacement. See WATER TANK PRESSURE GAUGE for water pressure gauge explanation and repair advice.

We discuss gauge problems with air or water pressure gauge readings on water tanks at How to Read Water Tank Air Pressure Accurately


Piping (Labeled "from pump & well" at left) - Well piping bringing water from the well to the water pressure tank and building. See WATER SUPPLY & DRAIN PIPING

Piping (Labeled "to house fixtures" at right )- Building water supply piping a main water line leaving the water pressure tank and bringing water to the building and its fixtures.
See WATER PIPE CLOG DIAGNOSIS and WATER PIPE CLOG REPAIR
Pitless Adapter (shown in sketch below): the pitless adapter provides a water-tight connection that permits the well piping to pass out through the side of a round steel well casing.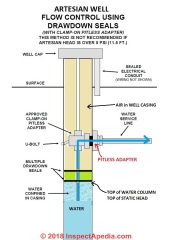 Our illustration (above left) shows a low-pressure well spool using a clamp-on pitless adapter in a design suitable for artesian wells whose head pressure is equal to or less than 5 psi (a head of 11.5 ft.) - courtesy Michigan DEP.
We illustrate and discuss the use of pitless adapters at PITLESS ADAPTER. Also see
Low Water Cutoff for the Well Pump - Many sources, including the Penn State School of Forest Resources recommend installing a low water cutoff device to protect a well pump that has to operate in an inadequate or low-yield well. That resource describes an electrical low-water cutoff switch.
A low water sensing device to protect a well pump may be installed in an intermediate water storage tank, for example. If your well pump has stopped running and an electric low water cutoff switch is installed you'll want to check that the switch is working properly.
Details about electric and other low water cutoff devices to protect the well pump from damage are described in detail at WATER PUMP PROTECTION SWITCH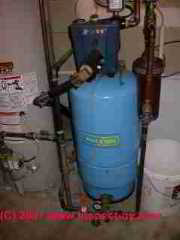 Pump- Water pump either at or close to the water pressure tank or located separately in a well pit (not shown in this sketch) or in the well itself (shown as pump at far center right in sketch at the top of this article ).
The water pump shown in this photo is installed right on top of the water tank and it is easily identified as a "one line jet pump" since we see only a single pipe entering the pump from the well - the black ABS piping coming into the pump from its lower left.

The outlet of this one line jet water pump is the copper pipe at upper right of the blue pump assembly.
If you do not see a water pump anywhere in the building, and if the property does not use an outdoor well pit or well house, then your well water pump is probably a submersible unit.

Details of the different types of water pumps such as one line jet pumps, two line jet pumps and submersible water pumps are described in detail at WATER PUMP TYPES & LIFE EXPECTANCY

Relay Switch - Pump relay (Drawn as box at right center in sketch) turns on and off a higher-voltage water pump such as some submersible pumps (not present on all water systems).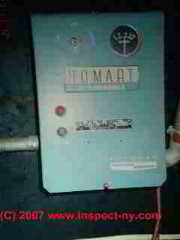 The water pump relay switch is a heavy-duty switch that turns on and off a submersible water pump. Some lower ampacity submersible well water pumps may be switched on and off directly by the pump pressure control switch.)
Shown here is a Homart submersible well pump relay switch. You can see a Gould™ submersible water pump relay switch mounted on the wall in the photograph below titled Tank (Label #1) - water tank.
For details about the water pump relay switch, its use, inspection, and repair, See WATER PUMP RELAY SWITCH

Relief Valve (Label #2) - pressure relief valve on the water tank.

Water tank relief valves (red arrow in photo) were omitted by lots of plumbers installing pump, tank, and well systems, but most plumbing codes and local codes require a pressure relief valve on any tank which contains something under pressure, including a home water tank.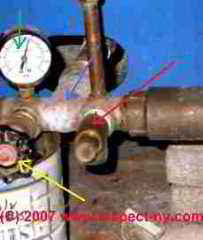 Should the water tank rupture, even at fairly low pressures, a bystander could be hurt or even killed.
This happened to a plumber in New York state, making pressure relief valve believers out of plumbers in the area.
See WATER TANK PRESSURE RELIEF VALVE
Shutoff (Label #5) - Main water shutoff valve.
A main water shutoff valve, in this case the blue lever labeled "WATER" with white tape is shown to the left of the pressuregauge and pressure tank drain valve in our photograph (white arrow).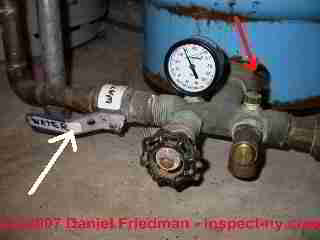 Details about water shutoff valves can be found at MAIN WATER SHUTOFF VALVE

Switch, pressure (Label #4) - Water tank and pump pressure control switch.
The well water pump pressure control switch is the "brain" of a home pump and well system, sensing the water pressure in the building and controlling the turn-on (at low pressure or "cut-in" pressure) and turn-off (at high pressure or "pump cut-out" pressure) of the water pump itself.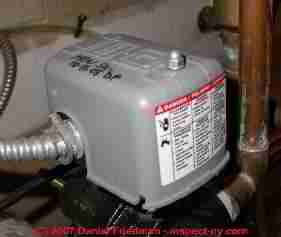 All home water pumps use some type of pressure control switch to turn the water pump on and off.
See WATER PUMP PRESSURE CONTROL SWITCH for details.

The detailed, step by step procedure for inspecting and adjusting the water pressure control switch is discussed in detail at ADJUST PUMP PRESSURE CONTROL.
Some well pump pressure control switches incorporate a WATER PUMP PROTECTION SWITCH that may have to be manually re-set.

Tailpiece - in the well: The tailpiece is an extension on the bottom of well piping (blue) in our drawing at left.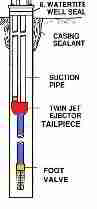 When the well pump's capacity is known to exceed the flow rate of the well, a tail pipe, tail piece, or low water cutoff control is installed to protect the pump from damage such as that caused by well pump cavitation or motor overheating.
Details about this component are at WELL PIPING TAIL PIECE.
Tank (Label #1) - water tank: The water pressure tank showing air in the upper portion and water in the lower portion of the tank. The water pressure tank in most buildings has the job of smoothing the pressure and flow of delivery of water to the building.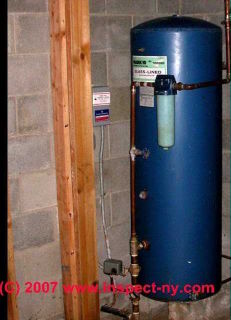 At a property whose water well has very limited recovery rate or flow rate, the water tank may be larger, or there may be several of them installed. In this case the water tank is also storing a buffer quantity of water for use in the home so that the poor well delivery rate does not directly affect the occupants in the building.

Details are at WATER TANK TYPES: WATER, OIL, EXPANSION, ALL. At WATER TANK AIR, HOW TO ADD we discuss adding the right amount of air to a non-bladder steel or glass-lined well tank.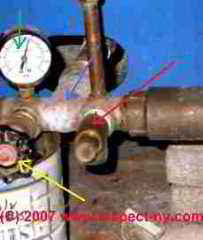 Tee (Label #2) - Bronze tee and water tank pressure relief valve (not always present, but a relief valve should always be installed - add one if it's missing.)
In our photo abov e you can see the bronze water tank tee (blue arrow) attached to the bottom of a water tank, and providing a plumbing connection point for a water tank gauge (green arrow), pressure relief valve (red arrow), and a tank drain valve (yellow arrow) all mounted in this photograph.
Detailed descriptions of individual water system parts and controls, valves, switches, pumps, piping, etc., how they work, how to diagnose, repair, or replace them are provided in the remaining chapters of this article and are listed just below.
Readers of this document should also see WATER PUMP REPAIR GUIDE an specific case which offers an example of diagnosis of loss of water pressure, loss of water, and analyzes the actual repair cost.
If your building has water pressure problems, see WELL WATER PRESSURE DIAGNOSIS.
Readers whose wells simply run out of water should also see WELL FLOW TEST PROCEDURE and see WELL YIELD IMPROVEMENT.
Continue reading at WATER PUMP PRESSURE CONTROL or select a topic from the More Reading links shown below.
More Reading
Green link shows where you are in this article series.
...
Frequently Asked Questions (FAQs)
Question: my well pump starts "skipping" (short cycling) at the cut-out pressure.
When my pump reaches the shut off point, it starts skipping......stuttering, then shuts off. I thought maybe the water filter was dirty so I changed it. The pump still stutters. I know ts cannot be good for the points. Any suggestions? Thank you for your time - S.D., Florida
Reply: things to check when the well pump chatters or skips at the top end of the pump pressure cycle
A competent onsite inspection by an expert usually finds additional clues that help accurately diagnose a problem with a well pump whereas by email our reply may be more of a "guess". That said, here are some things to consider:
If the pump cut-off pressure is just a bit too high the pump may be having trouble reaching that level. One can diagnose this by setting the cut-out pressure down just a few (say 3) psi and checking to see if that affects the pump cycling problem.
If water is running in the building at a fast enough rate the pump may not quite be able to reach its cutoff pressure - try making sure that no plumbing fixtures are running when you check out the system again
A pump pressure control switch whose orifice (the opening through which the switch senses water pressure) has clogged or become partly clogged by debris will cause odd pump cut-in or cut-out pressures. If your well water has a high level of dirt or sediment or your piping is sending rust crud into the water system this may be the cause. A "fix" is usually to replace the pressure control switch as well as the (typically) 1/8" pipe on which it mounts.
Other possible problem sources that cause a pump to chatter or cycle at the end of the pumping cycle:
A pump that is at or near end of its life, has wear, a damaged impeller, or similar problems may have trouble reaching cutoff pressure
A dirty or burned pump relay switch could be the problem
A leaky well pipe or water pipe might be leaking just enough that the pump has trouble reaching cut-out pressure. If this is the case you might see water pressure dropping on the tank gauge after the pump has stopped and when you are sure no plumbing fixtures are running.
Let us know what you find - what we learn will help other readers diagnose and fix well and water pump problems.
Question: How to wire up my well pump switch to run when the rainbird water computer turns on
I have a rainbird water computer that I need to switch on a pump at the same time that it opens the electric water tap. Pump uses 220V so I need to get some relays. How do I wire these up? - Godfrey 11/7/11
Reply:
Geez Godfrey,

I don't think I quite understand the question. Do you have the Rainbird water computer instruction and wiring guide? Or can you tell me the model number so we can look for those instructions as a starting point?

At least some of the Rain Bird timer systems - the ones we looked at, do not ask for a direct wired connection to a well pump. The timer is independent, and simply opens a valve that allows water to flow into an irrigation or other watering system. In general, if you have a water pump and pressure tank set up those components will automatically turn on the pump in response to a drop in system water pressure, without having to do extra control wiring at all.
If you don't have the instructions for your particular Rain-Bird equipment, contact Rain Bird Corporation at 6991 East Southpoint Rd., Tucson, AZ 85756, Tel: (520) 741-6100, or at 970 West Sierra Madre Ave. Azusa, CA 91702, Tel: (626) 812-3400 - the company's online store.rainbird.com provides links to manuals and documents for their equipment.
Question: What size of well pump pressure control switch should I use?
How does one know which pressure switch to use? a 20/40, 30/50, or a 40/60? I have a 30/50 and would like to use a 40/60. Would this damage my system or just give me better water pressure? - Steve B. 5/12/12
Reply:
Steve. you'd select a water pressure switch among the three choices you list based on a balance between the desired pressure in the home (taller home, long piping runs benefit from higher pressure at the tank), and the capability of your water pump. Typically you can use any of the three without a problem, as long as you make sure that your pump is able to reach the cutoff pressure. If it cannot, but you're close, you can adjust the pressure control switch as needed. A safe bet is the 30/50 switch.
Question: my new water pressure tank came with just a single outlet fitting at the tank bottom - it does not match my old water tank controls and connections - photos of water tank cross unit or "tank tee"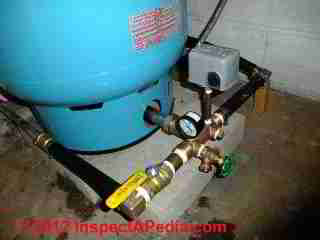 Our photo (at left) shows a water tank cross unit installed on a home in Two Harbors MN. This installation lacks an important safety device - a pressure relief valve. The installer told us he sometimes installs the relief valve inside the well to avoid flooding the building - an unsafe practice because 1. you can't see the valve to know that it is leaking and becoming unsafe and 2. in this case he forgot to do so, leaving this system unprotected.
I am replacing a tank with bad bladder with a new bladder tank. Unbeknownst to me, there is some difference in the set up of the 2 tanks.
The existing tank has the source going directly in the tank (with pressure switch and brass valve inline) and the feed or output is from a separate pipe output fitting in the tank, and the pressure gauge is screwed in another fitting of the tank.
The new tank has only 1 connection at the bottom of the tank, with no separate output fitting or gauge fitting.
Directions with new tank outline using a "tank cross unit"? That shows both the source and feed pipes going into the cross unit which has a pressure switch mounted.
No doubt that scenario allows the use of just the single tank connection for both source and feed. I should mention that I have a deep well submersible pump.
Question - can I use my existing set up and adapt to the single connection new tank by merely placing a tee in that single tank connection and running the source in one end and the feed out the other side of the tee with the 3rd branch of course going into the tank? In additon, "if" I can do that, do I then adapt that pressure gauge in the pipe on the feed side of the tee, or just elimnate it?
Hope I was clear enough and will appreciate any feedback. B.C.
Reply:
From your description I'm guessing that your tank was sold as a "bare" unit - just the water pressure tank. Other tank assemblies include a brass or bronze tee fitting mounted at that single tank inlet port. The tee, what your instructions call a tank cross unit, incorporates threaded fittings and tappings to accept all of the necessary connections to the water pressure tank: the pressure control switch, pressure relief valve, water inlet from the well, water outlet to the building, a tank drain, and in some cases, a shutoff valve for the line feeding the building.
You can use the new water tank that you have, but you'll need to visit a plumbing supplier to purchase the missing parts.
In our photo at above left as well as in our article above, at WATER PUMP CONTROLS & SWITCHES you can see photographs of the water pressure tank cross unit or water tank tee we are discussing.
You can most likely move over your existing controls and fittings to the new tank cross unit, though in the case of a pressure relief valve and gauge I'd prefer to use new equipment.
Question: water pump switch clicks and moves side to side
(Dec 28, 2012) karen junker said:
i have a question ;-) water pipes going to two tanks froze and broke, so i replaced everything exactly how it was and now,the pressure switch will cycle normal three or four times, pressure is good water is good, everything is good for a couple of hours and then all of a sudden the switch next to the breaker box will just start clicking side to side like it is trying to throw the breaker. it will keep doing this until i turn the breaker off. EVERYTHING is new, pump, breaker, tanks, pressure gauges pressure switch... i dont know what to do... no leaks nothing ???? please help
Reply:
Watch out: Sounds a bit scary. Turn everything off immediately.
I'm concerned that everything is not exactly as before, something's not wired correctly. If an overcurrent is unable to trip a breaker your building could suffer a fire.
I'd ask a licensed electrician familiar with well pumps & controls to go over wiring, equipment mounting, and the operation of relays in the equipment.
Question: Davey Rainbird 110/240V 10A Water Tank Pump green light flashing
(Apr 22, 2014) Davey Rainbird 110/240V 10A Water Tank Pump said:
The green light is flashing on our Davey Rainbird water tank pump and we lost water pressure, can anyone shed some light on this fault & know the solution to fix please.
Reply: Davey Rainbird product & information sources:
Anon: we took a look at Davey Rainbird, an Australian / New Zealand company - with products and presumably support "all over the world" - the company's website is www.davey.com.au/ - and I can see why you ask, it's not easy to find contact information nor an installation and service manual at the company's website. At least not easy for me.
Searching the company's site for Davey Rainbird returned ... you guessed it, zip. Nothing.
After pounding around in the Davey website I found their contact page -
you guessed it: no contact information, but you can leave a message.
www.davey.com.au/contacts
Try leaving the folks a "help help" message, ask not just what the green light means but ask for a service and installation manual for your pump, and keep us posted on how things develop.
...
Ask a Question or Search InspectApedia
Use the "Click to Show or Hide FAQs" link just above to see recently-posted questions, comments, replies, try the search box just below, or if you prefer, post a question or comment in the Comments box below and we will respond promptly.
Search the InspectApedia website
Technical Reviewers & References
Publisher's Google+ Page by Daniel Friedman
Click to Show or Hide Citations & References
Pumptrol® Pressure Switch Adjustment, Square D, Schneider Electric Corporation, 8001 Knightdale Blvd., Knightdale< NC 27545 1-888-778-2733 - Square D Technical Library, web search 07/24/2010 original source: http://ecatalog.squared.com/techlib/docdetail.cfm?oid=09008926800a93be
9013 Pumptrol® Commercial Pressure Switches Type F and 9013 Commercial Pressure Switches Type G, Catalog, SquareD, Schneider Electric Industries SAS, Schneider Electric Industries SAS, web search 02/23/2011, original source: http://ecatalog.squared.com/pubs/Machine Control/
Pressure-Float-Vacuum Switches/Pressure Switches-Water and Air/9013CT9701.pdf
Square D is a brand of Schneider Electric.
Class 9013 Square D Commercial Pressure Switches: Water Pump Pressure Control Switch Class 9013, Type F, G, Manual, Square D Company, 8001 Highway 64 East, Knightdale, NC 27545-9023, USA, (919) 266-3671, www.squared.com, web search 02/24/2011, original source: stevenengineering.com/tech_support/PDFs/45COM.pdf. Quoting:

The Type FSG, FYG, FRG - PUMPTROL® Water Pump Pressure Switches are used to control Water Pump Pressure Switches are used to control
electrically driven water pumps and have the following features:

The Type FSG is the standard water pump switch, suitable for all types of pumps: jets, submersible,
reciprocating, etc.
The Type FYG is designed to meet higher horsepower and pressure requirements.
The Type FRG is reverse acting: the contacts open on falling pressure.
All are diaphragm actuated.



The Type G - PUMPTROL® Commercial/Light Industrial Pressure Switch is used to control electrically driven water pumps and air compressors. It has higher electrical ratings for direct control of motors in pump and compressor applications. The Type G switch is diaphragm actuated and has contacts that open on rising pressure.


Water Fact Sheet #3, Using Low-Yielding Wells [ copy on file as /water/Low_Yield_Wells_Penn_State.pdf ] - , Penn State College of Agricultural Sciences, Cooperative Extension, School of Forest Resources, web search 07/24/2010, original source: http://pubs.cas.psu.edu/FreePubs/pdfs/XH0002.pdf
Life Expectancy of Water Pumps - Well Pumps: how long should a water pump last? What affects pump life?
Life Expectancy of Wells & Water Tanks how long should a water well and its components last?
Smart Tank, Installation Instructions [ copy on file as /water/Smart_Tank_Flexcon.pdf ] - , Flexcon Industries, 300 Pond St., Randolph MA 02368, www.flexconind.com, Tel: 800-527-0030 - web search 07/24/2010, original source: http://www.flexconind.com/pdf/st_install.pdf
Typical Shallow Well One Line Jet Pump Installation [ copy on file as /water/Jet_Pump_Grove_Elect_Jet_Pumps_1.pdf ] - , Grove Electric, G&G Electric & Plumbing, 1900 NE 78th St., Suite 101, Vancouver WA 98665 www.grovelectric.com - web search -7/15/2010 original source: http://www.groverelectric.com/howto/38_Typical%20Jet%20Pump%20Installation.pdf
Typical Deep Well Two Line Jet Pump Installation [ copy on file as /water/Jet_Pump_Grove_Elect.pdf ] - , Grove Electric, G&G Electric & Plumbing, 1900 NE 78th St., Suite 101, Vancouver WA 98665 www.grovelectric.com - web search -7/15/2010 original source: http://www.groverelectric.com/howto/38_Typical%20Jet%20Pump%20Installation.pdf
Water Fact Sheet #3, Using Low-Yielding Wells [ copy on file as /water/Low_Yield_Wells_Penn_State.pdf ] - , Penn State College of Agricultural Sciences, Cooperative Extension, School of Forest Resources, web search 07/24/2010, original source: http://pubs.cas.psu.edu/FreePubs/pdfs/XH0002.pdf
Water pressure tanks - how to diagnose the need for air, how to add air, stop water pump short cycling to avoid damage - water storage water pressure tank safety.
WATER PUMP REPAIR GUIDE an specific case offers an example of diagnosis of loss of water pressure, loss of water, and analyzes the actual repair cost
Water pressure tank failures & water pump short cycling diagnosis and repair
Books & Articles on Building & Environmental Inspection, Testing, Diagnosis, & Repair
The Home Reference Book - the Encyclopedia of Homes, Carson Dunlop & Associates, Toronto, Ontario, 25th Ed., 2012, is a bound volume of more than 450 illustrated pages that assist home inspectors and home owners in the inspection and detection of problems on buildings. The text is intended as a reference guide to help building owners operate and maintain their home effectively. Field inspection worksheets are included at the back of the volume. Special Offer: For a 10% discount on any number of copies of the Home Reference Book purchased as a single order. Enter INSPECTAHRB in the order payment page "Promo/Redemption" space. InspectAPedia.com editor Daniel Friedman is a contributing author.

Or choose the The Home Reference eBook for PCs, Macs, Kindle, iPad, iPhone, or Android Smart Phones. Special Offer: For a 5% discount on any number of copies of the Home Reference eBook purchased as a single order. Enter INSPECTAEHRB in the order payment page "Promo/Redemption" space.
Carson Dunlop, Associates, Toronto, have provided us with (and we recommend) Carson Dunlop Weldon & Associates' Technical Reference Guide to manufacturer's model and serial number information for heating and cooling equipment
Special Offer: Carson Dunlop Associates offers InspectAPedia readers in the U.S.A. a 5% discount on any number of copies of the Technical Reference Guide purchased as a single order. Just enter INSPECTATRG in the order payment page "Promo/Redemption" space.

...