Diagnose & Repair a Water Pump Pressure Control Switch
Pumptrol® & similar pressure control switch repair procedures & kits
WATER PUMP PRESSURE CONTROL REPAIR - CONTENTS: Water pressure control switch repair: Pumptrol switch repair & repair kits. How to Repair a Water Pressure Control Switch that Sticks "ON" or "OFF" or is irregular. How to Find & Adjust the Water Pump Pressure Control Switch, what the pump pressure switch looks like, where is it located on the water system?Pumptrol 20-40, 30-50, or 40-60 pressure switch operation. What are the controls, switches, valves found on water tanks and water pumps, what do they do, how are they repaired? Well pump & water tank diagnosis & repair procedures
POST a QUESTION or READ FAQs about diagnosing, repairing, or replacing a well pump pressure control switch
InspectAPedia tolerates no conflicts of interest. We have no relationship with advertisers, products, or services discussed at this website.
Pumptrol and similar water pressure control switch repair procedures.
This article describes how a water pump pressure control switch works and how to diagnose problems with the building water supply that seem to be traced to the pump control, switch, or to other underlying issues with a water pump, well, piping or other controls. We describe the diagnostic steps to take if a water pump won't turn on, won't turn off, or a switch that is burned, corroded or damaged.
This article series describes how to repair a water presure control switch that sticks on, off, or chatters or is otherwise not working properly, causing loss of water pressure or irregular in cycling on and off. We discuss how to diagnose problems with the water pump control and how to fix them by correcting an underlying problem, by replacing a bad pressure control switch, or by replacing switch parts such as bad contacts or diaphragm.
Water Pump Pressure Control Switch Repair Procedures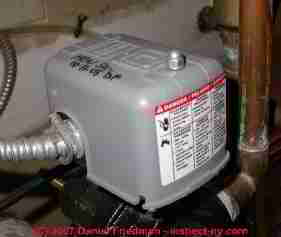 This article explains inspecting, cleaning, and possibly repairing a typical Water Pump Pressure Control Switch, normally found mounted on piping at the water pressure tank such as in this example [image] where you see a small gray-covered box with electrical wires coming in (power) and out (to pump) of it.
Article Series Contents
[Click to enlarge any image]

The pump pressure control switch, by being connected to the actual water piping in the building, senses the water pressure and when necessary, turns the water pump on.
The water pump pressure control switch either turns on the water pump directly, or (particularly when a submersible water pump is in use), this switch may operate a physically separate (usually wall-mounted) heavier-duty pump relay which turns on the water pump itself.
See WATER PUMP RELAY SWITCH for more details of that control.
How to Check a Well Pump Pressure Control Switch for Normal Operation
If the water supply is high in sediment often sediment will clog the pressure sensing opening at the bottom of the pressure control. We've tried cleaning out this orifice but it's never proven to be a lasting repair. If your pump pressure switch stops responding to changes in water pressure it probably needs to be replaced.
How to Diagnose and Repair a Water Pump Pressure Control Switch that Sticks "on" or "off" or is misbehaving
If we've traced a pump control problem to the water tank or water pump pressure switch itself with some certainty, we will often just replace the switch. But beware, we once replaced a pump control switch when the problem was a clogged filter which was causing the pump to cycle on and off erratically. We felt pretty stupid.
How to Diagnose a Malfunctioning Water Pump Control Switch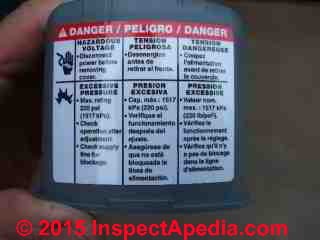 We'll need to do some water pump switch diagnosis – here are a few ideas that may help getting a recalcitrant pump control switch working again.
Watch Out: Safety warning - Shock Hazards: To remove a pump control/pressure switch remember to turn off electrical power, and using a neon tester or VOM double check to make SURE that electrical power is off, and taped-off so that on one turns it on and causes you to get shocked.
Working around electricity and plumbing is particularly dangerous because of the increased chance of touching a live electrical wire while touching grounded plumbing piping. Turn off power.
See WATER PUMP ELECTRICAL SWITCHES.
A pump or water tank pressure control switch is designed and adjusted to turn the pump on at a "cut in" pressure, usually 20 psi or 30 psi, and to turn the water pump off at a "cut out" pressure, usually 40 psi or 50 psi. When you buy this control it is usually set at the proper cut-in and cut-out pressures - check the box.
If your pump control is properly adjusted then it should be turning the pump on and off nicely at the pre-set pressures.
If the switch is behaving erratically or not coming on or not shutting off at all, there could be various explanations, some of which have nothing to do with the switch itself.
See WATER PUMP PRESSURE CONTROL ADJUSTMENT
These other problems are discussed at WATER PRESSURE LOSS DIAGNOSIS & REPAIR
and WATER TANK REPAIRS.
If the Water Pump Is Not Turning OFF
Watch out: If your well pump won't stop running, you should probably turn power to the pump off to avoid burning up the pump motor. Causes of continued pump operation include lost water supply in the well, well piping leaks, well pump defects, or an improperly-adjusted pressure control switch that has called for higher water pressure than the pump can achieve.
Leave the pump off for an hour or two then try turning it back on. If the pump runs and then stops normally, having built up pressure into the building to the normal cut-off level, chances are you were previously drawing water faster than the well could recover. But other problems can leave a pump running forever, such as a damaged impeller, a leak in water piping, or very high in-building use, or loss of water in the well.
If the water pump will not turn OFF, see WATER PUMP WONT STOP RUNNING for detailed diagnostic and repair procedures.

Water Pump Won't Start - If the Water Pump is Not Turning ON Try These Steps:
If your well pump won't start, you should have already determined that you have electrical power at the pump if you followed
WATER PRESSURE LOSS DIAGNOSIS & REPAIR
and WATER TANK REPAIRS.
Look at the water pressure gauge reading.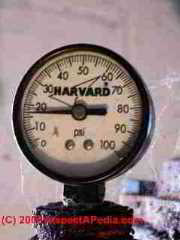 When pressure is below the water pump control cut-in pressure:

In our water pressure gauge photo at left we show a pressure of about 17 psi. Since this is below our water pump cut-in pressure which was set to a little over 20 psi, the pump should have cut on. Something was wrong.

If the water tank pressure gauge reads a low number, say below the pump's cut-in pressure, try tapping the gauge gently to see if the indicator needle moves.

Watch out: The same sediment that clogs pump control switches also clogs water pressure gauges.
So your gauge could be wrong. (You can purchase or make a water pressure test gauge [photo] that connects to a hose faucet anywhere in the system if you want to double check for this problem.)
When the water tank pressure gauge reading is above the water pump's "cut-in" pressure (say 32 psi as we show in the photo below), don't expect the pump to turn on.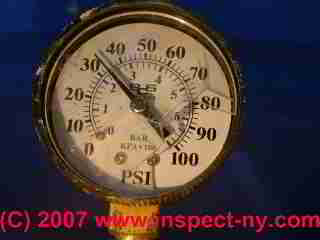 In that case, run some water in the building, watch the gauge pressure fall to below the pump's cut-in pressure, and then we should hear the pump turn on.

If the water pump is in the well (a submersible well pump) you won't hear it running, but you can hear the pump relay click in and out (close or open) and you can see the water pressure change at the gauge when the water pump is running.


If the pump runs and water pressure is present in the building but the water pressure gauge pressure never changes, it's probably the water pressure gauge that needs replacement.

You can replace a water pressure gauge following the same procedures we outlined
at PUMP PRESSURE CONTROL REPLACE.
Tap on the water pressure control switch
If the water pressure gauge stays low (below the pump; cut-in pressure, try tapping on the side of the pressure control switch housing itself. Don't bang it with a hammer, just tap it.
If the pressure control relay switch closes and turns on the pump after you tap on it but if it otherwise sometimes "sticks" in the "off" , there's probably a problem with the pressure control. It could be a dirty or burned electrical contact, a loose electrical connection, or debris clogging the diaphragm of the pressure sensor (or something else we haven't thought of).
Tap on the water pump itself
If the pump is accessible we might give it a smart rap with a small wrench. Don't bang it with a hammer. Just as a connection in a pressure switch may be loose or dirty or bad, the same could be true of a pump motor. If tapping on the water pump makes it start, it needs repair or replacement.
Try the Pressure Control Switch Re-Set or Manual or Bypass Lever - if your pressure switch has one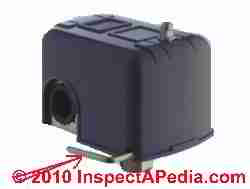 Some pressure control switches include a metal lever along one side of the switch. Lifting this lever from its horizontal (off) position upwards towards vertical (on) position, will "force" the pump switch to turn the water pump on.
In our pump control drawing (left) the red arrow points to a pump pressure control switch bypass lever. Most pump pressure control switches do NOT have this feature, however.
Provided that you also have electrical power at the switch, the well pump should turn on if you lift this lever. Some manufacturers such as Square-D call this the "Maintained Manual Cut-in Lever or Manual Cut Out Lever" (depending on the switch model and application). "Manual cut in" means that lifting the lever will turn on the pump.
Watch out: Do not leave the manual cut-in switch on (up). Turn the switch back off and proceed to diagnose why the switch was not turning the well pump on and off automatically.
Question: what is the purpose of that side lever on a Square D Pressure Control Switch?
2016/07/27 Anonymous said:
I purchased a Sq D Low pressure switch 30/50 when I opened the package I saw a leaver on the side on the contact points you can adjust it 90 degrees but I don't know why? Other switch don't have this lever! Is it lever down 30? psi lever up 50 psi ?
Reply:
Anon,
On Square-D pump control switches that contain the lever you describe, includes a low-pressure cut-off feature intended to protect the pump from damage should the well run out of water. The model involved might be, for example, the Square D by Schneider Electric FSG2J24M4CP 40-60 PSI Pumptrol Water Pressure Switch with Low Pressure Cut-Off.
The normal position of the lever is DOWN.
The lever can be lifted to force the pump to run, a feature that is sometimes used during installation or maintenance. Here is an example of how the switch is used.
If there is no water pressure and the pump has shut off - or is not running - in response to the fall of pressure below the pump switch cut-in pressure, then the switch may have tripped OFF to protect the water pump from damage that can be caused if the pump runs dry - without water. In that case do the following:
A. If the pressure is below cut-in, and the switch has low pressure cutout (Form M4), [lift and ] hold lever in the Run position.
1. The pump should turn on and run.
2. When you release the lever, if the M4 feature cuts out the pump again (within 10 psi of cut-in), the water source is low.
3. Do not actuate the M4 lever again until source has recharged (the well has water in it). [You may need to wait several hours or longer]
B. Where Form M4 [the side lever and pump protection feature] is not present, check the water source. The well may be low. Turn off the power to the pump until source has recharged (the well has water in it)
The document cited just below offers a brief maintenance and troubleshooting guide for class 9103F and 9103G pressure control switches, including how to use the manual over-ride side-lever on a Pumptrol switch.
Check the pump pressure control switch for pressure sensor clogging or failed diaphragm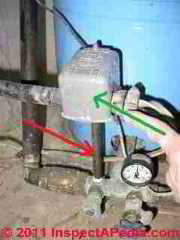 If your well water is high in iron, sediment, or minerals, we find that sometimes the small diameter pipe that mounts the pressure control switch onto the water line, water pump, or water tank will clog with these materials. In the photo at left I'm pointing to the pressure control switch.
You can see the small diameter mounting pipe that connects the bottom of this pressure switch to the building water supply piping right at the bottom of the water tank. Other pressure control switches may be bolted right to the pump motor and may use a flexible plastic or copper tube to transmit water pressure to the switch.
If this pipe (usually ¼" or 1/8" IPT diameter) is clogged with debris, you might be successful in getting the pressure control switch working again by removing the control switch, confirming that the line is packed with debris, and replacing it.
BUT
In  our experience often when there is enough debris to clog the pressure control switch mounting pipe then the same debris also clogs the still smaller opening in the bottom of the pressure switch itself. It's this small opening that permits water to press against a diaphragm in the bottom of the pressure switch and thus allows the switch to sense the water pressure.
Watch out: the pressure sensing diaphragm on the bottom of the pump pressure switch is the mechanism that senses water pressure. If the diaphragm has developed a tear or old the switch may leak water and it certainly won't work. The repair kit discussed at PRESSRURE SWITCH REPAIR KIT may solve this problem or you can simply replace the switch. Do so if it's leaking from the switch body.
Check for Problems with the Tubing Connecting the Pressure Switch to the Water Piping or Water Tank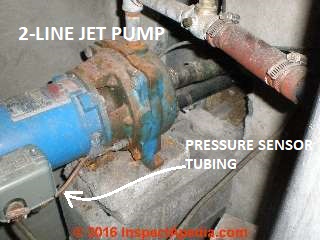 Debris can clog the tubing connecting (or mounting) the pressure control switch to the water tank or water piping, preventing the pressure switch from responding properly to changes in water pressure. The result may be intermittent failure of the switch to turn the pump on or off, or it may result in a hard failure to turn the pump on or off.
Our photo (left) shows a copper tube running from a two-line jet pump (photo center) to the bottom of a pressure control switch (the gray box at lower left). This is the tube that carries water pressure (pressurizing air in the tubing) to the bottom of the pressure control switch.
Pressure Control Switch Tubing Clogging
Clogging of the Water Pump Pressure Control Switch if your water has a high level of silt, debris, or minerals, it's possible that the tubing or piping connecting the pump pressure switch to the pump or water piping, or the pump switch bottom orifice through which the pressure switch senses the water pressure in the system has become clogged. The small diameter of this tubing and still smaller diameter of the pump switch orifice makes clogging easy if your well water is high in sediment or minerals.

A clogged water pump pressure control switch will often fail to turn on the well pump at all, even though the pressure in the system has dropped below the water pump "cut in" pressure. Reader Jeff Crosby reported an example of this pressure switch clog problem:
[When our well pump kept short cycling and I was unable to get the well pump pressure control switch to work properly, ...] I ended up calling the pump service company to come over. There was an extreme amount of mineral buildup inside the pump where the copper tubing initially comes out to travel to the pressure switch.
I thought about checking that out but did not know how funny. There has always been an awl sitting on the pump base for the longest time. One of their maintenance guys left it there long ago. Now I know why - ever since that date when they come do their yearly check up they knock out this sediment [using the awl to open the tubing so that the pressure switch can accurately sense the water pressure in the system]. -- Jeff Crosby
On rare occasions we can tap on the well pump control switch and it will begin working again, but not for long, and not reliably. Another water pressure control switch failure is the rupture of a rubber disk or "bladder" inside the switch itself. If you detect or suspect a defective pressure control switch, try replacing it with a new one.
We see a similar problem affecting water pressure gauges on private water systems: debris or mineral deposits can clog the pressure sensing orifice on the water pressure gauge, causing it to fail to respond at all, or to respond inaccurately to changes in water pressure.
When we find a clogged water pump pressure switch or the tubing connected to it, or a clogged water pressure gauge, we replace those items. A well pump pressure gauge that does not respond to pressure changes is potentially unsafe as it could lead to excessive pressurization of the water tank and building piping.
Pressure Control Switch Tubing Leaks
Thanks to reader Bob Hartman-Berrier for explaining a more subtle problem with pressure control switch tubing - wrong (too-small) diameter, causing a leaky fitting, preventing the pressure control switch from properly responding to changes in water pressure.
The tubing connecting a pressure switch may be steel (a rigid small-diameter mounting pipe), flexible copper (connected with flare fittings), or flexible plastic (connected using special brass connectors. Changing the tubing, especially plastic tubing, can get cause trouble.
Mr. Hartman-Berrier diagnosed this problem by observing that the pressure control switch would turn the water pump on if the override lever on the pressure switch were moved to the "on" position, but otherwise the switch did not work. The pressure switch was not turning on the water pump even though the water pressure was below the "cut-in" pressure setting. Because the pressure control switch was a new one, investigation eventually turned to a possible problem with the plastic tubing connecting the switch to the water tank.
... the pump would not come on by itself but it would come on if I used that over-ride switch.  The replacement tubing between the pump pressure sensing diaphragm and the pump body was not small enough on its inside diameter to make a tight seal on the nipples of the switch and the pump body.  The seal was tight, but not tight enough; the hose didn't blow off, but it wouldn't allow the pressure to build up in the tube and on the pressure sensor.

For a proper fit and thus for the pump pressure switch to sense the water pressure in the plumbing system, the internal diameter of the pressure tube must match the fittings to which it attaches. I was worried about the outside diameter, thinking the inside dimensions of the new tube would be the same as the old one.  It wasn't. 
I was also worried about "priming" the pressure sensing tube and the pressure switch diaphragm, thinking that because any air in the tube is compressible and that the diaphragm wouldn't be activated because the air would keep compressing.  This was a mistake. The volume of air at higher pressure will be reduced, but the air pressure and water pressure will always be the same.

[BOYLE's LAW - also see WATER TANK PRESSURE CALCULATIONS]. 
I changed the hose (more-or-less proper ID), plugged in the pump and - miracle of miracles - the switch turned on.  Its been running fine since then, and we've had plenty of water and pressure.
Watch out: your water pump might have two tubes running from the pump body: one tube carrying pressure to the pressure control switch, [photo] and a second, similar-diameter tube that is connected between the pump body and an air volume control [photo].
AVCs are discussed
at WATER TANK AIR VOLUME CONTROLS.
How to Check the Bottom of the Pump Control Switch for Clogging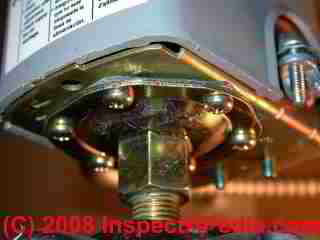 If as long as we're taking the switch off to check these things I'd check out that opening on the switch bottom as well. We do this by unscrewing the connecting pipe from the bottom of the pressure switch, and looking inside of the opening into which that pipe was connected.
In a pinch it's good to know that you may be able to clean the water pump control switch right up and get it working again.
Be careful about poking anything into the threaded opening which connects the pressure switch to the water pump or water tank. It's tempting to just jam a paper clip into the little sensor hole and wiggle it around. But if you puncture the switch diaphragm you'll certainly need a new switch. (You probably need one anyway if you see a lot of crud in there.)
It's possible to remove all of the phillips-head screws you see in this photo of the underside of a pump pressure control switch, to expose the diaphragm, and to clean out the whole mechanism. Don't tear the diaphragm
Since a new pressure switch is not very costly, and since we have to take the switch off to diagnose it anyway, if on removing and inspecting the pump pressure switch we think it was clogged, I'll often just replace it.

How to Check & Clean the Well Pump Switch Contacts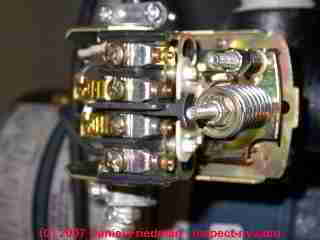 Check the water pump pressure control switch for dirty, burned contact points:
If the pump pressure control switch contacts are burned we can sometimes get it working again for a while by first, turning off electrical power as we described above, and then using a file, carefully cleaning all touching-surfaces the switch contacts.
A file may produce less grit and debris in the switch than sandpaper.
We sometimes use fine sandpaper anyway, but in either case be careful not to leave grit and debris in the switch or it'll fail again that much sooner.
If after inspecting the pump pressure control switch or its mounting fittings you decide that you've repaired it or that you need to replace it, follow the instructions
at PUMP PRESSURE CONTROL REPLACE for reinstalling the control.
Watch out: do NOT try working on a pump control switch without first removing electrical power - you could be killed by electrical shock.
Causes of burned pump pressure control switch contact point surfaces include:
Old switch, long usage
History of pump short-cycling on and off too frequently
See WATER PUMP SHORT CYCLING
Switch installed in a wet location or one where corrosive gases are present (pool chlorine)
Prior attempts to "clean" the points surfaces by filing or sanding (works only temporarily)
If the pressure control contact point surfaces are burned, it may interfere with the pump turning on. While it is possible to clean or even file these surfaces to get the switch working again as an emergency temporary fix, the switch needs to be replaced. While we have heard a report of the pump pressure control switch failing to turn "off" blamed on burned contact points, we think that when a pump won't turn off other causes are more likely.
Replacement Parts & Repair Kits for Pumptrol® and Similar Water Pump Control Switches
This topic has moved to PRESSURE SWITCH REPAIR KIT - separate article

A Guide to Building Water Pressure by Adjusting or Repairing the Water Pump Pressure Control Switch
...
Continue reading at WATER PUMP PRESSURE CONTROL REPLACE or select a topic from closely-related articles below, or see our complete INDEX to RELATED ARTICLES below.
Or see PUMP PRESSURE SWITCH REPAIR KIT to replace contact points or diaphragm in a pressure control switch.
Or see WATER PUMP PRESSURE CONTROL ADJUSTMENT
Or see WATER PUMP PRESSURE SWITCH REPAIR FAQs - pump control switch diagnostic & repair questions & answers
Or see WATER PUMP REPAIR GUIDE - home
Or see WATER PUMP SHORT CYCLING - home
Suggested citation for this web page
WATER PUMP PRESSURE SWITCH REPAIRS at InspectApedia.com - online encyclopedia of building & environmental inspection, testing, diagnosis, repair, & problem prevention advice.
Or use the SEARCH BOX found below to Ask a Question or Search InspectApedia
...
Frequently Asked Questions (FAQs)
Try the search box below or CONTACT US by email if you cannot find the answer you need at InspectApedia.
Please see water pump or well pump control switch repair diagnosis & repair questions and answers at WATER PUMP PRESSURE SWITCH REPAIR FAQs
Below are some additional pump control repair questions and answers that you may find helpful
Question: well pump tank makes a noise after tank begins to fill
(June 28, 2011) elmer said:
Is a good article but i still with my question because i did not find the answer . My well pump tank make a noise after the tank begins to fill again?..The pressure control works fine.
Reply:
It might be normal to hear a noise at the pressure tank when the pump is running, as water is flowing into the tank. If you hear air gurgling then there may be a leak in your well line causing the pump to also send air into the tank.
See
Question: pump control relay clicks clicks clicks at end of cycle
(July 19, 2011) carter said:
i have a question,,i have a new installed jet pump...6 months,,when i flush my toilet my pump will run for maybe 20/30 seconds,,,it runs fine,,but when its right at the end,,the pressure points will snap on and off right fast 3/4 times,,i adjusted the screw and it worked good for a day now its doing the same thing,,,,runs smooth until right the end,,,then click,,click,click,,
Reply:
Pump pressure control switch contact bouncing?
It sounds as if the contact switch points may be burned; take a look, or try replacing the switch. I am guessing in that direction because at the end of a pump cycle even if the pressure sensor of the switch is not working properly I wouldn't expect pressure sense to drop so far as to fall below the cut-in right at the END of the pump cycle.
Question: pressure drops to zero and pump stops unless manually re-set
(Aug 30, 2011) Janice said:
I have a question. We have a pressure control switch lever (as shown above) that we need to re-gauge if we run two faucets (or demand too much water) at one time. The pressure will drop to zero and we need to engage it in order to get the water working again. Any suggestions on what would be causing this? This also happens if we run the faucet in the tub or the washer. Thanks!
Reply:
Janice if your water pressure is dropping to zero, the problem sounds like more than just adjusting the pressure control switch. It sounds as if the well pump is not keeping up with the water flow rate demand in the building. Or your well itself cannot keep up.
Before trying to adjust the pressure control switch I'd check out the well flow rate itself.
Question: pressure drops below the pump cut-in set pressure before the pump comes on
(Sept 5, 2011) Jim said:
I've adjusted cut on and off pressures, etc. My problem is that when the pressure drops through the cut in point, the switch "tries" to trip. The contacts close briefly, pump just starts to turn, then everything stops and pressure falls. I can start it with the manual switch and it will run fine . Pressure tank is brand new, and adjusted to about two pounds below cut in pressure. Any ideas?
(Oct 18, 2011) Kerry said:
Pressure control switch isn't turning on the pump - when using the manual cut in switch the pump isn't turning on either, however, if you manually use a screwdriver and push the contacts down you can get the pump to engage. hold the contacts down and you can get the tank up to pressure, however as soon you run out of pressure you have to go down with your screwdrivers and get the pressure back up
Hmmmm whats going on?
Reply: check for a debris clogged pump pressure switch or sensor port or tubing
Jim,
I realize there could be another problem, such as with the pump itself, but I'd start by replacing the pressure switch. Also replace or clean out the switch mounting tube so we're sure it's properly sensing water pressure.
Kerry:
it's possible that the pressure sensing port on the bottom of your pressure control switch is clogged and not properly sensing water pressure. If the switch thinks that you are above the cut-off pressure it won't turn on the pump. Another possibility is that the switch contacts are burned.
I'd try replacing the switch and making sure the little tube on which it mounts is also unblocked by rust or debris.
Question: pump came on for just 10 seconds
(Oct 21, 2011) Andrew said:
I have a relatively new Gould. Today I noticed the pressure was not right then it finally had no pressure. While in the pump house I re-booted the power. The pump came on for about 10 seconds and then shut off again. Again, I said it is about 3 1/2 years old and all the contacts I looked at look like the day it was put in. What is the most likely problem ? Pressure control switch - capacitor etc... Thanks for your help
(Jan 12, 2012) warren said:
my presure switch is tapping on/off on/off when i turn my tap on. what could be the cause?
Reply:
Andrew check the actual pressure in your system, then run water. Watch to see the pressure at which the pump cuts on. Then turn off water and watch to see the pressure at which the pump cuts off.
If the pump cuts off very quickly I suspect the water tank is water-logged - it's lost its air charge.

Warren,
(Feb 13, 2012) Rob said:
@Warren - two things come to mind that can cause that (as I just had the same problem). A bad pressure tank can cause your pump to kick in and out repeatedly while running water. The other potential problem is the setting on the pressure switch itself. If the in and out are too close it would cause this. If you haven't adjusted your pressure switch I would check the air pressure in your tank. If you press the valve down and get water, then you've most likely got a ruptured bladder in your tank.
Question: testing my pump switch I saw a spark, then everything went dead - how do I select a new pump switch
(Jan 11, 2012) Steve said:
Square D 9013FSG 2 pressure control switch. While testing with a VOM probe, I got a small spark and everything went from dead to working normally (I think...at least the water is back on). If I eventually need to replace this switch, are there several varieties of the 9013FSG 2? How do I know what version to get? The tank is a red AMTROL H20W-TO WATERWORKER 9015-585 in a residential installation.
Reply:
Steve, just match the new switch to the original one by
brand and model or part number
equivalent brand and model chosen by the factory pre-set cut-im and cut out pressure
Question: new pressure switch not working
(Jan 12, 2012) Archie said:
just repaced breaker, wire, pressure regulator switch on home well pump and still nothing works. I checked the gauge tube for clogs and it was clear, when I open the contact points, there is no spark, but there is power going to them, what am I missing
Reply:
Archie, you need to run water until pressure in the pressure tank drops below the cut-in pressure set in the control.
Question: pump runs, cuts off normally, then pressure suddenly drops from 30 to zero
(Jan 23, 2012) kevin said:
hello, i just replaced my guage, my 30/50 switch, got my air pressure in my tank to 28psi. my pump runs and then cuts out at 50psi. I turn my water on and watch my guage. When the pressure get to 30psi, it hovers a second then plummets to 0. I never here my pressure switch click on at 30. Please help, any ideas?
(Apr 30, 2012) John said:
Hello, I just moved into a new house and my water will be running fine then all of a sudden I will have none. I checked the pressure tank and found that if I move the Maintained Manual Cut-in Lever or Manual Cut Out Lever I will get my pressure and water back. This seems to happen at random and I was wondering if this was likely to be caused by a bad pressure control switch?
(May 28, 2012) Jon: said:
I have my well set at 60/40 .. Turns off at 60 I turn on water when it gets to 40 elec. turns on but after a few seconds it drops to 0 . Water trickles out. Can you help me with this problem
Reply:
John and Kevin: the sensor port on the bottom of your pressure control switch may be clogged - try replacing the switch and the mounting tube as well.
Jon,
We have too little data for a sure diagnosis, but the "off at 60 psi, on at 40 psi" pressure readings and switch on-off response sounds right. But when actual pressure drops to zero very quickly I suspect a waterlogged pressure tank or a clogged pressure switch sensor that is not sensing pressure correctly. On occasion we see a clog or damaged tank bladder interfering with water exiting the tank but I wouldn't think that would be pressure-dependent.
Try first checking system water pressure at an independent location using a test gauge at a nearby hose bib. Tell us what you see.
Question: well pump would not stop - problem traced to clogged well screen
(May 2, 2012) Denis(satisfaction) said:
I had a pump that would not shut down...this site allowed me to go through each possible potential cause and after a few visits to the site and about 2 hours I pulled the 1/2"stone out of the internal injector screen and we have water. Thanks a million. Happy Wife Happy Life!:)
Reply:
Nice going Denis.
Indeed without a more sophisticated well pump controller that monitors current draw, we can't tell the difference betweeen a well that has run out of water and a well whose foot valve screen has become debris clogged, not allowing water to enter the pump.
Question: pump cycles on and off right at the cut-out point
(June 12, 2012) matt said:
what would make the needle on the pressure gauge bounce badly enough to turn the pump off then on 2 or 3 times at the shut off point
Reply:
Matt:
A clogged sensor port on the bottom of the pressure control switch can cause the problem you describe.
Also check for burned contact points on the pump relay. If you see burned relay contacts replace the switch.
Question: do I pre-pressurize the empty water tank air charge or add water then air pressure?
(June 12, 2012) Anonymous said:
ihave a 30/50 switch so i need 28 psi in the water tank. do i put the air in at 28psi on an empty tank of water or add the water then try to add air up to 28psi?
Reply:
Anon:
if you are setting air pressure in a water pressure tank in the range you describe, the assumption is that the tank has been emptied of water.
On most pump and tank systems if the water tank is a bladderless system and if the air charge is too low, you can add air after water is in the tank as well. Just watch the gauge. If you add too much air typically the excess air will flow out at the nearest faucet when you next run water.
See WATER TANK AIR, HOW TO ADD
Question: well pump won't get above 10 psi
(June 17, 2012) Jamie McGehee said:
my new pump worked fine for about a week. Then all at once,my pump is running but pressure wont go above 10psi
I have read up on pressure switches but dont really think this is the problem because my pump is running and most problems I read about have to do with pumps not running. So could this be the pressure tank being saturated even though I have the right psi in tank. Or could this be an internal problem even thought the pump is only one week old. Any input would be appreciated.
Reply:
Jamie, double check that the gauge 10 psi is really correct - that is, that house pressure is indeed abnormally low - or use a separate external water pressure gauge to check.
Lost air charge in the water tank won't lower the pressure the pump delivers - but it will cause the pump to short cycle on and off too often.
If pressure really is low and the pump is running (probably constantly if power is on to it) then I'd look for a damaged pump, low voltage to the pump, or a well piping leak, or low water in the well that is simply not returning water to the building.
If you shut off the system for a few hours or longer and then the pump is able to develop pressure I suspect the problem is the well flow rate.
Question:
(July 4, 2012) Ron said:
My pump waters the yard and sometimes the pump will kick off when a circuit tries to start. I suspect the pressure switch. If I restart the pump the circuit works fine. I have recently replaced the surge tank
Question: no water - help me?
(July 29, 2012) kmj said:
just installed a new system pump water tank and no water help
Reply:
KMJ
The best approach I can suggest to your "no water" question is to start with the diagnostics found at
WATER PRESSURE LOSS DIAGNOSIS & REPAIR - home
Question: pump won't kick on and breakers trip
(Aug 23, 2012) CSW said:
I have a 2HP Franklin Electric Control Box. The pump works and fills my tank to 40+psi, but will not kick on when the pressure drops. Both the main and overload protectors are tripped, I reset them, and the pump kicks on. Is it the Square D Pressure Switch, something in the control box, or both?
(Oct 1, 2012) Anonymous said:
I have replaced my pressure switch 4 tmes in the last 30 days. This just started happening. So, I replaced my pump. But again, the switch just blew out again. Something is burning up the contacts in my switch, causing it to quit working. What is the problem
Reply:
Sounds like a seized pump motor or wiring short that's tripping the breaker. This can also occur if the well has run out of water or the well screen is clogged, causing the motor to overheat or causing damage to the pump impeller or bearings.
Question:
(Sept 7, 2012) Jay said:
I have a private well with pump in the ground about 180'. Recently, the pressure switch will shut off when we use two or more water sources ( hose, sink, shower etc ) and I have to reset it by lifting the manual over ride lever on the side of the pressure switch slightly until pump kicks back on. If we only use sink or shower, we are good. We have normal pressure when it is working and do not have low pressure at any time. It just shuts down completely. Circuit breaker does not trip. We replaced the grey control box on the wall next to the pressure tank and have also pulled the pump to make sure it was working properly. Tapping on the pressure tank gives me hollow sound at top half and solid near bottom which leads me to believe it is not logged. Tank pressure is about 29 lbs.
My question is why the pressure switch keeps shutting down and needs to be manually turned back on. It was replaced with a new one but problem continues.
We have always had good water pressure in the past and were able to use several faucets or hoses at one time. Not sure what happened. Now if we use outside hose and kitchen sink, it will shut down within a minute or so, sometimes almost immediately.
Any help would be appreciated.
(Feb 12, 2014) Janee said:
Ours is pretty much the same as Jay's question below! We have a Square D 9013FSG2M4 20/40 Switch to replace the previous which was bouncing (burned contacts), to accommodate about a 32gal. water tank. Now the VERY new replacement will never Cut In (engage) on like it's supposed to after dropping in pressure. We even replaced the gauge itself just today with new one, and tried adjusting the deferential small/large pressure nuts in back. Still the switch will not Cut In (engage) unless we turn the Override Lever up.
However, at times even then it wants to kick almost immediately into Cut Off. So again, we made some adjustments. Where at first it kept shutting off at like 38psi, then lowered after some fiddling, to about 43psi. We are still trying to figure out how to get the thing to Cut In after the pressure gets to a certain point, say like when taking a shower, so the water doesn't keep cutting off.
Do you have any suggestions as to what we are doing wrong, how to adjust to stop this from happening? We appreciate this greatly! Thank you
thought I typed 33psi. Didn't mean to have 43psi typed in!

Reply:
Is it possible that the switch is mounted on a small 1/8" pipe nipple or that it's sensor receives water pressure through a small diameter tube?
If the sensor port on the switch doesn't feel the water pressure correctly that can cause the trouble you describe. Or, of course it may be another issue
Reader follow-up:
The way it's set right now (this new switch), it shouldn't run because it's settings (the Large spring adjustment) and the differential are completely different on the old switch compared to this new one! The differential on the old switch seems set lower (nut-wise), and a little more-so lower on the large spring, all compared to the new switch we recently bought to replace.
Not to mention this place we live in, we may as well live in another dimension since whoever built it, did so bassackwards, lol!
(Feb 12, 2014) Janee said:
Also, regarding what you said about clogging, would it be possible for ice in the pipes to cause this? It has been really cold outside, and a few times we had to use a Torpedo Heater to thaw some of them out.
P.P.S. Even if water still seems to be flowing through the faucets, and the small pipe beneath the switch, could the possible presence of ice cause this as if it were a clog? We checked to make sure there wasn't any debris and what not. As far as we could tell, everything was clear.
Question: we run out of water
(Oct 8, 2012) Pierre said:
Replaces old water tank from 20 gallons to 30 keeping the same 1/2 HP jet pump and cut/ in cut out pressure. Pressure is higher but now we run out of water when showering or flushing the toilet and doing the dishes. How can we fix this HELP!!!
(Mar 19, 2014) Anonymous said:
Not getting no pressure on gauge to keep pressure switch running
Reply:
Pierre your well may be one with limited flow rate. See
or
Anon I'd like to help but don't understand the question. If you mean that the pressure switch is not responding to changes in water pressure then perhaps the switch mounting tube or bottom sensor port are debris clogged. If that's the case replace those parts.
Question: ok to re-use old wiring when installing a new well pump control?
(Feb 4, 2014) ardena said:
this female thanks you for all the info you have give everyone. I bought a new pressure switch and gauge .Is it safe to use the same wiring from the old one? I enjoy doing things that challenge me. Thanks again
Reply:
Ardena,
WATCH OUT for getting electrocuted working on electrical wiring - make sure and confirm by test that power is off before you touch anything. A mistake can shock you, kill you, or burn the house down. I'd make that warning to anybody.
That scary message out of the way, if electrical wiring to a water pump control switch is not damaged say by overheating, nicks, cuts in insulation, etc. then normally it is re-used to power the new switch.
Read the instructions that come with the switch, including warnings about wiring safety; also, regardless of whether or not a person is competent or knows how to make electrical wiring connections, note that in some jurisdictions that work is by local code something required to be done by a licensed electrician, and inspected by the electrical inspector. This is being a bit fussy I know, but the consequences of a mistake are serious.
Question: addinga pressure tank to lawn sprinkler system
(Mar 21, 2014) Jim said:
Adding a pressure tank and switch to my lawn sprinkler system. The tank and switch will be next to house under the eve. Just a little concern that the switch will be exposed to the rain when it is blowing from that direction. will this be a problem?
Reply:
Jim, unless all of the wiring, junction boxes, and electrical controls planned for your hook-up are rated for outdoor use and weather exposure your installation will be unsave and risks electrocuting someone. So in my opinion, yes this will be a problem.
Question: water in the well but not in the house
(May 4, 2014) Anonymous said:
I have water at my well but not at my house ant he pressure gage will not rise? Any help out there? Walter
Reply:
Anon, please see the diagnostic suggestions at NO WATER PRESSURE and let me know if questions remain.
Walter if you've checked the
WATER PRESSURE PROBLEM DIAGNOSIS TABLE
article in the More Reading Links above and are still stuck, try replacing the pressure switch. That is, if your pump is working and has power the switch could be debris clogged.
Question: buy separate contact points to replace in well pressure control switch
(18 hours ago) Jeff said:
Greetings, is the Well Pump Switch Contacts sold separately?
Reply:
Jeff, the standard repair is to replace the pressure control switch. I wouldn't try replacing just the contacts, nor does the manufacturer recommend sanding or filing burned contact points. The loss of plating means the ground off surface won't last long.
Question: water pump cycles on and off at cut-out pressure
(June 23, 2014) Normand said:
Jet pump works fine but when I started it up this year is does something that it did not do previously.
When [the water pump] reaches the max pressure and shuts off, it starts again for 4-5 seconds the shuts off. Why does it go on and then off a second time once it reaches the max pressure?
Reply:
Normand,
Possibly burned contacts, debris clogging a sensor port on the switch, water running in the building, or something else I've not thought-of.
Question:
(May 25, 2014) Jeff said:
Greetings, is the Well Pump Switch Contacts sold separately?
Reply:
Jeff, the standard repair is to replace the pressure control switch. I wouldn't try replacing just the contacts, nor does the manufacturer recommend sanding or filing burned contact points. The loss of plating means the ground off surface won't last long.

Question: municipal water system booster pump won't cut-in - manually turned on or off
(June 3, 2014) Tee Bee said:
Booster pump connected to municipal system will not cut in automatically must be manually turned on and then off, WHY ? Possible Causes ?
Reply:
TB
If the pressure switch is a model including a safety cutout it may be shutting down because someone set the cutout higher than the pump can attain. Or there was no water for a time.
Or the switch had failed.
Watch out: what you are describing sounds unsafe.
Question: should pressure gauge say zero?
(July 19, 2014) Anonymous said:
Does the pressure gauge supposed to stay on zero when water is shut off? When turned on it goes to 40.
Reply:
Anon
The pressure gauge, mounted on supply piping or on the water tank, will read the system water pressure as it varies with pump on or off. If your gauge sticks it may be that its inlet port is clogging. I'd try replacing it.
Question: alternating hot and cold shower
(July 24, 2014) jim said:
I recently replaced our pressure tank, hot water tank and pump switch. The shower water runs hot for a while then ice cold. I have checked the pressure tank = 28 PSI cut in is at 32 cut out is at 50. Trying to adjust the pressure switch does nothing - what else could cause temperature change?
Reply:
This sounds like an anti-scald valve problem unless water pressure is varying for both hot and cold simultaneously.
Question: pressure keeps building when contactors open ?
(July 24, 2014) Anonymous said:
I changed pressure switch and it operates correctly, water pressure continues to build after contacters open?
Reply:
Either you've got an artesian well at high pressure, some other pressurized water source, or the pump is mis wired and not turning off.
Watch out, this is dangerous as you could burst a water tank or pipe.

Question: pressure switch is turning on and off rapidly - pulsing pump, pulsing water pressure
(July 31, 2014) David said:
Replaced switch recently. Now switch keeps fluttering on and off real fast. What can I do to fix this problem?
(Sept 27, 2014) Barb said:
My pump (like) pulses every minute or so just to come on then shuts off!! Been doing that ALL night!
Reply:
Question: Is it a possibility that the low pressure cut in switch/pump can not keep up with water out flow of a faucet
(Sept 6, 2014) Pam said:
Is it a possibility that the low pressure cut in switch/pump can not keep up with water out flow of a faucet that is located at the pump house?
Whenever I turn on the pump house faucet, the pressure starts to go down. when it reaches the low pressure cut in (20psi), the pump does not kick in...but the manual pressure switch lever can be used to bring the pressure back up by holding the lever for a couple of minutes. The other hose bibs located farther away from the pump house do not seem to cause this problem, and the low pressure switch functions properly.
Reply:
If the pressure falls below the cut-in and the switch does not turn on the pump I suspect a debris clogged or otherwise failing pump switch.
Question:
(Oct 16, 2014) Nick Lambert said:
I have a pumped domestic water system. A few months ago I had a new automic water pump control fitted (I think this is also call a pressure compensator).
All worked fine until about 2 wks ago when we had no pressure at all. I did not realise that this contraption had a reset button so I pulled the plug & replaced it, the pump kicked in & re-pressurised the system. Since then it has cut out several times & is becoming a real nuisance.
Also, I now know about the reset button but pressing this does not fix the problem. The only fix is to unplug & then re-plug. So far this works & seems to be a solution but I am afraid that one day it will not restart!
Reply:
Sounds as if the pump protector is detecting low water in the well - doing its job, or else you've got a defective control installatin.
Question: lubricate sticking pump switch contacts?
(Nov 1, 2014) Peter W. Bednar said:
Is there a lubricant that can be applied to the switch contacts to make them less likely to stick?
Reply:
Peter
Indeed there are conductive thermal greases used in some electrical applications but
Watch out: I would not for a minute modify a pump pressure control switch with lubricant thinking I was fixing a problem. More likely the cause is elsewhere - or the switch needs replacement. For example, debris clogging can make a pressure switch fail to cut in or cut out as it should
Question: Jim's new pressure tank - pump won't run
JIM said:
i INSTALLED A NEW PRESSURE TANK.The contacts on the pressure switch stays open (the pump doesn"t run). When I force the contacts closed the pump runs ,the pressure builds up then the pump shuts off and does not restart when the pressure drops. I close the contacts and it will run until the pressure builds up HELP
Reply:
Jim
Check the actual pressure in the water tank. For example if the tank's air charge pressure is above the pressure switch cut-in pressure then the switch will never turn on the pump.
Also check that the switch is actually sensing tank or system pressure; a clog in its sensor tube or mounting port or pressure sensing port on the underside of the switch would prevent it from working; if there is debris or silt in your water supply these problems are more likely.
...
Ask a Question or Search InspectApedia
Use the "Click to Show or Hide FAQs" link just above to see recently-posted questions, comments, replies, try the search box just below, or if you prefer, post a question or comment in the Comments box below and we will respond promptly.
Search the InspectApedia website
Technical Reviewers & References
Click to Show or Hide Citations & References
Thanks to reader Bob Hartman-Berrier for discussing the diagnosis of a pressure switch that would not turn the pump on, traced to a switch tubing fit problem. June 2010.
Square D Company, Schneider Electric - North American Operating Division, 1415 S. Roselle Road, Palatine, IL 60067, Tel: 847-397-2600, Fax: 847-925-7500
Square D 9013 series pressure control switches provide these special water pressure control switch features: narrow pressure differential controls, higher horsepower pump control switches, manual on/off switches, automatic low water pressure cut-off, pulsation plugs, and other features.

Narrow Differential Pressure Switches Schneider Electric provides narrow differential switches including 6-20 PSIG differential switches. Choose from the 9013FSG42/49 or higher HP 9013FYG42/49. Also available is the 9013FRG with reverse action. The 9013FRG pressure switch is non-adjustable differential with 6-14 PSIG cut-in and 1-11 PSIG cut-out ranges.
Higher HP Pressure Switches Need a larger HP motor for longer runs in deep wells? Then look to the 9013FYG or 9013GHG pressure switches. These switches directly control all types of pumps up to 5 HP and can be used in the control circuit of a magnetic starter for even larger pumps.
Manual On/Off Switch The 9013 series of pressure switches offer an optional on/off switch. This allows you to manually turn on and off your pump system for extended periods of time.
Automatic Low Pressure/Water Cut-off If system pressure is lost for any reason, a low water condition for example, the automatic lower pressure/water cutoff feature will open the contacts, turning off the pump.
Pulsation Plug Pulsation plugs are available to control pressure due to increased start up pressure generated by high speed jet pump motors or by valves prone to a surge in pressure.
Water Supply & Drain Piping, Wells, Pumps, Water Supply Equipment
Access Water Energy, PO Box 2061, Moorabbin, VIC 3189, Australia, Tel: 1300 797 758, email: sales@accesswater.com.au Moorabbin Office: Kingston Trade Centre, 100 Cochranes Rd, Moorabbin, VIC 3189
Australian supplier of: Greywater systems, Solar power to grid packages, Edwards solar systems, Vulcan compact solar systems, water & solar system pumps & controls, and a wide rage of above ground & under ground water storage tanks: concrete, steel, plastic, modular, and bladder storage tanks.
CHEATING ON WATER TESTS Testing Water for Real Estate Transactions - make sure your water test is valid
CLOGGED DRAIN DIAGNOSIS & REPAIR - Is it a blocked drain or the septic system? - A First Step for Homeowners
WATER CONTAMINANT LEVELS & LIMITS - maximum allowable contaminants in drinking water
WATER TESTS for CONTAMINANTS - Water supply contamination Levels, wter testing procedures
WATER TESTING ADVICE - Drinking Water Testing Advice for home buyers home owners home inspectors
WATER TEST INTERPRETATION - Interpreting Drinking Water Test Results and Correcting Unsatisfactory Water
LEAD IN DRINKING WATER, HOW to REDUCE - Lead Contamination in Drinking Water: Testing & Correction - Advice
LEAD in WATER, ACTION LEVELS - Lead Pipe Problems/Advice, Lead Testing & Correcting Contamination from Lead Water Supply Lines/Entry Mains
WATER PUMP LIFE EXPECTANCY - Well Pumps: Life Expectancy of Water Pumps, how long should a water pump last? What affects pump life?
WELL LIFE EXPECTANCY - Life Expectancy of Wells & Water Tanks, how long should a water well and its components last?
WELL CHLORINATION & SHOCKING - Procedure for Shocking a Well to (temporarily or maybe longer) "Correct" Bacterial Contamination
Smart Tank, Installation Instructions [ copy on file as /water/Smart_Tank_Flexcon.pdf ] - , Flexcon Industries, 300 Pond St., Randolph MA 02368, www.flexconind.com, Tel: 800-527-0030 - web search 07/24/2010, original source: http://www.flexconind.com/pdf/st_install.pdf
Typical Shallow Well One Line Jet Pump Installation [ copy on file as /water/Jet_Pump_Grove_Elect_Jet_Pumps.pdf ] - , Grove Electric, G&G Electric & Plumbing, 1900 NE 78th St., Suite 101, Vancouver WA 98665 www.grovelectric.com - web search -7/15/2010 original source: http://www.groverelectric.com/howto/38_Typical%20Jet%20Pump%20Installation.pdf
Typical Deep Well Two Line Jet Pump Installation [ copy on file as /water/Jet_Pump_Grove_Elect.pdf ] - , Grove Electric, G&G Electric & Plumbing, 1900 NE 78th St., Suite 101, Vancouver WA 98665 www.grovelectric.com - web search -7/15/2010 original source: http://www.groverelectric.com/howto/38_Typical%20Jet%20Pump%20Installation.pdf
Water Fact Sheet #3, Using Low-Yielding Wells [ copy on file as /water/Low_Yield_Wells_Penn_State.pdf ] - , Penn State College of Agricultural Sciences, Cooperative Extension, School of Forest Resources, web search 07/24/2010, original source: http://pubs.cas.psu.edu/FreePubs/pdfs/XH0002.pdf
Water pressure tanks - how to diagnose the need for air, how to add air, stop water pump short cycling to avoid damage - water storage water pressure tank safety.
WATER PUMP REPAIR GUIDE an specific case offers an example of diagnosis of loss of water pressure, loss of water, and analyzes the actual repair cost
Water pressure tank failures & water pump short cycling diagnosis and repair
Water Supply & Drain Piping, water and drain pipe types, inspection, diagnosis, repairs, problem materials, clogging, etc.
Water Tests & Fees this water test fee schedule applies when testing is combined with other onsite building inspection services
CONTAMINANT CLASSES, in WATER & links to home buyer advice about water testing, drinking water, water supply
Books & Articles on Building & Environmental Inspection, Testing, Diagnosis, & Repair
When Technology Fails, Matthew Stein, Chelsea Green Publisher, 2008,493 pages. ISBN-10: 1933392452 ISBN-13: 978-1933392455, "... how to find and sterilize water in the face of utility failure, as well as practical information for dealing with water-quality issues even when the public tap water is still flowing". Mr. Stein's website is www.whentechfails.com/
...