Dropping water pressure: How to Diagnose & Repair Slowly-Dropping Water Pressure
WATER PRESSURE FALLS SLOWLY, ERRATIC PUMP - CONTENTS: Diagnosis of water pressure that falls after the well pump has shut off. Explanations of erratic well pump and pressure control behavior.Tracing a water pressure problem to pressure gauge, pressure switch, pump relay, check valve, foot valve, or building water leaks.How to decide if water pump pressure control switch or water pump replacement is needede
POST a QUESTION or READ FAQs about water pressure that falls off slowly or deteriorates
InspectAPedia tolerates no conflicts of interest. We have no relationship with advertisers, products, or services discussed at this website.
Troubleshooting deteriorating water pressure in buildings: this article describes how to diagnose slow water pressure loss and erratic well pump behavior.
When water pressure seems to keep dropping after the well pump has stopped, what's wrong? How do we fix it? How to diagnose and fix erratic well pump or pressure control switch behavior.
We explain the difference beween the pump pressure control switch and the pump relay switch (not all homes have a pump relay). And we give a step by step diagnostic procedure for falling water pressure trouble.
Green links show where you are. © Copyright 2017 InspectApedia.com, All Rights Reserved.
How do we diagnose slow pressure or loss of water pressure in a building after the well pump has cycled off, and what are the common causes and repairs for erratic well pump or pressure switch behavior?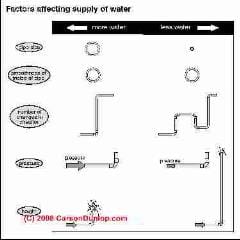 This article discusses water pressure that falls slowly when it should be more steady - diagnosis & cure.
Short cycling of a well pump (see WATER PUMP SHORT CYCLING) is also a type of "intermittent lost water pressure" except that water pressure fluctuates between stronger & weaker rapidly, perhaps every few seconds. Short cycling has several different causes, including a partly-clogged sensor on the pressure switch (blocked by debris, water pressure is slow to enter the pump control, and slow to leave it).
A similar problem can happen at a pressure gauge, making the gauge slow to register an increase and then to bleed down, showing a pressure drop more slowly than the actual water pressure drop.
Meaning of a Slow Responding Well Pump Pressure Switch
A slow response of a well water pump pressure switch (WATER PUMP PRESSURE CONTROL SWITCHH)
and/or pump relay control (WATER PUMP RELAY SWITCH) to the actual water pressure suggest a blocked pressure switch sensing port - due to debris in the water or hard water.
Note that water pump relay switches are often installed when the well pump is actually down in the well (a submersible pump) while in-building water pumps (1 line or 2-line jet pumps) will not usually require the heavy-duty pump relay control. Instead the in-building pumps are controlled directly by the pressure switch.
Meaning of Building Water Pressure Drop to Zero
A building water pressure drop to zero when the well pump is still able to switch on and restore water pressure (if the gauge is accurate -
see WATER PRESSURE GAUGE ACCURACY) suggests a bad foot valve or bad check valve that is letting water pressure drain back into the well. If building water pressure is lost entirely and does not immediately recover when the pump turns on,
see WATER PRESSURE LOSS DIAGNOSIS & REPAIR.
When building water pressure appears to drop after the pump is turned off, some causes include
Water is running in the building, such as a running toilet (usually shows as very slow pressure drop, 10 minutes or more); if a faucet were on full or a pipe in the building has burst, running water rapidly, you'd probably know it; In this case water pressure would be expected to drop to the pump cut-in pressure and the pump would come on again (but monitoring this can be confused if the pressure gauge is not working properly, or if the pump pressure control switch is not working properly).
Water running in well piping, such as a leak in piping in the well, or a lost foot valve,

or a bad check valve at the building, can bleed water pressure backwards down into the well when the pump stops. This can drop water pressure to zero.
Water pressure not really dropping (nor rising) exactly as the pressure gauge indicates, can be due to a partly clogged pressure port on the gauge (by debris), slowing its response; but in this case the gauge won't normally drop down to zero. We discuss gauge problems with air or water pressure gauge readings on water tanks
at How to Read Water Tank Air Pressure Accurately
Sorting Out the Job of the Pressure Switch vs. the Pump Relay Switch
We were unsure about the "clunk" reported by a reader as an intermittent sound at the pump relay, but a possible explanation would be confusion between what the little water pressure switch is doing versus what the heavy duty pump relay switch is doing.
Normally, the water pressure at the pressure sensing switch is what turns the pump on and off, either by directly switching the pump on and off in response to sensing the cut-in or cut-out pressure at the pump or water tank, OR indirectly by turning on and off a heavy-duty pump relay switch that is used to turn higher horsepower and thus higher amperage-drawing (submersible) well pumps on and off.
Running a high-amp well pump off of a little pressure control switch will often burn up the switch contacts, or the amperage draw may exceed the rating of the pressure switch itself - that's why the relay switch is used.
So the "duty cycle of the pump" cited by our reader doesn't seem to explain this problem, though some other electrical problem in the pump wiring or controls could be causing the pump to cycle on and off while the pressure switch continues to call for pumping - such as a faulty thermal overload switch.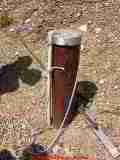 When a water pump is inside the well, it can be tricky to know when the pump is actually on or off, though usually we hear the pump relay clicking, and some relays have a light that indicates that the relay is telling the pump to run.
The pressure switch calls for pumping by switching a relay in the pump relay, that actually turns the pump on and off. So a secondary potential problem would be in the relay itself, but we would look at the pump pressure control switch first.
List of Diagnostic Steps for Slowly-Falling Building Water Pressure
Turn off the main building water valve when the well pump has started running, isolating the pressure tank and pump controls from the building. Now the pump should bring the water tank and controls up to the cutoff pressure and things should stay there. If water pressure drops after the pump stops, either your main house valve is leaking and there is water running in the building, or there is a bad check valve or foot valve and water and pressure are returning to the well.
See MAIN WATER SHUTOFF VALVE.
Put an independent, working water pressure gauge on the system, say at the pressure tank drain valve, and see what is actually happening to building water pressure;
Use a neon tester or a VOM to see when the pressure gauge contacts are closed and calling for the pump relay to close and thus turn on the pump; make the same checks at the pump relay. WATCH OUT there are electrocution hazards if you are not careful.
See DMMs VOMs SAFE USE OF.
Reader Question about Dropping Water Pressure
I have a residential well that is about 11 years old. I believe the pump itself is a submersible type located at the end of the pipe at the bottom of the casing in the back yard. In the house, there is a bladder type pressure tank, a control box on the wall, a pressure switch and guage on the water pipe. After that is the water filter and water softener. Then it branches out to the house.
My Well pump is short cycling. Here's what I see:
Looking at the pipes in the basement where the well attaches to the house water system, I watch the water pressure guage. Its at 60 psi. I open a facet and run some water until the well pump turns on. The pressure guage is about 40 psi when the pump turns on. I stop running water.
The pressure rises to about 55 psi and the well pump turns off. I watch the pressure guage and it slowly drops a few psi while maybe 10 seconds have passed.
The slow water pressure drop problem and its diagnosis are discussed in this article
The pump turns back on and pumps up to about 58 psi and turns off
I watch the pressure guage and it slowly drops a few psi while about 10 more seconds pass. The pump turns back on and pumps up to 60 psi and now I hear a solid "clunk" noise in the well control (relay) box on the wall and the pump turns off. This time, there is no drop in pressure and the pump does not turn back on unless I use more water.
I found this information about the "foot valve" and "well pump pressure" that may help explain the cause but what is the "clunk" noise and why doesn't the clunk happen every time the pump cycles? Does the clunk only happen when the foot valve is engaged? Or is the well pump unable to produce 60 psi every time and has its own shut-off at the pump itself?
Well piping foot valve leaks:
In some cases a defective foot valve in the well can cause water to drain back out of the building system into the well, dropping pressure in the water tank and causing the pump to run mysteriously. The "foot valve" is an anti-siphon device intended to hold water in the pipe that rises up inside the well after the pump has shut off. If the foot valve is damaged you'll need a plumber to pull the well line and replace the valve. The foot valve itself is an inexpensive part but pulling the well line can be costly. On the author's well the foot valve lasts typically about 20 years.
See WELL PIPING FOOT VALVES.
Well pump pressure:
Exceeding well pump pressure capability: If you set the cut out (stop pumping) pressure higher than the water pump is capable of reaching, the pump will just keep running indefinitely until it burns up or blows a fuse or trips a circuit breaker or overheats.
See WATER PUMP PRESSURE CONTROL ADJUSTMENT.

General Tips for Diagnosing Water Pressure Problems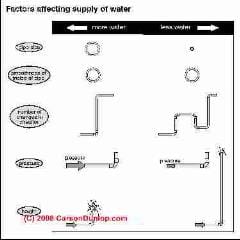 This sketch, courtesy of Carson Dunlop, shows five factors that affect the water pressure and flow in a building. What the sketch has not included are water pressure, quantity, or flow problems that originate at the well, well pump, or water pressure tank. Here is our comprehensive guide to diagnosing bad water pressure.
If you have no water pressure at all, see No Water Pressure and see the other water pressure diagnostic articles listed just below.
If your water pressure is intermittent, starts and stops, or varies in pressure,
see WATER PRESSURE INTERMITTENT LOSS and see the other water pressure diagnostic articles listed just below.
If there is some water pressure but the pressure and/or flow are poor? See the diagnostic articles listed just below.
Water supply piping problem? See Bad water pressure Clogged Pipes
and see WATER PIPE CLOG REPAIR.
Keep in mind that if water is running elsewhere in the building (another shower, sink, dishwasher, clothes washer, garden hose, etc) then the water pressure you will observe at your location will usually be reduced.
If you have good cold water pressure but not enough hot water pressure or hot water quantity,
see HOT WATER IMPROVEMENTS

If you have good water pressure at some fixtures but not at others, you probably have a clog in building piping (such as due to mineral deposits, rust, or even excessive solder in new work), or mineral and debris clogged strainers at faucets and shower heads (check these first). Also
see WATER PIPE CLOG DIAGNOSIS
How to Diagnose Poor Well Water or Pump Water Pressure
For our complete water pressure and pump, well, and piping problems diagnostic article list,
see WATER PRESSURE REPAIR GUIDE & COSTS

and WATER PRESSURE LOSS DIAGNOSIS & REPAIR.
Separately we also provide a WATER PRESSURE PROBLEM DIAGNOSIS TABLE.
The following articles pertain if you have a private well, pump, and tank system for your building or if your incoming community water supply pressure and flow are just too low to start with:
Water Tank Problems? See WATER PRESSURE TANK REPAIRS. Examples of water tank problems include poor water pressure or the well pump rapidly turning on and off (short cycling).
Water pump problems? Examples of water pump problems include poor water pressure or no water pressure at all. See
...
Continue reading at WATER PRESSURE INTERMITTENT LOSS or select a topic from closely-related articles below, or see our complete INDEX to RELATED ARTICLES below.
Or see WATER PRESSURE COMES & GOES
Or see these common sources of slow dropping in water pressure and loss of well prime:
Suggested citation for this web page
WATER PRESSURE FALLS SLOWLY, ERRATIC PUMP at InspectApedia.com - online encyclopedia of building & environmental inspection, testing, diagnosis, repair, & problem prevention advice.
Or use the SEARCH BOX found below to Ask a Question or Search InspectApedia
...
Frequently Asked Questions (FAQs)
Try the search box below or CONTACT US by email if you cannot find the answer you need at InspectApedia.
Question: why would my submersible pump system recovery time have gotten so much longer?
I have a well with a pump at 60'. Recently the pump "recovery" time has increased dramatically. When I check the ohms on the electric it appears that there is no problem and when checking amps when running, it is drawing about 10 amps. What can the problem be? - C H Werner
Reply: some causes of dropping water delivery rate from the well
C H

In addition to the diagnostic articles listed earlier in the article above, you should check out our two approaches to diagnosing loss of water pressure
: WATER PRESSURE LOSS DIAGNOSIS & REPAIR and

in table form, WATER PRESSURE PROBLEM DIAGNOSIS TABLE.
If your well pump is running longer to reach the pressure control switch cut-off point, I can suggest several causes (listed in the above article and table) that you will want to investigate:

- the water level in the well may be dropping or the well recovery rate is deteriorating; when the well pump is protected against running dry by a tailpiece or other equipment then the pump may simply run longer to satisfy the pressure tank and control.

See WELL FLOW TEST PROCEDURE

- the well pump impeller assembly could be damaged

- the well pipe foot valve or pickup strainer may be clogged -
see FOOT VALVES, WELL PIPING

- the voltage may be improper or a bad electrical connection may be delivering low voltage to the pump. You'd think the pump wouldn't run at all but that's not always the case.

- there could be a leak in the well piping anywhere between the building water tank and the water pickup in well bottom

- water could be running in the building at the same time that the pump is running - perhaps one or more running toilets that were not notices

- something else that we haven't thought-of

Keep us posted on which of these you find - it will assist other readers.
Question:
(Oct 31, 2011) joe schuler said:
we are experiencing problems with our water system that feeds two homes. Initially we experienced low pressure and no water in both homes. The repairer adjusted the pressure switch this seemed to work for a short time then the water tank ruptured (we think unrelated to pressure switch as it was an old iron valve fitting on the tank bottom that broke.) Then we replaced the tank and pressure switch. The problem again appeared to be resolved but by morning we had no water . Then we thought it must be the pump so we replaced the well pump. we again thought that would work but it didn't. Sometimes the pressure will drop to zero and won't come on. Other times it will come on when it reaches 30 psi. It will shut off at 50 psi then it will slowly bleed down and may or may not kick in at 30 psi. Any suggestions will be appeciated. Thank you.
Reply:
Joe, your question about lost water pressure was of course critical for the occupants of the two homes, but with no other information about your system I think the place to start diagnosis would be at WATER PRESSURE LOSS DIAGNOSIS & REPAIR (article links at page left).
Question: water runs out and does not come on until I tap the switch
(Jan 26, 2012) Rory said:
Water turns off and have to wait for it to turn back on, sometimes have to go tap the switch to get to work i see adjustment screws which one is for what? I put a larger water tank on I guess I need to adjust something?
Reply:
Rory: if tapping the pressure switch turns the pump back on it could be a bad switch, burned contacts, or a clogged pressure sensor at the switc

Question: short draw down cycle before pump comes on
(May 26, 2012) bwaters said:
our water pressure is good for about 60 seconds ,then falls low , we already changed the pressure gauge,but didn't help
Reply:
B Waters
Sounds like you have what I call a short draw-down cycle after which you're running on pump delivery pressure alone, and perhaps a pump that is not powerful enough to get ahead of the rate you are running water. If that's the case you may have a waterlogged pressure tank.
Question: pump keeps running, pressure never goes above 40
(Nov 16, 2012) Kevin said:
I have a well 120 ft deep, 90 ft to hit water. the pump runs constantly but does not give more then 40 psi
Reply:

Kevin:
When a pump runs continuously but never gets above 40 psi there could be several possible explanations such as low water in the well, well piping leaks, damaged pump or impeller or bad voltage, even a bad gauge or pressure control switch or switch sensor.
At the start of this article click to Show Related Topics
then click on WATER PUMP WONT STOP RUNNING for complete diagnostics.
Question: pump shuts off then pressure drops
(Mar 28, 2013) janet said:
I have a double line jet pump system. The cut in is 30 and off is 50 on pressure switch. The problem is as soon it shuts off, the pressure drops, takes about 20 minutes then cycles again. We installed a check flow valve at the pump, thinking water was flowing back down to well. That didn't solve it. What could be the problem?
Reply:
Janet,
It should be pretty easy to determine if the leak is in the building, at the pump and water tank, or in the well piping. If you shut off all water entering the building and pressure drops, the problem is not a leak in the building.
If your check valve is absolutely pefect, or if you use a temporary shutoff valve between the pressure tank and pump and the well itself, and pressure drops, there is a leak on the pump and tank side of that valve.
Question: can't get the well pipe out
(Jan 23, 2014) Ilene said:
The pipe that goes in the ground to the water will not come up to change the foot valve. Any suggestions?
Reply:
Ilene, if the well pipe is jammed in the well, a problem that can occur for several reasons, well drillers and plumbers who work on wells have special devices and equipment to free up the piping and pull it from the well.
If you search InspectApedia for
Well Pipe Grabbers & Fishing Tools for Retrieving Stuff you Dropped Into the Well
you can see our article about this equipment.
Question: pressure gauge was stuck, water comes out fast then just drizzles.
(Feb 16, 2014) John Summers said:
I have a well and pump. I just replaced the pressure gauge, it was stuck at 40 then would go to 60 psi when I turned on water in the house. The water would come out fast for 2 seconds then drizzle, but the gauge would still read 60 psi. The new gauge says 60 psi when idle. I can turn on water and it has a nice decent flow, but when i open another faucet it comes to little or no pressure. The gauge will also slowly drop but never go past 50 psi, so I can't see where the cut in comes on. I put air in the tank to go to 38 psi. I didn't re-check it after i put on the new gauge. Also the pressure switch says its suppose to be at 30/50, but when it clicks off at 60 i assume thats because the previous home owner has it set to 40/60. I've been going through all these articles, but I can't seem to find where to start. Thanks in advance.
Reply:
John,
I'm not sure what's happening in your house, but in general if we have good water pressure (really we should be saying good flow rate) at one fixture but the flow slows to a poor rate when a second fixture is run, I suspect that the problem is not water pressure but water flow rate that is being limited by clogged piping.
If you click on the "Show or Hide Related Topics" link near the top of this page you'll see a list of related topics including
WATER PRESSURE DIAGNOSIS, PRIVATE WELL
that begins a series of diagnostics on poor water "pressure"
Keep us posted.
(Feb 16, 2014) Anonymous said:
Thanks. I'll check out those links. I also have a garden tub and if i turn that on, no water from any other fixture will turn on. I just re-checked everything. It kicked off at 40 just as i expected and it has 38psi in the tank. THanks again.
Reply:
Here's another clue: is hot water pressure different from cold?
(Feb 16, 2014) John Summers said:
no they are the same. I did notice that the garden tub has a really fast burst followed by a slow drizzle, where everything else has decent until another fixture or toilet comes on
(Feb 16, 2014) John Summers said:
I've also checked under the crawl space for any signs of leaking. I haven't found any sign yet. I've ran my hand up the pipe to where it leads into the house(I have a crawl space). I've visually checked the insulation, and felt it as well. No water spots, to drips, nothing. I've also taken the thing off the garden tub faucet to see if it was dirty or clogged and there wasn't anything on that either.
Oh yeah also all pipes are PVC. I'm not sure if that helps or not. Before this issue happened, I could run both showers and the garden tub with really good pressure

Reply:
OK John, so it could be something else but the system is acting as if there were small diameter piping or a clog; typically that shows up as water pressure almost instantly falling off when a fixture is opened.
(Feb 16, 2014) John Summers said:
I was reading that you guys recommened 3/4 piping and mine is 1/2. I also read that you guys said it doesn't just go bad. There is a filter of some sorts out there, maybe that could be a suspect. I don't really know very much about plumbing except what I've read on here.

Reply:
John,
Hot water pressure (flow rate) = cold water pressure argues against a mineral clog problem since hot pipes clog first
Poor water pressure at ALL fixtures argues for a system problem or a clog or partly closed valve or dirty water filter at or close to the building water supply system;
Often clogged sink strainers are at fault but if water pressure (flow) is poor at a bath tub (that does not use a strainer) that argues for a system problem.
Plastic water pipes are more resistant to mineral clogging than copper or galvanized iron.
If there is a water filter that's where you should start: put it on bypass or remove the filter from the canister and re-check the pressure.

(Feb 20, 2014) John Summers said:
THanks for your help. I felt like an love. This is my first home, so I was unaware that the filters should be changed monthly. I changed it and now its working even better before. THanks to your articles, I found out troubleshooting the water pressure tank that the psi was 10 below what it was suppose to be. And now i know to change the water filters more often. Thanks again for your help.

Question: intermittent low well water pressure
(Mar 5, 2014) dave said:
water pressure in my well water is low then intermittently returns to normal

Reply:
Dave, we have a diagnostic article for your question. Near the top of this page click on "Show or Hide Related Topics" to see the article list then choose
WATER PRESSURE INTERMITTENT (comes & goes)
If that article leaves you with questions don't hesitate to ask

Question: short cycling on new well
(Apr 6, 2014) Roger Beauregard said:
I am installing a new well system in the country. My system seems to be short cycling. When I hit the manual electric switch, the pressure unit allows the pressure to build to 38 which is normal. Then the unit cuts out with a steady quick drop on the pressure gauge back to 0. I hear water running back into the hoses. Initially there was a force of air before the water ran out, now there is no air but a nice steady water flow. But the system won't stay on, loses the pressure and water seems to be running back into the well.
Reply:
Roger
I guess I'd call this a quick pressure drop after well cuts out;
Either there is no pressure at all being built in the pressure tank or there is no working foot valve or some other big leak in well piping.
Keep me posted
Question: new house, sometimes we have no water
(Sept 25, 2014) Mark said:
We just bought a new house when we moved in we noticed that periodically we would be with outt water. The well tank would read zero and then randomly would fill again. We had a plumber come and look at it. He replaced the tank as it was older, new pressure switch and new relay switch,pulled the pump out of the well visual inspection looked ok, lots of water in the well even when tank is empty. However the problem remains. When running pump works great, fills tank quickly, even with high demand. But about every other day we will find ourselves with out water.
Reply:
Mark,
In the more reading links just above try the article title
WATER PRESSURE INTERMITTENT
and let me know if that solves your problem.
Question: pump leaks, will this cause the pump to run?
(Sept 26, 2014) archie said:
Pump is leaking underneath will this make the pressure drop making the pump turn on every say 6 or 7 minutes?
Reply:
Yes, sure.
Question:
(Nov 14, 2014) Tim2014 said:
Drilled Well 16yrs old. Previous owner said 400+ ft. I had a short cycle issue that was resolved by re-pressurizing the tank. Pump now works 40-60 as expected and tank is holding the expected air pressure. I then noticed a slow leak of water pressure while I was correcting the short cycle. Symptom: Gauge at well shows about 62 when pump stops. Then settles down to 59. I assume that much play in gauge is ok given it is a $6 part. Water pressure then slowly drops at a slightly variable rate over hours. 15 lbs-9 hrs, 5 lbs-6 hrs, 7 lbs-6.5 hrs, etc... I can turn off the flow to the house at the well and the well and tank holds water pressure constant at 59 lbs for 6 hours. That leaves me to believe that the drilled well itself (foot valve, piping, etc..) is ok. I don't see any signs of leakage in my home (no visible water, no toilet leak,etc..), but to make sure, I turn off the water as it enters the house and have similar drop rates in pressure as listed above.
That leaves me to believe I have a slow leak in the yard line between the well and the home. Does that sound right? Of course there is no visible evidence of a leak, and that line crosses the sewage, power, phone/internet and propane gas line before it enters the home as the builder was apparently not a good planner. Question: My tank at the well is supposed to produce a 5 gal draw down at 40/60. So, if I let the well pump 60lbs then open the faucet at the well and let it run in a bucket until the pump kicks back on, I should expect to fill up a 5 gal bucket? So I did that after 6 hours and had about 2 gals in the bucket
. So, I'm leaking 3 gals in 6 hours correct? I don't know much about this, but I assume if the water pressure drops that the water had to go somewhere even I can't find the leak. I don't understand how air could leak into the system, but I've had several people and couple of articles on this site indicate that air might be leaking into the system. Any comments or suggestions?

Reply:
Tim
In the More Reading links above the article titled AIR DISCHARGE at FAUCETS, FIXTURES gives sources of air leaks into a water system: well piping leaks, snifter valves, etc. are discussed. One of those may be the problem.
A slow leak of water out of the piping anywhere between well bottom and building water equipment can leak both water out and in some circumstances air in to the system. Usually we look first for a bad foot valve or check valve.
Question: pressure falls after pump shuts off
(Apr 15, 2015) Anonymous said:
the pump pumps water bt when shut off the pressure falls
Reply:
look for a running plumbing fixture first, then a leak in piping
Question: My pump cycles on about every 12 to 15 minutes
5/17/2015 Jim.fouts said:
My pump cycles on about every 12 to 15 minutes. I.have isolated the house from the tank and pump and it still cycles. I.have isolated the tank from the house and pump and it does not appear to lose pressure. When I isolate the pump it drops to zero and cycles on and off in seconds. The foot valve and pump were replaced 15 years ago.
Reply:
Jim
Take a look at this diagnostic article for the problem you describe
WATER PUMP INTERMITTENT CYCLING
and let me know if questions remain.
...
Ask a Question or Search InspectApedia
Questions & answers on intermittent loss of building water pressure: troubleshooting, causes, repairs. .
Use the "Click to Show or Hide FAQs" link just above to see recently-posted questions, comments, replies, try the search box just below, or if you prefer, post a question or comment in the Comments box below and we will respond promptly.
Search the InspectApedia website
Technical Reviewers & References
Click to Show or Hide Citations & References
Mark Cramer Inspection Services Mark Cramer, Tampa Florida, Mr. Cramer is a past president of ASHI, the American Society of Home Inspectors and is a Florida home inspector and home inspection educator. Mr. Cramer serves on the ASHI Home Inspection Standards. Contact Mark Cramer at: 727-595-4211 mark@BestTampaInspector.com
John Cranor is an ASHI member and a home inspector (The House Whisperer) is located in Glen Allen, VA 23060. He is also a contributor to InspectApedia.com in several technical areas such as plumbing and appliances (dryer vents). Contact Mr. Cranor at 804-747-7747 or by Email: johncranor@verizon.net
Thanks to Jeneral Sewer Service - George - 845-297-2285, a New York Hudson Valley drain and sewer cleaning and de-clogging expert for technical details and consulting on drain clog diagnosis and repair, including proper use of the Kinetic Water Ram for drain clearing - 3/14/2009
Thanks to our reader, Carole Cimitile, 2/17/2009, for reminding us that small problems like faucet o-rings, clogged faucet strainers and similar local plumbing fixture defects can have a big impact on hot water flow, cold water flow, or both hot and cold water flow and pressure problems.
...

Books & Articles on Building & Environmental Inspection, Testing, Diagnosis, & Repair