How to Diagnose & Repair Intermittent Lack of Water Pressure
Water pressure comes & goes

WATER PRESSURE INTERMITTENT (comes & goes) - CONTENTS: How to diagnose intermittent or cycling bad water pressure in a building - guide to diagnosing water pressure that comes and goes, municipal or well water

MUNICIPAL water supply pressure or flow seem to vary or start and stop
PRIVATE well water supply pressure or flow seem to vary or start and stop
How to diagnose & fix periodic or cyclic or irregular loss of water pressure or loss of water in a building
Diagnosing loss of hot water pressure only or Diagnose water pressure that slows or stops, then recovers

POST a QUESTION or READ FAQs about troubleshooting & fixing intermittent loss of water pressure in buildings
InspectAPedia tolerates no conflicts of interest. We have no relationship with advertisers, products, or services discussed at this website.
How to diagnose & fix intermittent or periodic loss of water pressure: this article explains how to diagnose periodic or intermittent loss of water pressure either from municipal water supply piping or periodic or intermittent loss of water pressure from a private well. The process of diagnosis and the procedure for repair are explained. If the building water supply stops and takes minutes to hours to recover, the municipal water system may have work going on outside of your building, or if your water is supplied by a private well, you may have problem with the well flow rate. But the problem of lost water supply and pressure could be more mechanical and may be due to a problem right in your building itself, as we will explain..
Green links show where you are. © Copyright 2014 InspectApedia.com, All Rights Reserved.
MUNICIPAL WATER PRESSURE DIAGNOSIS: If your water is from a municipal supply and the pressure or flow seem to vary or start and stop
Variation in supply pressure: There could be variation in water pressure supplied by the municipality - check with your neighbors and your water department. You can install a pressure valve at your water entry main and watch for variations in its reading when you're not even running water in your building. This is a likely cause but it's unlikely to continue for days or weeks.


Clogged piping or multiple users: There could be a problem with poor water pressure due to clogged pipes combined with other people in the building using water at the same time. This is a likely cause, it could continue for years, and it would correlate with the presence or absence of various building occupants and their water use. See Water pipe clog diagnosis for a step by step diagnostic guide to this cause of bad water pressure.


Bad water pressure regulator: You could have a problem with your water regulator but it's unlikely that this would cause varying pressure. If you have this rare problem a plumber can change out the pressure regulator. See WATER PRESSURE REDUCER / REGULATOR


No municipal water pressure at all: see No Water Pressure for a step by step diagnostic guide.
Readers whose water pressure recovers when the pump cycles on, but find water pressure dropping without explanation when the well pump stops should see Water Pressure Falls Slowly, Erratic Pumping. Also see WATER PRESSURE LOSS DIAGNOSIS & REPAIR and also Water pressure Later Returns "on its own" - more details about intermittent water pressure and what to do about it.
WELL WATER PRESSURE DIAGNOSIS: If your water is provided by a private well and the pressure or flow seem to vary or start and stop
When you lose water pressure or lose all water supply for some time period but water pressure later returns or improves, check the possible explanations outlined just below. On the other hand, if you lose and do not recover water pressure in the building see Diagnosis of Loss of Water Pressure which Does Not Recover on its Own.
First Check the Basics: Has someone partially shut off the main or some other water supply valve? Is there an obvious burst pipe? Is the water pump running at all? Is the electricity turned on for the well pump? See our detailed diagnostic list at: WATER PRESSURE LOSS DIAGNOSIS & REPAIR
Is there water in the well? If so, how much water is in the well? Is the well being pumped "dry" and you're waiting for the well itself to recover water. With age however some wells deteriorate and deliver less and less water as their flow rate from the water table into the well diminishes.

This occurs as minerals clog the cracks or passages through which water is entering the well. You might need to find the well, open the well cap, and use a light and measuring tape, or possibly a combination of string and float to find the amount of water in the well when it is at rest. Problems with well casing or well flow and recovery - loss of ground water and many other causes of loss of water are discussed at our comprehensive article: WATER PRESSURE LOSS DIAGNOSIS & REPAIR See:

WELL FLOW RATE - how much water do we have available at the well? the start of this article series
Static Head of Water in the Well - how much water is in the well casing when the well is at rest and recovered from last pump-put?
WELL QUANTITY TOTAL - so how much water can we get out of the well - static head plus flow rate or yield
WELL QUANTITY FLOW TEST PROCEDURE - how to test well water total quantity (without opening the well casing)
Water pressure Later Returns "on its own" - an explanation of slow recovery rate in a well and how it appears to the building occupants
WELL LIFE EXPECTANCY - how long does a water well last?

Are the well pump controls turning on the pump properly? A pressure switch senses pressure drop in the water tank and either turns on the well pump directly or it turns on a heavy duty relay that turns on the well pump. The detailed, step by step procedure for inspecting and adjusting the water pressure control switch is discussed in detail at WATER PUMP PRESSURE CONTROL ADJUSTMENT
Is the well pump actually running? If the water pump is above ground, you will hear the pump motor running; if the pump is a submersible unit in the well, you won't hear the pump run, but your plumber or electrician can confirm that wiring to the pump is intact, that current is being delivered to the pump.
Is the water pump is shutting down on thermal overload and you're waiting for it to cool down and automatically re-set it's overload switch. (Other electrical motors including on some pumps have a reset switch which must be re-set manually by pressing the "popped out" red button down. If the pump is visible in the building you can diagnose this condition:
Water pump hesitates before starting at end of water tank draw-down cycle - see How to Fine Tune the Pump Pressure Control Switch to the Water Tank.
If the pump runs, water pressure returns, but water pressure drops without explanation when the pump stops, see Water Pressure Falls Slowly, Erratic Pumping
If the pump keeps running and you have no water (TURN OFF THE PUMP RIGHT AWAY in this case) there is

a problem with the well pump itself, such as internal well pump damage, broken vane, mineral clogging, in which case the pup motor may run but pump does not deliver water (this will not normally give intermittent water flow, the problem will be static)
a problem with the water well (no water or insufficient water)
a problem with the foot valve in the well or some other check valve in the system - this could give an intermittent water loss if the valve is sticking open on occasion and the pump loses prime. See WELL PIPING FOOT VALVES
a problem with the well piping between the bottom of the well, foot valve or submersible pump, and piping entering the water pressure tank, such as a burst or leaky pipe - (this will not normally give intermittent water flow, the problem will be static) see WATER SUPPLY & DRAIN PIPING.
a problem with a plumbing valve that is closed in the piping system. If a water valve is closed between the well pump and the pressure tank, the water pump will cycle on and off very quickly - and can be damaged - turn off the pump. We've found this problem happening when someone used the built-in water shutoff valve on a cartridge type water filter. The filter was replaced and the pump turned back on but the pump kept switching on and off rapidly - the owner had forgotten to turn the built-in water shutoff valve back to the "on" position. (this will not give intermittent water flow, the problem will be static)

See contrasting cases after this list. Turn off the water pump immediately so that you don't burn out the motor. Some water pumps depend on having water inside the pumping mechanism to avoid wear or overheating.

If the pump shuts itself off and is hot, it's off on thermal reset. Feel the pump motor. Read the operating temperature range expected by the pump manufacturer - this data is usually on a label affixed to the pump motor.
If the pump is in the well you can't see these conditions directly but an electrician or plumber can do some diagnosis from the building by noting the amperage draw on the pump circuit.
Is water being delivered to the building when the pump runs? See the same questions as at step 8 above.
Is there a problem with the water pressure tank itself, such as loss of air in a bladderless steel water tank, or a tank bladder that is damaged or is sticking to itself, preventing water from entering the tank? Check these articles
Other Tricky Causes of Intermittent Water Pressure that Comes and Goes
Pressure Regulating Valve at Water Heater Causes Odd Pressure Loss?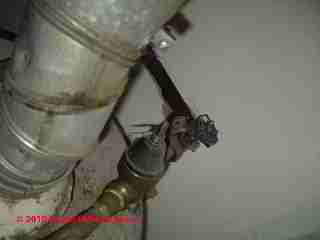 The following unusual water pressure case traced to a pressure regulating valve was described by Timothy Pearson, a senior plumbing designer in Charlotte, NC:
This poor hot water pressure problem had three senior level designers stumped as to a reasonable cause.
A young architect ... had a problem that we could only guess at: when he turned on the shower, lav, or kitchen sink hot water (both two handle and single handle arrangements) he got a steady stream of water from the spout/head. But after a brief interval water pressure slowed to a trickle.
When any other plumbing fixture valve, either hot or cold, was then opened, water pressure returned to a strong stream (pressure).
As this happened at every plumbing faucet this pretty much eliminated a clogged pipe possibility.
We wondered if there might be a large piece of debris in the water heater itself. This would explain that when any valve is turned on it equalizes the pressure and whatever debris (lighter than water) is moved thus allowing the pressure to increase? I have had a plumbing contractors' license for 23 years and had my own firm for 10 years before I went back to college and graduated with a mechanical engineering degree (Thanks PM magazine and Julius Ballanco)
[We also speculated about another intermittent water flow blockage, a possible water tank bladder problem as we have seen odd water pressure behavior traced to that failure. - Ed.]
The young architect brought in pictures (see the photo above), what a difference when you actually see some of the system.
The previous owner had installed or had someone install a PRV [pressure regulating valve] in the cold water inlet to the water heater after the shut-off valve to the heater. We advised him to adjust the PRV to the point where it actually was not regulating the pressure through the valve at all. Problem solved.
I plan to go on a free Saturday at some point to verify that the inlet PRV is functioning correctly , and remove the PRV on the cold water inlet to the heater. I also intend to replace the gate valve with a ball valve and remove the 5 or 6 couplings on the hot water outlet piping.
Also its not being the smartest plumber, it is getting as much input to each problem or design issue from as many other people as possible that makes you a better designer, plumber, installer, etc. I am old enough to realize that anyone may make a suggestion that either will be better or different one from the one you had thought of regardless of the suggesting person's experience. Sometimes someone else's input triggers your realization of another solution.
-- Thanks, Tim Pearson
Also see Water pressure tanks - how to diagnose the need for air, how to add air, stop water pump short cycling to avoid damage - water storage water pressure tank safety.
These pages are chapters of our comprehensive article: WATER PRESSURE LOSS DIAGNOSIS & REPAIR. Contact Us with suggestions and your own experience as that may help us help others diagnose water delivery problems.
Frequently Asked Questions (FAQs) about troubleshooting intermittent changes in water pressure: water pressure that "comes and goes"
Question: Water pressure varies from very high to very low in just a few minutes
my water pressure gets real low then it gets real high and have full blast pressure and then it cuts back down and then in a few minutes it goes back to full pressure - David
Reply: diagnosing water pressure problems, where to start
David:
Often when we find the water supply system misbehaving by showing intermittent pressure changes and surges I suspect that the pressure control switch is not working, perhaps because debris has clogged the sensor on the switch.
Your comment that the water pressure is varying from very low to very high in a very short time is very suggestive of a water-logged water pressure tank. See WATER PUMP SHORT CYCLING to diagnose this condition.
Otherwise, to help troubleshoot this intermittent water pressure problem you might want to take a look at our WATER PRESSURE PROBLEM DIAGNOSIS TABLE
Question: our water cuts out for about 45 seconds then come back on with the same or more water pressure as before
We have been having issues with our water. We have a well. and when we take showers or use the washer.. not so much with the tap but just things that use a lot more water our water cuts out for about 45 seconds then come back on with the same or more water pressure as before.
It's annoying but now more nerve raking thinking it could be something way worse or more costly! I don't hear the tank in our house clicking on and off constantly so I don't think its that but I will say there is lots of condensation around the tank and it has caused us to have a very bad mould problem in our spare bedroom.. with a 14 month old that is unacceptable for me. but could the condensation have something to do with our water problem possibly before hiring somebody to take a look at it. our tank says it needs a max of 100 psi for air pressure and it only has 70 psi.. not sure if that means anything or not since I am not very knowledgeable in the plumbing field? please help! - Krista
Reply: check your pressure control switch for clogging or just try replacing it
Krista it sounds as if a pressure control switch is sticking and not turning the pump on and off on schedule. A clogged pressure control switch could be at fault - if so it's not a major repair.

Condensation at a water tank is normal in humid weather; it'd be worse if water was being run continuously; and it might also be reduced by insulating the water tank. (Don't cover up controls or valves or safety devices).

Your water pressure tank should NEVER be reading 100 psi - that's an abnormally high water pressure that is asking for a leak or even a dangerous condition. Typical water pressures are on/off at 20/40 or 30/50 psi.

Probably you were reading the maximum safe pressure that the tank manufacturer says the tank can tolerate without exploding, not the normal or required working pressure settings.
Question: Our pump runs when we are not calling for water, water flow slows and stops sometimes, and water pressure at the tank falls when we are not running water at all
I have a similar issue. First we experienced intermittent running of our well tank. The tank would run when we were not calling for water. We had the tank replaced and upgraded from 20 gallons to 35 gallons.
Our pressure switch is set at 30/50 psi. We were told that the valve(??) was bad because water did not shoot out and air was sucked back in when the tank was replaced. Since having the tank replaced, the psi still decreases when we're not running water. In addition a new problem has started. Our water slows down and then stops completely for about 15 seconds during various times of the day (showers, washing dishes, etc.) and the water will spit at times (running faucets or when the toilet fills up). We verified that we have no leaks in or around the house. Our pump is submersible. Thank you very much.
Reply: Check for a leaky foot valve or check valve; check for leaks in well piping between the well bottom and the pressure tank
I'm not sure what "valve" you were told was bad. Perhaps a foot valve or check valve? A bad check valve or foot valve can lead to loss of pump prime and thus loss of water pressure. While that cause and symptom are not usually intermittent but rather a hard failure, a slow leak in a check valve or foot valve could show on occasion up as intermittent water pressure loss.
That is, if water is being run frequently and the leaky valve is a slow leak, the pump may retain enough water to not lose prime (assuming we're talking about an above-ground well pump here). But when water is left off for a longer period and the slow leak has time to lose more water from the pump, piping, and even pressure tank, one could lose water pressure.

The fact that you replaced the water tank and are not running water but still see a loss of water pressure read on the gauge at the tank is a strong suggestion that you have either

- a leaky check valve or foot valve
- a leak in well piping somewhere between the bottom of the well and the pressure tank in the building.

When your well pump is submersible (yours), you won't experience loss of prime (the pump is under water and always can prime itself). But you can see air in the well piping and water tank system and loss of water pressure as we've both described.

The "spitting" you describe at faucets or at a toilet can be caused by air entering the well piping through the same leak that in other pressure conditions lets water leak out.

I think it's time to have a plumber or well expert investigate the well piping for leaks.

Question: My water stops for 3-4 minutes, then restarts; and we get silt in tubs
my water runs fine for a few minutest, then stops for 3 or4 minutes, then starts back up. runs a while, stops, etc. getting silt in tubs too. pipes rumble when water pump runs now. that's new too. any help? - Anon
Reply: Check for sediment clogging and blocking proper response of the pump pressure control switch
When the water flow stops, has your pump also stopped?
Is there a sediment filter on your system?
Is the pump pressure control working properly ? - it could be clogged.
Question: how do I prime my well pump?
Question: We are losing just our HOT Water pressure. Cold water pressure is fine. What might be wrong?
I have an identical problem and again it is only with the HOT WATER but no pressure valve in the equation. ....except the ones on the outside of the house on the main line from the street and I have no problem with the Cold pressure only the HOT WATER and it stops as u said when another fixture is turned on elsewhere....this in turn makes the dishwasher not work properly.... R. Lane
PS I did turn the cold water inlet cutoff valve all the way open that is leading into HOT water heater....
No remedy. ...Thanks
Reply: Look for an intermittent water flow blockage in the hot water system, including cold water inlet and the water heater tank dip tube
R Lane you have already checked a key control, the cold water inlet shutoff at your water heater.

I think we are looking at two possible water pressure problem sources:
- problem in cold water entering the heater
- problem in hot water leaving the heater

or on occasion, hot water clogging at
- a tankless coil or at individual faucets or
- fixtures at the control valve

Although you see no problem with the cold water pressure and thus its piping and valves, before you rule out cold water piping entirely, consider that there could be a blockage of cold water flowing into the water heater.

You could have a blockage of cold water entering the water heater, for example, if the dip tube through which that water flows is damaged, bent, clogged; I've seen a plastic dip tube that disintegrated leaving large scraps of plastic debris inside the water heater. If some of those are floating around - stirred up by water entering the heater, they could intermittently interfere with hot water flow out.

Or debris in the piping, at a shutoff valve or piping elbow could cause a similar problem.

If you are sure that this problem is intermittent, and affects hot only, and you are on a municipal supply whose pressure does not vary, I'd check further by:

Draining the water heater (WATER HEATER FLUSH PROCEDURE) and inspect for debris - possibly leading to a flush-out and a new dip tube (see WATER HEATER ANODES, DIP TUBES)

Confirming that this hot water problem is at ALL plumbing fixtures - if NOT at ALL fixtures, there could be a debris problem in a hot water valve or faucet or in hot water lines or a control valve feeding just one area of the building.
Take a look at the diagnostic suggestions at HOT WATER PRESSURE LOSS and at HOT WATER QUANTITY IMPROVEMENT
Follow-up: R Lane
R. Lane: I think your last sentence is what is wrong, that what it is a SINGLE faucet and the Dishwasher is getting older and coincidently is going out. ...I do appreciate you taking time to help. ...Thanks Sir
Comment:
R Lane, it would be unusual for water pressure for a single faucet to come and go but I can think of a few possible explanations that each need further investigation:

- is someone or some appliance (a dishwasher) intermittently running water elsewhere on the same plumbing circuit - that can often divert pressure away from the faucet you are observing?

- is there a problem specific to hot water supply that makes pressure vary only on hot (or cold) pressures?

- on some occasions a blockage in a pipe can behave intermittently itself, as I picture a piece of debris moving so that it acts on occasion as a stop in the pipe and at other times, perhaps by position, permitting water to pass more easily. In contrast, debris at a faucet strainer just gets worse, it doesn't go away.
Follow up: R. Lane
You know you may have something there sir. ..Funny both the hot water at the kitchen faucet and the dishwasher right next to it are the only things affected...in these bad economic times we have dealt with by hand washing and if we slowly turn on the hot water at that faucet it will go to full flow so definitely a blockage somewhere. ..Again I sincerely I appreciate your help you are of sterling character to offer so generously offer your wisdom and I appreciate it
Question: well pump not pumping any water, recovers when shut off overnight
oops I didn't put my name. I was asking about our well not pumping any water. We shut off power to it over night and turned back on the next morning and it worked. Now the same thing has happened. I'm hoping it works in the morning. What can this be? Where should we start? Well is the only way we have to get water. City will not come out this far in the woods. It's a submersible pump. - Cindy Howard
Reply:
Cindy usually when water pressure recovers over night the cause is a poor well flow rate - running out of water. There may be other more less common causes however. See WATER PRESSURE PROBLEM DIAGNOSIS TABLE for some troubleshooting suggestions.
Follow-up:
Ours turned out to be a bad pressure tank. The bladder burst and we had to replace it. Works great now. - Cindy
Comment:
Sometimes a burst bladder in a water pressure tank gives strange water pressure behavior - because sometimes water can flow into or out of the pressure tank while other times, when the bladder becomes stuck over the tank inlet/outlet, no water flows. Also such tanks can become waterlogged, leading to pump short cycling.
Question: We have a deep well with no yield. Could the water table be varying seasonally?
deep well .... no water coming out... have replaced with new pipe... made sure it was not clogged and not pulling up sand. is there such a thing as the water table in the dry season, dropping too low for the pump to draw? - Agatha Brooks
Reply from Sam Waite:
For Agatha Brooks
All Wells regardless of pipe or depth have common components and require exactly the same procedures. Even oil wells.

Yes, the water table level fluctuates in wells according to the season. During the dry summer season and when a 'neighbor' or city installs a 2,000 gal per minute pump within a mile of your well the water level will go down 6-15 feet.

Your pump can become clogged or obstructed down the well by dirt and sand that has filled in your well.

When performing any work that requires removing the well pipe or the submersible pump. ALWAYS do the following, make sure that the following is accomplished because a well services company will list the service on your bill, even if they do not perform the work.

1. Wells, with time and earthquakes can fill with dirt and sand. Material sloughing or falling off the wells vertical walls. Therefore ALWAYS after pulling your pipe stock and pump out of the well.
a. Have the well "cavitated." What this means is that explosives will be lowered to the depth of where the pump will be and then exploded. This creates a subsurface cavity about the size of a swimming pool where water can then pool for your pump. This cavity should be free of obstructions.

Watch out: we do not recommend explosives to increase well yield. While this was common practice in some areas of the U.S. in the 1940's and earlier, modern well yield improvements that have the same underlying principle (cracking rock to increase water flow) are done using hydro-fracking - much safer and usually guaranteed.("Cavitating a water well" refers to attempts to fracture the rock that feeds water into the well.) - Ed.

b. Then have the well "Backwashed." What this means is that a large pipe will inserted into the well to the bottom and they will then pump out all of the loose sand, dirt, gravel and fossils. There will be a mound of this material when done near the well working area. This large rock and gravel friendly industrial pump is something you most likely do not own and cannot rent.
2. With your new water pipe insert one anti-siphon valve (a one-way flap valve) for every 60 or 100 feet of pipe. You must have at least one of these in the vertical pipe. This valve prevents water in surface pipes, from flowing back down into your well. One of these valves should be near the surface well pipe connection. Yes, anti-siphon valves can freeze in place rendering them useless.
Question: what is the relationship between water pressure, well flow, and weather?
Does warm weather play a factor in water pressure? Every summer our water pressure lowers in the months of July & August. Thank you - Kevin
Reply: seasonal drops in water table in an area can affect well yield or flow rate
There can indeed be relationship between warm weather and water "pressure" though I'd call it a relation between warm weather and reduced well flow rate, or less water delivered by some wells, that may appear in the building as reduced "pressure" depending on how some folks talk about water flow.

North of the equator during July in particular, a hot dry summer can mean that local water tables drop and the level of water in some wells will drop too.

Question: Repeated losses of water pressure and tripping circuit breakers
We have lost water pressure on three occasions now. The first time, the septic breaker was flipped, and resetting this brought back water pressure. The second and third time the breaker was not flipped, just no water. Pressure needle below the pressure tank showed zero each time. Any suggestions on what to look for?
Reply: Check pump, pump wiring, pump control switches and relays
Colt,
I think you mean the circuit breaker tripped (not the septic breaker). A tripping breaker, if the electrical wiring and breaker themselves are OK, means the pump was drawing high current - a possible sign of a failing pump motor or a hard-starting pump motor (search InspectAPedia for hard start motor capacitor kits).

The fact that the breaker is not any longer tripped and you had no water argues for a dead pump or a bad or defective pressure switch.
Follow-Up:
Turned out to be a pressure switch fouled with Iron/sediment. Repairman recommended installing a filter between the well and the pressure tank to keep this out of the plumbing. Thanks - Colt

Ask a Question or Search InspectApedia
Questions & answers or comments about troubleshooting & fixing intermittent loss of water pressure in buildings.
Try the search box just below or if you prefer, post a question or a comment in the Comments box below and we will respond promptly.
Search the InspectApedia website
Technical Reviewers & References
Related Topics, found near the top of this page suggest articles closely related to this one.
Click to Show or Hide Citations & References
Thanks to reader Vincent Madison 07/24/2010 for email questioning that suggested expansions in this discussion of variations in available water supply at buildings.
Thanks to Timothy B. Pearson, Senior Plumbing Designer, Clark Nexsen Architecture & Engineering,
1523 Elizabeth Avenue Suite 300, Charlotte, NC 28204, 704.377.8800 Email: tpearson@clarknexsen.com for discussing unusual water pressure loss and return traced to a pressure regulating valve, March 2010
Access Water Energy, PO Box 2061, Moorabbin, VIC 3189, Australia, Tel: 1300 797 758, email: sales@accesswater.com.au Moorabbin Office: Kingston Trade Centre, 100 Cochranes Rd, Moorabbin, VIC 3189
Australian supplier of: Greywater systems, Solar power to grid packages, Edwards solar systems, Vulcan compact solar systems, water & solar system pumps & controls, and a wide rage of above ground & under ground water storage tanks: concrete, steel, plastic, modular, and bladder storage tanks.
Smart Tank, Installation Instructions [ copy on file as /water/Smart_Tank_Flexcon.pdf ] - , Flexcon Industries, 300 Pond St., Randolph MA 02368, www.flexconind.com, Tel: 800-527-0030 - web search 07/24/2010, original source: http://www.flexconind.com/pdf/st_install.pdf
Typical Shallow Well One Line Jet Pump Installation [ copy on file as /water/Jet_Pump_Grove_Elect_Jet_Pumps_1.pdf ] - , Grove Electric, G&G Electric & Plumbing, 1900 NE 78th St., Suite 101, Vancouver WA 98665 www.grovelectric.com - web search -7/15/2010 original source: http://www.groverelectric.com/howto/38_Typical%20Jet%20Pump%20Installation.pdf
Typical Deep Well Two Line Jet Pump Installation [ copy on file as /water/Jet_Pump_Grove_Elect.pdf ] - , Grove Electric, G&G Electric & Plumbing, 1900 NE 78th St., Suite 101, Vancouver WA 98665 www.grovelectric.com - web search -7/15/2010 original source: http://www.groverelectric.com/howto/38_Typical%20Jet%20Pump%20Installation.pdf
Water Fact Sheet #3, Using Low-Yielding Wells [ copy on file as /water/Low_Yield_Wells_Penn_State.pdf ] - , Penn State College of Agricultural Sciences, Cooperative Extension, School of Forest Resources, web search 07/24/2010, original source: http://pubs.cas.psu.edu/FreePubs/pdfs/XH0002.pdf
Crystal Clear Supply provides portable ceramic water filter purifiers and portable reverse osmosis water treatment equipment - see http://www.crystalclearsupply.com/category_s/7.htm
Handbook of Disinfectants and Antiseptics, Joseph M. Ascenzi (Editor), CRC, 1995, ISBN-10: 0824795245 ISBN-13: 978-0824795245 "The evaluation of chemical germicides predates the golden age of microbiology..." -
This well-focused, up-to-date reference details the current medical uses of antiseptics and disinfectants -- particularly in the control of hospital-acquired infections -- presenting methods for evaluating products to obtain regulatory approval and examining chemical, physical, and microbiological properties as well as the toxicology of the most widely used commercial chemicals.
Potable Aqua® emergency drinking water germicidal tablets are produced by the Wisconsin Pharmacal Co., Jackson WI 53037. 800-558-6614 pharmacalway.com
Principles and Practice of Disinfection, Preservation and Sterilization (Hardcover)
by A. D. Russell (Editor), W. B. Hugo (Editor), G. A. J. Ayliffe (Editor), Blackwell Science, 2004. ISBN-10: 1405101997, ISBN-13: 978-1405101998.
"This superb book is the best of its kind available and one that will undoubtedly be useful, if not essential, to workers in a variety of industries. Thirty-one distinguished specialists deal comprehensively with the subject matter indicated by the title ... The book is produced with care, is very readable with useful selected references at the end of each chapter and an excellent index. It is an essential source book for everyone interested in this field. For pharmacy undergraduates, it will complement the excellent text on pharmaceutical microbiology by two of the present editors."
The Pharmaceutical Journal: "This is an excellent book. It deals comprehensively and authoritatively with its subject with contributions from 31 distinguished specialists. There is a great deal to interest all those involved in hospital infection ... This book is exceptionally well laid out. There are well chosen references for each chapter and an excellent index. It is highly recommended." The Journal of Hospital Infection.: "The editors and authors must be congratulated for this excellent treatise on nonantibiotic antimicrobial measures in hospitals and industry ... The publication is highly recommended to hospital and research personnel, especially to clinical microbiologists, infection-control and environmental-safety specialists, pharmacists, and dieticians."
New England Journal of Medicine: City Hospital, Birmingham, UK. Covers the many methods of the elimination or prevention of microbial growth. Provides an historical overview, descriptions of the types of antimicrobial agents, factors affecting efficacy, evaluation methods, and types of resistance. Features sterilization methods, and more. Previous edition: c1999. DNLM: Sterilization--methods.
U.S. Army Field Manual 21-10, Field Hygiene and Sanitation, 1988, web search 07/02/2010, original source: http://www.enlisted.info/field-manuals/fm-21-10-field-hygiene-and-sanitation.shtml
The purpose of this manual is to assist individual soldiers, unit commanders, leaders and field sanitation teams in preventing disease and environmental injuries. The manual provides information on preventive medicine measures (PMM) to the individual soldier as well as essential information for the unit commander, unit leaders, and the unit field sanitation team on applying unit level PMM.
When Technology Fails, Matthew Stein, Chelsea Green Publisher, 2008,493 pages. ISBN-10: 1933392452 ISBN-13: 978-1933392455, "... how to find and sterilize water in the face of utility failure, as well as practical information for dealing with water-quality issues even when the public tap water is still flowing". Mr. Stein's website is www.whentechfails.com/
...
Books & Articles on Building & Environmental Inspection, Testing, Diagnosis, & Repair
The Home Reference Book - the Encyclopedia of Homes, Carson Dunlop & Associates, Toronto, Ontario, 25th Ed., 2012, is a bound volume of more than 450 illustrated pages that assist home inspectors and home owners in the inspection and detection of problems on buildings. The text is intended as a reference guide to help building owners operate and maintain their home effectively. Field inspection worksheets are included at the back of the volume. Special Offer: For a 10% discount on any number of copies of the Home Reference Book purchased as a single order. Enter INSPECTAHRB in the order payment page "Promo/Redemption" space. InspectAPedia.com editor Daniel Friedman is a contributing author.

Or choose the The Home Reference eBook for PCs, Macs, Kindle, iPad, iPhone, or Android Smart Phones. Special Offer: For a 5% discount on any number of copies of the Home Reference eBook purchased as a single order. Enter INSPECTAEHRB in the order payment page "Promo/Redemption" space.