Use of Springs for Drinking Water
How to protect the sanitation of sources of spring water
InspectAPedia tolerates no conflicts of interest. We have no relationship with advertisers, products, or services discussed at this website.
Drinking spring water? This article describes using springs for drinking water and explains issues with spring water sanitation. We provide advice about what to do when things go wrong with a drinking water spring, and we discuss the differences between a spring and a seep, spring and a dug well, and a spring and other types of water sources. .
We also provide a MASTER INDEX to this topic, or you can try the page top or bottom SEARCH BOX as a quick way to find information you need.
Springs as a Water Supply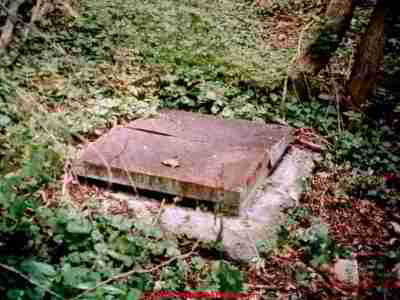 Open water springs, and similar containers have been used for centuries to supply water to buildings.
If the water tank is located higher than the building it serves the water supply can be fed by gravity.
If the open water tank is in the building or below it the water may be moved to the point of use by a hand pump or an electrical pump.
In the page top photograph my client and we had found the water supply for his home: a spring-fed in-ground cistern located uphill from the house and fed to the house by gravity.
What's Risky if not Downright Wrong Using a Spring to Supply Drinking Water ?
Spring water can be delicious and clean if it is in a protected location. But most residential springs serving homes are not so carefully designed.
Springs and cisterns that are open to groundwater runoff like these are unlikely to provide sanitary drinking water since they are easily contaminated by surface runoff. Where building security and personal security are a special concern, the water source needs to be protected from tampering; in these cases a spring could be deliberately contaminated or poisoned.
In the pictures of springs used as a home water supply shown above, the cover is unsafe or missing completely, and the springs remain vulnerable to surface contaminants such as animal waste, pesticides, fertilizers, or other surface chemicals. Even if a water spring passes a bacterial test we have these remaining concerns:
Other chemicals or contaminants may be present
The spring is so easily contaminated from surface water that we can't be sure that it will remain as a sanitary water source.
Sanitation Advice for Springs as a Drinking Water Source - Spring Water Contamination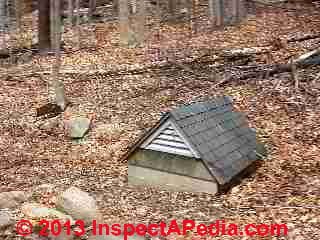 OPINION: As we discussed Hand Dug Wells, at While 100 years ago or more surface water found in dug wells and springs was often of high quality and potable - at least in some areas of the world.
It is difficult to keep a ground water spring or seep sanitary - a typical residential water-source spring is open to both surface runoff and ground water runoff. When the author was a boy, our water was taken from a cool surface spring at our home in Dunnsville, Virginia.
Dad, helped by Ivory Washington, built a concrete enclosure to keep nearby surface runoff out of the spring. He also built a roof over the enclosure, to that to obtain water we had to dip it out of the springhouse. Later we added a small pump to send the springwater to our house.
The spring enclosure, combined with his observation that water was constantly rising to the surface of the spring from an underground source gave Dad confidence in the water quality - we doubt he ever had it tested. Water rose in the concrete enclosure, filling it to overflowing. We also kept our watermelons cool by tossing them into the springhouse.
But today it is very difficult to find sanitary drinking water where surface runoff and shallow subsurface water enter the water supply such as that provided by a residential spring or hand dug well. This is also true for other types shallow wells such as Driven Point Wells, and even drilled wells protected by a well casing in some cases.
Commercially sold bottled spring water is a different matter and is expected to be sanitary and thus safe to drink. Keep in mind that bottled water sold as "spring water" is typically not only taken from a protected source, but it is also constantly tested by the bottled water producer, and in at least some instances bottled spring water may also be sanitized or treated as well.
Watch out: Shocking a spring water source (WELL CHLORINATION & SHOCKING) in an attempt to "fix" a bacteria problem in its drinking water is almost certainly unreliable.
You can shock the spring at its source - a momentary sanitizing step for spring water that is not durable, but if you are not going to drill a modern sanitary well (costly), in order to assure safe potable drinking water you will probably need to install water treatment equipment to sanitize the water - after testing to see what contaminants besides bacteria (Interpreting the Level of Bacteria) are present.
Reader Question: spring water does not pass the water test
(Oct 10, 2014) Anonymous said:
we have a spring fed pipe coming into our house and the drinking water will not pass the water test what can we do please help
Reply:
Check that the spring water is properly protected from surface runoff.
Watch out: Shocking a spring water source (WELL CHLORINATION & SHOCKING) in an attempt to "fix" a bacteria problem in its drinking water is almost certainly unreliable.
You can shock the spring at its source - a momentary sanitizing step for spring water that is not durable, but if you are not going to drill a modern sanitary well (costly), in order to assure safe potable drinking water you will probably need to install water treatment equipment to sanitize the water - after testing to see what contaminants besides bacteria (Interpreting the Level of Bacteria) are present.
Chances are you'll need to add a water treatment system. First have the water tested on a broader basis than just bacteria so that your test lab can give good advice about what treatment is needed.
Spring Water Source Definitions: Seeps, Springs, Drilled Wells & Dug Wells - What's the Difference?
What is the Difference Between a Spring and a Seep as a Water Source?
Question: how I can tell the difference between a spring and a seep?
Photo at left: a seep or spring water source in Jalpan, Mexico. Unprotected from surface runoff, this water source supplies a tourist spa, restaurant, as well as local residents.
I was wondering if you could tell me how I can tell the difference between a spring and a seep? What do I look for. I have what looks like the start of a small steam on my property.
It is very small and moving slowly and there are a bunch of heavy rocks near by so I can't tell exactly where it is coming from. Someone had put a well on the property but apparently it is unusable according to the realtor. - J.S.
Reply:
A "seep" is essentially the same thing as a spring - both are sources of water at or near ground surface.
People use the word "seep" when the flow rate is small, and more importantly, to imply that the water arriving at the point where it is collected has passed through a length of soil near the ground surface, or perhaps even on the surface such as under leaves and moss. Neither source is reliably sanitary for drinking water in most U.S. locations.
To make use of seep water for watering grass or something similar:
You will want to do some exploring to see if you can follow the water course back on the ground surface to a source such as a rock face or rock field.
The closer you can construct a water collecting cistern to the seep water source the less unsanitary surface materials will affect the water supply.
Keep your cost down by keeping things simple: if the property has enough slope from seep and cistern location to point of use you may use a gravity piping system. See our warnings just below.
If you are planning to make use of seep water for more than watering the grass,
you'll almost certainly need to install a water treatment / purification system before it could be safe to drink. Before choosing a water treatment system for your seep water here are some things to consider:
If the total flow rate of the seep is quite low - as is usually the case - the water supply quantity may not justify purchasing and installing collection cistern, pump, piping, and water treatment equipment that would be necessary.
Seep water supplies are often seasonal - you may have no water in the seep during dry weather.
What's the difference between a spring and a dug well and a drilled well?
Question: I am looking at a home that has its water supply in the basement floor. How do I know if its a cistern or a well?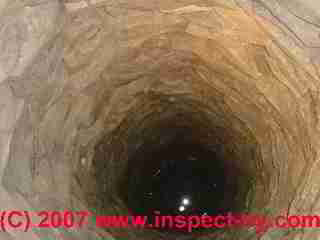 I have a question, I am looking at a home that has its water supply in the basement floor.
How do I know if its a cistern or a well? I mean...
The water is in the basement of an old house , I'm thinking mid 1800s , the hole is covered with a metal plate.
When we lifted it up the water was moving.
There is a tank used for wells and the pump is also mounted by the tank. Is it possible it is the original water supply way back, and a well was added later? - R.H.
Reply: Photos comparing a cistern, dug well, and drilled well, all sometimes found under or close to buildings
Our photo (above, by your question) is what you see when looking down into a hand dug well that was constructed of stone walls, later sealed with mortar. A dug well can vary enormously in width depending on the number of people who are to depend on it and thus the amount of water people want it to hold in reserve.
But in North America, typically a dug well is less than 10 feet in diameter. Depths of hand dug wells vary, deeper being scarier and more dangerous to dig. Hand dug wells are described in detail
at HAND DUG WELLS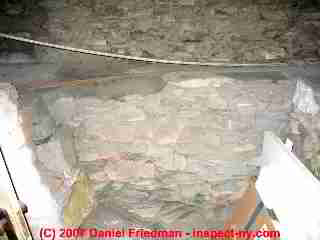 Cisterns: At left is a typical cistern that was constructed in the basement of a re-1900 home in the Northeastern U.S. A cistern is basically just a water holding tank. So you would see something sending water into it. Like roof downspouts.
Historically cisterns were dug outside of structures, covered and sealed against unsanitary surface runoff, and were or still are today filled by directing rainwater from building roofs into the cistern. A cistern might also be supplied with springwater routed through pipes or an aqueduct.
Typically a cistern will be more shallow than a hand dug well, and larger in cross sectional dimensions so that it can hold a large reservoir of water from another source. For details
see CISTERNS.
Wells in basements: We discuss basement wells in more detail
at BASEMENT WELLS (in our article about the different types of wells) In contrast with cisterns (tanks that hold water from another source), a well well gets its water from the earth, typically by water seeping through soils (shallow wells) or rock fissures (deeper wells) into either a dug opening in the earth or one that has been drilled.
Depending on the well diameter and depth, it may also store a useful volume of water (a large static head) or it may store very little volume of water, relying instead on a fast flow-rate of water into the well when water is being taken out of it. In a basement most likely a well is hand dug - as you'd not normally be able to get a well drilling rig to drill down through the house itself.
Just below are photographs of different well water sources that are sometimes found inside of a building: From left to right,
Left: my clients opening a cover over a dug well in a basement floor. That well was not in use but was a hazard. Center: an antique well pump mounted right on top of a steel well casing for a shallow well that was originally immediately outside the building wall in a well pit, later enclosed as an extension poking out from the basement wall and thus "under the house".
Right: a drilled well in a steel casing enclosed in an extension through the basement foundation wall, also open to the basement.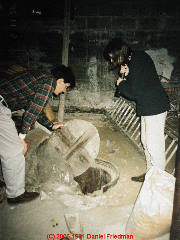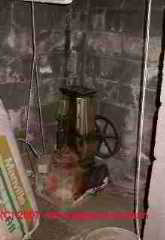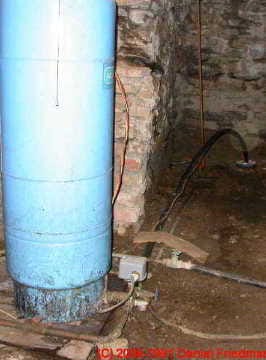 From your question you are probably describing a "dug well" or a "constructed spring" It would be unusual but not impossible for someone to build a house over a spring. More often in older homes people dug a cistern or even a dug well in the basement of the home. In neither case can you trust that the water supply is or will remain sanitary.
As you saw water "moving" I infer that you saw groundwater entering the well from one of the source types I described above. Of course it's possible that what you saw is really just a cistern - in which case the flow of water coming into the cistern could be from a spring, a remotely dug or drilled well, roof runoff, a nearby stream, or other source that is either uphill and drains into the cistern by gravity, or is fed by a pump. You'd need to explore the water source and property to figure that out.
At the top of this page is a photo of an access to a spring that we found hundreds of feet away from the home that it served. Water bubbled up into the spring, collected in a concrete chamber that had been built around the spring, and flowed out through a hole near the top of the spring enclosure wall where it entered a pipe that flowed by gravity to a holding cistern in the house itself. From there originally a hand pump drew water into a kitchen sink - later that pump was replaced by a local electric pump and a pressure tank.
Details of dug wells are at DUG WELLS, by HAND . Here are some basics:
From a practical sense, if it's a dug well it's shallow - less than 25 ft deep. (Measure your well dimensions including the height of the water column, total well depth, diameter, and I can say more. If it's a spring it might be more shallow. But in both cases your water supply depends on ground water seeping into the well or spring opening.
And you're pumping it out using probably a shallow well one line jet pump. (If you see TWO pipes running from your pump into the well it's a deep well jet pump and it would hardly be likely to be dug.)
If you are going to rely on this water supply for drinking you'll
probably need (I would insist on) a treatment system to assure that the water remains sanitary and potable between tests
not want to bet on the water quantity being adequate
And yes, typically a dug well originally provided water by bucket and rope, later by hand pump, and later by an electrical pump and pressure tank.
Drinking Water Spring Protection: Spring Boxes
This topic has moved to SPRING BOX BUILD, REPAIR [ live link given just below]
...
Continue reading at SPRING BOX BUILD, REPAIR or select a topic from closely-related articles below, or see our complete INDEX to RELATED ARTICLES below.
Suggested citation for this web page
SPRINGS as WATER SUPPLY at InspectApedia.com - online encyclopedia of building & environmental inspection, testing, diagnosis, repair, & problem prevention advice.
Or use the SEARCH BOX found below to Ask a Question or Search InspectApedia
...
Ask a Question or Search InspectApedia
Try the search box just below, or if you prefer, post a question or comment in the Comments box below and we will respond promptly.
Search the InspectApedia website
Technical Reviewers & References
Click to Show or Hide Citations & References
Edberg, Stephen C., Henri Leclerc, and John Robertson. "Natural Protection of Spring and Well Drinking Water Against Surface Microbial Contamination. II. Indicators and Monitoring. Parameters for Parasites." Critical reviews in microbiology 23, no. 2 (1997): 179-206.
[1] Debra Lynn Dodd, "What are the Best Nontoxic Caulks?", Mother Earth Living, http://www.motherearthliving.com/home- products/what-are-the-best-nontoxic-caulks.aspx, retrieved 4/3/2013
[2] DAP Inc., "Alex Plus Clear Caulk MSDS Material Data Safety Sheet", http://www.dap.com/docs/msds/00010019002_english.pdf retrieved 4/3/2013, copy on file as DAP_Acrylic_Latex_Alex_Plus_Caulk_MSDS.pdf.
DAP Inc., 2400 Boston Street Suite 200, Baltimore MD 21224, Tel: 888-327-8477 (non-emergency matters). Excerpt:
Emergency Overview: A white to off-white paste product with a very slight ammonia odor. WARNING! May cause eye, skin, nose, throat and respiratory tract irritation. May cause eye or skin irritation. Harmful if swallowed or absorbed through the skin. This product contains ethylene glycol.
[3] Dow Corning, "Dow Corning® 790 Silicone Building Sealant, Gray, MSDS Material Data Safety Sheet", retrieved 4/3/2013, copy on file as Dow_Silicone_Sealant_790_MSDS.pdf, Dow Corning Corporation, South Saginaw Road, Midland MI 48636, Customer Service: 989-496-6000; Emergency Telephone: 989-496-5900.
[4] AFMSafecoat, No company address provided by their website! Telephone: 800-239-0321, Email: info@afmsafecoat.com, Website: http://www.afmsafecoat.com/.
From the product MSDS [on file as Safecoat_gmeycr7130 Caulking Compund msds 2008.pdf] the company is identified as American Formulating & Manufacturing, 3251 Third Ave., San Diego CA 92103, Tel: 619-239-0321.
[5] "Nano-tech sunscreen presents potential health risk". ABC News. December 18, 2008. http://www.abc.net.au/news/stories/2008/12/18/2450030.htm [Wikipedia retrieved 4/3/13]
[6] Will Hart, "Protective Structures For Springs: Spring Box Design, Construction and Maintenance", Will Hart M.S. Candidate School of Forest Resources & Environmental Science Master's International Program Michigan Technological University www.cee.mtu.edu/peacecorps. [PDF copy]. 2003 for the requirements of CE 5993 Field Engineering in the Developing World. Following citations are from this source:
[7] Protecting Springs- An Alternative to Springboxes. Prepared by Brian Skinner and Rod Shaw for the Water Engineering and Development Center (WEDC), Loughborough University, Leicestershire
[8] Cairncross, S and Feachem, RG. Environmental Health Engineering in the Tropics: An Introductory Text, 2nd Edition. John and Wiley Sons, Chichester, 1983.
[9] Fernando, Vijita. Energy and Environment Technology Source Books: Water Supply. Intermediate Technologies, London, 1996.
[10] Hanson, B.D. Water and Sanitation Technologies: A Trainers Manual. Peace Corps, March, 1985.
[11] Water Engineering and Development Center (WEDC). The Worth of Water: Techni
[12] Niskanen, Matthew, "The Design, Construction, and Maintenance of a Gravity-Fed Water System in the Dominican Republic," Department of Civil & Environmental Engineering, Michigan Technological University, Houghton, MI, 2003
[13] Water for The World technical notes can be found at www.lifewater.org
Drinking Water Supply, Contamination Levels, Water Testing Procedures
Shock or Chlorinate a Well, How to - Procedure for Shocking a Well to (temporarily or maybe longer) "Correct" Bacterial Contamination
CONTAMINANT CLASSES, in WATER & links to home buyer advice about water testing, drinking water, water supply
Crystal Clear Supply provides portable ceramic water filter purifiers and portable reverse osmosis water treatment equipment - see http://www.crystalclearsupply.com/category_s/7.htm
Handbook of Disinfectants and Antiseptics, Joseph M. Ascenzi (Editor), CRC, 1995, ISBN-10: 0824795245 ISBN-13: 978-0824795245 "The evaluation of chemical germicides predates the golden age of microbiology..." -
This well-focused, up-to-date reference details the current medical uses of antiseptics and disinfectants -- particularly in the control of hospital-acquired infections -- presenting methods for evaluating products to obtain regulatory approval and examining chemical, physical, and microbiological properties as well as the toxicology of the most widely used commercial chemicals.
Potable Aqua® emergency drinking water germicidal tablets are produced by the Wisconsin Pharmacal Co., Jackson WI 53037. 800-558-6614 pharmacalway.com
Principles and Practice of Disinfection, Preservation and Sterilization (Hardcover)
by A. D. Russell (Editor), W. B. Hugo (Editor), G. A. J. Ayliffe (Editor), Blackwell Science, 2004. ISBN-10: 1405101997, ISBN-13: 978-1405101998.
"This superb book is the best of its kind available and one that will undoubtedly be useful, if not essential, to workers in a variety of industries. Thirty-one distinguished specialists deal comprehensively with the subject matter indicated by the title ... The book is produced with care, is very readable with useful selected references at the end of each chapter and an excellent index. It is an essential source book for everyone interested in this field. For pharmacy undergraduates, it will complement the excellent text on pharmaceutical microbiology by two of the present editors."
The Pharmaceutical Journal: "This is an excellent book. It deals comprehensively and authoritatively with its subject with contributions from 31 distinguished specialists. There is a great deal to interest all those involved in hospital infection ... This book is exceptionally well laid out. There are well chosen references for each chapter and an excellent index. It is highly recommended." The Journal of Hospital Infection.: "The editors and authors must be congratulated for this excellent treatise on nonantibiotic antimicrobial measures in hospitals and industry ... The publication is highly recommended to hospital and research personnel, especially to clinical microbiologists, infection-control and environmental-safety specialists, pharmacists, and dieticians."
New England Journal of Medicine: City Hospital, Birmingham, UK. Covers the many methods of the elimination or prevention of microbial growth. Provides an historical overview, descriptions of the types of antimicrobial agents, factors affecting efficacy, evaluation methods, and types of resistance. Features sterilization methods, and more. Previous edition: c1999. DNLM: Sterilization--methods.
U.S. Army Field Manual 21-10, Field Hygiene and Sanitation, 1988, web search 07/02/2010, original source: http://www.enlisted.info/field-manuals/fm-21-10-field-hygiene-and-sanitation.shtml
The purpose of this manual is to assist individual soldiers, unit commanders, leaders and field sanitation teams in preventing disease and environmental injuries. The manual provides information on preventive medicine measures (PMM) to the individual soldier as well as essential information for the unit commander, unit leaders, and the unit field sanitation team on applying unit level PMM.
When Technology Fails, Matthew Stein, Chelsea Green Publisher, 2008,493 pages. ISBN-10: 1933392452 ISBN-13: 978-1933392455, "... how to find and sterilize water in the face of utility failure, as well as practical information for dealing with water-quality issues even when the public tap water is still flowing". Mr. Stein's website is www.whentechfails.com/
Wikipedia provided background information about some topics discussed at this website provided this citation is also found in the same article along with a " retrieved on" date. NOTE: because Wikipedia entries are fluid and can be amended in real time, we cite the retrieval date of Wikipedia citations and we do not assert that the information found there is necessarily authoritative. 4/3/2013: retrieved data from Wikipedia entries for Titanium dioxide.
Books & Articles on Building & Environmental Inspection, Testing, Diagnosis, & Repair
Our recommended books about building & mechanical systems design, inspection, problem diagnosis, and repair, and about indoor environment and IAQ testing, diagnosis, and cleanup are at the InspectAPedia Bookstore. Also see our Book Reviews - InspectAPedia.
...