Single Line Jet Pumps & Water Wells, Explanation & Repairs
WATER PUMP, ONE LINE JET - CONTENTS: Single Line Jet Pumps & Water Wells, Explanation & Repair Advice. What are the components of a one line jet pump water supply system? What types of wells use a one-line jet pump for water delivery? Types of wells and water supply systems and what to watch out for with each. Well pump & water tank diagnosis & repair procedures
POST a QUESTION or READ FAQs about shallow wells and single line jet pumps: installation, plumbing, operation, diagnosis, repair
InspectAPedia tolerates no conflicts of interest. We have no relationship with advertisers, products, or services discussed at this website.
One-line jet pumps:
This article describes the components of a one-line jet pump water system, what the components look like, and what they do.
This article explains how a one-line jet pump works, where one line jet pumps are used, the pumping depth or lift height capacity of jet pumps, and jet pump installation, troubleshooting & repair procedures. We provide advice about what to do when things go wrong with your well pump.
Green links show where you are. © Copyright 2017 InspectApedia.com, All Rights Reserved.
What are the Components of a Shallow Well with a One Line Jet Pump?
By definition, if a one-line jet pump is installed at a building, the well is a "shallow well", possibly a bored well or a hand dug well, or even a shallow drilled well. Here Carson Dunlop Associates sketch shows the difference between a 'deep well' and a 'shallow well'.
[Click to enlarge any image]
Refer also to our sketch just below where we depict a shallow well (less than 20 feet deep) served by a one-line jet pump located apart from the well.
A shallow well might be capable of delivering plenty of water, depending on just where it is located, but there are water quality concerns with shallow wells.
A shallow water well is more likely to receive surface runoff, making it a bit more at risk of contamination by bacteria or any chemical that might be on local ground surfaces such as road salt, fertilizers, or pesticides.
Most "shallow water wells" are less than 30 feet deep (so the foot valve is at 24-feet depth or less) and use an above-ground single-line jet pump to "suck" or draw water up from the well. These pumps cannot pull water from much deeper. Water from deeper wells is delivered by a 2-line jet pump (also above ground) or a submersible in-well pump.
More about measuring the actual depth of a well is
at DEPTH of a WELL, HOW TO MEASURE.
An Explanation of the Parts of a Shallow Water Well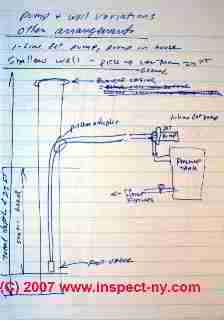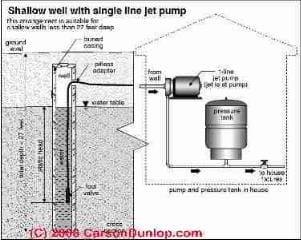 The following list and definition of water well parts and terms is organized from the top of our rough drawing towards its bottom and uses names that correspond to those shown in our ugly drawing.
The nicer drawing of a one line jet pump is provided courtesy of Carson Dunlop and provides additional details about single line shallow well jet pump water systems. First we describe items listed on the right side of our sketch, second we describe items and terms listed on the left side of the sketch.
Buried well casing which is typical for older shallow wells - the well casing top may be above ground, buried and hidden from view entirely, or (luckily) located inside of a well pit (less common). It is particularly important that the well cap on the casing be water tight since otherwise unsanitary surface water and debris can enter the well casing.

Many well caps are not water tight, which is why modern drilled well casings extend above ground level.
Where Else are One Line Jet Pumps Used?
A one line jet pump might also be installed to draw water from other shallow water supply sources including a hand dug well
discussed at DUG WELLS, by HAND
or
a cistern discussed at CISTERNS,
or
a spring which includes a spring box or a spring water collection pit
discussed at SPRINGS as WATER SUPPLY.
What is a One Line Jet Pump?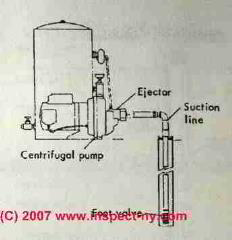 Air Vents on Well Casings
Reader Question: Describe the Air Vent Piping on Shallow Wells
I have a shallow well about 5 feet from my house under my deck. The pipe bringing in the water goes through a hole in the basement cinder block into a crawl space, then about 30 feet to the pump and all the connections. Through the same hole in the cinder block enters another pipe about 1 inch in diameter. This pipe protrudes into the basement about 1 foot. During the heavy rains of Hurricane Irene, water was flowing through this smaller pipe into our basement, so I stuffed a rag into it.
Could this be a vent pipe? and the groundwater was so full that it filled the well air pocket and flowed through the pipe? Should I open the well lid and re-direct the vent pipe? Can I keep the rag stuffed in the pipe?
None of the local plumbers did a good job installing years ago and we did not keep in touch with any of them. That's why I am asking you. - P.H.
Reply: small diameter air intake vents are needed on air-tight shallow well casings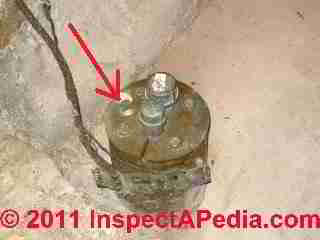 A competent onsite inspection by a well plumbing expert usually finds additional clues that help accurately identify strange pipes or if necessary, diagnose a problem. That said:
if the second smaller diameter pipe is indeed connected to your well casing or casing top, as is often the case, it is very likely an air vent.
In shallow wells it was common practice to include a vent line to allow air to enter the well casing during water draw-down in the well, in order to avoid the flow resistance that the above-ground shallow-well pump would encounter if a vacuum was formed in the well casing by the falling water level.
Our well casing top photo (left) includes a red arrow pointing to the NPT pipe thread that marks the location where an air vent tube would have been connected had one been in use on this well.
The two larger-diameter galvanized iron pipes and pipe caps protruding through the center of this well cap would have been used to connect the two lines of a two-line jet pump. So this is not exactly your case, but our photo shows where the air vent connects at a well casing top.
Shallow well single line jet pumps can pull up water from a maximum of about 25 feet, so you can see that with these less powerful pumps you'd want to relieve the vacuum.
It's also plausible that during hurricane and storm flooding ground around your well may have been so saturated as to temporarily convert your well to function as an artesian well - delivering water on its own.
You can follow the pipe you asked about back to the well to confirm its connection and location and thus its use.
Details about well casing air vent tubes and pipes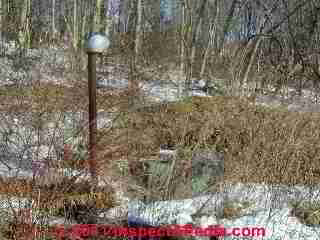 Finally, 1" is a bit bigger for a well vent than what I've usually encountered. Often the vent line is a simple flexible copper tube of 1/2" in diameter..
Well casing vent pipes are usually routed to a secure, clean indoor location in order to reduce the chances of well contamination from surface water entry into the casing through the vent.
On occasion we've seen copper tubing break off at the top of a well casing, admitting surface runoff and contaminating the well. We've also found an occasional crimped or clogged vent tube on a well casing.
The result of that problem can be reduced water delivery rate from the well - the jet pump is pulling water against a vacuum.
But on some wells we may find a larger diameter well casing vent pipe installed as a standpipe that looks something like our photo at left
What is the Pumping Capacity in Gallons per Minute for a 1-Line Shallow Well Jet Pump?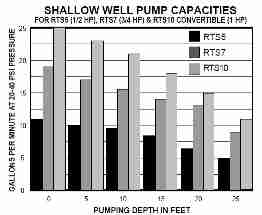 A one-line jet pump can typically raise water from depths of just a few feet (or "0" depth) to about 25 feet in depth, and at water delivery rates of 4 gpm up to as much as 25 gpm depending on the variables we list below the well pump capacity tables shown.
At WATER PUMP CAPACITIES TYPES RATES GPM we compare the pumping capacities of one line jet pumps, two line jet pumps, submersible well pumps, and other water pumping methods.
A nice example table of shallow well 1-Line Jet Pump Capacities for 1/2 hp, 3/4, and 1 hp shallow well pumps is provided in the Water Ace Jet Pump Installation Manual and excerpted below to illustrate the factors that determine well pump capacity.
Both of the charts below are for one-line jet pumps produced by Water Ace. 1-Line jet pumps intended for shallow well use and made by other manufacturers can be expected to have similar capacities.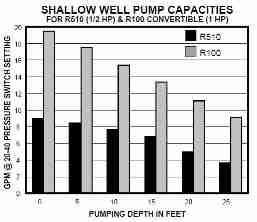 The Water Ace charts (shown in part above) make clear that the capacity of a one-line shallow well jet pump to deliver water at a given flow rate varies by these factors:
the depth of the well (the bottom scale in the two charts)
the pump horsepower (the color codes indicate pump model and horsepower HP variation)
The well pump model (the right hand table is for the company's more powerful well pump series of 2-line jet pumps)
The condition of well piping, including pipe diameter, length, number of bends or elbows
The presumption that the entire piping system has no leaks
Permission requested, Water Ace Corp. Aug 2010 - Pentair Pump Group.
Watch out: Safety warnings are throughout any pump manufacturer's instructions. Because some pump models are capable of developing internal pressures of more than 100 psi, if your building piping, pressure relief valves, safety controls, wiring, and plumbing are not properly installed, very dangerous conditions including electrical shock, tank explosion, and leaks or floods can occur.
If your building has water pressure problems, see WELL WATER PRESSURE DIAGNOSIS.
Readers whose wells simply run out of water should also see WELL FLOW TEST PROCEDURE and see WELL YIELD IMPROVEMENT
If your well pump won't start see ELECTRIC MOTOR OVERLOAD RESET SWITCH for some electric motor or pump motor troubleshooting suggestions.
...
Continue reading at WATER PUMP, ONE LINE JET OPERATION or select a topic from closely-related articles below, or see our complete INDEX to RELATED ARTICLES below.
Or see SHORT CYCLING WATER PUMP
Or see WATER PRESSURE PROBLEM DIAGNOSIS TABLE
Or see WATER PUMP REPAIR GUIDE
Or see WELL CAPS & COVERS - requirements for sealed well caps & covers, requirements for vents & exclusion of vent requirements for some jet pump installations.
Suggested citation for this web page
WATER PUMP, ONE LINE JET at InspectApedia.com - online encyclopedia of building & environmental inspection, testing, diagnosis, repair, & problem prevention advice.
Or use the SEARCH BOX found below to Ask a Question or Search InspectApedia
...
Frequently Asked Questions (FAQs)
Try the search box below or CONTACT US by email if you cannot find the answer you need at InspectApedia.
Comments:
(Apr 20, 2011) Jay Ward born2b1@yahoo.com.my said:
This website gets a giant attaboy, more clout than my ole lady. I came to your site for my water supply problem. Thanks to this site, at least now I'm gettin some (WATER that is) Thanks folks Saved me a bundle.
Reply:
Thanks Jay, we're glad this information was helpful, and we very much welcome critique, questions, or content suggestions for our web articles. - Editor
Question: no water, hot pump
(June 23, 2011) leticia said:
changed everything but the air tank and pump. still cant get pressure to stay in tank and pump gets extremely hot
Reply:
Leticia, has anyone checked for
- low voltage
- seized or damaged pump bearing or impeller?
If your well pump is getting very hot it must be running continuously, unable to reach cut-off pressure, or it is running dry. That suggests loss of prime, a bad check valve, a damaged pump impeller, a well piping leak, or loss of water in the well.
Take a look at the article linked to at page left and titled
WATER PRESSURE LOSS DIAGNOSIS & REPAIR
for help in figuring out what's wrong.
Question: Will it damage the pump if the well flow rate is less than the pumping rate?
Stan said:
Will it damage the pump if the well flow rate is less than the pumping rate?
Reply:
Stan
if the well water level or well recovery rate are low the pump might run continuously and not reach cutoff pressure - and could become damaged. Also an older pump could have a worn or damaged internal pump impeller that no longer can reach the shutoff pressure.
If you set down the cut-out pressure to a lower number - say 40 psi, and the system operates normally, I suspect the pump. If even at lower cut-out pressure the system can not pump water, either the pump is still more worn or the well water level is poor. Just check that your safety switch that shuts off the pump in event of no water is itself working.
Question: erratic pump operation
(Jan 13, 2012) scott said:
I have a new shallow well jet pump that works fine sometimes and others times it kick on but deliver no water I can unplug it for few seconds and plug it back in and it will start pumping water and work fine for a week or two and then it will do this again. this has went on for 6 months. Any idea's what wrong.
Reply:
When the pump won't pump water turn it off immediately and then check to see if it has lost prime. Sometimes a system will only lose prime when the pump doesn't run for a time - such as when the foot valve or well piping has a slow leak.
Question: change from two pipe to one pipe
(Mar 10, 2012) Anonymous said:
i have a two pipe system & want to change it to a one pipe system . i was told a jet fjord connection is whats needed for the change . what does it look like . im thinking its like the letter h . . any help is appreciated
Reply:
If your well is shallow, less than 25 feet, you can convert to a one line jet pump. If it's deeper you can't as the one line pump can't lift more than about 25 ft.
Question: where to put the chlorine
(Apr 11, 2012) Clyde Boyer said:
How do you "shock" a shallow well, one line, system when there is no riser visible?
Reply:
At WELL CHLORINATION SHOCKING PROCEDURE we describe these procedures.
It *might* be possible to inject chlorine into a 2-line jet pump system or even to pour it down the riser of a one line jet pump, but I'm very doubtful that this is a a safe procedure - for one thing, if we don't know the well depth and static head we can't determine how much chlorine to use for an effective disinfection.
Question:
(Apr 26, 2012) Bryan said:
My well casing is at the bottom of a square pit about 4' deep. Which was full of fowl water when we bought the house. I pumped the water out. We want build a deck of the back of the house.. Can I know the well house down and bury the well casing and pipe leading to basement?
Thanks
(May 6, 2012) Michael said:
Pretty good, but, I have a question, where can I find parts for the well pumps? Been trying google, and no luck at all so far. I know that most folks plan to throw everything out, but, I would rather fix the one I have than buy a new one! I have a wel-bilt shallow well pump and I need to replace the impeller, it kinda ran dry when the pond dryed up suddenly.
Reply:
Michael it depends on what's wrong to define what you need, but if you call your pump manufacturer they will be glad to tell you who has parts for it.
Question: pump can't reach cutoff pressure
(May 16, 2012) Serge said:
Last weekend I found out my water tank (bladder type) was malfunctioning, no water would go in the tank. I replaced the tank (went from 20 gals to 33gals) and now the tank works OK, I have water entering the tank. My setup is 30/50 and my tank was pre-loaded at 28...cuts-in at 30 on the nose and cut-out at 50 on the nose. My new problem is that when I use water, the tank pressure starts going down (evidently) and once it reaches 30 the pump cuts-in (as supposed to) but the pump is not able to raise water in the tank back to 50 if the water is being used...stays at 30 until I close the tap...I checked the injector of the pump and it is clean...is my pump defective?
(May 20, 2012) Brandon said:
DanJoeFriedman,
My pump is doing the same thing as Serge except my set up is 40/60. My pump will run continuously at 55 psi with a constant stream of water (10 GPM). I am building a new irrigation system and I"m struggling with my design flows at each zone. Each zone is designed to run around 3.5 gallons. So a couple questions you may be able to help me with.
1) When irrigating, do you want your pump to run continuously until there is no more call for water? I would assume this is the most efficient way to run the pump....on the entire time? Then I would need to combine zones to get as close to the 10 gpm as possible
2) If I run below the 10 gpm by constricting flow, say at my design flow of 3.5 gpm, the pressure in my system will eventually build until it reaches the cut off pressure. From there, water is flowed by tank until it reaches the 40 psi cut in when the pump will turn on. So now I've got two things going on, pressure differentials during irrigation (from 60 to 40) AND what I would think would be short cycling of the pump (constant on and off). Is this bad or is there perhaps a recommended amount of times per hour you would want your pump to turn on and off?
Sorry a long drawn out question but I'm really struggling with trying to make my system as efficient as possible. Any knowledge you may have is greatly appreciated.
Reply:
Serge & Brandon:
If the pump does not reach the cut-off pressure while water is being run in the home it means that you are running water fast enough that the pump just can't get ahead of the usage rate - that's quite common.
If the pump has become damaged internally, say to its impeller, or if it were running at low voltage, it might have lost some pumping capacity.
See WATER PUMP WONT STOP RUNNING
Question:
(Aug 19, 2012) Anonymous said:
In the past few days we have experience our water faucet, toliets and shower splurting water and the water turning brown or black. We leave it run a little bit and it clears up. The well pump seams to be working fine and cycling as it should be. How is the air getting in the lines and how do we correct it. We also have a softner unit connected up to our water system.
(Aug 31, 2012) Tomohio said:
I just purchased a new jet pump/ejector for my cistern application. Depth is approx 15 feet. Ejector came with 4 different nozzles/venturi ( inside diameter is different ) . Which do I use with 1/2 HP motor-pump? No manuals or literature came with either.
(May 15, 2014) greg said:
hi I have a 5.5 hp fire fighter with 50 mm inlet and 50 mm out can I use it to pump from a 14 metre bore hole.
(Nov 17, 2014) Brian said:
Hooked up 1/2 hp flotec pump, small unit has its own pressure tank, to old concrete well on front lawn, want to use for irrigation exclusively. Plastic pipe comes through basement wall and was capped off with no pump at all when I bought house.Now that pump is hooke up I have primed it several times but it will only pump out the priming water and runs dry and is not drawing from well, what can I do? Thanks
Reply:
Brian
Either the prime quantity is insufficient or there is a leak in well piping or a similar problem such as damaged impeller or low voltage.
Question: maximum horizontal distance between the well head and shallow well pump
(Feb 26, 2015) Walter said:
What is the maximum horizontal distance between the well head and shallow well pump assuming the vertical distance is within 25 feet? What effect will be the difference between a 1/2 horse power and a 3/4 horse pump?
Reply:
Walter
We give pump sizing data at
WATER PUMP CAPACITIES TYPES RATES GPM
including tables for different pump types and horsepowers.
...
Ask a Question or Search InspectApedia
Questions & answers or comments about shallow wells and single line jet pumps: installation, plumbing, operation, diagnosis, repair
...
Ask a Question or Search InspectApedia
Questions & answers or comments about shallow wells and single line jet pumps: installation, plumbing, operation, diagnosis, repair.
Use the "Click to Show or Hide FAQs" link just above to see recently-posted questions, comments, replies, try the search box just below, or if you prefer, post a question or comment in the Comments box below and we will respond promptly.
Search the InspectApedia website
Technical Reviewers & References
Click to Show or Hide Citations & References
Mark Cramer Inspection Services Mark Cramer, Tampa Florida, Mr. Cramer is a past president of ASHI, the American Society of Home Inspectors and is a Florida home inspector and home inspection educator. Mr. Cramer serves on the ASHI Home Inspection Standards. Contact Mark Cramer at: 727-595-4211 mark@BestTampaInspector.com
John Cranor is an ASHI member and a home inspector (The House Whisperer) is located in Glen Allen, VA 23060. He is also a contributor to InspectApedia.com in several technical areas such as plumbing and appliances (dryer vents). Contact Mr. Cranor at 804-747-7747 or by Email: johncranor@verizon.net
Water Fact Sheet #3, Using Low-Yielding Wells [ copy on file as /water/Low_Yield_Wells_Penn_State.pdf ] - , Penn State College of Agricultural Sciences, Cooperative Extension, School of Forest Resources, web search 07/24/2010, original source: http://pubs.cas.psu.edu/FreePubs/pdfs/XH0002.pdf
Smart Tank, Installation Instructions [ copy on file as /water/Smart_Tank_Flexcon.pdf ] - , Flexcon Industries, 300 Pond St., Randolph MA 02368, www.flexconind.com, Tel: 800-527-0030 - web search 07/24/2010, original source: http://www.flexconind.com/pdf/st_install.pdf
Typical Shallow Well One Line Jet Pump Installation [ copy on file as /water/Jet_Pump_Grove_Elect_Jet_Pumps.pdf ] - , Grove Electric, G&G Electric & Plumbing, 1900 NE 78th St., Suite 101, Vancouver WA 98665 www.grovelectric.com - web search -7/15/2010 original source: http://www.groverelectric.com/howto/38_Typical%20Jet%20Pump%20Installation.pdf
Typical Deep Well Two Line Jet Pump Installation [ copy on file as /water/Jet_Pump_Grove_Elect.pdf ] - , Grove Electric, G&G Electric & Plumbing, 1900 NE 78th St., Suite 101, Vancouver WA 98665 www.grovelectric.com - web search -7/15/2010 original source: http://www.groverelectric.com/howto/38_Typical%20Jet%20Pump%20Installation.pdf
Water Ace Jet Pump Installation Manual, instructions from Water Ace Pump Co., web search 08/28/2010, original source: http://www.waterace.com/pdf/R510%20R520%20and%20R100%20Jet%20Pumps%20Manual.pdf
Consumer hotline: 800-942-3343 - instructions for the installation and maintenance of
Water Ace shallow well pump Model R510 1/2 HP
Water Ace deep well pump Model R100 convertible 1HP and
Water Ace deep well jet pump Model R250 convertible 1/2 hp.
Quoting from the company's website:
The Water Ace Pump Company is a dynamic, rapidly growing retail pump manufacturer, backed by a tradition of over 125 years of excellence. We offer a complete line of sump, sewage, lawn sprinkler, swimming pool, submersible well and jet pumps as well as pressure tanks and accessories.
Water Ace Jet Pump Installation Manual, from Water Ace Pump Co., web search 08/28/2010, original source: http://www.waterace.com/pdf/RTS5%20RTS7%20RTS10%20RC5%20and%20RC10%20Jet%20Pumps%20Manual.pdf
Consumer hotline: 800-942-3343 - instructions for the installation and maintenance of Water Ace pump models:
Water Ace Shallow Well 1-line Jet Pump Models RTS5 (1/2HP), Model RTS7 (3/4 HP) and RTS10 (1HP)
Water Ace Deep Well 2-line Jet Pump Models RC5 (1/2 HP) and RC10 (1HP)
Water Ace Submersible Well Pump Installation Manual, from Water Ace Pump Co., web search 08/28/2010, original source: http://www.waterace.com/pdf/23833A019%20Well%20Pumps%20Eng.pdf
Spanish and French language submersible well pump installation manuals are available from the company.
Consumer hotline: 800-942-3343 - instructions for the installation and maintenance of Water Ace pump models:
Water Ace Submersible Well Pump Installation Manual, from Water Ace Pump Co., web search 08/28/2010, original source: http://www.waterace.com/pdf/23833A019%20Well%20Pumps%20Eng.pdf
Spanish and French language submersible well pump installation manuals are available from the company.
Consumer hotline: 800-942-3343 - instructions for the installation and maintenance of Water Ace pump models:
Water Supply & Drain Piping, Wells, Pumps, Water Supply Equipment
Access Water Energy, PO Box 2061, Moorabbin, VIC 3189, Australia, Tel: 1300 797 758, email: sales@accesswater.com.au Moorabbin Office: Kingston Trade Centre, 100 Cochranes Rd, Moorabbin, VIC 3189
Australian supplier of: Greywater systems, Solar power to grid packages, Edwards solar systems, Vulcan compact solar systems, water & solar system pumps & controls, and a
Smart Tank, Installation Instructions [ copy on file as /water/Smart_Tank_Flexcon.pdf ] - , Flexcon Industries, 300 Pond St., Randolph MA 02368, www.flexconind.com, Tel: 800-527-0030 - web search 07/24/2010, original source: http://www.flexconind.com/pdf/st_install.pdf
Typical Shallow Well One Line Jet Pump Installation [ copy on file as /water/Jet_Pump_Grove_Elect_Jet_Pumps.pdf ] - , Grove Electric, G&G Electric & Plumbing, 1900 NE 78th St., Suite 101, Vancouver WA 98665 www.grovelectric.com - web search -7/15/2010 original source: http://www.groverelectric.com/howto/38_Typical%20Jet%20Pump%20Installation.pdf
Typical Deep Well Two Line Jet Pump Installation [ copy on file as /water/Jet_Pump_Grove_Elect.pdf ] - , Grove Electric, G&G Electric & Plumbing, 1900 NE 78th St., Suite 101, Vancouver WA 98665 www.grovelectric.com - web search -7/15/2010 original source: http://www.groverelectric.com/howto/38_Typical%20Jet%20Pump%20Installation.pdf
Water Fact Sheet #3, Using Low-Yielding Wells [ copy on file as /water/Low_Yield_Wells_Penn_State.pdf ] - , Penn State College of Agricultural Sciences, Cooperative Extension, School of Forest Resources, web search 07/24/2010, original source: http://pubs.cas.psu.edu/FreePubs/pdfs/XH0002.pdf
Books & Articles on Building & Environmental Inspection, Testing, Diagnosis, & Repair