Hand Dug Water Well Step-by-Step Procedure
Case study illustrates just how a dug well may be excavated, constructed, & put into use
POST a QUESTION or READ FAQs about how to dig a "hand dug" water well, how to line the well, make a safe well cover, and how to get the water out of the hand dug well
InspectAPedia tolerates no conflicts of interest. We have no relationship with advertisers, products, or services discussed at this website.
How to dig a water well:
This article and references we include describe the process of digging a well to provide usable water and the steps taken to make the well safe and sanitary. We include both technical advice and a description of the practical problems that one must encounter and overcome in providing usable water in an area where public water supply is absent or limited.
This article series offers advice for Hand Dug Water Wells and the sanitation and maintenance concerns with this water supply type.
We also provide a MASTER INDEX to this topic, or you can try the page top or bottom SEARCH BOX as a quick way to find information you need.
How to Dig a Well: Steps in Building a Hand Dug Well in Oaxaca, Mexico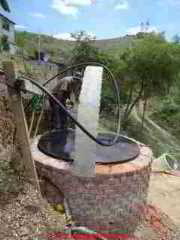 Constructing a Hand Dug Well in Mexico:  A Oaxaca Case Study
Part I:  Decision-Making Process, To Completion of Digging
Alvin Starkman M.A., LL.B., Casa Machaya, Oaxaca Bed and Breakfast.
Detailed description of how a hand dug well is constructed, used, made safe & sanitary - a case study of providing sanitary water from a hand dug well in Mexico.
This article series offers advice for Hand Dug Water Wells and the sanitation and maintenance concerns with this water supply type.This article describes the process of digging a well to provide usable water and the steps taken to make the well safe and sanitary. We include both technical advice and a description of the practical problems that one must encounter and overcome in providing usable water in an area where public water supply is absent or limited.
[Click to enlarge any image]
Article Series Contents
The article author, Alan Starkman is a retired Toronto attorney who operates the Casa Machaya bed and breakfast in Oaxaca Mexico.
Mr. Starkman has written more than 90 articles about life and cultural traditions in Oaxaca, Mexico, and writes here about well digging from a lay person's perspective.
Watch out: before attempting to construct a hand dug water well, see Building a Hand Dug Well - SAFETY
Water in Oaxaca as a Motivator for a Well Digging Project
Americans and Canadians will eventually come to consider water as a resource of finite supply. In Southern Mexico we have already come to this realization.  It's been predicted that the scarcity of water in Oaxaca will worsen over time, as a result of climate change and other factors.  The past fifteen years have borne witness.
Our photo (above left) shows our dug well nearing completion, with well piping and wiring being configured. Other images throughout this article series demonstrate the process of digging and equipping a dug well to provide a useful water supply.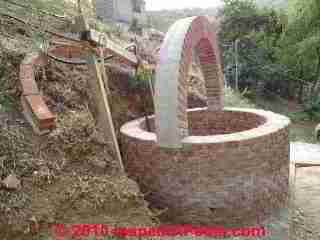 The dry season has become longer and dryer, with the rainy season characterized by a corresponding reduction in duration and amount of precipitation.
To receive water, Oaxacans rely on a municipal water delivery system, supplemented by water trucks (known as pipas).  Supply via the former has been met with a reduction in quantity, quality, and frequency of delivery.  The implication is that as the dry season approaches one cannot rely on the delivery of reasonably clean water when it's needed.
The situation is worse for residents without cisterns, who must fill small tanks (known as tinacos) of roughly 1,100 to 2,500 liters, or makeshift receptacles such as old stationary propane tanks. 
The fortunate among us have cisterns with a capacity of anywhere from 5,000 to 25,000 liters.  Commercial enterprise cannot rely on the municipal system for their needs, and must order pipas on a regular basis.
Toward the end of the dry season when water does come into our cisterns and tinacos, sometimes it's so dirty that residents elect to shut off the valve by the street in favor of purchasing water from pipas. [Water storage tank or tank truck. Literally, pipes.]
Pipas come in sizes ranging from about 1,100 to 20,000 liters.  During the dry season it's sometimes difficult to get a pipa to the house, especially for residences in the countryside or up steep hills.  And of course the cost of a pipa is greater at this time of year.  One is paying for the driver, truck and fuel, as much as for the water itself.  Accordingly, those with small cisterns or only a tinaco end up paying up to threefold more per liter, than those with larger capacity tanks.
In the face of this progressively worsening water problem, many residents who think they may be above a water table that is not prohibitively low, are electing to investigate the feasibility of digging or drilling a well, if not for the present, then as a precaution and investment for the future.
Drinking water is distinct from municipal and pipa water. Tap water is used only for washrooms, kitchen sinks, doing laundry, and lawns and gardens. Water for drinking and often cooking is purchased at the store or from water trucks selling five gallon (19 liter) jugs.
A few useful pump and well terms in Spanish:
Water well or well: pozo; pozo also is used to mean mine shaft. A pozo negro is a cesspool.
Well borer or well digger: pozero
Well-hole: hueco, o caja de escalera; boca de pozo
Well-spring: manantial, fuente
Well water: agua de pozo
Well-cleanser: pocero, el que limpia los pozos
Pipe or pipe water: pipa, agua de pipa; as used in this article, a pipa is also a water delivery truck.
Pump or well pump: Bomba, máquina para sacar agua o hacer circular un fluido
Iron worker: herrero
Questions to Ask in Deciding to Dig a Water Well
The Decision to Dig a Well in Colonia Loma Linda, Oaxaca
Moving to Southern Mexico presents a learning curve – in fact several challenges.  Even more so when it comes to an urban middle class Canadian couple trying to appreciate the minutiae involved in deciding upon and then proceeding with a well digging project:
Is there water on the property, and if so precisely where and how far down?
How do we find out for sure, and who should we trust?
How much should it cost to dig a well?
What's the difference between digging and drilling in terms of cost and speed, and advisability of one method over the other?
How to go about finding a competent and trustworthy well digger or driller?
How much time should the project take, to reach each phase?
What diameter should the well be?
Are there any guarantees regarding whether or not water will in fact be reached, how far down, and therefore corresponding cost?
Will we need concrete rings (known as anillos) placed down inside the well?
What volume of water should be expected? (See WELL FLOW RATE)
What about pumps, filters and tubing to lift the water and move it into a cistern?
Should there be a separate cistern to keep the well water segregated from the street water?
How much should the analysis of the quality of the water from the well impact a decision regarding readying the water for drinking, with chemical cleansers and the like?
In retrospect it's easy enough to enumerate the foregoing list, which is far from exhaustive.  But its compilation was a work in progress, with issues and decisions to be made arising periodically over the course of three years.  There is no course for Oaxacans wanting a well.
Choosing a Dug Well Location and Selecting a Well Digging Method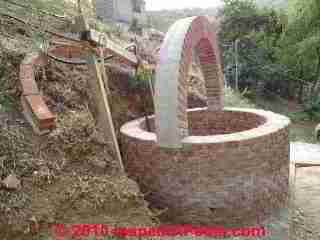 Details are at Choosing Dug Well Location & Method. Excerpts below.
Our home in Colonia Loma Linda is at the top of a hill facing the street, Calle Sierra Nevada.  The lot extends to the bottom of the hill, where there's a predominantly unpaved dirt road which during the rainy season appears more of a stream.
Our photo of our dug well (near completion, at left) shows just how steep the hillside is.
There are tell-tale signs of moisture near the bottom of our hill:  trees remain green year round, a bit of river reed (carriso) grows near the bottom of our land; a neighbor has healthy banana trees; and he and another neighbor have wells. Our own fruit trees, further up our hill, have traditionally struggled, I assume in part because of the distance to the water table, and of course because of the stone substratum.
Below perhaps a foot of hard earth, our land is pure rock.  We knew this when we bought it, and were able to confirm it as we watched workers digging three retaining walls for the house, by hand, excavating several feet down.

Beginning the Well Digging Process
Let the Well Digging Begin in Loma Linda, Oaxaca - Details are at Beginning the Well Digging Process. Excerpts below.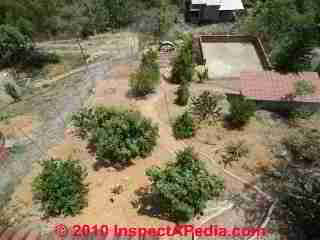 Shortly after we had moved to Oaxaca, I went to a rare contents sale with a friend, and amongst other things purchased a job lot of nails, chisels, hammers and mallets, figuring that in the course of the balance of my lifetime, some of it would be useful.  I had already learned to be much handier around the house than I had been the previous 53 years.  Now I had more of the supplies that I used to come across in my father's garage.
Rogelio, in consultation with the well digger, comprised a list of materials for me to acquire:  ropes, a longer ladder, and buckets.  I already had the mallets, and it was just a matter of finding an ironworker (herrero) with the machinery necessary to forge points and flat surfaces on the chisels.  I had wrongly assumed that every herrero possessed all such equipment.
Our photo (left) shows at upper center the brick arch that marks the final location selected for our dug well. You can see that this well had to be dug on a steep hillside, and down-hill from the buildings and most of the property where its water would be used.
Digging of our "dug" well began in January, 2008. 
I instructed: "Start digging here, where those couple of rocks are lying on the ground; not over there, not over there, it has to be right here, because that's what the diviner said.  Ensure that the diameter all the way down is at least ten centimeters wider than the outside diameter of those rings over there. We have to be able to lower them down."

Suspension of Well Digging in the Wet Season
To Every Time, There is a Season: A Season to Dig, A Season to Suspend

Details are at Suspension of Well Digging - Wet Season. Excerpts below.
In order to get a true reading of the volume of water one can expect to extract from a well, at the worst of times, the digging should proceed and certainly conclude as close to the end of the dry season as possible.
That's when the water table is the lowest.  Digging during the rainy season is more difficult (though the ground is softer), and certainly concluding the digging during or after the rainy season does not provide an accurate measure of the water one can expect to be able to obtain from the well when times are tough – very dry.
We had become both jaded, and admittedly a bit lax about the whole thing, nevertheless feeling a greater sense of urgency as the months passed.  Media reports and advisories from ADOSAPACO, the water commission, contributed to our increasing anxiety.
Deciding to Use or Omit Pre-Cast Well Rings or Anillos
Details are at Use or Omit Pre-Cast Well Rings. Excerpts are below.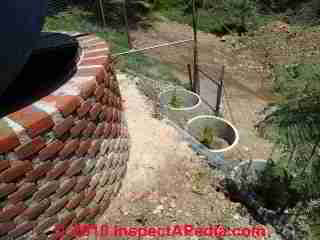 At the very end of our well digging process we saw a problem:  when we were using heavy machinery to deal with a fence issue (the debris from digging the well was so heavy and plentiful, that when the rainy season began it was pushed to the bottom of our hill and destroyed our fence).
When I wasn't looking, the loader operator cut away too much of our land, so now the well is dangerously close to a precipice. (Photo at left).
We had two concerns:
Was the well likely to collapse or be unsafe because of the near-exposure of one side and uneven earth pressures?
Was the whole well at risk of bursting out of the hillside below.
An inspection of the well interior as well as the surrounding terrain, and finally consulting with more experienced well diggers from the area will help assess these dangers.
Meanwhile, we took temporary steps to reduce eroding the little soil that remained: chicken wire (mallo) and posts were laid against the soil on the down-slope side, and we placed our un-used well rings (anillos) as planters at the base of the slope. It is interesting that while our well digger had to chisel through stone to construct the well, just a few feet away was loose soil on the hillside. Don't assume that rock formations or shale extend uniformly through the soil.
The Dug Well at 11 Meters Deep - Deciding When Deep is Deep-Enough
Details are at Deciding When a Well is Deep Enough. Excerpts are just below.
Fermín lived up to billing, in short order digging down to over 11 meters. [In the U.S. and Canada most dug wells stop at about 10 meters or around 30 feet deep.]
It took over an hour every morning to pump out the water from the night before.  Then Fermín disappeared.  He just didn't show up one Monday morning, and didn't answer his cellular for a few days.  Eventually he did respond, and advised that he'd return in two weeks.  Five weeks later he was back, advising that we'd probably have to go another three meters down.
After three or four days of digging, Fermín told me that he would not be returning.  He said that it was now taking him about two hours in the morning to pump out the water before he could begin digging, and that there was about five meters of water to be removed.
Our well photo (left) shows the rocky sides thorough which Fermín had been chiseling.
To Fermín that signified that the well would produce sufficient water for our requirements and that there was no need to dig further.  To me that meant we had ourselves an honest pozero who could have continued (he didn't have another job pending, since my friend had altered his plans regarding using Fermín in the foreseeable future), but let us know it wasn't necessary for him to continue.
As is often the custom with trades in Oaxaca, a brief "discussion" ensured about how much we owed him (measuring his progress by lowering a stone attached to a rope to the bottom of the well, and then using a tape measure), followed by the friendly departure of Fermín & Son.
How Much Water Will our Dug Well Deliver?
Details are at How Much Water Will a Dug Well Deliver?. Excerpts are below.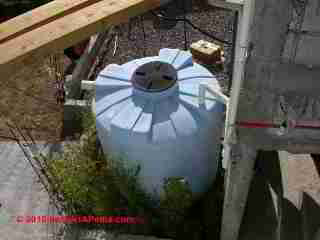 Question: how many liters of water can the well produce in a 24-hour period
I'm at about 10 meters depth, well diameter about 1.4 meters.  At 4 pm when the digger stops for the day (by hand hammering through rock with a mallet and chisel), he drains the water.  At 9 am the next day the well has 1.6 meters of water in it. I intend to complete digging further into the dry season.  However, based on the above data, how many liters of water can the well produce in a 24 hour period? 
By way of update, the pozero returned at about 11.15 meters, and said we'd need another three meters or so.  Then a week later he said he's finished, that in the morning there is 5 meters of water and it takes two hours to pump it out, so for sure we don't need more.
Our photo (left) shows a plastic water storage tank under construction in San Miguel de Allende, Mexico. Where a well flow rate is limited, water storage is often necessary to provide good water flow to the building served.
Answer: well water quantity is a rather easy calculation, if you have the data and know what the measurements mean
Most code compliance and health officials want to see 3-5 gallons per minute. You've got about 0.6 gpm. We would try to keep good potable water piping out of contact with other non potable piping - the concern is that events like loss of pump or pressure can back-contaminate between the two. Also, a submersible pump will be the most powerful way to lift water - depending on how high you need to raise it you might want that.
An accurate answer to th question of how much water is in a well needs to address both the static head or volume of water in a well when it is at rest and not in use (see Static Head of Water in the Well), as well as the flow rate or yield: the rate at which water flows into the well opening (see WELL YIELD DEFINITION). This is also called the well recovery rate. Together these tell us how much water is actually available from a well -the WELL QUANTITY TOTAL.
At WELL FLOW RATE we provide a detailed calculation of how much water we expect this dug well to yield, measured in gallons per day, per hour, or per minute of water flow.
Watch out: if you install a pump whose pumping rate exceeds the well yield or flow rate (see WELL YIELD DEFINITION), the pump may run dry and be damaged. The risk of pump damage is greater in a well that has a small static head (see Static Head of Water in the Well) or in conditions under which the pump is left running for long periods so that the static head is likely to be exhausted. If you have this risk or this problem on a well, see the advice on protecting pumps given at WELL PIPING TAIL PIECE.
Pumps & Controls: Moving Water from the Dug Well to Point of Use
I have to work through decisions regarding pumping directly into our 17,000 liter cistern, or first into a smaller cistern and then up to the main one (in case we can drink it with or without treatment I wouldn't want to mix it with the unsanitary municipal water), or have "Y" tubing so I can divert into a smaller cistern whenever I want OR send it directly to the main cistern, etc.
Note on pumps: for pushing water from a dug well up a steep hill to point of use, you will probably want a pump with good lift capacity, such as a submersible unit, combined with a water pressure tank or additional water storage higher on the property.
At left our sketch of a types of well water pumps is courtesy of Carson Dunlop Associates. The drawing shows the key differences between a one line jet pump, two line jet pump, and a submersible water pump.
See WATER PUMP LIFE EXPECTANCY for a discussion of types of well pumps. Also see WATER TANK TYPES: WATER, OIL, EXPANSION, ALL for a discussion of water storage options.

Building a Masonry Arch Over the Dug Well
Details are at Building a Well Arch. Excerpts are below.
Take a look at the sagging, temporary lift used by the workers to remove stone and soil as the well was being dug (below left) and you will appreciate why expert well builders like to finish the job with a more functional arch over the Dug well opening. Our masons built a temporary support scaffold over the well opening, then constructed a plywood arch against which a brick arch would be constructed.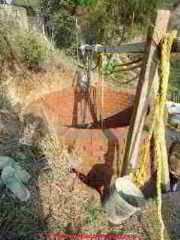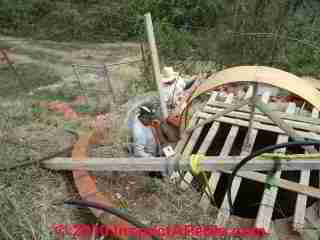 Our photos below show the brick arch being completed over the Dug well. Once bricklayer has completed the arch (a couple of days), then he will wait a week or so take off his mold for the arc.
Next we will clean it as best we can, and then proceed. The masonry arc, being secure, will permit me to lower myself into the Dug (really "chiseled") well for an inspection. It will be the first time for me descending 12 meters into the ground
Watch out: never enter a confined space such as a dug well without proper safety precautions, including:
Do not enter a dug well without first being sure that its construction and well sides are safe, sound, and protected from sudden collapse.
Do not work alone. Have at least one able-bodied person standing by the entire time.
Have spare emergency parts, lines, block and tackle at hand should the primary means of raising or lowering the inspector into the well fail.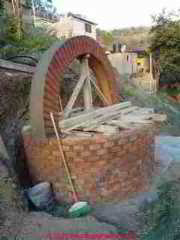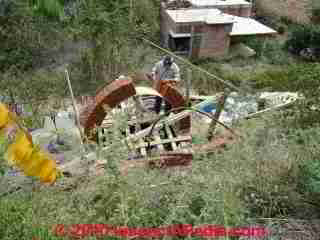 Dug Well Safety: Providing a Ground-Level Wall & Well Cover
Details on dug well safety are at Dug Well Safety: Wall & Cover and at Checking Dug Well Sanitation as well as Hand Dug Well Safety. Excerpts are below.
The brick wall we show constructed around our dug well (photo below left) serves two purposes.
Prevent surface run-off from entering the well, improving its sanitation. This function is particularly important in this example because the well is located on a steep hillside that transports a high volume of runoff during the rainy season.
Prevent a child or animal from falling into the well. This safety function would be incomplete without also installing a secure cover on the well (photo, below right).
Also see our separate discussion at Hand Dug Well Safety for more information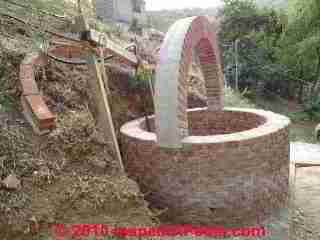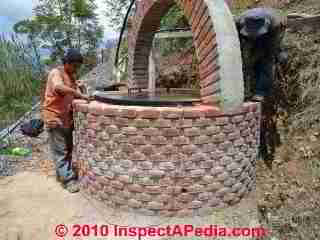 Checking the Potability of Water from a Dug Well
Details are at Checking Dug Well Sanitation. Excerpts are below.
I had the water from our new dug well tested at a local university, but after a couple of rains and no cover on it, and it came back with some e-coli, apparently no surprise.
The engineer said to come back after the tabique circle (partition wall circle) and arc are done, the top is on, and all the crap at the bottom has been removed and the rest has had a few days to settle so we can get a more accurate readying of more or less pure water without drain-off contaminants.
She said she'd then test again, and we would put in some bleach, and test again to see the potential.  She is confident that the water will be drinkable (not that we will drink it, but it certainly suggests your contention  is right on that it should be kept isolated from the regular cistern water).
The best of all is that she's prepared to work with me in term of recommending chemicals, people to clean and filter, etc.  I already have a pump guy for a submersible, and it's just a matter of determining how many hp, you'd think a simple task, but not so down here.
Water Quality: Technical Notes on Dug Well Sanitation
It is almost impossible to keep a dug well sanitary - dug wells are usually completely open to surface and ground water runoff.
You can shock the well, but if you are not going to drill a modern sanitary well (costly) you will need to install water treatment equipment to sanitize the water - after testing to see what contaminants besides bacteria are present. Shocking a dug well (see WELL CHLORINATION SHOCKING PROCEDURE) to try to make the water potable or safe to drink is usually pointless. If nonetheless someone insists on shocking the well, or on letting it "settle" before further testing, also see our warnings at FAILED WATER TESTS - WHEN to RE-TEST.
Our photo (left) shows a typical residential well water chlorination system.
If the well water is used for irrigation, such as watering plants, and possibly for filling a swimming pool (slowly or you'll run the well dry - see How Much Water Will our Dug Well Deliver?) - watch out whose water will be disinfected by the pool treatment equipment, using the Dug well may be fine.
But if the Dug well water is to be used for drinking - that is, for a potable water supply - water treatment equipment will be needed.
Before you can choose what water treatment system is appropriate, it is important to test the water for both sanitation issues (bacteria, chemical contaminants) as well as aesthetic concerns (sediment, odors, taste).
and WATER CONTAMINANT LEVELS & LIMITS for advice.
Watch out: don't mix water from an un-sanitary source with potable or sanitary drinking water. Doing so risks cross-contamination of the entire plumbing system. If your property includes both potable and non-potable water supplies, be sure to keep their piping and storage facilities completely isolated from one another.
Also see WATER TREATMENT EQUIPMENT CHOICES for alternative methods of assuring that water from a dug well remains sanitary and potable,
and see WATER PUMP LIFE EXPECTANCY for choices on methods for moving water from a dug well to storage tanks or to the point of use.
Readers should also review our home page for DUG WELLS, by HAND what are they, can they be sanitary and safe?
Looking Ahead to Part II of Digging a Well in Oaxaca
In my next and final installment, I deal with issues such as flow rate, biological analysis, decorative brickwork and custom iron cover, ongoing issues relating to structural integrity, and matters such as pumps and piping, the additional cistern, and whatever else it takes to conclude such an endeavor.
...
Continue reading at CHOOSE WELL LOCATION & DIGGING METHOD or select a topic from closely-related articles below, or see our complete INDEX to RELATED ARTICLES below.
Or see HAND DUG WELLS - topic home
Or see SIX STEPS to WELL WATER SAFETY
Or see WELL CONSTRUCTION & MAINTENANCE - home
Or see WELL CONSTRUCTION INFORMATION SOURCES
Or see this
Hand Dug Well Construction Procedure
The links below provide the details of how to dig and construct a hand dug water well.
Suggested citation for this web page
HAND DUG WELL PROCEDURE at InspectApedia.com - online encyclopedia of building & environmental inspection, testing, diagnosis, repair, & problem prevention advice.
Or use the SEARCH BOX found below to Ask a Question or Search InspectApedia
...
Frequently Asked Questions (FAQs)
Try the search box below or CONTACT US by email if you cannot find the answer you need at InspectApedia.
...
Ask a Question or Search InspectApedia
Questions & answers or comments about how to dig a "hand dug" water well, how to line the well, make a safe well cover, and how to get the water out of the hand dug well.
Use the "Click to Show or Hide FAQs" link just above to see recently-posted questions, comments, replies, try the search box just below, or if you prefer, post a question or comment in the Comments box below and we will respond promptly.
Search the InspectApedia website
Technical Reviewers & References
Click to Show or Hide Citations & References
Alvin Starkman, Casa Machaya, Oaxaca Bed and Breakfast, Sierra Nevada 164, Col. Loma Linda, Oaxaca, Oaxaca 68024, Mexico, cel: 0449515057793, casa: (951) 1328203, For inquiries, rates and reservations, email Casa Machaya at oaxacadream@hotmail.com

Mr. Starkman is a retired Toronto attorney who operates the Casa Machaya bed and breakfast in Oaxaca Mexico. Mr. Starkman has written more than 90 articles about life and cultural traditions in Oaxaca, Mexico, and writes here about well digging from a lay person's perspective. This hand dug well procedure article describes the process of digging a well to provide usable water and the steps taken to make the well safe and sanitary. We include both technical advice and a description of the practical problems that one must encounter and overcome in providing usable water in an area where public water supply is absent or limited. |

Quoting:

Our Oaxaca bed and breakfast provides a spacious full level of our hillside home, with panoramic vistas, complete privacy, and all amenities. We're both child and senior friendly. In fact if traveling with infants or young children, we're pleased to offer the use of a quality crib with all accessories, high chair, car seat and stroller. Contact us for further details including babysitting.

Your Canadian hosts spent four years building their home using a Oaxacan architect so you're assured of classic Mexican flare, color and design, yet with all the conveniences of home without any cultural surprises. Our traditional adobe-stone-brick construction, and our breezy location just above the city's downtown area ensure moderate temperatures year-round. Awake to the sounds of rooster calls and typical music echoing across the valley, yet you're only minutes from the zócalo, the heart of downtown Oaxaca with its art galleries, museums, colonial churches and restaurants. Our accommodations combine the service and comfort of a modern Oaxaca hotel, with the personal touch of a quaint country inn.


Mark Cramer Inspection Services Mark Cramer, Tampa Florida, Mr. Cramer is a past president of ASHI, the American Society of Home Inspectors and is a Florida home inspector and home inspection educator. Mr. Cramer serves on the ASHI Home Inspection Standards. Contact Mark Cramer at: 727-595-4211 mark@BestTampaInspector.com
John Cranor is an ASHI member and a home inspector (The House Whisperer) is located in Glen Allen, VA 23060. He is also a contributor to InspectApedia.com in several technical areas such as plumbing and appliances (dryer vents). Contact Mr. Cranor at 804-747-7747 or by Email: johncranor@verizon.net
Carlos Soberman, San Miguel de Allendex, Mexico kindly contributed the photograph of flooding during the rainy season in Mexico. Februray 2010.
"Comparison of large and small diameter wells", Natural Resources Management & Environment Department, Food and Agriculture Organization of the United Nations, FAO Corporate Document Repository - Self-Help Wells - see http://www.fao.org/docrep/X5567E/x5567e04.htm
Hand pumps for wells, product sources:

Dempster Industries is a contemporary manufacturer of hand pumps for shallow wells or hand dug wells. At http://www.dempsterinc.com/html/Handpump.html you can find Dempster Industries who can tell you exactly how to repair mechanical problems with your well pump. Here is the Dempster installation manual for a typical hand pump used on shallow wells or dug wells: http://www.dempsterinc.com/PDF%20FIles/Typical%20Hand%20Pump%20Installation.pdf
Water Supply & Drain Piping, Wells, Pumps, Water Supply Equipment
Access Water Energy, PO Box 2061, Moorabbin, VIC 3189, Australia, Tel: 1300 797 758, email: sales@accesswater.com.au Moorabbin Office: Kingston Trade Centre, 100 Cochranes Rd, Moorabbin, VIC 3189
Australian supplier of: Greywater systems, Solar power to grid packages, Edwards solar systems, Vulcan compact solar systems, water & solar system pumps & controls, and a wide rage of above ground & under ground water storage tanks: concrete, steel, plastic, modular, and bladder storage tanks.
CHEATING ON WATER TESTS Testing Water for Real Estate Transactions - make sure your water test is valid
CLOGGED DRAIN DIAGNOSIS & REPAIR - Is it a blocked drain or the septic system? - A First Step for Homeowners
WATER CONTAMINANT LEVELS & LIMITS - maximum allowable contaminants in drinking water
WATER TESTS for CONTAMINANTS - Water supply contamination Levels, wter testing procedures
WATER TESTING ADVICE - Drinking Water Testing Advice for home buyers home owners home inspectors
WATER TEST INTERPRETATION - Interpreting Drinking Water Test Results and Correcting Unsatisfactory Water
LEAD IN DRINKING WATER, HOW to REDUCE - Lead Contamination in Drinking Water: Testing & Correction - Advice
LEAD in WATER, ACTION LEVELS - Lead Pipe Problems/Advice, Lead Testing & Correcting Contamination from Lead Water Supply Lines/Entry Mains
WATER PUMP LIFE EXPECTANCY - Well Pumps: Life Expectancy of Water Pumps, how long should a water pump last? What affects pump life?
WELL LIFE EXPECTANCY - Life Expectancy of Wells & Water Tanks, how long should a water well and its components last?
WELL CHLORINATION & SHOCKING - Procedure for Shocking a Well to (temporarily or maybe longer) "Correct" Bacterial Contamination
Smart Tank, Installation Instructions [ copy on file as /water/Smart_Tank_Flexcon.pdf ] - , Flexcon Industries, 300 Pond St., Randolph MA 02368, www.flexconind.com, Tel: 800-527-0030 - web search 07/24/2010, original source: http://www.flexconind.com/pdf/st_install.pdf
Typical Shallow Well One Line Jet Pump Installation [ copy on file as /water/Jet_Pump_Grove_Elect_Jet_Pumps.pdf ] - , Grove Electric, G&G Electric & Plumbing, 1900 NE 78th St., Suite 101, Vancouver WA 98665 www.grovelectric.com - web search -7/15/2010 original source: http://www.groverelectric.com/howto/38_Typical%20Jet%20Pump%20Installation.pdf
Typical Deep Well Two Line Jet Pump Installation [ copy on file as /water/Jet_Pump_Grove_Elect.pdf ] - , Grove Electric, G&G Electric & Plumbing, 1900 NE 78th St., Suite 101, Vancouver WA 98665 www.grovelectric.com - web search -7/15/2010 original source: http://www.groverelectric.com/howto/38_Typical%20Jet%20Pump%20Installation.pdf
Water Fact Sheet #3, Using Low-Yielding Wells [ copy on file as /water/Low_Yield_Wells_Penn_State.pdf ] - , Penn State College of Agricultural Sciences, Cooperative Extension, School of Forest Resources, web search 07/24/2010, original source: http://pubs.cas.psu.edu/FreePubs/pdfs/XH0002.pdf
Water pressure tanks - how to diagnose the need for air, how to add air, stop water pump short cycling to avoid damage - water storage water pressure tank safety.
WATER PUMP REPAIR GUIDE an specific case offers an example of diagnosis of loss of water pressure, loss of water, and analyzes the actual repair cost
Water pressure tank failures & water pump short cycling diagnosis and repair
Water Supply & Drain Piping, water and drain pipe types, inspection, diagnosis, repairs, problem materials, clogging, etc.
Water Tests & Fees this water test fee schedule applies when testing is combined with other onsite building inspection services
CONTAMINANT CLASSES, in WATER & links to home buyer advice about water testing, drinking water, water supply
Books & Articles on Building & Environmental Inspection, Testing, Diagnosis, & Repair
Our recommended books about building & mechanical systems design, inspection, problem diagnosis, and repair, and about indoor environment and IAQ testing, diagnosis, and cleanup are at the InspectAPedia Bookstore. Also see our Book Reviews - InspectAPedia.
...
Crystal Clear Supply provides portable ceramic water filter purifiers and portable reverse osmosis water treatment equipment - see http://www.crystalclearsupply.com/category_s/7.htm
Handbook of Disinfectants and Antiseptics, Joseph M. Ascenzi (Editor), CRC, 1995, ISBN-10: 0824795245 ISBN-13: 978-0824795245 "The evaluation of chemical germicides predates the golden age of microbiology..." -
This well-focused, up-to-date reference details the current medical uses of antiseptics and disinfectants -- particularly in the control of hospital-acquired infections -- presenting methods for evaluating products to obtain regulatory approval and examining chemical, physical, and microbiological properties as well as the toxicology of the most widely used commercial chemicals.
Principles and Practice of Disinfection, Preservation and Sterilization (Hardcover)
by A. D. Russell (Editor), W. B. Hugo (Editor), G. A. J. Ayliffe (Editor), Blackwell Science, 2004. ISBN-10: 1405101997, ISBN-13: 978-1405101998.
"This superb book is the best of its kind available and one that will undoubtedly be useful, if not essential, to workers in a variety of industries. Thirty-one distinguished specialists deal comprehensively with the subject matter indicated by the title ... The book is produced with care, is very readable with useful selected references at the end of each chapter and an excellent index. It is an essential source book for everyone interested in this field. For pharmacy undergraduates, it will complement the excellent text on pharmaceutical microbiology by two of the present editors."
The Pharmaceutical Journal: "This is an excellent book. It deals comprehensively and authoritatively with its subject with contributions from 31 distinguished specialists. There is a great deal to interest all those involved in hospital infection ... This book is exceptionally well laid out. There are well chosen references for each chapter and an excellent index. It is highly recommended." The Journal of Hospital Infection.: "The editors and authors must be congratulated for this excellent treatise on nonantibiotic antimicrobial measures in hospitals and industry ... The publication is highly recommended to hospital and research personnel, especially to clinical microbiologists, infection-control and environmental-safety specialists, pharmacists, and dieticians."
New England Journal of Medicine: City Hospital, Birmingham, UK. Covers the many methods of the elimination or prevention of microbial growth. Provides an historical overview, descriptions of the types of antimicrobial agents, factors affecting efficacy, evaluation methods, and types of resistance. Features sterilization methods, and more. Previous edition: c1999. DNLM: Sterilization--methods.
When Technology Fails, Matthew Stein, Chelsea Green Publisher, 2008,493 pages. ISBN-10: 1933392452 ISBN-13: 978-1933392455, "... how to find and sterilize water in the face of utility failure, as well as practical information for dealing with water-quality issues even when the public tap water is still flowing". Mr. Stein's website is www.whentechfails.com/
...