InspectAPedia tolerates no conflicts of interest. We have no relationship with advertisers, products, or services discussed at this website.
This emergency drinking water source bulletin outlines possible places to obtain safe drinking water in an emergency following a disaster such as an earthquake, flood, or fire and before rescue workers have arrived. In a companion article,DRINKING WATER - EMERGENCY PURIFICATION, we describe methods that can be used to purify or sanitize drinking water in an emergency.
In Flood Response Checklist we outline key actions you should take after building flooding to minimize mold damage, and includes some safety warnings. Our photo at page top shows some brownish water in a toilet tank: actually the water was fine, the stain was from iron and rust in the original water supply - materials accumulated on the interior of the toilet tank. The water we removed was clear and sanitary.
Green links show where you are. © Copyright 2014 InspectApedia.com, All Rights Reserved.
How to Obtain Emergency Drinking Water after Area Flooding, Hurricanes, Earthquakes, Fires
Some of the water sources listed below may be considered as desperate measures appropriate for people trapped in a building or those whom emergency relief workers have been unable to reach.
Watch out: before entering a building that has been affected by a disaster such as fire, earthquake, or flood, See BUILDING ENTRY PROCEDURE AFTER FLOODING for some safety warnings for occupants, building owners, or volunteers who may find themselves indoors in a disaster area and without immediate assistance from rescue workers or other experts.
How to obtain emergency drinking water after flooding: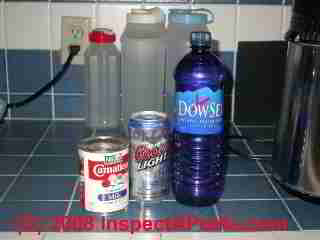 Municipal water supply: try turning on the tap at a clean sink in the building; after some storms, fires, and even earthquakes, the public water supply may be operating in some areas. But do not assume that the water is safe to drink without boiling or disinfecting it until you are told that it's ok. The water supply source, pipes, or other system components may have been flooded and contaminated.
[Click to enlarge any image]
Private well water: do not assume that private well water is sanitary and ok to drink even after flood waters have subsided. If the well and/or water equipment such as water tanks, piping, pumps, have been submerged, it is likely that repair and equipment cleaning/sanitizing are needed.

See WELL CHLORINATION SHOCKING PROCEDURE and See WATER TESTS, CONTAMINANTS, TREATMENT
Bottled water: if un-opened bottled water is available it should be safe to drink, but if the bottles were flooded it will be necessary to clean and disinfect the bottle exterior before opening.
Bottled or canned juices or foods: sealed food containers such as cans or bottles of juice, soup, fruits, vegetables, should contain liquids that are safe to drink provided you make sure to clean and sanitize the container before opening it.
Remaining ice: if the disaster event has been brief, water may be available from melting ice cubes.
Condensation of fresh water on cool surfaces has been collected and used as a survival aid in some circumstances. Do not however drink air conditioner condensate, dehumidifier condensate, or humidifier tank water - these are usually contaminated with bacteria.

Distilled water: if you have electrical power and a home water distiller such as shown in our photo, this equipment can produce a limited quantity of safe drinking water.



The yellow color you see in the container at right is due to discolored plastic - the water in the container, produced by the distiller, was clear and sanitary.

Camping suppliers provide portable water purification equipment that does not require electrical power, such as pumps using ceramic filters.

Be sure the containers used to collect the distilled water are sanitary.
Water heaters as a source of emergency drinking water: You may be able to obtain safe water from undamaged water heaters. Even though the water heater in our photograph has been flooded, it may be possible to extract potable water from inside the water tank.



Be sure that a basement like the one we show is actually safe to enter before approaching the water tank, including safety from structural collapse, electrical shock, or toxins in the standing water on the floor.

Watch out: Never try to drain water from a water heater tank without being sure that the electrical power to the unit is off.

It will be easier to get water running out of the tank drain near the bottom of the water heater (that valve shown below the lower red panel in our photo), if you can let air into the water tank as water is running out. This can be accomplished by opening a nearby hot water valve at a fixture higher than the water tank, or by opening the relief valve or a water shutoff valve air bleeder on the water tank itself.

Be sure that the drain used to remove such water has been cleaned and that you use a clean container to collect the water. If the water from the tank has been exposed to flood waters but looks clear it may still be contaminated and it may need to be boiled or disinfected.
Water pressure tanks: clean water may be available from inside private well system water pressure tanks.

Watch out: But be careful; usually the pressure tank is located in a low building area which is likely to have been contaminated by floodwaters. If the pressure tank is sealed (and if you see that its gauge shows that the pressure tank is still under pressure), the water inside the tank may be uncontaminated.

The pair of water tanks shown here (it was a poor-recovery rate well that needed lots of in-house water storage) would provide nearly 50 gallons of potable water taken from the drain valve below the water pressure gauge at the left-most tank.


Rooftop water tanks and cisterns may be available and are a good source of potable water in most cases as the tanks are more likely to have remained above floodwaters on taller buildings.


Toilets & Showers as an emergency drinking water source: It may be possible to salvage water from the toilet flush-tank if the toilet was above floodwaters and has not been flooded or buried in debris.



The water in a toilet bowl should be assumed to be contaminated and would need to be boiled and disinfected before use.
Shower pipes as an emergency drinking water source: There may be a small volume of water remaining in a bath shower vertical pipe that will drain back through the tub spout in the upper level of a building that was not flooded. Place a clean container below a clean tub spout and open the diverter that switches water between the tub spout and the shower head.



If the shower was last used with the diverter in that position, a small amount of water may remain in the shower pipe.

Unfortunately this is a desperate measure - the total volume of water in the shower riser pipe will be small. Possibly there you can find and drain other building pipes that were above the flood level to find additional water.
Rainwater: if rain continues to fall, use a clean container to collect rainwater, possibly from a downspout; but that water should not be considered safe for drinking before it has been sterilized, because it has run over a building rooftop and through possibly unsanitary gutters and downspouts.
Drinking water wells that were inundated by flood waters should be pumped out and the water tested for purity before drinking. See our well sterilization procedure using household bleach which is detailed at WELL SHOCK / CHLORINATION PROCEDURE. If in doubt, call your local public health authority. Ill health effects often occur when people drink water contaminated with bacteria and germs.


Human urine as a water source for emergency survival has been used by people trapped in mines, and has made a life-or-death difference for trapped miners in some instances.
Advice If Using a Garden hose to collect emergency drinking water
Do not collect water from a water heater, water pressure tank, or rooftop tank by using a garden hose that was contaminated by floodwaters unless the hose has been properly cleaned and disinfected.
Is There Lead in Your Garden Hose Used for Drinking Water>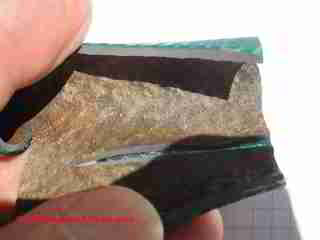 Is there lead in your garden hose? People may be inclined to drink water from a garden hose for several reasons: it's available, you're hot, outdoors, thirsty, or you are priming a well pump (WELL PUMP PRIMING PROCEDURE) or making an emergency water hook-up (DRINKING WATER EMERGENCY SOURCES) to a neighbor's house because your water supply has been lost (WATER PRESSURE PUMP REPAIR GUIDE)

Watch out: don't assume that the interior of a garden hose is sanitary or that water run through an ordinary garden hose is safe to drink. Also some garden hoses contain lead - do not drink water from a garden hose unless you know that yours is not a lead-containing hose. If you are purchasing a new garden hose, check the label.
Some garden hose product labels indicate that the hose is safe for drinking. Othes may indicate that the hose should not be used for drinking. Unfortunately still other hoses are simply not labeled - we won't know about any chemical or lead hazards from drinking from such a hose without testing.
The lead hazard in a garden hose, as with possible lead hazards from lead plumbing or lead-solder-based copper pipe connections, depends on several variables including how long water has been resting inside the hose (longer absorbs more lead if lead is present), on the chemistry of your water supply (more aggressive may leach out more lead), and of course on the lead levels in the source: hose, pipe, or somewhere else.
If you are in any doubt about the cleanliness of a garden hose being used for well pump priming or for an emergency water supply connection between buildings, sanitizing the hose or the plumbing system after it has been used.
More information on lead in water supply piping is at LEAD in WATER, ACTION LEVEL & REMEDIES and at LEAD IN DRINKING WATER, HOW to REDUCE, and lead testing is discussed at LEAD TEST KIT for HOME USE.
How to Treat Water to Sanitize it For Drinking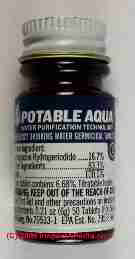 Beware that most advice about purifying water, including the tips we have collected below, address biological contaminants in water, such as bacteria. But be careful. If your water supply has become contaminated by pesticides, heavy metals, or other chemicals, disinfecting the water will not correct those unsafe conditions. The principal methods used to purify water when camping or in an emergency include:
Boil the water
Use chlorine (bleach, sodium hypochlorite) to purify the water
Use iodine or an iodine product to purify the water. Our photo (above/left) shows Potable Aqua® water purification germicidal tablets used for emergency drinking water supply.
Use a water purifying pump such as models sold by camping equipment suppliers to purify the water=
Drinking Water Purification Procedures: are described in detail at DRINKING WATER - EMERGENCY PURIFICATION.
More Reading
Green link shows where you are in this article series.
...
Frequently Asked Questions (FAQs) about sources of potable water for drinking or cooking in an emergency or disaster zone
...
Ask a Question or Search InspectApedia
Questions & answers or comments about how to find sources of safe drinking water in an emergency
Use the "Click to Show or Hide FAQs" link just above to see recently-posted questions, comments, replies, try the search box just below, or if you prefer, post a question or comment in the Comments box below and we will respond promptly.
Search the InspectApedia website
Technical Reviewers & References
Publisher's Google+ Page by Daniel Friedman
Click to Show or Hide Citations & References
Mark Cramer Inspection Services Mark Cramer, Tampa Florida, Mr. Cramer is a past president of ASHI, the American Society of Home Inspectors and is a Florida home inspector and home inspection educator. (727) 595-4211 mark@BestTampaInspector.com 11/06
Hankey and Brown home inspectors, Eden Prairie, MN, technical review by Roger Hankey, prior chairman, Standards Committee, American Society of Home Inspectors - ASHI. 952 829-0044 - hankeyandbrown.com 11/06
Arlene Puentes, a licensed home inspector, educator, and building failures researcher in Kingston, NY. 11/29/06
Wilderness Medical Society has advice about boiling water for consumption
Princeton University - www.princeton.edu
Crystal Clear Supply provides portable ceramic water filter purifiers and portable reverse osmosis water treatment equipment - see http://www.crystalclearsupply.com/category_s/7.htm
"Do Iodine Water Purification Tablets Provide an Effective Barrier against Cryptosporidium parvum?", Starke, Jeffrey A., Bowman, Dwight D., Labare, Michael, Fogarty, Elizabeth A., and others, Military Medicine, 25 October 2001 [possibly a later version of this article appeared in 2005 -DF] http://www.amsus.org/military medicine/milmed.htm
"Drinking Water Safety in Emergencies", University of Minnesota extension, extension.umn.edu/info-u/nutrition/BJ646.html
FDA Warning about drinking hydrogen peroxide: www.truthorfiction.com/rumors/h/hydrogen-peroxide.htm This article cites a 2003 entry in Journal of Food and Science on using Hy.Perox to sterilize vegetables, referring to E.coli - NOT to Giardia.
www.epa.gov/ogwdw/mdbp/pdf/alter/chapt_2.pdf provides an article on use of disinfectants for water treatmen
This patent application for UV light sterilization www.patentstorm.us/patents/6565803.html Lists good references on water purification for Giardia et als
Giardia exposure limits for drinking water: see www.mass.gov/dep/water/drinking/standards/giardia.htm is the current regulatory exposure limit (your minimum target for sterilization)
Wikipedia on history of use of hydrogen peroxide: Information on Hydrogen peroxide as a sterilant is in Wikipedia at en.wikipedia.org/wiki/Sterilization_(microbiology) HO2 has been used for a long time, including by vaporization for sterilizing freeze dryers.
1-Bromo-3-chloro-5,5-dimethylhydantoin (C5H6BrClN2O2) is produced world-wide and is also used in cleaners and bathroom disinfectants and deodorizers. Here is an example MSDS for this product, provided by Leisure Time
U.S. Army Field Manual 21-10, Field Hygiene and Sanitation, 1988, web search 07/02/2010, original source: http://www.enlisted.info/field-manuals/fm-21-10-field-hygiene-and-sanitation.shtml
The purpose of this manual is to assist individual soldiers, unit commanders, leaders and field sanitation teams in preventing disease and environmental injuries. The manual provides information on preventive medicine measures (PMM) to the individual soldier as well as essential information for the unit commander, unit leaders, and the unit field sanitation team on applying unit level PMM.

FM 21-10 Chapter 1: Introduction to the Medical Threat [ copy on file as /septic/USA-FM-21-10-CH1.pdf ] -
FM 21-10 Chapter 2: Individual Preventive Medicine Procedures [ copy on file as /septic/USA-FM-21-10-CH2.pdf ] -
FM 21-10 Chapter 3: Leaders Preventive Medicine Procedures [ copy on file as /septic/USA-FM-21-10-CH3.pdf ] -
FM 21-10 Chatper 4: Unit Field Sanitation Team [ copy on file as /septic/USA-FM-21-10-CH4.pdf ] -
FM 21-10 Appendix A [ copy on file as /septic/USA-FM-21-10-AppA.pdf ] -
FM 21-10 References [ copy on file as /septic/USA-FM-21-10-ref.pdf ] -
FM 21-10 Index [ copy on file as /septic/USA-FM-21-10-Index.pdf ] -
Potable Aqua® emergency drinking water germicidal tablets are produced by the Wisconsin Pharmacal Co., Jackson WI 53037. 800-558-6614 pharmacalway.com
Principles and Practice of Disinfection, Preservation and Sterilization (Hardcover)
by A. D. Russell (Editor), W. B. Hugo (Editor), G. A. J. Ayliffe (Editor), Blackwell Science, 2004. ISBN-10: 1405101997, ISBN-13: 978-1405101998.
"This superb book is the best of its kind available and one that will undoubtedly be useful, if not essential, to workers in a variety of industries. Thirty-one distinguished specialists deal comprehensively with the subject matter indicated by the title ... The book is produced with care, is very readable with useful selected references at the end of each chapter and an excellent index. It is an essential source book for everyone interested in this field. For pharmacy undergraduates, it will complement the excellent text on pharmaceutical microbiology by two of the present editors."
The Pharmaceutical Journal: "This is an excellent book. It deals comprehensively and authoritatively with its subject with contributions from 31 distinguished specialists. There is a great deal to interest all those involved in hospital infection ... This book is exceptionally well laid out. There are well chosen references for each chapter and an excellent index. It is highly recommended." The Journal of Hospital Infection.: "The editors and authors must be congratulated for this excellent treatise on nonantibiotic antimicrobial measures in hospitals and industry ... The publication is highly recommended to hospital and research personnel, especially to clinical microbiologists, infection-control and environmental-safety specialists, pharmacists, and dieticians."
New England Journal of Medicine: City Hospital, Birmingham, UK. Covers the many methods of the elimination or prevention of microbial growth. Provides an historical overview, descriptions of the types of antimicrobial agents, factors affecting efficacy, evaluation methods, and types of resistance. Features sterilization methods, and more. Previous edition: c1999. DNLM: Sterilization--methods.
Handbook of Disinfectants and Antiseptics, Joseph M. Ascenzi (Editor), CRC, 1995, ISBN-10: 0824795245 ISBN-13: 978-0824795245 "The evaluation of chemical germicides predates the golden age of microbiology..." -
This well-focused, up-to-date reference details the current medical uses of antiseptics and disinfectants -- particularly in the control of hospital-acquired infections -- presenting methods for evaluating products to obtain regulatory approval and examining chemical, physical, and microbiological properties as well as the toxicology of the most widely used commercial chemicals.
UNESCO: World Water Assessment Programme [ copy on file as /water/Water_Assessment_UNESCO_129556e.pdf ] - , Executive Summary, UNESCO Publishing, Secdretariat: C/O UNESCO/Division of Water Sciences, 1 Rue Miollis, F-75732 Paris Cedex 15, Tel: +33.1.45.68.39.28, Email: wwap@unesco.org, websearch 09/10/2010 original source: http://unesdoc.unesco.org/images/0012/001295/129556e.pdf - Quoting:
This report is organized in six main sections: a background, an evaluation of the world's water resources, an examination of the needs for, the uses of and the demands on water ('Challenges to Life and Well-Being'), a scrutiny of water management ('Management Challenges'), seven representative case studies highlighting different water scenarios, and conclusions and annexes.
When Technology Fails, Matthew Stein, Chelsea Green Publisher, 2008,493 pages. ISBN-10: 1933392452 ISBN-13: 978-1933392455, "... how to find and sterilize water in the face of utility failure, as well as practical information for dealing with water-quality issues even when the public tap water is still flowing". Mr. Stein's website is www.whentechfails.com/
"Bacteria in Drinking Water" - "Chlorine," Karen Mancl, water quality specialist, Agricultural Engineering, Ohio State University Extension. Mancl explains factors affecting the effectiveness of chlorine in water as a means to destroy bacteria and other microorganisms. OSU reports as follows:

Chlorine kills bacteria, including disease-causing organisms and the nuisance organism, iron bacteria. However, low levels of chlorine, normally used to disinfect water, are not an effective treatment for giardia cysts. A chlorine level of over 10 mg/1 must be maintained for at least 30 minutes to kill giardia cysts. -- http://ohioline.osu.edu/b795/index.html is the front page of this bulletin.

Ohio State University article on the concentration of chlorine necessary to act as an effective disinfectant, and the effects of the water's pH and temperature: See http://ohioline.osu.edu/b795/b795_7.html for details.
Extreme Lead Poisoning Symptoms Suggested by Feb 2006 NY Times Article on Kosovo Roma Camps
Crystal Clear Supply provides portable ceramic water filter purifiers and portable reverse osmosis water treatment equipment - see http://www.crystalclearsupply.com/category_s/7.htm
Books & Articles on Building & Environmental Inspection, Testing, Diagnosis, & Repair
The Home Reference Book - the Encyclopedia of Homes, Carson Dunlop & Associates, Toronto, Ontario, 25th Ed., 2012, is a bound volume of more than 450 illustrated pages that assist home inspectors and home owners in the inspection and detection of problems on buildings. The text is intended as a reference guide to help building owners operate and maintain their home effectively. Field inspection worksheets are included at the back of the volume. Special Offer: For a 10% discount on any number of copies of the Home Reference Book purchased as a single order. Enter INSPECTAHRB in the order payment page "Promo/Redemption" space. InspectAPedia.com editor Daniel Friedman is a contributing author.

Or choose the The Home Reference eBook for PCs, Macs, Kindle, iPad, iPhone, or Android Smart Phones. Special Offer: For a 5% discount on any number of copies of the Home Reference eBook purchased as a single order. Enter INSPECTAEHRB in the order payment page "Promo/Redemption" space.