How to Purify or Sterilize Drinking Water

Emergency Water Supply After a Flood, Fire, or Earthquake Disaster
InspectAPedia tolerates no conflicts of interest. We have no relationship with advertisers, products, or services discussed at this website.
Emergency drinking water supply:
This article series lists & describes the various methods to purify or sanitize drinking water in an emergency following a disaster such as an earthquake, flood, or hurricane.
Green links show where you are. © Copyright 2017 InspectApedia.com, All Rights Reserved.
How to Treat or Purify Water to Sanitize it For Drinking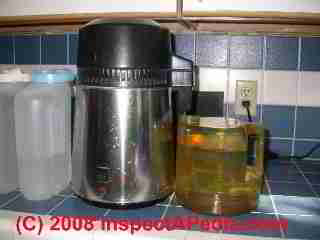 Below we list all known sources & methods for obtaining drinking water in an emergency, comparing the availability, ease of use, methods of use, cost and effectiveness of each method.
[Click to enlarge any image]
Watch out: Beware that most advice about purifying water, including many of the emergency drinking water source and purification tips we have collected below, address only biological contaminants in water, such as bacteria.
That may be all that you're concerned about in many drinking water emergencies, but keep in mind the danger of chemical contaminants that are not addressed by such measures.
Article Series Contents
Health Warnings about Effective Drinking Water Purification
Chemical contaminants: If your water supply has become contaminated by pesticides, heavy metals, or other chemicals, disinfecting the water will not correct those unsafe conditions.
Protozoan contaminants: Chlorine and iodine are good disinfectants against bacterial contamination (probably among the most common water contaminants) but studies have shown that these are not effective against certain contaminants in water such as toxic chemicals, Cryptosporidia (Cryptosporidium parvum) , and GIARDIA in DRINKING WATER.
Filtration and boiling are additional steps that can address these microorganisms. Activated charcoal can remove some chemical contaminants but has limited life and capacity.
Ineffective drinking water filtration or treatment: some of the methods we describe here are included specifically to permit warnings about their limitations, downright ineffectiveness, or health risks.
List of Principal Methods Used to Purify Drinking Water when Camping or in an Emergency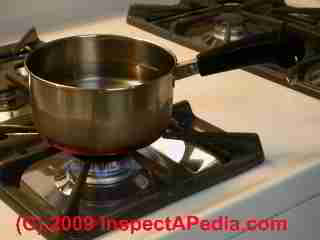 Each of the water purification methods listed below includes a link to more in-depth information including details of how the water purification method is used and comments on its effectiveness.
Watch out: Bleach will not kill Giardia in typical drinking water disinfection methods such as those discussed here. While chlorine can kill Giardia cysts if used in high enough concentration and for sufficient contact time, typically the chlorine concentration in water necessary for Giardia would be too high for drinking purposes.
The chlorine concentration that one would find in a swimming pool, levels of chlorine not suitable for drinking water consumption would require about 20 minutes to kill a Giardia cyst.
At WATER DISINFECTION LIMITATIONS we report that relying on household bleach as a disinfectant to kill Cryptosporidium cysts is a mistake too. Aquamira™ and Katadyn™ (Micropur) provide portable or field-use water treatment kits using chlorine dioxide.
Colloidal Silver Water Filters for Drinking Water Purification - Really?

Information about colloidal silver as a water disinfectant or in water filters is now provided at COLLOIDAL SILVER for WATER DISINFECTION. Excerpts are below.
Watch out: while colloidal silver can be effective as a disinfectant in some situations AND when prepared and used properly, it is not always effective and its use can have troubling health effects. Furthermore, not all colloidal silver impregnated filters are effective.

In August 1999, the U.S. Food and Drug Administration (FDA) banned colloidal silver sellers from claiming any therapeutic or preventive value for the product, noting that colloidal silver was being marketed for numerous diseases without evidence of safety or effectiveness.
In 2002, the Australian Therapeutic Goods Administration (TGA) found that there were no legitimate medical uses for colloidal silver and no evidence to support its marketing claims. Given the associated safety risks, the TGA concluded that "efforts should be made to curb the illegal availability of colloidal silver products, which is a significant public health issue."[26].

Distillers - Use a water distiller such as a home or portable distillation unit (our photo near the top of this article) shows a Sears® Kenmore home water distiller.

A distiller removes contaminants such as heavy metals and can treat parasites or bacterial pathogens (if you boil the water long enough). Water is boiled and the purified steam is then recondensed. You'll need electrical power or a source of heat such as a solar distillation system to distill water. This device processes about one gallon of water per cycle.

We have been using this Sears Kenmore water distiller, model 5000 for more than fifteen years without a hitch. A disposable charcoal post-distillation filter is available for use in the drip spout of the unit - a potential source of contamination if it is not changed occasionally.
See SOLAR WATER DISINFECTION

Filters - Water purifying filters: Use a filter designed for water purification, particularly ceramic filters and silver-ceramic filters.
See WATER FILTERS, HOME USE for a separate discussion of home water filters used for sediment, odors, etc.
Giardia in Drinking Water - a review of the health hazards & typical equipment costs for portable and whole house water treatment to remove Giardia cysts from drinking water
See GIARDIA in DRINKING WATER
Halogenated resins have been used for water disinfection
Home Made & Expedient Water Sterilization Methods: Matthew Stein describes a variety of home-made, expedient, and partly effective water filters and water treatment methods in When Technology Fails [ar References]. With plastic and a few sticks you can build a solar water sterilizer (solar water disinfection or SODIS systems).

Stein also explains that slow sand filters have been used for partially cleaning and treating water for a very long time. A crude home made charcoal filter will remove some odors, bad tastes, organic toxic chemicals, and radioactive fallout. Mr. Stein also describes sari water filters used in Bangladesh after flooding, but includes a critical warning that filtering water through cloth is by no means really safe.

Our favorite of his suggestions is using a plant to form a water collector and filter system, an idea which reminds us of native Americans who knew how to obtain water from desert barrel cactus. We enjoyed this book and provide this purchase link for it.
Hydrogen peroxide to disinfect drinking water may be used (maybe) to purify water for emergency drinking use. [The concentration and exposure time data are still needed for this application.]
See HYDROGEN PEROXIDE for WATER DISINFECTION
Iodine to disinfect drinking water: Use Iodine tablets or a liquid tincture of iodine to purify the water for emergency use (see warnings just above)
See IODINE for WATER DISINFECTION for procedures using iodine tablets or liquid for emergency drinking water purification - and for its limitations.
Mixed oxidants electrochemically generated from brine have been used for water disinfection
Pumps - Use a water purifying pump such as models sold by camping equipment suppliers to purify the water - typically these pumps use a ceramic or other filter
Reverse osmosis to purify drinking water: use a Reverse osmosis water filtration system if water pressure is available or if a portable R.O. system is available.
See REVERSE OSMOSIS WATER TREATMENT for details. RO treatment systems may work where there is no electrical power provided that you have water pressure, such as in some municipal water situations.
UV Lights to purify drinking water - ultra violet light, including portable handheld devices can be used for water sterilization -
See UV ULTRAVIOLET LIGHT WATER TREATMENT
Vinegar to wash vegetables is sometimes used as a vegetable wash and may be effective against some microorganisms in water - we have not yet found authoritative data on this application.
See VINEGAR for WATER DISINFECTION
Water purification procedures that can be used in an emergency are described in the text above and in individual links to detailed articles about each water purification method - we list these methods and links again in a list just below.
Watch out: If community or private wells are back in operating and providing water after a disaster, do not assume that the water is sanitary and ok to drink until responsible authorities have said so. Even then, local water pipes in a building may be unsanitary and additional cleaning or disinfection may be needed.
See WELL CHLORINATION SHOCKING PROCEDURE if you need to shock a well.
...
Continue reading at BLEACH DISINFECTANT for DRINKING WATER or select a topic from closely-related articles below, or see our complete INDEX to RELATED ARTICLES below.
Or see DRINKING WATER EMERGENCY SOURCES
Suggested citation for this web page
DRINKING WATER EMERGENCY PURIFICATION at InspectApedia.com - online encyclopedia of building & environmental inspection, testing, diagnosis, repair, & problem prevention advice.
Or use the SEARCH BOX found below to Ask a Question or Search InspectApedia
...
Frequently Asked Questions (FAQs)
Try the search box below or CONTACT US by email if you cannot find the answer you need at InspectApedia.
Question: I like colloidal silver for water purification
Colloidal Silver is perfectly safe if you don't use anything but distilled water and pure silver to make it. The FDA paraded blue man argyria idiot drinks huge amounts of the unsafe kind and to this day insists continuing that way. Any colloidal silver with salts or proteins in it will turn you as blue, as you would get, explaining this simple fact to the corrupted FDA. - LL 4/13/2012
Reply: experts point to dubious claims and risks relying on your approach
Thank you for your views, LL. Unfortunately, not only can we assume that preparers around the world use or even have access to distilled water, but worse, colloidal silver is used in some very hostile (bad drinking water source) environments.

Speaking more generally, "harmless" does not mean "helpful". And "not helpful" preparations can actually be harmful if people find themselves relying on an ineffective remedy for a serious problem.

In August 1999, the U.S. Food and Drug Administration (FDA) banned colloidal silver sellers from claiming any therapeutic or preventive value for the product, noting that colloidal silver was being marketed for numerous diseases without evidence of safety or effectiveness. The product now has the status of a dietary supplement in the US; it can be promoted with general "structure-function" claims, but cannot be marketed as preventing or treating any illness.
Question: need clear article on buying simple water purification kits for use when there is no municipal supply
A clear article is needed regarding buying simple water purification kits for home use in case the municipal water supply is down for months. The kit should be continually reusable with a reasonable level of maintenance and assuming you cannot purchase any spare parts for it during the ongoing emergency. - John 11/7/2012
Reply: for emergency drinking water supply we recommend a portable water filter, preferably a ceramic water filter for long durability and minimum need for replacement parts or filters
Thanks John, you're quite right.

The article on this page catalogs the various methods for drinking water treatment or purification, explaining what works and what does not.

Among the methods described in this article "Water purifying filters: Use a filter designed for water purification, particularly ceramic filters and silver-ceramic filters. See FILTERS for DRINKING WATER PURIFICATION for a separate discussion of home water filters used for sediment, odors, etc."
In the article on this page the text "Water purifying filters" is a link to a class of portable water purification kits, describing each and their properties, capacity, and reliability. From your comment I have revised this and all of the text in our article series on water purification and treatment methods to make the options more readily apparent.

Among all of the water purifying methods for use in an emergency, in my OPINON, the best all around choice is a ceramic filter cartridge type pump system. Ceramic filters will remove just about all contaminants except possibly some dissolved chemicals unlikely to be in emergency water supplies anyway.
Ceramic filters for water purification in emergency or camping use are available in a variety of sizes and capacities, require no electricity, do not require replacement parts, and if/when the filter begins to clog the ceramic cartridge can be cleaned by simple scrubbing its exterior with the cleanest water available nearby. We used a ceramic filter of this type to provide safe drinking water for a group of about 20 people for two weeks with complete reliability.

Details are at CERAMIC FILTERS & Water Purification.

A companion article, DRINKING WATER EMERGENCY SOURCES, describes possible sources of drinking water that may be useful in emergency conditions.
...
Ask a Question or Search InspectApedia
Use the "Click to Show or Hide FAQs" link just above to see recently-posted questions, comments, replies, try the search box just below, or if you prefer, post a question or comment in the Comments box below and we will respond promptly.
Search the InspectApedia website
Technical Reviewers & References
Click to Show or Hide Citations & References
Dr. Omar Amin, of the Tempe AZ Parasitology Center, corresponded with Sharon Ross (citation below), one of our readers asking about peroxide: "You can use hydrogen peroxide if you want to but we do not have a track record of percentage dilution". Dr. Amin has done research for the US military and for the CDC.
Aquamira™ chlorine dioxide water purification kits - see www.aquamira.com/
"Aquamira Water Treatment Drops were introduced to the Outdoor market in 1999 and have been a favorite of top outdoor guides and instructors ever since. Whether you are camping, traveling in a foreign country or faced with a disaster, our goal is to provide you with safe, pure and good tasting drinking water. Our complete line of water treatment products include leading edge purification and filtration technologies developed and tested in the lab and proven in the field. We offer systems and products that will provide water for a single individual or a village and almost anything in between."
"Bacteria in Drinking Water" - "Chlorine," Karen Mancl, water quality specialist, Agricultural Engineering, Ohio State University Extension. Mancl explains factors affecting the effectiveness of chlorine in water as a means to destroy bacteria and other microorganisms. OSU reports as follows:

Chlorine kills bacteria, including disease-causing organisms and the nuisance organism, iron bacteria. However, low levels of chlorine, normally used to disinfect water, are not an effective treatment for giardia cysts. A chlorine level of over 10 mg/1 must be maintained for at least 30 minutes to kill giardia cysts. -- http://ohioline.osu.edu/b795/index.html is the front page of this bulletin.

Crystal Clear Supply provides portable ceramic water filter purifiers and portable reverse osmosis water treatment equipment - see http://www.crystalclearsupply.com/category_s/7.htm
Mark Cramer Inspection Services Mark Cramer, Tampa Florida, Mr. Cramer is a past president of ASHI, the American Society of Home Inspectors and is a Florida home inspector and home inspection educator. (727) 595-4211 mark@BestTampaInspector.com 11/06
"Do Iodine Water Purification Tablets Provide an Effective Barrier against Cryptosporidium parvum?", Starke, Jeffrey A., Bowman, Dwight D., Labare, Michael, Fogarty, Elizabeth A., and others, Military Medicine, 25 October 2001 [possibly a later version of this article appeared in 2005 -DF]www.amsus.org/military medicine/milmed.htm
"Drinking Water Safety in Emergencies", University of Minnesota extension, extension.umn.edu/info-u/nutrition/BJ646.html
EPA: www.epa.gov/ogwdw/mdbp/pdf/alter/chapt_2.pdf provides an article on use of disinfectants for water treatment
FDA Warning about drinking hydrogen peroxide: www.truthorfiction.com/rumors/h/hydrogen-peroxide.htm This article cites a 2003 entry in Journal of Food and Science on using Hy.Perox to sterilize vegetables, referring to E.coli - NOT to Giardia.
Exposure limits for drinking water: see www.mass.gov/dep/water/drinking/standards/giardia.htm is the current regulatory exposure limit (your minimum target for sterilization)
Hankey and Brown home inspectors, Eden Prairie, MN, technical review by Roger Hankey, prior chairman, Standards Committee, American Society of Home Inspectors - ASHI. 952 829-0044 - hankeyandbrown.com 11/06
Handbook of Disinfectants and Antiseptics, Joseph M. Ascenzi (Editor), CRC, 1995, ISBN-10: 0824795245 ISBN-13: 978-0824795245 "The evaluation of chemical germicides predates the golden age of microbiology..." -
This well-focused, up-to-date reference details the current medical uses of antiseptics and disinfectants -- particularly in the control of hospital-acquired infections -- presenting methods for evaluating products to obtain regulatory approval and examining chemical, physical, and microbiological properties as well as the toxicology of the most widely used commercial chemicals.
"Investigation of the Potters for Peace Colloidal Silver Impregnated Ceramic Filter - Report 1: Intrinsic Effectiveness", Daniele S. Lantagne, Alethia Environmental, Allston, MA, Submitted to Jubilee House Community, December 21, 2001, USAID Purchase Order Number: 524-0-00-01-00014-5362 . Quoting from one of the conclusion in that study, p. 58:
Based on the results of the microbiological challenges detailed above, the following conclusions are presented:
1. Some small bacteria, which are potentially a human health concern, pass through the filter when tested in the laboratory at CIRA-UNAN.
2. This summary of the historical data clearly shows that many different filter designs over the years remove 98-100 percent of the indicator bacteria present in the source water.
3. Studies of filters that are two and seven years old indicate that the filters still effectively remove microbiological contaminants. This indicates that the colloidal silver does not 'wear out', and that with proper maintenance, there seems to be no need to reapply silver to the filter. Currently, the PFP recommendation is to reapply the colloidal silver once per year to the filter. This does not seem to be necessary based on the laboratory data. However, reapplication of colloidal silver provides a safety factor in the field that should not be removed without more extensive testing.
Potable Aqua® emergency drinking water germicidal tablets are produced by the Wisconsin Pharmacal Co., Jackson WI 53037. 800-558-6614 pharmacalway.com
Principles and Practice of Disinfection, Preservation and Sterilization (Hardcover)
by A. D. Russell (Editor), W. B. Hugo (Editor), G. A. J. Ayliffe (Editor), Blackwell Science, 2004. ISBN-10: 1405101997, ISBN-13: 978-1405101998.
"This superb book is the best of its kind available and one that will undoubtedly be useful, if not essential, to workers in a variety of industries. Thirty-one distinguished specialists deal comprehensively with the subject matter indicated by the title ... The book is produced with care, is very readable with useful selected references at the end of each chapter and an excellent index. It is an essential source book for everyone interested in this field. For pharmacy undergraduates, it will complement the excellent text on pharmaceutical microbiology by two of the present editors."
The Pharmaceutical Journal: "This is an excellent book. It deals comprehensively and authoritatively with its subject with contributions from 31 distinguished specialists. There is a great deal to interest all those involved in hospital infection ... This book is exceptionally well laid out. There are well chosen references for each chapter and an excellent index. It is highly recommended." The Journal of Hospital Infection.: "The editors and authors must be congratulated for this excellent treatise on nonantibiotic antimicrobial measures in hospitals and industry ... The publication is highly recommended to hospital and research personnel, especially to clinical microbiologists, infection-control and environmental-safety specialists, pharmacists, and dieticians."
New England Journal of Medicine: City Hospital, Birmingham, UK. Covers the many methods of the elimination or prevention of microbial growth. Provides an historical overview, descriptions of the types of antimicrobial agents, factors affecting efficacy, evaluation methods, and types of resistance. Features sterilization methods, and more. Previous edition: c1999. DNLM: Sterilization--methods.
Quackwatch comments on colloidal sliver: - This website offers authoritative references, government publications, studies, and more information about use of colloidal silver to treat drinking water.
Colloidal silver is a suspension of submicroscopic metallic silver particles in a colloidal base. Long-term use of silver preparations can lead to argyria, a condition in which silver salts deposit in the skin, eyes, and internal organs, and the skin turns ashen-gray. Many cases of argyria occurred during the pre-antibiotic era when silver was a common ingredient in nosedrops. When the cause became apparent, doctors stopped recommending their use, and reputable manufacturers stopped producing them. The official drug guidebooks (United States Pharmacopeia and National Formulary) have not listed colloidal silver products since 1975.
Website: quackwatch.com/01QuackeryRelatedTopics/PhonyAds/silverad.html
Sharon Ross is a New York City resident, a Riverkeeper member and a MENSA member, who for health reasons has collected references and treatment information about dealing with Giardia cyst contamination in drinking water.

Katadyn™, a Swiss corporation provides water filters, desalinization equipment, and their Micropur chlorine dioxide water purification - see www.katadyn.com/usen/
"Katadyn offers a wide variety of water filtration and purification products suitable for any need. This allows outdoor enthusiasts and travelers to take along products for making their own drinking water when preparing their trips."
Patent: This patent application for UV light sterilization www.patentstorm.us/patents/6565803.html Lists good references on water purification for Giardia et als
Princeton University - www.princeton.edu
Arlene Puentes, a licensed home inspector, educator, and building failures researcher in Kingston, NY. 11/29/06
Wikipedia on history of use of hydrogen peroxide: Information on Hydrogen peroxide as a sterilant is in Wikipedia at en.wikipedia.org/wiki/Sterilization_(microbiology) HO2 has been used for a long time, including by vaporization for sterilizing freeze dryers.
Wikipedia on use of colloidal silver 07/24/2010: (quoting / paraphrasing) - see http://en.wikipedia.org/wiki/Colloidal_silver
True colloidal silver is a liquid suspension of microscopic particles of silver. The commercial alternative medicine product, also referred to as "colloidal silver", includes solutions that contain various concentrations of ionic silver compounds, silver colloids or silver compounds bound to proteins in water. Such products with concentrations of 30 parts per million (ppm) or less are typically manufactured using an electrolysis process, whereas those with higher concentrations of 50 ppm or more are usually silver compounds that have been bound with a protein. These solutions are currently marketed for internal and external use as an alternative medical remedy though there is no scientific evidence to support its effectiveness in vivo.[1] Excessive ingestion of colloidal silver can result in argyria, a condition in which the skin irreversibly turns blue or grey.
1-Bromo-3-chloro-5,5-dimethylhydantoin (C5H6BrClN2O2) is produced world-wide and is also used in cleaners and bathroom disinfectants and deodorizers. Here is an example MSDS for this product, provided by Leisure Time
When Technology Fails, Matthew Stein, Chelsea Green Publisher, 2008,493 pages. ISBN-10: 1933392452 ISBN-13: 978-1933392455, "... how to find and sterilize water in the face of utility failure, as well as practical information for dealing with water-quality issues even when the public tap water is still flowing". Mr. Stein's website is www.whentechfails.com/t
Books & Articles on Building & Environmental Inspection, Testing, Diagnosis, & Repair