Cisterns for Drinking Water Water
InspectAPedia tolerates no conflicts of interest. We have no relationship with advertisers, products, or services discussed at this website.
Water storage cisterns:
This article series describes the use of cisterns as a drinking water supply source including rooftop cisterns, attic cisterns, ground-level and below-ground-level water storage cisterns.
We describe rainwater collection systems and the diversion of rawinwater into a storage cistern. We also discuss the acceptability of cistern water supply for HUD financed properties.
We also provide a MASTER INDEX to this topic, or you can try the page top or bottom SEARCH BOX as a quick way to find information you need.
Cisterns and How to use them for Drinking Water Storage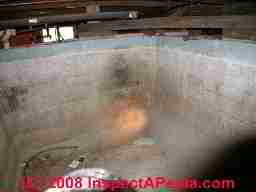 A cistern is basically a water reservoir of any kind which is used to accumulate and store water for future use.
Cisterns are usually constructed close to the building which will use their water, sometimes even inside it.
[Click to enlarge any image]
Water enters a cistern from an external source such as rainwater from a rooftop, pumped water from a spring or other supply, or even by delivery by water truck.
Water from a cistern is typically pumped out by hand, drained by gravity, or it may be pumped by an electric pump such as a one line jet pump.
Interestingly in the cistern shown at above left the owner broke through into the cistern from the basement and drilled a modern steel casing well right in the bottom of the cistern - some of the new equipment is also visible.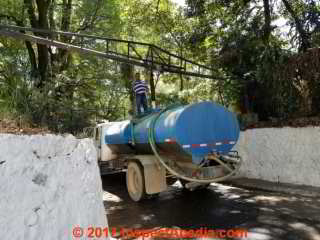 Cisterns to store water for drinking or agricultural purposes are widely used in dry areas where rainwater runoff may be stored for future use.
However all water storage cisterns that are to be used for drinking or potable water supplies are at risk of contamination either from external sources or from bacterial growth during the water storage interval.
Cisterns may be located inside or outside of a building, and may be above ground or below ground level. Our photograph of a concrete cistern (above left) was taken in the basement of a 1920's home in New York state.
A water pump (WATER PUMPS, TANKS, DIAGNOSTICS) and probably a water pressure tank (WATER TANK BLADDERS & CAPTIVE AIR) will be needed for ground-level or below-ground-level water storage cisterns.
For repairing leaks in cisterns also see CAULKS, NONTOXIC
Our photo (above) shows a water truck or pipa being filled from the Uruapan water source, the Mantantial Yerba Buena. In Mexico and many other countries, when rainwater or another water source is not available the local cistern(s) may be filled by such water deliveries.
Attic Cisterns & Water Pressure Tanks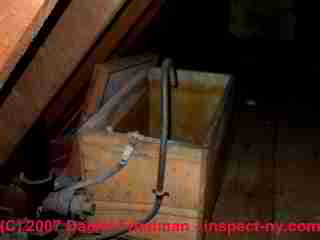 Cisterns in attics are an open-type water storage reservoir or a water pressure boosting system similar in function to rooftop cisterns and water storage tanks.
A cistern was generally placed where it could be fed by gravity from roof or surface runoff, but any indoor open topped reservoir of water could be called a cistern.
Attic Cisterns or water tanks are installed in some buildings to perform the same function as rooftop-mounted water tanks.
Other smaller attic containers that look like a water reservoir may have been just an expansion tank for the heating boiler system.
Also see ATTIC EXPANSION TANKS, HEATING used with some older hot water heating systems.
Basement & Indoor Cisterns in Older Homes
The basement cistern shown below is located below a pre-1900 home in New York. Later owners broke open a passage into the basement cistern and now use it for storage. This cistern was originally filled by downspouts directing roof runoff into the basement.
In the U.S. cisterns were often located in the basement of a (pre-1900) home. The cisterns shown here were built abutting the home foundation wall, probably filled by roof drainage and downspouts, and were later abandoned.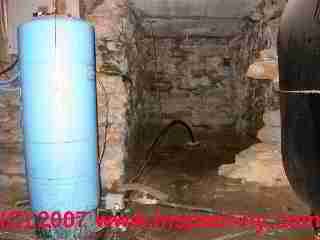 In the photo above you can see that the building owners later drilled a well in the floor of what probably was a cistern and broke through the foundation wall to give ready access to the rest of the home's basement.
Finding Abandoned Cisterns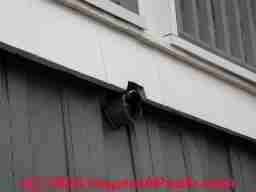 Cisterns inside older buildings can be tricky to spot - the cistern may have been partly demolished, such as in photos shown above, or the cistern may be a walled structure whose top is just below the joists of the building's first floor, as we see in the photos just below.
A tip that led to our discovery of this cistern was an unexplained drainpipe protruding to outside through a building wall. We traced the drain to a nearly-hidden basement cistern where it handled cistern overflow.

Watch out: an abandoned cistern, like any abandoned tank or excavation at a property, may be unsafe or a child hazard.
In a seasonally damp climate such as New York, an in-use basement cistern would certainly be a likely source of unwanted building moisture
Open Water Tanks Indoors Form Mini-Cisterns for Spring-Fed Water Supplies
An open indoor water tank (photos below) can also function as an intermediate limited-quantity water storage tank or in effect a "mini cistern" that stores local water for a building fed by gravity from an up-hill spring or artesian well.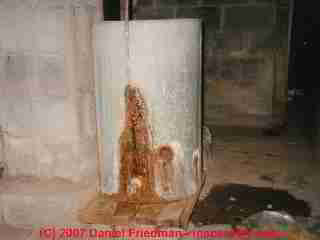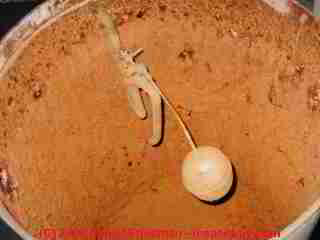 At some locations there is an up-hill or rooftop water source which is fed into the building entirely by gravity. The open top water tank in these photos used a simple float valve to let water into this storage tank. Where such intermediate storage tanks, perhaps fed by an uphill spring, were located in the upper floors of a building they fed water to building piping where it could flow by gravity when a water tap was opened.
Our photographs show that this indoor water tank has rusted-through and is no longer functional, but the float assembly (photo above-right) makes clear how the tank worked.
Free-standing Water Tanks Function as Large Cisterns at or Close to Ground Level
Here we show two types of freestanding above-ground water storage tanks, at the Taboada Hot Springs (Guanajuato, Mexico, photo at left), and in Dutchess County, NY (photo below right).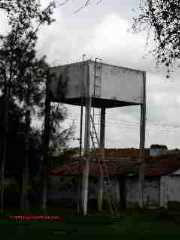 Rainwater Storage Tanks & Cisterns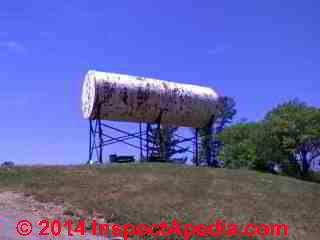 Outdoor Cisterns and water storage tanks, are often located in the basement or courtyard of buildings where they collect rainwater for future use.
In arid areas such as the U.S. Southwest and parts of Mexico, very large cisterns are often placed in a courtyard where they collect rainwater for use during the dry season.
We prefer the ground-level water storage cistern shown below to the more traditional below-ground cisterns because the above-ground or on-ground rainwater tank can at least avoid contamination from surface water runoff that otherwise can enter a below-ground cistern.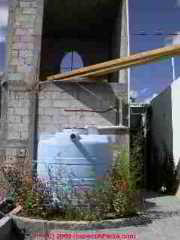 In a seasonally damp climate such as New York, an in-use basement cistern would certainly be a likely source of unwanted building moisture and would thus be a risk for problematic mold growth.
In arid areas such as the U.S. Southwest and parts of Mexico, very large cisterns are often placed in a courtyard where they collect rainwater for use during the dry season.
The above-ground water cistern storage tank shown in our photo (left) is located in Mexico and is discussed in more detail
at PASSIVE SOLAR HOME, LOW COST.
Rainwater for the plastic tank cistern shown at left is collected from a near-flat rooftop and channeled to a large fiberglass holding tank - the blue tank in our photograph, (above left). Piping also permits directing water into this tank from a drilled-well-fed cistern located atop the concrete block tower).
The tower's height provides water pressure to the building. Currently water is taken out of the bottom of this tank by a simple tank drain valve and hose attachment; to supply this water upwards to the building plumbing fixtures or perhaps to the cistern, a small electric pump will be installed.
At CISTERN CONSTRUCTION GUIDE we describe a larger capacity rooftop rainwater collection system.
Traditional Water Storage Cistern, Rainwater Collection & Graywater Re-Use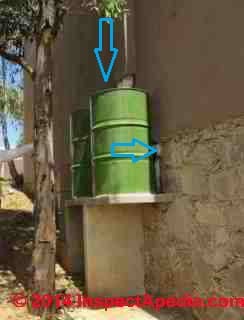 In text and photographs now found in a separate article
at CISTERN CONSTRUCTION GUIDE we describe a rooftop rainwater collection system that sends clean roof runoff into a very large masonry cistern built below a home in Guanajuato, Mexico.
A pump located in the cistern delivers water up to the building's various plumbing fixtures.
This thoughtful rainwater catchment system in active use in a dry climate includes several interesting design features including the ability to have rain provide a rooftop dust flush before rainwater is diverted into the cistern and an extensive grayater collection system (orange arrows shown on the gray barrell at below left) that in parallel to the cistern conserves graywater for application to gardens and trees on the site.
A simple ball valve connected to the graywater container permits connection of a hose to direct graywater to where it is to be applied on nearby garden or trees.
More about graywater re-use systems is
at GREYWATER SYSTEMS
Advice for Using Cisterns for Water Supply
Safety: be sure the cistern is of sound construction and that it is safely covered or protected from someone falling into the cistern or from a child climbing into it.

Also see details at WATER TANK SAFETY.


Direct roof runoff, not surface runoff, into the cistern. Some clever roof runoff management systems direct the first roof runoff onto the ground, permitting dust and debris from the roof surface to be disposed-of before the remaining roof runoff is directed into the cistern for water storage.

Other water sources may be used to supply cisterns, including even local or municipal water supplies. In this case the cistern is being used as a backup or off-peak water supply source.


Do not assume that water stored in a cistern is potable prior to filtering and treatment. The water should be tested for contaminants before used for drinking; it's fine to use cistern water for watering plants or lawns if that water usage is suitable and permitted by other conditions.


Do not install an open, un-covered cistern in a building where moisture from the cistern could cause a mold or rot problem.


Plastic Water Storage Tank Health & Safety: some water storage tanks are made of plastic polyethylene terephthalate aka PET.  PET plastic water tanks may be a health risk to consumers: Commentary published in Environmental Health Perspectives in April 2010 suggested that PET might yield endocrine disruptors under conditions of common use and recommended research on this topic.

Proposed mechanisms include leaching of phthalates as well as leaching of antimony.[14] Other authors have published evidence indicating that it is quite unlikely that PET yields endocrine disruptors.[15] - Web search 6/27/2010 Wikipedia.

We discuss how to identify the type of plastic used in a water tank and the health and safety of different types of plastic tanks in detail at


Provide access to the cistern for inspection and cleaning

Also see CLEANING & DINSINFECTING WATER CISTERNS AFTER FLOODS & HEAVY RAINS [PDF] U.S. CDC
Pumps for cisterns: if you intend to rely on an electrical pump to move water from the cistern to its point of use during bad weather and possible power outage your pump will need a backup source of electricity.

See PUMP, WATER PRESSURE BOOSTING
SPRINGS as WATER SUPPLY what are they, can they be sanitary and safe?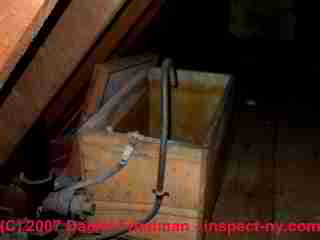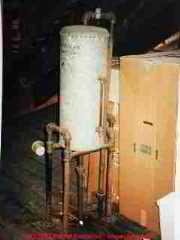 Attic Cisterns or water tanks are installed in some buildings to perform the same function as rooftop-mounted water tanks. This little attic reservoir (above left) was found in the Justin Morrill historic home.
Attic expansion tanks and pressure relief systems Don't confuse an old heating system attic-mounted expansion tank (above right) for a water tank however. These are not potable water storage systems.
The heating system expansion tank will be connected to the heating system radiators or basement boiler and may have a simple overflow pipe to permit excessive water (or system pressure) to spill outside.
Heating systems with this equipment installed may not have a modern pressure and temperature relief valve.
Attic expansion tank systems used on heating boilers are potentially less safe than installing a relief valve right on the boiler, since the attic-located pressure relief system is located so remote from the heating boiler.
Is a Cistern an Acceptable Water Supply for HUD Financing?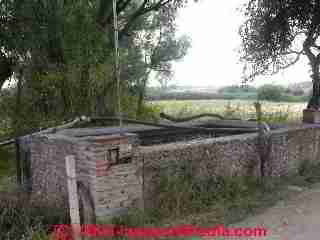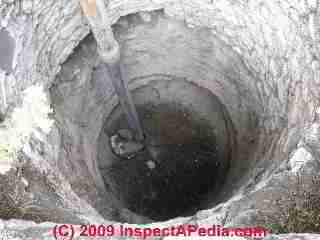 Cisterns and HUD financing: HUD Handbook 4150.2 Section 3-6 indicates that properties served by cisterns are not acceptable for mortgage insurance. However, the HOCs have the authority to consider waivers in areas where cisterns are typical.
Our photo (above left) shows a hybrid system: this outdoor cistern is filled by pumping from an open casing in a drilled well that was inserted in the bottom of a dug well that went "dry" (photo, above right).
As will be apparent to readers, both the open top of this cistern and the open casing in the bottom of the dug well are sources of water contamination.
See WELL CLEARANCE DISTANCES for more information about cisterns, well and water source clearances from potential pollutant sources, and possible exceptions that can permit use of cisterns for drinking water supply.
...
Continue reading at CISTERN CONSTRUCTION GUIDE or select a topic from closely-related articles below, or see our complete INDEX to RELATED ARTICLES below.
Or see CISTERN FAQs - questions & answers posted originally on this page.
Or see this
Articles on Cisterns
...
Suggested citation for this web page
CISTERNS at InspectApedia.com - online encyclopedia of building & environmental inspection, testing, diagnosis, repair, & problem prevention advice.
Or use the SEARCH BOX found below to Ask a Question or Search InspectApedia
...
Ask a Question or Search InspectApedia
Try the search box just below, or if you prefer, post a question or comment in the Comments box below and we will respond promptly.
Search the InspectApedia website
Technical Reviewers & References
Click to Show or Hide Citations & References
Ali, A., T. Oweis, A. B. Salkini, and S. El-Naggar. "Rainwater cisterns: traditional technologies for dry areas." ICARDA, Aleppo, Syria. iv (2009).
Gnadlinger, Johann. "Technical presentation of various types of cistern built in the rural communities of the semi-arid region of Brazil." In 9th IRCSA Conf. 1999.
Gnadlinger, Joao. "Lime—the great sealer: constructing low-cost, sub-surface rainwater tanks in Brazil." Waterlines 14, no. 2 (1995): 11-14.
Gould, John E. "The Fourth International Rainwater Cistern Systems Conference." Waterlines 8, no. 2 (1989): 31-31.
Gould, John E. "The Rain-water Cistern Systems Conference in Thailand." Waterlines 6, no. 2 (1987): 12-13.
HU, Wen-wu, Ping JIANG, Wei-zhong AI, and Song-ling SUN. "Research on wireless farming cistern control system based on self-study mechanism [J]." Electronic Design Engineering 4 (2010): 003.
Ikebuchi, Shuichi, and Seiji Furukawa. "Feasibility Analysis of Rain Water Cistern Systems as an Urban Water Supply Source." In Proc. Rain Water Cistern Systems Conf, pp. 118-127. 1982.
Irwin, Ross W., and Ross W. Irwin. "Cistern for domestic water use." Canadian agricultural engineering 19, no. 1 (1977): 12.
Isquith, Irwin R., and Harvey Winters. "The microbial analysis of domestic cistern water in the US Virgin Islands." Desalination 66 (1987): 415-421.
Isquith, Irwin R., Harvey Winters, and Agreement No. Microbial Analysis of Domestic Cistern Water in the US Virgin Islands. Water Resources Research Center, College of the Virgin Islands, 1981.
Jian, Tu. "A Brief Talk On Cistern Design." Forestry Science and Technology Information 3 (2007): 045.
Krämer, S. "Improving the Construction of Cisterns in Yemen and the Cistern Water Quality." Fachhochsschule Giessen Friedberg, University of Applied Sciences (2003).
König, Klaus W., and Dietmar Sperfeld. "Rainwater harvesting—A global issue matures." Sustain. Water Manag 1 (2007): 31-35.
Lye, Dennis J. "Microbiology of rainwater cistern systems: A review: (Cistern, Rainwater, Microorganisms)." Journal of Environmental Science & Health Part A 27, no. 8 (1992): 2123-2166.
McGeever, B., and T. H. Thomas. Underground storage of rainwater for domestic use; including construction details of a low-cost cistern and pumps. Working Paper 49, DTU, Warwick University, UK, 1997.
Memarian, Gholam Hossein. "introducing Some Aspects Of Iranian Vernacular Architecture: Construction Of Abanbar Or Underground Cistern." Journal of Architecture and Urban Planning (2009).
Olem, Harvey, and Paul M. Berthouex. "Acidic deposition and cistern drinking water supplies." Environmental science & technology 23, no. 3 (1989): 333-340.
Petersen, Andrew. "The archaeology of the Syrian and Iraqi Hajj routes." World Archaeology 26, no. 1 (1994): 47-56.
Shao-bing, L. I. U. "Design and Construction of Cistern Roofing [J]." Journal of Hunan Urban Constructin College 4 (2000): 009.
Solomon, Hossana, and Henry H. Smith. "Effectiveness of Mandatory Law of Cistern Construction for Rainwater Harvesting on Supply and Demand of Public Water in US Virgin Islands." In Seventh Caribbean Islands Water Resources Congress, p. 75. 2007.
Thomas, T. H., and B. McGeever. "Underground Storage of Rainwatewr for Domestic Use (Including Construction Details of a Low-Cost Cistern and Pumps)." (1997).
Vincent, Linden. The politics of water scarcity: irrigation and water supply in the mountains of the Yemen Republic. Overseas Development Institute, 1990.
Wahlin, L. "The family cistern: 3,000 years of household water collection in Jordan." In Ethnic Encounter and Culture Change. Papers from the Third Nordic Conference on Middle Eastern Studies, Joensuu, Finland, pp. 19-22. 1995.
Xiaozu, Yartg Zhijie Su. "Calculation of Rectangular Cistern on Winkler Elastic Foundation [J]." Special Structures 2 (2006): 011.
Yi, Li. "A Talk On The Design of The Control of Water Level in Underground Cistern." Fujian Architecture & Construction 3 (2002): 038.
Young, Edward S., and William E. Sharpe. "Atmospheric deposition and roof-catchment cistern water quality." Journal of environmental quality 13, no. 1 (1984): 38-43.
Books & Articles on Building & Environmental Inspection, Testing, Diagnosis, & Repair
Our recommended books about building & mechanical systems design, inspection, problem diagnosis, and repair, and about indoor environment and IAQ testing, diagnosis, and cleanup are at the InspectAPedia Bookstore. Also see our Book Reviews - InspectAPedia.
...