Hazards of Chlorine in Drinking Water
Carcinogens & cancer risk? Other Health hazards?
POST a QUESTION or READ FAQs about the effects of chlorine in drinking water and the effects of chlorine or bleach on on septic tanks and septic drainfields
InspectAPedia tolerates no conflicts of interest. We have no relationship with advertisers, products, or services discussed at this website.
Drinking water disinfection byproduct (DBPs) hazards:
At what level and under what conditions is chlorinated drinking water or water treated with other disinfectants water a health hazard or a possible cancer hazard? Does chlorinated drinking water harm the septic tank?
This article answers questions about the harmfulness of chlorinated drinking water being discharged into the septic system. We explain that actual chlorine is not present in drinking water, that bleach is not "chlorine", and we describe potential health hazards associated with these substances.
We also provide a MASTER INDEX to this topic, or you can try the page top or bottom SEARCH BOX as a quick way to find information you need.
Is my chlorinator or chlorinated water going into a private septic system likely to harm the septic tank or drainfield? Do some septic systems require chlorine or other disinfectants? Will chlorine, bleach, or Clorox™ damage the septic tank or leach fields? This document explains how to extend the life of the septic system by being careful about what goes into it.
Is There Actual Chlorine in Drinking Water? What health hazards are associated with chlorinated drinking water, chlorine, & bleach
Health Concerns, Remedies, Alternatives
Possible health risks from chlorinated drinking water
Water treated with chlorine for the purposes of disinfection may have handled a bacterial contamination worry but the chlorinated drinking water may still involve other health risks. [1]
Disinfecting water to kill microorganisms will not remove chemical contaminants that may also be present.
Trihalomethanes are possible carcinogens (cancer causing agents) that form in water when chlorine in the water reacts with certain organic chemicals that may also be present.

For example, chloroform, produced in the water supply by some water treatment processes is found at actionable levels in water supplies in many areas of North America as well as other areas of the world. Other potentially toxic chemicals widely found in water sources include products from agricultural runoff including fertilizers and pesticides.
Simpson (2008) found that or some waters, chloroacetic acid and chloral hydrate are the DBPs most likely to exceed the 1996 NHMRC Australian Drinking Water Guidelines:
Disinfection of water supplies is of paramount importance for the prevention of waterborne diseases. Unfortunately, an unwanted side effect is the formation of by-products. Currently, chlorine and monochloramine are the only agents used to disinfect major drinking water supplies in Australia. Historically, some Australian waters have produced high concentrations of disinfection by-products (DBPs) upon chlorination. However, most water authorities in Australia do not routinely monitor DBP concentrations, with only a few analysing for THMs alone. Accordingly, there has been very little information available on the nature, distribution and typical concentrations of DBPs in Australian drinking waters.
A number of analytical methods for the determination of DBPs were assessed and an analytical survey of 16 drinking waters from around Australia was conducted to determine their occurrence. Typically, DBP concentrations, with the exception of cyanogen chloride, were lowest in chloraminated waters. The survey revealed that for some waters, chloroacetic acid and chloral hydrate are the DBPs most likely to exceed the 1996 NHMRC Australian Drinking Water Guidelines. - Simpson (2008)
Nieuwenhuijsen (2000) notes:
Chlorination has been the major disinfectant process for domestic drinking water for many years. Concern about the potential health effects of the byproducts of chlorination has prompted the investigation of the possible association between exposure to these byproducts and incidence of human cancer, and more recently, with adverse reproductive outcomes.
These authors point out that while there are important questions to answer, research to date has been limited. Nevertheless caution is in order.
Relatively few toxicological and epidemiological studies have been carried out examining the effects of DBPs on reproductive health outcomes. The main outcomes of interest so far have been low birth weight, preterm delivery, spontaneous abortions, stillbirth, and birth defects— in particular central nervous system, major cardiac defects, oral cleft, and respiratory, and neural tube defects.
Various toxicological and epidemiological studies point towards an association between trihalomethanes (THMs), one of the main DBPs and marker for total DBP load, and (low) birth weight, although the evidence is not conclusive.
Administered doses in toxicological studies have been high and even though epidemiological studies have mostly shown excess risks, these were often not significant and the assessment of exposure was often limited. Some studies have shown associations for DBPs and other outcomes such as spontaneous abortions, stillbirth and birth defects, and although the evidence for these associations is weaker it is gaining weight. There is no evidence for an association between THMs and preterm delivery.
The main limitation of most studies so far has been the relatively crude methodology, in particular for assessment of exposure. - Nieuwenhuijsen (2000)
Batterman (2000) discuss the reactions between chlorine disinfectants, dissolved organics, and other chemicals in water to produce harmful disinfectin byproducts (DBPs) and on methods to reduce the level of DBPs using a mixed-disinfectant approach:
Reactions between chlorine disinfectants, dissolved organic matter, and other chemicals in water form a series of disinfection by-products (DBPs), including trihalomethanes (THMs) and haloacetic acids (HAAs), that are toxic and subject to increasingly stringent regulations. This paper explores effects on DBP formation produced by an alternative, non-chlorine-based secondary disinfectant comprised of silver and hydrogen peroxide (Ag+/H202) that is designed to provide long-lasting residual disinfection.
Based on a series of laboratory experiments using simulated treatment and distribution systems, post-chlorination additions of the secondary disinfectant dramatically reduced the formation of halogenated DBPs. Five source waters were tested over a range of conditions, including various levels of chlorine dosing, bromine and organic carbon concentrations, pH and temperature. For surface and ground waters, DBP reductions at 24 h with the secondary disinfectant averaged 72±9% for THMs and 67±11% for HAAs after a 10-min chlorination period. The dramatic reduction in halogenated DBPs occurred for all tested source waters and all disinfection conditions. The likely mechanism is the reduction of chlorine to chloride by H202, which halts further reaction of chlorine with dissolved organic matter and other DBP precursors. Thus, H202 acts as a quenching agent, in addition to its residual disinfectant properties in combination with Ag+.
This research shows a potential benefit of mixed disinfectants that provide a potentially viable option for controlling the formation of DBPs while maintaining effective disinfection. - Batterman (2000)
How to remove chlorine from drinking water
Clarification: chlorine is not present in "chlorinated water"
Chlorine is a gas with a very irritating odor. It is used in the production of thousands of products. It is also used for water disinfection, although the chlorine itself is quickly transformed into other chemicals at the beginning of the process.
Chlorine is not present in chlorinated water. During water chlorination, chlorine gas may be added to the water at first; however, the chlorine is quickly transformed into other chemicals (hypochlorous acid and hypochlorite anion), which actually disinfect the water.
The term ''free chlorine'' in drinking water usually refers to the amount of hypochlorous acid and hypochlorite in the water. It is important to recognize that these compounds are different from chlorine.
Chlorine is used to make bleach; bleach is not the same as chlorine.
Chlorine is broken down by sunlight within a matter of several minutes.
Chlorine dissolves in water and is converted into chloride and hypochlorous acid. . - "Chlorine toxicity", ATSDR [2]
Traditional methods to remove excess chlorine from drinking water use activated charcoal filtering. Because chlorine is volatile, you will also find that leaving water in an open pitcher or container will result in the dissipation of chlorine from that water quantity.
CHLORINE IN DRINKING WATER - Water Chlorinators and Septic Systems
Details about the effects of chlorine in septic systems, tanks, and drainfields are provided at CHLORINE IN SEPTIC WASTEWATER. Excerpts are below.
Using a chlorinator on well water: At homes where the water supply is not potable due to bacterial contamination, a common temporary solution is the installation of a chlorinator.
Often this consists of an injector which doses incoming water with chlorine, a holding tank to give the chlorine time to work, and a post-processing charcoal filter to remove the chlorine from the water. It's preferable to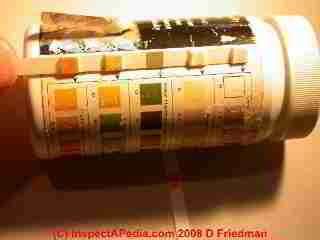 In a properly-operating chlorinator the level of chlorine in the house drinking water will not harm the septic system.
High levels of chlorine, such as from an improperly adjusted or malfunctioning chlorinator would be a problem for the occupants who would not want to be drinking such water, and might be a problem for the septic system too.
According to the US EPA, the effects of exceeding this chlorine limit in drinking water include the following:
Some people who use water containing chlorine well in excess of the maximum residual disinfectant level could experience irritating effects to their eyes and nose. Some people who drink water containing chlorine well in excess of the maximum residual disinfectant level could experience stomach discomfort. [1]
It's easy to test for the level of chlorine in water - there are several inexpensive test kits suitable for homeowner use. For some suggestions on how to test the level of chlorine in drinking water see How to Test the Water Supply or Septic Effluent for Evidence of Chlorine (part of our article on cheating on water tests)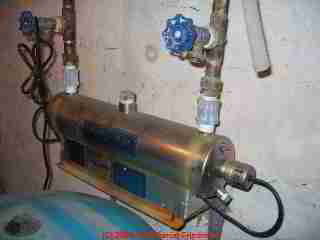 UV (ultra violet) lights [photo] which are sold to treat bacterial contamination in water do not place any chemical into the water supply.
However if drinking water is contaminated with bacteria, a UV light is a not necessarily the best solution as other drinking water contaminants may be present too.
For a discussion of what happens when people dump chlorine into a well see
For a discussion of the effects of other water purification methods see DRINKING WATER EMERGENCY PURIFICATION and WATER DISINFECTION LIMITATIONS
Chloramine, Chlorine and Chlorine Dioxide Health Effects

Drinking Water Disinfection By-Products (DBPbs) & Their Hazards

Disinfectant
Common Uses
Health Effects of Disinfectant in Drinking Water
Maximum residual disinfectant levels (MRDLs)
Chloramine (as Cl2)
Chloramine is a water additive used to control microbes ... as a residual disinfectant in drinking water distribution system pipes.
Drinking water with excessive levels of chloramine above the maximum residual disinfectant level (MRDL) could experience irritating effects to the eyes and nose, stomach discomfort or anemia
MRDL = 4.0 mg/L or 4 ppm as an annual average
Chlorine (as Cl2)
A ga or liquid form of chlorine (CL2) chlorine is used by municipal water systems to control microbes.

Some people who use water containing chlorine well in excess of the maximum residual disinfectant level could experience irritating effects to their eyes and nose.

Some people who drink water containing chlorine well in excess of the maximum residual disinfectant level could experience stomach discomfort.

MRDL = 4.0 mg/L or 4 ppm as an annual average
Chlorine dioxide (as ClO2)
Chlorine dioxide is added to water to control microbes and can be used to control tastes and odors.

Some infants, young children, and fetuses of pregnant women who drink water containing chlorine dioxide in excess of the maximum residual disinfectant level could experience nervous system effects.

Some people who drink water containingchlorine dioxide well in excess of the MRDL for many years may experience anemia.

MRDL = 0.8 mg/L or 800 ppb

Bleach

(Hypochlorite solution)

Health hazards from bleach:

Watch out: Drinking small amounts of hypochlorite solution (less than a cup) can produce irritation of the esophagus.

Drinking concentrated hypochlorite solution can produce severe damage to the upper digestive tract and even death. These effects are most likely caused by the caustic nature of the hypochlorite solution and not from exposure to molecular chlorine.

Spilling hypochlorite solution on the skin can produce irritation.

The severity of the effects depends on the concentration of sodium hypochlorite in the bleach.

Cancer risk from chlorine? The Department of Health and Human Services (DHHS) the International Agency for Research on Cancer (IARC), and the Environmental Protection Agency (EPA) have not classified chlorine as to its human carcinogenicity

Bladder cancer risks: Cantor (2008)
"Chlorine toxicity", ATSDR [2]

Notes:

The above information is adapted from US EPA, "Water: Basic Information about Regulated Drinking Water Contaminants", retrieved 8/27/2013, original source water.epa.gov/drink/contaminants/basicinformation/disinfectants.cfm [1]

Ölmez proposes Chlorine dioxide, ozone, organic acids, peroxyacetic acid, electrolyzed oxidizing water and hydrogen peroxide for produce disinfection. These options are discussed at VEGETABLE DISINFECTION.
Citation of this article by reference to this website and brief quotation for the sole purpose of review are permitted. Use of this information at other websites, in books or pamphlets for sale is reserved to the author. Technical review, content suggestions, critique are welcomed and are listed at "References."
...
Continue reading at CHLORINE SOURCES in WATER or select a topic from closely-related articles below, or see our complete INDEX to RELATED ARTICLES below.
Or see CHLORINATION WELL SHOCKING PROCEDURE as a common source of chlorine in both drinking water and septic systems.
Or see CHLORAMINE WATER DISINFECTANT
Or see CHLORINE SOURCES in WASTEWATER and also CHLORINE IMPACT on SEPTIC
Or see CHLORINE TESTS, WATER
Or see WATER ODORS, CAUSE CURE
Suggested citation for this web page
CHLORINE HAZARDS in WATER at InspectApedia.com - online encyclopedia of building & environmental inspection, testing, diagnosis, repair, & problem prevention advice.
Or use the SEARCH BOX found below to Ask a Question or Search InspectApedia
...
Ask a Question or Search InspectApedia
Try the search box just below, or if you prefer, post a question or comment in the Comments box below and we will respond promptly.
Search the InspectApedia website
Technical Reviewers & References
Click to Show or Hide Citations & References
Andrzejewski, Przemysław, Barbara Kasprzyk-Hordern, and Jacek Nawrocki. "The hazard of N-nitrosodimethylamine (NDMA) formation during water disinfection with strong oxidants." Desalination 176, no. 1 (2005): 37-45.
Abstract:
Nitrosoamines, mainly N-nitrosodimethylamine (NDMA) and N-nitrosodiethylamine (NDEA), are highly mutagenic compounds that are suspected of carcinogenic activity in the human body. The US Environmental Protection Agency (US EPA) classified these compounds into the B2 group, which indicates probable carcinogenicity to humans. According to the US EPA, the maximum admissible concentration of these compounds in drinking water is 7 ng L−1 (NDMA) and 2 ng L−1 (NDEA) with the risk estimation of 10−5. Until now, knowledge of the formation of nitrosoamines has been based on the mechanism of a secondary alkylamine reaction with nitrite. The problem becomes critical when the concentration of NDMA reaches 10 ng L−1 in surface waters and 20 ng L−1 in drinking water production wells that are under the influence of recharge water from wastewater treatment plants. Furthermore, waters coming from purified sewage were contaminated with 100 ng L−1 of NDMA. It was reported in 2001 that NDMA is formed during the disinfection of water and sewage with chlorine. The results indicated that the reaction of chlorination of water containing dimethylamine with chlorine leads to the formation of NDMA as one of many by-products. NDMA comprises less than 5% of these products. The concentration of NDMA was closely related to the ratio of chlorine, ammonia ions and dimethylamine. Furthermore, the concentration of nitrosoamine increased with the concentration of monochloramine as well as the reaction time. It should be emphasized that the maximum concentration of NDMA is formed at pH 7–8. Therefore, NDMA can be treated as a new disinfection by-product such as THMs, HAAs or MX. Experimental results indicated that the usage of both chlorine and chlorine dioxide leads to the formation of NDMA. In model experiments, in the aqueous solutions containing dimethylamine and ammonia ions disinfected with chlorine dioxide, a few hundred micrograms of N-dimethylnitrosoamine were found. Contrary to the reactions of dimethylamine with chlorine and chlorine dioxide, reactions with ozone do not lead to the formation of NDMA.
Batterman, Stuart, Lianzhong Zhang, and Shuqin Wang. "Quenching of chlorination disinfection by-product formation in drinking water by hydrogen peroxide." Water Research 34, no. 5 (2000): 1652-1658.
Cantor, Kenneth P., Charks F. Lynch, Mariana Hildesheim, Mustafa Dosemeci, Jay Lubin, Michael Alavanja, and Gunther Craun. "Drinking water source and chlorination byproducts I. Risk of bladder cancer." Epidemiology 9, no. 1 (1998): 21-28.
Nieuwenhuijsen, Mark J., Mireille B. Toledano, Naomi E. Eaton, John Fawell, and Paul Elliott. "Chlorination disinfection byproducts in water and their association with adverse reproductive outcomes: a review." Occupational and environmental medicine 57, no. 2 (2000): 73-85.
Ölmez, Hülya, and Ursula Kretzschmar. "Potential alternative disinfection methods for organic fresh-cut industry for minimizing water consumption and environmental impact." LWT-Food Science and Technology 42, no. 3 (2009): 686-693.
Richardson, Susan D. "Disinfection by-products and other emerging contaminants in drinking water." TrAC Trends in Analytical Chemistry 22, no. 10 (2003): 666-684. Abstract:
Although drinking-water disinfection by-products (DBPs) have been studied for the last 30 years, significant, new concerns have arisen. These concerns include adverse reproductive and developmental effects recently observed in human populations, concerns that the types of cancer observed in laboratory animals (for regulated DBPs) do not correlate with the cancers observed in human populations (indicating that other DBPs may be important), and concerns arising from human-exposure studies that show that other routes besides ingestion (i.e., inhalation and dermal adsorption) are also significant sources of DBP exposures. In addition, many drinking-water utilities are changing their primary disinfectant from chlorine to alternative disinfectants (e.g., ozone, chlorine dioxide, and chloramines), which generally reduce regulated trihalomethane and haloacetic acid levels, but can increase the levels of other potentially toxicologically important DBPs. For example, results of a new US Nationwide DBP Occurrence Study (discussed in this review) demonstrated that bromo-trihalonitromethanes, iodo-trihalomethanes, dihaloaldehydes, MX (3-chloro-4-(dichloromethyl)-5-hydroxy-2(5H)-furanone), and brominated forms of MX were formed at higher levels when alternative disinfectants were used to treat drinking water. Specific DBPs of emerging toxicological interest include brominated and iodinated compounds — including bromonitromethanes, iodo-trihalomethanes, iodo-acids, and brominated forms of MX — as well as nitrosodimethylamine (NDMA). In addition to concerns about DBPs, there are also new concerns about the presence of pharmaceuticals, organotins, methyl-tert-butyl ether (MTBE), perchlorate, and algal toxins in drinking water. This article will discuss these drinking-water contaminants of emerging concern and the analytical methods currently being used for their determination.
Simpson, Karen L., and Keith P. Hayes. "Drinking water disinfection by-products: an Australian perspective." Water Research 32, no. 5 (1998): 1522-1528.
Zoeteman, B. C., J. Hrubec, E. De Greef, and H. J. Kool. "Mutagenic activity associated with by-products of drinking water disinfection by chlorine, chlorine dioxide, ozone and UV-irradiation." Environmental health perspectives 46 (1982): 197.
Abstract:
A retrospective epidemiological study in The Netherlands showed a statistical association between chlorination by-products in drinking water and cancer of the esophagus and stomach for males. A pilot-plant study with alternative disinfectants was carried out with stored water of the Rivers Rhine and Meuse. It was demonstrated that the increase of direct acting mutagens after treatment with chlorine dioxide is similar to the effect of chlorination. Ozonation of Rhine water reduced the mutagenic activity for Salmonella typhimurium TA 98 both with and without metabolic activation. UV alone hardly affects the mutagenicity of the stored river water for S. typh. TA 98. In all studies, practically no mutagenic activity for S. typh. TA 100 was found. Although remarkable changes in the concentration of individual organic compounds are reported, the identity of the mutagens detected is yet unclear. Compounds of possible interest due to their removal by ozonation are 1,3,3-trimethyloxindole, dicyclopentadiene and several alkylquinolines. Compounds which might be responsible for the increased mutagenicity after chlorination are two brominated acetonitriles and tri(2-chlorethyl) phosphate. Furthermore, the concentration procedure with adsorption on XAD resin and the subsequent elution step may have affected the results. It is proposed to focus further research more on the less volatile by-products of disinfection than on the trihalomethanes.
[1] US EPA, "Water: Basic Information about Regulated Drinking Water Contaminants", retrieved 8/27/2013, original source http://water.epa.gov/drink/contaminants/basicinformation/disinfectants.cfm
"Bacteria in Drinking Water" - "Chlorine," Karen Mancl, water quality specialist, Agricultural Engineering, Ohio State University Extension. Mancl explains factors affecting the effectiveness of chlorine in water as a means to destroy bacteria and other microorganisms. OSU reports as follows:

Chlorine kills bacteria, including disease-causing organisms and the nuisance organism, iron bacteria. However, low levels of chlorine, normally used to disinfect water, are not an effective treatment for giardia cysts. A chlorine level of over 10 mg/1 must be maintained for at least 30 minutes to kill giardia cysts. -- http://ohioline.osu.edu/b795/index.html is the front page of this bulletin.

[1a] Preliminary Assessment of Suspected Carcinogens in Drinking Water, Interim Report to Congress, U.S. Environmental Protection Agency, 1975, web search 10/06/2011, original source: U.S. EPA http://nepis.epa.gov
CHLORINE IN DRINKING WATER - Does Chlorine in Drinking Water Harm the Septic Tank? - Septic Tank Cleaning Advice
[2] ATSDR Agency for Toxic Substances Disease Registry, Toxic Substances Portal: Chlorine Toxicity, [PDF] November 2010, retrieved 8/27/2013, original source: www.atsdr.cdc.gov, Agency for Toxic Substances and Disease Registry Division of Toxicology and Human Health Sciences 1600 Clifton Road NE, Mailstop F-57 Atlanta, GA 30333 Phone: 1-800-CDC-INFO · 888-232-6348 (TTY) Fax: 1-770-488-4178 Email: cdcinfo@cdc.gov
CHLORINE IN SEPTIC WASTEWATER - Septic Tank Maintenance: Chlorine in Septic Systems - Septic Tank Maintenance Advice
Ohio State University article on the concentration of chlorine necessary to act as an effective disinfectant, and the effects of the water's pH and temperature: See http://ohioline.osu.edu/b795/b795_7.html for details.
Drinking Water testing, contamination, correction - all topics
Choices of Water Tests & Fees: A Summary of Types of Water Tests, Degrees of Comprehensive Water Testing, Details of Water Test Parameters
Cheating on water tests: Testing Water for Real Estate Transactions - make sure your water test is valid
Drinking Water Contamination and Pollution How to Detect, Test, Correct, and Prevent Well Water Contamination - US EPA - Groundwater
WATER TEST INTERPRETATION what the results mean and what to do about them
Correcting Unsatisfactory Water what to do, when to do it, treatment alternatives, equipment, filters, etc.
Water Treatment for Contamination, Hardness, Odors, Sediment, Etc: choices of systems, recommendations
How to Reduce Lead Contamination in Drinking Water: how to test & correction lead in drinking water
Lead Contamination from Water Supply Lines/Entry Mains, Lead Testing & Correcting Contamination from - Lead Pipe Problems/Advice
Extreme Lead Poisoning Symptoms Suggested by Feb 2006 NY Times Article on Kosovo Roma Camps
WELL CHLORINATION & SHOCKING - Procedure for Shocking a Well to (temporarily or maybe longer) "Correct" Bacterial Contamination
Water Supply & Drain Piping, Wells, Pumps, Water Supply Equipment
Books & Articles on Building & Environmental Inspection, Testing, Diagnosis, & Repair
Our recommended books about building & mechanical systems design, inspection, problem diagnosis, and repair, and about indoor environment and IAQ testing, diagnosis, and cleanup are at the InspectAPedia Bookstore. Also see our Book Reviews - InspectAPedia.
...
Publisher InspectApedia.com - Daniel Friedman